October, 13, 2012
10/13/12
9:57
PM ET
NASHVILLE, Tenn. -- No. 4 Florida had to overcome injuries, double-digit penalties, and giving up its first fourth-quarter points of the season to
extend its winning streak
over Vanderbilt.


How the game was won:
After Vanderbilt closed Florida's lead to 24-17 late in the fourth quarter, the Gators took over on their own 30-yard line after a Commodores squib kick. UF needed just one play to seal its 22nd consecutive victory over Vanderbilt. QB
Jeff Driskel
kept the ball on the option to the right and went 70 yards for a touchdown.
Turning point:
Florida turned the game permanently in its favor with two special-teams plays in the third quarter. DE
Earl Okine
blocked
Richard Kent
's 44-yard field-goal attempt, which gave the Gators the ball on their own 38-yard line with 6:17 remaining. Four plays later, the Gators lined up to punt on their own 43, but instead ran a fake. Up back
Trey Burton
took a direct snap and handed the ball off to WR
Solomon Patton
, who was streaking across the formation. Patton went 54 yards down the left sideline before getting pushed out of bounds at the Vandy 3. That set up Driskel's touchdown run with 4:31 remaining to put the Gators ahead 18-7. Vandy also gave up a 61-yard kickoff return to
Andre Debose
that set up
Caleb Sturgis
' 26-yard field goal with 5:22 remaining.
Stat of the game:
Florida won the game despite going 2-for-11 on third down. The Gators didn't convert a third down in the second half (0-for-4).
Player of the game:
Driskel rushed for 177 yards, which is a UF record for rushing yards by a quarterback. He ran the ball only 11 times, but two of those carries went for touchdowns. One was a 37-yarder and the other was a 70-yarder that clinched the victory. Driskel also went 11-for-20 for 77 yards.
Second guessing:
Vanderbilt hit a big play to quickly get down to Florida's 22-yard line with a little less than five minutes remaining and the Gators leading 24-14. But instead of going hurry-up, the Commodores huddled and ran four consecutive plays and wasted about 90 seconds of clock time. Vandy also had all three timeouts remaining but coach James Franklin chose to keep them for defense. Turns out the Commodores didn't need them because Driskel went 70 yards for a touchdown on the Gators' ensuing possession to seal the victory.
What Florida learned:
All the talk about the Gators being a deeper team in 2012 was proven true on Saturday, as they were able to overcome a slew of injuries. Florida was without three starters (G
James Wilson
, DT
Dominique Easley
and LB
Jelani Jenkins
) and lost two more on the offensive line (LT
Xavier Nixon
, C
Jonotthan Harrison
) and starting TE
Jordan Reed
in the first half. Reed eventually returned in the second half, but the Gators had several other players leave the game for periods of time before returning. UF would not have been able to overcome those losses last season.
What Vanderbilt learned:
Franklin may have found something effective with a hurry-up offense late in the second half, but the Commodores still only managed to throw a scare into one of the SEC's traditional powers. Vanderbilt is still searching for that breakthrough victory.
What it means:
Florida (6-0, 5-0 SEC) already has as many regular-season victories this season as it did in 2011. The Gators will play host to South Carolina in a key Eastern Division game next Saturday and then plays against Georgia in Jacksonville, Fla. UF could make that game in Jacksonville the division championship game if it beats South Carolina.
June, 23, 2011
6/23/11
10:46
AM ET
We're pulling double-duty with the kickers today. Instead of ranking 10 place-kickers and 10 punters, we're doing the top five for each position.
These aren't the workout warriors that grab all of the headlines, but try to find a team that would go through a season without using them. Last season, 15 games involving SEC teams were determined by three points or fewer.
Here are our top five place-kickers:
[+] Enlarge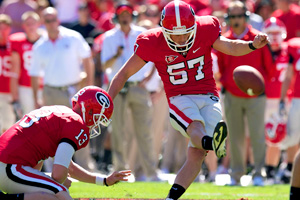 Dale Zanine/US PresswireBlair Walsh already has missed five field goals this season, the same amount he missed across his sophomore and junior seasons combined.
1. Blair Walsh, Georgia, Sr.:
Walsh was very reliable for the Bulldogs last season, making 20 of 23 (87 percent) field goals. For his career, he's hit 55 of 68 kicks in his career, including 22-of-29 from 40 yards and beyond. He has missed just two kicks within 30 yards in his career.
2. Zach Hocker, Arkansas, So.:
He was only a freshman last season, but Hocker nailed 16 of 19 field goals, with seven from 40 yards or better. With the high-powered offense the Razorbacks have, Hocker will get plenty of opportunities again. Now that he's gone through a year of learning in the SEC, he should be even better, which is scary.
3. Bryson Rose, Ole Miss, Jr.:
Rose returns with the highest kicking percent in the league after connecting on 16 of 18 (89 percent) field goals in 2010. He only attempted two kicks from 40 or more yards last year, but he hit both and might see more long attempts this season if the offense is slow out of the gate.
4. Derek DePasquale, Mississippi State, Sr.:
He shared time with Sean Brauchle last season, but was still 10-of-12 kicking with a long of 43 yards. The Bulldogs' offense should get him more attempts this season and the coaches were pleased with his range this spring.
5. Jeremy Shelley, Alabama, Jr.:
Shelley was used for kicks within 40 yards, while Cade Foster dealt with the long ball. The two should be utilized the same way this fall, but Shelley will again get more attempts to score points. He was 12-of-16 in 2010.
Here are our top five punters:
1. Tyler Campbell, Ole Miss, Jr.:
Campbell led the nation with a punting average of 46.4 yards per kick in 2010. He had 19 punts of more than 50 yards and five were launched 60 or more yards. Campbell is the ultimate field-position changer.
2. Drew Butler, Georgia, Sr.:
Butler completes the dynamic kicking duo in Athens. He ranked fourth in the league, averaging 44.5 yards per punt last season. Nineteen of his 50 punts landed inside the 20-yard line.
3. Dylan Breeding, Arkansas, Jr.:
Breeding will help out Arkansas' defense with his extremely strong leg. He pinned 18 punts inside the 20 a year ago and averaged 42.5 yards per kick, which the coaches expect to increase after a solid spring.
4. Ryan Tydlacka, Kentucky, Sr.:
He's been a kicker of all trades during his time at Kentucky. He started as a pooch punter, kicked a few field goals and has now been a two-year starter at punter. He averaged 43.8 yards per punt in 2010 with a net average of 35.3 yards.
5. Richard Kent, Vanderbilt, Jr.:
It's hard to believe he still has a leg after the year he had in 2010. Kent kicked a nation-leading 84 punts last season and had 27 downed inside the 20. He only had a 41.8 yard-per-kick average, but that's to be expected with all those kicks.
June, 23, 2011
6/23/11
10:06
AM ET
We're finally at the end of our position rankings and we'll finish up with special teams. This group does a lot more than people think and teams are starting to put their best athletes out here.
Kickers and punters don't get a lot of respect in the athletic department, but they are crucial assets to teams.
Let's see how the SEC special-teams units stack up:
1. Georgia:
It would be hard to find another special-teams unit better than the one in Athens. The Bulldogs return the dependable Blair Walsh at kicker, who kicked a league-high 20 field goals on 23 attempts (87 percent). Punter Drew Butler averaged 44.5 yards on 50 punts, with 19 landing inside the 20-yard line. Georgia also has a talented returning duo in Brandon Boykin and Branden Smith. Boykin is the school's all-time leader in kick return yards and averaged 24.3 yards per return with a touchdown in 2010. Smith only returned 10 punts last year, but is dynamic in space.
[+] Enlarge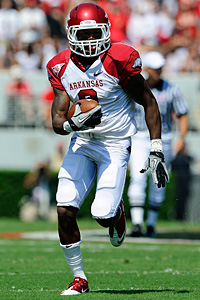 Paul Abell/US PresswireJoe Adams was fifth in the nation in punt returns last season, averaging 15.6 yards per return.
2. Arkansas:
Joe Adams
might be one of the most fun guys to watch in the return game. He was fifth in the nation, averaging 15.6 yards per return last year, and is one of the shiftiest returners out there. He also had a touchdown.
Dennis Johnson
is back from injury and when he was healthy, he was one of the best kicker returners in the league. In the kicking game, sophomore Zach Hocker had an impressive freshman year where he connected on 16 of 19 field goals, with seven from 40 or better. Punter Dylan Breeding averaged 42.5 yards per kick and pinned 18 inside the 20.
3. Alabama:
Trent Richardson
not only heads the Tide's offense, but he's extremely dangerous as a kick returner. He averaged 26.4 yards per return and had a touchdown last year.
Marquis Maze
, who grabbed 21 punt returns last year, has great speed to break one at any time. Alabama actually returns two kickers in Jeremy Shelley and Cade Foster. Shelley handled kicks with the 40-yard range, while Foster had long distance duty. The job at punter hasn't been settled, with Cody Mandell and Jay Williams battling it out.
4. Florida:
Caleb Sturgis is finally healthy after suffering a back injury last season. He was solid from farther out as a freshman, but struggled to stay consistent closer to the end zone. Ray Guy winner Chas Henry is gone, but freshman Kyle Christy enrolled early and immediately took over punting duties, launching a punt 55 yards in the spring game.
Andre Debose
was named the nation's top kick returner by the College Football Performance Awards in 2010 after returning two kicks for touchdowns and
Chris Rainey
could be the slipperiest punt returner in the SEC. Florida also has been the best punt/kick blocking team around the last few years.
5. Ole Miss:
Place-kicker Bryson Rose made 16 of 18 kicks last year and should be just as solid and might have to come up with even more kicks this fall. His kicking partner, punter Tyler Campbell, had a nation-leading 46.4 yards per punt average in 2010. He launched 19 punts over 50 yards and five of 60 or more yards.
Jeff Scott
was solid on kick returns, but Ole Miss' staff will look to junior college transfer Philander Moore for kick and punt returns. Last season at Blinn (Texas) College, Moore had 811 total return yards and six touchdowns.
6. Vanderbilt:
Kicker Ryan Fowler and punter Richard Kent return in 2011. Fowler was solid as a freshman, but took a few steps backward in 2010 kicking 8-of-13 and missing all of his kicks from beyond 35 yards. Carey Spear, who handled kickoffs last season, could push Fowler. Kent had one of the strongest and most durable legs in the country last season, leading the nation with 84 punts and averaged 41.8 yards per kick. Twenty-seven of them were downed inside the 20. Vanderbilt did, however, have four punts blocked. When healthy,
Warren Norman
is one of the most dynamic returners in the league. As a freshman, he took three kickoffs back for touchdowns and averaged 25.4 yards per return before his injury last season.
7. LSU:
The Tigers had one of the most exciting place-kickers to watch in Josh Jasper because he not only kicked but he was the master of the trick play. LSU will now look to Drew Alleman, who has had issues with consistency. Jasper also punted here and there, but regular punter Derek Helton is gone, leaving redshirt freshman Brad Wing in charge. The Australian-born athlete has a lot to learn about the SEC. Now that Patrick Peterson is gone, LSU is starting over in the return game. No one on the roster is as dynamic, but the Tigers will look at
Rueben Randle
, Tyrann Mathieu and Ron Brooks to carry the load by committee.
8. Mississippi State:
Kicker shouldn't be an issue for the Bulldogs. Derek Depasquale has hit 20-of-24 field goals in his two seasons in Starkville and nailed a 54-yarder in the spring game. Mississippi State must replace punter Heath Hutchins, but Baker Swedenburg should fill in nicely. The Bulldogs have a lot of athletes to throw out into the kicking game this year.
LaDarius Perkins
, who is Mississippi State's talented backup to running back
Vick Ballard
, will be used on kicks, along with receiver
Brandon Heavens
.
Chad Bumphis
returned punts last season, but Heavens could take over that role.
9. Kentucky:
Returners Randall Cobb and
Derrick Locke
are gone, but there are some athletes ready to fill in. Randall Burden, Winston Guy and Martavius Neloms got looks at punt returner this spring and there are a few options at kick returner. Both
Raymond Sanders
and Jerrell Priester fielded a few last season. Both kickers are back. Walk-on Craig McIntosh made 11 of 15 field goals last season, with a long of 50, while punter Ryan Tydlacka averaged 43.8 yards per kick.
10.Tennessee:
Kicker Michael Palardy only attempted seven kicks last year while backing up Daniel Lincoln. His only three misses were from beyond 40 yards. Tennessee will also be breaking in new punter Matt Darr this fall. The Volunteers were in the middle of the SEC pack in kick returns last year, but were 11th in the league in punt returns, totaling just 73 punt returns. Da'Rick Rogers will return punts and showed improvements there, while the Vols have yet to find their punt returner.
11. Auburn:
Record-setting kicker Wes Byrum is finally gone, so the Tigers' new kicker literally has big shoes to fill. That person should be Cody Parkey, who primarily kicked off last year. Auburn also lost punter Ryan Shoemaker. His replacement,
Steven Clark
had nine punts in 2010, with two dropping inside the 20.
Onterio McCalebb
should return more kicks this season and dynamic redshirt freshman
Trovon Reed
could be used on punt returns, where the Tigers averaged just 6.2 yards per return a year ago.
12. South Carolina:
Gone is dual-threat kicker Spencer Lanning, who kicked field goals and punts. Jay Wooten impressed at times this spring and can place-kick and punt. There's a chance the Gamecocks might end up having two kickers as Patrick Fish competed for the punting spot this spring. The Gamecocks were last in the SEC with a 3.4-yard average on punt returns, while the tiny
Bryce Sherman
averaged 20.4 yards on kicks, with a long of 37. The shifty
Ace Sanders
and newcomer Damiere Byrd could compete for time at punt returner.