NCF Nation:

Richard Sherman
March, 5, 2014
Mar 5
12:00
PM ET
STANFORD, Calif. --
Richard Sherman
has kept a consistent presence around the Stanford football program since being drafted in 2011, but Tuesday's visit to spring practice was a little different.
He returned a Super Bowl champion.
The All-Pro cornerback is part of a group of several NFL players -- including
Andrew Luck
,
Zach Ertz
and
Jonathan Martin
-- back on campus as part of a coordinated trip. More than 20 are expected back at some point to train together and take advantage of the program's new alumni locker room, which was part of a $21-million addition to the Arrillaga Family Sports Center completed in October.
"It's unbelievable, man," Sherman said. "It feels nice to have somewhere to go when you come here. You don't have to borrow or bum any of the young guys' lockers."
That Stanford has a designated area for NFL players is symbolic in the program's rise.
"It's a testament to a lot of groups of guys. It's testament to the group of guys that came before us who set the groundwork for us," Sherman said. "Jim Harbaugh did a heck of a job changing the culture and changing the mindset and also the players now."
Sherman's arrival was good timing, too. The Cardinal are still without a full-time defensive backs coach following Derek Mason's departure for Vanderbilt and are in the process of converting
Kodi Whitfield
from receiver to safety. Sherman made a similar change, albeit to corner, while he was at Stanford.
The Seahawks star spoke with Whitfield and other defensive backs about technique during position drills and watched from the sideline during team drills.
"He's trying not to coach from the sidelines, but he can't help himself sometimes," Stanford coach David Shaw said. "Just the fact that he's here, just the fact that he's around kind of reaffirms why some of these guys are here."
Sherman said he would like to get into coaching after his NFL career is over, but said he's more interested in the high school level.
He will spend the majority of his offseason in Seattle, but, along with several others, plans on being a visitor to his old home.
May, 1, 2011
5/01/11
12:26
PM ET
The Pac-12 provided 37 players to the NFL draft over the weekend, one fewer than the SEC, which led all conferences.
If the six combined picks from Colorado and Utah are taken away from the conference, the old Pac-10 provided NFL teams 3.1 draft picks per team, also just behind the SEC at 3.17.
Here's where the Pac-12 players went:
First round
No. 8
Jake Locker
, QB, Washington: Tennessee
No. 9
Tyron Smith
., OT, USC: Dallas
No. 17
Nate Solder
, OT, Colorado: New England
No. 24
Cameron Jordan
, DE, California: New Orleans
No. 27
Jimmy Smith
, CB, Colorado: Baltimore
Second round

7.
Akeem Ayers
, LB, UCLA: Tennessee
10.
Brooks Reed
, DE, Arizona: Houston
13.
Rahim Moore
, FS, UCLA: Denver
21.
Stephen Paea
, DT, Oregon State: Chicago
24.
Shane Vereen
, RB, California: New England
Third round

13.
Jurrell Casey
, DT, USC: Tennessee
20.
Mason Foster
, LB, Washington: Tampa Bay
25.
Shareece Wright
, CB, USC: San Diego
29.
Christopher Conte
, S, California: Chicago
33.
Sione Fua
, DT, Stanford: Carolina
Fourth round

5.
Jordan Cameron
, TE, USC: Cleveland
19.
Casey Matthews
, LB, Oregon: Philadelphia
21.
Jalil Brown
, CB, Colorado: Kansas City
27.
Owen Marecic
, FB, Stanford: Cleveland
Fifth round

8.
Brandon Burton
, CB, Utah: Minnesota
9.
Gabe Miller
, DE, Oregon State: Kansas City
14.
Jacquizz Rodgers
, RB, Oregon State: Atlanta
23.
Richard Sherman
, CB, Stanford: Seattle
Sixth round

2.
Ryan Whalen
, WR, Stanford: Cincinnati
14.
Caleb Schlauderaff
, OG, Utah: Green Bay
17.
Ronald Johnson
, WR, USC: San Francisco
19.
David Carter
, DT, UCLA: Arizona
22.
Allen Bradford
, RB, USC: Tampa Bay
24.
Mike Mohamed
, LB, California: Denver
32. Ricky Elmore, DE, Arizona: Green Bay
38. Zach Williams, C, Washington State: Carolina
Seventh round

12.
D'Aundre Reed
, DE, Arizona: Minnesota
24.
Scotty McKnight
, WR, Colorado:
New York Jets
30.
Lawrence Guy
, DT, Arizona State: Green Bay
37.
Stanley Havili
, FB, USC: Philadelphia
38.
David Ausberry
, WR, USC: Oakland
39.
Malcolm Smith
, LB, USC: Seattle
By Pac-12 school:

Arizona (3)
Arizona State (1)
California (4)
Colorado (4)
Oregon (1)
Oregon State (3)
Stanford (4)
UCLA (3)
USC (9)
Utah (2)
Washington (2)
Washington State (1)
The final tally by automatic qualifying conferences
:
SEC... 38
Pac-12... 37
Big Ten... 36
ACC... 35
Big East 22
Big 12...19
Nebraska was a big swing to the Big Ten from the Big 12 with seven picks. With Colorado and Nebraska, the Big 12 provided 30 selections.
This was the tally through three rounds
:
SEC: 20
ACC: 19
Pac-12: 15
Big Ten: 13
Big 12: 9
Big East: 4
April, 8, 2011
4/08/11
10:30
AM ET
STANFORD, Calif. -- Stanford's defense went from mediocre-to-lousy in 2009 to darn-close-to-dominant in 2010. New Cardinal defensive coordinator Derek Mason, who oversaw the secondary last season, is quick to give credit where it is due for what he calls "a complete metamorphosis."
"Vic [Fangio] brought in a sense of accomplishment, stability and experience," said Mason of the coordinator who followed former Stanford coach Jim Harbaugh to the San Francisco 49ers. "Guys bought in to what he was selling."
Considering how much better the Stanford secondary was in 2010, Mason certainly deserves his share of credit. The pass efficiency defense improved from 98th in the nation to 16th in one year with Mason.
Mason believes there's no reason for regression in 2011, even though Fangio and five key starters are gone, including nose tackle Sione Fua, who made the Cardinal's new 3-4 look work by anchoring the middle of the line and keeping the linebackers free to roam in space.
"The biggest component was confidence," Mason said. "When you have some success, it starts to breed confidence."
Some notes from our chat:
The general gist from Mason: There's good depth at linebacker, good competition in the secondary and maybe some concerns up front. Replacing Fua -- perhaps the most underrated player in the Pac-10 last year -- isn't going to be easy. "We're going to do it by committee," Mason said. "There is no player right now that we can say, he's the guy."

[+] Enlarge

Jonathan Daniel/Getty ImagesDefensive end Matt Masifilo was part of a Stanford defense that was dominant last season.

As for that D-line, Matt Masifilo is back at one end. Ben Gardner probably is tops at the other end. Terrence Stephens, David Parry and Henry Anderson are options inside at nose tackle. Mason also mentioned Eddie Plantaric as an option. Mason called Anderson, a redshirt freshman, a "swing guy" who could play inside our outside: "When we look at who has come the furthest in the shortest amount of time, it's Henry Anderson."

Mason also admitted -- after a certain sports writer whined about the multiplicity of looks from the Stanford D -- that the the Cardinal defense is more of a hybrid 3-4 than a pure 3-4. There were plenty of times last fall when four defenders put their hands on the ground in a 4-3 look. It's about matchups, he said. And if it's clear there's more talent at linebacker, which appears to be the case, "We could take a defensive end out and put another linebacker in. We're going to get the best athletes in."

Mason repeatedly talked about incoming freshman, particularly linebacker James Vaughters, who by most accounts will be too good to redshirt, as well as a defensive backs Wayne Lyons, Ra'Chard Pippens and Ronnie Harris. "We're not afraid to play true freshmen," he said.

Inside linebacker Shayne Skov and outside linebacker Chase Thomas are All-Pac-12 talents. As for the two vacancies at linebacker, two sophomores, Blake Lueders and Trent Murphy, are battling outside and senior Max Bergen and sophomore Jarek Lancaster are competing inside. Alex Debniak also is in the mix outside -- Mason included him with Lancaster and Lueders when he said, "Those three guys have probably come the furthest in the shortest period of time." And Vaughters, well, he's got great high school video and could help inside or out.

Linebacker? "We are a very athletic group across the board," Mason gushed.

As for the secondary, the question is not only Richard Sherman's former sport at cornerback. Said Mason, "Richard's spot is up for grabs. Both corners are up for grabs. I'll say this. There's not a position in the secondary that isn't up for grabs." That includes both returning starters at safety, Mike Thomas and Delano Howell (here's a guess Mason was mostly making a point about competition -- "We're always going to keep pushing the envelope" -- Thomas and Howell are almost certain to start). At corner, Barry Browning, Johnson Bademosi and sophomore Terrence Brown are in the mix. Sophomore safety Devon Carrington also has caught Mason's eye.

Interesting quote from Mason: "We probably played as much man coverage as any team in the country [in 2010]."

The Stanford defense finished ranked in the nation's top 1o in scoring, which is more remarkable when you consider it gave up 52 points at Oregon. That ill-fated trip is something that Mason seems to recall as vividly and often as the fancy, positive stats. It's clear he has -- and likely his staff and players have -- spent plenty of time thinking about the Ducks, who handed Stanford its only loss. Said Mason, "The team we have to go get is the Oregon Ducks. Oregon is king of the hill."
February, 18, 2011
2/18/11
4:58
PM ET
It might seem very Jim Harbaugh-y that new Stanford coach David Shaw is so eager to get to work that he's schedule his first spring practice for Monday, when the calendar says we're still in winter. But Shaw is fully aware that he's not Jim Harbaugh. He's not going to adopt a Harbaughian pose. It's not likely he will talk about "enthusiasm unknown to mankind" or not bowing down to any program or comparing his quarterback (
Andrew Luck
) to his wife because both are "perfect."
Harbaugh was often a colorful quote but a prickly interview. He was unpredictable and edgy, incredibly competitive and just a little nutty.
[+] Enlarge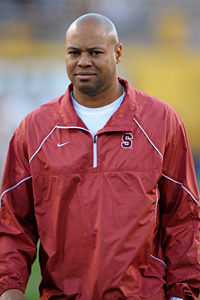 Kirby Lee/Image of Sport-US PresswireAmong David Shaw's chief concerns are filling voids on both lines and at linebacker.
Shaw is polished and measured. As Stanford's head coach, he's going to be David Shaw, and plenty of folks on the Farm think that's going to be a good thing -- see recent
good news on ticket sales
.
"I just have a different personality," he said. "I'm a different person."
That doesn't mean, however, he's any less competitive. During a short phone conversation Friday, he talked about being "single-minded" and "focused" and getting better each practice. The first task for Stanford this spring is moving past a scintillating 12-1 campaign in 2010. If the Cardinal start believing they've arrived, they surely won't.
As to the business at hand, Shaw announced a couple of staff additions. Mike Bloomgren, a New York Jets offensive assistant, is the Cardinal's new offensive line coach and running game coordinator, and Mike Sanford, a former Stanford assistant who was Western Kentucky's quarterbacks coach and passing game coordinator last year, has been hired as running backs coach.
Shaw said the last void on his staff is at tight ends coach. "I'm not going to rush," he said. "I'm not just hiring guys for spring ball."
Previously, Shaw announced that Pep Hamilton had been promoted to offensive coordinator and will work with quarterbacks and receivers and that Derek Mason and Jason Tarver, a former San Francisco 49ers assistant, would serve as co-defensive coordinators. Mason will oversee the secondary and call plays, while Tarver will coach linebackers.
Spring practices will be split into two minicamps. The first session runs Feb. 21 to March 5. The second starts March 28 and ends with the spring game on April 9.
When asked about his primary concerns, Shaw quickly named the offensive line, which must replace three starters, including All-America center Chase Beeler and All-Pac-10 guard David DeCastro.
Other issues: Who's Luck's backup? Who replaces Nate Whitaker at kicker? What about two voids at linebacker and on the defensive line? And who steps in for Richard Sherman at cornerback?
Shaw isn't eager to provide lists of possible answers. He obviously wants to create as much competition as possible. The good news is the Cardinal, who are almost certain to be ranked in the preseason top 10, appear to have plenty of up-and-coming players who are ready to step in.
As for Luck, Shaw isn't worried that a guy touted as the surefire No. 1 pick in the NFL draft this spring had he not decided to return will try to shoulder too much of a burden.
"I love his leadership style because it's a performance-based leadership," Shaw said. "He wants to be one of the hardest workers on the team. He wants to lead by example. He doesn't want to give a whole bunch of speeches."
In other words, Shaw expects Luck to be Luck. Just like Shaw plans to put his mark on the program instead of trying to be the second-coming of Harbaugh.
January, 14, 2011
1/14/11
11:00
AM ET
Who distinguished themselves during the bowl season? Here's our All-Bowl Team.
Offense
[+] Enlarge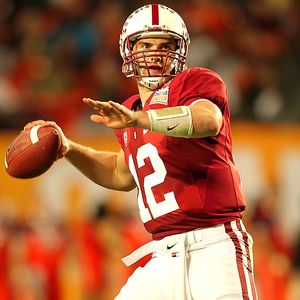 Mike Ehrmann/Getty ImagesAndrew Luck's performance helped key Stanford's blowout win against Virginia Tech.
QB Andrew Luck, Stanford
: Luck completed 18 of 23 passes for 289 yards and four touchdowns in the Cardinal's 40-12 win over Virginia Tech in the Discover Orange Bowl. He also rushed for 15 yards and was sacked just once.
RB Chris Polk, Washington
: Polk rushed for 177 yards on 34 carries with a touchdown in the Huskies win over Nebraska in the Bridgepoint Education Holiday Bowl.
RB Jeremy Stewart, Stanford
: Sophomore
Stepfan Taylor
actually rushed for more yards, but Stewart, a senior who's battled injuries throughout his career, had 99 yards on just five carries, including a 60-yard touchdown against Virginia Tech.
WR Jeff Maehl, Oregon
: Maehl caught nine passes for 133 yards with a long reception of 81 yards in the Tostitos BCS National Championship Game.
WR David Douglas, Arizona
: Douglas caught six passes for 91 yards in the Valero Alamo Bowl.
TE Coby Fleener, Stanford
: Fleenor had a career night in the Orange Bowl, catching six passes for 173 yards and three touchdowns.
OL Jonathan Martin, Stanford
: Stanford rushed for 247 yards and allowed just one sack. Martin will be an All-American candidate in 2011.
OL Chase Beeler, Stanford
: Beeler, the consensus All-American center, is the brains behind the bullies, leading one of the nation's best lines.
OL David DeCastro, Stanford
: The first-team All-Pac-10 performer had a number of key blocks against the Hokies.
OL Senio Kelemete, Washington
: Kelemete has a chance at All-Conference honors as a senior.
OL Cody Habben, Washington
: The Huskies rushed for 268 yards and allowed no sacks versus Nebraska. A nice way for the senior right tackle to go out.
Defense
LB Mason Foster, Washington
: Foster had a game-high 12 tackles, including two sacks in the Huskies win over Nebraska.
LB Shayne Skov, Stanford
: Skov had a game-high 12 tackles, with three sacks and another tackle for a loss against the Hokies. He also broke up a pass.
LB Casey Matthews, Oregon
: Matthews had six tackles, split a tackle for a loss and, most important, forced the late fumble from
Cameron Newton
that set up the Ducks touchdown that tied the count 19-19 late against Auburn.
LB Victor Aiyewa, Washington
: Aiyewa had three tackles for a loss and two forced fumbles in the Holiday Bowl.
DT Alameda Ta'amu, Washington
: Ta'amu dominated inside, recording a sack and recovering a fumble against the Cornhuskers.
DE Hau'oli Jamora, Washington
: The true freshman had three tackles for a loss and a sack versus Nebraska.
DE Kenny Rowe, Oregon
: Rowe was second on the Ducks with nine tackles, four of which came for a loss. He also had a sack and a forced fumble.
CB Cliff Harris, Oregon
: Harris had three tackles, two pass breakups and an interception. A second interception was not upheld by replay officials.
CB Richard Sherman, Stanford
: Sherman had just one tackle against Virginia Tech. It appears that the Hokies, who completed just 16 of 31 passes, decided not to throw his way.
S Delano Howell, Stanford
: Howell had an interception, a sack and four tackles in the Orange Bowl.
S Nate Felner, Washington
: Felner had four tackles and an interception in the Huskies win over Nebraska.
Special teams
K Rob Beard, Oregon
: There wasn't a lot of great kicking this bowl season in the Pac-10, but Beard connected on a 26-yard field goal against Auburn and scored a 2-point play on an option pitch.
P David Green, Stanford
: Green didn't punt much in the Orange Bowl, but he did average 46 yards when he did (three times).
KR Travis Cobb, Arizona
: Cobb returned five kickoffs for 179 yards, with a long of 64 yards.
January, 4, 2011
1/04/11
11:00
AM ET
MIAMI -- What to make of the future at Stanford?
As everyone
anxiously awaits the twin decisions
of coach Jim Harbaugh and quarterback
Andrew Luck
, an appropriate question to ask is this one:
If both leave, is this program in position to continue on its upward path?
[+] Enlarge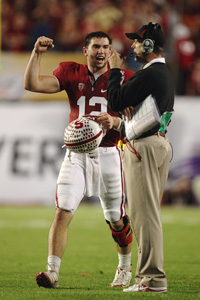 Streeter Lecka/Getty ImagesQuarterback Andrew Luck and coach Jim Harbaugh may be working on Sundays next season.
"There's a core group of young guys in this program that know how to work and know how to get the job done," said fullback/linebacker
Owen Marecic
. "Coach Harbaugh -- that's not taking anything away from him, he's the reason we've had so much success -- but these guys are so grounded that they'll be successful in whatever they pursue."
Stanford players believe their 40-12 win over Virginia Tech in the Discover Orange Bowl is a momentum-shifting event for a program that has seen its fair share of down times.
Linebacker Shayne Skov said there was no question it was a "statement win."
"People that doubted this program four years ago, doubted the recruiting classes coming in, the motive for coming here -- this is what we've always dreamed of," Skov said. "This is what we always wanted, and we weren't going to let it slip away from us."
The Cardinal had never won 12 games in a season before, and are going to finish ranked in the top 5 for the first time since 1940. They went from 1-11 in 2006 to 12-1 in 2010, an astonishing feat in such a short period of time.
As Marecic said, Harbaugh is the biggest reason. Therefore, he is also the biggest reason he's the hottest coach in America right now.
Of course, Luck has meant much to the team's success as well. The Heisman runner-up had an incredible performance against Virginia Tech that left observers believing he is the most NFL-ready quarterback they had seen in years.
His second half was astounding: 9-of-10 for 201 yards with three touchdowns. His pinpoint passes were so accurate, only his receivers could catch them. The pass he threw on a rope to
Coby Fleener
on the sideline was perhaps his highlight of the night.
Of course, Stanford overcame the loss of Heisman finalist Toby Gerhart this season to make it to a BCS bowl game. But quarterbacks are the heart of a team, and replacing Luck would be no easy task, should he decide to head to the NFL draft.
Predictably, both Harbaugh and Luck deflected any talk about their future. So did the players, who insisted they had not thought about a future without Harbaugh or Luck.
So what does the future look like? Well, Stanford returns terrific young talent in leading rusher
Stepfan Taylor
and Skov, who led the team in tackles.
Chris Owusu
and Fleener return as well, along with Chase Thomas and Delano Howell.
But there are some big losses, including center Chase Beeler, leading receiver
Doug Baldwin
, Marecic, Taylor Skaufel, Richard Sherman and Sione Fua.
Then there is Luck, of course. But no matter what decisions are made, players truly believe the only place for Stanford to go is up.
"It's been a heck of a turnaround and a championship season is special no matter how you do it," Marecic said. "There's still that national championship out there that this team is definitely capable of getting to. That's going to motivate offseason workouts. These guys really have it in them. They realize that now."
December, 29, 2010
12/29/10
9:00
AM ET
Folks throw around terms such as "best" and "worst" and "most" and "least" in sports in all the time, even when their application is more symbolic than real. Extremes are easy to understand. Talking about them can be fun. Actually experiencing them is rare, though. Living through the best of times and worst of times? That was just Charles Dickens rolling out a good opening line.
Richard Sherman and the rest of Stanford's fifth-year seniors, however, know both the best of times and worst of times, at least in terms of college football.
In 2006, the Cardinal went 1-11. That was the most losses in school history and worst record since an 0-10 mark in 1960. It was the program's fifth consecutive losing season, and coach Walt Harris was fired after just two years.
[+] Enlarge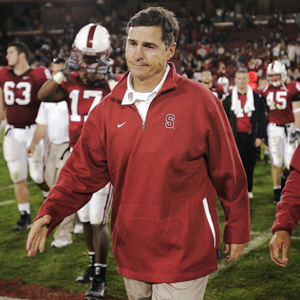 AP Photo/Paul SakumaThe Cardinal went 1-11 in 2006 under former coach Walt Harris.
Worst of times.
In 2010, the Cardinal went 11-1. That set a school season record for victories. Stanford, ranked fourth in the final BCS standings, hasn't finished ranked in the top five of the AP poll since 1940. It's headed for a date with Virginia Tech in the Discover Orange Bowl on Monday.
Best of times.
And, yes, the latter is more fun.
"It's unbelievable," Sherman said. "I can't even express to you the emotions I have and the other seniors have. Coming in the way we did, obviously, 1-11 and now leaving with a record-setting season, one of the best offenses in the country, one of the best defenses in the country. Just a great team. We love each other. I can't explain it to you. It's a combination of joy, happiness, pride, a lot of things. Man, watching these guys grow up. We've all come a long way."
Sherman was a freshman on the 2006 team. It was shut out twice. It lost to San Jose State. It ranked 118th in the nation in scoring (10.6 points per game) and 108th in scoring defense (31.4 ppg), meaning it lost by an average of three touchdowns.
Harris went 6-17, turning in the shortest tenure of any Stanford coach since Rod Dowhower left after one season in 1979 with a 5-5-1 record. It was clear his disciplinarian methods weren't clicking with the sort of players who can get into Stanford.
"It was maybe just a bad fit," receiver Mark Bradford said at the time. "Maybe we didn't respond to the way that was his style of coaching. His style of coaching probably would have worked in a lot of other places. It didn't work here."
Enter Jim Harbaugh, who introduced himself by stating, "I vow I will attack this endeavor with enthusiasm unknown to mankind."
He was the anti-Harris. "It was just a whole different way of coaching. ... Coach Harbaugh definitely brought a different energy and enthusiasm to the program. Basically, he brought a belief in winning that I don't think guys had before he got here," Sherman said.
That can't be undersold. While injuries were a huge issue for Stanford in 2006, there was
plenty of talent on the roster
: Trent Edwards was the quarterback for the first half of the season before he got hurt, and plenty of guys went on to the NFL. And many names are familiar because of their roles in the Cardinal's recent surge under Harbaugh, from running back Toby Gerhart to Sherman to almost the entire offensive line.
[+] Enlarge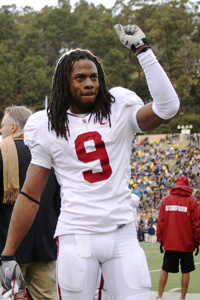 Ezra Shaw/Getty ImagesRichard Sherman is part of Stanford's senior class that has transformed the program.
There was talent in 2006. Sherman said the players worked hard and practiced hard. But the results were terrible. The offense only scored as many as two touchdowns in two games all season.
"It was rough coming from high school," said Sherman, who started out as a receiver. "You don't really know what to expect and then you come into that. It's rough to not get wins. You work hard every week, you game plan every week, and things just don't work out for you. It's obviously frustrating."
Just four years later, Stanford became one of the great turnaround stories in college football history. Louisville, which went 11-1 in 2001 after going 1-10 in 1997, was the last FBS team to win one game and then as many as 11 games four years later. Pittsburgh won the 1976 national championship with a 12-0 record four years after posting a 1-10 mark.
The 2010 Cardinal not only won, they dominated. They outscored foes by an average of more than 22 points. They ranked No. 8 in the nation in scoring (40.3 ppg) and No. 11 in scoring defense (17.83). They recorded three shutouts for the first time since 1969. They set a school record for points (484), and quarterback
Andrew Luck
set a school record with 28 touchdown passes. For the second consecutive year, the program produced a Heisman Trophy finalist -- Luck -- who followed Gerhart, the 2009 runner-up.
"This year was like the perfect storm," Sherman said.
But Sherman & Co. still retain a chip on their collective shoulders. They aren't ready to announce their arrival on the national scene just yet. They won four games in 2007, five in '08 and eight in 2009. It's been a process, and they sense there are still some stragglers who doubt them.
"People don't look at us as a talented team now and they didn't look at us as a talented team then [in 2006]," Sherman said. "Obviously, when you put on the Stanford 'S' it takes your talent and speed away. You're not fast or athletic anymore. It's been that way since I got here. We have great athletes, great players."
Sherman said the Cardinal aren't satisfied with merely earning the trip to Miami for a BCS bowl game. "There aren't going to be many guys trying to live the life in Miami. It's not about the trip. It's about the win," he said.
Winning, of course, is the only way to ensure that 2010 will be remembered as the very best of times on the Farm.
August, 23, 2010
8/23/10
12:39
PM ET
Sometimes athletes don't want to answer tough questions. Other times they are eager to embrace them. This is one of those times.
California quarterback
Kevin Riley
knew the question about rival Stanford was coming. He'd surely already read stories about a
changing of the guard in the Bay Area
. He probably was aware that
more than a few columnists
and fans had questioned whether his coach, Jeff Tedford, was capable of prodding the Bears into
taking the next step from merely good to elite
.
[+] Enlarge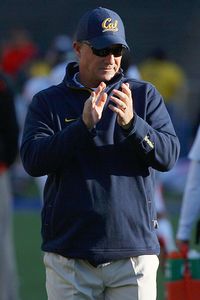 Jed Jacobsohn/Getty ImagesJeff Tedford is still seeking that elusive Rose Bowl berth.
Changing of the guard? My tookus, said Riley.
"It's disrespect," said Riley with just a hint of edge in his voice. "We beat them last year, and our offense whupped up their defense pretty good. We beat them last year when they were at their highest point of their game."
That's not an unfair assessment. Cal was widely considered one of the nation's most disappointing teams last season when it visited No. 14 Stanford, which was in the middle of the Rose Bowl race. All the Bears did was roll up 477 yards in a 34-28 win.
It was Cal's seventh victory in eight Big Games under Tedford. Both teams finished 8-5. Both landed top-25 recruiting classes. Still, the perception persists that Cal has plateaued and Stanford is rising.
Part of that is because Cardinal coach Jim Harbaugh resembles Tedford, circa 2004. Just as Tedford took a program that had bottomed out, led it back to respectability and became a hot-shot coach, so has Harbaugh. The Cardinal had suffered through seven consecutive losing seasons, including two with Harbaugh, until breaking through in 2009. And Harbaugh, often colorfully, doesn't try to tamp down newly high expectations on the Farm, saying "our goal is to win the conference championship" not "sustain success."
"We're not sustaining a gosh darn thing," he said, waking up reporters at Pac-10 media day. "We despise the word sustain. We despise the word satisfaction."
(Another question: Will Harbaugh remain satisfied at Stanford? Tedford turned away a number of suitors -- the Chicago Bears, the
Washington Huskies
-- before signing a big contract -- $2.8 million annually -- and deciding to remain in Berkeley).
Meanwhile, Tedford has been reviewing all aspects of his operation, trying to find a way to advance his program from a team that wins seven, eight or nine games to one that goes to the school's first Rose Bowl in 51 years. He hired a new offensive coordinator last season (Andy Ludwig) and, this offseason, a new defensive coordinator (Clancy Pendergast) and special-teams coordinator (Jeff Genyk).
Tedford has talked about loosening up and making sure football remains fun for his players. He's talked about better managing the effects external expectations can have on his team.
[+] Enlarge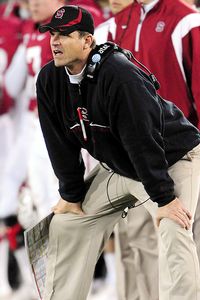 Kyle Terada/US PresswireJim Harbaugh has his sights on a conference championship.
"I do not want to get into a situation where if we do stub our toe then the whole world caves in," he said.
That said, even though Cal won seven or more games only four times from 1978-2001, the expectations, in general, figure to remain high. The early Tedford years seemed to promise Rose Bowls, so the Old Blues feel as if a promise hasn't been kept. And Tedford and Riley are well aware of this.
"It used to be eight or nine wins was a good season," Tedford said. "People were satisfied with that. But that is not good enough anymore. We have to get over that hump. We have a burning desire to go to the Rose Bowl."
Said Riley, "Cal has been waiting a long time for a Rose Bowl. Since I've been here, that's my goal, and it still is. You go out and win eight games? Standards are higher than that for Cal now. Our fans want to see more."
While Cal has fallen short of high preseason expectations in recent seasons, it also has seemed to play better when it wasn't picked at the top of the conference and perched toward the top of the preseason polls. So being picked seventh in the preseason media poll -- three spots behind Stanford -- and unranked nationally are perhaps good things.
Stanford cornerback Richard Sherman is a fifth-year senior. He suffered through the bad times at Stanford. And he suffered through last season's humbling Big Game defeat. He's hardly ready to claim that the Bay Area balance of power has shifted.
"In every rivalry it's even -- it's zero-zero and records don't matter, rankings don't matter," he said. "It's who can go out there and impose their will on the other. You don't go out there feeling like an overdog or an underdog. You just want to beat Cal."
It's possible this year's Big Game might be for high stakes in the conference pecking order. It's almost certain it will have high stakes in the Bay Area.
November, 14, 2009
11/14/09
10:47
PM ET
LOS ANGELES -- The question put to Stanford coach Jim Harbaugh was fairly simple. Did Stanford's
55-21 victory
over USC on Saturday feel different than the shocking 24-23 win in 2007, when the Cardinal entered as 41-point underdogs?
Harbaugh, who just moments before was bouncing off the walls in a jubilant locker room, scratched the side of his head and maintained a neutral expression.
"It feels different," he said.
It should.
2007 was a wonderful bit of a theater, but it was a fluke and everyone knew it.
[+] Enlarge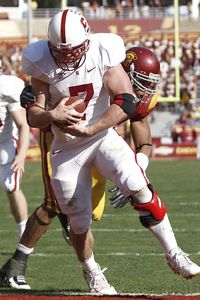 AP Photo/Matt SaylesStanford's Toby Gerhart rushed for 178 yards and three touchdowns Saturday.
What Harbaugh and his bruising bunch had delivered in the Coliseum this time? This was no fluke. This was an announcement.
The Cardinal have arrived. No other way to put it after they beat top-10 programs on consecutive weekends.
And if the chips fall the right way in the Pac-10 race, Stanford could end up in its first Rose Bowl since the 1999 season.
For Stanford's veteran players, who suffered through a 1-11 season in 2006, the reversal of fortune is dramatic.
"I'm trying to wrap my mind around it, but I'm having a difficult time," said senior cornerback Richard Sherman, whose pick-six in the fourth quarter gave the Cardinal a 42-21 lead and sent many Trojans fans stomping out to the tangle of LA highways.
"I'm trying to enjoy this because we've been through some dark times."
The Cardinal dominated the Trojans in USC's house -- where they'd won 47 of 48 games -- from gun-to-gun. Stanford never trailed. Every time USC made a move and closed the gap, Stanford answered.
Stanford outgained the Trojans 469 to 334, and was so enjoying its domination it even took a moment to rub USC's face in it.
After going up 48-21 on a 6-yard touchdown run by
Toby Gerhart
, who rushed for three scores and 178 yards, Harbaugh opted to go for a 2-point conversion. It was about the only time all afternoon the Stanford plan didn't work.
"I didn't know what they were thinking with that, but in that situation they get to do whatever they want," USC coach Pete Carroll said.
Explained Harbaugh: "I felt like it was an opportunity the way the offensive line was playing."
Read: An opportunity to tweak the no-longer-so-mighty Trojans.
Forgive Harbaugh and his team for perhaps being a little graceless in victory. It was hard for them not to be intoxicated by the nature and totality of the triumph. Harbaugh said he thought his team could win, but he admitted he didn't entertain the notion of a blowout.
Who did?
"I think we surprised them a little bit," Gerhart said. "They're USC and they have been the premier Pac-10 team and the elite team in college football. We've been an underdog program, a program on the rise. To come out and make a statement today says great things about this program."
Stanford improved to 7-3 overall and 6-2 in the Pac-10. It concludes its conference schedule at home next weekend in the Big Game against California. The season finale vs. Notre Dame, also at home, will have no bearing on the Pac-10 race.
Stanford has beaten Oregon and lost to Arizona and Oregon State. It, therefore, favors any tiebreaker with the Ducks.
It would hard to insist any conference team is playing better than the Cardinal right now, though.
Gerhart only increased the legitimacy of his Heisman Trophy candidacy, while quarterback
Andrew Luck
turned in another poised, efficient day. Luck completed 12 of 22 passes for 144 yards with two touchdowns and no interceptions. He also rushed for 61 yards.
The offensive line dominated the line of scrimmage. It didn't allow a sack and led the way for 325 yards rushing.
Meanwhile, the Cardinal defense, which has suffered in comparison to the impressive offense most of the season, held its own against the Trojans, recording two sacks and eight tackles for a loss while forcing four turnovers.
"We got some stops and some sacks," Harbaugh said. "We also did a really good job on the perimeter against the screen game. And our defensive line did an excellent job of pushing the pocket back and constricting [passing] lanes to see [through]."
In the week leading up to the game, Harbaugh didn't play the "one-game-at-a-time" card. He called it "put-up-or-shut-up time for Stanford football."
He returned to that phrase after the game.
His team "put up."
"Our guys came out focused and loose and did what we had to do to win," he said.
There's that understatement again.
Stanford didn't just do enough to win. It dominated.
It also did enough to announce itself as a Pac-10 contender. This season and likely going forward.
November, 6, 2009
11/06/09
12:34
PM ET
Posted by ESPN.com's Ted Miller
If you think Stanford plans to just give it the ol' college try Saturday against Oregon, you don't know coach Jim Harbaugh and the mindset he's installed at Stanford.
| | |
| --- | --- |
| | |
| | AP Photo/Marcio Jose Sanchez |
| | Coach Jim Harbaugh has his team focusing beyond just securing bowl eligibility. |
Notch an upset against the nation's No. 8 team? Settle for finding a sixth win at some point during a brutal home stretch against four ranked teams and obtain bowl eligibility for the first time since 2001? That's not what Harbaugh and his team are pondering.
The Cardinal (5-3, 4-2) are still thinking Pac-10 championship. They plan to beat the Ducks. Then they plan to win at USC (again!). Then beat rival California. Then Notre Dame.
It may not happen, but Harbaugh clearly has high expectations for his program, now and into the future.
He stopped by for a quick chat.
Got a note from a Stanford fan about your experiment with two-way players during spring and preseason practices: How many guys have seen action on both sides of the ball this season?
Jim Harbaugh
:
Owen Marecic
(at fullback and linebacker), James McGillicuddy (offensive and defensive lines) and Richard Sherman (cornerback and receiver). So, three guys.
Did you guys back off that a little bit?
JH
: It's the way it's always been -- you try to get the best players on the field. Some of them are contingency plans. If someone gets hurt, then you have someone prepared and trained at that position who might be your best player.
So, Oregon: What did you see from the USC game tape?
JH
: A high level of execution. Fast tempo offensively. Physical defensively -- across the board. Special teams are outstanding. They're second in the country in kickoff returns. A secondary that tackles very well in space. No weak link. A very formidable team.
Any chance your guys will be intimidated by the Ducks?
JH
: That question keeps getting asked but, no, I've never seen our guys intimidated.
You guys have established a reputation for physical football. Is the next step getting faster?
JH
: You always want to get more physical, more athletic and faster. Stronger. Those are always things you are striving for.
That leads into my next question: How do you sell Stanford in recruiting?
JH
: It really comes down to identifying what the youngster is looking for from his college experience. For someone to come to Stanford, they have to achieve as much as they possibly can academically and achieve as much as they can athletically. That's the perfect guy. If a guy just wants to achieve athletically and just kind of work his way through the academics -- not have to work as hard for that degree -- there are better places to go than Stanford. It's the idea of, 'You work hard now, you won't have to work as hard later in life.'
Quarterback Andrew Luck has impressed everyone thus far. What does he need to get better at?
JH
: It's just playing the position. The experience. In terms of coaching him, he's one of those special guys who come along. Like [defensive back] Delano Howell, for instance. Delano was a freshman last year playing running back and receiver. I told the coaches, "Don't overcoach him. Don't ruin this guy. This guy is a football player and he is going to do things that are going to really amaze you.We don't want to coach that out of him." Similar but different with (Luck). The quarterback has to be coached. He has to be trained on the football side, the game plan side each week. But mechanically, physically, we're letting him play the position and learn as he plays. Does that makes sense? I don't want him to be a victim of over-coaching. Some guys with special talent, you've got to let them play. Therefore they learn how to play their game. That's where Andrew is making the most strides right now -- learning to play his game. He's a special talent.
You guys have four games remaining against ranked teams. You have to win one to become bowl-eligible. Do you use a bowl game as motivation? Do you sell that to your team?
JH
: No. We're all about this is like an NFL playoff. That's the closest you can compare it to what we're going through. We're entering the wild-card weekend. You win, you stay eligible for the Rose Bowl. The championship. If we lose, then we're out of that. We know we've got games after this one, but that's our mentality. You win and you keep going, you stay eligible for the conference championship.
Big picture: No question Stanford has become a formidable team. How close are you guys to being a championship-quality team, that team that's going to be atop the Pac-10?
JH
: I don't think there's been an opportunity like this in the last 10 years, like Stanford football has now, what we have this week. We have a chance to express what this team is and what it is all about.
Posted by ESPN.com's Ted Miller
Optimism is a powerful thing. And spring is a time for renewal. So this is a "Best of" list, without any of the "Negative Nellie" stuff.
Best spring game performance by a quarterback: Stanford redshirt freshman Andrew Luck all but won the starting quarterback job over incumbent Tavita Pritchard after completing 18 of 25 passes for 352 yards and five touchdowns to lead the White team to a 42-17 victory over the Cardinal.
Best spring game performance by a quarterback II: Washington quarterback Jake Locker seemed fine working in a pro-style offense after completing 16 of 18 passes for 200 yards and two touchdowns. The two incompletions, by the way, were drops.
Best spring game performance by two quarterbacks: Oregon's Jeremiah Masoli and Justin Roper combined to complete 37 of 56 passes for 516 yards and five touchdowns and neither threw an interception in the Ducks' spring game. Perhaps it was the rainy weather only fit for a Duck?
Best spring, overall, by a quarterback: Under intense, national scrutiny ,USC's Aaron Corp threw only one interception throughout spring practices and was consistently solid throughout the session, which earned him the nod as the Trojans No. 1 quarterback over spectacular freshman Matt Barkley entering the offseason. Under coach Pete Carroll, every previous Trojan quarterback who had been tapped No. 1 out of spring started the season opener.
Best performance by a true freshman: Barkley made the recruiting gurus who ranked him No. 1 look smart.
Best spring game on defense: Talk about a penetrating performance. USC's backup defensive end Nick Perry had six tackles for loss, including four sacks, among his seven tackles. Yeah, USC's defense is going to be hurting in 2009.
Best spring on defense: Six guys stood out: Oregon cornerback Walter Thurmond III, UCLA's tackle Brian Price, Oregon State tackle Stephen Paea, Arizona State defensive tackle Lawrence Guy, Arizona linebacker Vuna Tuihalamaka and USC linebacker Malcolm Smith.
Best surprise: USC transfer and notorious underachiever Jamere Holland suddenly decided to become Oregon's best deep threat and turned in an outstanding spring. Golly, sometimes listening to your coaches helps.
Best breakout: While California has questions at receiver, the general feeling is sophomore Marvin Jones is almost certainly one of the answers.
Best 'it's about time' breakout: USC's Everson Griffen might be the nation's most talented pass-rusher, but his high-performance engine has also been a high-maintenance engine. Yet his effort and intensity were consistentthis spring, which meant no one could block him.
Best comeback: California offensive tackle Mike Tepper has been through a lot, but he's hoping his sixth year will just be about anchoring a line with a lot of upside. Read Tepper's story here.
Best comeback II: Got a funny -- mean, but funny -- note during the 2008 season that instructed the Pac-10 blog to refer to Oregon State receiver Darrell Catchings as Darrell Droppings. Can't do that now because Catchings lived up to his name -- the real one -- this spring.
Best position change: Arizona sophomore Robert Golden, a marquee 2008 recruit, switched from cornerback to strong safety this spring, and early word is he could become an All-Conference player at his new position. The move further allowed the Wildcats to switch Cam Nelson to free safety from strong and get Trevin Wade on the field to complement Devin Ross at corner.
Best coaching decision: Stanford coach Jim Harbaugh wants his best 11 on the field at any given time, and he's willing to get creative to do it. That's why he's got a handful of guys playing both ways, including Owen Marecic (fullback and middle linebacker), Michael Thomas (cornerback and receiver), Richard Sherman (cornerback and receiver) and Alex Debniak (linebacker and running back). Will it work? We'll see. But it's undoubtedly interesting.
Best candidate for a karmic change: No team had worse injury issues this spring than Washington State, which is clearly in the midst of a major rebuilding project. Then promising defensive end Cory Mackay, who'd impressed this spring, suffered a serious back injury after he fell asleep at the wheel of his car. The Cougars are overdue for some luck. Perhaps it arrives this fall?
Best catch of the spring: You may have already watched this grab. Watch Arizona State receiver Kerry Taylor one more time. It's worth it.
Best position in conference: The Pac-10 might have the nation's best collection of talent in the secondary, with USC and California boasting units that should rank among the nation's best. Consider: FS Taylor Mays (USC), SS T.J. Ward (Oregon), SS Josh Pinkard (USC), CB Walter Thurmond III (Oregon), CB Alterraun Verner (UCLA), CB Syd'Quan Thompson (California), CB Devin Ross (Arizona), CB Omar Bolden (Arizona State), FS Rahim Moore (UCLA), CB Shareece Wright (USC), among others.
Best position in conference II: Five running backs who eclipsed 1,000 yards in 2008 are back, led by California's Jahvid Best and Oregon State's Jacquizz Rodgers.
Best potentially surprising position: If you talked about good Pac-10 defensive linemen in recent years, you were basically talking about USC. Not in 2009. Nine of the Pac-10's top 30 players, at least by, er, one person's accounting, are defensive linemen, and that list included only one player from USC (Griffen, at No. 30) and didn't include Cal's Cameron Jordan.
Best quote: "How do we go from nine to one?" said Chip Kelly on what he believes are his marching orders as Oregon's new coach. "Nine" is where the Ducks finished last y
ear in the final coaches' poll.
April, 14, 2009
4/14/09
2:30
PM ET
Posted by ESPN.com's Ted Miller
Let these links brush your rock & roll hair.
September, 19, 2008
9/19/08
11:59
AM ET
Posted by ESPN.com's Ted Miller
Happy Friday! The Pac-10 will be undefeated today -- guaranteed.