NCF Nation:

Richmond Spiders
September, 7, 2010
9/07/10
6:01
PM ET
"Philosophical" is not a term that often appears next to USC coach Lane Kiffin's name, but it accurately describes how he's responding to his Trojans "good news, bad news" performance at Hawaii last Thursday.
The good news was his offense rolling up 524 yards and 49 points, with quarterback
Matt Barkley
turning in a nearly flawless performance with five touchdown passes and no picks.
[+] Enlarge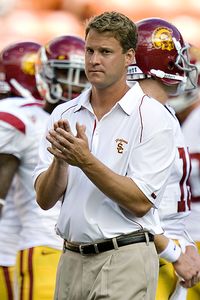 AP Photo/Eugene TannerLane Kiffin's defense has something to prove against Virginia on Saturday.
The bad news was the Trojans yielding an eye-popping 588 yards and 36 points and not tackling worth a spit.
"One game will not define us," Kiffin said. "Just like it will not define Matt on offense. Let's take a couple of games before we evaluate, before we make big statements about sides of the ball."
That said, Kiffin understands the concerns over his defense, which looked to be a strength entering the season, no matter a completely rebuilt secondary. The hand wringing over one bad game that, nonetheless, still ended up being a win is understandable, he said.
"That's who we are right now because it happened," he said.
See: Philosophical! The Trojans defense fell on a island and everyone saw it.
Therefore, that defense will be looking for redemption against Virginia on Saturday in the Coliseum, USC's only home game until Oct. 2. The Cavaliers beat Richmond 34-13 last weekend, the debut for new coach Mike London, but the Cavaliers only welcome back 12 starters from a 3-9 team that got Al Groh fired.
Moreover, Barkley might be working against a secondary minus its two best players: All-ACC cornerback Ras-I Dowling and junior strong safety Rodney McLeod didn't play against the Spiders. Dowling missed much of fall camp with a hamstring injury, while McLeod has a knee injury.
Another boost for the USC offense: The return of freshman running back
Dillon Baxter
from a one-game suspension. Kiffin has called Baxter USC's "most talented player."
The last time these two teams met in 2008, Mark Sanchez and the Trojans bludgeoned the Cavaliers 52-7 in Charlottesville. But the circumstances are much different this time. For one, there are two new head coaches. For another, USC is no longer riding a run of Pac-10 dominance to a certain BCS bowl berth. The rest of the Pac-10 took care of the former last fall, and the NCAA took care of the latter this summer.
Still, London said he doesn't see a neutered team.
"When you look at the game [film], you see athleticism -- from everybody," he said. "Even the water boy is athletic and fast."
So what went wrong at Hawaii on defense? Kiffin cited a number of things. For one, yes, it did hurt that the Trojans didn't do much full-contact work during fall camp in order to avoid injuries. That's an explanation for the poor tackling. Further, the Warriors surprised USC when they tweaked their spread scheme with a "pistol" formation.
Kiffin also gave credit to Hawaii: "That is a really good offense, and I think we'll see that throughout the year... They are going to put up lot of yards and points on people if they stay healthy."
Kiffin seemed excited that Virginia's style of offense will be more in the Trojans' comfort zone. He called the Hawaii game "a wake-up call" and expects his defense to be highly motivated after turning in an embarrassing performance.
And, no, the Trojans defense, which started hemorrhaging last year (though USC still led the Pac-10 in scoring defense at 19.8 ppg), hasn't lost its confidence. At least not yet.
"I look for us to play a lot better this week," Kiffin said. "If we play like that three weeks into the season, yeah, we're going to have a confidence issue. We're going to have a lot of issues. But I don't think that's going to be the case. I think our guys are going to really respond well this week."
Oh, and by the way, overconfidence shouldn't be a problem, either
"How we can be overconfident; we haven't done anything yet," Kiffin said.
June, 4, 2010
6/04/10
9:00
AM ET
USC got a look at what its offense might look like without starting quarterback
Matt Barkley
during the spring game. The verdict? Not too shabby.
[+] Enlarge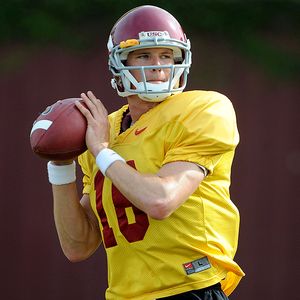 Kirby Lee/Image of Sport-US PRESSWIREIf Matt Barkley were to get injured or falter, the USC coaching staff would "be very comfortable" turning to Mitch Mustain, above.
With Barkley sidelined by a bruised hand,
Mitch Mustain
threw five touchdown passes while completing 19 of 29 for 299 yards to lead his team to victory.
While ESPN's College Football Live rates Barkley as "irreplaceable," the Trojans coaches doesn't seem too worried about the prospect of potentially turning to Mustain, a fifth-year senior.
"We'd be very comfortable," quarterbacks coach Clay Helton said.
Mustain is probably the nation's best known backup quarterback. He went 61-2 at Springdale (Ark.) High School and was named the 2005 Gatorade, USA Today and Parade Magazine National Player of the Year before becoming the biggest recruit in Arkansas history. He went 8-0 as a true freshman starter, yet things turned sour between Mustain and Razorbacks coach Houston Nutt -- let's just say it was complicated -- and Mustain opted to transfer to USC.
The Trojans offered a new start, but Mustain couldn't manage to win the starting job after sitting out a season, per transfer rules. He first served as Mark Sanchez's backup in 2008 and then failed to beat out Barkley last fall. He saw limited action in 2008 -- he passed for 157 yards with two TDs and two interceptions -- but didn't throw a pass last year and was a mostly a forgotten man under coach Pete Carroll and offensive coordinator Jeremy Bates.
With the arrival of new coach Lane Kiffin, however, the message was no job was safe. Even Barkley's.
"Mustain really wanted to come and compete and show that he's a big-time quarterback who can help the team in any way," Helton said. "We were very proud of the way Mitch responded during the spring."
While few expected Mustain to beat out Barkley, who emerged as a clear No. 1 when spring practices ended, he impressed the coaching staff, Helton said.
"I thought he really put in the extra effort and the extra time of really understanding the system," he said. "We're extremely pleased with him."
The good news is that Mustain's game experience likely means he won't be too wide-eyed if he's needed to step in for an injured Barkley. The bad news is that he's the last line of defense -- or offense. This spring, after
Aaron Corp
opted to transfer to Richmond, he and Barkley were the only two scholarship QBs on the roster, though
James Boyd
was moved from defensive end to fortify depth. In the fall, touted freshman
Jesse Scroggins
arrives, but turning to a true freshman quarterback is rarely a good thing in the Pac-10.
If Barkley is lights out and doesn't get hurt, it seems unlikely that Mustain will see much playing time. His future hope, of course, is to copy the path of Matt Cassel, Matt Leinart's backup at USC, who signed a six-year, $63 million contract in July 2009 with the Kansas City Chiefs.
But Helton isn't writing off Mustain.
"I think he is going to be a guy who definitely helps us in his last year," he said.
January, 7, 2010
1/07/10
7:44
PM ET
USC has confirmed that No. 3 quarterback Aaron Corp has
decided to transfer to Richmond
.
"We wish Aaron the best. I know it'll work out well for him," coach Pete Carroll said in a statement.
Corp's transfer was first reported by WTVR CBS in Richmond.