April, 11, 2012
4/11/12
11:00
AM ET
ANN ARBOR, Mich. -- On paper,
Ricky Barnum
has one of the toughest jobs for Michigan this spring.
Barnum is stepping into the shoes vacated by
David Molk
, who won the Rimington Trophy last season as the nation's top center. Add in the fact that Barnum has never played center in a game, and that he missed most of last season with injuries, and that sounds like a tall order.
But the fifth-year senior is confident that the Wolverines won't miss a beat with him snapping the ball this season.
"It's not an easy task, because David Molk was a very talented player," he says. "But I have come a long way.
"I really like playing center a lot, and it's something I can see me doing strongly. I can be very good at it."
Barnum snapped to
Denard Robinson
as a backup when he was a freshman before eventually playing some at tackle and staring at guard. Some rust could have been expected when he moved back to center this offseason, especially in a Michigan offense that often puts Robinson in the shotgun. Yet Barnum proudly says he's had no bad snaps all spring.
Moving to center also brings far more leadership responsibilities than playing guard, as the center makes the calls for the entire line. Barnum says the rest of the line has supported him in that role.
"They all have a trust and faith in me," he said. "They all believe I'll make the right call. And if I do make the wrong call, they just go with it. But I haven't made too many. I haven't had anybody get on me and say, 'Ricky, you made the wrong call.' It's all been, 'Thanks, you made the right call.'"
Barnum has natural size for the position at 6-foot-3 and a large sub sandwich away from 300 pounds. He has good mobility when healthy, which he wasn't last year because of problems in both ankles.
He said Molk has given him pointers, mainly telling him to stay aggressive and showing him how push out with his non-snapping hand. Barnum is putting those ideas in practice this spring for a rebuilt offensive line that is coming along.
"He's working at it," Robinson said. "Ricky's getting better."
It's likely unrealistic to expect Barnum to match Molk's level of play. But he sure seems to have Molk's confidence.
"I see center as a great fit for me because I like to learn and I like to compete," Barnum said.
March, 22, 2012
3/22/12
2:30
PM ET
Michigan offensive coordinator Al Borges likes what he has to work with this spring. And who wouldn't be excited about
Denard Robinson
and
Fitz Toussaint
returning in the backfield as the offensive core?

But like every team, the Wolverines have some issues. One of the key concerns is building a solid two-deep along the offensive line.
"It's a position where we feel good about the kids who are playing," Borges said. "We just need to enhance our depth."
Michigan must replace Rimington Trophy winner
David Molk
at center, and
Ricky Barnum
will get the first crack at the gig. Barnum was injured most of last season, and has played left guard in the past.
"He's athletic," Borges said. "Ricky can move. He's really has the profile more of a center. He's smart, he understands who to block and he's played some guard, which should have some carry-over to center. So I think Ricky is going to be fine."
Making up for Molk's leadership might be the toughest task this spring. Borges said Barnum, left tackle
Taylor Lewan,
and senior guard
Patrick Omameh
should help pick up the slack in that area.
The starting group up front should be solid, with senior
Elliott Mealer
taking over at left guard, and
Michael Schofield
moving to right tackle to replace
Mark Huyge
. Behind them is a lot of inexperience. Borges said redshirt freshmen
Jack Miller
and
Chris Bryant
should contribute. And an incoming freshman like
Kyle Kalis
has a chance to crack the depth chart.
"We'll see how quick they can pick it up," Borges said.
Another area of concern is tight end, which loses departed seniors
Kevin Koger
and
Steve Watson
. Borges said senior
Brandon Moore
, who has played sparingly, and
Ricardo Miller
, who's more of a receiving tight end, will get the bulk of the work this spring. But it's a position that remains unsettled.
"We're looking at other kids, and the jury is still out," Borges said. "It's a position where, if a freshman came in and showed something, he could probably make a contribution."
Incoming recruit
Devin Funchess
could be that guy, though he'll likely need to put on some weight. The Wolverines also signed
A.J. Williams
as a tight end prospect.
"Seeing who's going to come to the forefront and be our starting tight end this spring, that's huge," Borges said.
February, 13, 2012
2/13/12
10:15
AM ET
Spring practice kicks off in March, and each Big Ten team will be looking for some key replacements in their depth charts. We're going to take a look at
two
players on each Big Ten squad who leave big shoes to fill and who might be ready to step in at those spots.
Let's start off with the
Michigan Wolverines
.
BIG SHOES TO FILL: Mike Martin, DT
[+] Enlarge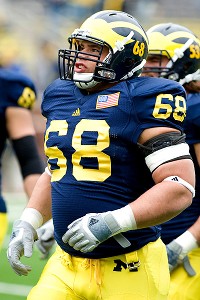 Lon Hordwedel/Icon SMIMike Martin has been a consistent presence in the middle of the defense for Michigan.
Why:
Three-year starter anchored the middle of the defensive line. He earned second-team All-Big Ten honors in both 2011 and 2010. Martin appeared in 49 games, starting 37 at nose tackle, and finished his career with 172 tackles, including 25 for loss and seven sacks. His value goes far beyond the numbers, as he consistently took on double-teams and topped the opponent's scouting report before games against the Wolverines.
Replacement candidates:
William Campbell
(6-5, 322, Jr.);
Quinton Washington
(6-4, 302, So.); Ondre Pipkins (6-3, 335, incoming freshman);
Richard Ash
(6-3, 301, Fr.)
Kenny Wilkins
(6-3, 280, Fr.)
The skinny:
Head coach Brady Hoke, who works directly with the nose tackles, has some work ahead this offseason in trying to replace Martin, the heart and soul of Michigan's defense. Is Campbell finally ready to take the next step? The former blue-chip recruit has the talent but hasn't quite blossomed. Pipkins arrives with a lot of buzz and could work his way into the rotation at a position with few proven players.
BIG SHOES TO FILL: David Molk, C
Why:
Four-year starter won the Rimington Trophy in 2011 as the nation's top center. Molk was a consensus first-team All-America selection in 2011. He earned first-team All-Big Ten honors from the league's coaches in each of his final two seasons. He started 41 games at center, and his absence was felt any time he wasn't on the field. Offensive coordinator Al Borges placed a great deal of responsibility on Molk last fall, and Molk delivered for a unit adjusting to a new system.
Replacement candidates:
Rocko Khoury
(6-4, 287, Jr.);
Ricky Barnum
(6-3, 292, Jr.);
Jack Miller
(6-4, 263, Fr.)
The skinny:
Khory has been the heir apparent to Molk for several years, but his snapping struggles early in the Sugar Bowl sounded a few alarms among Michigan fans. If Khoury isn't the answer, Barnum might be. He started three games at guard in 2011 before being slowed by ankle problems. Miller is an intriguing prospect who needs to bulk up a bit.
October, 15, 2011
10/15/11
11:15
AM ET
EAST LANSING, Mich. -- It's windy and a bit chilly at Spartan Stadium, but the sun has poked through the clouds and should stick around for kickoff of this key Legends Division matchup.
The buzz in this rivalry is palpable. Michigan State students were in their seats nearly two hours before the scheduled start, and they lustily booed Michigan's kickers during warm-ups. They cheered when the Spartans entered the stadium for their pregame walk, as most of the players were already wearing their bronze helmets that will be part of today's special uniforms.
The wind -- with predicted gusts as high as 45 mph -- could play a major factor in the kicking and passing games. The wind is coming in over the west side of the stadium and will likely cause swirls on the field and the end zones.
As far as injury updates go, Michigan State will welcome back receiver
Bennie Fowler
from a foot problem. Defensive lineman Tyler Hoover is still out. Michigan guard Ricky Barnum is dressed and may play but isn't expected to start as he recovers from an ankle injury. Michael Schofield will continue to start in Barnum's place.
May, 26, 2009
5/26/09
10:33
AM ET
Posted by ESPN.com's Adam Rittenberg
Every Big Ten team circled and underlined a few questionable positions entering spring practice. Some of those concerns went away as young players blossomed and depth was built. Where did each Big Ten team get better this spring?
Here's a snapshot:
Illinois' running backs -- The development of sophomores Jason Ford and Mikel LeShoure this spring gives Illinois plenty of options at running back heading into 2009. Ford and LeShoure both improved physically and mentally and will compete with senior Daniel Dufrene to be the featured runner. Bottom line: Juice Williams' job should be easier.
Indiana's offensive line -- After being decimated by injuries last season, Indiana can feel a bit better about the front five. Tackle James Brewer might finally be reaching his potential, and center Will Matte impressed the coaches in the middle of the line.
Iowa's offensive line -- This group figured to be pretty solid no matter what, but Iowa got some help from a familiar name in the interior line. Dace Richardson might finally be healthy, and he worked with the first-team at left guard as Iowa tries to replace all-conference linemen Seth Olsen and Rob Bruggeman.
Michigan's offensive line -- Not a major surprise here, considering the Wolverines bring back all their starters from last season. But an extra year of experience plus several talented redshirt freshmen (Ricky Barnum, Patrick Omameh) joining the mix should pay off big time this fall.
Michigan State's quarterbacks -- The Spartans felt great about the progress of quarterbacks Kirk Cousins and Keith Nichol, who both threw for 357 yards and four touchdowns in the spring game. Head coach Mark Dantonio is in no rush to name a starter, but unlike many men in his position, he really has two viable options here.
Minnesota's wide receivers -- With superstar Eric Decker playing baseball, Minnesota needed to identify other solid options at receiver. Return specialist Troy Stoudermire emerged as a big-play threat, and quarterback Adam Weber liked what he saw from Brandon Green and Da'Jon McKnight.
Northwestern's running backs -- Of the three offensive skill positions where Northwestern loses starters, running back appears to be the most stable. Sophomore Jeravin Matthews emerged this spring and will push Stephen Simmons for the starting job. Northwestern has several options in the backfield after losing four-year starter Tyrell Sutton.
Ohio State's linebackers -- You can't deny all the production Ohio State loses in its defensive midsection, but the spring revealed several solid players who can step in. Austin Spitler and Tyler Moeller have waited their turn for the spotlight, and Brian Rolle had an excellent spring. With returning starter Ross Homan back on the outside, the Buckeyes should once again be solid.
Penn State's defensive line -- Despite losing three defensive ends with starting experience, Penn State should once again boast one of the league's top pass rushes. Sophomore Jack Crawford looks like the Nittany Lions' next superstar pass rusher and should fill the void on the edge with Eric Latimore and Kevion Latham.
Purdue's running backs -- Even with Jaycen Taylor still rehabbing from a torn ACL, Purdue got a lot better at running back this spring. Ralph Bolden came out of nowhere to steal the show in spring scrimmages (420 rush yards, 4 touchdowns), and Dan Dierking also looked impressive. The Boilers will need a viable rushing attack this fall, and they can feel a lot better about this group.
Wisconsin's wide receivers -- Dropped passes dogged the receivers throughout 2008, but the group definitely got better this spring. Nick Toon emerged as a potential No. 1 target with an excellent performance in practice, and Isaac Anderson, Kyle Jefferson and David Gilreath all showed progress at times.