August, 9, 2011
8/09/11
9:00
AM ET
With the regular season just around the corner, we're taking a look at the top quarterback battles in the SEC.
We visited this topic back
in May
, but now that summer workouts are over with and we've been able to speak with a few more people on the subject, we'll tackle it once again just before the season starts.
[+] Enlarge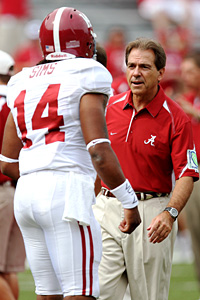 Nelson Chenault/US PRESSWIREAlabama coach Nick Saban will likely turn to Phillip Sims or A.J. McCarron as his quarterback this season.
From the two youngsters in Tuscaloosa, to the three-headed monster at Ole Miss, there is a lot of competition under center in a league that thrives on abusing quarterbacks.
Not only is there a lot of competition, but there is a lot of youth involved as well:
1. Alabama: A.J. McCarron versus Phillip Sims --
This one features two underclassmen who are looking to guide one of the best teams in America. Alabama isn't just playing for the SEC championship; the Tide want to add another national championship trophy to their lavish collection. To do that, Alabama will have to figure out who will take over under center. Both McCarron, who mostly appeared in mop-up duty last season, and Sims, a redshirt freshman, left spring even. Nothing has happened to change that, with both getting equal reps in practice. Both have impressed their coaches and teammates with their playing ability and leadership. Players continue to say they'd be pleased with either taking the job and coach Nick Saban said he won't hesitate to play both during the season.
2. Auburn: Barrett Trotter versus Clint Moseley versus Kiehl Frazier --
The defending national champs must replace Cam Newton and his record-setting, Heisman-winning season. Trotter, a junior, is the most experienced, but has attempted just nine career passes -- nine more than Moseley (sophomore) and Frazier (freshman) combined. Trotter and Moseley competed against each other this spring, both struggling at times and leaving the spring game relatively even. They welcomed Frazier -- and his high school hype -- to the mix this summer. Some feel Trotter has the edge, but Moseley is bigger and more athletic, while Frazier, a true dual-threat, has already had the Newton comparisons draped over him.
3. Ole Miss: Barry Brunetti versus Randall Mackey versus Zack Stoudt --
The Rebels received great news when athletic West Virginia transfer Brunetti was granted immediate eligibility to play this fall by the NCAA. He's the only quarterback on the roster with Division I experience, though it's very limited, and coach Houston Nutt has said multiple times that if he had to play a game immediately, Brunetti would start. However, even before senior
Nathan Stanley
left this spring, Mackey, a junior college All-American who redshirted last season, had the edge at the position. Mackey isn't just a gifted athlete, he's gained a ton of respect from his teammates with his leadership skills. Stoudt doesn't move around much, but he might have the best combination of arm strength and accuracy. Brunetti might have the edge, but this battle is far from over.
4. LSU: Jordan Jefferson versus Zach Mettenberger versus Jarrett Lee --
Steve Kragthorpe tweaked just about every aspect of Jefferson's game this spring, enhancing Jefferson's ability and boosting his confidence. Kragthorpe was diagnosed with Parkinson's disease and has stepped down as offensive coordinator, but will stay on as quarterbacks coach, which should benefit Jefferson greatly. He'll need that continued tutelage because juco transfer Mettenberger has been very impressive and possesses a wealth of potential. If Jefferson falters, Mettenberger will get his shot. Also, Lee showed up to preseason camp in considerably better shape and is down to a little more than 200 pounds. Coach Les Miles insists that with Lee's experience, he can't be counted out of the battle.
5. Vanderbilt: Larry Smith versus Jordan Rodgers versus Josh Grady versus Lafonte Thourogood --
Smith is getting a chance to transform his image with Vanderbilt's new coaching staff. Under the direction of quarterbacks coach Ricky Rahne, Smith has renewed confidence and says he's made vast on-field improvements. Head coach James Franklin has complete confidence in Smith, but the senior will have to fend off Rodgers, a junior who missed spring recovering from shoulder surgery. Aaron Rodgers' little brother is someone Vandy's staff is especially excited about. Freshmen Grady and Thourogood will also be competing for the starting spot.
July, 27, 2011
7/27/11
1:00
PM ET
Not even those flashy, ego-boosting MTV cameras could save Alabama's prized high school football program from
Larry Smith
five years ago.
[+] Enlarge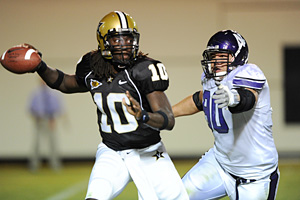 Don McPeak/US PresswireQuarterback Larry Smith is excited to work with Vanderbilt's new coaching staff.
Just a senior at Prattville (Ala.), Smith earned MVP honors after accounting for 174 yards of total offense as in a 35-21 win over Hoover (Ala.) in the 2006 Class 6A title.
Hoover had spent a year in the limelight as its popular reality show
Two-A-Days
ran on MTV, but Smith made sure it didn't end the way it's audience wanted.
Smith can't go home without being viewed as a celebrity. Even with his family still residing in Prattville, Smith has a few members in the Birmingham-Hoover area and his 2006 triumph is still talk of the town.
Smith returned to Hoover for SEC media days with his Vanderbilt teammates last week, and though there wasn't a Crimson Tide-like contingency to greet him, there were a few friends in town for him to see.
"We refer to Alabama as God's country and it's always good to come back home and relax a little," Smith said.
Being home reminds the senior quarterback of his past glories, but it also reminds him that he has time to generate a little more acclaim before he calls his college career quits.
Smith has had an up-and-down career in Nashville. He was lauded for his first start in the 2008 Music City Bowl, where he completed 10-of-17 passes for 121 yards in the Commodores' first postseason win in 53 years.
After that, his approval rating dipped considerably as Vandy has gone 4-20 in the past two seasons, including 1-15 in conference play. Smith completed 47 percent of his passes last season and has thrown 10 touchdown passes to12 interceptions the past two seasons.
Smith hears the criticism. He understands people have called for his starting job and he doesn't really care. He learned at an early age that in order to succeed, he had to be thick-skinned. Smith found out the hard way after many rough one-on-one basketball games with his father growing up. The more he fell and cried, the more his dad pushed and the stronger Smith got.
And all that commentary he's hearing now reminds him of the scraped knees from all those skids on the asphalt.
"I really don't let those things get to me," Smith said. "I build a wall around me and try go out there and do my best the next game."
Things will be different, Smith assures. He's surrounded by a new coaching staff and is under the tutelage of a quarterbacks coach that more than impressed Smith with his work with Josh Freeman at Kansas State.
Ricky Rahne has worked tirelessly with Smith on his technique and reading defenses. The most important lesson for Smith has been Rahne's sessions on footwork. Smith said that in a more suitable pro-style offense, he's learned to stand more comfortably and confidently in the pocket, greatly enhancing his delivery.
New head coach James Franklin gave Smith a fresh start, meaning his past was wiped clean, but he'd have to earn back his starting spot.
"Larry's got an opportunity," Franklin said. "He did have a great spring, a very good summer from what all the players and strength coaches have told me. So I'm excited to get to camp and give him an opportunity to compete against a
Jordan Rodgers
, compete against the three freshmen we have coming in, then also some of the walk-ons as well."
Like most at Vanderbilt, Smith is very excited about Franklin. He's excited about the "360-degree" change in the confidence flourishing throughout the team. And he's excited to pull a few surprises this fall.
Smith knows the expectations are low -- they always are -- but he and his teammates are embracing the disrespect and like being shunned by everyone.
"It's exciting being under the radar," he said. "People might take you lightly and you can sneak up on somebody and get them that week."
April, 21, 2011
4/21/11
12:11
PM ET
NASHVILLE, Tenn. -- It couldn't have started any better for
Larry Smith
at Vanderbilt.
His first career start came in the 16-14 win over Boston College in the 2008 Music City Bowl, which just happened to be the Commodores' first bowl win in 53 years.
Since that game, there haven't been a lot of memorable moments for Smith, now a senior, as the Commodores have struggled to find any semblance of offensive firepower.
In 13 of their last 16 SEC games, they've been held to 14 points or fewer and finished 110
th
nationally in total offense each of the last two seasons.
[+] Enlarge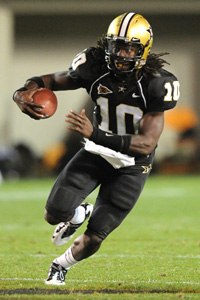 Don McPeak/US PresswireThe Commodores need to identify more playmakers to help quarterback Larry Smith.
Smith, who's had each of his past two seasons cut short by injuries, has completed just 47 percent of his passes with 10 touchdown passes and 12 interceptions over the past two seasons.
From an offensive perspective, it's been hard to watch.
But the last thing first-year Vanderbilt coach James Franklin is going to do is dump all of the Commodores' offensive woes the last two years on Smith.
And in fairness, there were a lot of times when Smith never even had a chance.
"Larry Smith has played a lot of football here and taken a lot of the blame, and probably a lot of it unwarranted, for the lack of success," Franklin said. "I was very impressed with him this spring. He has a great body, understands concepts, has natural leadership skills and a strong arm.
"But the reality is that we didn't have a quarterback competition.
Jordan Rodgers
is a guy we're excited about, but he wasn't healthy this spring."
So what Franklin wants to do when preseason camp rolls around is make Smith earn the job once Rodgers' shoulder is healthy enough to compete and once the three freshman quarterbacks arrive on campus.
"Although I was pleased with Larry and impressed with what he did, I still want it to be a competition and want him to have someone to compete with and give those other guys an opportunity to earn the job as well," Franklin said.
Of course, for any quarterback at Vanderbilt to have success, the Commodores are going to have to find more playmakers. They didn't scare anybody down the field the last two seasons, making it easy for defenses to load the box.
This spring,
Jordan Matthews
, a 6-foot-3, 200-pound sophomore receiver, showed signs of being one of those guys who could give the Commodores more big plays, and Franklin was also impressed with sophomore
Jonathan Krause
and his ability to make plays.
Once
Warren Norman
returns to full speed from his wrist injury, the Commodores should have a strong stable of running backs. Sophomore
Wesley Tate
really came on this spring with his blend of size and speed, and senior tight end
Austin Monahan
should prosper in this system.
The great unknown is the offensive line, which has been a recurring problem, especially in the depth department.
However it shakes out, Smith is confident that the Commodores are already ahead offensively of where they were either of the past two seasons.
For one, he feels like he's a better player in all facets thanks to the tutelage of quarterbacks coach Ricky Rahne and Franklin, who also played quarterback in college and has worked extensively with quarterbacks during his career.
"I've gotten better across the board, whether it's learning how to study film, my footwork or just being a better leader," Smith said. "There's a lot more focus this year, and you can see it on the field. We've had fewer mental errors, and guys are playing their roles."
As frustrating as the past two seasons were for Smith, he's eager to see what this offense can do under the new regime.
He can already tell that the guys around him on offense are playing with more confidence.
"It starts with us. We've got to believe," Smith said. "The last two years, our confidence level was low. I think Coach Franklin has done an excellent job of improving our confidence and having a mindset that it can be done here at Vanderbilt.
"I'm not worrying about the past. I'm focusing on Elon and plan to go out with a bang my last season."
Franklin said he's yet to make a final decision on who would call the plays next season. He may call his own plays or turn those duties over to offensive coordinator John Donovan, who came with Franklin from Maryland.
"We'll wait and feel this whole process out," Franklin said. "We'll work through the summer and summer camp and then make a decision that's in the best interest of our program."