January, 22, 2012
1/22/12
12:45
PM ET
Former Penn State coach
Joe Paterno died earlier Sunday at 85
in State College, Pa., after battling lung cancer diagnosed in November. Paterno spent 46 seasons as Penn State's coach before being fired Nov. 9 in the wake of the sex-abuse scandal. He's the winningest coach in major college football history with 409 victories, and he captured two national championships.
Let's look back at Paterno's extraordinary life ...
Dec. 21, 1926:
Joseph Vincent Paterno is born in Brooklyn, N.Y. He's the first child born to Angelo and Florence Paterno, who would have three more children.
Spring 1950:
Paterno graduates from Brown University, where he played quarterback and defensive back.
May 27, 1950:
New Penn State head coach Rip Engle tabs Paterno, his former quarterback at Brown, as an assistant coach. Paterno, who had planned to attend law school at Brown, works with the Nittany Lions quarterbacks.
Oct. 27, 1962:
Paterno receives his first game ball from the team as Penn State beats Cal 23-21 in Berkeley, Calif.
Summer 1964:
Paterno is named Penn State's associate head coach and the heir apparent to Engle when Engle retires.
[+] Enlarge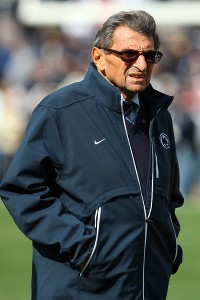 Rob Christy/US PresswireJoe Paterno won 409 games and took the Nittany Lions to 37 bowl games and two national championships.
Feb. 19, 1966:
A day after Engle announces his retirement, Paterno is named Penn State's head coach. He agrees to an annual salary of $20,000.
Sept. 17, 1966:
Paterno records his first win in Penn State's season opener, a 15-7 triumph against Maryland at Beaver Stadium.
Dec. 7, 1968:
Paterno's Penn State team beats Syracuse at Beaver Stadium to record its first unbeaten regular season since 1947 and its first-ever 10-win campaign.
Jan. 1, 1970:
Paterno's Penn State squad beats Missouri in the Orange Bowl to record its second consecutive 11-0 season. But the Lions finish No. 2 in the final polls behind Texas, which beat Notre Dame in the Cotton Bowl. President Richard Nixon declares Texas as the national champion.
Sept. 19, 1970:
Penn State sets a record for consecutive wins (23) and consecutive games without a loss (31) as it thumps Navy 55-7 at Beaver Stadium.
Sept. 26, 1970:
Paterno's Penn State team falls 41-13 to Colorado, suffering its first loss since Oct. 7, 1967.
January 1973:
Paterno agrees to become head coach, general manager and part owner of the NFL's Boston Patriots. His four-year contract included $1.4 million in compensation. But on the day he was scheduled to fly to Boston to accept the job, he had a change of heart and remained at Penn State.
Dec. 13, 1973:
John Cappelletti becomes the first Paterno player and the first Penn State player to win the Heisman Trophy. He delivers an emotional speech dedicating the trophy to his brother, Joey, who was battling leukemia.
Nov. 7, 1976:
Paterno records his 100th victory as Penn State beats North Carolina 41-20 in State College.
Oct. 15, 1977:
Paterno misses his first game as Penn State's head coach because his 11-year-old son, David, had been injured the day before in a trampoline accident. Offensive coordinator Bob Phillips and defensive coordinator Jerry Sandusky coach Penn State to a win at Syracuse.
Jan. 1, 1979:
Paterno's team plays for its first national championship as No. 1 Penn State takes on No. 2 Alabama in the Sugar Bowl. Trailing 14-7, Penn State is stopped short of the goal line on fourth down from the 1 as Alabama prevails.
March 1, 1980:
Paterno becomes Penn State's athletic director, succeeding Ed Czejak, and remains the school's football coach. Paterno would relinquish the AD title two years later when Jim Tarman took over.
Jan. 1, 1983:
Penn State beats Georgia in the Sugar Bowl to record its first national championship under Paterno.
1984:
Paterno and his wife, Sue, establish the Paterno Libraries Endowment with gifts totaling more than $120,000.
Jan. 2, 1987:
Paterno's Lions shock No. 1 Miami to win the Fiesta Bowl and their second national championship. A goal-line stand in the final minute seals the win.
Dec. 22, 1986:
Sports Illustrated names Paterno as its "Sportsman of the Year."
Sept. 5, 1987:
Paterno records his 200th career victory as Penn State beats Bowling Green at Beaver Stadium. Afterward, he tells reporters, "I may live to be 100, but I'll never be around for another 100 victories."
Aug. 18, 1988:
Paterno seconds the presidential nomination of Vice President George H.W. Bush at the Republican National Convention in New Orleans.
Nov. 19, 1988:
Penn State falls at Notre Dame to finish 5-6, marking Paterno's first losing season as Lions coach.
Sept. 5, 1993:
Penn State plays its first game as a member of the Big Ten Conference and beats Minnesota 38-20.
Jan. 2, 1995:
Penn State beats Oregon in the Rose Bowl to complete a 12-0 season but finishes No. 2 in the polls behind Nebraska, which is declared national champion. The Lions record their fifth and final undefeated season under Paterno.
Sept. 30, 1995:
Paterno coaches his 500th game as a member of the Penn State staff (assistant and head coach) as the Lions lose to Wisconsin.
1997:
Paterno, his wife, Sue, and their family make a $3.5 million gift to Penn State for several academic programs and university projects.
April 1997:
Ground is broken for the construction of the Paterno Library at Penn State.
Sept. 12, 1998:
Paterno records his 300th coaching win as Penn State beats Bowling Green 48-3 at Beaver Stadium.
Sept. 8, 2000:
The Paterno Library, which took $34.4 million to build, is dedicated.
Oct. 27, 2001:
Paterno becomes the winningest major college football coach as he records his 324th career victory, moving him past Paul "Bear" Bryant. Penn State rallies from a 27-9 deficit to beat Ohio State, marking the biggest home comeback in team history.
Nov. 21, 2004:
The day after Penn State suffered its fourth losing season in five years, four university administrators went to Paterno's house. They discussed his future and the program's future. Paterno ultimately remained in place and guided Penn State to a Big Ten championship and an Orange Bowl victory the next season.
May 16, 2006:
Paterno is elected to the College Football Hall of Fame.
Nov. 11, 2006:
Paterno misses his second and final game as Penn State's coach while recovering from surgery on his left leg, which had been injured the previous week during a game at Wisconsin.
Dec. 29, 2007:
Paterno's 500th game as Penn State's head coach takes place as the team rallies from a 14-0 deficit to beat Texas A&M in the Alamo Bowl.
July, 19, 2008:
Paterno is enshrined in the College Football Hall of Fame in South Bend, Ind., along with 16 players and three coaches.
Sept. 20, 2008:
Paterno surpasses Bobby Bowden as major college football's winningest coach as Penn State beats Temple 45-3.
March 5, 2010:
The Maxwell Football Club announces the creation of the Joseph V. Paterno award, given to a college football coach who has had a significant impact on his university, players, community and state.
Nov. 6, 2010:
Paterno records his 400th career win as Penn State rallies to beat Northwestern at Beaver Stadium. The Lions score 35 unanswered points to record the largest home comeback in Paterno's tenure.
Dec. 22, 2010:
The NCAA presents Paterno with the Gerald R. Ford award, given to individuals who display significant leadership in the role of advocate for intercollegiate athletics.
Oct. 30, 2011:
Paterno records his 409th career win, eclipsing Eddie Robinson's Division I coaching victories record, as Penn State tops Illinois 10-7. It is his 548th game coached at Penn State.
Nov. 5, 2011:
Former longtime Penn State assistant coach Jerry Sandusky is arrested and charged with 40 counts of sexually abusing boys.
Nov. 9, 2011:
Paterno announces he will retire at the end of the season in the wake of the sex-abuse scandal, saying in a statement, "This is a tragedy. It is one of the great sorrows of my life. With the benefit of hindsight, I wish I had done more." That evening, Penn State's Board of Trustees votes to dismiss Paterno as coach and makes the announcement at an emotionally charged news conference.
Nov. 12, 2011:
Assistant Tom Bradley leads Penn State in its first game since Paterno's firing and since the sex-abuse scandal broke. Players from Penn State and Nebraska gather at midfield for an emotional pregame prayer. Nebraska holds off a Penn State rally to win 17-14.
Nov. 18, 2011:
Paterno's son Scott, announces Paterno has been diagnosed with a treatable form of lung cancer. He says Paterno's "doctors are optimistic he will make a full recovery."
Jan. 13, 2012:
Paterno is admitted to the hospital for observation because of complications from his lung cancer treatments.
Jan. 21, 2012:
A Paterno family spokesman says Paterno is in serious condition after further complications from lung cancer treatments.
Jan. 22, 2012:
Paterno's family announces that Paterno has died. "His loss leaves a void in our lives that will never be filled," the family said in a statement.
August, 27, 2010
8/27/10
10:07
AM ET
The story begins, like so many at Penn State, with Rip Engle.

The Hall of Fame coach who preceded Joe Paterno in Happy Valley didn't like the term commonly used to describe a strong safety: monster. So Engle came up with his own title.

"Rip thought that the word monster was derogatory," Penn State defensive coordinator Tom Bradley said, "so he decided to call the position hero, and we still call it that. We have a linebacker position called the Fritz linebacker. It's named after Fritz the pizza man, who used to get the team pizzas.

"My players go, 'Who's the Sam [linebacker] named after?' I don't know, maybe Sam Hill."

Although the hero safety has been around for decades at Penn State, the name still takes some getting used to.

"The kids say, 'So when people ask what position I play, I'm going to say hero? Doesn't that sound arrogant?'" Bradley said. "They laugh about it."

But the hero is more than just a gaudy title.

It's part of the Penn State tradition. The program has produced several standout players at the Hero spot, including first-team All-Americans like Darren Perry and Michael Zordich Sr., whose son Michael is a sophomore linebacker on the current squad.

"We have a great past of Heroes, All-Americans in the 70s and 80s, so it's pretty well known," free safety Nick Sukay said. "When you see former players, they'll talk to you about who was here and say, 'This guy, he hit pretty hard. This guy, he broke on balls pretty good.' And then Michael, his dad played here in the 80s and he was really good."

Despite growing up in Edinboro, Pa., Drew Astorino didn't know much about Penn State's hero tradition when he arrived in State College. He got a crash course in the position from watching veteran safeties like Anthony Scirrotto and Mark Rubin.

After playing free safety for his first two seasons, Astorino moved to hero last fall.

"It's the position I would choose to play if I could choose any," he said. "You're in the mix every single play. If it's a run, you have run responsibility; if it's pass, you have pass responsibility. You're on the strong side of the defense, so you get a lot of action, whether it's fighting off blocks of the fullbacks, linemen, then you're man-on-man with the slot wide receiver.

"You just basically are a hybrid of linebacker-safety, which I really enjoy."

In 2009, Astorino ranked fourth on the team with 62 tackles and recorded an interception, two fumble recoveries and four pass breakups. He'll once again start at Hero this fall with Sukay returning to free safety.

Bradley thinks the hero used to be more of a novelty at Penn State, as many teams now use some version of a safety-linebacker hybrid.

"You've got to make the right reads and fast reads at that position, so you know where to be at all times," Astorino said. "For example, if you go up on a run and it's a pass, you can really mess up the pass coverage. So it's a lot of responsibility. Most safeties at most schools are just for pass coverage only. This is a chance for a position to get in the mix every single time.

"I couldn't enjoy it more."