August, 15, 2012
8/15/12
8:30
PM ET
Well, that didn't take long.
Colorado coach Jon Embree announced Wednesday afternoon that
Jordan Webb
, a transfer from Kansas, has won the three-way competition and will start at quarterback for the Buffs.

Webb beat out sophomores
Connor Wood
and
Nick Hirschman
.
"You know how I am," Embree said. "If I feel it's right, I'm going with it ... He's showed good discipline in taking care of the football. He makes plays. There were a lot of things he had to overcome, being in town for all of three weeks, learning an entire new system, while competing for a starting job."
Webb joined the team in late July as a graduate student after completing all of his degree requirements at Kansas. The NCAA allows a player to transfer if he has eligibility remaining and the school he transfers to has a program that is not offered at his previous university. Webb has two years of eligibility remaining.
He started 19 games at Kansas (4-15 record) where he threw for 3,079 yards and 20 touchdowns with 20 interceptions. Last season, the 6-1, 205-pounder completed 63.7 percent of his throws for 1,884 yards with 13 touchdowns and 12 interceptions.
The backup position is still up for grabs between Wood and Hirschman, Embree said.
"Obviously, the experience shows, the poise shows," said Colorado quarterbacks coach Rip Scherer. "He was able to transfer terminology. Concepts are concepts, but he was able to transfer the terminology relatively quickly. There's still a learning curve for him, but he really progressed quicker than I thought he would."
The initial two-way battle to replace Tyler Hansen, before Webb was in the picture, was put on hold in the spring when Hirschman broke his foot. That gave Wood, a transfer from Texas, time to work exclusively with the first team and it seemed like a good bet he'd be leading Buffs in 2012. But given the swift judgment of Embree, it's pretty clear that Wood didn't do enough in the spring to separate himself since Webb has only been on campus three weeks.
Ultimately, the decision was Embree's, though he sought input from the rest of the staff.
"As a staff -- offense and defense -- it's something we talk about," Embree said. "When we're looking at tape, we're seeing the same thing. The defensive staff doesn't know some of the details, but when they see No. 4 (Webb) doing the things he's done, it's impressive. He's just got a good grasp and real good feel for things."
The Buffs open on Sept. 1 against Colorado State.
April, 12, 2011
4/12/11
5:55
PM ET
It was clear throughout spring practices that
Tyler Hansen
was Colorado's best quarterback, so it comes as no surprise that the senior was named the starter Tuesday.
[+] Enlarge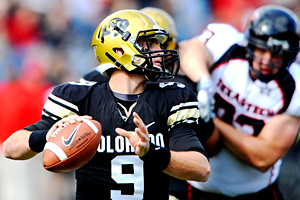 Ron Chenoy/US PresswireTyler Hansen will be Colorado's starter for the 2011 season.
"Tyler did a great job all spring," new coach Jon Embree said in a statement. "He has command of everything you need to have at quarterback and has also developed into a team leader. This was a goal of his heading into the spring and I'm happy that he was able to attain that goal."
Hansen was the starter for most of 2009 and 2010 until he ruptured his spleen in the seventh game last fall, though his competition with
Cody Hawkins
, former coach Dan Hawkins' son, often made headlines.
Colorado also announced that five players will not be returning to the team this fall.
Two won't be back for medical reasons: senior offensive guard Max Tuioti-Mariner and junior receiver
Will Jefferson
. Both have knee problems.
Junior defensive end Forrest West and redshirt freshmen tight ends
Henley Griffon
and
Harold Mobley
will also not return. Embree did not elaborate in the news release on the details other than to say that, "They won't be invited back to be part of the program in the fall. We will work with them to see if we can place them elsewhere."
Embree talked about cutting players during spring practice. Consider this following through.
Hansen, named the team's top senior following spring practices, had a passer rating of 188.9 in the three main spring scrimmages, according to the school. He completed nearly 74 percent of his passes for 531 yards and five touchdowns with no interceptions.
"I'm looking forward to getting into more of a leadership role in the summer, getting even more familiar with the playbook, organizing the seven-on-seven sessions, and concentrating on our first and foremost goal to beat Hawai'i [CU's season opener on Sept. 3 in Honolulu]," Hansen said. "I feel like I am playing smarter, I'm making better decisions, knowing when to throw the ball away instead of taking a sack, where to go with the ball based on coverages and knowing when to pull the ball down and run."
The 6-1, 210-pound three-year letterman from Murietta, Calif., completed 112 of 164 passes for 1,102 yards, with six touchdowns and six interceptions and a 129.5 rating in 2010. Hansen's 2,822 career yards rank 11th all-time at Colorado.
Hansen was competing with redshirt freshman
Nick Hirschman
, who will be the backup. Hirschman completed 22 of 43 passes for 274 yards and three scores in the three scrums, a rating of 127.7; he also did not throw an interception.
"I thought that [Hansen] grew a lot faster with the offense than I had anticipated," quarterbacks coach Rip Scherer said. "He had a solid performance for the most part starting from day one through day 15 in spring practice, and he really gives us a chance at quarterback.
"I'm also really pleased with the depth at the position with Nick (Hirschman)," Scherer added. "He's improved steadily throughout the spring and finished on a positive note. I expect him to keep pushing Tyler, which is exactly what we as coaches want to see."