September, 30, 2012
9/30/12
4:22
AM ET
SEATTLE -- The occasional bloody lip can be a good thing. A body blow -- while it might stun momentarily -- is sometimes just what the lungs need to suck in fresh air.
And for 30 minutes Saturday night at CenturyLink Field, the
Washington State Cougars
swung and clawed and took their best shots at the No. 2 team in the country. They went for it on fourth down. They tried an onside kick. On offense, they attacked at the heart of their opponent and on defense they blitzed without fear or consequence.
And for a period -- a brief period, mind you -- the
Oregon Ducks
had a little blood on their lips.
But the Ducks calmly reached up, wiped it away, and delivered a potent and dismissive second-half performance en route to a
51-26 victory
.
This was a good thing, because it's only going to get harder for the Ducks (5-0, 2-0 Pac-12). Unlike their nonconference blowouts, things are a little tougher in the Pac-12. The athletes are a little faster and they hit a little harder. So facing a bit of an adversity is just what a team in the midst of a national title run could use.
"Absolutely," said Oregon running back
Kenjon Barner
. "With our team, we know we're going to get everybody's best shot. Credit to Washington State because they played a great first half. They did everything you are supposed to do in that first half. They just did a great job. But we're a strong-willed team and we know when we execute and do what we're supposed to do, it's hard to stop us."
Barner got the Ducks going early. After the defense forced a three-and-out on Washington State's first possession, Oregon calmly marched 50 yards in four plays, ending with a 22-yard Barner run -- the first of his three rushing touchdowns on the night. The Ducks cruised out to a 20-3 lead and it looked like another sleepwalk.
But the Cougars didn't fold as others have.
Carl Winston
added a 2-yard touchdown run to Andrew Furney's 18-yard field goal to make it 20-9 after the missed PAT. Then
Brett Bartolone
caught a 26-yard touchdown from
Connor Halliday
midway through the second quarter following a 34-yard field goal from Oregon's
Rob Beard
. It was 23-19 and the folks at CenturyLink were thinking another upset could be possible -- following Washington's stunner Thursday night over No. 8 Stanford.
[+] Enlarge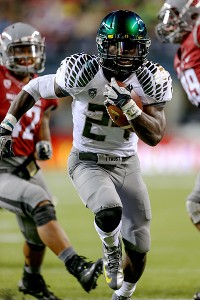 Otto Greule Jr/Getty ImagesKenjon Barner rushed for 195 yards and three touchdowns, two of which came in the second half.
"We battled away," said Washington State coach Mike Leach. "Some of our field goals should have been touchdowns. We gave them two relatively easy touchdowns early. I think if we played with more control, we wouldn't have. We played pretty courageously throughout the rest of it."
And with less than four minutes to play in the half, Washington State drove inside the red zone and looked poised to, at the very least, make it a one-point game. That's when the Oregon defense really broke loose.
Three consecutive sacks (
Dion Jordan
,
Michael Clay
and
Wade Keliikipi
) put the Cougars out of field goal range and shifted the momentum heading into the locker room.
"We understood that they gave us their best shots," said Jordan. "So the second half we went out and focused on going out and trying to finish the game. Guys made big plays … it was wonderful.
"We knew they were going to keep fighting and they weren't going to change much in what they were doing. We just had to turn up the dial as a team and as a unit and that's what guys did. We got after it and played smart football."
And therein lies the maturity of the Ducks. They opened the second half with a grinding, 18-play drive (their longest since last year's game against LSU, when they had a 19-play drive) that went 76 yards and took up 6 minutes, 20 seconds.
De'Anthony Thomas
capped the march with a 4-yard touchdown.
"We knew we were going to get the ball to beginning of the second half and that first drive was going to be key for us to set the tone for what we wanted to do," said Oregon coach Chip Kelly. "Everybody contributed and made plays. I thought we were balanced. They made us work for it. Give them credit. I thought defensively they had a good plan and it took us a while to get on the right track."
When the Cougars finally did get back on the field, the drive was ended when
Avery Patterson
intercepted Halliday and returned it 34 yards for a touchdown and a 37-19 advantage.
The Ducks no longer tasted blood. They smelled it, sacking Halliday seven times in the game, with two each from
Taylor Hart
and Keliikipi.
"We turned it up and tried to get him out of the pocket a little bit and get their offensive line on their heels," Jordan said. "Those guys got more tired than we were in the second half."
Barner would add a 10-yard touchdown on Oregon's next possession for the third Ducks score of the quarter. He capped a fantastic game with an 80-yard touchdown run in the fourth, finishing with 195 yards on 20 carries.
"That's what it's all about," Kelly said. "You get a chance and hopefully you don't make the same mistakes twice and every week is its own season and how the games themselves unfold. We know in this league it's going to be a 60-minute game … We think we're built to play for the whole game and a lot of guys kept fighting and battling and they finished."
January, 14, 2011
1/14/11
11:00
AM ET
Who distinguished themselves during the bowl season? Here's our All-Bowl Team.
Offense
[+] Enlarge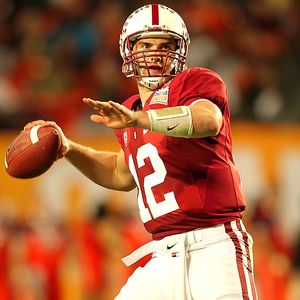 Mike Ehrmann/Getty ImagesAndrew Luck's performance helped key Stanford's blowout win against Virginia Tech.
QB Andrew Luck, Stanford
: Luck completed 18 of 23 passes for 289 yards and four touchdowns in the Cardinal's 40-12 win over Virginia Tech in the Discover Orange Bowl. He also rushed for 15 yards and was sacked just once.
RB Chris Polk, Washington
: Polk rushed for 177 yards on 34 carries with a touchdown in the Huskies win over Nebraska in the Bridgepoint Education Holiday Bowl.
RB Jeremy Stewart, Stanford
: Sophomore
Stepfan Taylor
actually rushed for more yards, but Stewart, a senior who's battled injuries throughout his career, had 99 yards on just five carries, including a 60-yard touchdown against Virginia Tech.
WR Jeff Maehl, Oregon
: Maehl caught nine passes for 133 yards with a long reception of 81 yards in the Tostitos BCS National Championship Game.
WR David Douglas, Arizona
: Douglas caught six passes for 91 yards in the Valero Alamo Bowl.
TE Coby Fleener, Stanford
: Fleenor had a career night in the Orange Bowl, catching six passes for 173 yards and three touchdowns.
OL Jonathan Martin, Stanford
: Stanford rushed for 247 yards and allowed just one sack. Martin will be an All-American candidate in 2011.
OL Chase Beeler, Stanford
: Beeler, the consensus All-American center, is the brains behind the bullies, leading one of the nation's best lines.
OL David DeCastro, Stanford
: The first-team All-Pac-10 performer had a number of key blocks against the Hokies.
OL Senio Kelemete, Washington
: Kelemete has a chance at All-Conference honors as a senior.
OL Cody Habben, Washington
: The Huskies rushed for 268 yards and allowed no sacks versus Nebraska. A nice way for the senior right tackle to go out.
Defense
LB Mason Foster, Washington
: Foster had a game-high 12 tackles, including two sacks in the Huskies win over Nebraska.
LB Shayne Skov, Stanford
: Skov had a game-high 12 tackles, with three sacks and another tackle for a loss against the Hokies. He also broke up a pass.
LB Casey Matthews, Oregon
: Matthews had six tackles, split a tackle for a loss and, most important, forced the late fumble from
Cameron Newton
that set up the Ducks touchdown that tied the count 19-19 late against Auburn.
LB Victor Aiyewa, Washington
: Aiyewa had three tackles for a loss and two forced fumbles in the Holiday Bowl.
DT Alameda Ta'amu, Washington
: Ta'amu dominated inside, recording a sack and recovering a fumble against the Cornhuskers.
DE Hau'oli Jamora, Washington
: The true freshman had three tackles for a loss and a sack versus Nebraska.
DE Kenny Rowe, Oregon
: Rowe was second on the Ducks with nine tackles, four of which came for a loss. He also had a sack and a forced fumble.
CB Cliff Harris, Oregon
: Harris had three tackles, two pass breakups and an interception. A second interception was not upheld by replay officials.
CB Richard Sherman, Stanford
: Sherman had just one tackle against Virginia Tech. It appears that the Hokies, who completed just 16 of 31 passes, decided not to throw his way.
S Delano Howell, Stanford
: Howell had an interception, a sack and four tackles in the Orange Bowl.
S Nate Felner, Washington
: Felner had four tackles and an interception in the Huskies win over Nebraska.
Special teams
K Rob Beard, Oregon
: There wasn't a lot of great kicking this bowl season in the Pac-10, but Beard connected on a 26-yard field goal against Auburn and scored a 2-point play on an option pitch.
P David Green, Stanford
: Green didn't punt much in the Orange Bowl, but he did average 46 yards when he did (three times).
KR Travis Cobb, Arizona
: Cobb returned five kickoffs for 179 yards, with a long of 64 yards.
March, 12, 2010
3/12/10
8:44
PM ET
It was announced on March 13, 2009, that Chip Kelly would replace Mike Bellotti as Oregon's football coach. So, Saturday morning will be Kelly's one-year anniversary.
Happy anniversary coach.
[+] Enlarge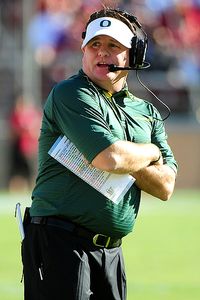 Kyle Terada/US PresswireOn the field, Oregon coach Chip Kelly led his team to the Rose Bowl, but a string of off-the-field incidents tainted his first season.
It's certainly been an eventful year. The
LeGarrette Blount
meltdown after the dismal performance at Boise State. The Pac-10 championship, conference Coach of the Year honors and the Rose Bowl berth.
Then, since late January, Kelly's Ducks decided to dominate the police blotter and become a national sensation as a team supposedly full of out-of-control delinquents.
And, now, on his 364th day as Oregon's coach, Kelly announced that his star quarterback
Jeremiah Masoli
-- a potential Heisman Trophy candidate -- has been suspended for the entire 2010 season after he pleaded guilty to a second-degree burglary charge stemming from the theft of two laptops and a guitar from a campus fraternity house in late January.
And that his star running back
LaMichael James
-- the Pac-10 offensive Freshman of the Year -- has been suspended for the 2010 opener vs. New Mexico after he pleaded guilty to a misdemeanor harassment charge and was sentenced to 24 months on probation and 10 days in jail.
And that his kicker
Rob Beard
also was suspended for the opener after he pleaded guilty to a harassment charge for his part in a Jan. 24 brawl.
Kelly refused to answer any questions Friday. He spoke only for a few minutes and said, "I want to eliminate any uncertainly that our level of expectations are the same for all our student-athletes regardless of the role they play on this team."
You can review the entire
rap sheet here
. In summary, Masoli is the biggest name atop a list of incidents involving nine players, three of whom were kicked off the team and two others were suspended for the 2010 season.
It surely represents one of the most embarrassing periods for the program in decades. Kelly should have talked to reporters. He'll likely get skewered for not doing so. But he probably just wanted to go lie down in a dark room and listen to soft music. Chopin, perhaps.
Is Kelly to blame for the recent run of incidents? No. And Yes.
He's only been the head coach for one year after serving for two as offensive coordinator. He's participated in creating a team culture, but it's also accurate to say that the program doesn't yet entirely belong to him. These will be Chip Kelly's Ducks when the vast majority of players in the locker room were recruited by him as head coach. That's presently not the case.
But, yes, Kelly deserves blame. He's the head coach. He's paid a lot of money to run a successful program, and that includes fielding a team that doesn't embarrass the university off the field. It's the ole "buck stops here" rule.
Has Kelly handled this run of off-field incidents well? Yes. And no.
Kelly took a measured, case-by-case approach. He sent a message to his locker room that he's not going to bow to outside pressure and quickly hand out harsh punishments just to look like he's a disciplinarian. Meanwhile, he did hand out several harsh punishments.
Did he send a mixed message? Some people felt that way. But I was never confused about his message -- felt like I knew where Kelly stood all along.
Kelly believed Masoli and James both had credible positions in regard to their incidents. Turns out James
did
. And Masoli did not.
What particularly stands out about the Masoli case is that he lied --
to Kelly and to police
-- about his initial involvement. Even though charges against Masoli were
reduced to a misdemeanor
, the lying is likely a big part of why he won't suit up in 2010.
But Kelly also handled this terribly. Why? Because, for one, it happened, one incident after the other (recall where the buck stops). Second, because it was impossible to handle well.
It was embarrassing that the day after he laid down the law in front of reporters with an, "I'm in charge speech," linebacker Kiko Alonso got a DUI. And that receiver
Jamere Holland
decided to launch a Facebook tirade about his perception of Kelly's reaction shortly thereafter.
And that just a week ago, as things seemed to get quiet for a few days, linebacker Josh Kaddu was busted for minor in possession of alcohol.
Still, it's hard to believe that, short of putting his players on lock-down, Kelly could have prevented them from acting like knuckleheads. They've had 18-to-22 years -- pre-Kelly -- to develop such traits.
Going forward, however, is where things need to be different.
It's one thing for a first-year head coach to suffer through a run like this. It's a far different thing for it to happen in year three or four.
Kelly's a smart, organized guy, though. While his considerable ego likely will prevent him from publicly admitting mistakes -- probably one of the reasons he decided not to take questions Friday -- know that he most certainly is formulating a plan to ensure the program doesn't suffer through another run like this anytime soon.
Will he go Martin Luther and hang "The Ninety-Five Theses" in the Ducks locker room? That wouldn't shock me.
In fact, the guess here is he'll spend most of his coaching anniversary thinking about that very thing.
So, again, happy anniversary coach.
February, 22, 2010
2/22/10
9:55
AM ET
When will the bleeding end for Oregon?
The latest
is Oregon coach Chip Kelly announcing Sunday he had booted
Jamere Holland
from the team, in all likelihood because of the receiver's expletive-filled posts on his Facebook page.
That was just the final act of another bad weekend for the Ducks. Hours after coach Kelly met with reporters Friday to reassure Ducks fans he had control of the team, linebacker Kiko Alonso was arrested early Saturday for DUI.
Running back
LaMichael James
, 20, was arrested last week on a domestic violence charge.
Kicker Rob Beard has been cited with investigation of misdemeanor assault in a Jan. 24 brawl that left him seriously injured and involved other players, one of whom, walk-on Matt Simms, was booted from the team.
It's been a rough month for the program.
Holland was a talented but often troubled receiver with great speed who transferred from USC but never broke through. He was academically ineligible for the Rose Bowl after catching 17 passes for 252 yards and two touchdowns in two seasons.
Here's
The Oregonian
story, which includes information about Holland's unwise Facebook posts.
February, 17, 2010
2/17/10
2:38
PM ET
Oregon coach Chip Kelly's first year leading the Ducks should be viewed as the rough equivalent of a coaching dog year, so let's go ahead and call Kelly a seven-year veteran.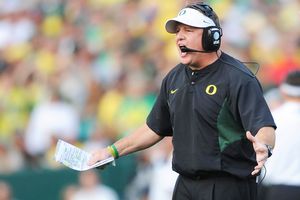 Christopher Hanewinckel-US PRESSWIREOregon coach Chip Kelly's Ducks need to fall in line before the season starts.
Talk about extremes of
good
and
bad
. Post-game punches, a Pac-10 championship, a Rose Bowl and a stack of police reports.
Talk about packing a career of thrills and embarrassments into a calender year.
The latest -- running back
LaMichael James
' arrest on domestic violence charges -- extends a recent streak of disturbing off-field incidents.
A couple of Ducks kickers were involved in a major brawl on Jan. 24. One, Mike Bowlin, left the team this week. The other, Rob Beard, was knocked unconscious in the melee, required serious facial surgery and was charged with
misdemeanor assault
. A walk-on defensive end, Matt Simms, previously was kicked off the team after Eugene police cited him for misdemeanor assault for allegedly retaliating against someone from the brawl.
And, of course, there are rumors that more troubles could be ahead for the Ducks.
This isn't boys-will-be boys stuff. Each off-field incident, based on available information, included serious allegations. The sort of stuff that gets folks put in jail, not to mention kicked out of school.
So it's only a sidebar that poor judgement by Ducks players could potentially ruin a 2010 season that holds such promise.
That was the salve that was supposed to heal the wound of an upset loss to Ohio State in the Rose Bowl: Oregon should be even better next year.
Ten starters were scheduled to return from one of 2009's best offenses. Sure, there were questions on defense, but not enough to prevent
most prognosticators
from ranking the Ducks in the 2010 preseason top-10.
The Ducks not only were projected as Pac-10 favorites, they were viewed as darkhorse national title contenders.
They still might be. But there is now the ominous prospect, due to these off-field incidents, that high hopes could shrivel up and be replaced by worrisome upheaval and controversy.
Not to mention that these young men are putting their futures at risk.
So how does this fall to Kelly?
Here's a guess that Kelly delivered a stern message about personal conduct in a team meeting in late-January. That message, however, may not have sunk in, at least based on the allegations against James.
One of the tough things about being a college coach is you are held accountable for things which you have little to no control over. But that's part of the job. Guys get
paid very well
to win and run a clean program, and the buck ultimately stops on the coach's desk.
Here's another guess. Kelly, now a wizened coaching veteran, will again deliver a stern message to his team. This one may go up to 11 on the volume, too.
Oregon fans surely will hope this time the message resonates as if it were coming from the Oval Office.