January, 17, 2013
1/17/13
9:10
PM ET
Syracuse made several coaching announcements Thursday:
George McDonald will serve as offensive coordinator.
Tim Lester will coach quarterbacks.
Receivers coach Rob Moore and defensive-line coach Tim Daoust will remain on staff.

The McDonald news had been widely reported, so it comes as expected. McDonald had just taken a job at Arkansas in December after spending two seasons coaching receivers at Miami. He and new Syracuse coach Scott Shafer worked together at Northern Illinois and Western Michigan.
"When I worked with the Browns in Cleveland I spoke often with Jim Brown," McDonald said in a statement. "He always told me what a special place this is. I am excited to be here to continue the tradition of Syracuse football and to continue to build what Coach (Doug) Marrone, Coach Shafer and Coach (Nathaniel) Hackett have started," McDonald said. "Our offense will be physical, fundamentally sound, and aggressive. We will strive to be balanced by getting the ball to the best playmakers, make the defense defend the whole field and play with a great tempo."
Lester just completed his fifth season as the head coach at Elmhurst College, where he guided the Bluejays to the most successful season in school history. He had a record-setting career as a quarterback at Western Michigan, throwing for 11,299 yards passing and 89 touchdowns. Quarterback will be a huge story line for the Orange in the spring as they work to replace their own record-setting quarterback,
Ryan Nassib
.
As for Moore and Daoust, having them remain on staff is huge for the Orange when you consider that Marrone essentially hired away nearly every Syracuse assistant to join him with the Buffalo Bills. Moore and Daoust are two of the stronger coaches on the staff. Moore helped
Alec Lemon
and
Marcus Sales
blossom. Daoust worked with first-round pick Chandler Jones in 2011 and helped develop
Brandon Sharpe
in 2012. The Orange ranked sixth nationally in tackles for loss in 2012.
November, 26, 2012
11/26/12
10:00
AM ET
One last look back at the holiday weekend that was in the Big East.
The good:
Pitt and UConn (both 5-6) kept their bowl hopes alive with upset wins over Rutgers and Louisville, respectively. Syracuse and Cincinnati won, too, keeping their slim hopes alive for shares of the Big East title. For the Bearcats, that would be four in a five-year span.
[+] Enlarge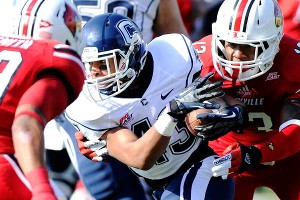 Jamie Rhodes/US PresswireUConn RB Lyle McCombs hasn't let his relatively small size affect his durability.
The bad:
Rutgers' and Louisville's losses take some major luster off their de facto conference title game matchup Thursday night in Piscataway, N.J. South Florida, meanwhile, fumbled the ball eight times at Cincinnati. Eight.
The ugly:
See
Sunday night's BCS standings
? Yup. No Big East teams. (Three non-AQ teams are ranked, however, as well as four-loss Michigan and four-loss Oklahoma State.)
Get well soon:
Rutgers'
Jawan Jamison
was limited by his ankle injury again. Scarlet Knights quarterback
Gary Nova
missed some time after his shoulder took a nasty hit on the frozen ground of Heinz Field, and linebacker
Khaseem Greene
left after a hit on a punt return, but got back into the game . . . Both starting quarterbacks -- UConn's
Chandler Whitmer
(hit to head) and Louisville's
Teddy Bridgewater
(wrist, leg) -- were injured. Bridgewater returned, but ultimately throwing a fateful pick in triple overtime.
So long:
Temple's return to the Big East (2-5) came to a close in Friday's loss to Syracuse. The young Owls squad had plenty of ups and downs in a transition year, from playing just 11 games (4-7) to dealing with backfield injuries all season. Their two conference wins were two more than most anticipated, but expectations will increase in Year 2.
Backs carrying the way:
Syracuse rushed for 260 yards on the backs of three major contributors. Temple's
Montel Harris
closed his storied career with 106 rushing yards. Cincinnati's
George Winn
continued to impress with his 119-yard, two-touchdown performance. Pitt's
Ray Graham
closed out his home career with a bang, going for 113 yards and a score. And
Lyle McCombs
lifted UConn to a second straight win with a second straight 100-yard performance, this one for 133 yards.
By the thousands:
Jerome Smith
eclipsed the 1,000-yard rushing mark Friday for Syracuse.
Alec Lemon
eclipsed the 1,000-yard receiving mark. Together they have given the Orange their first 1,000 rushing/receiving combo since 1989, when Michael Owens and Rob Moore accomplished the feat. Moore currently coaches the Syracuse receivers.
October, 26, 2012
10/26/12
2:30
PM ET
Alec Lemon
is coming off a season-best 166-yard performance in last Friday's win over UConn, though the one designed play for him at quarterback ended with the senior taking a 2-yard loss.
Nonetheless, the senior now has 161 career receptions, and he broke the Syracuse career record for catches four weeks earlier against Minnesota. Lemon has 55 more than his position coach, Rob Moore, who only played at Syracuse for three years. Moore still has the lead in yards (2,122 to 1,954; third and sixth in program history, respectively) and touchdown catches (his 22 are a school record; Lemon's 12 are tied for ninth).
Here, Lemon talks about his Orange career and goals for this season.
After the Rutgers game you said you felt 'misery' looking over the film. How did you turn that frustration into a big performance the next week?
[+] Enlarge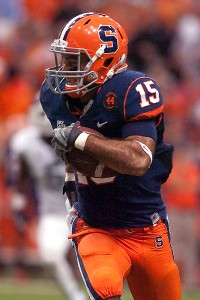 Mark Konezny/US PresswireAlec Lemon became Syracuse's all-time leader in pass receptions this season.
Alec Lemon
: Well after the game, came back, watched the film, critiqued myself -- I felt that tick in my stomach from how I played. My goal was to go out there and show not just my team that I let them down because that wasn't me, but the whole world the real Syracuse offense and the real things that we could do.
UConn has a very good defense. You've had a 100-yard game against them two years in a row. How?
AL
: I don't know. It's kind of funny. Everyone keeps telling me about that and I hadn't really realized it until they told me that I had career days against UConn. I guess it must be something about that white and blue I don't like. [Laughs.]
A lot of your yards come after the catch. What do you do during the week that helps you turn big plays into bigger ones?
AL
: One of our focuses is when we get the ball in any drill or during team period for practice, we make sure that we finish with a 10-, 15-yard burst. But it really doesn't come from practice. It's got to be your mentality that every time you get the ball you want to score. And that's one of the things I have in my head: Every time I touch the ball I want to take it to the house and go as fast as I can and break some tackles and take it to the house.
The run game really established itself early Friday. How does that open things up for you guys as an offense?
AL
: That helps us out a lot with the whole defense knowing that when the offense is going they can't just key in on [one part of] the offense, because the pass game will be open and when the passing game's going they can't just key in on the passing game because the run game will be open. We complement each other very well. We're a very balanced offense, and if one is doing so good the other will step up, and when that happens, like I said, they can't just key in on one area of the offense or one player because we have so many weapons on offense that we can use.
Speaking of the passing game: Is your QB career done after Friday?
AL
: [Laughs.] I don't know. Maybe I was hoping I could get a chance to throw it again. I saw them coming over there so I had to tuck and get some yards.
It's been a couple weeks but you recently became the all-time pass-catcher at Syracuse. Was that a goal of yours or is it something you'll look back on after your career before it resonates?
AL
: Yeah when I came to Syracuse that wasn't one of my goals. My goals were to get to bowl games, to win the Big East, win games when I'm here. I was fortunate enough to break a couple records on my way here but I really wasn't focused on that. But it's one of those things. Right now it hasn't hit me because we're still in the heat of the season. We're still trying to win the Big East. But definitely when I get older it'll be kind of nice to see my name back there on the Syracuse record books -- something I can tell my children about. But hopefully one of the receivers behind me breaks the record, because all records are made to be broken.
Nice to pass your position coach (Rob Moore) along the way for that record?
AL
: Yeah, I beat him. I gave him a little crap about that. It was pretty funny.
How's he taken that?
AL:
He took it good. I gave him a little crap about it, but he still claims that he's got more receiving yards and that his receiving average is higher than mine, so I've got to work on that. But it's something special to be a part of that list, to be mentioned with all those great receivers that came through here. Passing my coach Rob Moore is something special and I'm humbled to be a part of that, and I know he's happy that I did it -- a player that he coached, and he expected that out of me knowing that I'm capable of doing that.
You've got USF this week. A bit of a desperate team having lost five in a row. How do you ready for their best shot?
AL
: Yeah, definitely. South Florida is a very talented team, very athletic and they're dangerous. People say that they're down right now, but we feel we've got to come with our A-game. People have been saying they've been losing a couple games but we can't look at that. We've got to come out and play because South Florida, like I said, they're a very good team and they can exploit our weaknesses and make big plays. They can hurt us in a couple ways. We just have to go out there and play the game we know how to play.
October, 7, 2010
10/07/10
1:04
PM ET
When we wondered this offseason whether Syracuse had enough big-time playmakers at the receiver position,
Van Chew
got overlooked. Then again, it's easy to miss a guy his size sometimes.
The skinny junior -- he's listed at 6-foot-1, 170 pounds, and it took some serious work in the weight room to get there -- has come up large for the Orange this season, however. He leads the team with 19 catches for 343 yards, and his 18.1 yards per catch average is tied for second best in the Big East.
"What happens a lot of times is that guys think his frame is so slight that he gets underestimated a lot," Syracuse receivers coach Rob Moore said. "And before you know it, he's got a touchdown or two on you. I imagine once we get to the Big East, he won't sneak up on a lot of people."
Surely, South Florida will be aware of him this week in the conference opener for both teams. Chew could have more easily glided under the radar before the season, as he came into 2010 with just 10 career catches for 122 yards. He credits his work on the scout team last year and in the weight room this winter and spring for developing into a top-flight wideout.
He didn't look the part when he arrived as a recruit from Manassas, Va., when he was listed at 165 pounds -- an exaggeration.
"I was really about a buck-50, maybe a buck-55," he says. "When I first got on campus, people thought I was a basketball recruit. I'd tell them, 'No, I play football.' And they just started laughing."
Chew didn't find it funny when he first started practicing and cornerbacks would jam him at the line of scrimmage and knock the lightweight freshman off his routes. He has put on about 20 pounds since then.
"I feel real good playing at 170, because I can actually push corners around and block linebackers without falling down and getting run over," he says.
Now, it's usually Chew who's running by those defenders. He had a 45-yard catch in the season opener against Akron and a 48-yarder two weeks ago versus Colgate. He hauled in seven catches for 113 yards against Maine and six balls for 83 yards at Washington.
"We try to do a lot of different things with him," Moore said. "He has excellent speed. He does a good job of being disciplined at the top of his routes, and that gives him separation. After he gets the catch, he makes turns on guy, fronts them up and sometimes make them miss."
Chew is now the veteran of a young group of Orange wideouts who have helped improve the passing game. They will face their toughest challenge yet against the Bulls, who lead the Big East in pass defense. Who knew the key might be the skinniest guy on the field?
February, 26, 2010
2/26/10
10:06
AM ET
In a world of constant job changes, you need a scorecard just to keep up with who is on the sidelines. So here is your guide to all the coaching changes this offseason in the Big East:

CINCINNATI

In:

Head coach Butch Jones (from Central Michigan)

Steve Stripling, assistant head coach/defensive line (from Central Michigan)

Mike Bajakian, offensive coordinator/quarterbacks coach (from Central Michigan)

Tim Banks, co-defensive coordinator (from Central Michigan)

Jon Jancek, co-defensive coordinator/linebackers (from Georgia)

Mark Elder, running backs/recruiting coordinator (from Central Michigan)

Don Mahoney, offensive line (from Central Michigan)

T.J. Weist, wide receivers (from Western Kentucky)

Phil Zacharias, tight ends/special teams coordinator (from Central Michigan)

Out:

Head coach Brian Kelly and his entire staff except for Kerry Coombs, associate head coach/defensive backs coach

CONNECTICUT

In:

Jon Wholley, tight ends (from Fordham)

Darrell Perkins, defensive backs (from Louisiana-Monroe)

Out:

Dave McMichael, tight ends (to West Virginia)

Scott Lakatos, defensive backs (to Georgia)

LOUISVILLE

In:

Head coach Charlie Strong (from Florida)

Vance Bedford, defensive coordinator (from Florida)

Mike Sanford, assistant head coach/offensive coordinator (from UNLV)

Dave Borberly, offensive line (from Virginia)

Kenny Carter, running backs (from Florida)

Ron Dugans, wide receivers (from Georgia Southern)

Mike Groh, quarterbacks (from Alabama)

Clintt Hurtt, defensive line/recruiting coordinator (from Miami)

Brian Jean-Mary, linebackers (from Georgia Tech)

Out:

Head coach Steve Kragthorpe and his entire staff except for Larry Slade, secondary

PITTSBURGH

In:

Bernard Clark, linebackers (Hampton)

Scott Turner, wide receivers (promoted from administrative role)

Out:

Joe Tumpkin, linebackers (to Central Michigan)

Bryan Bossard, wide receivers (not retained)

RUTGERS

In:

Phil Galiano, tight ends (from Florida International)

Randy Melvin, defensive line (from Temple)

P.J. Fleck, receivers (from Northern Illinois)

Out:

Gary Emanuel, defensive line (to Purdue)

Joe Susan, tight ends/recruiting coordinator (to Bucknell)

Brian Jenkins, wide receivers (to Bethune Cookman)

SOUTH FLORIDA

In:

Head coach Skip Holtz (from East Carolina)

Rick Smith, assistant head coach/defensive backs

Mark Snyder, defensive coordinator/linebackers (from Marshall)

Todd Fitch, offensive coordinator (from East Carolina)

Vernon Hargreaves, special teams coordinator/defensive ends

Peter Vaas, quarterbacks

Steve Shankweiler, offensive line (from East Carolina)

Out:

Head coach Jim Leavitt (fired)

Mike Canales, offensive coordinator (not retained)

Joe Tresey, defensive coordinator (not retained)

David Blackwell, linebackers/co-defensive coordinator (not retained)

Mike Simmonds, offensive line (not retained)

John Hendrick, special teams (not retained)

New role:

Kevin Patrick, from defensive line coach to defensive tackles

Carl Franks, from running backs coach to administrative position

SYRACUSE

In:

Rob Moore, receivers (from Phoenix Junior College)

Tyrone Wheatley, running backs (from Eastern Michigan)

Jimmy Brumbaugh, defensive line (from Louisiana Tech)

Nathaniel Hackett, quarterbacks (from Buffalo Bills)

Out:

Rob Spence, offensive coordinator (not retained)

Derrick Jackson, defensive line (not retained)

Jamie Elizondo, receivers (not retained)

Stan Drayton, running backs (to Florida)

New role:

Head coach Doug Marrone will serve as offensive coordinator

WEST VIRGINIA

In:

Dave McMichael, tight ends/special teams co-coordinator (from Connecticut)

Out:

Doc Holliday, associate head coach/tight ends/recruiting coordinator (to Marshall)