May, 30, 2011
5/30/11
10:25
PM ET
We know Jim Tressel won't be walking the sidelines for Ohio State this fall. But who takes the field for the Buckeyes remains very much in doubt.
The most damning part of
Sports Illustrated's investigation into Tressel
and the Ohio State program is the allegation that memorabilia sold for money and tattoos wasn't confined to the so-called "Tat-5" -- quarterback
Terrelle Pryor
, running back
Dan Herron
, wide receiver
DeVier Posey
, left tackle Mike Adams and defensive end Solomon Thomas -- who have been suspended for the first five games of the 2011 season. The SI report names at least 28 players who allegedly traded memorabilia or autographs for money and tattoos since 2002, including nine players on the current roster.
[+] Enlarge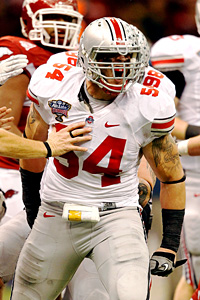 Matthew Stockman/Getty ImagesAccording to an SI report, starter John Simon is one of nine previously unnamed players on the current Ohio State roster who allegedly traded memorabilia or autographs for money and tattoos.
The current players named in the report are: safety C.J. Barnett, linebacker Dorian Bell, running back
Jaamal Berry
, running back
Bo DeLande
, defensive back Zach Domicone, linebacker Storm Klein, linebacker Etienne Sabino, defensive tackle John Simon and defensive end Nathan Williams.
Several of those listed are expected to play significant roles this season, most notably Simon and Williams, returning starters on the defensive line. Sabino and Klein are in the mix at linebacker, while Berry competed for the top running back spot this spring.
From the SI piece:
Ohio State's conclusion that only six players broke the rules is based in part on a list of the items the Department of Justice seized in raids of Fine Line Ink and [Edward] Rife's home on May 1, 2010. But that list, which mentioned 42 football-related items that Rife bought, received or acquired in trades from players, covered only a small fraction of what he got from the Buckeyes, Ellis says. "Eddie had storage units all over town," he says, "and he also sold some stuff off to people." (Through Palmer, his lawyer, Rife declined to comment on his involvement with Ohio State players.) Ellis estimates that Pryor alone brought in more than 20 items, ­including game-worn shoulder pads, multiple helmets, Nike cleats, jerseys, game pants and more. One day Ellis asked Pryor how he was able to take so much gear from the university's equipment room. Ellis says the quarter­back responded, "I get whatever I want."
Expect Ohio State and/or the NCAA to investigate these allegations. If the current players are found to have violated extra-benefit rules, they could face significant suspensions for the 2011 season.
Couple this with the
new NCAA/Ohio State probe into Pryor
and allegations he received cars and other extra benefits, and Ohio State's depth chart could be a mess heading into the 2011 season.
Other key points from the SI report:
Writers George Dohrmann and David Epstein paint the memorabilia sales among players as a systematic problem at Ohio State. It certainly calls into question athletic director Gene Smith's claim that the sales involving Pryor and the others were isolated. Ohio State's brief investigation into the memorabilia sales in December also looks shaky. The number of players alleged to have violated NCAA rules at two separate tattoo parlors, along with the time span in which these infractions possibly occurred, has to be unsettling. Former Ohio State player Rob Rose told SI that he traded memorabilia items for tattoos, as did 20 other players. With Tressel gone, much of the focus turns to Smith and Ohio State's compliance department. This report doesn't help them.

One element of the story that already is generating attention is the anecdote from a former colleague of Tressel's on Earle Bruce's staff at Ohio State. The former Buckeyes coach, who served with Tressel on Bruce's staff during the 1980s and asked to remain anonymous, told SI that Tressel rigged raffles at Ohio State's football camps so that elite prospects would win, a violation of NCAA rules. "In the morning he would read the Bible with another coach," the coach told SI. "Then, in the afternoon, he would go out and cheat kids who had probably saved up money from mowing lawns to buy those raffle tickets. That's Jim Tressel." If true, this is really creepy and disappointing.

The report also reviews Tressel's claims that he knew nothing about NCAA violations involving his players at both Youngstown State and at Ohio State. Those unaware of these aspects of Tressel's track record can get an education from this piece.
So there you have it. Quite a day in Columbus, and not much of a holiday for those of us covering the story.
We'll have much more on the fallout from Tressel's resignation and what's next for Ohio State on Tuesday, so be sure and check in early and often.
December, 23, 2009
12/23/09
4:09
PM ET
Ohio State head coach Jim Tressel confirmed today that wide receivers
Ray Small
and
Duron Carter
and defensive end Rob Rose
all will miss the Rose Bowl Game
presented by Citi.
Multiple media outlets had reported the three players were suspended for the game, but only Carter had officially been ruled out by the team. Tressel didn't provide specifics for the suspensions, but a source told me that Carter is academically ineligible, while both Small and Rose violated team rules. For Small, it was a repeat violation.
Small is probably the most significant loss, as he serves as Ohio State's No. 3 wide receiver and starting punt returner. The Cleveland product can be very dangerous on the field, but his troubles off the field have ended his college career early. Rose is also through at Ohio State.
With both Small and Carter sidelined, a Buckeyes passing attack that ranks last in the Big Ten and 106th nationally won't have two of its top four receivers. Tressel expects junior
Taurian Washington
and sophomore
Lamaar Thomas
, as well as freshman tight end
Jake Stoneburner
, to take on larger roles in the passing game.
"It certainly gives us less depth, without question," Tressel told WBNS radio in Columbus. "Guys like Taurian Washington and Lamaar Thomas are gonna have to step up in those areas from a depth standpoint."
Rose proved valuable at times in the defensive line rotation, but he's not a major loss. Top wide receivers
DeVier Posey
or
Dane Sanzenbacher
could handle the punt return duties against Oregon.
The Ducks aren't without their issues, either, as reserve wide receiver
Jamere Holland
is academically
ineligible for the game
.
October, 3, 2009
10/03/09
10:26
PM ET

Posted by ESPN.com's Adam Rittenberg
Ohio State lost a few style points down the stretch, but the Buckeyes reaffirmed themselves as the team to beat in the Big Ten on a wild day in the conference.
Terrelle Pryor
still does a few things that make you scratch your head, but the sophomore quarterback was mostly good in a
33-14 Buckeyes win
over Indiana. He factored into all four Buckeyes touchdowns (3 pass, 1 rush) and distributed the ball extremely well. Junior running back
Brandon Saine
took advantage of his first start this season with 113 rush yards on 17 carries, and freshman wideout
Duron Carter
caught his first career touchdown. The offense doesn't always click, but it makes enough plays to win.
Once again, the real story for Ohio State was the defense, which forced three Indiana turnovers. Safety Anderson Russell, who was demoted after the season opener, came up big in place of the suspended Kurt Coleman with an interception and a fumble recovery. It was another big night for the Buckeyes' defensive line, which got an interception from Todd Denlinger and impressive second-half play from Rob Rose. Losing Dexter Larimore hurts, but the Buckeyes are stacked up front.
Indiana once again didn't quit and should have made it more competitive, but mistakes really hurt the Hoosiers after the first quarter. Wide receiver
Tandon Doss
had a really nice night (6 receptions, 96 yards) and the defense played well at times, but Indiana couldn't generate a rushing attack and
Ben Chappell
's two interceptions really stung. This is clearly a better IU team than many of us had imagined, but the Hoosiers are 0-2 in league play and need to bounce back soon.
September, 6, 2008
9/06/08
4:57
PM ET
Posted by ESPN.com's Adam Rittenberg
COLUMBUS, Ohio -- The two teams that meet next week at the L.A. Coliseum have enjoyed tremendous success with dramatically different philosophies.
Ohio State wide receiver Ray Small pointed out some of those differences after Saturday's too-close-for-comfort 26-14 win against Ohio. Small, like several players in the Ohio State-USC game, visited both schools during the recruiting process.
"As I took my visit to USC, I'm like, 'How are they successful? They're not even serious about the game,'" said Small, who caught five passes and had a 69-yard punt return for a touchdown against Ohio. "Before the game, they're all going crazy. Me and [Buckeyes defensive end] Rob Rose was on the visit and I'm looking like, 'Wow.' And then the coach said, 'You better get out of here. It's 'bout to get hectic.'
"And then I come [to Ohio State] on the visit and before the game, it's all quiet, everybody getting taped, coaches talking. It's the total opposite."
Small can't figure out how two divergent programs achieve such similar results. But he knows he made the right choice with the Buckeyes.
"It's more of a class thing," he said. "We took what [former USC quarterback] Carson Palmer said. I don't think somebody from Ohio State would have ever said that remark."
Palmer, the Cincinnati Bengals quarterback, sounded off in July, telling an L.A. radio station how he "cannot stand the Buckeyes and having to live in Ohio and hear those people talk about their team, it drives me absolutely nuts." He later apologized, saying he does respect the Buckeyes.
"Here at Ohio State, they teach you to be a better man," Small said. "There, it's just all about football."