November, 25, 2009
11/25/09
2:26
PM ET
Pittsburgh has a mulligan left.
The No. 9 Panthers don't need to win Friday night at West Virginia in order to bring home a Big East title or BCS bid. All they have to do for that is beat Cincinnati on Dec. 5.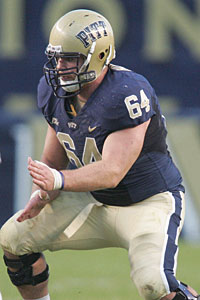 Charles LeClaire/Getty ImagesRobb Houser and the Panthers know they can't afford to look past West Virginia.
Of course, there's a big difference between need and want. The Backyard Brawl may not have much bearing on Pitt's ultimate goals, but you better believe this is a fight the team does not want to lose.
"We're not looking at it at all like we can still lose this game and beat Cincinnati for the Big East," center Robb Houser said. "We're not even looking at Cincinnati right now because [West Virginia] is a good team and it's a big rivalry. We're focusing on getting these last two games, not what we need for the Big East. We're focusing on winning out."
Pitt coach Dave Wannstedt said earlier this week that his biggest fear wasn't that his players would look past West Virginia. It was that they would look past all the work in practice to get to Friday's game.
"There's always a fine line when playing West Virginia," Wannstedt said. "It's a very exciting game for our players. It's a very emotional game for our players. You also have to be able to understand that the quickest way to be defeated is to be distracted. So you have to go down there and play with a lot of emotion and energy, but at the same time you have to really be focused on the job at hand."
The Panthers have excelled at that the past two years. Arguably the biggest win in the Wannstedt era came in Morgantown two years ago, when Pitt upset West Virginia, 13-9. Wannstedt's team had only four wins going into that game, while the Mountaineers were making plans for the BCS title game. Since that game, Pitt has won 18 of its last 23 contests.
"I think that win, when you look back on it, it gave us life," Wannstedt said. "By that, I mean we had so many recruits that were right on the bubble. It gave us an opportunity to get one more shot at these guys and to say that it will happen and to believe in us.
"You know if you lose that game and come off of a four-win season and go into your offseason program, that's a challenge, from a coaching standpoint and from a player standpoint. Winning that game, I can remember the first day of the offseason program in January. We had as much enthusiasm from a team standpoint to get started and to try to build on that for the next year as any."
Wannstedt said he remembers seeing recruits lined up on the sideline during pregame warm-ups for that 2007 game. Many of the players were being courted by both schools.
"Within 10 to 14 days [after the win], we got eight commitments," he said. "Two or three of those kids were right there [in Morgantown]."
No doubt that win got Pitt's program jump-started in a lot of ways. Now it's really revved up, with a top-10 ranking, a shot at the Big East title and, of course, a two-game Backyard Brawl winning streak. The Panthers don't want to give any of that back.
"We ruined their chances of a national championship last time we were there, so they're going to be ready for us," tight end
Dorin Dickerson
said. "This rivalry means a lot and has been good for a lot of years. We want to have the upper hand every year."
May, 26, 2009
5/26/09
10:00
AM ET
Posted by ESPN.com's Brian Bennett
Mayday, Mayday. The following positions appear to need the most help for each Big East team after spring ball:
Cincinnati: The defense as a whole could use more experience and playmakers, but linebacker and safety have the biggest need for more depth.
Connecticut: Just like last year, the Huskies need to find some reliable receivers. They'll hope some incoming recruits bring something to the table.
Louisville: If the Cardinals' defensive line doesn't get bolstered by incoming junior college players this summer, their defense could be in for a long fall.
Pittsburgh: The Panthers hope Robb Houser is healthier and more effective this summer than he was in the spring. If not, center could be a major question mark.
Rutgers: See Huskies, UConn. The Scarlet Knights are in desperate need of receivers to complement Tim Brown.
South Florida: Ditto for the Bulls on the O-line, though South Florida does have talent at the position. Health and chemistry are the bigger concerns.
Syracuse: The Orange need help in a lot of areas, but no position is more pressing than offensive line right now after a rough spring by the big guys up front.
West Virginia: Is there an echo in here? The Mountaineers, too, have problems on the offensive line, mostly due to inexperience.
April, 2, 2009
4/02/09
9:58
PM ET
Posted by ESPN.com's Brian Bennett
PITTSBURGH -- Some observations from a beautiful spring day spent watching Pitt practice:
• The Panthers turned in a spirited, two-plus hour workout that included lots of 11-on-11 drills. The talent that Dave Wannstedt has assembled through recruiting is obvious, as this is a team chock full of athletes.
The big question mark remains at quarterback, and none of the three contenders had a great day. Part of the blame can be placed on a blustery wind that made long throws an adventure, but the quarterbacks struggled to complete passes even in skeleton drills.
Bill Stull
got the first-team snaps, with
Pat Bostick
on the second team and
Tino Sunseri
running the threes. Sunseri is the best athlete, but he's smaller in person than I expected. He's listed at 6-foot-2 but looks a good couple of inches shorter than Stull and Bostick, who are each listed at 6-3.
• Interesting developments on the offensive line. Alex Karabin, a junior walk-on who played primarily on the kicking unit last year, took the first-team reps at center. Robb Houser started there the first seven games of 2008 before breaking his ankle. Houser was playing on the second team. Sophomore Chris Jacobsen got a lot of run today with the first-string as well.
• Wannstedt told me earlier in the day that he was preparing to use a committee approach at running back this year. But true freshman Dion Lewis, who enrolled in January, got most of the looks with the first team and could very well end up as the starter there. He's explosive and made some nice plays in the passing game. The run of the day, though, came from
Shariff Harris
, who dashed up the middle almost untouched for a 45-yard touchdown.
•
Greg Cross
has been moved to receiver and had a long touchdown catch on a busted coverage. The Panthers are deep at wideout, even with
T.J. Porter
currently suspended.
Aundre Wright
is lightning quick.
• Watching Aaron Berry and
Jonathan Baldwin
match up was a lot of fun. Each has a chance to be the best in the Big East at his position this fall.
• Defensive end Greg Romeus isn't going through contact drills right now because of a back problem, and after practice defensive coordinator Phil Bennett was busting his chops for missing so much practice time. "You might end up as a three technique," Bennett joked.
• Basketball coach Jamie Dixon watched practice from the sidelines, less than a week after his team's heartbreaking, last-second loss to Villanova in the Elite Eight.
October, 29, 2008
10/29/08
12:02
PM ET
Posted by ESPN.com's Brian Bennett

Connecticut: Donald Brown's amazing season has left Andre Dixon a forgotten man this season. Dixon actually led the Huskies in rushing last season, but he's only gotten three carries this year as Brown has piled up more than 1,300 yards. Dixon was slowed by an ankle injury at the start of the year but is healthy now. UConn coach Randy Edsall says Dixon hasn't done anything wrong and is contributing on special teams; there just aren't enough handoffs to go around the way Brown is performing.

South Florida: The Bulls' comeback attempt at Louisville was hampered by injuries. Running backs Mike Ford and Jamar Taylor were limited, while starting right tackle Marc Dile (leg), tight end Trent Pupello (head) and linebacker Brouce Mompremier (head) got hurt and had to leave the game. True freshman Danous Estenor took over for Dile, who returned to practice this week. Senior guard Zach Hermann, who has been out since the opener with a broken foot, will travel to Cincinnati and may play.

Syracuse: The Orange hope to have two additions to their backfield on Saturday against Louisville. Fullback Tony Fiammetta should be good to go after missing the South Florida game with a lower leg problem, while backup tailback Delone Carter appears ready after sitting four games with a hamstring injury. Fiammetta is important as both a blocker and in the receiving game, while Carter can either give starting halfback Curtis Brinkley a breather or come in on two-back sets.

Pittsburgh: The season-ending ankle injury to center Robb Houser means that fifth-year senior Dom Williams will return to the starting lineup. Williams will play left guard, while C.J. Davis moves over to center. Williams, the team's oldest player at 24, started the first two games of 2005, including one against this week's opponent, Notre Dame. If Williams falters, Pitt will probably turn to true freshman tackle Lucas Nix.

West Virginia: The Mountaineers shredded Auburn's defense in last week's 34-17 win without one of their most effective offensive players. Backup quarterback Jarrett Brown did not play because of lingering shoulder and thigh injuries. West Virginia had been using Brown in the backfield with Pat White as a blocker/runner/decoy on short-yardage situations. Brown has practiced this week and should be ready to play at Connecticut. Freshman right guard Josh Jenkins, out since the Rutgers game with a knee injury, could return to add depth to the offensive line.
October, 26, 2008
10/26/08
2:46
PM ET
Posted by ESPN.com's Brian Bennett
1. Meet the new boss, same as the old boss: For now, and this can change in a hurry, West Virginia is once again the team to beat in a hopelessly muddled Big East race. The Mountaineers might have gained this status by default had they not played this week, since they are the only team left undefeated in league play. But they also earned it in a thoroughly impressive 34-17 win over Auburn on Thursday. If the offense can keep up that level of execution and the defense stays solid, West Virginia is the favorite to win the title. At least until Saturday.
2. Brian Kelly's brain will be challenged: The Cincinnati coach is often hailed as an offensive guru, and now he'll have to put those skills to work. The Bearcats' problems continue at quarterback, as Tony Pike couldn't make it through the Connecticut game with his mending left arm. Cincinnati is an astonishing 0-for-25 on third downs in its last two games. The running game has gone absent at times, and the incompletions are piling up in the passing game. Maybe Dustin Grutza returning will help, but he's still a couple of weeks away. Kelly needs to figure out an answer before then.
3. Pittsburgh and South Florida haven't arrived yet: It's easy to fall into a trap of anointing teams based on strong early-season performances. But for all the talent that Pitt and USF have accumulated in recent years, neither school is a consistent top-tier program yet. The Bulls, who had risen to No. 10 in the polls this month, lost for the second time in three games and look like they will fail to win their first conference title. This season is starting to look like 2007, when USF began 6-0 and rose to No. 2, only to lose three straight. The Panthers created excitement and hope during their five-game winning streak until they imploded in Saturday's 54-34 home loss to Rutgers. With injuries to quarterback Bill Stull and center Robb House, the future now looks cloudy.
4. Rutgers might actually go bowling: Everyone threw dirt on the Scarlet Knights' grave after their 1-5 start. But now they've won two straight, including that 54-point explosion at Pittsburgh. They should be favored in upcoming games against Syracuse and Army. So Rutgers would just need to split against Louisville and South Florida to get to 6-6 and qualify for the postseason. Amazing.
5. Forget everything you thought you knew: Thought UConn was going to fade away? Figured Louisville was at least a year away? Convinced Rutgers couldn't score? Any assumptions you make about this league are likely to be rendered moot the following weekend. No fan base outside of Syracuse can truly feel their team is either out of it or in control right now. November is going to be a wild, unpredictable ride in the Big East.