October, 20, 2010
10/20/10
5:24
PM ET
When Virginia offensive lineman Morgan Moses lined up at right tackle against North Carolina this past weekend, he became just the third true freshman in school history to start at an offensive tackle position.
D'Brickashaw Ferguson and Brad Butler both did it in 2002.
There's a simple reason Moses is in select company -- it's hard. Very hard.
"It's very difficult to come in and play as a freshman on the offensive line," said NC State coach Tom O'Brien, who spent the first 16 years of his coaching career with offensive linemen at Navy and Virginia. "Not a lot of people are able to do it or can do it. In most of the cases it's by necessity. There are a lot of very good prospects or good talented kids coming in, but it's something that you don't want to be in the situation to have happen if you're coaching a football team."
[+] Enlarge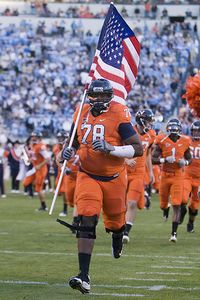 Lee Coleman / Icon SMIMorgan Moses was just the third true freshman in Cavaliers history to start at offensive tackle.
That's why it's even more impressive that of the eight true freshmen to have started at offensive tackle in the country this year, four are in the ACC: UNC's James Hurst, NC State's Robert Crisp, Miami's Seantrel Henderson and Virginia's Moses.
Moses wound up playing every snap against North Carolina.
"The speed of the game, things like that, he had to adjust to," London said. "… I would say Morgan had a couple of mental errors, which is probably the case for any true freshman that took close to 60 snaps. But I think overall his play was very good in terms of knowing assignments, getting on the defender he had to block. But like anything else, the more reps, the more opportunities he has to play, I think he'll develop into being a really, really good player here."
The question is whether it will be at tackle or guard. Moses had moved to tackle because of an injury to Landon Bradley.
Henderson has helped Miami's depth and stability at the position. He played the entire game against Duke.
"Anytime you play as a freshman it's always difficult," Miami coach Randy Shannon said. "He's big, he's athletic, and he's got a lot of things that are positive. Like anything he has to still learn and keep going because of so many different defenses you see and different ways they try to attack you. I've got to expect North Carolina will do those things to confuse him, to have some hesitation."
Crisp has since taken the backseat to veteran starter Jake Vermiglio. O'Brien said pass protection is the most difficult part of the playbook to digest from the left tackle position, and all of the intricacies that go with each different protection as they relate to the defense the player sees.
"He's somewhat of a special young guy," O'Brien said of Crisp. "He's very mature for his age and has very good physical talent. He did a nice job for us. He's learning each and every week for us and getting better. He's in a backup role now, so he's about where he should be."
After all, that's where most true freshman offensive linemen in the country usually are.
February, 8, 2010
2/08/10
2:00
PM ET
It would be easy -- and accurate -- to name five ESPNU 150 players Florida State just signed as the newcomers to watch in the ACC this year, but let's spread the wealth a little bit. There will be plenty of opportunities and position battles throughout the conference worth watching this spring and summer, but here are five players who should have a chance to make an immediate contribution:
FSU freshman linebacker Jeff Luc:
The Seminoles need an upgrade on defense, and they didn't bring an influx of talent in to sit and watch. Luc is a five-star player and the No. 1 overall rated inside linebacker by ESPN.com's Scouts Inc. He's the No. 11 overall player in the ESPNU 150 class. Anyone who is that good should be tough to keep off the field.
Wake Forest redshirt freshman quarterback Brendan Cross:
The competition is open to replace
Riley Skinner
, and Cross should be considered a front-runner heading into spring ball. Cross finished his career at Chattahoochee High School in Georgia with 3,540 passing yards and 36 touchdown passes.
NC State freshman offensive tackle Robert Crisp
: The Wolfpack are looking for some help up front, and Crisp will be given a chance to give some. He is a four-star, 300-pound tackle whose size will help him work his way in early. NC State lost three starters up front.
Miami redshirt freshman running back Lamar Miller:
He didn't play last year because of the talent in front of him, but with
Javarris James
graduated and
Graig Cooper
recovering from a knee injury, the chances are good that Miller will work his way into the rotation. He was a member of the ESPNU 150 and was ranked the No. 12 running back in his class by ESPN.com.
Boston College freshman quarterback Chase Rettig
: The fact that he's already on campus and will go through spring drills means that
Dave Shinskie
will have some competition. The California native is a four-star player and the No. 10 quarterback in his class, according to ESPN.com's Scouts Inc.
February, 4, 2010
2/04/10
12:47
PM ET
As a former offensive line coach, NC State coach Tom O'Brien has a heightened interest in the progress of the group, and with five offensive linemen in this year's class, the Pack took another important step in building it into the formidable wall of protection O'Brien is aiming for.
"We want to build an NFL line, like we did at Boston College, no doubt about that," he said. "I think, as we move on, we are recruiting kids who have that kind of skills."
ESPNU 150 offensive tackle
Robert Crisp
, the Pack's top prospect
in this class
, is one of them.
"He has really good feet," O'Brien said. "With all linemen, he is not on the ground a lot. He's a lot like Teddy Larsen. If you can move your feet, get good body position and you are not on the ground a lot of the time because you have good balance, those are keys to being a good offensive linemen. He has great size and great reach. If you draw up a proto-type body, he has it for an offensive lineman. He has to come in and learn his right from his left and who to block, then he has the physical skills that look he can be a good lineman."
NC State helped itself up front on both sides of the ball on Wednesday. With four junior college transfers, five offensive linemen and four defensive backs, O'Brien was able to add depth and talent in his fourth recruiting class. And his top two prospects -- Crisp and defensive back
David Amerson
-- came from in-state.
"We addressed a lot of things we had to address in this recruiting class," O'Brien said. "We signed 11 on offense and 11 on defense, so once again we signed a football team. And we signed a kicker who will hopefully help resolve some of the problems we've had kicking off. We made a concerted effort once again to recruit our home and did a real nice job in the state of North Carolina."
NC State had a patchwork secondary in 2009, and O'Brien said it's one position a freshman could see immediate playing time. The Pack also added maturity and size up front on both sides from junior college transfers
David Akinniyi
and
Mikel Overgaard
, who should work their way into the lineup. Another player who could see the field early is running back
Mustafa Greene
.
"You look at the running back situation, and he probably thinks he has a real good chance, which is why he is coming here," O'Brien said. "There are not a lot of carries and not a lot of yards by the three guys that are there. As with all freshmen, who knows who is going to play and who is not going to play. As has been explained to him, the faster he learns the offense -- and for a running back that means he is going to have to learn some pass protection, he can't whiff on that -- the faster he can play. But, when it comes down to it, he is going to have to learn to protect the quarterback."
The one thing that NC State still lacks is upperclassmen, as there will only be 12 seniors on the team this year, and six were inherited from the previous staff and four are incoming junior college players.
"We still need help on both sides of the line with young kids," O'Brien said, "but we are still trying to buy time until some of these young kids grow up."
They appear to have done that with this class.
February, 3, 2010
2/03/10
5:25
PM ET
The Wolfpack received 19 letters of intent,
the school announced
on Wednesday. Four other newcomers, including two freshmen and two transfers, enrolled at NC State in January and will go through spring drills. The top player in the group is ESPNU 150 offensive tackle
Robert Crisp
. While it's not a class that's packed with highly-rated recruits, it is one that fills needs for the Pack, and the staff did a good job of staying in state, bringing in some junior college players for help, and balancing both offensive and defensive players.
Coach Tom O'Brien also said today that punter Jeff Ruiz, cornerback DeAndre Morgan and receiver Donald Bowens will graduate and move on and won't be with the program anymore.
February, 3, 2010
2/03/10
11:06
AM ET
Clemson has received a letter of intent from four-star athlete and ESPNU 150 recruit
Garry Peters
. He's a strong dual-threat cornerback, but our guys at Scouts Inc. think he'll move to defensive back in college. Clemson's class is currently No. 16 in the country.
Four-star offensive tackle
Robert Crisp
has signed with NC State. Crisp is rated the No. 5 offensive tackle by Scouts Inc., and he is the No. 59 player in his class. He had also considered Clemson, Miami and North Carolina. Crisp will definitely fill a need here for the Pack.
TOP 25 SCOREBOARD
Saturday, 12/21
Monday, 12/23
Tuesday, 12/24
Thursday, 12/26
Friday, 12/27
Saturday, 12/28
Monday, 12/30
Tuesday, 12/31
Wednesday, 1/1
Thursday, 1/2
Friday, 1/3
Saturday, 1/4
Sunday, 1/5
Monday, 1/6