NCF Nation:

Robert Golden
October, 31, 2011
10/31/11
1:00
PM ET
Taking stock of the ninth week of games in the Pac-12.
Team of the week
: Stanford. The Cardinal, winners of 10 in a row by 25 or more points, proved it could win a nailbiter when it outlasted USC 56-48 in triple overtime.
[+] Enlarge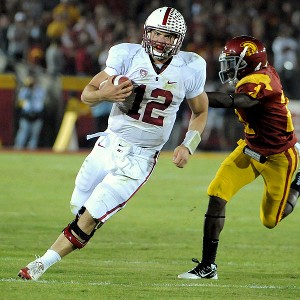 Kirby Lee/Image of Sport/US PresswireQuarterback Andrew Luck and the Cardinal take down the Trojans in three OTs to remain unbeaten.
Best game
: Stanford-USC featured a little bit of everything, with both teams playing at a high level throughout. The centerpiece, though, was: 1. Stanford QB
Andrew Luck
tossing a pick-6 interception to Nickell Robey that gave USC a 34-27 lead with 3:08 left; and, 2. Luck leading a 10-play, 76-yard TD drive to tie the game with 38 seconds left. In overtime, both offenses ruled over the exhausted defenses until a Trojans fumble ended the game suddenly. Hard to believe Stanford led 10-6 at halftime.
Biggest play
: In order to not make this all about USC-Stanford, this incredible play from Arizona defensive back Robert Golden
has to be seen to be believed
. Washington QB
Keith Price
hit receiver
James Johnson
, who bobbled the ball into Golden's hands. Then Golden rambled his way for a circuitous 91-yard interception return for a TD. Sure, the Wildcats lost, but this was clearly the play of the day.
Offensive standout
: Washington running back
Chris Polk
scored five touchdowns and became the first player in school history with 100 yards rushing and receiving in a single game. Polk had 34 carries for 144 yards and four TDs and he caught four passes for 100 yards with another score in the Huskies
42-31 win
over Arizona.
Defensive standout
: UCLA's freshman safety Tevin McDonald, who has stepped in for the injured Tony Dye, intercepted three passes in the Bruins' 31-14 win over California. Those picks set up two touchdowns and a field goal. He now has three career interceptions. He also had three tackles. And, yes, I can't believe I missed this while handing out helmet stickers Saturday night.
Special teams standout
: Oregon's
De'Anthony Thomas
returned a kickoff 93 yards for a touchdown in the Ducks' 43-28 win over Washington State. He scored just after the Cougars had narrowed the gap to 29-20 with 3:52 left in the third quarter. He also rushed four times for 26 yards and caught two passes for 54 yards, including a 45-yard TD.
Smiley face
: A week after perhaps UCLA's worst performance of the year -- and perhaps Rick Neuheisel's tenure in Westwood -- at Arizona on ESPN, the Bruins bounced back with one of their best, dominating California 31-14. And if the Bruins upset Arizona State on Saturday, guess who suddenly controls their own South Division destiny? And if the Bruins win the South, how could Neuheisel possibly be fired?
Frowny face
: California. Wow. That was really, really bad. A week after stomping Utah, the Bears waved a white flag at UCLA. And after QB
Zach Maynard
tossed four interceptions, it's hard to believe coach Jeff Tedford isn't reviewing his options at the position. Oregon State is the runner-up here after getting pushed around at Utah. Bad Bears! Bad Beavers!
Thought of the week
: Oregon visits Washington on Saturday in the final game before Husky Stadium begins a major renovation. Ducks-Huskies is the most bitter rivalry in the Pac-12. No offense to other rivalries, but it seems as though just about any post on the Pac-12 blog -- Who's the best backup kicker? -- degenerates into a back-and-forth between Ducks and Huskies. That said: it's been a mismatch for a long time in Oregon's favor. The Ducks have won seven in a row, their longest streak in the series, by at least 20 points. The average margin of victory during the run is 26.4 points. If you are 18 years old, you can barely remember when the Huskies were even competitive in the series, which isn't a good thing in recruiting. So what's the thought of the week? It's this: At some point, Washington is going to beat Oregon again.
Questions for the week
: California, Utah and UCLA are all 4-4. Each, therefore, needs two wins to earn bowl eligibility. The Pac-12 clearly lacks depth this year, but the conference really could use a few more bowl-eligible teams to fill out its seven bowl contracts. The question is: Which, if any, of these inconsistent teams finds enough gumption to win two more games?
September, 8, 2011
9/08/11
11:00
AM ET
Here are two images from last year's Alamo Bowl, in which Oklahoma State trounced Arizona 36-10.
Image No. 1: Cowboys All-American receiver
Justin Blackmon
deciding not just to score a 71-yard touchdown against blown coverage but taking a really, really long route to the end zone in order to get some good showboating time.
What it communicates: A bush-league play, not a great moment for a great player.
Image No. 2: Wildcats 220-pound safety Adam Hall blowing up Blackmon away from the ball a few plays later.
What it communicates: A cheap shot, but one taken for an obvious reason.
[+] Enlarge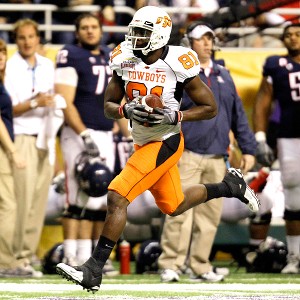 AP Photo/Eric GayJustin Blackmon caught nine passes for 117 yards and two touchdowns last season against Arizona.
What does it all mean for Arizona's visit to No. 9 Oklahoma State on Thursday night? Maybe nothing. The Cowboys are a top-10 team, while the Wildcats are rebuilding and injury riddled, the latest being
the doubtful status
of All-Pac-10 receiver
Juron Criner
.
But it does hint that both teams might have some extra salt for this one. Don't be surprised if things get a bit chippy out there.
Yes, the Wildcats remember the Alamo.
"He disrespected us," safety Robert Golden said of Blackmon. "[Hall] got payback a little bit. But it's really going to be payback when we step on the field Thursday and compete."
While the final score suggests Cowboys dominance, it was more about Wildcats horribleness. The last of five consecutive defeats to end the season, Arizona lost the turnover battle 4-0 and made major gaffes on offense, defense and special teams. The Wildcats had six possessions in Cowboys territory in the first half but scored only one touchdown. They outgained Oklahoma State 370-312 and had 25 first downs to 17 but couldn't score. Quarterback
Nick Foles
, who tossed three interceptions, including one returned 62 yards for a touchdown, turned in perhaps the worst performance of his career.
"We made some horrific mistakes against a top-10 team that you can't make and win, no matter how motivated and ready you are," Arizona coach Mike Stoops said.
Stoops mentioned top-10 teams, which leads into an unhappy factoid for the Wildcats, courtesy of the
Tucson Citizen
: In his tenure at Arizona, Stoops is 0-7 on the road against top-10 teams, and none of those defeats came by fewer than 18 points. The Wildcats have been outscored 291-119 in those games. Not good.
Further, the odds don't look great this time. While Oklahoma State lost former offensive coordinator Dana Holgorsen to West Virginia, and free safety Johnny Thomas was declared ineligible this week, the Cowboys welcome back a lot of talent and are among the favorites in a top-heavy Big 12. Meanwhile, the Wildcats are missing a lot of key pieces, and not just due to graduation. Hall, for one, is out with a knee injury, as are two other defensive starters, LB Jake Fischer and CB Jonathan McKnight.
And Criner's apparent absence is a big blow for the passing game. Last week, he caught six passes for 151 yards.
The Wildcats have five new starters on their offensive line, but the defense will be particularly tested on the road against a skilled, veteran offense led by Blackmon and QB
Brandon Weeden
. Being down two starters in the secondary isn't a good thing against an offense with nine starters back. Last week, Northern Arizona was fairly successful throwing the ball against the Wildcats, most particularly picking on McKnight's replacement, Shaquille Richardson.
"Shaquille didn't have one of his better days, but I know what he can do," Stoops said.
While the conventional wisdom is stacked against the Wildcats -- a team with a lot of questions on the road against a ranked team -- they should be plenty motivated. An upset victory would get the season off to a good start, particularly important during a brutal early schedule that includes three top-10 teams, and it would help remove the bad aftertaste of last year's terrible finish.
And, of course, there's just a little bit of bad feelings from the Alamo Bowl, which the Wildcats certainly remember.
Said Golden, "We usually say we're going on business trips. But we're taking this trip as a street fight."
March, 22, 2011
3/22/11
4:00
PM ET
Arizona starts spring practice today, which means it can stop licking the wounds of a five-game losing streak to end 2010 and start looking forward to 2011.
[+] Enlarge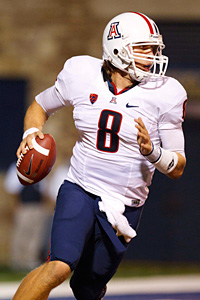 Rick Osentoski/US PresswireArizona enters the upcoming season with lofty expectations, thanks in part to returning quarterback Nick Foles.
But if taking a step forward toward 2011 is the carrot, a lingering backwards glance to 2010 is the stick. The Wildcats should be plenty motivated.
"The kids know we are close, but we need to do some things better to take that next step," coach Mike Stoops said. "We've gotten to this point. We need to go further."
On the one hand, the losing streak happened against a brutal schedule: Stanford, USC, Oregon, Arizona State and Oklahoma State combined for a 49-15 record. But the Wildcats aspire to being a team that wins those sorts of games.
"We just need to be stronger in some ways, stronger against stronger teams," Stoops said.
The Wildcats have intriguing talent coming back -- with quarterback
Nick Foles
and perhaps the Pac-12's best group of receivers leading the way -- but they also have two glaring holes: offensive line and defensive end. All the 2010 starters at those positions are gone.
Here are some notes:
Out of spring
: Just two starters will not participate in full-contact work: defensive tackle Justin Washington and cornerback Shaquille Richardson. Both had shoulder surgery. Receiver Bug Wright was given the boot for repeated team rules violations.
Offensive line questions
? All five starters are gone on the offensive line. Sophomore Mickey Baucus and redshirt freshman Fabbians Ebbelle are the front-runners at the tackles. Kyle Quinn, who started the Alamo Bowl for Colin Baxter, is the leader at center, though mid-year transfer Addison Bachman could make a challenge. Sophomores Chris Putton, Trace Biskin and Eric Bender-Ramsay are in the mix at the guards. Redshirt freshmen Trent Spurgeon and Carter Lees and junior Shane Zink also are in the mix. With a new offensive line coach -- Robert Anae -- there could be plenty of mixing and matching.
End of the line
? Senior Muhammed Usman and redshirt freshman Dan Pettinato will be with the first unit to start spring, but defensive end might be an even bigger question than offensive line. The Wildcats are deep at tackle -- Washington, Sione Tuihalamaka, Willie Mobley,
Chris Merrill
, Dominique Austin, Jowyn Ward, Aiulua Fanene, etc. -- so it's possible things might be fluid on the defensive line. One of the more athletic tackles might move outside to become a big, strongside end. And junior college transfer Lamar de Rego arrives in the fall.
Good to receive
: The Wildcats welcome back potential preseason All-American receiver
Juron Criner
, but the big news is the overflow of enthusiasm for Texas transfer
Dan Buckner
, who will give the Wildcats a second speedy, 6-foot-4 target on the outside. Said Stoops, "I think he gives us the two best outside receivers maybe in the country. Having [Buckner] and Criner on opposite sides is going to create problems for people." When you toss in Dave Roberts,
David Douglas
and
Richard Morrison
on the inside, you have a deep crew that Stoops called "the best receiving group we've ever had, without question." Oh, and don't forget:
Terrence Miller
,
Garic Wharton
,
Austin Hill
and
Tyler Slavin
. Lots of competition for touches here.
Backed by seven
: The Wildcats welcome back all three starting linebackers and a talented secondary. Sophomore Marquis Flowers and junior Adam Hall figure to offer an upgrade in the secondary -- both saw plenty of action in 2010. Robert Golden, Trevin Wade, Shaquille Richardson and Jonathan McKnight provide talent and experience at cornerback. And Stoops thinks Wade, who suffered through a notable slump last fall, is going to bounce back: "Trevin has had a much better out-of-season already. I think he learned a great deal from some of his mistakes a year ago as well as his preparation. I look for him to come back strong." He added, "This is the most athletic back-seven we've had. Best group of corners we've had."
Not special
: The Wildcats didn't get much from their kicker Alex Zendejas and punter Keenyn Crier last season. Zendejas is back, but he needs to step up. Said Stoops: "Zendejas needs to become a much better player... we need more out of him." Junior college transfer Jaimie Salazar arrives in the fall. Junior college transfer punter Kyle Dugandzic was signed to start, so he needs to come through.
Redshirt or backup for Scott
: Stoops wants to redshirt backup quarterback
Matt Scott
, which means he could return for a redshirt senior season in 2012. But that might not be doable. Said Stoops, "In a perfect world, we'd love to redshirt him. But we've got to keep him ready to play if things slide or something happens to Nick." Junior
Bryson Beirne
would make things easier on his coaches with an inspired effort this spring.
This is Foles' team
: Foles has been a good quarterback for two years. If he becomes an All-Conference or even All-American quarterback as a senior, the Wildcats could climb to the top of the Pac-12 South Division. Stoops expects a lot out of Foles. "Nick has to have total control of this team and this offense," he said. "He's a premier starter who will become, hopefully, a first-round NFL draft pick. He needs to assert himself in every way possible as a leader."
Posted by ESPN.com's Ted Miller
Optimism is a powerful thing. And spring is a time for renewal. So this is a "Best of" list, without any of the "Negative Nellie" stuff.
Best spring game performance by a quarterback: Stanford redshirt freshman Andrew Luck all but won the starting quarterback job over incumbent Tavita Pritchard after completing 18 of 25 passes for 352 yards and five touchdowns to lead the White team to a 42-17 victory over the Cardinal.
Best spring game performance by a quarterback II: Washington quarterback Jake Locker seemed fine working in a pro-style offense after completing 16 of 18 passes for 200 yards and two touchdowns. The two incompletions, by the way, were drops.
Best spring game performance by two quarterbacks: Oregon's Jeremiah Masoli and Justin Roper combined to complete 37 of 56 passes for 516 yards and five touchdowns and neither threw an interception in the Ducks' spring game. Perhaps it was the rainy weather only fit for a Duck?
Best spring, overall, by a quarterback: Under intense, national scrutiny ,USC's Aaron Corp threw only one interception throughout spring practices and was consistently solid throughout the session, which earned him the nod as the Trojans No. 1 quarterback over spectacular freshman Matt Barkley entering the offseason. Under coach Pete Carroll, every previous Trojan quarterback who had been tapped No. 1 out of spring started the season opener.
Best performance by a true freshman: Barkley made the recruiting gurus who ranked him No. 1 look smart.
Best spring game on defense: Talk about a penetrating performance. USC's backup defensive end Nick Perry had six tackles for loss, including four sacks, among his seven tackles. Yeah, USC's defense is going to be hurting in 2009.
Best spring on defense: Six guys stood out: Oregon cornerback Walter Thurmond III, UCLA's tackle Brian Price, Oregon State tackle Stephen Paea, Arizona State defensive tackle Lawrence Guy, Arizona linebacker Vuna Tuihalamaka and USC linebacker Malcolm Smith.
Best surprise: USC transfer and notorious underachiever Jamere Holland suddenly decided to become Oregon's best deep threat and turned in an outstanding spring. Golly, sometimes listening to your coaches helps.
Best breakout: While California has questions at receiver, the general feeling is sophomore Marvin Jones is almost certainly one of the answers.
Best 'it's about time' breakout: USC's Everson Griffen might be the nation's most talented pass-rusher, but his high-performance engine has also been a high-maintenance engine. Yet his effort and intensity were consistentthis spring, which meant no one could block him.
Best comeback: California offensive tackle Mike Tepper has been through a lot, but he's hoping his sixth year will just be about anchoring a line with a lot of upside. Read Tepper's story here.
Best comeback II: Got a funny -- mean, but funny -- note during the 2008 season that instructed the Pac-10 blog to refer to Oregon State receiver Darrell Catchings as Darrell Droppings. Can't do that now because Catchings lived up to his name -- the real one -- this spring.
Best position change: Arizona sophomore Robert Golden, a marquee 2008 recruit, switched from cornerback to strong safety this spring, and early word is he could become an All-Conference player at his new position. The move further allowed the Wildcats to switch Cam Nelson to free safety from strong and get Trevin Wade on the field to complement Devin Ross at corner.
Best coaching decision: Stanford coach Jim Harbaugh wants his best 11 on the field at any given time, and he's willing to get creative to do it. That's why he's got a handful of guys playing both ways, including Owen Marecic (fullback and middle linebacker), Michael Thomas (cornerback and receiver), Richard Sherman (cornerback and receiver) and Alex Debniak (linebacker and running back). Will it work? We'll see. But it's undoubtedly interesting.
Best candidate for a karmic change: No team had worse injury issues this spring than Washington State, which is clearly in the midst of a major rebuilding project. Then promising defensive end Cory Mackay, who'd impressed this spring, suffered a serious back injury after he fell asleep at the wheel of his car. The Cougars are overdue for some luck. Perhaps it arrives this fall?
Best catch of the spring: You may have already watched this grab. Watch Arizona State receiver Kerry Taylor one more time. It's worth it.
Best position in conference: The Pac-10 might have the nation's best collection of talent in the secondary, with USC and California boasting units that should rank among the nation's best. Consider: FS Taylor Mays (USC), SS T.J. Ward (Oregon), SS Josh Pinkard (USC), CB Walter Thurmond III (Oregon), CB Alterraun Verner (UCLA), CB Syd'Quan Thompson (California), CB Devin Ross (Arizona), CB Omar Bolden (Arizona State), FS Rahim Moore (UCLA), CB Shareece Wright (USC), among others.
Best position in conference II: Five running backs who eclipsed 1,000 yards in 2008 are back, led by California's Jahvid Best and Oregon State's Jacquizz Rodgers.
Best potentially surprising position: If you talked about good Pac-10 defensive linemen in recent years, you were basically talking about USC. Not in 2009. Nine of the Pac-10's top 30 players, at least by, er, one person's accounting, are defensive linemen, and that list included only one player from USC (Griffen, at No. 30) and didn't include Cal's Cameron Jordan.
Best quote: "How do we go from nine to one?" said Chip Kelly on what he believes are his marching orders as Oregon's new coach. "Nine" is where the Ducks finished last y
ear in the final coaches' poll.
April, 8, 2009
4/08/09
6:55
AM ET
Posted by ESPN.com's Ted Miller
Arizona finishes spring practices Wednesday, and coach Mike Stoops doesn't see many holes heading into the summer.
Sure, the Wildcats are replacing some good players, such as quarterback Willie Tuitama, receiver Mike Thomas, linebacker Ronnie Palmer and left tackle Eben Britton. But Stoops seems confident he's got guys who can step up and get to another bowl game.
Or maybe more than just any bowl game.
| | |
| --- | --- |
| | |
| | Tom Hauck/Getty Images |
| | Arizona coach Mike Stoops says he feels good about his overall depth heading into the 2009 season. |
The Wildcats started early and now will be the first to finish spring practices. It seemed like a good time to check in with Stoops and see how things looked in Tucson.
First question has to be about the quarterbacks: How do Matt Scott and Nick Foles stack up with one practice left this spring?
Mike Stoops: They both have done some really good things. I think we can win at this level with both players. We don't feel like we're in any need to name a starter at this point. I can probably see both guys playing. Whether we did that in a constant way, I don't think that would be it. But I could see, early on, us playing both to see how they perform in games. It's not something we would like to do, but they are a little bit different styles of quarterback. Matt gives you that ability to run and create plays with his feet. Nick is a more prototypical, drop-back quarterback. They're different but I think both of them could give us a chance to win. We're very pleased with their growth. They still have a lot of work to do. We probably won't name a starter until seven to 10 days before our first game against Central Michigan. And it's possible both could play in that game.
Biggest position change before practices began was Robert Golden from cornerback to strong safety: How did that play out?
MS: That's been probably one of the best moves we've made. We now can get our best four or five DBs on the field at the same time. And it's really been an easy transition for him. He seems very comfortable. He's been easy to coach. We've been very pleased with that move. It puts Trevin Wade, who led our team in interceptions last year -- and he only played 100 and something snaps -- on the field. Robert had corner ability, corner speed, but he gives us great versatility to cover the field now, which you have to do vs. these spread offenses.
Any other guys change positions during the spring?
MS: Nope. That was the biggest move for us.
Tell us about some guys who really improved their stock this spring, guys when went from backups to potential starters.
MS: We feel like our offensive guards played really well, Conan Amituanai and Mike Diaz. Diaz -- you asked about a personnel change -- Diaz could move from left guard to left tackle. He has the range to play tackle. And that gives Conan, who has really stood out with his development and his attitude and confidence, a chance. He's a 320-pound guy who can really play physically. [Guard] Vaughn Dotsy is another guy I'm pleased with, played last year as a true freshman. Our line has a chance to be very athletic and physical. Other guys: Greg Nwoko, our third running back, has had a great spring -- he's a freshman from outside of Austin, Texas. I feel good about our overall depth, but our biggest concern might be depth at linebacker.
March, 5, 2009
3/05/09
2:30
PM ET
Posted by ESPN.com's Ted Miller
There's a lady who is sure all that glitters is gold, and she's reading the Pac-10 bloooooog!
March, 4, 2009
3/04/09
2:30
PM ET
Posted by ESPN.com's Ted Miller
Links for your hump day.
August, 8, 2008
8/08/08
11:03
AM ET
Posted by ESPN.com's Ted Miller
If these links were any hotter, they'd be, you know, like on fire or something.
One thing apparent through four days is that some of the position battles I anticipated aren't developing, at least not yet. When the first units are on the field, it's almost always Nate Costa at quarterback, Jeff Kendall at left guard, Jake Hucko at right tackle, T.J. Ward at free safety, and Spencer Paysinger at WILL linebacker.
Middle linebacker is one that's still tough to call. Because of the laceration on John Bacon's forehead, which I wrote about Tuesday, he's not doing a lot of full-contact stuff, so Casey Matthews is running with the ones.
August, 7, 2008
8/07/08
11:22
AM ET
Posted by ESPN.com's Ted Miller
It's a little-known fact that links are a good source of Vitamin C.
Arizona might have found its next Antoine Cason in a Golden freshman cornerback, say Greg Hansen and John Moredich. Up front, the pressure is on players like end Ricky Elmore to help the Wildcats inexperienced defense hold its own.
Arizona State WR Mike Jones hit .184 in the Yankees farm system this summer, so he's obviously saved some juice as he tries to improve on his 10 TD receptions from a year ago. It's never good when your starting tailback is having shoulder issues before full-contact starts. On the other side of the ball, the primary concern is the interior defensive line, where some young guys might see action. Dan Zeiger's notebook also included this about freshmen who could see action:
"Conventional wisdom is that three true freshmen -- Bass, receiver Gerell Robinson and defensive lineman Lawrence Guy -- are expected to play this season. But a number of others are getting every chance to make an impression. Such newcomers as linebackers Shelly Lyons and Brandon Magee and offensive linemen Zach Schlink and Patrick Jamison have received practice action with the second team.