June, 21, 2011
6/21/11
10:00
AM ET
Here's the next in our look at the Big 12 rankings by position: Running backs.
Last year's class was one of the best in recent history, but this year's class? Unassuming to begin the season. There are a few possible stars looming, but very, very little talent returning.
Cyrus Gray
ranked seventh in rushing yards last year (thanks to an insane finish), but he's the only player returning to the Big 12 from the conferences' top 10 rushers in 2010.
That's nuts.
The Aggies are the only team with a truly elite backfield tandem, though I could see Oklahoma and/or Oklahoma State joining that group by the end of the year.
The rest of the league? Every team has at least a couple of players to get excited about, and teams 5-10 are all pretty close. No one is really understaffed at the position, but obviously, they're fit to be ranked.
Here's where I have them:
1. Texas A&M
[+] Enlarge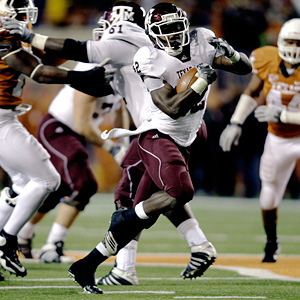 AP Photo/Eric GayCyrus Gray had at least 100 yards rushing in each of A&M's final seven games last season.
I wouldn't have been surprised if Cyrus Gray and
Christine Michael
were the Big 12's top leading returning rushers this year, but a midseason injury from Michael prevented it from happening. Regardless, his return gives Texas A&M by far the best tandem in the Big 12, and arguably the best in the country. When
Mister Jones
isn't cranking the Counting Crows on his stereo, he's a pretty good reserve, alongside
Ben Malena
, who
impressed me on my visit to College Station this spring
.
2. Oklahoma
Oklahoma will try and replace do-everything forever (or whatever) back DeMarco Murray with a platoon likely led by shifty Florida native
Roy Finch
. True freshman
Brandon Williams
made a big impact in spring camp, and
Brennan Clay
will likely earn a few touches, too. Health concerns raise questions about a pair of other OU backs' knees (
Jermie Calhoun
,
Jonathan Miller
), but walk-on
Dominique Whaley
led the team in rushing in the spring game
.
3. Oklahoma State
The Cowboys have a great pair in sophomores
Joseph Randle
and
Jeremy Smith
, and a nice set of backs to spell them if needed, too.
Kye Staley
, once a top-flight recruit, returned this spring after quitting the team following a severe knee injury, and might earn a few touches this spring. Also, Abilene, Texas, native and 2011 ESPNU 150 signee Herschel Sims arrives this fall and may jockey for time and the opportunity to shed a redshirt.
4. Missouri
What the Tigers lack in a truly elite back, they have in depth. Missouri has four backs who are all capable of being very good in the Big 12, even though neither of the four topped 600 yards a year ago. A big reason for that was none of the four got more than 100 carries, but with the carries they did get, every back averaged more than five yards per carry. The platoon approach works for Missouri, but senior
De'Vion Moore
and junior
Kendial Lawrence
will lead the way with sophomores
Henry Josey
and
Marcus Murphy
not far behind.
5. Kansas
[+] Enlarge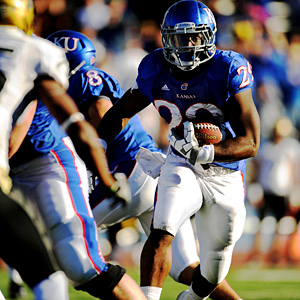 John Rieger/US PRESSWIREJames Sims is the No. 2 returning rusher in the Big 12 this season.
Running back will be a strength for Kansas next year, who might have found a second back this spring that perfectly complements power runner
James Sims
, a rising sophomore who racked up 742 yards last year after not playing in the opener. Believe it or not, he's the Big 12's No. 2 returning rusher, behind A&M's Gray. Darrian Miller burst onto the scene this spring, and figures to be a big part of the team in the fall. I see him being the Jayhawks' biggest home-run threat. DeShaun Sands and
Brandon Bourbon
offer even more depth at the position.
6. Texas Tech
The Red Raiders lose backfield constant Baron Batch, but have a good group lined up for 2011. Tommy Tuberville's effort to establish a more efficient running game is a realistic possibility with
Eric Stephens
as the likely feature back, and
Aaron Crawford
,
Ben McRoy
and
Harrison Jeffers
in the mix. True freshman Ronnie Daniels' strong spring likely earned him some time, too, rather than a redshirt.
7. Baylor
Baylor loses a 1,200-yard rusher in Jay Finley, and figures to use a thunder-and-lightning approach with 6-foot, 240-pound bowling ball
Terrance Ganaway
and shifty, 5-foot-9, 205-pound
Jarred Salubi
.
Glasco Martin
, a more balanced back, may earn a few carries, too. Regardless of who has the ball, life is good for Baylor backs, who get a bit more room from defenses that are forced to respect
Robert Griffin III
's legs.
8. Kansas State
The Wildcats' top two rushers, including two-time league rushing champ Daniel Thomas, are gone. Hopes are high for Wichita native and former blue-chip back
Bryce Brown
, but he's still entrenched in a position battle with
John Hubert
and
Robert Rose
heading into fall camp.
9. Texas
Texas brings back a pair of seniors in Fozzy Whittaker and
Cody Johnson
, but if the Longhorns are going to climb up this ladder by year's end (and they might) it's likely to be on the back of hyped incoming freshman
Malcolm Brown
, who is on campus and set to begin fall camp.
D.J. Monroe
might be the fastest player in the Big 12, but he'll have to master the nuances of pass blocking to get more than a few touches every game.
Jeremy Hills
can offer some depth at the position, too, after Tre Newton was forced to quit the game because of concussions.
10. Iowa State
Shontrelle Johnson
showed some flash last year, but he still brings just 35 career carries into his 2011 effort to replace
Alexander Robinson
.
Jeff Woody
and
James White
offer a bit more depth, too. Florida native DeVondrick Nealy might get into the mix if he can put together a strong fall camp.
April, 27, 2011
4/27/11
11:00
AM ET
Kansas State doesn't allow any fans or media to view its practices, so observations about players during the spring are based solely on comments from coach Bill Snyder or his players.
Snyder has kept his comments measured regarding running back
Bryce Brown
, formerly a five-star recruit at Tennessee, admitting that he's not sure what to expect in Saturday's spring game in Manhattan.
[+] Enlarge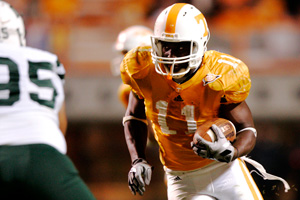 AP Photo/Wade PayneBryce Brown, a former top recruit, will have to compete with John Hubert for playing time.
"It is quite obvious that he is a very fine player," Snyder told reporters during a weekly media gathering on Tuesday. "He runs well and has really good speed and is developing into a multifaceted player. He is improving on his blocking capabilities. He can be involved in the passing game; he is proving his skills there."
Even still, Brown is far from a starter. For now, he's locked in a battle with
John Hubert
, a sophomore who also happens to be the cousin of former Oklahoma State standout cornerback Perrish Cox.
Hubert is a Waco, Texas native who also played high school football with blue-chip recruit Ahmad Dixon, a Baylor safety. He redshirted in 2009 after signing with the Wildcats. The only other notable schools who offered Hubert a spot were Louisiana Tech and North Texas. But even though the 5-foot-7, 185-pounder's recruitment process was the exact opposite of Brown's, he's pushing him for playing time next season.
"I really like the progress that we are making at that position," Snyder said. "[Brown] is the fastest of the group and more physical than the other two at least in stature to John Hubert and
Robert Rose
. Robert has really come into his own, but we saw that last year when he worked on the scout team. All three of them are really competitive right now."
Brown, conversely, held offers from schools like USC, LSU and Miami. After choosing Tennessee, transferring back to Kansas State and enduring a season on the scout team, Snyder feels good about Brown's transition back to a major contributor.
The Wildcats have proven they're capable of running the ball more than proficiently under Snyder. Juco transfer
Daniel Thomas
led the Big 12 in rushing the past two seasons. If K-State can find another to fill the void Thomas left when he packed up for the NFL, the another bowl game, at least, should be within reach.
"When Daniel came during the summer, he did not have anyone to coach him during the workouts other than our players, so it was kind of a crash course for him," Snyder said. "Bryce comes in having spent a season with us in a redshirt capacity and has learned a lot. He is ahead of Daniel when Daniel started his first season, but even at that a vast majority or Bryce's time was spent on the scout squad last year so that does limit the learning process; but he is a sharp young guy and picks it up very well.
August, 7, 2008
8/07/08
10:21
PM ET
Posted by ESPN.com's Adam Rittenberg
EVANSTON, Ill. -- When Martin Bayless met Hunter Bates on a recruiting visit to Northwestern, they soon realized they shared more than an interest in the same college.
Both players had fathers who logged lengthy NFL careers around the same time and at the same position.
Martin Bayless Sr. played safety for five NFL teams, most notably the San Diego Chargers, in a career that lasted from 1984-96. Bill Bates joined the Dallas Cowboys in 1983 and became an All-Pro special teams performer and safety in a 15-year career.
Their sons are now freshmen at Northwestern, adjusting to the demands of college football.
"You get a couple jokes here and there about, 'Oh, you look like your dad, you play like your dad,'" the younger Bayless said Thursday. "But it helps knowing the person next to you in the locker room has a dad just like you. They get the same jokes and they help you through it, just laugh it off."
Hunter Bates followed Bill's path and became a safety, while Martin Bayless Jr. diverted to wide receiver.
"We're getting to know each other, going against each other," Bayless said. "We talk about our dads a little bit, but our heads are more in the game right now, assignments and stuff."
College players with NFL lineages are common, but Northwestern's incoming freshman class features an extraordinary number of connections.
Offensive lineman Jeff Radek is a cousin of nine-time Pro Bowl safety John Lynch, while offensive lineman Nick Adamle comes from a family of football stars. Adamle's grandfather Alex played at Ohio State before earning All-Pro honors with the Cleveland Browns and his uncle, Mike, starred as a running back at Northwestern before playing seven pro seasons.
Bayless matches Adamle with two uncles who played in an NFL and a cousin, former Heisman Trophy winner Charles Woodson, still in the league. His father helps run the oldest and largest free football camp in the country, with locations in California, Ohio and Texas.
Northwestern coach Pat Fitzgerald sees Bayless and Bates as ordinary freshmen, but their connections to the sport certainly help.
"You can tell the guys who have been around the game a long time have a confidence level about them," Fitzgerald said. "Hunter Bates [is] out there catching punts. There was no special teams player arguably in the history of the NFL than Bill Bates. All those freshmen have some bloodlines, but they're freshmen. It's such a huge adjustment."
As Bayless makes the transition, he remembers his father's words.
"Just work hard," Bayless said. "If talent doesn't work hard, hard work will outwork talent."
August, 7, 2008
8/07/08
8:27
AM ET
Posted by ESPN.com's Adam Rittenberg
Thursday's Big Ten campus visit is a home game for me, as I'll make the 25-minute drive north to Evanston for Northwestern's practice and media day. The Wildcats hit the field at 7:15 a.m. CT, so I'll probably catch the second half of the workout, which is usually more interesting anyway. Head coach Pat Fitzgerald, his assistant coaches and the players meet with the media this afternoon.
Love those links: