NCF Nation:

Robert Thomas
October, 24, 2013
10/24/13
8:00
AM ET
The injury bug has been sucking the life out of teams in the SEC this season. The SEC East has been hit especially hard this season, and here are the three teams in the league that have been affected the most:

1. Florida:
Not exactly what the Gators want to be ranked first in, but Florida runs away with this one. The 4-3 Gators lost starting right tackle
Chaz Green
(shoulder) and wide receiver
Andre Debose
(knee) for the season during fall camp and have seen six more season-ending injuries since, including quarterback
Jeff Driskel
, running back
Matt Jones
and defensive tackle
Dominique Easley
. They dressed only 13 healthy defenders in the loss to Missouri. Quarterback
Tyler Murphy
is still dealing with a lingering shoulder injury.

2. Georgia:
The 4-3 Bulldogs lost top receiver
Malcolm Mitchell
for the year to a freak ACL injury in the season opener and then lost running back
Keith Marshall
and Justin-Scott Wesley to ACL injuries against Tennessee. Starting running back
Todd Gurley
(ankle) has been out since the LSU game (Sept. 28) and receiver
Michael Bennett
hasn't played since the Tennessee game (Oct. 5) due to a knee injury. Receiver
Chris Conley
(ankle) and safeties
Josh Harvey-Clemons
(foot) and
Tray Matthews
are questionable for next week's Florida game.

3. Arkansas:
The Razorbacks, who have lost five straight, felt the injury bug before the season when top receiver
Demetrius Wilson
was lost for the year with a preseason ACL injury while linebacker
Otha Peters
has played in only five games after breaking his arm during fall camp. Coach Bret Bielema estimated that 10-12 players went down with injuries during fall camp. Quarterback
Brandon Allen
suffered a shoulder injury early this season and starting defensive tackle
Robert Thomas
is out for the season with a broken leg.
August, 9, 2012
8/09/12
1:17
PM ET
I'm hearing a lot of overrated/underrated talk, so college football must be right around the corner.
ESPN colleague Travis Haney has jumped right into the mix, listing a few teams in the Top 25 that he considers
overrated and underrated

.
The only SEC team to make his list is Arkansas. The Razorbacks are actually mentioned twice. He listed them as "underrated" in 2011, after they began the season ranked 14th, but finished fifth. Arkansas rose as high as third in the BCS standings last season and were a win over LSU away from playing in the SEC title game.

But he also has Arkansas in the overrated category for 2012, as the Hogs will enter the fall ranked 10th.
Haney talks about Arkansas being equipped with the talent to make a run this fall, but he also mentions the fact that we still don't know how this team will react at the first sign of adversity with interim coach John L. Smith taking over for the fired Bobby Petrino. And I totally agree with that point. I've been saying it since he was hired that while the players adore Smith and basically pleaded with athletic director Jeff Long to hire a
very
familiar face, we don't know how much control he'll have or how much respect he'll demand/get if things go wrong.
So far, he's done a good job of running the team, but how much he'll do this fall is yet to be seen.
Outside of Petrino's absence, I still have questions about the defense. This unit wasn't great last year, ranking eighth or worse in four major defensive categories (scoring defense, passing defense, rushing defense and total defense), but new defensive coordinator Paul Haynes does bring a more aggressive style to Fayetteville, which I think will help this unit out tremendously. Like Smith's leadership qualities, we'll have to wait and see with Haynes' style and the impact it has on Arkansas' defense.
With that said, I can't say that I think that Arkansas is overrated heading into the season. Tenth seems about right to me, considering the talent coming back and the fact that Alabama and LSU are both at home. At least getting a split between those two wouldn't be a surprise at all.
There is a lot of firepower on offense, starting with quarterback
Tyler Wilson
, running back
Knile Davis
, wide receiver
Cobi Hamilton
and tight end
Chris Gragg
. All four could be All-SEC performers. The offensive line is older and wiser and there are some solid young receivers lurking. This offense will put up points.
The defense returns six starters and should be strong within the front seven, even with Jake Bequette gone.
Alonzo Highsmith
and
Tenarius Wright
could be a deadly combo at linebacker, while there is solid depth at defensive tackle, led by
Byran Jones
,
Robert Thomas
and D.D. Jones. There will be some growing pains for this unit under Haynes, but I expect to see more production overall on this side of the ball.
I'm not saying this team will win the SEC West, but it has the talent to compete for the title to the very end. The defense might need some help from the offense, but something tells me that won't be a problem most of the time.
August, 22, 2011
8/22/11
3:00
PM ET
Everyone is looking for the next Nick Fairley.
Everyone would love to have their own Cam Newton.
So as we look around the league at some of the newcomers from either the junior college ranks or who have transferred in from other schools, we'll try to find them.
Could Georgia noseguard John Jenkins be the beast in the middle that Fairley was? Does
Barry Brunetti
have what it takes to have a Newton-like impact at Ole Miss?
Here is a look at some of the new athletes around the league to keep an eye on this fall:
ALABAMA
Duron Carter, WR: Carter could be a big-time playmaker for the Tide, but he has yet to enroll because of transcript issues. The former Ohio State and juco wideout is the son of star former NFL receiver Cris Carter.
Quinton Dial, DL: Dial could play both inside and out, but is currently getting quality reps at defensive end for Alabama. The former juco standout has made quite the impression on his head coach and he seems to be in line for a starting spot.
Jesse Williams, DT: Like Dial, Williams transferred in from the juco ranks in January and has also performed well in practice. He's gotten reps all around the line, but could also be in contention for one of the end spots. He's a massive lineman at 6-foot-4 and 319 pounds.
ARKANSAS
Alonzo Highsmith, LB: The juco transfer is an extremely athletic linebacker and has really impressed since his arrival. He stepped in at the starting weakside linebacker spot on Day 1 of preseason camp and appears to have the edge there heading into the season.
Robert Thomas, DT: Speaking of athleticism, the Razorbacks might have found their most athletic defensive lineman in Thomas. The juco transfer got a ton of reps this spring with Byran Jones and DeQuinta Jones out with injuries, and is currently competing for a starting spot.
FLORIDA
Dan Wenger, C: He earned an extra year of eligibility after concussions cut his Notre Dame career short. He's reuniting with offensive coordinator Charlie Weis and offensive line coach Frank Verducci and is not only competing for the starting spot at center but has become a leader on the offensive line.
GEORGIA
John Jenkins, DT: He was a giant gem of Georgia's 2011 class and was expected to snatch the starting noseguard position. However, the juco standout has had injury issues and hasn't been in the best shape. At 6-foot-4, and 340 pounds, people are hoping he can be a force in the middle this fall, but he's currently behind Kwame Geathers.
Jarvis Jones, LB: Jones transferred in from USC last year and takes over as the starting strongside linebacker. Georgia's coaches feel that with his speed and athleticism he could be a more versatile player than former stud Justin Houston.
LSU
Zach Mettenberger, QB: If Jordan Jefferson is indeed punished for his alleged involvement in a horrific fight outside of a Baton Rouge bar, Mettenberger's time could be now. He matches his cannon of a right arm with tremendous accuracy and might have the best skill set of any of LSU's current quarterbacks.
MISSISSIPPI STATE
Brandon Maye, LB: Maye transferred from Clemson and with the Bulldogs looking to replace three starters at linebacker, Maye is expected to make an immediate impact at middle linebacker. He had a slow start to fall camp, but improved throughout.
OLE MISS

Barry Brunetti, Randall Mackey, Zack Stoudt, QBs: All three are vying for the starting quarterback spot and all have done well since the spring. Brunetti transferred from West Virginia, while Mackey and Stoudt are former juco athletes. Brunetti has the edge at quarterback, but Mackey was on top this spring and won't make things easy for the sophomore. Stoudt isn't as athletic as the other two, but has been very sharp with his passing ability.
Uriah Grant, Gilbert Pena, DT: Both players were brought in to add some beef in the middle of Ole Miss' line and both could end up starters for opening day. Both have dealt with injuries, but that really hasn't slowed their on-field production in practice.
Wesley Pendleton, CB: Pendleton had an impressive juco career and has really caught on in Ole Miss' defense. He's in the thick of it for one of the starting cornerback spots and has shown that he might be the Rebels' most athletic defensive back.
TENNESSEE
Alex Bullard, OG: He transferred from Notre Dame and was granted a hardship in order to play this fall. Bullard has moved all along the line this preseason, but it looks like he could be in the running for one of the starting guard positions.
Maurice Couch, DT: A lot is expected from Couch, who hopes to fill one of the spots in the middle of Tennessee's line. It hasn't been an easy preseason for Couch, who suffers from asthma, but he has made improvements. He'll contribute at noseguard and the three technique this fall.
Izauea Lanier, CB: Though he made his mark playing safety in junior college, Lanier is competing for time at corner. At 6-foot-1 and 190 pounds, he's a bigger corner, which coach Derek Dooley likes.
Byron Moore, DB: Moore appears to be a "tweener" on defense. He could play safety or corner for the Vols. With Tennessee running a lot of nickel formations, Moore should see the field in some capacity this fall.
VANDERBILT
Jordan Rodgers, QB: Rodgers missed the 2010 season and missed the spring while recovering from shoulder surgery, but is No. 2 at quarterback. The younger brother to Super Bowl champ Aaron Rodgers, Jordan Rodgers is a player coach James Franklin has been especially excited about seeing.
June, 20, 2011
6/20/11
11:30
AM ET
We take a look at the interior players on the defensive line next. The frightening thing about this area is that there is a lot of young talent that could be just as good as the veterans around the league.

That just goes to show you how good the recruiting is in this league. There are a couple of junior college players who could also make instant impacts on SEC lines in this league.

Here's a look at some of the big fellas in the middle:

1. Jaye Howard, Florida, Sr.: Howard has never wowed people with his stats, but when he's playing to his potential, he's one of the toughest interior linemen to stop in this league. The athletic 300-plus-pounder is already a top NFL draft prospect at tackle. He had just 29 tackles and three sacks in 2010, but would have added to that had he not suffered a nagging ankle injury. He had his ankle cleaned out this spring and should be back to full strength for two-a-days.

2. Malik Jackson, Tennessee, Sr.: Jackson will be the center of attention on Tennessee's line. He's not only talented but he makes those around him better, and the Vols' line should greatly improve around him. Jackson had 48 tackles and five sacks a year ago after transferring from USC and making the switch from end to tackle.

3. Fletcher Cox, Mississippi State, Jr.: Cox started four games as a freshman and was a staple on the defensive front last season for the Bulldogs. He managed 29 tackles and 2.5 sacks and improved even more during the spring. Cox had a solid spring and looks to be even more of a force in the middle this fall.

4. John Jenkins, Georgia, Jr.: Jenkins has resided in the JUCO world for the past two years, but he arrives at Georgia as someone expected to have a profound influence on the Bulldogs' defense. He's perfect for Todd Grantham's 3-4 defense and will be immediately thrown into the noseguard battle. At 6-foot-4, 340 pounds, Jenkins will be a player who stuffs the run and collapses the pocket.

5. Josh Chapman, Alabama, Sr.: He's the anchor on the line and started 12 games a year ago after backing up and learning a lot from Terrence Cody in 2009. He's not as big, but he's more athletic than Cody and improved his strength this spring. Chapman enters the fall as the Tide's most-experienced lineman.

6. Travian Robertson, South Carolina, Sr.: Robertson returned in 2010 after a season-ending knee injury cost him most of 2009. All Robertson did was record 42 tackles, including 10 for loss and four sacks. He's become more of a leader on defense and should improve on his solid numbers from a year ago.

7. Josh Boyd, Mississippi State, Jr.: Boyd is the second part of Mississippi State's talented duo in the middle. He was right behind Cox with 24 tackles and also had 2.5 sacks. Boyd has been a tremendous player since his freshman year and seemed to grow even more throughout the spring.

8. Sharrif Floyd, Florida, So.: Floyd was the most consistent of Florida's much-heralded freshmen defensive linemen last season. The thing is that he could have been even better, but it took him some time to adjust to the college game. He'll battle for time at noseguard when Florida is in the 3-4 and will be a regular on the line when the Gators go back to the 4-3.

9. Ego Ferguson, LSU, Fr.: He redshirted last season, but people on the Bayou expect him to be a big-time player this fall. He has tremendous size and strength and should be an excellent run-stopper in the middle. His spot in the middle hasn't been guaranteed, but it will be hard to keep him out of the lineup.

10. Robert Thomas, Arkansas, So.: Sure, Thomas has yet to play a down of SEC football, but coach Bobby Petrino said this spring that Thomas might be the most-talented player in the middle for the Hogs. Thomas had 48 tackles, including 15 for loss, and 4.5 sacks as a JUCO standout last year. The coaches gushed over his athleticism after he took advantage of the reps he got with Byran Jones and DeQuinta Jones injured this spring.
June, 20, 2011
6/20/11
9:55
AM ET
Today we look at the big uglies that cause all the mayhem in the trenches. The SEC consistently spits out nasty defensive linemen and this year has more of an athletic feel.
Here's how the teams stacked up:
1. South Carolina:
The Gamecocks return a defensive line that would make any offensive line shutter. Plus, incoming freshman Jadeveon Clowney comes in as the top high school player in the country and could be one of the best ends in the league this fall. Devin Taylor leads the group at end and was second on the team with 7.5 sacks as a sophomore. Helping on the outside is Melvin Ingram, who plays inside on passing downs, and led South Carolina with nine sacks a year ago. Senior Travian Robertson, who came off injury to get four sacks last year, is solid in the middle as well.
[+] Enlarge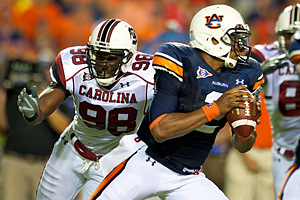 Dale Zanine/US PresswireDevin Taylor made a habit of harassing quarterbacks last season.
2. Arkansas:
The Razorbacks might have the best pass-rushing group Arkansas has seen in a while. Things revolve around defensive end Jake Bequette, who was one of the more unheralded players in the league last year, despite having seven sacks. On the other side of the line is Tenarius Wright, who will make up the second part of a formidable outside duo in Fayetteville with his speed and athleticism. In the middle, there are plenty of options. Byran Jones and DeQuinta Jones missed spring due to injury, but will be back this fall and there's a wealth of depth behind them. Junior college transfer Robert Thomas might be the best and most athletic option in the middle is primed to break out.
3. LSU:
There are some questions about the experience the Tigers bring back, but no one will question the talent and athleticism in Baton Rouge. Sam Montgomery is back at defensive end, after suffering a serious knee injury. He hasn't played much, but the coaches believe he's got what it takes to be a top end in this league. Kendrick Adams started 11 games last year at end, while Lavar Edwards filled in for Montgomery. Ego Ferguson redshirted last year, but should get a ton of playing time in the middle this fall. He is already one of the most athletic tackles in the SEC. Don't forget about five-star early enrollee Anthony Johnson, who made very strong impressions on his coaches this spring and will be in the rotation inside.
4. Florida:
This unit was criticized for lacking toughness last season, but will be full of that and even more athleticism in 2011. Jaye Howard is returning from spring ankle surgery and is already considered a top defensive tackle prospect in next year's NFL draft. Alongside him are youngsters Sharrif Floyd and Dominique Easley. Floyd was the most consistent of the much-ballyhooed freshman class last fall, while Easley struggled with attitude problems. Easley has rebounded and both excelled this spring. Omar Hunter is finally healthy and will share time with Floyd at noseguard and senior William Green will occupy an end spot. This group is even better when Ronald Powell lines up at end in the 4-3.
5. Alabama:
On paper, there are a few questions with this group, but it's hard to drop Alabama very far on this list. The 3-4 scheme will have senior Josh Chapman at noseguard. Chapman started 12 games in the middle last fall, totaling 31 tackles, including 3.5 for loss. Damion Square will compete for time on the outside, and since returning from his ACL injury, he's gained a lot more playing confidence and could be a budding star in the league. Junior college transfers Quinton Dial and Jesse Williams will compete for time on the line as well, while sophomore Ed Stinson will stay at end after starting last season at Jack linebacker.
6. Mississippi State:
The Bulldogs have arguably the top returning tackle tandem in the SEC. Fletcher Cox and Josh Boyd are the behemoths in the middle who combined for 53 tackles, 13 for loss and five sacks last year. Finding any sort of inside running game against Mississippi State will be extremely tough. Developing a pass-rusher is the next step for the Bulldogs' staff. Sean Ferguson occupies one side, but the other is still up for grabs. Trevor Stigers and Shane McCardell battled for the spot this spring, but neither has really pushed ahead.
7. Georgia:
There is a lot of talent in Athens, but there could be a lot of movement on the line. JUCO transfer John Jenkins is the big -- and we mean big -- name up front and he's yet to play a down in the SEC. He arrives with a ton of hype, but is perfect at noseguard in Todd Grantham's 3-4. DeAngelo Tyson moves to his natural position outside after playing noseguard last year. Kwame Geathers played in the middle this spring, but could be usurped for Jenkins this fall and move outside. Abry Jones is still maturing after moving to end and recording 34 tackles including 3.5 for loss last season and had a 16-tackle performance against Georgia Tech.
8. Auburn:
The Tigers must replace three starters this season. Inside, Auburn is talented but inexperienced with Kenneth Carter and Jeffrey Whitaker having 13 combined tackles from a year ago. There's less concern on the outside with lone returning starter Nosa Eguae on one side and sophomore Corey Lemonier on the other. Eguae might have more experience with 11 starts, but Lemonier appears to be more athletic and should be near the top of the defensive end pool this year. After that, the Tigers are young across the board.
9. Tennessee:
The Volunteers' line will grow with senior Malik Jackson running things in the middle. He had 48 tackles and five sacks a year ago and some think he'll be even better this fall. A lot will also be expected from incoming JUCO transfer Maurice Couch. He's pretty athletic at 6-foot-4, 327 pounds and he'll be greatly needed, considering the dismissal of Montori Hughes. Jacques Smith has All-SEC potential and will hold one of the end spots. After that, Tennessee has some young, but encouragingly talented bodies at each position.
10. Ole Miss:
Some of the best news of the spring coming out of Oxford was the return of Kentrell Lockett at defensive end. Lockett was granted an extra year of eligibility by the NCAA and will not only be the Rebels' top lineman but possibly their best defensive player. After that, the questions roll in with four tackles gone and youth coming in. Tackle Justin Smith has yet to really emerge as the All-SEC talent he was expected to be and Ole Miss is smaller up front. JUCO transfer Gilbert Pena could add some size in the middle. Gerald Rivers returns to get time at end, but has played in just 15 career games in two years.
11. Vanderbilt:
This was supposed to be a strength for the Commodores last year until injuries hit. Still, Vanderbilt returns three starters. Experience is there, but this unit has to continue to improve, especially in the pass-rushing department where the Commodores had just 20 sacks in 2010. Rob Lohr led Vanderbilt with four sacks a year ago and had 35 tackles. T.J. Greenstone is coming off of injury and will line up inside. Tim Fugger was one of the Commodores' most consistent players at end, playing in every game and registering three sacks and four forced fumbles.
12. Kentucky:
End Collins Ukwu and tackle Luke McDermott return with the most experience on Kentucky's line. Ukwu improved not only on the field but in the weight room this spring and is expected to be a more consistent pass-rusher. McDermott is a walk-on currently ahead of Donte Rumph, who has the talent to be one of Kentucky's top defenders, but has yet to fully buy in to the program. The coaches are also waiting for tackle Mister Cobble to finally break out of his funk and be a regular contributor. The rest of Kentucky's linemen have some developing to do and are inexperienced.
April, 15, 2011
4/15/11
8:30
AM ET
Spring game:
4 p.m. ET Saturday on ESPN and
ESPN3.com

Questions answered:
Even before spring practice began, Arkansas coach Bobby Petrino felt like this would be his best defense since arriving in Fayetteville in 2008. And while the true test will come next fall, neither Petrino nor defensive coordinator Willy Robinson saw anything this spring that would make them think otherwise. The Hogs have depth and size up front. They've greatly improved their speed and have more experience than they've ever had across the board on defense. This is also a team with strong leadership. Senior defensive end Jake Bequette, senior safety/linebacker Jerico Nelson, senior safety Tramain Thomas and senior receiver
Jarius Wright
were already key guys who'd taken on leadership roles, but others such as junior running back
Knile Davis
stepped up and answered that call this spring.
Questions unanswered:
The Hogs will be breaking in a pair of new offensive tackles in the fall. True freshman Brey Cook is one of those, and while he's light years ahead of where most guys who just turned 18 would be, there's still the unknown of going to battle in this league with a first-year player at tackle. Petrino is also looking for junior quarterback
Tyler Wilson
to give everybody in the huddle "more of a calming effect" with his consistency. Wilson had a solid spring, although he's still trying to shake loose from sophomore
Brandon Mitchell
and nail down the starting job. On defense, Robinson said the Hogs came up short at cornerback in the depth department and will need some young guys to come in and help next season.
Spring stars:
Coaches and players alike were raving about the athleticism of 325-pound junior college newcomer Robert Thomas, who showed off what he could do at defensive tackle with projected starters Byran Jones and DeQuinta Jones sitting out the spring while recovering from injuries. The Hogs are already deep and talented at receiver, but might have found another playmaker in sophomore
Julian Horton
. And speaking of talented receivers, senior
Joe Adams
just gets a little more dynamic every time he steps onto the field. He caught 12 passes in last Saturday's scrimmage, including touchdown passes of 59 and 35 yards.
Of note:
Senior Bret Harris has been one of the surprises of the spring. He's worked the last two weeks as the Hogs' starting weak side linebacker, although junior Terrell Williams is also pushing for that spot. … Petrino said the job John L. Smith has done with with Arkansas' special teams has been "awesome," in particular the way Smith has handled the Hogs' place kicker (Zach Hocker) and punter (Dylan Breeding). … True freshman receiver Quinta Funderburk returned to the team this week after missing six practices for undisclosed reasons. Funderburk's high school coach had told a newspaper that Funderburk was quitting football. … Strength and conditioning coach Jason Veltkamp said this is the most team speed the Hogs have had under Petrino "by far." ... Arkansas returns players that scored 48 of the team's 58 offensive touchdowns last season.