NCF Nation:

Robin Pflugrad
February, 18, 2011
2/18/11
7:44
PM ET
After a tumultuous offseason that included dispatching both coordinators, Rick Neuheisel now has a full staff at UCLA.

The final piece is Inoke Breckterfield, who has been hired as the Bruins defensive line coach.

A former All-Pac-10 defensive lineman at Oregon State, Breckterfield coached the defensive line at Montana last season. He coached the same position at Weber State in 2009, and prior to that he was a graduate assistant coach for the Beavers in 2008 and 2007 and was a volunteer coach in 2006.

"Inoke is an outstanding young talent who I feel will have a great impact on our defensive linemen," Neuheisel in a statement. "[Oregon State head coach] Mike Riley and [Montana head coach] Robin Pflugrad were both effusive in their praise of Inoke and he really impressed me, Joe Tresey and the other defensive assistants during his interview. You can tell by listening to him that he is a real people person who will connect with our linemen and will be an outstanding recruiter as well."

The Grizzlies ranked first in the Big Sky and 14th in the BCS in tackles for loss (7.64 per game) and second in the league and 18th nationally in sacks per contest (2.64) in 2010. Montana ranked 103rd and 88th in those categories, respectively, in 2009.

He was a standout defensive lineman for the Beavers, playing his final two years (1997-98) under Riley. As a senior in 1998, he was named first-team Pac-10 and third team All-American (The Associated Press) at defensive end. In addition, he was voted team MVP, was the defensive winner of the Morris Trophy Award (the best defensive lineman in the league as voted on by Pac-10 offensive linemen), selected to play in the Hula Bowl and named Oregon State's "Male Athlete of the Year." Breckterfield left OSU as the school's career leader in tackles for loss (55.5) and sacks (19.5) and is currently ranked second in both categories at the school.

Following his college career, he played in the Canadian Football League for five seasons for the Toronto Argonauts (1999-2000) and the Winnipeg Blue Bombers (2001-03). He worked in the private sector in Aiea, Hawaii, from 2003-06 and then returned to OSU to attend school and serve as a volunteer assistant coach.
September, 21, 2010
9/21/10
6:12
PM ET
Oregon is just sick. And by "sick" we mean
sick
in the ironic way the cool kids talk. Just
go look at these numbers
. We'll wait here.
See? Sick. Oregon ranks No. 1 in the nation in just about all the cool statistical categories -- total and scoring defense, total and scoring offense, etc.
[+] Enlarge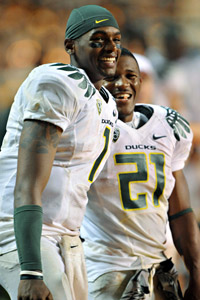 Kirby Lee/US PresswireDarron Thomas (left), LaMichael James and the rest of the Ducks are sitting atop the NCAA offensive rankings.
Of course, not everything is perfect. Oregon only ranks No. 2 in the nation in rushing offense, averaging a scant 380.67 yards per game, so that's a problem. Better get on that, Chip Kelly.
It's fair to ask if there's anything the fifth-ranked Ducks aren't doing well.
"I don't know the answer to that," Kelly said. "We don't put a whole heck of a lot into the stats after three games... I think we are playing well. I think we're playing hard. I like our effort. But we still have a ways to go to be a really, really good football team."
Oregon is bringing its PlayStation numbers to Arizona State on Saturday. In the preseason, this game probably elicited a "meh" from most observers. Oregon was projected No. 1 in the Pac-10. ASU was tapped ninth. And two games into the season, the reaction was likely the same.
But then the Sun Devils outplayed No. 11 Wisconsin on the road in a 20-19 defeat. There were so many ways that
game could have turned in their favor
, but there was an obvious positive spin, despite the loss: Arizona State can compete at a high level.
No, coaches and players don't like to talk about "moral" victories, but let's just say Kelly won't need to work hard this week to get his players to take their visit to Tempe seriously after they look at the Sun Devils-Badgers game film.
Coach Dennis Erickson said his team is more confident.
"I would say we are," he said. "We had chance to win a football game on the road against what we thought was a good football team. And yet, in looking at it, we did not play like we're capable of playing."
It's another good sign for the Sun Devils that a question about "moral" victories and "gaining confidence" seems to make quarterback
Steven Threet
wrinkle his nose in irritation.
"We didn't feel like the underdogs," he said. "I feel like going into it we knew we were a good team. I think some people thought it was a measuring stick for us, but I don't think anybody on our team believes in moral victories. We went in there to win the game. That was our goal."
Oregon thrashed the Sun Devils 44-21 in 2009, but the offense the Ducks will face on Saturday is a far more talented and confident outfit. That can be traced first to Threet, who is second in the conference with 280 yards passing per game, then to better offensive line play -- see 156 yards rushing per game -- and a deeper, more athletic array of skill players who can punish a defense when it messes up an assignment.
A lot like Oregon can.
Of course, the Ducks defense will be the best unit the Sun Devils have seen. But the same can be said for the Ducks offense.
In fact, if you are looking for a key matchup, start with Sun Devils linebacker Vontaze Burfict vs. the Ducks spread-option. While it's always about disciplined team defense when opposing the Ducks misdirection, Burfict is the sort of individual talent who could make things tough on running backs
LaMichael James
and
Kenjon Barner
.
Burfict upped his game at Wisconsin and became a force. He needs to take it a few more clicks forward against the Ducks (without committing any boneheaded personal foul or conduct penalties).
"That's probably the best he's played [at Wisconsin]," Erickson said. "But he hasn't played near what he is capable of. He's getting better all the time. You've got to be disciplined against any offense but particularly this one. If you make a mistake and miss a tackle against Oregon, they'll take it to the house."
Another level of intrigue: Two Sun Devils have more than the obvious reasons to dislike the Ducks. Receiver
Aaron Pflugrad
transferred from Oregon to ASU after his father, receivers coach Robin Pflugrad, was fired by Kelly. And Sun Devils defensive tackle Bo Moos is the son of Bill Moos, who was forced out as Oregon's athletic director in 2007.
"Obviously, they both want to play well against the University of Oregon, where they have had ties over the years," Erickson said. "But I think they'll have the emotional aspect of it under control."
Oregon has looked sick on both sides of the ball thus far. But there will be strong emotions, newfound confidence, a home crowd and a hot desert evening swinging the Sun Devils way.
Maybe all that will combine to make the Ducks just sick enough -- in the traditional sense of the word -- that the Sun Devils can notch the upset.