January, 13, 2014
Jan 13
10:00
AM ET
After 16 years, the BCS era is finally over. Next season, college football will have a playoff instead.
With the BCS done, we've come up with our Big 12 all-BCS era team (1998-2013) below:
Offense
[+] Enlarge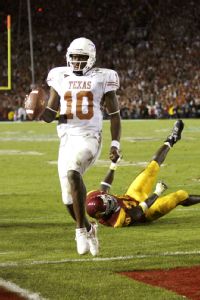 Scott Clarke/Getty ImagesWith Vince Young at the helm, Texas won a national title and Rose Bowl.
QB: Vince Young, Texas (2003-05) --
Young led Texas to its first national title in 35 years with an unforgettable performance in the Rose Bowl against USC. The Heisman runner-up also became the first QB in college football history to throw for 3,000 yards and run for 1,000 in the same season.
RB: Ricky Williams, Texas (1998) --
Williams was part of the BCS era for only one season, but what a season it was. He rushed for 2,327 yards and won the Heisman Trophy going away. Only Wisconsin's
Ron Dayne
has more career rushing yards than Williams (6,279).
RB: Adrian Peterson, Oklahoma (2004-06) --
Despite battling injuries throughout his career, Peterson still was a beast in college. After rushing for 1,925 yards while leading the Sooners to the national title game, he finished second in the '04 Heisman voting, even though there was still a stigma then in voting for a freshman.
WR: Michael Crabtree, Texas Tech (2007-08) --
Crabtree became the first two-time winner of the Biletnikoff Award, given to the nation's top receiver. In '08, he and QB
Graham Harrell
led the Red Raiders to an upset of Texas and a No. 2 ranking in the polls.
WR: Justin Blackmon, Oklahoma State (2009-11) --
Blackmon became the second and only other two-time winner of the Biletnikoff. In his final two seasons, he finished with 233 receptions, 3,304 receiving yards and 38 touchdowns, and he helped propel the Cowboys to their first Big 12 title in '11.
TE: Chase Coffman, Missouri (2005-08) --
Coffman had a monster statistical college career for a tight end with 247 catches for 2,659 receiving yards and 30 touchdowns. He won the '08 Mackey Award, given to the nation's top tight end. Missouri won 37 games during the four years Coffman was in the lineup.
OT: Jammal Brown, Oklahoma (2001-04) --
Brown was a unanimous All-American and a three-time All-Big 12 selection. He became the fifth Sooner to win the Outland Trophy, awarded to the nation's top interior lineman.
OT: Russell Okung, Oklahoma State (2007-09) --
In Okung's final two seasons, Oklahoma State led the Big 12 in rushing yards. The Cowboys were also third in the country in '07 in fewest sacks allowed with Okung at left tackle. He was a unanimous All-American and Outland finalist in '09 and became the sixth overall pick in the '10 NFL draft.
OG: Cyril Richardson, Baylor (2010-13) --
Richardson became Baylor's seventh all-time unanimous All-American. The Outland finalist was also a key piece on the nation's highest-scoring offense this season.
OG: Justin Blalock, Texas (2003-06) --
Though a guard in the NFL, Blalock actually started 50 games for Texas, most coming at right tackle. He was a three-time, first-team All-Big 12 selection and a consensus All-American in 2006.
C: Dominic Raiola, Nebraska (1998-2000) --
Raiola was the inaugural winner of the Rimington Award, named after former Nebraska center Dave Rimington, which recognizes the best center in college football. He was an Outland finalist and a consensus All-American.
APB: Darren Sproles, Kansas State (2001-04) --
One of the most prolific all-purpose performers in college football history, Sproles finished his career with 6,812 all-purpose yards. Among his 39 consecutive starts, his most memorable performance came in the '03 Big 12 championship, when he had 235 yards rushing and 88 receiving, as K-State upset top-ranked Oklahoma 35-7.
Defense
DE: Brian Orakpo, Texas (2005-08) --
Orakpo captured the '08 Nagurski Award as the most outstanding defensive player in the country, and the Lombardi Award, given to the best college lineman or linebacker. He also was the Big 12 Defensive Player of the Year and a consensus All-American while piling up 11 sacks his senior year.
DE: Von Miller, Texas A&M (2007-10) --
Out of a hybrid defensive end/linebacker role, Miller led the nation with 17 sacks in '09. He was a two-time All-American and won the Butkus Award in '10 as the nation's top linebacker.
DT: Ndamukong Suh, Nebraska (2005-09) --
There was no more dominant defensive player in college football during the BCS era. Suh finished fourth in the Heisman voting in '09 and won several national awards, including the Outland, Lombardi, Nagurski (most outstanding defensive player)and Bednarik (defensive player of the year). He was also a unanimous All-American and the Big 12 Defensive Player of the Year.
DT: Tommie Harris, Oklahoma (2001-03) --
Harris was a force from the beginning as a freshman on the OU defensive line. He won the Lombardi his junior year, and he was a two-time consensus All-American, garnering unanimous honors in '03.
LB: Derrick Johnson, Texas (2001-04) --
Johnson was a menacing linebacker for the Longhorns, earning consensus All-American honors in '03 and unanimous honors in '04. He was also a three-time, first-team All-Big 12 selection, and won the Butkus (best linebacker) and Nagurski awards as a senior. Johnson finished his career with 458 tackles.
LB: Rocky Calmus, Oklahoma (1998-2001) --
Calmus played a major role in OU's resurgence under Bob Stoops. He won the Butkus in '01 and was a finalist for the Nagurski and Bednarik. A three-time All-Big 12 pick, Calmus led the Sooners in tackles in all three of those seasons.
LB: Teddy Lehman, Oklahoma (2000-03) --
Lehman too won the Butkus, beating out Johnson for the award in '03. He also was Big 12 Defensive Player of the Year, captured the Bednarik, was a unanimous All-American and played in two national championship games.
[+] Enlarge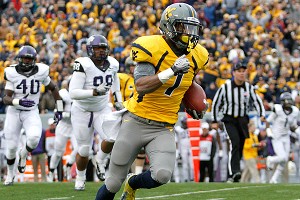 Justin K. Aller/Getty ImagesWest Virginia receiver and returner Tavon Austin had a huge 2012 season.
CB: Terence Newman, Kansas State (1999-2002) --
Newman was a solid player for Bill Snyder his first three seasons, then broke out as a senior. Newman was the Big 12 Defensive Player of the Year, a unanimous All-American and the Thorpe winner, given to college football's top defensive back.
CB: Derrick Strait, Oklahoma (2000-03) --
A four-year starter, Strait finished with a school-record 52 career pass breakups. He also won the Thorpe, and was a unanimous All-American.
S: Roy Williams, Oklahoma (1999-2001) --
Nicknamed "Superman," Williams was the Big 12's most dominating defensive player until Suh came along. He won the Thorpe and Nagurski in '01, and was the Big 12 Defensive Player of the Year and a unanimous All-American the same season. He also famously skied over the Texas offensive line to force the game-clinching interception to earn his moniker.
S: Michael Huff, Texas (2002-05) --
Huff became the first Longhorn to win the Thorpe, and was the leader of the '05 national championship defense. He was also a unanimous All-American that season.
Special teams
K: Mason Crosby, Colorado (2003-06) --
Crosby was three-time, first-team All-Big 12 selection, and twice was a consensus All-American even though he never won the Lou Groza Award, given to the nation's top kicker. He was also the Big 12 Special Teams Player of the Year as a junior, and converted 66 field goals in his career.
P: Quinn Sharp, Oklahoma State (2009-12) --
Sharp became the first three-time All-American in Oklahoma State history, and he earned All-American honors both as a punter and a kicker. He was twice named the Big 12 Special Teams Player of the Year. In his career, he made 50 of 59 field goals, averaged 45.9 yards per punt and missed only one extra point.
KR: Tavon Austin, West Virginia (2012) --
Austin was in the Big 12 only one season, but he was unstoppable that one season. On top of being one of the most dangerous kick returners in the country, Austin had 1,289 yards receiving and 643 rushing, and finished second in the country in all-purpose yards.
PR: Ryan Broyles Oklahoma (2008-11) --
On top of being a prolific punt returner, Broyles was one of the most efficient receivers in college football history. He finished his career with an FBS-record 349 receptions, and was a two-time consensus All-American before a knee injury cut his senior season short.
January, 22, 2010
1/22/10
1:57
PM ET
By
Tim Griffin
| ESPN.com
With all of the looking back we've done this week, I couldn't leave without picking my own All-Big 12 all-decade team.

It was a tough choice at several positions, but here's my all-decade team.

Please feel free to provide any changes you would make, and explain why you would make them.

Believe me, it's a hard choice. I spent more than an hour trying to choose between Darren Sproles and Cedric Benson and Jermaine Gresham and Chase Coffman.

OFFENSE

QB: Vince Young, Texas

RB: Adrian Peterson, Oklahoma

RB: Cedric Benson, Texas

WR: Michael Crabtree, Texas Tech

WR: Rashaun Woods, Oklahoma State

TE: Chase Coffman, Missouri

T: Russell Okung, Oklahoma State

T: Jammal Brown, Oklahoma

G: Duke Robinson, Oklahoma

G: Derrick Dockery, Texas

C: Andre Gurode, Colorado

DEFENSE

DE: Brian Orakpo, Texas

DT: Ndamukong Suh, Nebraska

DT: Tommie Harris, Oklahoma

DE: Dan Cody, Oklahoma

LB: Derrick Johnson, Texas

LB: Rocky Calmus, Oklahoma

LB: Teddy Lehman, Oklahoma

CB: Terence Newman, Kansas State

CB: Derrick Strait, Oklahoma

S: Roy Williams, Oklahoma

S: Michael Huff, Texas

K: Mason Crosby, Colorado

P: Daniel Sepulveda, Baylor

Ret: Wes Welker, Texas Tech
January, 20, 2010
1/20/10
9:05
AM ET
By
Tim Griffin
| ESPN.com
The Big 12 had two national championship teams and five others that played in the BCS title game in the decade.
The two championship teams were the best of the conference's last 10 years. Some of the other BCS title participants were good, but not necessarily among the very best teams during the conference's recent history.
Here's how I rank the Big 12's top 10 teams over the last decade.
1. 2005 Texas:
A star-studded team paced by All-Americans Michael Huff, Jonathan Scott, Rodrique Wright and Vince Young ran off 13 straight victories, capping the season with a BCS title-game victory over USC. The team averaged 50.2 points per game en route to a then-NCAA record 652 total points, earning Texas' first undisputed national championship since 1969. It was the greatest team that Mack Brown ever coached and arguably the best team in the rich football history of Texas.
2. 2000 Oklahoma:
Bob Stoops claimed a national championship in his second season coaching the Trojans behind Josh Heupel, who finished second in the Heisman race that season. All-Americans Heupel, linebacker Rocky Calmus and J.T. Thatcher helped the Sooners notch the first undefeated season and national championship in Big 12 history. After winning three of their final four regular-season games by less than five points, the Sooners dominated Florida State in a 13-2 triumph in the Orange Bowl for the national championship.
3. 2008 Oklahoma:
Sam Bradford
won the Heisman Trophy with this team, which overcame a midseason loss to Texas and still claimed the Big 12 title in a 12-2 season that was marred by a 24-14 loss to Florida in the national championship game. The Sooners rolled-up a record 702 points as Bradford passed for 50 touchdowns,
Chris Brown
and
DeMarco Murray
each rushed for 1,000 yards and Juaquin Iglesias topped 1,000 yards receiving. The Sooners scored 35 points in each regular-season game and finished the regular season with five straight games of at least 60 points before the BCS title-game loss.
4. 2004 Oklahoma:
The Sooners charged to 12 straight victories before a dropping a 55-19 decision to USC in the Orange Bowl for the national title. Freshman running back Adrian Peterson rushed for an NCAA freshman record 1,925 yards to finish second in the Heisman. Jason White claimed the Heisman the previous season and his numbers were down with Peterson's arrival, but he still passed for 3,205 yards and 35 touchdowns. This group had strength in the trenches with All-Americans like Vince Carter, Dan Cody, Jammal Brown and Mark Clayton as it claimed Bob Stoops' third Big 12 title.
5. 2009 Texas:
After streaking to a school-record 13-0 mark through the Big 12 title game, the Longhorns dropped a 37-21 decision to Alabama in the national title game in a contest that changed when
Colt McCoy
was hurt on the fifth play of the game. McCoy became the winningest quarterback in NCAA history during this season, repeatedly hooking up with favorite target
Jordan Shipley
, who snagged a school-record 116 receptions, 1,485 yards and 13 touchdowns. The Longhorns led the nation in rush defense, and All-American safety Earl Thomas tied a school record with eight interceptions. Lamarr Houston and Sergio Kindle also added playmaking abilities to the defense.
6. 2004 Texas:
The Longhorns overcame a midseason 12-0 loss to Oklahoma to finish the season with seven straight victories in a season capped by a dramatic 38-37 victory over Michigan in the Rose Bowl. The Longhorns ranked second nationally in rushing offense and seventh in total offense as Young gradually found his confidence as a passer late in the season. Cedric Benson rushed for 1,834 yards and 19 touchdowns, and Young chipped in with 1,079 rushing yards and 14 touchdowns. This team showed a knack for comebacks, overcoming an early 35-7 deficit against Oklahoma State and also coming from behind in an early-season victory at Arkansas.
7. 2007 Oklahoma:
Bradford led the first of two consecutive Big 12 championships on a team that enabled the Sooners to become the first Big 12 school to win back-to-back titles. The Sooners dropped road games to Colorado and Texas Tech but still overcame Missouri in the Big 12 title game behind a huge defensive effort keyed by Big 12 defensive player of the year Rufus Alexander. Bradford led the nation in passing efficiency, but the Sooners' bowl struggles continued in an embarrassing 48-28 loss to West Virginia in the Fiesta Bowl.
8. 2003 Kansas State:
Don't let the Wildcats' 11-4 record fool you. After an early three-game losing streak to Marshall, Texas and Oklahoma State (by a combined margin of 15 points), Bill Snyder's team won its final seven regular-season games by a combined margin of 271-66. That streak was culminated by a stunning 35-7 upset victory over Oklahoma in the Big 12 title game -- the last victory by a North Division team in the title game. The Wildcats ranked in the top 10 nationally in rushing, scoring, total defense, scoring defense and pass defense as Darren Sproles rushed for 1,986 yards and 16 touchdowns. The Wildcats dropped a 35-28 Fiesta Bowl loss to Ohio State in a game they fell into an early 21-0 deficit and had a chance to tie on the final play of the game after a frantic comeback directed by Ell Roberson.
9. 2007 Missouri:
Chase Daniel led Missouri into the Big 12 title game for the first time in school history, taking the team to No. 1 nationally heading into the conference championship game. The Tigers lost twice to Oklahoma during a 12-2 season that was capped by 38-7 beatdown over Arkansas in the Cotton Bowl. Tony Temple made that game memorable by rushing for a record 281 yards and four TDs that pushed Missouri to No. 4 nationally at the end of the season. A star-studded collection of talent including Daniel, Jeremy Maclin, Chase Coffman, Martin Rucker and Sean Weatherspoon helped the Tigers rank among the top-10 teams nationally in passing, total offense and scoring and 11th in turnover margin.
10. 2007 Kansas:
The Jayhawks earned Mark Mangino the national coach of the year award by running to an 11-0 start before losing to Missouri in the regular-season finale. The Jayhawks rebounded for a 24-21 victory over Virginia Tech in their first BCS bowl appearance in school history, finishing a 12-1 season that set a school record for victories.
Todd Reesing
passed for 33 touchdowns to highlight a high-powered offense that scored 76 points against Nebraska and scored at least 43 points in eight games. The Jayhawks were a balanced team that ranked second nationally in scoring offense, fourth in scoring defense and in the top 10 nationally in eight different team statistics. Anthony Collins and Aqib Talib earned consensus All-America honors.
November, 12, 2009
11/12/09
12:51
PM ET
Posted by ESPN.com's Tim Griffin
Maybe "Sooner Magic" really is cyclical. And Oklahoma's struggles this season are explainable as some kind of cruel karmic payback for the run of good fortune that smiled on the program in previous championship seasons.
Bob Stoops has lived through a frustrating season this year marked by injuries, maddeningly inconsistent play and attrition.
Serious questions are dogging the Sooners after their unexpected struggle in 2009. Their 5-4 record is the worst ever recorded by a Stoops-coached team at this juncture of the season.
| | |
| --- | --- |
| | |
| | Tim Heitman/US Presswire |
| | Bob Stoops' Sooners have lost four games this season by a combined 12 points. |
The Sooners need one more victory over their final three games to become bowl eligible. Their best chance should be Saturday against Texas A&M, which the Sooners have beaten nine times in 10 tries under Stoops. Included in that streak are five previous victories at Owen Field by an average margin of 35.4 points per game.
After that it might get dicey with games at Texas Tech and a difficult home finish against Oklahoma State. That tough schedule could send the Sooners skidding to bowls in places like San Antonio and El Paso -- locales that would be a huge disappointment for a team that came into the season with legitimate hopes of stretching its unprecedented streak of three consecutive Big 12 titles.
The Sooners expected to be challenging for a BCS bowl or perhaps even playing for the national championship rather than sampling Tex-Mex.
But a disastrous run of injuries has made this the most difficult of Stoops' 11 seasons at Oklahoma. The Sooners have lost nine starters for a total of 31 games, making their injuries more pronounced than any team in the conference.
Compare this season's struggles to Stoops' championship team of 2000 when he lost no starters to injury during that entire season. Even when quarterback Josh Heupel struggled with a sore arm and linebacker Rocky Calmus had a broken arm, they played through the injuries and helped the Sooners to their most recent of seven national championships.
The injury to
Sam Bradford
, last season's Heisman Trophy winner, has been the most devastating. It's rushed redshirt freshman quarterback
Landry Jones
into the starting lineup well before he was thought to be ready.
Jones has shown flashes of strong play, like when he threw a school-record six touchdown passes against Tulsa earlier this season. But he struggled last week against a strong Nebraska defense when he threw a school-record five interceptions as the Sooners failed to score a touchdown for the first time in Stoops' 142-game coaching tenure.
"I didn't really talk to anyone after the game. I was really upset about it," Jones
told the Tulsa World
earlier this week. "I can't remember a game as bad as Saturday."
Stoops said that Jones wasn't entirely to blame on all of the interceptions.
"Our receiver quit," Stoops told reporters earlier this week. "Doesn't finish the route. He needs to fight for an incompletion there, or an interference call and not bail on it. ... So sometimes it appears it's always [Jones] but it isn't always him. And then sometimes, a couple others that sailed down the middle on him, that he has to learn from. That's part of the process."
Those comments and others in recent weeks made several members of the Oklahoma media corps wonder if Stoops was throwing his players under the bus and blaming them for problems on the team.
"Here's the problem," Stoops said. "Don't ask us questions then. If you want to ask me what went wrong, I'm supposed to say everything's our fault? Then I can't answer questions if you want me to answer truthfully. There are some things players gotta handle, too. It's always going to be both of us.
"So don't ask the question if you don't want the right answer. And don't go criticizing if we give you the right answer and it is on them."
Compare that attitude with Missouri coach Gary Pinkel, whose struggling team dropped into the North Division cellar after losing four of its first five conference games after making back-to-back championship game appearances.
Pinkel took full responsibility for his team's recent meltdown, saying that any blame about his team starts with him.
The problem for Oklahoma's team didn't come on the practice field, but instead on the recruiting trail. The Sooners are paying this season for earlier struggles in attracting the wrong players.
A study commissioned by the Tulsa World indicated that no team in the Big 12 South has lost as many
recent offensive line recruits as the Sooners
. Since the class of 2005, the Sooners have prematurely lost 10 of their 25 linemen. That 40 percent figure dwarfs any other team in the division.
And when a disastrous run of injuries occurs like this season, it leaves the Sooners paying for their lack of depth. They will go into Saturday's game against A&M with seven healthy offensive linemen. That attrition has helped pave the way for a frustrating season that has featured four losses by a combined 12 points.
"They've had a lot to juggle through the year," Stoops said. "Certain parts of the year, they've managed it well. Other times we haven't.
"Some of the discipline issues ... our players need to make improvements. Ultimately, we've got to get them to do it right. In the end, it's always the two of you [coaches and players]. End of story. It'll be that way till they quit playing football."
January, 7, 2009
1/07/09
3:17
PM ET
Posted by ESPN.com's Tim Griffin
FORT LAUDERDALE, Fla. -- Earlier this season, Travis Lewis didn't know if he would ever learn the intricacies of Oklahoma's defense.
Understand that Oklahoma defensive coordinator Brent Venables' concepts are sometimes difficult to comprehend for even the most seasoned of veteran players. So some growing pains were to be expected for a redshirt freshman like Lewis who had seldom played the position before coming to college.
| | |
| --- | --- |
| | |
| | Jerry Lai/US Presswire |
| | Travis Lewis (28) is looking forward to trying to slow down Florida's offense Thursday night. |
But when injuries and the struggles of others contributed to Lewis moving forward on the depth chart, he still burned with fury because he thought he hadn't won the starting job because of his play.
"Things contributed to me starting ... it wasn't me being the best option," Lewis said. "But I wouldn't have it any other way. Going through that taught me how to play with a chip on my shoulder.

"I still treat every day like I'm third on the depth chart. I think about it every day when I wake up and every day before I go to practice."
That rage has fueled a remarkable debut season for Lewis, who has developed into the most productive freshman linebacker in Oklahoma history despite his lack of playing experience at the position.
"He came from out of nowhere," Venables said. "Travis has been able to overcome his lack of experience and technique and fundamentals because he plays so incredibly hard. He's been able to cover up his mistakes because of that."
The Sooners' program has been dotted by playmaking linebackers during the era that Venables has served as the Sooners' linebackers coach and defensive coordinator. Playmakers like Rocky Calmus, Teddy Lehman, Curtis Lofton and Rufus Alexander all have turned the position into one of the biggest strengths throughout the Bob Stoops era.
But none of them has had as quick a start as Lewis, who was a consensus All-Big 12 player and was named defensive newcomer of the year by the Associated Press and the league's coaches.
December, 3, 2008
12/03/08
2:46
PM ET
Posted by ESPN.com's Tim Griffin
Oklahoma's dynasty under Bob Stoops wasn't built on fancy offensive attacks that rolled up yards and produced point-a-minute scoring totals.
At its very peak when the Sooners claimed the 2000 national title, Oklahoma had a solid offensive attack. But the Sooners' major claim to fame was a bruising defense that was seldom dented by opposing teams.
Players such as Rocky Calmus, Roy Williams, Torrance Marshall and Derrick Strait dotted the Sooners' roster back then. In those days, Oklahoma's means of stopping opponents was about as subtle as a roundhouse punch.
Those days appear to be long gone as the Sooners are struggling through the worst statistical defensive season of Stoops' 10-season coaching tenure. The Sooners have already allowed 298 points, more than in any season since 1997. And their 249.7 yards per game allowed through the air would be the worst mark in the school's records, which date to 1937.
Those figures have intensified scrutiny on a defense that has allowed at least 28 points in six of its last seven games heading into Saturday's championship game against Missouri.
The Tigers' chances will likely depend on getting into a shootout with the Sooners' explosive offense. Quarterback Chase Daniel keys an explosive attack that ranks fourth nationally in scoring and passing and sixth in total offense, which might give Missouri a chance to upset the Sooners.
And considering that third-string linebacker Mike Balogun will be making his first career start after playing only 20 snaps earlier this season, the Sooners' defense could have a weak link in the middle.
Such talk has caught the attention of the Sooners as they prepare for Saturday's game.