NCF Nation:

Roddrick Muckelroy
January, 21, 2010
1/21/10
11:54
AM ET
By
Tim Griffin
| ESPN.com
Mack Brown revived the glory at Texas in the last decade, claiming at least 10 victories in each of the last nine seasons, including a 25-2 record in the last two seasons. The Longhorns have finished in the top 10 in five of the last six seasons.

Darrell K. Royal/Texas Memorial Stadium now has more than 100,00 seats. The Longhorns have a designated successor for Brown in place with rising star Will Muschamp. And that pesky problem with Bob Stoops has been alleviated recently with four victories in the last five seasons over the Sooners.

Times are good for Brown.

Here's a look at the Longhorns' all-decade team during that time.

OFFENSE

QB: Vince Young

RB: Jamaal Charles

RB: Cedric Benson

WR: Jordan Shipley

WR: Roy Williams

TE: David Thomas

OL: Justin Blalock

OL: Jonathan Scott

OL: Derrick Dockery

OL: Leonard Davis

C: Lyle Sendlein

DEFENSE

DL: Brian Orakpo

DL: Cory Redding

DL: Shaun Rogers

DL: Casey Hampton

LB: Sergio Kindle

LB: Derrick Johnson

LB: Roddrick Muckelroy

DB: Earl Thomas

DB: Michael Huff

DB: Nathan Vasher

DB: Aaron Ross

P: Richmond McGee

K: Hunter Lawrence

KR: Quan Cosby

Offensive player of the decade: QB Vince Young. The most electrifying player of the decade capped his career by scoring the game-winning touchdown to lead his team to the national championship in his final drive. Brown finished with a 30-2 record, 6.040 passing yards and 3,127 rushing yards.

Defensive player of the decade: LB Derrick Johnson. He wasn't around when the Longhorns won the national championship, but was perhaps the best player at his position at the school since Tommy Nobis. He capped his career with the Nagurski and Butkus Awards after earning All-America honors in each of his last two seasons.

Coach of the decade: Mack Brown. Remember when people used to joke about his inability to win big games or how he coddled his players. That all changed as the decade progressed. Brown got tougher and made some astute moves at defensive coordinator to help his program take the next step with the addition of coaches like Gene Chizik and Will Muschamp.

Moment of the decade: Vince Young's run leads comeback victory to the 2005 national championship. Young's game-winning 8-yard TD run with 19 seconds left boosted the Longhorns to a 41-38 victory over USC in the 2006 Rose Bowl, providing the margin of victory in one of the greatest college football games in history. Michael Huff's fourth-down stop of LenDale White on the preceding drive set up Young's heroics to snap the Trojans' 34-game winning streak.
January, 8, 2010
1/08/10
4:39
AM ET
By
Tim Griffin
| ESPN.com
PASADENA, Calif. -- The wear and tear was noticeable on their faces. Tired Texas players like Lamarr Houston and Roddrick Muckelroy showed the effects of trying to contain bruising Alabama running backs
Mark Ingram
and
Trent Richardson
during a long night at the Rose Bowl.
[+] Enlarge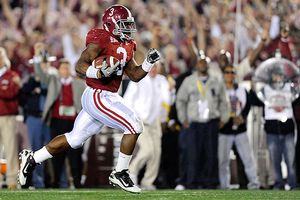 Kevork Djansezian/Getty Images Trent Richardson's 49-yard touchdown run was part of Alabama's 205-yard rushing effort.
The Longhorns' No. 1 national defense was gashed for a season-worst 205 rushing yards as Ingram rushed for 116 yards and Richardson added 109 in Alabama's
37-21
victory in the Citi BCS National Championship game.
But despite those numbers, Texas made adjustments in the second half and the defense was one of the key reasons the Longhorns had a chance to win. Texas allowed only 57 rushing yards after the break, and continually came up with the key plays that were missing in the first half.
"The defense was out there a lot with (quarterback)
Colt McCoy
being gone," Houston said. "We were playing tough and played through a lot of adversity all night long. And we were right there."
The Longhorns' defense came up with three, three-and-out possessions to start the second half, and Alabama's only two scores of the second half came off late turnovers. The Texas defense gave the Longhorns a chance to pull back into the game when the offense finally started clicking behind freshman quarterback
Garrett Gilbert
.
"We did all we could do to keep the game close," Muckelroy said. "The defense stepped up and made some plays. They got us early, but in the end, about four plays killed us."
Richardson's 49-yard touchdown run midway through the first quarter sliced through the middle of the Texas defense. It was one of four rushing touchdowns the Longhorns allowed Thursday night after giving up five rushing TDs in the 13 previous games.
"It was disappointing they got to us like that," Houston said. "But we bounced back and did what we could to make adjustments to get back in the game."
It was the second-most rushing yards against a Texas defense since Will Muschamp arrived last season. Only Oklahoma State's 217-yard effort last season surpassed the title game.
While Texas struggled containing the running game, Muschamp cooked up a pressure-heavy defensive front that sacked Alabama quarterback
Greg McElroy
five times.
The ringleader of the Texas pass rush was Sergio Kindle, who had his best game of the season with eight tackles, 2.5 sacks and 3.5 tackles for losses.
"Our game plan was to get pressure on their quarterback," Kindle said. "We thought their lineman were good in run blocking but might have slip-ups in pass coverage. We tried to get speed off the edge and middle. And those plays started coming for us as the game went on."
But there weren't enough of those big plays for the Longhorns to overcome the way the Tide won the battle in the trenches, using a methodical offensive philosophy.
"I'm not disappointed at all," Houston said. "I'm proud of the team and our players for stepping up and almost winning this game. It was a good effort, but in the end it just wasn't good enough."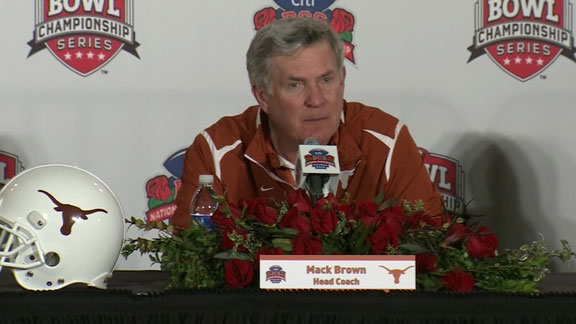 December, 5, 2009
12/05/09
10:30
PM ET
By
Tim Griffin
| ESPN.com
ARLINGTON, Texas -- Roddrick Muckelroy provided a key interception on a deflected pass to give Texas possession at the Nebraska 32.
But the Nebraska defense stiffened and forced a fourth-down quick kick from
Colt McCoy
after a key third-down sack by blitzing Nebraska safety Matt O'Hanlon.
For all of the talk about Ndamukong Suh's one-man demolition inside, Texas' defense has been pretty salty as well.
Will Muschamp's unit has forced two interceptions and three three-and-outs on Nebraska's last five possessions. The Cornhuskers haven't made a first down in the last 24 minutes -- and counting.
A couple of other notes:
Suh has 3.5 sacks so far in the game, setting a conference championship game record.
Tonight's crowd of 76,211 is the third-largest in conference history.
November, 15, 2009
11/15/09
12:25
PM ET
By
Tim Griffin
| ESPN.com
Here are some items that struck me while watching Big 12 games on Saturday.
Iowa State's defensive resiliency has been stunning:
Coach Paul Rhoads has helped the Cyclones respond after being gashed for 69 points in back-to-back losses to Texas A&M and Oklahoma State. The Cyclones rebounded to limit Colorado to its season-low in points and put them into bowl eligibility for the first time since 2005. ISU limited the sputtering Buffaloes to three points on three trips inside the 10-yard line. The Cyclones might not have talent to match many Big 12 teams, but they play exceedingly hard. With a team coached by Rhoads, you wouldn't expect anything else.
Where do the Jayhawks go from here?
Todd Reesing
talked after the game Saturday about being part of "the transformation of Kansas football." Hopefully for the Jayhawks, their struggles during his senior season won't be a step back to the Kansas program before he arrived. But it's not a good sign. The Jayhawks were a preseason North favorite. Instead, they have dropped five-straight games in a season where the North is clearly down from previous levels. And they have to win against either surging Texas or improving Missouri simply to make a bowl appearance. Mark Mangino will have his work cut out to keep the program moving forward -- particularly after the loss of key players of the transformation like Reesing,
Kerry Meier
,
Jake Sharp
and Darrell Stuckey after this season.
"Sooner Magic" appears to be turning around.
Don't look now but Oklahoma's blowout home victory over Texas A&M might have provided the Sooners with confidence heading into their final two games and could earn them the conference's No. 2 bowl bid. With Texas Tech quarterback
Steven Sheffield
struggling with an obvious foot injury in the second half of the Red Raiders' loss to Oklahoma State, the Red Raiders don't look as daunting heading into Saturday's game in Lubbock. And if Oklahoma can win that game, their chances will improve against Oklahoma State in the Bedlam Game the following week at home with
Zac Robinson
dinged up with an apparent concussion. Maybe we shouldn't count Bob Stoops' team out quickly with a schedule that appears to be providing some good fortune after so much bad luck earlier in the season.
Zac Robinson's health will determine Oklahoma State's BCS hopes:
The biggest reason for Oklahoma State's second-half transformation against Texas Tech was the stellar play of Robinson, who ran without abandon behind a beefy offensive line. It's what the Cowboys need to be successful and conceivably could catapult them into the first BCS bowl appearance in school history. Losses by teams in front of them like USC, Arizona, Houston, Utah and Miami will provide the Cowboys with a chance to improve in the polls later Sunday. But in order to finish the season strong with hopes for that elusive BCS berth, Robinson has to be recovered from his concussion and productive for the Cowboys' season-ending games against Colorado and Oklahoma.
Texas' defense could face bigger-than-expected tests during the next two weeks:
Fiery Texas defensive coordinator Will Muschamp was upset about his team allowing two window-dressing touchdowns against Baylor. But the Longhorns played exceptionally well early against the Bears -- particularly considering starting middle linebacker Roddrick Muckelroy was held out with a knee injury. The Longhorns lead the nation in rushing defense and total defense. They are the nation's only team to rank in the top seven in total defense, rush defense, pass efficiency defense, scoring defense and turnover margin in the NCAA's most recent statistics. And they will have a good chance to fine-tune for the Big 12 championship game and beyond when facing Kansas and Texas A&M in the next two weeks.
Remember, the Longhorns were carved up for 420 passing yards and three touchdowns by Texas Tech's
Taylor Potts
. They have competed against injury-weakened offenses from Oklahoma and Oklahoma State earlier in the season and have faced backup quarterbacks the last two weeks against UCF and Baylor. Reesing and
Jerrod Johnson
will provide them with a beneficial challenge in their last two regular-season games.
November, 10, 2009
11/10/09
12:34
PM ET
Posted by ESPN.com's Tim Griffin
As Texas streaks to its second 9-0 start since 1983, it's understandable that some are already comparing this year's team to the other team that started that fast.
Texas' 2005 national championship team is the benchmark for all of the other Texas teams coached by Mack Brown. And this team appears to be the closest to the national championship squad in many respects.
While Brown says such comparisons are premature, he does say his current team's fast start makes for some inevitable comparisons.
| | |
| --- | --- |
| | |
| | Brendan Maloney/US Presswire |
| | Colt McCoy and the Longhorns have drawn comparisons to the 2005 national championship team. |
"I would think you could compare them because there's been only one close game for this team and for that team in 2005," Brown said. "It was the Ohio State game in 2005 and the Oklahoma game this year that was in question late in the ballgame."
But in order to meet the challenge of matching the 2005 team,
Colt McCoy
's team will have to match the finishing kick of Vince Young's team.
"At this time, they've earned the right to be in conversation with the 2005 team," Brown said. "But they haven't earned the right to be considered as good because they have to finish like that bunch did."
The 2005 national championship led the conference in 11 statistical categories; the current team leads it in five. The 2005 team was the nation's leading scoring team and led the nation in pass efficiency. The current team is more defensively oriented as it leads the nation in rushing defense and scoring defense and ranks second in kickoff returns.
The 2005 title team ranked 10th or better in 10 of the 17 team statistical categories tracked by the NCAA. The 2009 team ranked 10th or better in eight of those team statistical groups.
Here's a position-by-position comparison of the two teams:
Quarterbacks:
Both teams featured quarterbacks who were involved in the Heisman Trophy race. The 2005 team had Vince Young, a multi-purpose player who accounted for 3,036 passing yards and 26 touchdown passes. Most importantly, he provided leadership for a team that had never won a Big 12 title under Brown. McCoy redshirted on that team, earning the opportunity to soak up lessons watching Young's leadership. He's capping the most productive statistical career for a Texas quarterback by passing for 2,447 yards and 17 touchdowns with at least three games remaining -- not counting a potential Big 12 championship game and a bowl. And his leadership skills are comparable with Young's in guiding his team to an undefeated season so far.
Edge: Even
Rushing game:
The 2005 team relied on Young, who rushed for a team-high 1,050 yards and scored 12 touchdowns and also had a strong starter in Jamaal Charles and an outstanding change-of-pace player in Ramonce Taylor. That team produced 55 rushing touchdowns and had five different backs with eight rushing touchdowns or more. The current team's rushing game might be its major weakness without a featured rushing threat, as no current back has rushed for more than 275 yards. Depending on game situations, the team has utilized any of three starters, but its most consistent producer has been
Cody Johnson
, who will become its fourth starter this week against Baylor.
| | |
| --- | --- |
| | |
| | Mark J. Rebilas/US Presswire |
| | Vince Young quarterbacked the 2005 Texas team to the national title. |
Edge: 2005 Texas
Receivers/Tight end:
The 2005 team had a stacked collection of receivers led by top deep threat Billy Pittman and Limas Sweed. But the most consistent receiving threat for Young was tight end David Thomas, who produced 50 receptions, including a career-best 10 in the BCS title game victory over USC. But that team had no receiving threat to match
Jordan Shipley
, who has already produced 75 catches, four double-figure reception games and broken the school single-game receiving yardage record.
Dan Buckner
developed early into a receiving threat at flex end and
Malcolm Williams
,
James Kirkendoll
and
John Chiles
all have been strong in an offense that has lived by short passes. But Shipley has been the focal point of a passing game that features short, quick passes as its primary offensive weapon.
Edge: 2009 Texas
Offensive line:
The 2005 team featured three-first team All-Big 12 picks in Justin Blalock, Jonathan Scott and Will Allen. Because of Young's mobility, that team allowed only 14 sacks and produced 5.9 yards per carry and 55 rushing touchdowns. The current team is nearly as strong with key players like Adam Ulatoski, Charlie Tanner and Chris Hall, who have currently combined for 99 career starts and should be peaking as the season continues. The current team is producing 3.9 yards per carry, 16 sacks and 20 rushing touchdowns.
Edge: 2005 Texas
Defensive line:

The 2005 team featured first-team All-Big 12 players like Rodrique Wright and Tim Crowder and pass-rushing specialist Brian Robison, a converted linebacker who led the team with sacks. But that team didn't feature anybody as proficient as Sergio Kindle or a run-stuffing tackle like Lamarr Houston. It's the main reason the current Texas team leads the nation in rush defense (55.33 yards per game), total defense (230.78 yards per game) and ranks in the top 20 in both sacks and tackles for losses. The 2005 team was 39th nationally in sacks and 29th in tackles for losses.
Edge: 2009 Texas
Linebackers:
The 2005 unit was at its weakest at linebacker where no players earned All-Big 12 first-team or second-team designation. Robert Killebrew was that team's only player to earn honorable mention. The current team features an anchor in the middle in senior linebacker Roddrick Muckelroy, flanked by Keenan Robinson and Emmanuel Acho. Will Muschamp's unit seldom uses three linebackers except in run-stuffing situations, preferring to use a nickel formation. But his current group still has the edge at linebacker over the championship team.
Edge: 2009 Texas
Secondary:
The 2005 team might be one of the great college units of all time. That team featured the Thorpe Award winner in Michael Huff and another all-league player in Cedric Griffin. Huff, Cedric Griffin, Michael Griffin, Aaron Ross and Tarell Brown all were drafted in the NFL and had eventual pro careers. The unit was nearly impermeable as it broke up 85 passes and permitted only two teams to pass for more than 200 yards against them. The current group is young and skilled and might develop into as strong of a group with experience.
Earl Thomas has played like the best defensive back in the country this season with six interceptions, including two touchdown returns. Curtis Brown, Chykie Brown, Aaron Williams and Blake Gideon have already helped the defense combine for 16 interceptions. And the group is playing with swagger as the season continues.
The current group could match the eventual production of the 2005 team, but it still has to get there.
Edge: 2005 Texas
Special teams:
Neither team had to punt very often, but Hunter Lawrence has a narrow edge over David Pino at kicker for his consistency and range. The biggest difference is in the return game. The current team features two threats with D.J. Monroe (two TDs, 36.5 yards kick return average) and Shipley (14.5 punt return average, two TDs), giving it an edge over Ramonce Taylor and Aaron Ross (14.7 punt return average, two TDs).
Edge: 2009 Texas
Coaching:
With largely the same cast of coaches, the 2009 team appears to be better coached. In 2005, Brown was trying for his first Big 12 title and utilized defensive co-coordinators with Gene Chizik and Duane Akina. It often seemed that the individual talents of Young took over the game during that championship season. But this team features a better job by Greg Davis as he compensates for his team's lack of a consistent running game by developing a crafty passing game utilizing quick short passes. And the defense has taken big steps this season in its second season under Muschamp.
Edge:2009 Texas
Intangibles:
The 2005 team was trying to become Brown's first Big 12 title team and played well throughout. It started with a dramatic comeback victory over Ohio State and continued with a run through the Big 12 that featured no victory less than 19 points. The 2005 team needed a comeback over Oklahoma State, but Young helped the team peak as the Longhorns scored at least 40 points in 12 games. The team rolled to victories of 62, 52 and 11 points in November before notching a record-breaking 70-3 triumph over Colorado in the Big 12 title game and the 41-38 BCS title game victory over USC.
This team hasn't faced many tests, although it did handle Oklahoma in a 16-13 triumph that ranks as its closest margin. Other than that game, the 2009 Longhorns have rolled up at least 34 points in every game and allowed more than 20 points on only two occasions. But it still has its chance to finish strongly in November like the 2005 team did.
Edge: 2005 Texas
If they met:
The 2005 team still would merit a slight edge, mainly because this team doesn't have a transcendent talent like Young. But the current team is developing and could have a chance to match the championship with a strong finish.
Edge: 2005 Texas
July, 15, 2009
7/15/09
2:00
PM ET
Posted by ESPN.com's Tim Griffin
Despite his productivity with Texas' defense, linebacker Roddrick Muckelroy might be one of the most underrated defensive players in the Big 12.
| | |
| --- | --- |
| | |
| | Brian Bahr/Getty Images |
| | Roddrick Muckelroy will be expected to help lead the Texas defense in 2009. |
Muckelroy led Texas in tackles last season, starting all 13 games at middle linebacker. His 8.6 tackles per game ranked 50th nationally, including a career-best 16 tackles in the Longhorns' victory over Oklahoma.
Texas defensive coordinator Will Muschamp is counting on Muckelroy to step up even more during his senior season, when he will be counted as one of the leaders of the Texas defensive unit.
We caught up with Muckelroy for a few minutes after a recent practice to talk to him about how the Longhorns were affected by sharing the Big 12 championship but not advancing to the championship game. He also discussed growing up in tiny Hallsville, Texas, his comeback from a serious finger injury and his development in football techniques since he arrived at Texas.
How would you describe your career so far at Texas?
Roddrick Muckelroy: It's been a lot of work. Coming into college was a challenge for me with a different attitude and different terminology in the defense I had to learn. I just had to learn how to practice and dealing with the meetings in order to prepare myself to contribute here.
Some of your teammates have described, in detail, how you had to learn how to watch film after you arrived at college. How much of a challenge was that?
RM: When I got here, I really didn't know much about watching film or studying my playbook. I didn't really know what to look for. I think the first time they showed film to us, I was just watching it just to watch guys make plays. It was a big transition from high school to get where I am now.
How have you changed in what you look for as you study opponents?
RM: That's what film is for. You learn to study the game and you get a good idea of what the offense is running. I've found that you just learn a lot as time goes by. I've learned how to break down film about an offense.
March, 5, 2009
3/05/09
5:00
PM ET
Posted by ESPN.com's Tim Griffin
Texas fans think they've seen Will Muschamp at his most bombastic.
Sure, "Coach Boom" had some combustible moments last season along the sideline after sacks and big third-down stops. But Muschamp kept some of his emotion under wraps at times because his defense didn't do a good job of forcing turnovers during his first season.
The Longhorns came only a couple of seconds away from challenging for the BCS championship. Their performance was amazing considering they were only plus-2 in turnover margin to rank 49th nationally.
Top-25 turnover margin
Team
Record
Turnover margin
1. Florida
13-1
+22
2. Utah
13-0
+13
3. USC
12-1
+7
4. Texas
12-1
+2
5. Oklahoma
12-2
+23
6. Alabama
12-2
+6
7. TCU
11-2
+13
8. Penn State
11-2
+7
9. Ohio State
10-3
+16
10. Oregon
10-3
+5
11. Boise State
12-1
+7
12. Texas Tech
11-2
+8
13. Georgia
10-3
-3
14. Mississippi
9-4
-2
15. Virginia Tech
10-4
+14
16. Oklahoma State
9-4
+5
17. Cincinnati
11-3
-8
18. Oregon State
9-4
+1
19. Missouri
10-4
-4
20. Iowa
9-4
+8
21. Florida State
9-4
Even
22. Georgia Tech
9-4
+2
23. West Virginia
9-4
+12
24. Michigan State
9-4
+2
25. BYU
10-3
+2
It might be the most curious statistic of all last season, considering the Longhorns had the best pass rush in the nation with a nation-leading 47 sacks and led the Big 12 in total defense, scoring defense and rushing defense.
Even with those factors, the Longho
rns struggled with an inability to make big defensive plays all season. Texas ranked 104th nationally and worst in the Big 12 with only 16 turnovers forced last season.
The most critical play of the season was safety Blake Gideon's drop of an interception in the final seconds against Texas Tech. On the following play after the reprieve, Graham Harrell and Michael Crabtree hooked up on the game-winning 28-yard touchdown that led to Texas' only loss.
"We had double-digit opportunities for more turnovers last year that we just missed," Muschamp said. "We've got to do a better job this season."

Texas players are learning strip techniques and punching the ball from their first workouts this spring as they attempt to improve their turnover-producing skills.

"That's something that's new this year," senior linebacker Roddrick Muckelroy said. "Coach Muschamp is trying to coach that. He felt that it was a mistake last year that he didn't coach trying to force turnovers. We're starting now, and hopefully it will turn over for us once we go into the season."
Muschamp's stated goal is to force three turnovers per game this season. The extra attention has already gotten into the heads of returning players who remain embarrassed at last year.
"We had about 30 that we let get away from us," junior cornerback Chykie Brown said. "I know myself that I let about four go. And (sophomore safety) Earl (Thomas) had about six."
Turnover margin usually is a pretty good determinant of overall team success. BCS title game participants Oklahoma and Florida were 1-2 nationally in turnover margin at plus-23 and plus-22. Texas had the second-lowest turnover ratio of the 10 teams that made BCS bowls, ahead of only Cincinnati at minus-8.

"For us to be plus-2 in turnover ratio as a team, and you have teams like Oklahoma that were plus-23 and Florida that was plus-22, it was amazing we did as well as we did," Texas coach Mack Brown said. "The defense is motivated by those numbers to come up with more turnovers, and we want to continue to take care of the ball on offense."
Muschamp has also made highlight films to show the plays that each defensive player made and those he didn't. And each workout this spring is designed to bolster competitiveness and game readiness.
"We had a lot of opportunities to get turnovers that we didn't capitalize on last season," Texas senior defensive end-linebacker Sergio Kindle said. "We've just got to make it happen when it comes this season."
For his part, Muschamp isn't over-analyzing the performance of other teams as a way to increase Texas' ability to create turnovers.
"I've been a part of defenses that have led the nation in turnovers," Muschamp said. "I know that it comes and there are times the ball bounces your way and times when it doesn't. You've just got to keep playing, keep swinging and eventually the ball is going to bounce our way.
"We've just got to do a better job of emphasizing turnovers and making the kids more cognizant of situations to punch the ball loose and finish plays."
But Kindle said the Longhorns should be held accountable for their struggles last season as they try to improve for the upcoming season.
"I wouldn't say it's luck. We just didn't get it done," Kindle said. "When the ball hits you in the hands, there's no reason to drop it, or if you are picking up a fumble and miss it. We've got to get better.
"I'm hoping we can force them better and then get the other team hesitant about doing things where they start making mistakes on their own. Those are things that we really need to capitalize on if and when we get the chance."
September, 11, 2008
9/11/08
8:46
AM ET
Posted by ESPN.com's Tim Griffin
Bob Stoops turned 48 earlier this week. And while the Oklahoma coach is revered in the Sooner State, it wasn't a holiday or anything.
At least not that we know of.
Oklahoman columnist Berry Tramel put his spin on Stoops' birthday in a unique way. He compared the career stages for other notable Oklahoma football coaches when they turned 48.
Barry Switzer's wishbone was struggling a little when he turned 48 in 1985 with Troy Aikman as his starting quarterback. Bud Wilkinson was in the middle of his run for the U.S. Senate in 1964. Chuck Fairbanks was trying to rebuild a struggling program at Colorado, well after his salad days at OU. Bennie Owen was getting ready for his 19th season as the Sooners' head coach. And Howard Schnellenberger was preparing for his fourth season as Miami's head coach, only 23 victories into his college head-coaching career.
With Stoops apparently excited about continued coaching at Oklahoma, it will be interesting to see what happens for him in the years after his 48th birthday.
Of a more immediate interest for him will be his team's trip to Washington to attack some nasty road karma. Joseph Duarte of the Houston Chronicle writes that Stoops currently has a nation-best 20-game home winning streak at Owen Field. During that same time, the Sooners are a more pedestrian 12-9 on the road.
Those recent road woes have raised the stakes for Saturday's game at Husky Stadium.
"For me, this is the game of the year because this sets the tone for our future road games and sets the tone for our team," redshirt freshman LB Travis Lewis told the Chronicle. "It's easy playing in front of 85,000 who love you, but what about the 80,000 who hate you?"
It will make Saturday's game the biggest test for the Sooners so far this season. If Stoops can win, he would become the fourth OU coach to have won 100 games during their careers at the school, joining Wilkinson, Switzer and Owen.
Pretty select company, indeed.
Kind of like being included with these morning links: