NCF Nation:

Rodney Garner
November, 15, 2013
Nov 15
1:30
PM ET
AUBURN, Ala. --
Aaron Murray
isn't about to face his former team. He didn't rush for 214 yards and two touchdowns last week, earning SEC player of the week honors. He's not
Nick Marshall
.


But amidst all the injuries, Murray has remained the one constant for this Georgia football team.
Despite losing multiple weapons on offense, Murray is still third in the SEC with 2,477 yards passing and tied for second with 20 touchdowns. On Saturday, the senior threw his 115th career touchdown pass to become the league's all-time leader.
"He's good at everything does," Auburn coach Gus Malzahn said. "He can hurt you in the pass game. He's a veteran guy. He's pretty fast when he takes off, and he knows how to run an offense. He's one of the better quarterback to ever play in this league, and I think that says it all."
But Auburn has an ace up its sleeve when Murray comes to town this weekend. First-year defensive coordinator Ellis Johnson has been around the SEC, and he faced the Georgia quarterback twice while he was running the defense for South Carolina.
As a freshman, Murray finished 14-of-21 for 192 yards against the Gamecocks with no touchdowns and no interceptions. He was sacked three times. The next year, he fared better, throwing for 248 yards and four touchdowns, but Georgia still lost. He's won a lot of games in his career, but he's yet to beat Johnson.
[+] Enlarge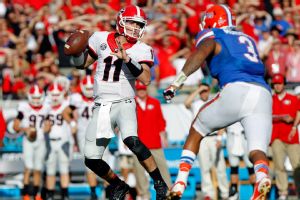 Kim Klement/USA TODAY SportsAaron Murray's experience will help against Auburn, but he'll face a defense that can lean on its defensive coordinator's experience.
"He's gotten better each year," Johnson said. "You could tell he was a winner and he was a playmaker in his early years, but I've noticed how much better he feels when he needs to move in the pocket. He knows when he can extend the play, and he's doing some things that a veteran, if you will, knows how to do."
Johnson will have his unit prepared and Auburn has improved dramatically under Johnson.
The Tigers are up 44 spots from last year in scoring defense (66th to 22nd). They have allowed 204 points through the first 10 games, the fewest points Auburn has allowed through 10 games since 2008. They're also second in the SEC in red zone defense.
"He's outstanding," Georgia coach Mark Richt said. "There's a reason why Auburn is playing so much better on defense. He's got a long history of going to different places, and within the very first season, turning that thing around statistically in a big way. He's done it again here at Auburn.
"As much as running the football has been big for Auburn and Nick Marshall playing great has been big, the defense has been a big part of this turnaround as well."
Johnson isn't the only one who knows the Bulldogs well. First-year defensive line coach Rodney Garner spent 15 seasons in Athens, Ga., before accepting the same role with Auburn in the offseason. He knows this Georgia team inside and out.
But familiarity with a team only goes so far.
"I think people know what we're going to do," Richt said. "So can they out-execute us? Same thing with us, can we out-execute them? After a while, there's really not many secrets. The reality is we all get each other's film. We get every single game film that we want, so you can't really hide what you do."
There's a lot at stake for both teams Saturday. Murray is hoping to keep Georgia alive in the SEC East, but it's up to Johnson and this Auburn defense to stop him. The Tigers are just two wins away from a trip to Atlanta for the conference title game.
February, 6, 2013
Feb 6
10:42
AM ET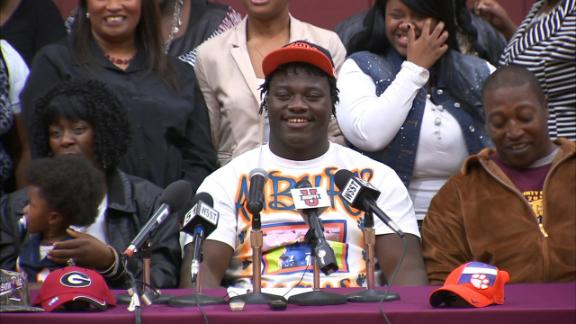 VIENNA, Ga. -- For a moment, rural Dooly County High School was the center of the college recruiting world as the nation's No. 2 defensive tackle prospect,
Montravius Adams
, finally announced on ESPNU where he would be attending college. After taking official visits to Florida, Clemson, Alabama, Georgia and Auburn over the last five weekends, it seems that getting the last word with Adams was the secret to winning him over.
"I want to thank my family and my coaches for helping me through the process and for making me a better person," he said Wednesday morning during the announcement at his school. "I only have one more thing to say, and that is War Eagle!"
Adams said early in his recruitment that he would like to leave the Peach State to continue his football career. Clemson appeared to be the early front-runner, as the Tigers' coaching staff was the first to offer the Under Armour All-American. More than 20 programs followed suit, and in the end Auburn and new coach Gus Malzahn prevailed.
"I loved Clemson, but in the end I think Auburn was the right choice for me," Adams said. "My mom loved everything about Auburn. The school, the coaches -- everything."
In-state power Georgia did everything it could to secure its top remaining target, but former UGA recruiting coordinator Rodney Garner departing for Auburn was a critical blow.
"Coach Garner going over there helped a lot," Adams said of choosing the Tigers. "If he hadn't have gone there I would not have looked at Auburn. It would have helped Georgia if he had stayed."
What is the impact of Adams' decision?
To continue reading this article you must be an Insider
December, 26, 2012
12/26/12
10:40
AM ET
New Auburn coach Gus Malzahn has obviously placed a premium on SEC experience in assembling his staff.
The latest addition was Melvin Smith, who will coach the Auburn cornerbacks after serving two different stints on the Mississippi State staff. Smith first worked at Mississippi State under Jackie Sherrill from 1995-2001 and returned to Starkville in 2006 under Sylvester Croom and was retained by Dan Mullen in 2008 when Mullen took over as the Bulldogs' coach.
Smith's two cornerbacks at Mississippi State,
Johnthan Banks
and
Darius Slay
, combined for nine interceptions this season. Banks won the Thorpe Award as the top defensive back in college football.
Smith has 18 years of coaching experience in the SEC, which is a common theme on the staff Malzahn is putting together on the Plains.
Defensive coordinator Ellis Johnson, co-defensive coordinator Charlie Harbison, offensive coordinator Rhett Lashlee, assistant head coach, recruiting coordinator and defensive line coach Rodney Garner and offensive line coach J.B. Grimes also have extensive coaching experience in the SEC.
Among them, the new Auburn assistants have combined for 75 years of coaching experience in the SEC and have spent time at 11 different schools currently in the SEC.
December, 21, 2012
12/21/12
10:20
AM ET
Even though Rodney Garner had been at Georgia for 15 years, there was always that feeling that he was about to bolt for another job.

Just about every year, his name was linked to some other job opening. And when Lane Kiffin took the Tennessee head coaching job in 2009, Garner interviewed for a position on the Vols' staff.
The bottom line: Good recruiters are always in demand in the SEC, and Garner is one of the best (and most proven) recruiters in the business. He's also coached his share of outstanding defensive linemen during his time at Georgia.
It's not a surprise that
he's leaving for Auburn
as assistant head coach, defensive line coach and recruiting coordinator. After all, it's his alma mater, and 15 years at one place is an eternity in this league. Garner started at Georgia under Jim Donnan and was retained when Mark Richt came aboard in 2001. He began his coaching career at Auburn and has maintained a close relationship with Auburn athletic director Jay Jacobs.
Getting Garner is a coup for new Auburn coach Gus Malzahn, who's assembling a star-studded staff. It's pretty obvious that Malzahn has placed a premium on bringing in coaches with strong SEC ties. Ellis Johnson, Charlie Harbison, Rhett Lashlee, J.B. Grimes and Garner all have extensive SEC experience.
February, 3, 2010
2/03/10
3:25
PM ET
Many of the Georgia fans are lamenting the players Georgia lost late in the recruiting game, but the Bulldogs are still headed for a nationally ranked class.
According to the
school's official site
, the Bulldogs signed 18 players on Wednesday. Fans can go to that site to see bios on the newest Bulldogs and watch video of them.
Also, here's
video of coach Mark Richt
and recruiting coordinator Rodney Garner talking about this class.
September, 8, 2009
9/08/09
9:45
AM ET

Posted by ESPN.com's Chris Low
Picking the best recruiting closers in the SEC is like picking the best of Michael Jordan's highlights.
How do you pick just five?
Here goes my best college try:
1. Nick Saban, Alabama head coach:
Nobody has recruiting down to a science the way Saban does. He leaves no stone unturned and knows every detail about every single prospect the Crimson Tide are recruiting. Look at his last two recruiting classes at Alabama. His handprints are all over them. When Saban gets into the living room with a recruit and his family, rarely does he come in second.
2. Rodney Garner, Georgia assistant head coach, recruiting coordinator and defensive line coach:
Garner's been a force when it comes to recruiting in the SEC at three different schools -- Auburn, Tennessee and now Georgia. Just look at the running backs he's signed. He recruited Stephen Davis to Auburn, Jamal Lewis to Tennessee and Knowshon Moreno to Georgia.
3. Urban Meyer, Florida head coach:
While it's true that Meyer has the most fertile recruiting base in all of college football, he has the Florida recruiting machine rolling to the point where the Gators are picking who they want in that state. But he's also been able to go outside the state and get great players. See Percy Harvin, Brandon Spikes, Joe Haden, Carlos Dunlap and
Aaron Hernandez
.
4. Ed Orgeron, Tennessee assistant head coach, recruiting coordinator and defensive line coach:
He's Mr. Relentless and never gives up on a prospect. Players love his passion and the way he relates to them during the whole process, which can obviously be crazy at times. He's been a wiz at bringing in great defensive linemen wherever he's been, and has also been known to turn kids at the last minute. The Vols got three nationally rated prospects after signing day this past February.
5. Larry Porter, LSU assistant head coach and running backs coach:
Every good recruiting staff has a go-to guy. Porter is the Tigers' go-to guy and a big reason they've continued to pull in highly ranked classes every year. He's gotten kids out of Texas, out of Louisiana and all points in between. The players he's recruited all say the same thing about Porter: He builds a sense of trust with them that's hard to say no to.
Posted by ESPN.com's Chris Low
Here's a handy guide of what to look for on national signing day thanks to the folks at ESPN's Scouts Inc.
It includes a list of the top uncommitted players, as well as a "Best of the BCS conferences" section where we take our stab at the best recruiters, best closers, best facilities, best stadiums, best campus life and much more in each BCS conference.
Here's what we came up with for the SEC. Where were we right, and where were we wrong?
Best recruiter: Nick Saban, Alabama
Best closer: Rodney Garner, Georgia
Best facilities: LSU
Best stadium: Tennessee (Neyland Stadium)
Best game-day atmosphere: LSU
Best chance to play as a freshman: Arkansas
Best uniforms: Georgia
Best academics: Vanderbilt
Best campus life: Ole Miss
Most tradition: Alabama
Most likely to get players to the NFL: Georgia
Most exposure: Florida
January, 4, 2009
1/04/09
1:08
AM ET
Posted by ESPN.com's Chris Low
Rodney Garner said he hopes to have a quick decision on whether he'll leave Georgia and return to Tennessee.
Garner and his wife, Kim, were in Knoxville on Saturday meeting with new Tennessee coach Lane Kiffin, who's offered Garner a job on the Vols' staff.
"It was a good visit. I got to see some old friends, got to meet Monte (Kiffin), Coach (Ed) Orgeron and all the coaches," said Garner, the assistant head coach, recruiting coordinator and defensive line coach at Georgia. "They're putting together quite a staff, and I hope to come to some conclusion by (Sunday) afternoon."
Garner coached at Tennessee in 1996 and 1997 before joining the Georgia staff. He coached tight ends and offensive tackles with the Vols before switching to defensive line with the Bulldogs.
If he decides to return to Tennessee, there's a chance he would return to the offensive side of the ball, possibly as some type of running game coordinator.
"It's best that Coach Kiffin talk about all that, but it's something I think could definitely enhance my career," said Garner, who played on the offensive line at Auburn. "I'm comfortable on either side of the ball."
Garner earned $253,000 this season at Georgia. His salary at Tennessee, if he takes the job, could approach the $400,000 figure.
One of the best recruiters in the SEC, Garner has also coached four first-round draft selections in the defensive line at Georgia -- Richard Seymour, Marcus Stroud, Johnathan Sullivan and Charles Grant.
TOP 25 SCOREBOARD
Saturday, 12/21
Monday, 12/23
Tuesday, 12/24
Thursday, 12/26
Friday, 12/27
Saturday, 12/28
Monday, 12/30
Tuesday, 12/31
Wednesday, 1/1
Thursday, 1/2
Friday, 1/3
Saturday, 1/4
Sunday, 1/5
Monday, 1/6
TOP PERFORMERS