November, 29, 2012
11/29/12
5:00
PM ET
Florida State is in. The Jackets are in. How they got here is a moot point. One of them will be crowned ACC champ on Saturday. Here's a primer for those of you who need to get caught up:
Who:
No. 13 Florida State (10-2, 7-1 ACC) vs. Georgia Tech (6-6, 5-3 ACC)
What:
Dr Pepper ACC Championship game
When:
Saturday at 8 p.m. ET


Where:
Bank of America Stadium, Charlotte, N.C.
TV/Radio:
ESPN
Twitter:
#ACCFCG
The coaches:
Jimbo Fisher:
29-10 (third year) at Florida State and overall
Paul Johnson
: 39-25 (fifth year) at Georgia Tech; 146-64 (16th year) overall
The series:
All games:
Florida State leads 12-9-1;
In bowls and at neutral sites:
First meeting
In ACC play:
Florida State leads 12-2
Last meeting:
Georgia Tech 49, Florida State 44 (Oct. 10, 2009 at FSU)
FSU title game history:
Florida State will be seeking its 13th ACC championship. The Seminoles won or shared the title for the first nine seasons after they joined the conference (1992-2000), and went on to capture the national championship in 1993 and 1999. The Seminoles were also ACC champions in 2002, 2003 and 2005. FSU is making its third appearance in the ACC championship game. The Seminoles defeated Virginia Tech 27-22 in the inaugural event in 2005 in Jacksonville, Fla., and suffered a 44-33 loss to the Hokies in 2010 in Charlotte.
GT title game history
: The Yellow Jackets captured their first of two ACC titles in 1990, when they went on to claim the national championship. Georgia Tech shared the title with Florida State in 1998. The Yellow Jackets are making their third appearance in the ACC championship game since its inception in 2005. Georgia Tech suffered a 9-6 loss to Wake Forest in the 2006 championship game in Jacksonville, Fla. The Yellow Jackets defeated Clemson 39-34 in 2009 in Tampa, Fla., but later vacated the win and the ACC title because of NCAA sanctions.
FSU stat stars
DE Bjoern Werner:
He ranks third nationally and leads the ACC in QB sacks per game with 1.08 and is tied for 15th in total tackles for lost yardage per game (1.50). Werner's 18 TFL this season have accounted for 134 yards in lost yardage. Werner now has 13 sacks this season.
QB EJ Manuel:
He ranks eighth nationally in passing efficiency with a 160.01 rating and leads an offense that averages 41.5 points per game and has scored at least 51 points in four regular-season games.
PK Dustin Hopkins:
He now ranks third on the all-time NCAA FBS scoring list with 456 points. Hopkins trails Travis Prentice of Miami (Ohio) by 12 points for second place all-time. He enters Saturday's game tied for the all-time lead in field goals among NCAA FBS kickers with 87.
WR Rodney Smith:
He has caught a pass in 37 consecutive games, one shy of the school record. E.G. Green (1994-97) holds the school record for most consecutive games with a reception at 38.
Georgia Tech stat stars
RB Orwin Smith:
His 9.43 career yards per carry is the best for any ACC running back who has gained 1,000 or more yards. Smith has 1,830 yards on 194 carries and 20 touchdowns. His 61.2 yards per game leads the team.
QB Tevin Washington:
His 36 career rushing touchdowns are an ACC and school record by a quarterback. Washington leads all active conference players in rushing touchdowns, and his 216 points scored rank seventh. He has improved his completion percentage by more than 12 percentage points (47.1 in 2011 to 59.6 in 2012).
KR Jamal Golden:
He ranks second in the ACC and 10th nationally in kickoff returns with 29.0 yards per runback, including two returns for touchdowns.
LB Jeremiah Attaochu:
He leads the team and ranks third in the ACC with eight sacks in 11 games (.73 per game).
October, 27, 2012
10/27/12
7:12
PM ET
TALLAHASSEE, Fla. -- The game was billed as a battle of division leaders, but Duke hardly looked the part Saturday as Florida State dominated the Blue Devils en route to
a 48-7 victory
.


Despite Duke's upstart status this season, little has changed in its rivalry with the Seminoles.
EJ Manuel
threw for 282 yards and two touchdowns,
Tyler Hunter
added a 75-yard punt return for a score and Florida State cruised to its 18th victory in as many tries against the Blue Devils.
It was over when:
James Wilder Jr.
rumbled into the end zone from 1 yard out just 1:50 into the second quarter. That touchdown put Florida State ahead 24-0, and it was already clear that in spite of all the buzz leading up to the game surrounding Duke's sudden resurgence, the Blue Devils simply weren't in the same class as the Seminoles.
Game ball goes to:
Wilder and
Devonta Freeman
. There were plenty of stout performances, from Manuel's long passes to stellar defensive work by
Cornellius Carradine
and
Christian Jones
. But coming into the game, the big question was how Florida State's ground game would respond to the loss of starting tailback
Chris Thompson
, and Freeman and Wilder offered an emphatic answer. The pair combined for 174 yards on 25 carries and scored three times on the ground. Since Thompson's injury, Wilder and Freeman have averaged 6.8 yards per carry.
Stat of the game:
Manuel wasn't asked to do much against Duke, but when he unloaded in the passing game, it was usually for a big play. Manuel averaged 17.6 yards per attempt against Duke -- the highest average of his career. Five of Manuel's eight completions gained at least 30 yards, and he finished with 282 yards passing. In his two career starts against Duke, Manuel has completed just 17 passes, but five have gained 50 yards or more. Meanwhile, Duke's quarterbacks averaged just 3.6 yards per attempt Saturday.
Unsung hero:
Dustin Hopkins
. OK, so neither of his field goals meant a whole lot in determining the outcome, but Hopkins connected on a 56-yard kick with 9:40 to go in the fourth quarter to set the ACC's all-time record for most field goals in a career, eclipsing former Maryland kicker Nick Novak. Hopkins has 15 field goals in his last five games, but the 58-yarder was a career-long for the senior. He's just 10 points shy of setting the NCAA record for most points scored in a career.
Record performance:
Hopkins provided the only ACC record of the day, as Duke's
Conner Vernon
will have to wait to set the conference record for receiving yards. Vernon entered play needing 94 yards to break Peter Warrick's career mark for ACC receivers, but he managed just three catches for 12 yards.
Cause for concern:
It was an easy win for Florida State, but fumbles remained a big problem for the second consecutive game. FSU coughed up the football four times Saturday, with Duke recovering each of them. This comes on the heels of a six-fumble performance against Miami last week. The problems were across the board, too, with Manuel fumbling on a QB run,
Rodney Smith
fumbling after a long reception, Freeman coughing up the football on a running play and Hunter muffing a return.
October, 4, 2012
10/04/12
10:15
AM ET
What should you be watching in the ACC in Week 6? Glad you asked.
1. Can Miami deliver a marquee victory?
Just think about how great it would be for the ACC if both Florida State and Miami were Top 25 teams again, the way they used to be. Miami has a major opportunity Saturday against No. 9 Notre Dame. A win in this game would give the Hurricanes their first victory over a top-10 team since defeating No. 8 Oklahoma in 2009. They will be facing the best defense they have seen so far, but Miami has some pretty dynamic offensive players that could give the Irish fits.
Stephen Morris
is playing lights out right now, better than any quarterback the Irish have faced this season. Morris versus the Notre Dame D will be a great matchup to watch.
2. David Amerson vs. Florida State receivers.
It is plain to see that Amerson is not the player he was a year ago. His coach, Tom O'Brien, put it more bluntly when he said, "The film doesn't lie." Amerson gave up two long touchdown passes against Tennessee in the opener, and two long touchdown passes last week to Miami, including the game winner. Florida State presents another tough challenge given the playmakers on the outside, from
Kelvin Benjamin
to
Kenny Shaw
to
Rashad Greene
to
Rodney Smith
. Amerson can't whiff this week against the Noles.
3. Hello, Phillip Sims.
Coach Mike London says Sims will most likely be the starter against Duke in a critical Coastal Division game. Sims would be making his first career start, after transferring in from Alabama during the summer. The No. 1 thing the Hoos will need from him is to protect the football.
Michael Rocco
had too many costly interceptions and just didn't do enough in Virginia's three-game losing streak.
[+] Enlarge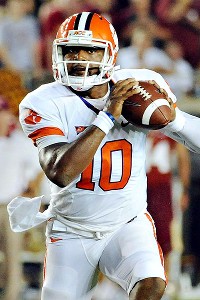 Melina Vastola/US PresswireTajh Boyd could become Clemson's all-time leader in passing touchdowns on Saturday.
4. Clemson record watch.
Considering what the Georgia Tech defense has looked like the past few weeks, it is a near certainty that Clemson quarterback
Tajh Boyd
will become the school's all-time touchdown leader Saturday. Boyd needs one touchdown pass to become the school's career leader. He has 49 going into the game, tied with Charlie Whitehurst, who set the mark from 2002 to '05. Also, receiver
DeAndre Hopkins
needs two catches to pass Derrick Hamilton for second place on the career receptions list. Hopkins has 166 headed into the game. Aaron Kelly set the school mark of 232 from 2005 to 2008.
5. Can Virginia Tech snap out of its funk?
Though the Hokies beat Georgia Tech in the season opener, there were warning signs that this season may not go smoothly. Indeed, Virginia Tech has struggled in every phase on offense (
Logan Thomas
, run game, offensive line), while the defense has had breakdowns at critical moments. Can they get all that fixed at North Carolina on Saturday? Let's not forget the Hokies are 1-0 in ACC play and have won 23 straight road conference openers.
6. Can Duke keep it up?
The Blue Devils are not throwing a bowl party just yet, but they are off to their best start since 1994 and have had recent success against their opponent this week, Virginia. Duke has won three of the past four meetings between the two teams. The Blue Devils need two more wins to become bowl eligible, and the way the rest of the schedule sets up, Duke has got to win this game. If they don't, it will be difficult to find two wins in their final six games (at Virginia Tech, North Carolina, at Florida State, Clemson, at Georgia Tech, Miami). Keep an eye on the status of quarterback
Sean Renfree
, who has an elbow injury.
7. Maryland opens conference play.
Maryland, the last ACC team to play a conference game, hosts Wake Forest following a bye week. Wake Forest has really struggled defensively this year with injuries to some key starters and is going to have its hands full with
Stefon Diggs
, who's having a breakout freshman season. Maryland has shown signs of improvement each week and is favored to win.
8. Who can break their losing streak?
Maryland, Boston College and Georgia Tech go into the weekend on two-game losing streaks; Virginia has lost three straight. Will anybody break their losing skid? Georgia Tech has had only one three-game losing streak in the past five years (in 2010 against Clemson, Virginia Tech and Miami).
9. Do we know any more about North Carolina?
The last time we saw the Tar Heels in conference play, they lost to Wake Forest. They have looked good in their past two wins, but they came against overmatched opponents East Carolina and Idaho. Has the defense improved? Is the offense more in sync? Though Virginia Tech has looked shaky, Saturday's game will tell us just where the Heels stand.
10. Hitting the road.
After playing three of its first four games at home, Boston College hits the road to play Army. The Black Knights run a style of offense similar to Georgia Tech's, but they have had some problems on defense -- much bigger than that of the Eagles. This is the start of a three-game road trip for BC, with games following at Florida State and Georgia Tech.
August, 27, 2012
8/27/12
2:00
PM ET
For once, Andrea Adelson and I are on the same page. Both of us think this is the year Florida State will live up to the hype. Shocking, I know.
Our opinions differ, though, on exactly how they need to do that.
Will the offensive line and running game be the key? Or will it be quarterback
EJ Manuel
and the development of his receivers?
[+] Enlarge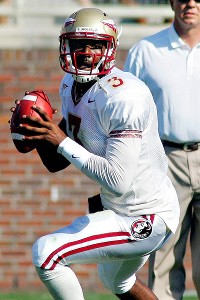 AP Photo/Phil SearsEJ Manuel is going to require a lot of help from his offensive line to his receiving corps in order to get FSU some wins this season.
Depends, of course, on who you ask ...
Heather Dinich:
It's a good thing Florida State offensive line coach Rick Trickett is a Harley Davidson-driving, cigar-gnawing, old-school, kick-in-the-pants kind of coach -- because Florida State's offensive line couldn't afford anything less this summer.
If the No. 7-ranked Seminoles are going to stay in the top 10 -- if they're going to win the ACC and aim for something even higher -- the offensive line must go from the weak link in 2011 to one of the team's greatest strengths in 2012. The running game must improve, and it all starts up front with a group that introduced four freshmen in the starting lineup against Notre Dame last year in the Champs Sports Bowl.
Last year, Florida State's running game finished No. 104 in the country. The Noles tied for No. 110 in sacks allowed. And the linemen didn't create enough holes for the running backs, who also had too many mental errors.
Does that sound like a top-10 team? Well, that's why it wasn't. The Noles sank to No. 23 last year in the final Associated Press Top 25 after starting out No. 6 in the preseason poll.
Florida State can't possibly expect to change that with only 95 total yards of offense against Florida again. It can't possibly win its first ACC title since 2005 with only 63 rushing yards against Miami. And it certainly can't be taken seriously as a national title contender with only 41 rushing yards against Notre Dame.
Florida State's defense and its super special teams were the difference for the Noles last year. If the offensive line and ground game could match that, Florida State would be seemingly unstoppable.
It's getting closer.
The experience sophomore guards
Josue Matias
and
Tre' Jackson
got in the bowl game last year was priceless, and they continued that progress this summer. Cameron Erving's seamless transition from defensive tackle to left tackle was one of the top story lines in Tallahassee, and all three have likely earned starting jobs for the season opener against Murray State. The questions continue at center and right tackle, though, and the competition could, too. During fall camp,
Austin Barron
and
Bryan Stork
were the frontrunners at center, and junior-college transfers
Menelik Watson
and
Daniel Glauser
were the leaders at right tackle.
Overall, the Noles' offensive line has gotten bigger and stronger, but it still needs to prove that it has also gotten better.
Andrea Adelson:
We have heard plenty already this preseason about the depth Florida State has at wide receiver.
Depth is an excellent commodity to have. But here is my question -- how about playmakers? Do the Seminoles have a game-breaker at receiver who will be able to help Manuel carry this offense from good to championship caliber?
I grew up in South Florida, and have watched every Miami-Florida State game going back to the early 1980s. During the heyday of both programs, you could always count on at least one receiver that made you, well, nervous. Florida State had them in spades, between guys like Lawrence Dawsey, Tamarick Vanover, Peter Warrick, Laveranues Coles, Snoop Minnis, E.G. Green, Anquan Boldin and the like.
To that point -- FSU had one receiver on the ACC first team between 1993 and 2000. Since then, the Noles have had just one -- Craphonso Thorpe in 2003. There are a variety of reasons this program has hit a major dip in recent years. One of them has been a lack of some major talent at the skill positions.
The lack of a 1,000-yard rusher (none since 1996) or 1,000-yard receiver (none since 2002) are proof. So is the fact that Florida State has not had a receiver drafted since Willie Davis in 2007. For a program in talent-rich Florida, it is almost inexcusable for there to be a dearth of game-changers at either running back or receiver. A player like
Sammy Watkins
? He used to be found at Florida State.
The Noles have an opportunity to change that this season given some of the talent that is returning. What FSU fans will tell you is Manuel has been good at spreading the ball around to his various receivers, and that has been nearly as good as having one go-to guy emerge. Three players had 30 or more catches last season --
Rashad Greene
,
Rodney Smith
and
Kenny Shaw
.
They all return.
Willie Haulstead
also is back after sitting out last season.
Christian Green
and
Greg Dent
each averaged over 17 yards a catch last season. They are back, too.
Expectations are high for redshirt freshman
Kelvin Benjamin
to emerge as a game-changer. Florida State also has true freshman
Marvin Bracy
, a player with world class speed who may not even see the field this year. That is a testament to the depth at the position, something that is not in dispute.
But what the Noles truly need is a dynamic presence at receiver to put fear into the opposition, the way they used to do. To me, that is going to be a deciding factor in whether the Seminoles live up to all the preseason hype.
March, 22, 2012
3/22/12
9:00
AM ET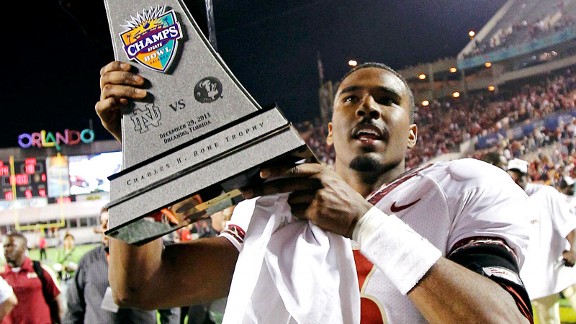 AP Photo/John RaouxQuarterback EJ Manuel and the Seminoles will focus on more offensive versatility this season.
TALLAHASSEE, Fla. — If Florida State is going to return to the upper echelon of college football in 2012, which it has been trying to do for more than a decade, the Seminoles are going to have to be more explosive on offense.
Last season, FSU ranked No. 4 nationally in scoring defense, allowing only 15 points per game, and ranked among the top 10 in net punting and kickoff returns.
The Seminoles were explosive on defense and special teams during a 9-4 season in 2011, but their offense, because of inexperience and injuries, was far from potent. FSU ranked 39th in scoring (30.6 points per game), 77th in total offense (369.1 yards), 33rd in passing (257 yards) and 104th in rushing (112.1 yards).
"When you're a great football team, you've got to be great in all three phases," FSU coach Jimbo Fisher said. "There are days on offense when you're not going to score 35 points. You've got to be good in all three phases in case that happens."
Fisher believes the pieces are in place for FSU to be better on offense this coming season. Quarterback
EJ Manuel
, who was plagued by shoulder and leg injuries in 2011, is back for his senior season. FSU's offensive line will be stronger and more experienced after four freshmen started in its 18-14 victory over Notre Dame in the Champs Sports Bowl. Tailback
Chris Thompson
is back after missing most of last season with a back injury, and the Seminoles will bring back one of the country's deepest and most talented receiver corps.
As long as the Seminoles stay healthy, Fisher expects his offense to be better in 2012.
"Everything that could have gone wrong on offense last year went wrong," Fisher said.
FSU's problems started in spring practice, when it lost starting offensive tackle
Andrew Datko
to shoulder injuries. Manuel injured his left shoulder in FSU's 23-13 loss to Oklahoma on Sept. 17 and missed the next game, a 35-30 loss at Clemson. Thompson broke two vertebrae in his back in a 35-30 loss at Wake Forest the next week and missed the rest of the season. Without Thompson, FSU's running game was never able to get going.
Fisher believes Manuel is the kind of quarterback that can lead FSU to an ACC championship and BCS bowl game. Manuel completed 65.3 percent of his passes for 2,666 yards with 18 touchdowns and eight interceptions and ranked No. 18 nationally in pass efficiency (151.2 rating) last season.
"I don't know if he played great, but he played pretty well," Fisher said. "He was banged up. Staying healthy is going to be critical for him this year."
Manuel, from Virginia Beach, Va., played most of the Champs Sports Bowl after breaking the fibula in his left leg. The injury hasn't completely healed, but Manuel is expected to participate in most of spring practice.
"It will be fine," Manuel said. "It really doesn't hurt much because it's not a weight-bearing bone. It was really painful when I was hurt, but I didn't know it was broken. I thought it was like a deep thigh bruise."
Fisher said Manuel earned the respect of his teammates by playing with a broken leg in the bowl game.
"He's very tough and very competitive," Fisher said. "He plays with pain really well. The team always comes before 'me' with him, which is a great quality."
Manuel will have plenty of weapons at his disposal. The Seminoles' top four receivers –
Rashad Greene
,
Rodney Smith
,
Christian Green
and
Kenny Shaw
each caught more than 25 passes last season – are coming back. Fisher said junior
Willie Haulstead
, who missed last season with a concussion, and redshirt freshman
Kelvin Benjamin
might be as good as any of FSU's returning receivers. Benjamin, from Belle Glade, Fla., is 6 feet 6 and 242 pounds.
"I'm extremely excited about these freshmen we have coming in," Manuel said. "Guys that were young last year like Rashad Greene and Kenny Shaw are going to be better. Our offensive line is going to be more experienced and it needs to get stronger, which they're doing."
Finding depth at tailback and solidifying the offensive line are FSU's priorities this spring. Thompson is expected to participate in spring practice, and sophomore
Devonta Freeman
is working his way back from a lower back injury. Freshman tailback Mario Pender, of Cape Coral, Fla., enrolled at FSU in January and will also compete in spring practice.
Keeping Manuel healthy will be FSU's priority when the season begins.
"Last year was frustrating, but I think it's something you build character from," Manuel said. "Injuries are a part of the game. You're never going to be healthy. You've got to play whether you're 80 or 90 percent or 20 percent. If you're going to play, you have to go out there with the mindset to win."
September, 15, 2011
9/15/11
1:00
PM ET
Yes, Florida State quarterback
EJ Manuel
said, he's human.
But no, he's not nervous about lining up against the No. 1 team in the nation. In prime time. With a "College GameDay" atmosphere. And national title implications.
As far as Manuel is concerned, bring it.
[+] Enlarge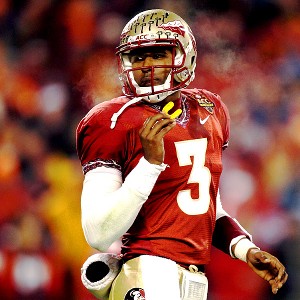 Streeter Lecka/Getty ImagesEJ Manuel, who is no stranger to big games, will face what might be his biggest challenge so far when Florida State plays No. 1-ranked Oklahoma.
"I'm excited," he said. "This is one of those opportunities, [growing] up as a little kid, playing out front of my house wanting to play in big games. It didn't really matter, whoever the big game was going on in college football when I was six, seven years old, that meant the world to me, and I always wanted to play in a game like that. This is definitely one of those games."
Manuel has played in big games before -- including against No. 1-ranked Florida in Gainesville in 2009 -- but this is by far arguably the biggest in his young career. Manuel has earned the confidence of those within the program, not only as a playmaker, but also as a leader in his first season as the Noles' full-time starter. Saturday's game against Oklahoma, though, will reveal if Manuel is ready to lead the program back to national relevance. A win over the Sooners would immediately catapult Florida State into the national title conversation.
What more does Manuel have to do now that the competition skyrockets to an entirely different level?
"Nothing as far as preparation … just keep playing the same way," coach Jimbo Fisher said. "The team he plays every day in practice, the defense he plays against every day in practice, athletic, big, have a great scheme -- pretend like it's that. He's got to prepare every week, get ready every week and have confidence in himself to make decisions and play, which I think he is doing very well right now. The secret to this whole thing to me is there is no secret. You've got to do what you know and play the game and don't look too much into it."
Manuel enters this game with just eight career starts. Oklahoma's
Landry Jones
is the veteran with 25 career starts. Manuel has been accurate, though, and has shown a lot of promise. He enters Saturday with a career completion percentage of 67.1 percent. His numbers obviously got a big boost from two lopsided wins this season against inferior opponents.
Still, it's not like he hasn't performed well before against elite competition.
Manuel last year started the ACC title game in place of injured starter Christian Ponder, and he led the Seminoles to a win over SEC East champ South Carolina in the Chick-fil-A Bowl. But if Florida State can't get more out of its running game on Saturday, FSU might have to put more pressure on Manuel than he's ready for.
Receiver
Rodney Smith
has no doubt Manuel will be prepared.
"I know he's ready," Smith said. "I'm not worried about that at all. I know he's going to come to play on Saturday. He has a lot of experience playing in big games and he pretty much comes out on top at the end of the day. I'm very happy he's going to be the one leading us into the game."
So is Manuel.
September, 15, 2011
9/15/11
11:00
AM ET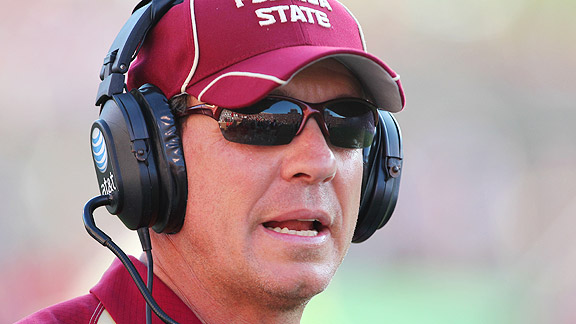 Matthew Emmons/US PresswireJimbo Fisher's Seminoles lost to Oklahoma 47-17 last season. "Hopefully, we'll be better this year."
Florida State linebacker Nigel Bradham has not watched the film of last year's 47-17 loss to Oklahoma since the Monday following that game last season.
"I haven't watched that film since," he said, "and I don't
want
to watch it."
You can't blame him.
Landry Jones
threw for 380 yards and four touchdowns that day, shredding the Seminoles' defense, which was often caught off-guard and out of position.
That was then, this is now, and those within Florida State's program are convinced this year's team is good enough to beat the No. 1 team in the nation. As the season progressed last year, so did Florida State, so much so that the Seminoles won the Atlantic Division and earned themselves a spot in the ACC championship game. Now, in only the second season under coach Jimbo Fisher, an upset of the No. 1-ranked Sooners on Saturday could have Florida State in the hunt for a national title. Fisher said the biggest difference between his team today and the last time it lined up against the Oklahoma is the maturity level and familiarity.
"You know more of your team," he said. "Last year, being the second game we played, it was still -- an interesting thing -- going on the road, big game on road. I think we know our players better and they know us better. They know our scheme better and we know what they can do in our scheme better. We'll be able to coach them better. Hopefully we got better as a football team and throughout that time, which I think we did as the year went on. Hopefully, we'll be better this year."
[+] Enlarge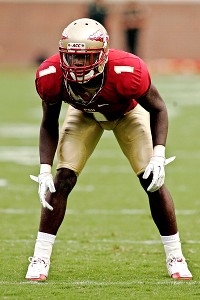 Phil Sears/US PRESSWIREMike Harris and the Florida State defense have collected 15 interceptions and allowed just 14 touchdowns in the 14 games since Oklahoma.
The numbers indicate more progress than hope.
In last year's game against Oklahoma, FSU allowed 44 points in three quarters. They also allowed 487 yards and 394 passing yards. According to ESPN's research department, the 47 points and 487 yards were the most allowed by Florida State last season. In the 14 games since, the Seminoles have held 11 opponents under 20 points, and only one opponent has thrown for more than 280 yards. Opponents have 14 touchdown passes and 15 interceptions during that span.
Part of that improvement stems from the natural progression that comes with being in the second season of the same system. The players have said they have a much better comfort level with defensive coordinator Mark Stoops and his philosophy.
"We've got a great chemistry with coach Stoops now," Bradham said. "We have more of an understanding of what he wants to do with the game plan, and understand his scheme more. That helps us a lot more. The connection with him as a person and a coach. Knowing what he likes to do in certain situations, and knowing what calls he likes to go to in certain situations has helped us out on the whole defense."
Offensively, it's a new story with a new quarterback. Former Florida State quarterback Christian Ponder's Heisman hopes were dashed in this game before they even really began. This year, there's more of a humble approach, as first-year starter
EJ Manuel
calmly readies himself for one of the biggest games of his career to date. Manuel said he is not the only one who has improved since last year.
"I think our team has really grown up from last year," Manuel said. "A lot of guys who played key positions and key roles for our team are juniors and seniors and sophomores. That experience is very good for us."
The Seminoles have scored 96 points in their first two games -- 34-0 against Louisiana-Monroe, and 62-10 against Charleston Southern -- but the offensive line hasn't quite come together yet, and the running game has yet to reach the level of consistency Fisher would like to see. The strength of this team, at least early, has clearly been the defense.
Through two games, FSU's defense has allowed 10 points, 275 total yards, and 15 first downs. Opponents have converted only 7-of-29 third-down attempts.
Those numbers, though, have come against inferior opponents.
Only Saturday's game against Oklahoma will truly reveal just how far Florida State has come since the last time it lined up against the Sooners.
"This is a different team," said receiver
Rodney Smith
. "Saturday will prove it all."
July, 1, 2011
7/01/11
10:00
AM ET
Florida State wide receiver and outfielder
Taiwan Easterling
has signed a professional contract with the Chicago Cubs and
will not return to school
, the university announced Thursday night.
"Taiwan and I talked and he's decided to pursue his career in baseball," coach Jimbo Fisher said in a prepared statement. "I totally support him 100 percent. He did an outstanding job for us.
"I would have loved to have him back, but I totally understand him pursuing his future endeavors. Baseball is the way for him to go and we wish him nothing but the best."
The good news:
Florida State is still very talented at wide receiver and there's a lot of young stars waiting in the wings.
The bad news:
It's one less veteran receiver for first-year starting quarterback
EJ Manuel
to work with.
Bert Reed
(58 catches) and
Willie Haulstead
(38 catches, six touchdowns), will now likely be the go-to receivers. The Noles are also excited about sophomore
Jared Haggins
, redshirt freshman
Christian Green
, and sophomore
Greg Dent
, who played mostly on special teams as a true freshman last year.
Rodney Smith
(31 catches, three touchdowns) and
Kenny Shaw
should also see some time. There are plenty of helping hands available, but there's no doubt FSU will miss Easterling's experience.
June, 23, 2011
6/23/11
10:30
AM ET
You asked, I answered. Readers (particularly @AsylumGodfather) were calling for more position rankings, so the receivers are up next. This could be the strongest position group in the conference, and one of the more difficult to rank, so I looked back on a few stats to help me separate them, including how some of these guys did against their best competition (i.e.
Danny Coale
versus FSU, wow). Here's the final verdict of which teams in the ACC have the best combination of depth and talent:
1. Virginia Tech:
With
Jarrett Boykin
and Coale returning, the Hokies' passing game has a chance to flourish this fall. Boykin, Coale and
Dyrell Roberts
were the team's top three receivers last year for the second straight season, combining for 113 catches, 1,882 yards and 11 touchdowns. Add to that
Marcus Davis
,
D.J. Coles
,
E.L. Smiling
-- it's a bottomless cup of depth and talent.
2. Duke:
Conner Vernon
has 128 catches in his first two collegiate seasons and
Donovan Varner
ranked fourth in the ACC in pass receptions (60) and seventh in yardage (736). Their combined 274 receptions are the most of any active duo in the ACC. They are the top two returning leaders in catches per game, and Vernon is the ACC's returning leader in receiving yards per game. The Blue Devils also have sophomore
Brandon Braxton
(14 catches), who could make a name for himself as the third option this year.
3. Florida State:
Every Seminole who caught a pass last season returns.
Bert Reed
,
Taiwan Easterling
and
Rodney Smith
return with a combined 50 career starts. Reed ranks second among all returning ACC receivers with 141 career receptions.
Willie Haulstead
had 38 catches last season, Smith had 31, and there's plenty of rising talent like
Christian Green
.
4. North Carolina:
Like Florida State, North Carolina returns all of its receivers, including two who redshirted last season.
Dwight Jones
, who had 946 yards and 62 receptions, leads the group, but
Erik Highsmith
(25 catches, 348 yards and three touchdowns) must be accounted for as well. Defenses also can't forget about
Jheranie Boyd
, who is a deep threat.
5. Miami:
The Canes will miss the production of Leonard Hankerson, but they don't have to if one or two of the other players show more consistency.
Travis Benjamin
has big-play capabilities and averaged 17.3 yards on his 43 catches last season. There is no shortage of other options with
LaRon Byrd
,
Aldarius Johnson
,
Tommy Streeter
,
Allen Hurns
and
Kendal Thompkins
. Which one will rise to the occasion?
6. Clemson:
It was the
DeAndre Hopkins
show last season, and he should again highlight the Tigers' passing game. As a true freshman, Hopkins had 52 catches, the most by a first-year player in school history.
Jaron Brown
returns with 10 career starts, and the Tigers also have
Marquan Jones
(21 catches) and
Bryce McNeal
(19).
7. Maryland:
The Terps have to replace their top two receivers from a year ago in Torrey Smith and
Adrian Cannon
, and no clear frontrunners emerged this spring.
Quintin McCree
leads all returners with 16 catches, followed by
Kevin Dorsey
(15),
Ronnie Tyler
(13),
Kerry Boykins
(10), and
Tony Logan
.
8. Boston College:
True freshman
Bobby Swigert
led the Eagles last year with 39 catches and four touchdowns in five starts. The Eagles are hoping to get a significant boost from the return of
Colin Larmond Jr.
, who missed all of last season with a knee injury, but the young group should be better regardless because of the experience gained last season.
9. Virginia:
The Cavaliers will miss
Dontrelle Inman
, who averaged 16 yards per catch on 51 receptions, but returning starter
Kris Burd
finished fifth in the ACC last season in pass receptions (58). The group will also get a boost from the return of
Tim Smith
, who missed almost all of last season with an injury, and
Matt Snyder
(30 catches) and
Ray Keys
(three catches).
10. NC State:
NC State has to replace its top two receivers from a year ago, and
T.J. Graham
is the team's leading returning receiver with 25 catches.
Steven Howard
,
Jay Smith
and
Quintin Payton
all have experience, and redshirt freshman
Bryan Underwood
,
Tobias Palmer
and Everett Proctor have also been competing for playing time.
11. Wake Forest:
Chris Givens
(35 catches, 13.7 average),
Michael Campanaro
(10 catches) and
Danny Dembry
are the lead candidates to start, but the Deacs are missing a spark like Kenny Moore (2007) and D.J. Boldin (2008) provided. There were too many dropped passes in the spring game, so this group has some work to do in summer camp.
12. Georgia Tech:
Yes, Georgia Tech throws the ball, just not often enough or efficiently enough to be anywhere but last place on this list.
Stephen Hill
led the Jackets last year with 15 catches for 291 yards and three touchdowns. He should show progress this fall now that there's no pressure on him to be the next Demaryius Thomas. If he doesn't show more consistency, the Jackets could turn to
Daniel McKayhan
,
Tyler Melton
or
Jeremy Moore
.
February, 15, 2010
2/15/10
10:00
AM ET
Here's a breakdown of three issues facing each program heading into the spring:
BOSTON COLLEGE
Spring practice starts:
March 18
Spring game
: April 24
What to watch:

• How linebacker Mark Herzlich progresses. Herzlich, who was diagnosed with Ewing's Sarcoma cancer last May, has been going through winter conditioning with his teammates, and he plans on participating in spring drills. How quickly he regains his form will be worth watching, as he and sophomore Luke Kuechly could give the Eagles one of the most formidable linebacking corps.
• The quarterback battle. After one season,
Dave Shinskie
has the most experience on the roster, but he'll get some competition from
Josh Bordner
and
Chase Rettig
, two early enrollees. There were times last season when Shinskie looked like the future of the position and there were others when he looked like any other freshman.
• Defensive linemen. For the second straight year, BC is looking for some stability up front. The Eagles have to replace left tackle Austin Giles and defensive end Jim Ramella. They return Kaleb Ramsey, Giles' backup, and Brad Newman, Ramella's reserve, but some young faces are likely to be seen in the rotation.
CLEMSON
Spring practice starts:
March 7
Spring game:
April 10
What to watch:

• Life without
C.J. Spiller
officially begins. The backs behind him had a pretty good year, so there's no need for full panic mode.
Jamie Harper
and
Andre Ellington
actually combined for a higher yards per carry average (6.1 to 5.6 yards). Clemson will also be looking to replace Spiller's lost kickoff return yardage. The Tigers had a 13-yard advantage in average starting field position, as their start was their own 37-yard line compared to opponents' 24-yard line. Ellington is a candidate in the return game.
• Kyle Parker's batting average. No, really. How well Parker does this spring with the baseball team will help determine whether he remains Clemson's quarterback or turns to the MLB draft. He didn't have a great 2009 season, but he was still the fastest player to 25 home runs in school history. It remains to be seen this spring if he'll become a high enough draft choice to give up college football.
• Secondary shuffling. It seems like eons ago since Crezdon Butler and Chris Chancellor weren't the Tigers' starting corners, as Butler started 40 straight games and Chancellor started 42. Butler finished his career second in school history in interception return yards. Now it's time for a new duo. Will Marcus Gilchrist move to corner, which he's capable of doing? Might Rashard Hall move to safety with DeAndre McDaniel?
DUKE
Spring practice starts
: Feb. 14
Spring game:
March 27
What to watch:

• Quarterback competition. Somebody has to take over for the graduated
Thaddeus Lewis
, but his backup –
Sean Renfree
– will miss the spring with a torn ACL. Redshirt freshman
Sean Schroeder
should be heavily in the mix to be the starter, pending Renfree's recovery.
• Defensive line makeover. It's wide open. Charlie Hatcher is entrenched at nose guard, but it's really anyone's game. The staff might move redshirt senior Wesley Oglesby, who played the majority of his career at defensive end, inside. Other options are defensive tackle Sydney Sarmiento, a redshirt freshman, and Curtis Hazelton, who played sparingly last season.
•
Johnny Williams
' move from wide receiver to cornerback. He had 31 catches in 2009 – the fourth-best on the team. Now they need his help in the defensive backfield. Duke will lose starter Leon Wright and his 10 career interceptions, and the pass defense, which allowed 215.75 yards per game, could use a boost.
FLORIDA STATE
Spring practice starts
: March 16
Spring game
: April 10
What to watch:

• Christian Ponder's return from shoulder surgery. Ponder is expected to practice this spring, though it could be on a limited basis, at least early. He's ahead of schedule, but the coaches won't subject him to any risks now. Yes,
E.J. Manuel
is talented and played well at the end of the season, but make no mistake – Ponder is FSU's starter and a potential Heisman Trophy candidate.
• The defense under first-year coordinator Mark Stoops. His secondary, in particular, will be interesting to watch, as will how quickly he can help the front seven generate a pass rush and plug the middle. Stoops has been a secondary coach, and the Noles lost three starters there. The fourth, Ochuko Jenije, could be pushed to retain his job.
• New faces, new opportunities. In addition to the fab freshmen who are coming in, FSU has a handful of unfamiliar players already on the roster who played sparingly or not at all. We'll see how they fit in this spring. RS-So DT Anthony McCloud and RS-So RB Debrale Smiley are both junior college transfers and former teammates. Physically, freshman linebacker
Jeff Luc
is already a man, but how quickly can he mature on the field? Two young wide receivers worth watching are
Rodney Smith
and
Willie Haulstead
.
GEORGIA TECH
Spring practice starts:
March 29
Spring game:
April 24
What to watch:

• The defensive transformation. The Jackets will switch from the 4-3 to the 3-4 under first-year coordinator Al Groh. In addition to learning the new scheme, the staff has to figure out who goes where. Linebackers might play defensive end and vice versa, safeties might play outside linebacker. It's anyone's guess as to how this team lines up in the spring.
• The replacements. From Georgia Tech's coaching staff to the new faces who will be tasked with filling in for the Fab Four --
Jonathan Dwyer
, Derrick Morgan, Morgan Burnett and
Demaryius Thomas
-- the Jackets will need some "Hello My Name Is" tags this spring.
• The offensive line. Three offensive linemen redshirted who could start, and Georgia Tech might need them to, especially if guard Joseph Gilbert decides to transfer to pursue his MBA. The Jackets lose two starters on the offensive line, and Gilbert, who graduates this spring, would be a third if he leaves. Center Sean Bedford and tackle Austin Barrick return as seniors.
MARYLAND
Spring practice starts
: March 23
Spring game
: April 24
What to watch:

• The quarterback competition.
Chris Turner
has graduated, leaving
Jamarr Robinson
the top option going into the spring, but he has limited experience. The staff liked what he did when Turner was injured, but
Danny O'Brien
, Miami (Ohio) transfer Clay Belton and
C.J. Brown
will all be given an opportunity. Look for O'Brien to start the spring at No. 2 on the depth chart.
• Cornerback: Cameron Chism is the only returning starter in the secondary, but right now the staff has fewer concerns about the safeties. Maryland will have to find some bodies at corner, and Dexter McDougle, who redshirted as a true freshman last year, is one option. Michael Carter and Trenton Hughes, who was the third corner last year, are also among a handful of candidates.
• The offensive line. Losing Bruce Campbell to the NFL hurt, but the Terps also lost starter Phil Costa. Justin Gilbert, a redshirt sophomore, could inherit Campbell's job. And there's always Mr. Versatility -- Paul Pinegar. He has helped the Terps at both tackle spots and left guard, and this spring he'll likely be given a shot at center.
MIAMI
Spring practice starts
: Feb. 23
Spring game:
March 27 (tentative)
What to watch:

• Tight end/offensive line:
Jimmy Graham
is gone, and the Canes don't return any tight ends with any experience other than
Richard Gordon
, who was injured the majority of last season. Miami signed four tight ends in this recruiting class, but none of them were early enrollees. Miami has to replace three starters up front, including both tackles and the center.
• How the two young quarterbacks perform: The health of
Jacory Harris
was precious last year, as he had nobody behind him with any experience after the transfers of Taylor Cook and
Cannon Smith
. The depth has improved a bit with
A.J. Highsmith
, who played sparingly last year, and
Stephen Morris
, one of the early enrollees.
• Upgrade on the d-line? Progress up front began with the hire of Rick Petri as defensive line coach, and it's up to Petri to help the Canes become better pass rushers. Miami will depend upon its two mainstays -- Allen Bailey and Josh Holmes. The right end position was a group effort last year, and Miami has to replace Joe Joseph and Eric Moncur.
NORTH CAROLINA
Spring practice starts:
March 15
Spring game:
April 10
What to watch:

• Quarterback
T.J. Yates
. It's his job to lose, and the coaching staff still has confidence in him, but
Bryn Renner
is waiting in the wings, and
Braden Hanson
will also be given an opportunity. The staff is looking for the offense to improve its passing efficiency and cut down on turnovers.
• The offensive line. It was a patchwork effort in 2009, thanks to injuries and inexperience, and will be a major key in how much UNC improves offensively this year. The Heels have to replace two starters, and Jonathan Cooper is likely to move from guard to center, and right guard Alan Pelc will miss spring drills while recovering from shoulder surgery.
• Defensive line tweaks. There aren't many questions on a defense that should be one of the best in the country, but somebody has to replace Cam Thomas and defensive end E.J. Wilson. Tydreke Powell is the frontrunner to take over at defensive tackle and Quinton Coples at defensive end. Both were backups last year at their respective positions.
NC STATE
Spring practice starts
: March 9
Spring game:
April 17
What to watch:

• Backup quarterback
Mike Glennon
.
Russell Wilson
is the starter, but he's going to be playing baseball all spring. Keep an eye on his backup to see if Glennon can make it any more of a competition in Wilson's absence.
• Chris Ward at punter. No, it's not usually, the highlight of the spring, but in this case, it's necessary. Ward is it -- he's their only option right now, and it's a position the Pack struggled with last year. Ward was expected to be the starter last season, but he was inconsistent. He's definitely got the talent to be the guy.
• The recovery of linebacker Nate Irving. After being severely injured in a one-car crash last summer, Irving is hopeful he can go through spring drills. He has been lifting with the team and running with the sports medicine staff, but it's still uncertain how limited his contact will be.
VIRGINIA
Spring practice starts:
March 15
Spring game:
April 10
What to watch:

• Quarterback competition.
Marc Verica
is the only one with any experience, and first-year offensive coordinator/quarterbacks coach Bill Lazor hasn't been in Charlottesville long enough to evaluate any of the candidates. That's what the spring is for, and true freshman
Michael Strauss
is the lone incoming quarterback on campus, so he'll have a head start on the playbook. Of the four quarterbacks Virginia signed in this year's class, Strauss is the only one listed as a true quarterback. The Cavs also have
Ross Metheny
, who redshirted last year, and
Riko Smalls
, who redshirted in '08 and was No. 2 on the depth chart when Verica was out with a concussion.
• Coaching transition. First-year coach Mike London has hired almost an entirely new staff, and they'll bring changes in philosophy and scheme. London has said he wants to get the defense back to the traditional 4-3, and revert to the tradition of featuring the tight ends, offensive linemen and running backs.
• Running back. The Cavs will have the help up front, but they need to replace their four leading rushers in
Mikell Simpson
,
Rashawn Jackson
,
Vic Hall
and
Jameel Sewell
. The staff will look at true freshman
Kevin Parks
, but also have
Torrey Mack
and
Dominique Wallace
, who had just seemed to be coming on at Southern Miss when he was injured and missed the rest of the season.
VIRGINIA TECH
Spring practice starts:
March 31
Spring game:
April 24
What to watch:

• Revamped defensive line. The Hokies have to replace three of four starters up front. The only defensive ends with significant playing time are Chris Drager, who the staff wanted to move back to tight end, and Steven Friday. Redshirt freshmen will be given a chance – Duan Perez-Means, Tyrel Wilson, James Gayle and J.R. Collins – but they've never played. Isaiah Hamlette is the only other end who's played and that was a skinny minute. At defensive tackle, Antoine Hopkins will be the frontrunner to replace Cordarrow Thompson.
• Darren Evans' comeback. Evans, the team's leading rusher in 2008, is working his way back from a season-ending ACL injury, and one of the biggest questions in Blacksburg is how the staff will divide the carries in such a talented backfield that includes
Ryan Williams
. With two returning 1,000-yard rushers, will
David Wilson
decide to redshirt? The spring will help him in that decision.
• The evolution of
Tyrod Taylor
. He's going to be a senior, and with so many questions on defense heading into the season, the offense will be leading the way. This should be a breakout year for Taylor, who by now should have mastered the offense and should consistently be a passing threat to compliment his running abilities.
WAKE FOREST
Spring practice starts:
March 16
Spring game:
April 17
What to watch:

• The quarterback competition. It's the most glaring hole the Deacs have to fill this spring, as they're tasked with replacing the winningest quarterback in school history,
Riley Skinner
, and his backup,
Ryan McManus
. Redshirt sophomores
Ted Stachitas
and
Skylar Jones
, and sophomore
Brendan Cross
, will compete with rookie
Tanner Price
for the top spot.
• Offensive line. The Deacs will take a huge hit here, as seven players in the two-deep depth chart were redshirt seniors, including all four tackles. Three starters have to be replaced.
• The interior defensive line. Nose guard Boo Robinson and John Russell have graduated, and Russell's backup, Michael Lockett, was also a redshirt senior. The Deacs are in good shape at the ends, but will need some help inside.