July, 28, 2014
Jul 28
3:00
PM ET
The ACC's Coastal Division is wide open entering the 2014 season. With six of seven teams receiving at least one first-place vote in the preseason media poll, the possibilities for how this race shakes out are seemingly endless. Here, we take a look at the six teams that garnered first-place votes, examining reasons that are working for and against them in their quests to get to the ACC title game.
Why North Carolina will win the Coastal
The running game.
Last year's team struggled to run the ball, finishing 11th overall in the conference in rushing with QB Marquise Williams serving as the team's leading rusher. But dig a little deeper into the numbers and a more optimistic narrative unfolds. In UNC's first seven games, it averaged 102 yards on the ground, 2.8 yards per carry and scored six rushing touchdowns. In its last six games, that average jumped to 202 yards per game, 5.1 yards per carry and the Heels scored 13 times on the ground. Now Larry Fedora's crew adds hulking freshman
Elijah Hood
to a backfield that already includes T.J. Logan, Khris Francis and Romar Morris and promises to be one of the deepest, most diverse units in the league.
Special teams are special.
Only Bowling Green (10) had more non-offensive touchdowns last season than UNC (9), and the Tar Heels' special teams were a big reason why. Ryan Switzer was an All-American, scoring five times on punt returns last year, but Fedora says his sophomore only scratched the surface of his talent. Switzer may get work on kick returns this year, too. And even if teams work to avoid kicking to Switzer this year, he says that's fine by him. It will simply mean UNC will start every drive with solid field position as the opposition boots them short or out of bounds.
The QB competition.
While the rest of the league is searching for one quarterback it can count on, North Carolina's quandary is how to find reps for both of its QBs. Williams led the Tar Heels to a 6-1 finish last year and showed he can command the offense. Mitch Trubisky was a top recruit with a strong arm and impressive mobility. Fedora said he believes he can win with both -- and that means both will likely see some playing time. There may not be another team in the conference with as much depth at the QB spot as Carolina enjoys.
Why North Carolina won't win the Coastal
The QB competition.
Wait, what were we just saying about the advantages of having two QBs? You know the old saying — if you have two quarterbacks, you've got none. That may not necessarily apply to UNC's situation, but regardless which QB is tabbed as the starter, the expectations will be high and any early struggles could quickly lead to a restless fan base and a divided locker room.
The offensive line.
Fedora has been blunt in saying the Tar Heels will likely go just as far as their revamped offensive line can carry them. The unit lost two starters to the NFL after last season, and a host of spring injuries meant there was no time for cohesion to be built among the newcomers.
Bentley Spain
could be a breakout star at left tackle, but for a team with eyes on an ACC title, relying on a true freshman at that position is never an ideal scenario.
They're just too young.
It's both exciting and unnerving, Fedora admits. He has just six seniors on his team. The offensive line has only three juniors on the entire depth chart. A host of key personnel on both sides of the ball are freshmen and sophomores. Yes, this is Year 3 for Fedora, and he believes last year's strong finish was a good sign that players are beginning to grasp his philosophy, but with youth come mistakes, and in a crowded Coastal, there may not be room for too many setbacks.
December, 28, 2013
12/28/13
6:45
PM ET
The Belk Bowl unfolded quickly as North Carolina jumped out to an early lead over Cincinnati and never looked back Saturday, running away with a
39-17 win
. Here's how it all happened:


It was over when:
Can a game be over almost as soon as it begins? North Carolina started off as strong as conceivably possible, scoring the game's first touchdown on a 2-yard run from
Romar Morris
with 5 minutes, 40 seconds left in the first quarter. Just three minutes later, the Tar Heels delivered what proved to be a debilitating series of jabs as
Kareem Martin
got the sack-safety and
T.J. Logan
followed that up by taking the ensuing kickoff 78 yards for a score, resulting in a 9-point swing. Cincinnati showed some life in the second half, but the 16-point deficit was ultimately too much to overcome.
Game ball goes to:
Even without Blake Anderson calling plays, North Carolina didn't miss a beat.
Marquise Williams
executed the offense in perfect tandem with head coach Larry Fedora, who subbed in while his former offensive coordinator was off starting his own head-coaching career at Arkansas State. Williams, a talented sophomore, spread the ball around in the air, completing passes to seven different receivers while rushing for 46 yards. He finished the game with 171 yards, one touchdown and no interceptions on 19-of-33 passing.
Unsung hero:
Make no mistake, North Carolina won the Belk Bowl in the trenches. A tip of the cap should go to both the offensive and defensive lines. The Tar Heels wouldn't have jumped out to such a big lead without the defense providing four sacks and three three-and-outs in the first half. Cincinnati's line entered the game having allowed 12 sacks all season, but UNC wound up with five on the day. UNC's offensive line, meanwhile, allowed for a balanced offensive attack, with 171 yards through the air and 174 yards on the ground.
Stat of the game:
North Carolina got the monkey off its back by finally not rejecting some good old-fashioned home cooking. The Tar Heels won a bowl game in their home state for the first time after losing the three previous bowl games they played in Charlotte.
Ryan Switzer
, meanwhile, managed to tie an NCAA record by returning his fifth punt for a touchdown this season. Where many would have called for a fair catch in the third quarter against the Bearcats, Switzer hung in, caught the ball with a number of defenders in the vicinity and weaved upfield 85 yards for the score.
What North Carolina learned:
Fedora taught his Tar Heels that it's not how you start but how you finish. Ending the season with six wins in seven games was impressive. Getting above .500 after starting off the year 1-5 was incredible. The hope for North Carolina is that the momentum coming out of the Belk Bowl will carry over into next season and such a furious surge won't be necessary to reach the postseason again. With Williams, freshman tailback Logan, freshman receiver Switzer and sophomore receivers
T.J. Thorpe
and
Quinshad Davis
all returning to Chapel Hill, the future is bright.
What Cincinnati learned:
The Bearcats, on the other hand, end the season on a sour note. The momentum of winning six straight games late in the year was almost entirely wiped out after losing in overtime against Louisville on Dec. 5 and then getting blown out by North Carolina on Saturday. Next season will be tough for head coach Tommy Tuberville, as he will be without senior quarterback
Brendon Kay
and the quarterback of the defense in senior linebacker
Greg Blair
. But with the much-traveled redshirt freshman transfer quarterback
Gunner Kiel
entering the fold, there's reason for optimism. The former No. 3-ranked quarterback in the 2012 class has all the tools to do well in the Bearcats' spread offense.
To watch the trophy presentation of the Belk Bowl,
click here
.
August, 9, 2013
8/09/13
9:00
AM ET
You want to find a good quarterback in the ACC? Plenty of places to look.
A solid receiver? Plenty of places to look.
A game-changing running back? Well, let's just say this is not a position of strength for the ACC headed into 2013.
Both 1,000-yard rushers from a year ago are gone. So are five of the top 10 rushers in the league. Now factor in recent developments from the offseason:
Virginia Tech back Michael Holmes was kicked out of school following his arrest after the spring game.

Pitt Rushel Shell decided to transfer, to hated rival West Virginia no less.

Maryland back Wes Brown has been suspended for the season after an offseason arrest.

Wake Forest leading rusher Josh Harris is not with the team while the Deacs wait for an answer from the NCAA on his eligibility.

NC State running back Shadrach Thornton was suspended one game after being charged with misdemeanor assault on a female following a June 6 arrest.
[+] Enlarge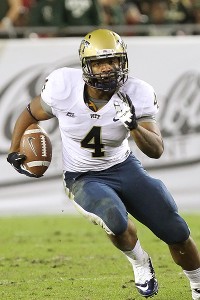 Kim Klement/USA TODAY Sports Running back Rushel Shell left Pitt for rival West Virginia.
Holmes and Brown were expected to be significant contributors this year; Shell and Harris were expected to start; Thornton led the Wolfpack in rushing last year.
So let us take stock of who remains. Essentially, the ACC has one big-time headliner in
Duke Johnson
at Miami, and several teams with talent and depth.
Take Florida State. The Noles have a great duo in
James Wilder Jr.
and
Devonta Freeman
. Syracuse has a 1,000-yard rusher returning in
Jerome Smith
, plus more depth than nearly everyone in the league. Duke has its top six rushers back from a year ago.
Still, the league overall has improving to do in this important category. In 2012, the ACC had the fewest 1,000-yard rushers of the five biggest conferences. It also only had two teams ranked in the Top 30 in rushing offense (Georgia Tech and Florida State), tied with the SEC for fewest among the top five conferences.
But here is the big distinction between the two. The SEC only had one team ranked in the bottom 30 in rushing offense last season: Arkansas. The ACC had a whopping six -- Virginia, Duke, NC State, Maryland, Wake Forest, Boston College -- the most among the power five.
Will fortunes improve this season? Let us take a look at one key statistic that could have some bearing. I broke down how many returning carries there are per team headed into 2013.

DUKE
Top returners: Jela Duncan, Josh Snead

Percent carries returning: 87 percent

What it means: Duke has perhaps the best opportunity of any team in the league to boost its rushing numbers this year, with its top six rushers back, a more mobile quarterback in Anthony Boone and four starters returning on the offensive line.

SYRACUSE
Top returners: Jerome Smith, Prince-Tyson Gulley

Percent carries returning: 82 percent

What it means: Syracuse has had a 1,000-yard rusher in five straight seasons, and has pretty terrific depth going into the season. It is a pretty safe bet the Orange will make it six straight 1,000-yard rushers.

BOSTON COLLEGE
Top returners: Andre Williams, Dave Dudeck

Percent carries returning: 75 percent

What it means: Though the Eagles don't have much in the way of depth, they do have experienced players returning in Williams and Dudeck. Given the way Steve Addazio likes to run the football, expect to see the Eagles much better than No. 115 in the nation in rushing.

VIRGINIA TECH
Top returners: Logan Thomas, J.C. Coleman

Percent returning carries: 70 percent

What it means: Even though this was a weak spot for the Hokies, they do return their top rushers even with Holmes gone. Thomas led the team in carries and rushing last season. Virginia Tech wants to change that this year.

GEORGIA TECH
Top returners: Zach Laskey, David Sims

Percent returning carries: 68 percent

What it means: Tevin Washington and Orwin Smith take nearly all the missing carries (176), meaning the Jackets have plenty of experienced players and depth to fill all their running back spots. Shouldn't be a drop-off here.

NC STATE
Top returners: Shadrach Thornton, Tony Creecy

Percent carries returning: 63 percent

What it means: Once he returns from suspension, Thornton will carry the load with Creecy, the way they did last season. Given the emphasis Dave Doeren puts on the run in his offense -- Northern Illinois ranked No. 12 in rushing offense last season -- the Wolfpack should not be in the bottom 30 again.

CLEMSON
Top returners: Tajh Boyd, Rod McDowell

Percent returning carries: 62 percent

What it means: Interesting stat here, considering the Tigers lose 1,000-yard rusher Andre Ellington. He is one of the biggest losses this team has to replace on offense. Having Boyd run as much as he does certainly helps these numbers, but there's no question Clemson has to find a way to replace Ellington's production.

MIAMI
Top returners: Duke Johnson, Eduardo Clements

Percent returning carries: 59 percent

What it means: Miami loses Mike James, but that just means Johnson moves into a starting role and will get more carries. If he continues the work he did last season, Johnson should be the leading rusher in the ACC this season.

WAKE FOREST
Top returner: Deandre Martin

Percent returning carries: 57 percent

What it means: Wake Forest is still waiting to see whether Harris will be eligible this season. There are serious concerns about this position right now, as coach Jim Grobe has said he still hasn't seen anybody step up and prove they can be an every-down back.

NORTH CAROLINA
Top returners: A.J. Blue, Romar Morris

Percent returning carries: 56 percent

What it means: The prevailing storyline in Chapel Hill has centered around replacing Giovani Bernard, the other 1,000-yard rusher in the ACC last season. Blue and Morris combined for 151 carries a year ago, so there might not be as big a drop-off in total production as some might anticipate. Each averaged more than 5 yards per carry.

MARYLAND
Top returners: Brandon Ross, Albert Reid

Percent returning carries: 48 percent

What it means: The Terps lost significant carries from Brown (90) and Justus Pickett (69). I also did not count Shawn Petty's 58 carries, because he went back to defense. Overall, Maryland feels good about Ross and Reid being able to carry the load, but questions still remain about whether this group can be consistent.

FLORIDA STATE
Top returners: James Wilder Jr., Devonta Freeman

Percent Returning carries:45 percent

What it means: This one is the most misleading among all ACC teams, because the Noles do return two terrific talents and expect contributions from a third in Mario Pender. Those lost carries are from Lonnie Pryor and EJ Manuel, along with Chris Thompson (who was out for the second half of the season anyway). Florida State should continue to be an excellent running team.

VIRGINIA
Top returners: Kevin Parks, Khalek Shepherd

Percent carries returning: 44 percent

What it means: UVa lost carries from Clifton Richardson, Perry Jones and Phillip Sims, but the Hoos believe they will be better running the ball this season -- especially if Taquan "Smoke" Mizzell is as good as advertised. He could be a breakout star.

PITT
Top returners: Isaac Bennett, Malcolm Crockett

Percent returning carries: 9 percent

What it means: I thought this number would be low with Shell and Ray Graham gone. But this is actually worse than anticipated. Pitt has little in the way of experienced players or depth at running back, and we are talking about a team that relies heavily on the run.
April, 26, 2013
4/26/13
10:30
AM ET
One of the biggest questions facing UNC coach Larry Fedora this spring was how he is going to possibly replace running back
Giovani Bernard
, who finished 2012 as the ACC's leading rusher, leading scorer, top punt returner and leader in all-purpose yards.
[+] Enlarge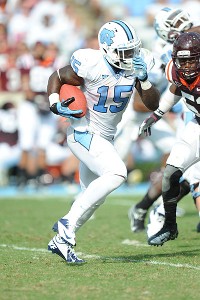 AP Photo/Don KellyA.J. Blue, a redshirt senior, is in the best position to take over as the Tar Heels' starting running back in the fall.
Answer: It starts with
A.J. Blue
.
Fedora said on Thursday that if the season began today, Blue would be in the starting lineup. He also said, though, that
Romar Morris
had the best spring -- and that true freshman Khris Francis was one of the biggest surprises of the spring game. So while Blue might be the leader on the depth chart heading into fall camp, North Carolina found out this spring that it will have more than one player capable of helping to compensate for the loss of Bernard, who declared early for the NFL draft.
"I thought those guys did a nice job," Fedora said. "If we had to start out tomorrow, we would go with A.J. Blue right now. A.J. Blue has emerged as a team leader, not just on the offensive side of the ball, but the entire team. A.J. is about 215, 220 pounds, a guy who's going to finish off all his runs. He's going to be the bruiser type of runner, he's going to do a really nice job of being physical, and he does a great job in pass protection and he can catch the ball well."
Blue is a redshirt senior who didn't get his first career start until last fall against Wake Forest. He made the most of it, running for a career-high 106 yards and a touchdown on 19 carries. While he established himself as the starter this spring, he actually wasn't the top performer in the group, according to Fedora.
"A.J. is a guy that can really come on for us, but the guy probably that had the best spring was Romar," he said. "Romar Morris is a guy who can take you from goal line to goal line. He's got special speed and skills. He's much more effective as he's slowed down to be able to see the zones, the zone run, and all of the seams that are created that way. I'm real excited about what Romar is going to bring to the table this year."
UNC fans seem to be equally eager to see what else Francis can do. Francis, an early enrollee, had a game-high 101 yards on 20 carries in UNC's spring game.
"I was really pleasantly surprised at how quickly he picked everything up," Fedora said.
Blue has the edge now, but it might just take all three to replace Bernard this fall.
April, 15, 2013
4/15/13
11:00
AM ET
Seven ACC teams held their spring games this past weekend as practice begins to slowly wind down until August.
Heather
provided her Pitt recap
earlier this morning. Here is a quick look at the headlines from the other spring games across the league:

CLEMSON
The Tigers suffered a big hit during their spring game last Saturday, when the team lost backup quarterback
Chad Kelly
to
an apparent torn ACL
. Kelly was in a heated competition with
Cole Stoudt
for the backup job, but it now appears he could be lost for the season. Coach Dabo Swinney said Kelly was hurt while making a cut at the end of a run. Starter
Tajh Boyd
was held out of the game so the Tigers could get a good look at Kelly and Stoudt. The backup last season, Stoudt set a Clemson spring game record with 304 yards passing and threw four touchdown passes, but his White team lost to the Orange team 34-26 in front of a spring-game record crowd of 30,000.
Sammy Watkins
led all receivers with seven catches for 156 yards and two scores, while
Grady Jarrett
had three sacks.
Vic Beasley
had two sacks, giving him 10 sacks in four scrimmages.
Tight end
Sam Cooper
and tackle
Kalon Davis
also sustained knee injuries in the game, but they are not believed to be as serious.

DUKE
Anthony Boone
and
Jamison Crowder
were the stars of the spring game as the Blue Devils showed a glimpse of how good they can be on offense this season. Boone went 18-of-30 for 273 yards with two touchdown passes to Crowder, and two interceptions. Crowder finished with four catches for a team-high 71 yards as the Blue team beat the White 27-12.
Blue team end
Britton Grier
had two sacks and seven tackles, including three for loss.
Lucas Fisher
,
Sam Marshall
and
Keilin Rayner
each added sacks for the Blue team.
"I like where we're headed," coach David Cutcliffe said. "We're building some depth. I think we can be a more energetic defense. The big thing is focusing on why we give up big plays, but trying to play defense, trying to force longer drives. It's going to be interesting film to study. We got a lot out of this game."

FLORIDA STATE
Coach Jimbo Fisher did not name a starting quarterback after the spring game, so the competition will go on into the offseason. But highly touted
Jameis Winston
sent jaws dropping
with his standout performance, going 12-of-15 for 205 yards with two touchdown passes before leaving the game early to play in the Noles' baseball game against Duke.
"He came in there and he took advantage of opportunities," Fisher said. "That's what you got to do. You've got to go make plays and he's done a nice job of making plays. He took the opportunity to take the day with the stage he had and I thought he played pretty well for the most part."
Winston and
Clint Trickett
split time with the first team for most of the afternoon. Trickett was just 10-of-16 for 98 yards and an interception before switching to the second team, where he was 12-of-16 for 161 yards and a touchdown.
Jacob Coker
, also competing for the starting job, went 15-of-26 for 186 yards, a touchdown and two late interceptions.

MARYLAND
Running backs
Brandon Ross
and
Albert Reid
took center stage, as both ran for over 100 yards in a 13-13 tie between the White and Red teams on Friday night.
Ross had 123 yards on 10 carries, while Reid had 138 yards on 23 carries in the game.
Wes Brown
, who missed the spring with a shoulder/ankle injury, is expected to be healthy in the fall so the competition at this position is going to be an intriguing storyline during the offseason.
"I limited what the defense could do. It was still good to see them," coach Randy Edsall said. "That is what we have seen out of Brandon and Albert all spring along with how they run. The one thing we have to be able to do is run the ball efficiently. When we do that it opens up the passing game. With the skill guys we have at wide receiver it will make us more productive and a chance to get big plays. They ran the way they have been running all spring."

MIAMI
Stephen Morris
threw for a game-high 256 yards and four first-half touchdowns to lead the Orange team to a 35-20 win over the White team. Meanwhile, ACC freshman of the year
Duke Johnson
led all rushers with 120 yards on 10 carries as the Hurricanes showed how explosive they can be on offense this season.
"We're pretty dominant," receiver
Rashawn Scott
told local reporters
. "Everyone is communicating and … no one is frustrated. If we mess up, we all talk instead of yelling at each other."
At halftime, the Canes handed out four Spring awards to
Nantambu-Akil Fentress
(305 walk-on award),
Olsen Pierre
(defensive most improved player),
Danny Isidora
(offensive most improved player) and
Herb Waters
(special teams most improved player).

NORTH CAROLINA
Bryn Renner
went 16-of-27 for 216 yards and three touchdowns to lead the Blue team to a 34-10 win over the White. The running back who took center stage in the game was not
A.J. Blue
or
Romar Morris
but true freshman Khris Francis, who ran 20 times for 101 yards to lead the White team. Blue had eight carries for 30 yards, and Morris had 15 carries for 80 yards to lead the Blue team as the Tar Heels work to replace
Giovani Bernard
. Blue added a 33-yard touchdown reception on a screen pass.
"I thought all three of our running backs played well," coach Larry Fedora said. "But Khris, for his first time out there in a game-type atmosphere, he did a good job. He hit some holes and exploded in them. One time I thought he got stood up. I said something to him and the next time he's got his shoulders down and he's running north-south. That's what he's got to do, so he did some nice things."
Defensively, end
Kareem Martin
had seven tackles, including four sacks.
Travis Hughes
added a team-high 14 tackles, including two sacks.
April, 11, 2013
4/11/13
9:00
AM ET
With half of the conference playing spring games this weekend, here's a look at what to watch if you're keeping an eye on the ACC as spring ball comes to a close:

CLEMSON
When:
4 p.m. ET on Saturday (ESPN3)
What to watch:
Quarterbacks of the future. You know Tajh Boyd is good. Expect Cole Stoudt and Chad Kelly to take most of the snaps. Boyd played just four snaps in the last scrimmage. Let's see his backups.
The tight ends. Clemson tight ends Dwayne Allen and Brandon Ford have been the first team All-ACC tight ends the past two years. Clemson tight ends have 118 receptions and 21 touchdowns the past two years, perhaps the most underrated area in Chad Morris' offense. So who moves in there this year? Sam Cooper is the most experienced, but freshman Jordan Leggett has been impressive this spring.
How much better is the defense? All eyes will be on Brent Venables' group to see how much progress it has made this spring. If the D gets better, it could be a special season in Death Valley.
FLORIDA STATE

When:
2 p.m. Saturday, (ESPN3)
What to watch
:
The quarterbacks. It's been one of the hottest topics this spring in the ACC and arguably the biggest position battle in the conference. Check out Clint Trickett, Jacob Coker and Jameis Winston as they all battle to replace starter EJ Manuel.
The defensive line. The competition is on to replace Bjoern Werner and Tank Carradine. Mario Edwards Jr. is ready to jump in, along with Giorgio Newberry.
Don't forget the kicker. It's big at FSU. The Noles have to replace Dustin Hopkins, the ACC's all-time leading scorer and the NCAA's all-time kick scorer. It's your chance to see Roberto Aguayo, who was one of the nation's top kickers coming out of high school.
MARYLAND

When:
7 p.m. on Friday in Byrd Stadium
Parking/admission:
Free
What to watch:
The running backs. Both Brandon Ross and Albert Reid have had strong springs and will be competing for playing time come the fall.
The receivers. This group should be a strong point for the team this year, as Stefon Diggs, Deon Long and Nigel King are a talented trio.
New faces on defense. The Terps have to replace six starters on defense, including some of their best leaders in Joe Vellano and A.J. Francis.
DUKE

When
: 4 p.m. ET on Saturday (ESPN3) in Wallace Wade Stadium
Parking/admission:
Free
What to watch
:
Booooooone. Anthony Boone takes over at quarterback, and there have been rave reviews about him from within the program all spring. He's got a strong arm and is mobile.
New faces at safety. Some big names are gone, as Duke has to replace graduates Jordon Byas and Walt Canty, and Brandon Braxton, who moved back to receiver. Jeremy Cash, eligible now after transferring from Ohio State and sitting out last fall, headlines the group that includes sophomore Dwayne Norman (60 tackles in 2012 as true freshman) and redshirt freshman Corbin McCarthy.
Front and center: There is one hole to fill on the offensive line and Matt Skura takes over at center for Brian Moore.
MIAMI

When:
3 p.m. ET at Sun Life Stadium (ESPN3)
Gates open:
12:30 p.m.
Parking/admission:
Free
What to watch:
Defensive improvement. Is there any? The Canes were one of the worst in the country last year, but they return every starter up front.
The No. 2 QB. Who is it? Gray Crow started the last scrimmage as the backup to Stephen Morris and completed 8 of 13 passes for 73 yards, with a touchdown and interception. Ryan Williams, who entered the spring as the expected No. 2, completed only six of his 12 passes with a touchdown and an interception. The coaches will be watching these guys closely on Saturday, so should you.
Running back Dallas Crawford. You know Duke Johnson. It's time to get to know this guy. Those within the program have said Crawford has had a great spring and could be a rising star this fall. He scored two touchdowns in a scrimmage in Naples earlier this month.
NORTH CAROLINA

When:
3 p.m. ET on Saturday at Kenan Stadium (ESPN3)
Admission:
Free
Parking:
$5/vehicle
What to watch:
Gio's replacement(s). A.J. Blue and Romar Morris have been working to ease the loss of leading rusher Giovani Bernard. Can they be as effective as he was, how much progress have they made and who will replace Bernard in the return game?
The O-line. Former guard Jonathan Cooper should be a first-round draft pick later this month, and it won't matter how good Blue and Morris are if they can't find anyone to help block for them. A total of three starters have to be replaced on the offensive line.
Replacing big names on D. Cooper and Bernard aren't the only big names that will be missing. The defense is going to miss tackle Sylvester Williams, who could be another first-round draft pick, and linebacker Kevin Reddick (85 tackles, 8.5 for loss). How does the D look without them?
PITTSBURGH

When
: 7 p.m. ET on Friday at Bethel Park High School (ESPN3)
Gates open:
5:30 p.m.
Admission:
Free
What to watch:
The quarterbacks. Fifth-year senior Tom Savage has taken most of the reps with the first team, and redshirt freshman Chad Voytik appears to be the backup, but coach Paul Chryst has yet to name a starter.
The running backs. Earlier this month, it was announced that Rushel Shell has decided to transfer. Since then, the bulk of the carries have gone to junior Isaac Bennett, sophomore Malcolm Crockett and senior Desmond Brown. How they fare will go a long way in determining how Pitt fares in its first season in the ACC.
The offensive line. It's been problematic for the Panthers in each of the past two seasons, and Pitt now has to break in two new starters in Gabe Roberts and Adam Bisnowaty.
March, 6, 2013
3/06/13
11:00
AM ET
North Carolina starts spring practices today in what will be coach Larry Fedora's second season. The Tar Heels finished 8-4 last year and atop the Coastal Division standings, but were ineligible to play for the postseason because of NCAA sanctions. This year, North Carolina is eligible and has a chance to be a contender again, but first it has to replace some big-time talent on both sides of the ball. I spoke with Fedora recently to get his take on where the program stands heading into the spring.
Here are the highlights of the first part of our conversation:
[+] Enlarge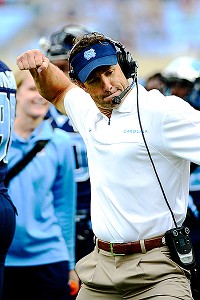 Bob Donnan/USA TODAY SportsBeing eligible for the postseason in 2013 has coach Larry Fedora and UNC pumped.
You had a great season in your first year, but this year you're eligible to compete for the ACC title. Does that change the perspective going in?
Larry Fedora:
It doesn't really change the perspective. For us, the objective is to be better in each of the three phases than we were at the end of the season. You've got some holes you have to fill with seniors who left who did some good things. We've got to identify the guys who are going to step up and fill those holes and who are going to make the plays. Are we going to pick up where we left off, or are we going to go back? Are we going to start backwards? For us, it's trying to pick up where we left off, and by the end of spring, be a better football team than we were in the last game.
What does the competition look like to replace Giovani Bernard?
LF:
For Gio, we've got
A.J. Blue
and
Romar Morris
, and we have a kid we signed out of Durham by the name of Khris Francis, who is in school. Those three guys will be competing for that playing time. It's the same thing I told them last year: For us it doesn't matter whether you are a freshman, sophomore, junior or senior. It's about producing, and the guys who produce are the ones who are going to be on the football field. We'll see in spring what those three guys do. Both Romar and A.J., they got extensive playing time last year, so they're going to feel comfortable with the system, and they'll be better players than they were last year.
What does quarterback Bryn Renner need to focus on this spring?
LF:
If you watched Bryn progress over the season, really about the last five games were maybe his best of the season. I think it's to pick up where he left off. Hopefully, with the position development stuff that we do in the offseason, Bryn will pick up where he left off and be better than he was at the end of the season. Leadership is huge, which Bryn is taking a hold of and running with. I think for him it's managing the game and taking advantage of what the defense gives us. That goes back to making great decisions. If we can make sure we improve in those areas, then he is going to be a better football player.
Overall, how do you think you guys look defensively? You lose some big names over there.
LF:
Yeah we lose
Kevin Reddick
, we lose Sly (
Sylvester Williams
), some pretty big names that are going to go on and play at the next level and do well. We'll be revamping in a lot of areas. We've got some young guys on the D-line that are going to have to step up and see who's going to emerge as a leader up there.
Kareem Martin
really needs to have a big year for us. He's a guy who's going to come back with the most experience.
Tim Jackson
is going to be a guy inside that's going to come back with the most experience. You've got
Shawn Underwood
, and you've got
Devonte Brown
, those are all guys who really need to have a great spring.
Ethan Farmer
, those guys. This spring is going to be very, very critical for their success. Justin Thompson and
Jessie Rogers
, they're not freshmen anymore. I think they're going to make some great improvement this spring. Then you go to the backers. I think this is really big for
Travis Hughes
. Travis Hughes needs to become the man. I'm looking forward to seeing what he does and
Tommy Heffernan
has to keep improving.
Check back Thursday for Part II of the conversation.
February, 21, 2013
2/21/13
2:11
PM ET
There are going to be position battles this spring at every school in the ACC, but some will be in the spotlight more than others. If you're just tuning in to ACC football, here are some of the biggest competitions in the conference this spring:
OFFENSE

1. Florida State quarterback:
This is arguably the most intriguing competition in the entire conference, as the Seminoles have to replace veteran
EJ Manuel
.
Clint Trickett
enters the spring at the top of the depth chart, but consider this job open. Sophomore
Jacob Coker
is the total package, but redshirt freshman
Jameis Winston
was the nation's No. 1 quarterback and could be the answer, too.
2. North Carolina running back:
The Tar Heels have to find a way to replace leading rusher
Giovani Bernard
, who left early for the NFL draft. Not only will his loss be felt in the running game, but probably even moreso in the return game, as Bernard was one of the nation's top punt returners. UNC returns
A.J. Blue
and
Romar Morris
, who combined for 819 yards rushing and 11 touchdowns last season.
3. Syracuse quarterback:
The Orange enter the ACC with a new coach and in need of a new quarterback. Record-setting quarterback
Ryan Nassib
is gone, leaving behind a wide-open competition. Backup
Charley Loeb
, junior
John Kinder
, and dual-threat
Terrel Hunt
are the top candidates.
Ashton Broyld
, who moved to running back in 2012, could be in the mix as well.
DEFENSE
1. Florida State defensive ends:
The cream of the crop is gone, as
Tank Carradine
,
Bjoern Werner
and
Brandon Jenkins
all have to be replaced. Enter
Mario Edwards Jr.
, who has a leg-up on the competition because he played in 11 games as a true freshman, and started the final two games of the year in place of the injured Carradine. Don't forget about
Giorgio Newberry
, though, and
Chris Casher
, who is now healthy after a knee injury. Casher will start spring ball on the two-deep depth chart.
Dan Hicks
, who was Jenkins' backup two years ago, had a knee injury and missed all of last season. He had moved to tight end, but was in the rotation at defensive end earlier in his career and could come back.
2. NC State secondary:
This group will have an entirely new look this spring, as three starters have to be replaced, including
Earl Wolff
,
Brandan Bishop
and
David Amerson
, the school's career interception leader. Cornerback
Dontae Johnson
returns, along with
Juston Burris
, who played in the nickel package. There are also several redshirts and younger players who will compete.
3. Virginia Tech cornerback:
Virginia Tech's defensive backfield lost its star last month when cornerback
Antone Exum
tore his ACL in a pickup basketball game. Several young players will compete for his reps this spring, including
Donovan Riley
,
Donaldven Manning
and
Davion Tookes
. Highly touted cornerback
Kendall Fuller
will join the team in the summer.
February, 20, 2013
2/20/13
11:00
AM ET
DUKE
Spring start:
March 4

Spring game:
April 13
What to watch:
1. Boone is up.
Duke loses three-year starter
Sean Renfree
, who threw for 3,113 yards and 19 touchdowns last season.
Anthony Boone
is the next man up, and has plenty of game experience. But coming in for spot duty is vastly different from taking over the starting quarterback job. He has to get a jump on becoming the leader of this offense in the spring.
2. Receiver spots open.
The Blue Devils lose the most prolific receiver in ACC history in
Conner Vernon
, plus the versatile and athletic
Desmond Scott
.
Jamison Crowder
is back, but Duke is going to need to find two more starters and several more to step up and help with depth.
3. Handling success.
This is the first time since 1994 that Duke goes into a spring with 15 bowl practices already under its belt and a taste of success. That should presumably give the Blue Devils an advantage. But it is much harder maintaining, as many coach will tell you. How does this new success impact the mind-set in spring practice?
GEORGIA TECH
Spring start:
March 25

Spring game:
April 19
What to watch:
1. Ted Roof takes over.
What is the Georgia Tech defense going to look like with Ted Roof in charge? He has not really given out specifics about the type of scheme he wants to use as his base, so it will be interesting to see how he fits his personnel to what he likes to do best. The Jackets do return eight starters to a unit that improved in the second half of the season.
2. Vad Lee time.
We saw glimpse of what Lee could do as he began to share quarterback duties with
Tevin Washington
last season. Now, the show is all his, so we get to see how he develops as a full-time starter.
3. So long, Orwin.
The Jackets lose one of their most dynamic playmakers in
Orwin Smith
, who finished his career ranked among Georgia Tech's all-time leaders in kickoff returns (76), kickoff return yards (1,624) and career all-purpose yards (4,278). Georgia Tech has to find somebody to replace that productivity.
MIAMI
Spring start:
March 2

Spring game:
April 13
What to watch:
1. D in Defense?
The No. 1 spring priority has got to be improving a defense that was one of the worst in the nation in every NCAA statistical category (No. 112 rushing defense, No. 102 passing defense, No. 116 total defense, No. 82 scoring defense). If Miami is going to be a favorite to win the Coastal, it needs better play out of this group.
2. New OC.
James Coley takes over as offensive coordinator, replacing Jedd Fisch. Coley served as offensive coordinator at Florida State before arriving at Miami, but did not call the plays. So he has much more responsibility here, and is charged with taking
Stephen Morris
from great to next-level great.
3. D-Line improvement.
If Miami is going to be better on defense, it has to start up front, where the Hurricanes were extremely young and mostly ineffective for 2012. The Hurricanes had to deal with their share of injuries, but they also were not great at stopping the run or putting pressure on the passer -- with only 13 sacks all year. That is the lowest total since at least 2005, the first year NCAA stats began listing team sack totals.
NORTH CAROLINA
Spring start:
March 6

Spring game:
April 13
What to watch:
1. Bye bye, Gio.
Life begins without All-ACC running back
Giovani Bernard
, who left school early for the NFL draft. The cupboard is not completely bare, though, as
A.J. Blue
and
Romar Morris
both return. Blue and Morris combined for 819 yards rushing and 11 touchdowns last season.
2. Replacing Williams, Reddick.
North Carolina returns nine starters on defense. That is the good news. The bad news is the Tar Heels lose their two best players in linebacker
Kevin Reddick
and defensive tackle
Sylvester Williams
, two first-team All-ACC selections. We'll see if
Ethan Farmer
at tackle and
P.J. Clyburn
at linebacker emerge to win the starting jobs.
3. Replacing Coop.
The Tar Heels have a major hole to fill on their offensive line as they say goodbye to unanimous All-America guard Jonathan Cooper, a stalwart who made 47 career starts. Cooper was the unheralded leader of the offense, so filling his spot is a major priority this spring.
PITTSBURGH
Spring start:
March 5

Spring game:
April 12
What to watch:
1. QB situation.
Tino Sunseri
is gone, leaving Arizona transfer
Tom Savage
, redshirt freshman
Chad Voytik
and junior
Trey Anderson
to compete for the starting job. Inconsistent quarterback play has been a major issue for the Panthers, so upgrading this position is an absolute must.
2. Adjusting to DC.
Pitt is going into the season with its fourth new coordinator in as many years, as Dave Huxtable left for NC State after only one year on the job. Secondary coach Matt House was promoted to coordinator, so at least there will be some familiarity. But he has to get to work on improving this unit's consistency.
3. Offensive line improvements.
Is this the year we finally see a vastly improved Pitt offensive line? The Panthers have to replace center
Ryan Turnley
and guard
Chris Jacobson
, two key positions to watch during spring practice.
VIRGINIA
Spring start:
March 18

Spring game:
April 6
What to watch:
1. New coaches.
How will the three most high-profile hires Mike London made mesh with the staff and returning players? How will the offense deal with a new scheme under Steve Fairchild? How will the defense deal with a new scheme under Jon Tenuta? How big will Tom O'Brien's role be with the offense? Inquiring minds want to know.
2. QB competition.
Fairchild has already said he will open up the quarterback job to a "very spirited competition" this spring. The two front-runners figure to be
Phillip Sims
and
David Watford
, who both have game experience. But there will be no shortage of quarterbacks in Charlottesville this year, so there are no guarantees that either of them will win the job.
3. Replacing Greer.
The Hoos have some big shoes to fill in the middle of their defense with the departure of linebacker
Steve Greer
, who ended his career with 376 tackles -- ranking No. 6 in school history.
Kwontie Moore
, one of nine true freshmen to play in 2012, backed up Greer last season. Will he win the starting job?
VIRGINIA TECH
Spring start:
March 27

Spring game:
April 20
What to watch:
1. Logan Thomas.
All eyes will be on Thomas as he heads into his senior season, especially with new offensive coordinator in Scot Loeffler in charge. How will the two work together, and what will Loeffler do to get Thomas to cut down on his mistakes and capitalize on the immense potential he has?
2. Rushing attack.
Item No. 2 on the agenda for Loeffler is to figure out a way to jump start the Virginia Tech rushing game, which struggled in 2012. The offensive line was inconsistent, and so were the running backs. The Hokies could never really settle on a starter or a clear rotation in the backfield, either. Somebody has to emerge as THE guy.
3. Filling in for Exum.
Virginia Tech took a serious hit to its defensive backfield last month when emerging cornerback
Antone Exum
tore his ACL in a pickup basketball game. The Hokies will look to several young players to try and fill his void, including
Donovan Riley
,
Donaldven Manning
and
Davion Tookes
. Fans will have to wait on highly touted cornerback Kendall Fuller, who joins in the summer.