August, 5, 2011
8/05/11
9:00
AM ET
BYU opens camp Saturday. Let us take a look at three burning questions:
1. Can the Cougars be a national player?
BYU ended the season on a hot streak and brings back nearly everybody on offense. There has been a shift in philosophy with new offensive coordinator Brandon Doman. Everybody expects
Jake Heaps
to be infinitely better this season than he was last. Now BYU has the perfect opportunity to prove all that on a national stage in Year 1 as an independent. The season starts with games at Ole Miss and Texas, then home games against Utah and UCF. Plenty of opportunity to grab some headlines early.
2. Who gets the ball?
I mentioned Heaps above -- now who does he get the ball to? BYU has a wealth of riches at the skill positions. JJ DiLuigi,
Bryan Kariya
and Josh Quezada all return in the backfield;
Cody Hoffman
and
McKay Jacobson
return at receiver. Add in highly touted receiver
Ross Apo
and tight end
Devin Mahina
, and you have got plenty of options to get this offense back to what is expected with the Cougars.
3. Leaders on defense.
BYU loses six starters from its defense, but there are plenty of talented players ready to fill in. Linebacker Jordan Pendleton is back and healthy after sitting out a chunk of last season with a knee injury and has stepped into a leadership role. Tackle Romey Fuga returns from an injury as well, and safety Travis Uale is back. There are big losses, though. The top three tacklers from last season are gone. Coach Bronco Mendenhall hopes to replace Andrew Rich with Daniel Sorensen and Shane Hunter with Uona Kaveinga. Both had impressive springs and could make this unit even better.
May, 17, 2011
5/17/11
9:00
AM ET
On paper, BYU opens the season with quite a tough stretch with games at Ole Miss and at Texas. But are they tough in reality? Let us check in with the Rebels as we begin to size up some of the matchups.
The Rebels are coming off a disappointing 2010, in which they went 4-8. Oxford is a wonderful place to tailgate, but did not exactly strike fear into the opposition last season. Ole Miss dropped four home games, including the stunning loss to FCS Jacksonville State in the opener, followed by a loss to Vanderbilt in its next home game.


The offseason has already produced its share of drama. Their best defensive player, linebacker D.T. Shackelford is out for the game after injuring his knee at the end of spring practice. His projected replacement, Clarence Jackson, was just dismissed from the team, along with reserve defensive end Delvin Jones. Ole Miss still has no starting quarterback, with competition between redshirt junior
Randall Mackey
, West Virginia transfer
Barry Brunetti
and junior college transfer Zack Stoudt ongoing. Mackey has a slight edge but has no playing experience.
BYU should be the favorite going in, but it is never easy to play on the road at an SEC opponent. Just ask Fresno State, which got whipped 55-38 in Oxford last season. Here are two matchups that should go in the Cougars' favor:
Passing game.
Ole Miss is inexperienced and small in the secondary. This was a unit that was a problem last season, ranking No. 103 in the nation in pass defense. Of the four starters on its post-spring depth chart, only one is taller than 6 feet -- strong safety Damien Jackson, who also happens to be one of their top returning players. BYU has the size advantage with big receivers
Cody Hoffman
(6-foot-4) and
Ross Apo
(6-3), and this could be the perfect opportunity to show off the big arm of
Jake Heaps
and get the once high-flying BYU offense back in gear. With the linebacker issues for Ole Miss, the Cougars could also get their tight ends more involved, something that should be a priority this season. Plenty of depth there with
Devin Mahina
,
Marcus Mathews
and
Austin Holt
.
Matt Reynolds vs. Kentrell Lockett.
We shall see where Lockett lines up this season, but he did start 13 games in 2009 at right defensive end, where he had 13 pressures and five sacks. A preseason All-SEC pick in 2010, Lockett was granted a sixth year of eligibility after missing nearly all of 2010 with a knee injury. He sat out spring practice while he continued his rehab but is expected back in the fall. Reynolds is projected to be a first-round pick after deciding to return to BYU for his senior season, and has done a first-rate job of protecting his quarterbacks.
Here is the most intriguing matchup of the game:
Ole Miss offensive line vs. BYU defensive front.
The Rebels' offensive line is one of the strengths of the team. Seven players have started at least two games, which should no doubt help as Ole Miss starts a new quarterback. Because of the inexperience at quarterback, you can expect BYU to try to increase the pressure, which means the offensive line has to be exceptionally strong. BYU has depth here, and tackle Romney Fuga is expected back so this is no doubt a key matchup to watch.
For more on the Rebels, here is the
Ole Miss spring wrap
from our friends at the SEC blog.
April, 14, 2011
4/14/11
2:00
PM ET
BYU coach Bronco Mendenhall generally shies away from using the word "best" to describe anything. But he couldn't help himself when asked about how his team fared this spring.
"If we're looking for adjectives to describe who they are, this team loves to compete, they love to have fun they're very talented and we have more depth in the six years that I've been the coach here," Mendenhall said in a phone interview Thursday.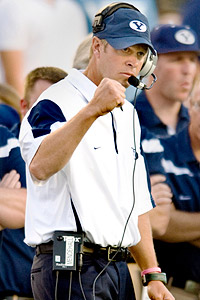 Douglas C. Pizac/US PresswireBronco Mendenhall said the Cougars have had "the best spring" of his tenure as coach.
"I would say it's been the best spring not only from the standpoint of what we got accomplished but possibly where our team is coming out of spring. I'm very optimistic."
There is plenty of reason for optimism as BYU begins its first season as an independent. The Cougars return 19 starters and have a much more solid foundation today than at this time last season. They also have an identity, something that was missing going into 2010. Part of the reason is because Mendenhall was undecided on his starting quarterback, and played both
Jake Heaps
and
Riley Nelson
.
The team struggled to a 2-5 start before closing on a big-time tear and dominating UTEP in the New Mexico Bowl. Mendenhall revamped his coaching staff in the offseason, promoting Brandon Doman to offensive coordinator while deciding to stay on as defensive coordinator after assuming that role midway through last season.
Just as important, Heaps is the definitive starter at quarterback. He and his young teammates are simply more mature.
"We were all disappointed the season was over after our bowl game because we were making progress," Mendenhall said. "I was hopeful to see that same thing happen in spring practice and that happened. We didn't lose ground. We picked up where we left off. I was really happy they were so anxious to compete with each other and the fun they were having -- sometimes spring isn't a time to bring out a heightened sense of competition but that's the way it went."
Indeed, the spring game last week went into overtime. After Nelson ran for a score and hit
Bryan Sampson
for the 2-point conversion, the winning White team carried its coach for the game, Paul Tidwell, off the field.
That speaks to the competitiveness, and BYU is going to need that as it faces a tough opening stretch with games against Ole Miss, Texas and Utah. The biggest holes to fill are on defense, where safety Andrew Rich is gone. Rich led the team in tackles, interceptions, pass breakups and forced fumbles last season and was named AllMWC first team.
But the Cougars feel they have somebody to step right in and make an impact. Daniel Sorensen has returned from his mission and had a nice spring. USC transfer Uona Kaveinga is penciled in to start at middle linebacker and also flashed during the spring.
The front seven is the unquestioned strength of the defense, with talent and depth. Defensive tackle Romney Fuga missed the spring as he rehabbed from a knee injury but is expected to return along with Eathyn Manumaleuna, Matt Putnam and Jordan Richardson.
Offensively, BYU got a boost when tackle Matt Reynolds decided to return to school instead of leaving for the NFL. The running back group is deep with
Bryan Kariya
, JJ DiLuigi and Josh Quezada, and so are the receivers with
Cody Hoffman
,
McKay Jacobson
and
Ross Apo
.
"As we finished last year's season, that identity has formed the basis for what they see going forward," Mendenhall said. "It took a lot of seasoning to get to that point. That's why we'll play with a clearer sense of resolve and identity than we had."
October, 12, 2010
10/12/10
6:00
AM ET
Brigham Young Cougars
Record:
2-4 (1-1, MWC)

There was no question BYU had a lot to replace when the season started. Getting new talent in for veteran performers like Max Hall, Dennis Pitta and Harvey Unga is no easy task, but the Cougars have always found a way to reload. Not this season. Coach Bronco Mendenhall waffled when it came to his starting quarterbacks, alternating between
Riley Nelson
and true freshman
Jake Heaps
. Though they won the season opener against Washington, they dropped their next four, and looked totally discombobulated on offense and defense. Heaps is now the full-time starter with Nelson out for the season because of a shoulder injury. BYU ranks an uncharacteristic 91
st
in the country in total offense, and 86
th
in passing offense. The Cougars are only averaging 4.98 yards a pass attempt, third-worst in the country behind Akron and UCLA. The defense was equally as disappointing, and Mendenhall fired coordinator Jamie Hill last week and took over his duties. The team played better in a win over San Diego State last week, but the Cougars are in a fight to make it to a bowl game.
Offensive MVP, RB JJ Di Luigi:
The most consistent player on offense, Di Luigi leads the team in both rushing and receiving. He has 508 yards and four touchdowns on the ground, and 285 yards and one touchdown receiving. The fact that the leading receiver on the team has just 285 yards through six games should tell you about the few offensive highlights so far.
Defensive MVP, FS Andrew Rich:
There haven't been many standout performance. Two other nominees – DT Romney Fuga (knee) and LB Jordan Pendleton (knee) are out. Rich has provided veteran leadership and leads the team with 59 tackles and two forced fumbles. He also has three tackles for loss, and played last week despite being hurt.
September, 27, 2010
9/27/10
2:00
PM ET
Let's take a look at the good and the bad for the non-AQs in Week 4.
The good:
Toledo is off to a 3-1 start after winning three straight road games for the first time since 2002. Its 31-20 win over Purdue Saturday gives the Rockets wins over teams from automatic qualifying in five straight seasons. Quarterback
Austin Dantin
is putting together a nice season in his sophomore year, and went 24-of-31 passing for 209 yards and two scores. He also ran the ball a game-high 17 times for 64 yards and two touchdowns -- including a career-long 58-yard touchdown scamper in the third quarter. … Temple kept it closer against Penn State than it had in a really long time, falling to the Nittany Lions 22-13. That was the closest it came to a win since losing 27-25 team in 1985. …
Five winless teams picked up Victory No. 1 on the season: Colorado State, North Texas, ULM, Marshall and UNLV. The Rams had the longest losing streak among that group, breaking a 12-game skid with their last-second win over Idaho. Marshall beat Ohio after coach Frank Solich elected to go for two points with no time left to try to win the game. But
Boo Jackson
's pass went incomplete. Solich said he elected to go for two because he didn't have faith that his defense could stop the Herd.
[+] Enlarge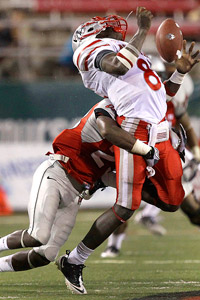 AP Photo/Julie JacobsonTarean Austin and the New Mexico Lobos have had an abysmal start to the season.
The bad:
New Mexico has lost by an average of 46 points this season, and has shown no competitiveness. The Lobos had to start true freshman
Tarean Austin
because of an injury to
B.R. Holbrook
(knee). Austin became the first true freshman to start there since 1988, and went 17-of-40 for 177 yards with a touchdown and two interceptions in the 45-10 loss to UNLV. Perhaps most painful about that lopsided score –- UNLV came into the game winless as well. It is unknown how long Holbrook will be out.
Fresno State gave up 55 points to an Ole Miss team that struggled to score this season against FBS opponents, averaging 13.5 points in those games. But the Bulldogs defense seemed to revert to form against the Rebels, giving up 425 yards on the ground and 578 total yards.
The heartache:
You have to feel for UAB and coach Neil Callaway. Two of its three losses have come on the final play of the game. In both, UAB outgained its opponent. Start with the season opener against FAU. The Blazers blew a 16-point third-quarter lead but had a chance to win on the last play of the game. Instead, their 28-yard field goal was blocked. Then against Tennessee this past week, UAB outgained the Vols 544-287 in the game and held them to only 147 yards after the first quarter. But four missed field goals spelled doom, and the Blazers lost 32-29 in overtime.
A few more helmet stickers:
Colorado State freshman quarterback
Pete Thomas
went 29-of-37 for 386 yards and three touchdowns, both of which are career highs. … Middle Tennessee defensive end Jamari Lattimore had four sacks to go with a career-high eight tackles, a forced fumble, and two quarterback hurries against Louisiana. The four sacks also tied the Sun Belt Conference single-game record and goes down as the most in the FBS this season. … TCU punt returner
Jeremy Kerley
had a career-high 234 all-purpose yards against SMU, averaging 34.4 yards per kickoff return. That includes a career-long 83 yarder.
A few injury items to note:
BYU junior defensive tackle Romney Fuga is out for the season after tearing his ACL and LCL against Nevada on Sunday. Fuga was apparently hurt by what BYU said was a cheap shot from Nevada offensive linemen John Bender. Coach Bronco Mendenhall called it "not a positive football play." Fuga has started all four BYU games this season, with 15 tackles and ½ a sack this season. … Kent State anticipates having running back
Eugene Jarvis
(groin) available this week against Miami (Ohio). …
Ohio linebacker Noah Keller is most likely gone for the season with a partially torn ligament in his toe, wide receiver
Riley Dunlop
is out two to four weeks, and wide receiver/punt returner
LaVon Brazill
(leg) is questionable after missing the game against Marshall. … The Bowling Green quarterback situation is up on the air.
Matt Schilz
(shoulder) sat out against Michigan, and it's a matter of whether he can throw during practice this week. … Temple running back
Bernard Pierce
(ankle) is a game-time decision against Army. … Louisiana quarterback
Chris Masson
(knee, chest) should be available against North Texas on Saturday.
Week 4 look ahead:
A few big games this week on the schedule. The biggest: Navy at Air Force. Navy has won seven straight over the Falcons and seven straight Commander-in-Chief trophies. This could be the best shot yet for Air Force to win with the No. 1 rushing offense in the country. Navy has been banged up, including quarterback
Ricky Dobbs
, but the Midshipmen had a bye week to try and get healthy. … BYU is at Utah State on Friday night in a game that has lost some of its luster. Both teams are 1-3 and looking for some much needed momentum.