January, 24, 2011
1/24/11
9:00
AM ET
It's time to reload in the ACC. Here's a look at the position needs for each team in the Atlantic Division for the 2011 signing class:
BOSTON COLLEGE
Offensive linemen:
Six players on the final two-deep roster for 2010 were either juniors or seniors, and the Eagles will have to find replacements for Anthony Castonzo, Rich Lapham and Thomas Claiborne. There were two juniors at center in 2011, and the recruiting overall at this position hasn't been as strong in recent years.
Defensive linemen:
The Eagles have been thin at the position to begin with since the departures of Ron Brace and B.J. Raji. The interior line should be a priority, as tackle Damik Scafe will graduate, and Kaleb Ramsey will be a senior. Defensive end Brad Newman will also graduate.
CLEMSON
[+] Enlarge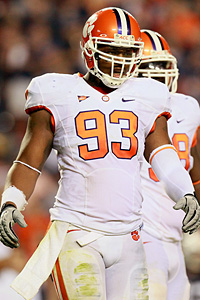 Kevin C. Cox/Getty ImagesReplacing Da'Quan Bowers is a top priority for Clemson.
Defensive line:
The early departure of defensive end Da'Quan Bowers and the loss of Jarvis Jenkins makes this group a priority. Seven of the eight players up front on the final two-deep roster were either juniors or seniors.
Quarterback:
Prior to the early enrollees, Clemson only had one scholarship quarterback on the roster -- projected starter
Tajh Boyd
. The depth needs to be rebuilt after the loss of starter
Kyle Parker
and transfer of backup Willy Korn.
Running back:
The early departure of
Jamie Harper
to the NFL left a hole in the Tigers' lineup. It's not completely empty, as
Andre Ellington
remains the best back on the roster and
Roderick McDowell
was a redshirt freshman backup to Harper.
FLORIDA STATE
Offensive lineman –
The departures of Rodney Hudson and Ryan McMahon will leave gaping holes up front, and A.J. Ganguzza and Antwane Greenlee aren't expected to return. Overall, the staff is looking for bigger, better players. With the exception of right guard, this was a veteran group.
Running back:
Despite the current depth, the coaching staff still wanted to sign about three more running backs in this class.
Wide receiver:
This would be the third priority for the staff.
Bert Reed
and
Taiwan Easterling
will both be seniors, but the team has lacked some dynamic playmakers at the position.
Linebacker:
The Noles lost two starters from last year's Atlantic Division championship team, and there are several young players on the rise like Jeff Luc and Telvin Smith, but the staff wants more numbers at the position.
Safety:
The Noles need an upgrade at this position.
Defensive line:
This is a matter of mostly building depth and size and continuing to get better.
MARYLAND
Kicker/ Punter:
Nick Ferrara has the ability to do both, but he also struggled at both in 2010. Travis Baltz was a four-year starter at punter who has to be replaced. The kicking game should be a top priority in this class, and a concern if Ferrara doesn't become more consistent.
Wide receiver:
The early departure of standout
Torrey Smith
to the NFL leaves quarterback
Danny O'Brien
without a favorite target. Seven of the nine receivers listed on the most current depth chart for 2010 were either juniors or seniors.
Running back:
The Terps have to replace starter Da'Rel Scott, and
Davin Meggett
will be a senior. There is some talent behind Meggett in
D.J. Adams
, but the position could use more depth.
Secondary:
Six of the top 10 players in the secondary were either juniors or seniors in 2010, including safety Antwine Perez, who will graduate. Kenny Tate and Cameron Chism will both be seniors, and the corner position is the biggest need.
Defensive end:
Defensive coordinator Don Brown would like to bring in at least one player who can really bring some speed off the edge.
NC STATE
Kickers:
The Wolfpack lost their starting punter and place-kicker, easily making kickers the biggest need in this recruiting class.
Defensive linemen:
With the exception of sophomore Brian Slay, the entire 2010 line was comprised of juniors and seniors. The Pack have to replace two starters, and two returning starters, Jeff Rieskamp and J.R. Sweezy, will be seniors.
Linebackers:
This was another veteran group for NC State, with five of the six players on the two-deep either juniors or seniors. Nate Irving's graduation will be a big hit and Audie Cole will be a senior.
Quarterback:
If
Russell Wilson
leaves early, the position will be even thinner, but backup
Mike Glennon
will be a junior, so the staff needs to build more depth.
WAKE FOREST
Offensive linemen:
The Deacs will have four redshirt juniors returning up front, and have to replace redshirt senior center Russell Nenon. The staff is looking to increase the depth and talent up front.
Linebackers:
The position hasn't been the same since the 2008 class (Aaron Curry and Stanley Arnoux). They were both drafted and two of the fastest players the program has ever seen. The staff needs to bring in more talent and speed here.
Posted by ESPN.com's Heather Dinich
Around the ACC we go ...
February, 9, 2009
2/09/09
11:46
AM ET
Posted by ESPN.com's Heather Dinich

With the NFL departures announced, and signing day officially over, it's time for a re-ranking heading into spring football. Keep in mind things change during spring practice -- some players get hurt, some win position battles, but here's the first early peek at how the ACC might fare in 2009:

1. Virginia Tech -- The ACC and Orange Bowl champs return 16 starters, and there are high expectations for an offensive backfield that will contain shifty quarterback Tyrod Taylor, and tailbacks Darren Evans and Ryan Williams. If the defense maintains its tradition without Victor "Macho" Harris, the Hokies could be a top 10 team.
2. Florida State -- The defense took some hits -- the most notable being the loss of defensive end Everette Brown -- but should have enough experience to compensate for it. The offensive line should be one of the best in the conference and give returning quarterback Christian Ponder and tailback Jermaine Thomas plenty of help. The question is the depth at receiver after the loss of Preston Parker, Greg Carr, and probably Corey Surrency. FSU also loses Lou Groza award winner Graham Gano.
3. Georgia Tech -- Overall, this team will be experienced and deeper -- it will return every starter at the skill positions -- but the Yellow Jackets must reload on the defensive front and improve on the offensive line. There will be three new starters on the defensive line, and Tech lost two senior starters on the offensive line. There are 25 players on the roster, though, who have at least one career start.
4. Miami -- Coach Randy Shannon brought in yet another outstanding recruiting class, and playing so many true freshmen in 2008 should help this season. There shouldn't be any quarterback drama this season, and Jacory Harris should only improve under first-year coordinator Mark Whipple. Defensive coordinator is still a question mark, though.
5. North Carolina -- Never count out a Butch Davis-coached team, but the Tar Heels will be a question mark until a new batch of receivers proves otherwise. Brooks Foster, Brandon Tate and Hakeem Nicks accounted for 114 receptions in 2008, and all three have left for the NFL. Safety Trimane Goddard is arguably the biggest loss on defense.
6. NC State -- If the Pack stay healthy -- something they haven't been able to do for the past two seasons -- NC State could be the sleeper in the Atlantic Division. It has to replace tight end Anthony Hill and running back Andre Brown, though, and 2007 leading receiver Donald Bowens will miss spring practice because of knee surgery.
7. Clemson -- Speedy playmakers C.J. Spiller and Jacoby Ford are back, but they'll be under the direction of a new quarterback and a new offensive coordinator. Let's see how the Tigers do without any expectations for a change.
8. Maryland -- The Terps graduated 30 seniors and junior receiver Darrius Heyward-Bey left for the NFL. One of the biggest question marks is how they'll fare up front after the graduation of three starting offensive linemen, including All-ACC center Edwin Williams. The defense, which loses four starters from its front seven, will be led by first-year coordinator Don Brown.
9. Wake Forest -- The good news for the Deacs is the offensive line should better, and they return veteran quarterback Riley Skinner. The bad news is they'll sorely miss some of the best defensive players the program has had in recent years, along with kicker Sam Swank.
10. Virginia -- If quarterback Jameel Sewell makes a smooth transition back into the lineup and quickly learns the new offense, the Cavs could surprise some people this season. They'll have to replace all three starters at linebacker, though, and will miss starting receivers Kevin Ogletree and Maurice Covington, as well as leading rusher Cedric Peerman.
11. Boston College -- Consider this a rebuilding year for the Eagles. The loss of defensive tackles B.J. Raji and Ron Brace will have an effect up front. With a new staff, a small recruiting class and a young starting quarterback, the only direction for BC to head is up.
12. Duke -- The Blue Devils have arguably one of the league's top quarterbacks in Thaddeus Lewis, but he won't have Eron Riley to throw it to this season. Duke also loses ACC-leading tackler Michael Tauiliili at linebacker. Still, the Blue Devils should take another step forward in their second season under David Cutcliffe.
December, 6, 2008
12/06/08
1:52
PM ET
Posted by ESPN.com's Heather Dinich
TAMPA, Fla. -- If Virginia Tech continues to move the ball and control the clock like it did in its second possession, the Hokies will have the edge in this game. They were even able to run it up the middle a few times against burly tackles B.J. Raji and Ron Brace.
Virginia Tech put together an impressive 10-play, 61-yard drive that ate 4:49 off the clock. It looked like an effective offense. The five-yard scoring play didn't look like a called run, but Tyrod Taylor saw an opening and took it. The Hokies defense is playing with a purpose, and putting pressure on Dominique Davis. The Eagles are struggling to get anywhere and have just 25 yards on the ground.
Here's a stat for you: Virginia Tech's touchdown was the first offensive first-quarter touchdown in ACC championship history.
December, 5, 2008
12/05/08
11:23
AM ET
Posted by ESPN.com's Heather Dinich
Rematch is the wrong word for this game, considering it's a different season and Virginia Tech and Boston College are completely different teams than they were a year ago. Here are a few things to keep an eye on in Saturday's ACC championship game:
1. Special teams and non-offensive touchdowns. Virginia Tech's last three touchdowns against the Eagles have all come from interception returns, and the Hokies have blocked seven kicks during their series with Boston College. The Eagles have scored eight non-offensive touchdowns this season, including receiver Rich Gunnell's punt return for a touchdown in the Eagles' 28-23 regular-season win on Oct. 18.
2. Virginia Tech's young receivers. Boston College defensive coordinator Frank Spaziani said the Hokies look different from the team they played on Oct. 18 and that's because he said they're not as one-dimensional. The Hokies can thank their rookie receivers for that. Danny Coale caught a career-best five passes last weekend against Virginia and Jarrett Boykin had six. They'll go against a defense that leads the nation in interceptions with 25.
3. Spaziani vs. Bud Foster. This will be a defensive struggle from the start. The Eagles will do their best to try and contain shifty quarterback Tyrod Taylor and stop the run, and the Hokies will look to rattle rookie quarterback Dominique Davis, who will be making his second career start. Foster's name was in the news more this season because he interviewed for the head job at Clemson, but Spaziani has been equally invaluable on the Eagles' sideline.
4. Attendance. There are various reasons why Raymond James Stadium is unlikely to be filled on Saturday, starting with the troubled economy, but regardless of why there might be empty seats, it will be hard not to notice. ACC officials went to great lengths to make sure Tampa provided a better atmosphere than Jacksonville did, but only kickoff will tell if their efforts paid off.
5. The battles up front. With an offensive line that averages 6-foot-5, the Eagles are unusually tall up front -- the tallest in the ACC -- while the Hokies have been rather inconsistent. BC defensive tackles Ron Brace and B.J. Raji have combined for 54 tackles. Raji leads the team with 11 tackles for a loss of 62 yards and seven sacks. Virginia Tech has been dependent upon the run, while the Eagles have held each of their past five opponents to under 100 yards rushing.
November, 29, 2008
11/29/08
5:15
PM ET
Posted by ESPN.com's Heather Dinich
CHESTNUT HILL, Mass. -- One thing is clear: Maryland hasn't given up since its loss to Florida State, even though the Terps are no longer playing for the Atlantic Division. It was a stalemate here in Alumni Stadium, where both defenses are making some critical stops, but the Eagles have the better defense and began to prove it late in the half. BC linebacker Mark Herzlich is as good as advertised.
With Ron Brace putting the pressure on quarterback Chris Turner, Herzlich got the first interception of the game. One play later, Dominique Davis threw a 45-yard touchdown pass to Rich Gunnell, who was wide open. It took nine seconds to take the lead. This is how BC wins games, though, with its defense. That makes 24 interceptions this season for the Eagles, who lead the nation in that category.
Offensive coordinator Steve Logan is doing a nice job of mixing it up, as Montel Harris has received a few direct snaps, and the Eagles have been able to get some decent yardage out of both running and passing plays. Davis is doing an admirable job, and his offensive line is giving him time. Turner's is not, and it's been a difference in the game.
This is the second game I've seen Maryland have negative rushing yards (the other being at Virginia Tech). It's hard to win when you're one-dimensional and can't convert on third downs.
BC tailback Josh Haden is being evaluated for a right shoulder injury.
November, 14, 2008
11/14/08
12:42
PM ET
Posted by ESPN.com's Heather Dinich
Sorry for the slow start today -- late night, early morning, long flight. I'm back in Maryland for another game that will have implications on the conference standings. Since the next stop is College Park, Md., let's start there with what to watch this week in the ACC:
1. Maryland's run defense against UNC tailbacks Ryan Houston and Shaun Draughn: After allowing Virginia Tech tailback Darren Evans a school-record 253 rushing yards last week, Maryland tweaked its defensive line. The Tar Heels, though, are coming off one of their better performances in the running game and finally have everyone healthy and blocking for them.
2. North Carolina's pass defense against Maryland quarterback Chris Turner: Turner has been his most productive against ranked teams, and without a consistent running game, he has had to be. The Tar Heels are tied with Boston College for the national lead in interceptions with 18.
3. The ever-changing ACC standings: Maryland can still win the Atlantic Division if it wins out, and now that Virginia Tech lost, North Carolina can do the same. Miami needs UNC to lose, and Wake Forest needs the Terps to lose.
4. Wake's turnover happy defense against NC State quarterback Russell Wilson: The Demon Deacons win games in large part by creating turnovers, and that's something Wilson just doesn't do often. The Deacs' ability to fluster him and contain him will be key to their chances of winning.
5. Boston College's front seven against Florida State's running game: The Seminoles have depended more on their running game this season than in recent years and have gotten a surprisingly good effort from their young offensive linemen. A large task is looming, though, in defensive tackles B.J. Raji and Ron Brace.
6. Florida State's ability to force Chris Crane into mistakes: The Seminoles have been getting a lot of pressure on opposing quarterbacks this season, and the Eagles have struggled the most when Crane has turned the ball over.
7. Clemson wide receiver Aaron Kelly: He needs just 10 receptions to become the ACC's career leader and should get a few steps closer to that against the Blue Devils.
8. Wake Forest kicker Sam Swank: It's possible that Swank, one of the nation's most prolific kickers, could make his comeback this week. Reports out of Winston-Salem are that Swank finally kicked a football in practice this week.
9. NC State linebacker Nate Irving: The Wolfpack's top playmaker on defense is getting better every week. He missed three full games with the ankle injury he incurred against ECU and then re-injured it after just 16 snaps against FSU. Irving played a total of 37 snaps leading up to the Duke game. He played 82 snaps against and had 10 tackles and caused a fumble. Not bad for a "rusty" Irving.
10. Duke linebacker Michael Tauiliili: In order for the Blue Devils to have a chance in Death Valley, the ACC's leading tackler is going to have to play a huge role in slowing down the Tigers' top playmakers.
November, 12, 2008
11/12/08
11:04
AM ET
Posted by ESPN.com's Heather Dinich

FLORIDA STATE: The Seminoles are expecting a similar defense from the one they saw in their loss to Wake Forest, but the Noles are more confident in their offensive line and running game this time around. Coach Bobby Bowden said tackles B.J. Raji and Ron Brace are probably the best they'll play to date, and his task will be to "mix the running game in there." Bowden said BC has a different defensive alignment than Wake, but the zone is similar. "We have to execute," Bowden said. "A team like that gives you things. You can have a little hook out there but you better not miss it. We must protect the passer and then execute and then get a running game going where they can't just tee off on the passer."

WAKE FOREST: Placekicker Sam Swank likely won't play again, and coach Jim Grobe is still trying to further integrate the I-formation with the spread offense, so the defense will once again be heavily relied upon this weekend at NC State. In the first half of the season, Wake was spending three-fourths of its practices on throwing the ball, blitz pickup, reads for the quarterbacks and route concepts for the receivers. Now, Grobe said, they're "probably 50/50 or 60/40 run-pass, which I think has helped us on Saturday, because we have the ability to do more than one thing." Running back Josh Adams, who has missed the past two games with a sprained ankle, is likely to return on Saturday.

MARYLAND: After allowing the Hokies a school-record rushing performance last week, the Terps made some changes to their defensive line in order to give their rushing defense a boost, and it starts inside. Travis Ivey will start at defensive tackle in place of Jeremy Navarre, who has been moved to defensive end, and redshirt freshman Dion Armstrong will start at nose tackle in place of Olugbemi Otulaja, who has started every game this season. Navarre, who started every game at defensive tackle, leads all ACC defensive linemen with 5.3 tackles per game. Mack Frost, who started five games at end this season but hasn't completely healed from knee surgery last year, is his backup.

VIRGINIA TECH: Things have been coming together for the Hokies on offense and special teams lately. Overshadowed by the record-setting success of tailback Darren Evans, true freshman Dyrell Roberts has also shown big-play capabilities for the Hokies. The former tailback turned receiver has found his niche as a return man. Roberts has 10 catches for 158 yards, but is averaging 26.9 yards per return -- ninth-best in the country. He has had returns of 55 and 54 yards in the past two games. Offensive coordinator Bryan Stinespring has also said he'd like to continue to use the "Wild Turkey" formation, with 280-pound tight end Greg Boone rushing out of the shotgun formation, but wants to make sure he only confuses defenses, and not his own players.

MIAMI: The Hurricanes spent their bye week focusing on special teams, but a consistent key to beating the Hokies has been a high-scoring game. Miami is 11-2 against Virginia Tech when it has scored 20 or more points against the Hokies. The Hurricanes lead the ACC in scoring offense with 30.4 points per game in ACC games. The Hurricanes could be without injured left tackle Jason Fox, though, and that could obviously hurt. Starting in his place would be senior Reggie Youngblood. Fox has started 22 straight games, and he and Xavier Shannon are the only two players on offense who have started every game this season.
October, 21, 2008
10/21/08
11:25
AM ET
Posted by ESPN.com's Heather Dinich
Boston College at North Carolina
You know this one will be a low-scoring, defensive struggle. BC ranks in the top 25 in the nation in nine different categories and boast the best pass-efficiency defense and red zone defense in the country. The defensive front seven is one of the best in the league, with B.J. Raji, Ron Brace and Mark Herzlich leading the way.
UNC's defense has assumed the role Wake Forest had last year and leads the ACC with five nonoffensive touchdowns (three interception returns, one punt return and one blocked punt recovery in the end zone). Last week was the first time in six games that UNC didn't grab an interception. Would you believe that neither of UNC's past two opponents have been able to muster more than 90 yards on the ground?
Butch Davis is 6-0 against the Eagles as a head coach, but BC has been one of the nation's best road teams over the past six seasons at 24-10. The Eagles are one win away from their 10th straight bowl appearance.

Wake Forest at Miami
The Deacs are unranked for the first time this season and will be playing their second straight ACC road game. Last week's 26-0 loss to Maryland marked the first time Wake Forest had been shut out by an ACC opponent since 1996. Sam Swank is listed as questionable for this game, and so is the WF offense, especially since the offensive line took another big hit.
Redshirt sophomore Trey Bailey, who had a tough task this season in replacing Steve Justice, suffered a broken right ankle against Maryland and underwent surgery on Sunday. Bailey is expected to be out six weeks and miss the remainder of the regular season. It is possible he could return if the Deacons are invited to a bowl game.
He was replaced at center by guard Russell Nenon. True freshman Joe Looney took Nenon's spot at left guard. Should Looney start against Miami, he would be the first true freshman to start for Wake since Chris DeGeare earned a start at right guard against NC State on Oct. 22, 2005.
The offensive line has been at the root of Wake's problems this season, and the loss of Bailey obviously won't help this weekend against an aggressive Miami defense.

Duke at Vanderbilt
Duke coach David Cutcliffe should be familiar with his next opponent from his time in the SEC, and is well-aware of the success Bobby Johnson has had this season. Like many teams in the SEC, though, Johnson has been winning with defense. Vandy ranks 118th in the nation in total offense with 249 yards per game, but the Commodores lead the SEC in sacks. Still, they're close to their first bowl game for the first time since 1982, and will have extra motivation in trying to rebound from the loss to Georgia.
Virginia Tech at Florida State
While the Hokies are still trying to find their offense, Florida State is running the ball an average of 18 times more per game and is 3-0 since its loss to Wake Forest. And the Noles success on third downs -- both converting them and stopping them -- has been significant. In their past two games, Florida State has converted 62 percent of its third downs. They're on a streak of 28 consecutive drives without a three-and-out. FSU leads the nation in stopping teams on third downs.
Meanwhile, the Hokies are 110th in the nation in total offense. They're even worse (114th) in passing offense. Coach Frank Beamer insists that it's not just one person (Tyrod Taylor), rather it's missed assignments on the offensive line or blown routes by receivers. The Hokies do have the fifth-best rushing defense in the ACC, though, and that will obviously be a factor against Antone Smith and FSU's run-based offense. Virginia Tech is holding its opponents to an average of 122.6 yards, while the Seminoles are averaging 216.
Virginia at Georgia Tech
The battle to watch in this game will be defensive end Michael Johnson against left tackle Eugene Monroe, and there will be plenty of scouts in the press box to see it firsthand. Both have first-round draft potential. Considering that matchup, it's no surprise this game will feature the ACC's leader in sacks (Georgia Tech), against the league's co-leader in fewest sacks allowed (Virginia).
Also, the Cavaliers have averaged 27.3 points and 377.3 total yards per game during its three-game winning streak, but Georgia Tech has the stingiest scoring defense in the ACC (11.6 points per game).
NC State at Maryland
NC State coach Tom O'Brien has deemed that the fickle Terps have everything they need to be a "championship-caliber football team," and Maryland enters its homecoming game in a four-way tie for first place in the Atlantic Division. The Wolfpack, though, are aiming to be the spoiler. In last week's shutout of Wake Forest, though, the Terps finally put it together in all three phases of the game, and a breakout performance by receiver Darrius Heyward-Bey was a huge difference in the offense. Another difference has been the offensive line, which has allowed just two sacks in the past four games.
NC State has also made improvements in recent weeks. The Pack hasn't turned the ball over once in the past two games, the first time that has happened since 2002. It's a much different offense when quarterback Russell Wilson and tight end Anthony Hill are healthy and in the lineup.
September, 15, 2008
9/15/08
8:06
AM ET
Posted by ESPN.com's Heather Dinich
Here we go Steelers, here we go! Shoot, sorry, wrong blog ...
Posted by ESPN.com's Heather Dinich
I thought this top 25 list was going to be difficult, but as it turns out, there are a gazillion things I can't wait to see in the ACC this season -- Chief Osceola and Renegade included. But this year, the quarterbacks top the list.
I can't wait to see ...
1. Miami quarterback Robert Marve in his first collegiate start against Florida. First there was the car accident. Then the suspension. Can we please get an official snap now?
2. Boston College quarterback Chris Crane. Finally. Let's watch what he can do and stop talking about the other guy.
3. Who will wind up as Florida State's most consistent starting quarterback. It was Drew Weatherford's job to lose this summer, but Christian Ponder and D'Vontrey Richardson both have Jimbo Fisher thinking too much.
4. Maryland third-string quarterback Josh Portis. So much hype, so little action. Not this season. After spending the past two years on the scout team, we finally get to see what this speedy transfer from Florida can do.
5. Which Miami freshman is going to have the most impact. There are so many to choose from, on both sides of the ball, including the two who are in the starting lineup for Thursday's season opener against Charleston Southern -- quarterback Jacory Harris and defensive end Marcus Robinson.
6. James Davis and C.J. Spiller try and get through B.J. Raji, Ron Brace, and the other guys in the Eagles' front seven. BC's defense should be even better than it was in 2007, and Thunder and Lightening only rushed for a total of 62 yards against them last year.
7. Macho Harris as a receiver. He switched to offense for a part of the spring, and the Hokies certainly could use him there, but will they?
8. Jacoby Ford used on a reverse in the same game he takes a kickoff or punt return all the way back. He's super fast, athletic and can be used just about anywhere on the field. Let's see it.
9. An upset -- I don't care who it is, and I don't care when it happens. That could mean Clemson shocking somebody in the postseason, or it could mean NC State shocking Clemson. Clemson losing to Wake? Not a shocker.
10. Georgia Tech QB Josh Nesbitt throw it. It's bound to happen sooner or later, and don't think the receivers were standing around at practice this summer gossiping.
11. James Franklin calling the plays. Go deep, Hey-Bey. The offense should be more fun to watch as long as the staff doesn't get caught up in Jordan Steffy throwing five-yard passes.
12. Michael Johnson absolutely flatten somebody. He hasn't started a game yet, but the Yellow Jackets' new defensive scheme will free him up to rush from the edge.
13. Preston Parker take one home. Sure, he's suspended for two games, but this guy is a playmaker. I saw what he did at Maryland last year in his first shot at tailback and would love to see more.
14. The Wake Forest defense score 11 touchdowns. Hey, they scored 10 last year. OK, so the odds of this happening are slim to none, but this defense is still one of the most exciting to watch because of its playmaking potential.
15. Butch Davis' return to Coral Gables. Davis' coaching ties make for a good subplot, but so does the fact that the Tar Heels beat these guys last season.
16. Al Groh in a good mood. Too bad I'm heading to the season opener. Odds are Charlottesville is a happier place around Week 10. Then again, maybe not.

17. NC State get a break that doesn't involve a body part. These guys are due for one. It's not the third-string left tackle that gets hurt for these guys, either, it's their leading rushers and receivers. I want to see what the Pack can do at 100 percent.
18. Thaddeus Lewis after a summer of instruction from some former SEC coaches. He was the third best QB in the league before he started taking advice from a coach that tutored the Manning brothers.
19. The return of NC State tight end Anthony Hill. This guy is a veteran playmaker, and after missing last season with a torn ACL, he's ready to rock.
20. The Blue Devils win more than one game. These guys have put in way too much work this summer not to.
21. The Tar Heels defense under Everett Withers. The first-year defensive coordinator is the first to admit his Minnesota defense last year was "awful." What can he do with the talent on the Tar Heels' roster?
22. Frank Beamer's hip-hop dance. I missed it last year after the Hokies won the ACC title. Then again, they've got to win it again in order for another show.
23. The Euro kicker make his first field goal against USC. Yannick Reyering has never played a game of football in his life, and here he is starting against USC. Fun.
24. Jim Grobe explain his gameplan to the well-to-do fans in Deacon Tower an hour before kickoff against Clemson. If only I were a well-to-do sports reporter ...
25. The inside of the Esso. I've heard a lot about this place, but didn't get a chance to go there this summer. I was too busy running down some hill.
Posted by ESPN.com's Heather Dinich
Just so you know, I agonize over these things. You can't pick everyone.
Here's the final version:
OFFENSE
QB -- Cullen Harper, Clemson
RB -- Josh Adams, Wake Forest
RB -- James Davis, Clemson
WR -- Aaron Kelly, Clemson
WR -- Hakeem Nicks, North Carolina
TE -- Ryan Purvis, Boston College
T -- Andrew Gardner, Georgia Tech
T -- Eugene Monroe, Virginia
G -- Rodney Hudson, Florida State
G -- Sergio Render, Virginia Tech
C -- Edwin Williams, Maryland
DEFENSE
DE -- Everette Brown, Florida State
DE -- Michael Johnson, Georgia Tech
DT -- Ron Brace, Boston College
DT -- Vance Walker, Georgia Tech
LB -- Aaron Curry, Wake Forest
LB -- Clint Sintim, Virginia
LB -- Michael Tauiliili, Duke
CB -- Victor Harris, Virginia Tech
CB -- Alphonso Smith, Wake Forest
S -- Michael Hamlin, Clemson
S -- Chip Vaughn, Wake Forest
SPECIALISTS
PK -- Sam Swank, Wake Forest
P -- Brent Bowden, Virginia Tech (Graham Gano is injured, out 3-5 weeks)
KO RET -- C.J. Spiller, Clemson
PUNT RET -- Preston Parker, Florida State (following his two-game suspension, of course)