February, 28, 2012
2/28/12
11:05
AM ET
Other than Memphis defensive tackle
Dontari Poe
's performance, several SEC players put up some of the most impressive numbers Monday at the NFL combine.

Alabama linebacker
Dont'a Hightower
, Mississippi State defensive tackle
Fletcher Cox
and South Carolina defensive end
Melvin Ingram
all helped themselves.
And with the defensive backs working out Tuesday, already LSU cornerback
Ron Brooks
has turned heads with a 4.35 in the 40-yard dash, which unofficially is the fastest 40 time this year at the combine.
Some of the other unofficial 40 times from Tuesday included South Carolina cornerback
Stephon Gilmore
(4.44), LSU cornerback
Morris Claiborne
(4.47), Vanderbilt cornerback
Casey Hayward
(4.53) and South Carolina safety
Antonio Allen
(4.62).
Hightower, weighing 265 pounds, ran a 4.68 in the 40-yard dash on Monday, and also recorded a 32-inch vertical leap.
The ESPN Scouts Inc. guys said Hightower showed impressive mobility for his size.
Todd McShay of ESPN Scouts Inc. said Ingram had the best workout of the perimeter defensive linemen. Ingram turned in the second-best three-cone (6.83) and third-best short shuttle (4.18), and also finished in the top 10 among linemen in the 40 (4.79) and vertical jump (34½).
McShay said of Ingram: "Ingram's lack of size could mean a move to outside linebacker in a 3-4 scheme, but for now he has the most explosive, violent hands in the defensive end class and he could end up being a top-10 pick. The
Miami Dolphins
(No. 8 pick) and
Buffalo Bills
(No. 10) could both have interest."
Cox's 4.79 in the 40 topped all defensive tackles. He posted a 7.07-second three-cone drill, which is more than a half-second faster than the four-year average. He turned in a 4.53 in the short shuttle.
McShay said of Cox: "Cox came into the combine as the second-rated defensive tackle on the Scouts Inc. board, and he did nothing to change our opinion. He shows the versatility to play the 3-technique (DT) or even left end at times in a 4-3 alignment or the 5-technique in a 3-4."
LSU defensive tackle
Michael Brockers
didn't test well. He ran a 5.36 in the 40 and did only 19 repetitions of 225 pounds on the bench press. Even so, it sounds like Brockers will still be a high draft pick.
McShay said: "Brockers didn't look as quick or explosive as some of the other top prospects in drills, but he did move well in space for a 6-5 322-pounder. It's important to keep things in perspective, though, because Brockers' game tape is strong enough that his combine workout won't affect his stock nearly as much as it would a prospect who is less consistent on tape."
November, 22, 2011
11/22/11
11:54
AM ET
Welcome to another themed game for LSU.
First, we had "The Game," which was all about defense. Heading in, we expected two sledgehammers to furiously crash into each other in Tuscaloosa, Ala., and that's exactly what we got with only field goals as scores.
This week, with the SEC and possibly the national championship on the line, the top-ranked Tigers (11-0, 7-0) are involved in another name game with No. 3 Arkansas (10-1, 6-1).
LSU defensive end Barkevious Mingo labeled this "The Game: Part 2," but the Offense-Defense Bowl might be more appropriate.
[+] Enlarge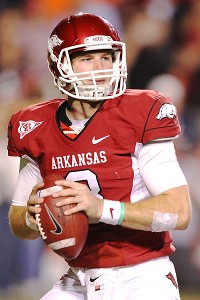 Nelson Chenault-US PRESSWIREArkansas QB Tyler Wilson has thrown eight touchdowns to two INTs in his last three games.
Everywhere you look, pure speed drives the hearts of these two teams.
"The first thing I would say about this game is that there are a lot of athletes on the field," LSU linebacker Ryan Baker said.
"I look at it like it's the battle of the athletes."
LSU sports a track team in its secondary with the likes of Morris Claiborne (a Thorpe Award finalist) and Tyrann Mathieu (a Bednarik Trophy finalist) patrolling the field, along with Ron Brooks or Brandon Taylor.
And if Eric Reid (thigh) is healthy enough, the Tigers will have more than enough speed to keep up with Arkansas' electrifying passing game.
Entering Friday's super showdown in Baton Rouge, La., LSU ranks third in the SEC in passing defense, allowing 158 yards a game and has given up a league-low five touchdowns through the air.
Equipped with his talented quartet of receivers, Arkansas quarterback
Tyler Wilson
can get five touchdowns in a single game.
Joe Adams
, who is still spinning and cutting past Tennessee defenders, might have more moves than any other receiver in the league when he's in space.
Jarius Wright
has been the league's most consistent receiver and always looks a step faster than the competition.
Both rank in the top eight in the SEC in receiving.
When healthy,
Greg Childs
is every bit the deep threat as his above partners, and
Cobi Hamilton
has a tendency to sneak past defenses.
"We're certainly concerned about big plays in any secondary," LSU coach Les Miles said. "You want to cover and make sure those receivers are covered. Then you like to get in his backfield just as often as you can. The good thing is that we think we have guys that can do that."
Wilson, who is the SEC's leader in passing (292.3 yards per game), has his offense running better than ever. With the Razorbacks right in the middle of BCS talks, Wilson has averaged 296 yards and has thrown eight touchdowns to two interceptions in his last three games.
During that span, Arkansas' offense has generated nearly 500 yards of total offense a contest. And for a team that has been more popular for its passing game, the Hogs have actually generated a respectable running game as well.
This looks like the offense we expected to see at the beginning of the year and now it must take on one of the nation's best defenses. In 44 quarters, LSU's defense has held opponents without a touchdown in 35 of them, including the last seven.
Excuse the cliché, but something truly has to give Friday.
To prepare for Arkansas' offense, Baker said the defense has reviewed film from the Oregon game. The Ducks, who were overwhelmed by the Tigers in the season opener, have similar speed despite offensive differences.
Baker knows Arkansas is at its best right now, but LSU isn't intimidated.
"It doesn't put a strain on the defense at all," he said. "Guys are looking forward to the occasion. We've been known to rush the passer and play pretty good coverage downfield (at the same time). Playing a team like this, we have to rise to the occasion to prove that we can handle an offense like this."
Maybe it's the Hogs who should be nervous.
Last time Arkansas tangled with a highly rated defense, the Hogs went flat. Against Alabama, Arkansas was held to just 226 yards and had two turnovers.
To Baker, getting to Wilson and eliminating the running game are key. It helps that LSU's front seven can move as well. There are some track star candidates up front too that ready for the chase.
"Our defense does not allow an opponent to go down the field routinely," Miles said.
Baker said that Arkansas' up-tempo look is a challenge, but the Tigers have aspirations that stretch beyond stopping the Hogs. An SEC title and a national title are on the line. It's that idea that fuels this defense.
"This makes the résumé look good, but in the long run our thoughts are further down the road and guys are really focused on that," he said.
November, 21, 2011
11/21/11
12:26
PM ET
There is no question that the top of the SEC Power Rankings have remained one of the most consistent elements of college football this season:
1. LSU (11-0, 7-0):
It took just 28 seconds for LSU to clinch its game at Ole Miss last week. LSU has been dominant before, but Saturday might have been the Tigers' most dominating performance of the season. It would have been hard to blame the Tigers for losing some emotion and energy after such a tough game against Alabama, but that just hasn't happened. Friday, LSU takes on arguably the conference's hottest team -- Arkansas -- in a game that will have a major impact on both the SEC championship game and the national title. LSU has come this far without a hiccup, it's hard to bet against the Tigers now.
2. Alabama (10-1, 6-1):
LSU hasn't missed a beat since topping the Crimson Tide on the road, but Alabama sure has. The Tide was sloppy against Mississippi State and took a while to get things going against Georgia Southern. Still, Alabama is a win away from most likely clinching a berth in the national championship -- even if the Tide doesn't go to the SEC championship. In fact, it would benefit the Tide more not to go to Atlanta. But Alabama must beat hated rival Auburn before it can even think about heading to New Orleans for one last party. Last year's heartbreaking loss to the Tigers is surely still weighing on the Tide, and Saturday is a chance for redemption.
3. Arkansas (10-1, 6-1):
Quietly, the Razorbacks have put themselves right in the middle in the national championship conversation. The Hogs are playing their best football right now and are a win away from possibly clinching a spot in the national title game. The Razorbacks enter their much-anticipated game with No. 1 LSU Friday with heavy hearts after the passing of freshman tight end
Garrett Uekman
Sunday. This should truly be an emotional week for Arkansas players and coaches, who have to figure out a way to get ready for a football game at the end of the week. The emotional toll can go either way for teams in these situations, and Arkansas' veteran leadership will be responsible for helping this team transform its grief.
4. Georgia (9-2, 7-1):
The Bulldogs were counted out from the beginning and are now the SEC Eastern Division champs. But what a way to end SEC play. Instead of rolling over Kentucky with the momentum it garnered from a blowout win against Auburn, the Bulldogs came out shaky and could only muster 19 points against a struggling Kentucky team. Still, Georgia captured the East and will make it back to Atlanta for the first time since 2005. Georgia could still throw a wrench into the national championship picture with a stunning win next week, which still makes this a very dangerous team.
5. South Carolina (9-2, 6-2):
This has been a tough season for the Gamecocks. What started off as a promising season will end with South Carolina watching the SEC title game instead of playing in it for a second straight year. For everything this team has been through, you have to commend the Gamecocks for finishing as strong as they have. The defense has more than made up for the offense's major shortcomings. Now, the Gamecocks will look to get to double-digit wins by upsetting rival Clemson on Saturday. South Carolina gets the Tigers at home in front of what should be a pretty electric crowd.
6. Auburn (7-4, 4-3):
What a season the Tigers have had. After losing pretty much every component to last season's national championship squad, Auburn pulled out victories we never saw coming. This team is blanketed with youth, but never let that get the best of it during close games. There have been plenty of growing pains that have held the Tigers back, but seven wins is pretty good for a team having to totally rebuild this year. Now, the Tigers have a chance to ruin Alabama's season. It wouldn't matter if Auburn had zero wins heading into this weekend. A win against Alabama would cure everything.
7. Florida (6-5, 3-5):
Year 1 of the Will Muschamp era almost took a major turn for the worse when the Gators had to scrap together a comeback victory against FCS foe Furman at home Saturday. It proved once again that this team is out of whack on the field, but the Gators certainly fought back after getting down by two scores. It had to be tough on Gators' fans eyes to witness Saturday's near-meltdown, but the win made the Gators bowl eligible for the 21st consecutive season. Florida State is next on the schedule. The Seminoles haven't been too impressive either, which will hurt the national feel of this once proud rivalry. But this is a very important game for Muschamp. He needs this victory to get his second win against a Florida rival.
8. Tennessee (5-6, 1-6):
Like the walkers from the Walking Dead, Tennessee regenerated over the weekend with a crucial win against Vanderbilt. There was some controversy to go with it, but the Vols notched their first conference win of the season and are a win away from going back to a bowl game. A loss to the Commodores would have been devastating for this team and coach Derek Dooley, but now they don't have to worry about that. This has been a very tough season for this program. Injuries have ravaged the offense and youth has led to inconsistency. However, making it to a bowl game with a win against Kentucky could make things right with Vols Nation.
9. Mississippi State (5-6, 1-6):
The fight we expected from this Bulldogs team just hasn't been there. This was supposed to be a possible dark horse in the SEC West race, but has struggled to consistently develop a solid offensive game since its Week 2 loss to Auburn. That game might have changed everything for Mississippi State. Even with the struggles, the Bulldogs are still a win away from making it back to the postseason. Mississippi State takes on lowly Ole Miss in the Egg Bowl on Saturday. Dan Mullen is 2-0 against Houston Nutt, and while neither team looked great over the weekend, you have to think that the Bulldogs have the edge with Ole Miss a game away from saying goodbye to its head coach.
10. Vanderbilt (5-6, 2-6):
For all of the talk about this being a new Vanderbilt team, the Commodores sure haven't figured out how to beat an SEC team on the road. And the struggles against Tennessee just continue to pile up. There is no question that this is a more impressive and exciting Vanderbilt team to watch, but the execution against bigger SEC teams just isn't there when it counts. Costly turnovers haven't helped, either. Vandy was a win away from getting back to a bowl game for the first time since 2008, but lost to Tennessee in overtime. Now, the 'Dores have to beat Wake Forest on the road in order to become bowl eligible. The road hasn't been kind to this team thus far.

11. Kentucky (4-7, 1-6):
Kentucky fought all the way until the end against Georgia, but at the end of the day it just didn't have enough going for it on offense to pull off the shocker. Kentucky has struggled with its offense all season, and when the Wildcats needed a play here or a play there, there was nothing. That's been the story of a team that lost a handful of offensive weapons from a year ago. The Wildcats can only get to five wins this season if they beat Tennessee, meaning the chance at six straight bowl game has faded away. This was supposed to be a tough season, but it was hard to envision the offense looking this bad for so long.
12. Ole Miss (2-9, 0-7):
You have to give a lot of credit to Ole Miss' fan base for coming out excited for the LSU game. Minutes before kickoff, Vaught-Hemingway Stadium was rocking and it actually felt like an intimidating venue for an instant. That lasted for all of 28 seconds when LSU's Ron Brooks took a poorly thrown pass by
Zack Stoudt
46 yards in for the score. The student section began to clear out almost immediately. But this has been a disaster of a season for the Rebels, who will part ways with their coach after the Egg Bowl. The offense took a step back and the defense just never had enough plays in it. This program will go into total rebuilding mode with its new coach, but could get some momentum with an upset of Mississippi State on Saturday.
November, 19, 2011
11/19/11
10:04
PM ET
OXFORD, Miss. -- LSU just keeps rolling along after a
52-3 win
over Ole Miss.


This one was never in question and things spiraled out of control for Ole Miss (2-9, 0-7) less than a minute in, when LSU cornerback Ron Brooks took
Zack Stoudt
's pass 46 yards for a touchdown.
Ole Miss has now lost 13 straight conference games dating back to last season. This was the worst losssince a 49-0 loss to Georgia in 1974.
It was total dominance by No. 1 LSU (11-0, 7-0), who never looked ready for a letdown. It would be have been easy for the Tigers to get caught looking ahead to what should be an exciting game with rival Arkansas next week, but the Tigers came out focused and never looked sloppy.
LSU played with the attitude you'd expect a team to have against highly-ranked opponent. After a poor start against Western Kentucky last week, LSU bounced back in stellar form.
If not for a nifty 47-yard run by Ole Miss quarterback
Barry Brunetti
late in the second quarter, the Rebels wouldn't have come close to sniffing the end zone.
LSU is undeniably the country's best team and now Arkansas has the pleasure of trying to stop this crazy train.
Should be fun.
November, 19, 2011
11/19/11
8:45
PM ET
OXFORD, Miss. -- It has been all LSU, as the Tigers lead 35-3 at the half.


Best player of the half:
The star of the first half comes from the defensive side of the ball. It took just 28 seconds before we heard Ron Brooks' name after he grabbed an ugly pass from Ole Miss quarterback
Zack Stoudt
and took it 46 yards for the first touchdown of the game. Two drives later, he sacked Stoudt, forced him to fumble and then recovered that fumble, setting up the Tigers' third touchdown of the half.
Best call: Coach
Les Miles made the right decision starting
Jordan Jefferson
at quarterback. He has engineered three scoring drives and has been beating the Rebels' defense with his arm and feet. He is a perfect 7-for-7 passing for 88 yards and a touchdown. He has also rushed for 27 yards, including a long of 19.
Turning point:
This stadium was rocking just before kickoff. With the silliness we saw earlier from SEC teams that were favored, some fans had to be thinking that maybe even Ole Miss could pull off something special. Well, Brooks' interception changed everything. The crowd was completely taken out of the game and all of the attitude left the Rebels' sideline. Half of the student section was headed back to the Grove before the second quarter even started.
October, 25, 2011
10/25/11
2:00
PM ET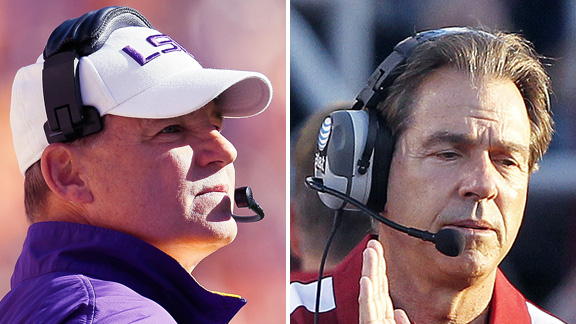 Getty ImagesLes Miles and Nick Saban have extra time to rest their teams and prepare for their Nov. 5 showdown.
Talk about the scheduling gurus getting it right.
Nearly everyone in America is counting down the days until the seismic bout between No. 1 LSU (8-0, 5-0) and No. 2 Alabama (8-0, 5-0).
While fans are itching to see these two behemoths play, both teams are ready for some time off. We might not be able to wait, but they sure are.
"The No. 1 thing we need to do right now is rest, get healed up," Alabama coach Nick Saban said. "We had a lot of guys banged up going into this game and we gotta get healthy."
Alabama will need that extra time to work some guys in on the offensive line. Barrett Jones dealt with an injury last week before playing against Tennessee and now backup Cyrus Kouandjo is out for the year with a knee injury. While Jones looked fine against the Vols, getting a couple other bodies ready to go is a must.
This is also a chance for right guard Anthony Steen to regroup even more from the concussion he suffered against Ole Miss. Alfred McCullough started in Steen's place against Tennessee.
As far as implementing the LSU game plan, Saban said he won't get that going early. He wants his players to concentrate on this being a regular conference game -- which it most certainly isn't -- in order to keep their focus.
"We need to fundamentally improve and we will not start preparation [during the early part of the bye] on that game because I'm not big on preparing for too long because I think that's where players get bored with what you're doing," he said.
The Tigers are also relieved to have an extra week off before their trip to Tuscaloosa. LSU can heal its bumps and bruises and get in some extra work on the Crimson Tide.
But could taking time away from the field hurt LSU's production? LSU is red hot and seems to grow more so each week, especially considering that off-field distractions haven't come close to slowing the Tigers. Maybe a bye could halt the Tigers' momentum.
Quarterback
Jarrett Lee
isn't buying that. To him, the more rest and time to scheme, the better.
"It's gonna be a huge game. We've got another week to prepare for them because they're that good," Lee said. "We're going to have to bring our A-game for sure. Preparation is going to be key."
It will be for both squads, no matter how good each is. Neither team has faced an opponent close to the one it will meet on Nov. 5. Saban insists he won't bog his players down with Tiger talk, but any extra planning is a must.
But beyond more work and healing physically, healing mentally is a focus as well. Playing eight straight games can really wear on a team and Saban can see it. Just look at Alabama's lazy first half against Tennessee.
"I think we need it," he said of the break. "It's a tough run when you have eight games in a row. We don't have a bye week anywhere in there, which I think can help your players heal up and sort of recover a little bit from an injury level. This is a good time for us to be having a bye week."
This game will carry Super Bowl-like hype and having a week off from both squads will only intensify it. It keeps both teams at the top of the polls and destroys any chance of a scare for either.
It's perfect in the long run, but it will sting not seeing either this weekend.
"I'm excited about getting to play Alabama," LSU cornerback Ron Brooks said.
"It's been nicknamed a couple things -- 'Armageddon' and 'Clash of the Titans.' I'm looking forward to it."
We all are, and the wait will only make it that much more special.
October, 24, 2011
10/24/11
1:07
PM ET
Down deep, I had serious doubts a few weeks ago.
I just didn't see LSU beating Alabama in Tuscaloosa. Heck, I didn't see anybody beating the Crimson Tide in Tuscaloosa.
OK, maybe the Green Bay Packers, but nobody in college football.
[+] Enlarge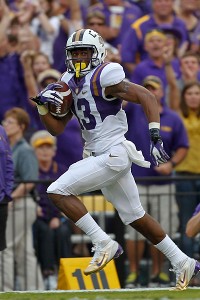 Derick E. Hingle/US PresswireRon Brooks, who returned this interception against Auburn for a TD on Saturday, is among LSU's many reserves who have shined when called upon to play.
At the time, I hadn't seen LSU live and had seen Alabama live twice. Both times, the Crimson Tide were dominant, routing Arkansas 38-14 and battering Florida 38-10.
Well, I've seen LSU live each of the past two weeks, and if anybody can beat Alabama on the Tide's own turf, it's the Tigers.
I swear they get deeper and nastier every time I watch them play.
In their 45-10 beatdown of Auburn last week, true freshman
Kenny Hilliard
went from fourth on the depth chart at running back to an absolute beast who simply wasn't going to be tackled. The guy would be starting for half of the teams in the league, maybe more.
And there was also senior cornerback Ron Brooks, who's seemingly been around forever. But when you're playing behind Morris Claiborne, Tyrann Mathieu and Tharold Simon, there aren't going to be many chances to start.
Mathieu and Simon were among the three players suspended last Saturday, along with running back
Spencer Ware
, so Brooks got the start. All he did was return an interception 28 yards for a touchdown and force a fumble.
It's a similar story with LSU's offensive line. Junior center P.J. Lonergan didn't play for the second straight game, and he might be the Tigers' best player up front. They fully expect him to play and be healthy in two weeks against Alabama.
Senior guard Josh Dworaczyk, the Tigers' most experienced offensive lineman, hasn't played all season because of a knee injury. But it hasn't mattered. The Tigers plug another guy in, shuffle a few guys around and just keep mauling people up front.
The Tigers lead the SEC in sacks allowed (only seven in eight games) and are third in rushing, averaging 189 yards per game.
On top of it all, this is a team that absolutely doesn't turn the ball over. LSU has committed just three turnovers all season and has now gone its last 60 offensive possessions without a turnover, which dates to the Mississippi State game the third week of the season.
It's not just a grind-it-out offense, either. Junior receiver
Rueben Randle
has developed into the top big-play receiver in the SEC. He leads the league with seven touchdown catches and is averaging 19.3 yards per catch, which is tops among the leaders. Three of his touchdown grabs have been 42 yards or longer.
Now, before we go any further, I'm not making my pick two weeks before the game, and I'm not saying that LSU will beat Alabama.
But what I am saying is that LSU is right there in Alabama's class, and if they were playing on a neutral site or playing in Baton Rouge on Nov. 5, I'd go on record right now and say that the Tigers would win.
Nothing rattles this team.
LSU has weathered it all -- a nasty bar brawl, the arrest and subsequent suspension of its starting quarterback, its offensive coordinator giving up play-calling duties after announcing that he had Parkinson's disease, and then three of its key starters missing last week's game after testing positive for synthetic marijuana.
So, while the buildup and hype to the Nov. 5 showdown will be unlike anything we've seen in this league for a regular-season affair, don't expect the Tigers to get caught up in the glare.
As LSU coach Les Miles said last Saturday, "That really hasn't been a big issue for us."
Nope, the only issue for the No. 1 Tigers has been figuring out which talented player to toss out there when somebody else gets hurt or suspended.
"If you're on this team, then you can play," Randle said. "We don't have guys just sort of hanging on. That's the way the coaches have recruited, and that's the expectation on this team. When it's your time, you go in and play at that same level. There isn't a drop-off."
As good as the game should be on Nov. 5, I'm now starting to think that maybe there is a chance it won't be the last time we see these two juggernauts play this season.
With Wisconsin and Oklahoma both losing last weekend, a rematch in the Allstate BCS National Championship Game is a possibility.
Clearly, it needs to be a close game in two weeks, and the loser needs to go on and be dominant the rest of the way.
But if a few more teams nationally stumble, then we very well could see an All-SEC affair in New Orleans for the title.
For that to happen, SEC fans might want to cheer hard for USC over Stanford this weekend in Los Angeles or Oregon over Stanford on Nov. 12. The same goes for Georgia Tech over Clemson this weekend, and perhaps South Carolina could help its SEC brethren when the Gamecocks face Clemson on Nov. 26.
Unbeatens Oklahoma State and Kansas State square off on Nov. 5, and Oklahoma State still has to face Oklahoma on Dec. 3.
It's unlikely that Boise State will lose, but nobody really saw the Broncos being tripped up last season, either.
Even if Boise State remains unbeaten, the Broncos could have a tough time outpointing a one-loss Alabama or LSU for that second spot in the final BCS standings.
It's all going to sort itself out over the next few weeks.
In the meantime, I'll keep doing my research on what's sure to be the most anticipated regular-season SEC game in history.
Two weeks ago, Alabama was my pick and still might be.
But LSU has a way of growing on you. The more you see these Tigers, the more impressed you are with them.
As sophomore defensive end Sam Montgomery said last Saturday following the Tigers' fifth straight victory by at least 26 points, "This is what we've been pointing toward since the offseason, and nothing's going to get in our way."
May, 20, 2009
5/20/09
1:22
PM ET
Posted by ESPN.com's Chris Low
We're counting down the 30 best players in the SEC. We've taken a look at 10 players who may well emerge as stars in this league. Now, let's examine five players who came out of nowhere this spring to become major factors heading into the fall.
1. Ron Brooks, S, LSU -- A quarterback and receiver in high school, Brooks made his name as a special teams player last season as a redshirt freshman. He made another move this spring, from cornerback to safety, and was an instant hit. Every time you turned around, he was intercepting a pass or making a big play. With Harry Coleman sliding over some to outside linebacker, look for Brooks to play a major role in what should be a deep, talented LSU secondary in 2009.
2. Montori Hughes, DT, Tennessee -- A little-known recruit coming out of high school, the 6-4, 312-pound Hughes exploded this spring on the practice field after spending last year at prep school. He was dominant enough that Tennessee coach Lane Kiffin evoked an Albert Haynesworth comparison after one scrimmage. Hughes is incredibly quick for a guy his size and gives the Vols that big, physical presence inside on the defensive line. He should be a nice complement to Dan Williams and Wes Brown this fall.
3. Carlton Thomas, RB, Georgia -- All eyes were on Caleb King coming into the spring, especially with Richard Samuel recovering from wrist surgery. King was supposed to be the heir apparent to Knowshon Moreno and still may be. But the most impressive running back for the Bulldogs this spring was the 5-7, 178-pound Thomas. He has great moves, is tough as nails and is one of those guys who's impossible to get a good hit on in space. The Georgia coaches think he can be aThomas Brown-type of player.
4. Robby Green, S, Alabama -- One of the most important jobs for Alabama this spring defensively was finding somebody to replace Rashad Johnson, who did so many things for the Crimson Tide defense a year ago. The guy who emerged was at one time thought to be too small to play cornerback in this league, let alone safety. Green, who was about 170 pounds when he arrived at Alabama, played almost exclusively on special teams last season. But his smarts, hustle and ability to hit a lot bigger than he weighs made him one of the surprises of the spring for the Crimson Tide.
5. Justin Albert, RB, Auburn -- He came to Auburn as a walk-on after blowing out his knee during his senior year of high school and spent last season on the scout team. Scholarship or no scholarship, Albert was one of those guys this spring that his teammates kept talking about in glowing terms. He's hungry, talented and willing to do whatever he can to contribute. He showed a knack for making the big plays in scrimmages and should fit in nicely to Gus Malzahn's new spread offense.