September, 6, 2013
9/06/13
11:00
AM ET
Saturday's 8 p.m. PT kickoff between Stanford and San Jose State ensures that the Cardinal, who had a Week 1 bye, will be the last team in college football to start its season. So yeah … Stanford's players are more than a little anxious to get going.
[+] Enlarge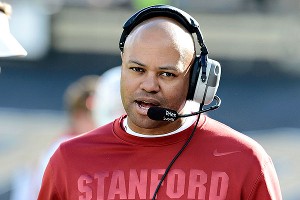 Ron Chenoy/US PresswireWith an extra week before starting the season, David Shaw and Stanford have not played a game in 250 days.
"I was 50-50 before but now I'm in favor of playing (in Week 1)," Stanford head coach David Shaw said. "It's hard not to play when other people are playing -- especially the start of a season. The start of the season has such a buildup. We're antsy."
Shaw split last Saturday watching games and pulling dad duty. Most of his players rallied around TVs and watched games with as critical of an eye as possible. Still, others were so focused on Stanford's Week 1 that they failed to realize it was actually college football's Week 1.
"I didn't even realize the season started on Saturday until I turned on the TV and saw College Football Live," defensive back
Usua Amanam
said. "It was awesome. I love watching football."
Now he gets to play some, finally, with a familiar foe coming to town. Last year the Spartans pushed the Cardinal in the opener. Not that the Cardinal took SJSU lightly last year, but they probably weren't expecting Mike MacIntyre's team to come out with such tenacity. A fourth quarter field goal was the difference in Stanford's 20-17 victory.
"We were ill-prepared," Amanam said. "They came out fast and punched us a couple of times in the mouth. It wasn't until the third or fourth quarter that we realized we were in a dog fight. Looking back at that game will help prepare us better for this year."
It's also, for the foreseeable future, the last Bill Walsh Legacy game on the schedule. Whether the game will/should continue in the future has added a little fuel to the rivalry
in the Bay Area media this week
.
The Spartans are led by new head coach Ron Caragher. Ironically enough, Caragher replaced Jim Harbaugh and Shaw -- Harbaugh's assistant -- at the University of San Diego after Harbaugh left for Stanford.
"We met for the first time at the Bay Area Media Day, about a month ago, which is strange because we know so many of the same people," Shaw said. "We had never met before or been in the same room before. I feel like I know him because I've heard so much about him from guys we've both coached at USD as well as other places he's been."
Pleasantries aside, the Cardinal will be out to rattle and disrupt Caragher's QB. San Jose State quarterback
David Fales
, the most accurate quarterback in FBS last year, is a top priority for the Stanford defense. With some good receivers around him like
Noel Grigsby
and
Chandler Jones
, the pressure is on Stanford's front seven to create some pressure, while the back half of the defense closes up passing lanes.
"He can fit tight balls in," Shaw said. "He played extremely well (last week) and still had a few balls that were dropped on him that were very well-placed. He's one of the best quarterbacks in the nation. He's hard to get to. He sees things quickly and gets the ball out of his hands."
The Cardinal offense, on the other hand, spent this past week installing new red zone schemes. With some critical weapons -- like running back Stepfan Taylor and tight end Zach Ertz – gone to the NFL, Shaw is looking for the next generation of players to step up.
"We've had good receivers, but the guy (Ertz) was phenomenal," Shaw said. "And I loved Coby Fleener. Coby Fleener was special. But I don't know if I've ever been around a guy like Zach that can run all the routes. He'd run every single route the smaller, quicker, faster guys could run and most of the times run them better."
Expect a heavy rotation of
Anthony Wilkerson
and
Tyler Gaffney
at running back, with others trying to carve out their own niche. The maturation of quarterback
Kevin Hogan
will also be a storyline to watch.
Stanford's defense, which is being heralded as one of the nation's best, is also looking to make a good first impression.
"We have a chance to do something special this year," Amanam said. "We want to make the most of the opportunities we have."
January, 3, 2013
1/03/13
1:30
PM ET
New Colorado coach Mike MacIntyre is bringing most of his staff with him from San Jose State. MacIntyre has hired six former assistants from the Spartans,
according to a report from the Daily Camera
, including both coordinator positions.

Writes Kyle Ringo:
MacIntyre has hired Brian Lindgren as offensive coordinator and Kent Baer as defensive coordinator. Klayton Adams, Gary Bernardi, Charles Clark and Jim Jeffcoat also have been hired. What positions those four will be assigned to coach and what titles and responsibilities each will hold were still being refined.
This is a solid first step by MacIntyre. Because while he gets a lot of the credit for turning San Jose State around, he clearly didn't do it all on his own. He did it with his guys.
And as coaches move up the ladder, sometimes loyalty gets lost along the way. With a bigger spending pool for assistants, sometimes there is the desire to go out and get "bigger-name" coordinators. But MacIntyre clearly believes in his staff and the job they did turning the Spartans into an 11-win team.
After it became clear San Jose State wouldn't hire its new head coach from within -- going instead with San Diego's Ron Caragher -- it would make sense that MacIntyre's guys would go with him. Baer, who coached the Spartans to a 29-20 win over Bowling Green in the Military Bowl,
reportedly wanted the job
but was passed over for Caragher. Baer is no stranger to the Pac-12, having served various roles throughout his career at Cal, Stanford, Washington and Arizona State.
Nice to see MacIntyre repaying the loyalty to the coaches who helped him get to where he is.
December, 18, 2012
12/18/12
5:00
AM ET
1. The NCAA released the 2012 Consensus All-America team Monday. That's the official compilation as recorded in the annual NCAA guide dating to 1889. Alabama had four players, giving the Crimson Tide 16 in the last five seasons. How good is that? Oklahoma is second in that time frame with seven players. The SEC put 10 players on the 25-man team; the Pac-12, seven. The Mountain West, Conference USA, WAC, MAC and, yes, the Big Ten, had one apiece.
2. Former Big East commissioner
Mike Tranghese tried to take the blame
for the way that the conference has fallen apart. Tranghese told Brett McMurphy that the football league never found an anchor team to make the league a national presence. But that's the strategy Tranghese tried to deploy when he brought Miami into the league in 1991. Maybe it comes down to the league's 1982 decision not to offer Penn State membership. Would Penn State have been happy enough to stay and not go to the Big Ten?
3. Here's two reasons to think that Ron Caragher will build upon the success of Mike MacIntyre at San Jose State. One, Caragher came in after Jim Harbaugh went 29-6 at San Diego from 2004-06 and went 44-22 in the last six seasons. Two, San Jose State athletic director Gene Bleymaier, who did the hiring, is the guy who hired Chris Petersen, Dan Hawkins, Dirk Koetter and Houston Nutt at Boise State. Bleymaier can spot a good coach.