NCF Nation:

Ronald Martin
November, 7, 2014
Nov 7
11:00
AM ET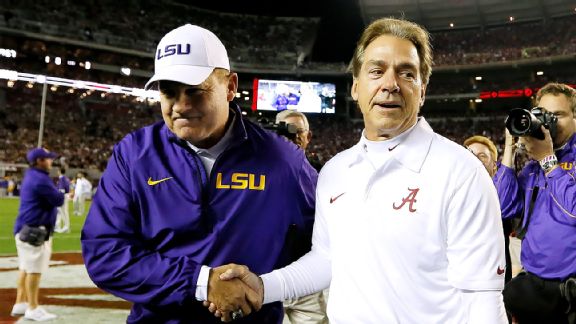 Kevin C. Cox/Getty ImagesLes Miles and Nick Saban differ in methodology and personality, but they share a winning mentality that has turned their programs into powerhouses.
Separated by more than 340 mostly rural miles, Nick Saban and Les Miles are giants of their time.
Their footsteps shake the southern ground and their wins stack as tall as Atlanta's Bank of America Plaza.
Saturday, the two will meet for the ninth time at their current jobs, with Saban holding a 5-3 lead in this wildly exciting series. Two coaches who thrive on winning and captivated the SEC after stints and upbringings well outside the confines of the country's most polarizing conference.
Miles went from being a Michigan Man to a Cowboy before settling in Cajun country. Saban went from a Michigan
State
man to Cajun to Dolphin then T-Town. Cross-country journeys brought these two to the Deep South and winning binds these iconic coaches.
Think Hayes-Schembechler with a little more southern hospitality.
While their personas are poked, prodded and overanalyzed countless times each season, and their methods and personalities are sometimes worlds apart, there's no denying that they share an equally impressive winning attitude.
Saban has a 172-58-1 (.747) collegiate record with four national championships -- three at Alabama and one at LSU -- and five conference championships. Miles is right behind him with a 130-47 (.734) record with a national championship and two conference titles.
Miles won 10 or more games seven times in his first nine seasons at LSU, while Saban did it in six of his first seven years at Alabama.
They are the class of the SEC, a conference that has only gained strength since their arrivals. Even with the SEC saying hello and subsequently goodbye to a handful of coaches since the arrival of Miles and Saban, they've stayed put, despite growing pressure and enormous expectations.
"It's really impressive to see how focused, driven and prepared he is every day," Alabama center
Ryan Kelly
said of Saban. "As you get older, that kind of wears off on you as well."
Saban's rough exterior can overshadow a fun side that Miles seems to embrace more openly. Miles is the quirky genius, while Saban is the evil genius, but Saban knows how to keep things loose, players say.
"He's funnier than you would think," Alabama receiver
DeAndrew White
said.
There are jokes cracked in practice and his well-known love for Motown and Michael Jackson. There are even
multiple
videos of him dancing that have come close to breaking the Internet.
It isn't quite repelling off the side of a building or eating grass, that's Miles' territory, and he's perfected off-the-wall .
"I've never seen anyone eat grass," LSU safety
Ronald Martin
said. "I guess that's his good luck charm."
Miles knows when to be serious, too. He's had emotional news conferences defending his players and his status as LSU's coach. The jokes die during games and when he has to, he isn't afraid to line up with his offensive linemen at practice – knees bent and trusty hat backward -- to show them what perfect technique looks like.
"It's always a great time being coached by him," LSU offensive lineman
Vadal Alexander
said. "He definitely gets down and dirty with us every now and then."
What makes them great is their undeniable coaching ability, but what makes their interaction that much more enjoyable is how different they really are.
People scratch their heads and often giggle at his sometimes indecipherable jargon, while Saban's dry humor is actually hilarious because it's so smart, even if it can come across as smug.
Saban has "the process" and Miles has "the want."
There are palm claps versus near headset destruction.
There's Miles hat, barely sitting atop his head, and Saban's glare, piercing through his own players and coaches, along with opponents.
There's Saban's meticulous attention to detail and Miles' off-the-cuff, Mad Hatter coaching style that can teeter on improbable bliss and disaster.
They differ in methodology and personality, but they share a winning mentality that has turned their programs into powerhouses.
Their teams mimic them in so many ways, and that's why Saturday is once again a huge deal. Excellence has bred success with these two coaches, making every encounter exemplary.
October, 26, 2014
Oct 26
2:25
AM ET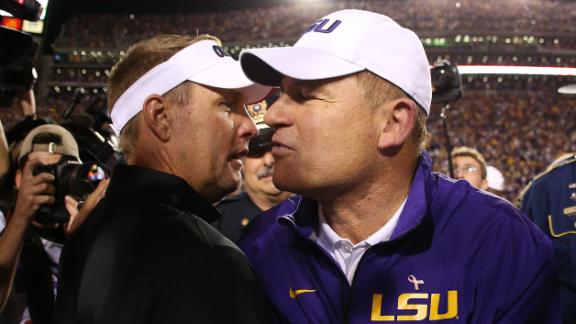 BATON ROUGE, La. -- The Egg Bowl still might decide the SEC West champion, but the dream matchup between unbeaten Ole Miss and unbeaten Mississippi State won't happen.
LSU made sure of that with its
10-7
comeback win on Saturday night. Tiger Stadium, after all, is where LSU coach Les Miles often says that opponents' dreams go to die.
No. 3 Ole Miss' dreams aren't entirely dead, but the Rebels must regroup in a hurry with No. 5 Auburn coming to Oxford next week.
"They're hurt. They've got to figure out how they're going to handle it," Ole Miss coach Hugh Freeze said after his team's loss left Mississippi State, Florida State and Marshall as the nation's only unbeaten teams. "They're not the only team in America that is going to go through this. If you'd have told me this team was going to be where we are right now in August, we'd be pleased. We're obviously not pleased to leave here after the season we've had."
[+] Enlarge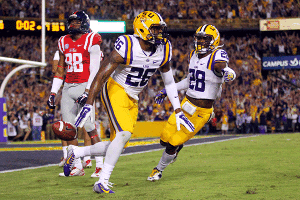 Crystal LoGiudice/USA TODAY SportsAn interception by Ronald Martin, No. 26, with two seconds left sealed Ole Miss' first loss of the season.
Ole Miss fans hadn't been this enthusiastic about their program in years, especially after they made it through the first three-quarters of a tough October stretch -- versus Alabama, Texas A&M and Tennessee -- unscathed. But LSU safety
Ronald Martin
ruined the Rebels' chances at a perfect season when he picked off a
Bo Wallace
pass at the Tigers' goal line with two seconds to play.
Frequently plagued by poorly timed turnovers earlier in his career, Wallace hadn't turned the ball over once in Ole Miss' first four SEC games. He picked an awful time for his first of 2014 -- particularly since Freeze instructed him to either throw into the flat so the receiver could get out of bounds or throw it away, leaving open the possibility for a game-tying field goal try.
"I think Bo would tell you, I thought we were pretty clear we were either going to take the flat throw or throw it out of bounds and try the field goal," Freeze said. "He must have felt like he had a shot at the touchdown play there. … I wish I could do that over for sure."
Wallace fought back tears after the game when asked about his decision on the final throw.
"I'm not going to talk about it," he said. "One-on-one, threw it up -- [it's] done."
The common refrain from the Rebels afterward was that this game might be done, but their division title hopes are not. At 7-1 (4-1 SEC), they own a head-to-head advantage over Alabama (7-1, 4-1) and still must face Mississippi State (7-0, 4-0) and Auburn (6-1, 3-1). Win out and they will represent the division in the SEC championship game.
"We'll bring them in [Sunday] and we'll sit down and have a heart-to-heart," Freeze said. "Again, we're not the only team in this league -- I don't know if anybody's going to go through it unscathed, it's that tough. But you have to respond to adversity the right way."
That's what LSU has done. Three weeks ago at Auburn, the Tigers (7-2, 3-2) suffered possibly the ugliest loss of Les Miles' tenure, 41-7. They're 3-0 since then and entered a bye week preceding Alabama's Nov. 8 visit by posting easily their most impressive win of the season.
"One thing about these Tigers, you put them in Tiger Stadium and give us a little bit of time to fix things, they can be very special," Miles said. "This team wanted to make this night special and they did."
Beyond what the win means for his team's season, it was special for another reason entirely to Miles. His mother, Martha, died Friday night at age 91, and Miles said he struggled to determine the proper way to inform his team without affecting the players' psyche before one of their biggest games of the season.
"I spent time thinking about the way that I need to tell them that when they see me on the sideline, it has not to do with who's passed and what's going on," Miles said. "It has only to do that I'm looking for every opportunity and advantage for us to win, and they need to see me as an aggressive man.
"After the game, I can't tell you the number of young men that put their arms around me and said they love me, Coach, which is as touching as anything I've had happen."
The players presented Miles with an honorary game ball, an award only given out after victories. Those are always difficult to come by in the SEC West, but this one was unique even by the standards of college football's toughest division.
There's a reason why some of the first words out of Freeze's mouth in his postgame news conference were, "This league is brutal."
Everyone knew that already, but Saturday's game was just another reminder of the peril that awaits SEC West teams each Saturday on their division schedule. As Freeze noted, the odds are against anyone in the division finishing with a spotless record. If his team can refocus quickly, the Rebels are still in the thick of the West race.
"It wears on you physically and mentally, but the thing is we still can control everything we want with the schedule that lies ahead," Freeze said. "We're going to have to play really good football. They're sore, they're down, they're disappointed, but hopefully we'll respond in the correct way."
October, 25, 2014
Oct 25
11:12
PM ET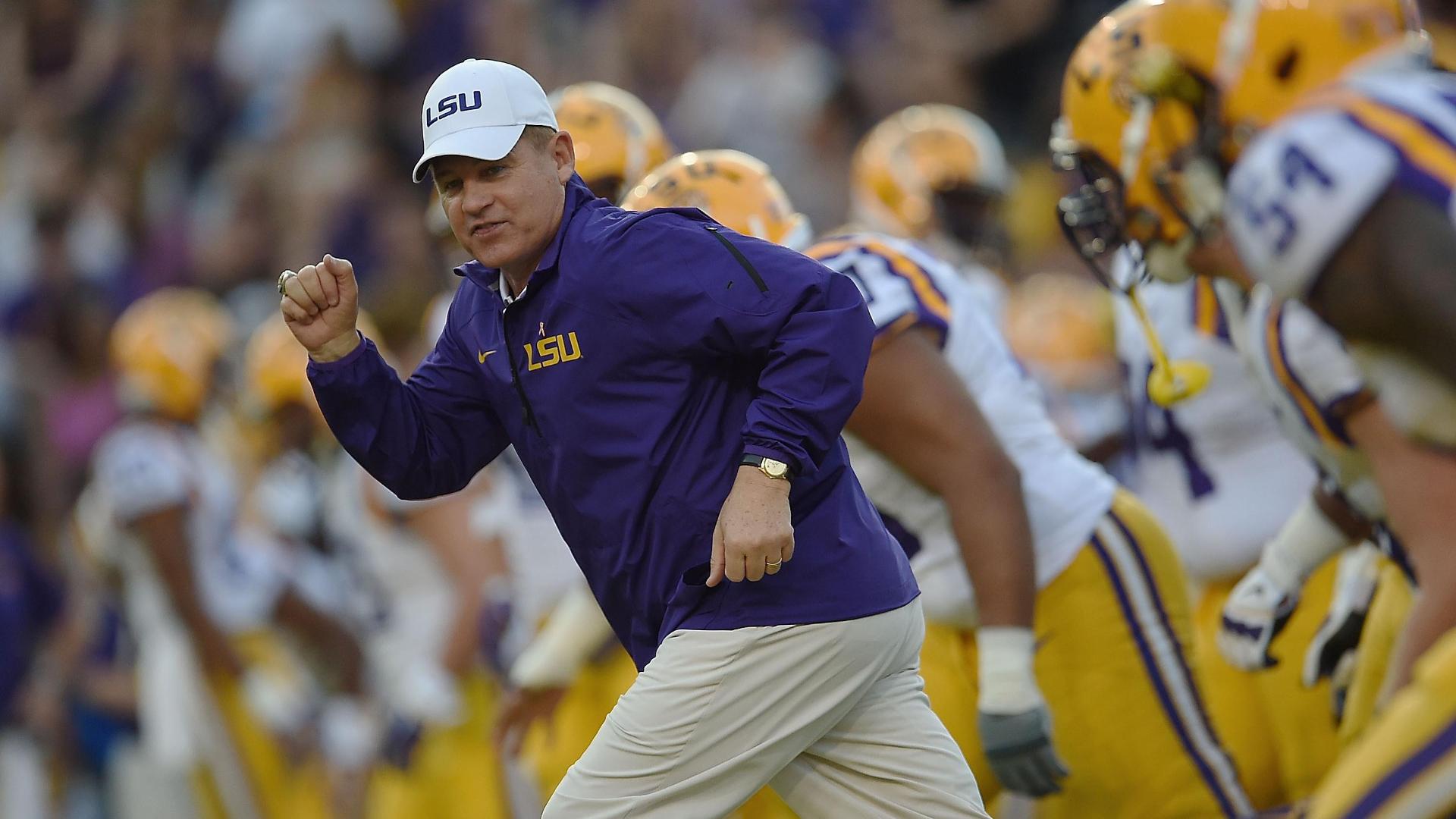 A breakdown of LSU's
10-7 upset win
over Ole Miss on Saturday night.
How the game was won:
Defense. LSU held Ole Miss to 313 offensive yards and got two critical stops in the final two minutes. The first came with 1:44 remaining on a fourth-and-1 try in which the Tigers stuffed the Rebels, and the second came with two seconds left when, instead of trying a 47-yard field goal, Ole Miss coach Hugh Freeze elected to try one more play. The Tigers made him pay for the decision. LSU senior safety
Ronald Martin
intercepted a pass from Ole Miss quarterback
Bo Wallace
with two seconds left to seal the upset win.
Game ball goes to:
Leonard Fournette
. The true freshman running back, who was the No. 1 recruit in the 2014 class, came up big after
Terrence Magee
left the game with an injury. Fournette finished with 113 yards on 23 carries, including some critical runs in LSU's final scoring drive. He even got his face mask ripped off by an Ole Miss defender, but his work on the last scoring drive help set up the game-winning score. Give the LSU defense a ton of credit also for keeping the Tigers in it even though they turned the ball over four times.
What it means:
We have a big shakeup near the top of the rankings and in the College Football Playoff race. Previously undefeated Ole Miss (7-1, 4-1 SEC) will drop and LSU, a team that is in the midst of what many have called a "rebuilding year" seems to be getting stronger. The Tigers (7-2, 3-2 SEC) have now won three in a row and are building momentum.
Playoff implication:
Ole Miss's chances take a hit. How much of a hit? We'll find out when the playoff selection committee's rankings are released on Tuesday. But a team that once controlled its own fate no longer does.
Best play:
Without a doubt, the play that sealed the win for LSU ... Martin intercepting Wallace: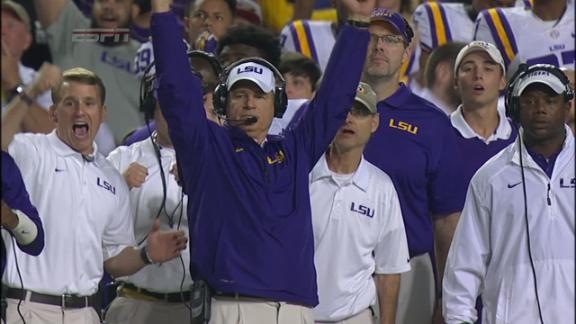 What's next:
Ole Miss must regroup quickly as it returns home to Oxford to host No. 5 Auburn a week from today. LSU has an open date next week and doesn't return to the field until Nov. 8 when it hosts No. 4 Alabama in Baton Rouge.
October, 9, 2014
Oct 9
9:00
AM ET
BATON ROUGE, La. -- LSU fans who watched
Nick Marshall
and
Cameron Artis-Payne
combine for 245 rushing yards might not believe it, but LSU linebacker
Lamar Louis
says it's true. If not for a sound game plan from defensive coordinator John Chavis, Auburn might have run for even more yards than it did in Saturday's 41-7 win over LSU.
[+] Enlarge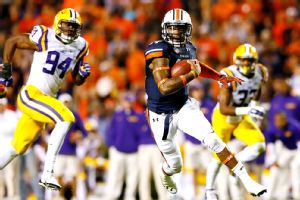 Kevin C. Cox/Getty ImagesLSU believes Auburn's Nick Marshall, who combined with Cameron Artis-Payne to rush for 245 yards, could've had an even bigger day if not for the Tigers' defensive game plan.
"We still believe in the game plan that we had for Auburn," Louis said. "We looked at film after the game and the game plan was correct. They just made some good plays, some good play calling and they got momentum and they ran with it.
"If you look at it, without the game plan that we had, Nick Marshall could have ran for a lot more yards if we didn't have certain things put into the scheme and whatnot. Besides a couple long runs by Artis-Payne, I think we did OK against him, too. But we're going to remain confident as a defense. We know we can stop the run."
Knowing they can do it and actually doing it are two different things. Thus far, the Tigers (4-2, 0-2 SEC) absolutely have not stopped the run -- which will be their No. 1 objective when they visit Florida (3-1, 2-1) on Saturday.
Chavis' defenses have long been known for their stinginess against running teams, relying on typically powerful defensive fronts to shut down opposing ground games. This season, however, LSU's turnover on the interior defensive line and players manning new roles at linebacker have left the Tigers vulnerable in the middle at times.
There were times when LSU linebackers were too slow to read and react properly, Louis said, and that led to big plays for opponents.
"When you're outside and you're reading the line and reading the backfield, you have to read it real fast," Louis said. "You don't want to leave a receiver wide open, but at the same time, you don't want to leave a gash in the line. That's something that weighs heavily a lot on outside backers and that's one of the downfalls of the outside backers."
Both Mississippi State and Auburn exploited those weaknesses with runs straight up the middle. For instance, Auburn rushed for 199 yards between the tackles -- 163 of which came before contact with a defender -- and broke eight runs of 10 yards or more.
It was the fourth time in six games that LSU surrendered at least 100 yards between the tackles. The Tigers' defense had only two such games in the entire 2013 season.
"I wouldn't say it's not embarrassing. Embarrassing is a word that comes to mind when you think about the run game and stopping the run," Louis said. "But like I said before, we still as a defense, we know what we can do. We've just got to play the calls that we're given. We trust Chief [Chavis] to give us the right game plan, give us the right call."
With a game against Florida and its somewhat-similar running game approaching, the question is whether the Tigers will improve. The Auburn game got out of hand early, but they made strides defending the run as the night progressed.
And let's be clear, while it is also a run-centric spread offense, Florida's is nowhere near as explosive as those of Mississippi State and Auburn. And the only similarity Gators quarterback
Jeff Driskel
has to State's
Dak Prescott
or Auburn's Marshall is that he's also a somewhat-mobile quarterback.
"I heard he can run the ball pretty well," LSU linebacker
Kendell Beckwith
said. "We've just got to do a good job containing him and taking away all the running lanes."
Saturday's visit to The Swamp is a much more manageable challenge for the Tigers' defense, so long as it proves it can handle running backs
Matt Jones
(372 rushing yards, 93.0 per game) and
Kelvin Taylor
(144 yards, 36.0 ypg).
Faring better against against Florida will require more consistent play up front from the defensive line and then the Tigers must do a better job of making the tackle once they arrive at the ballcarrier.
"We were in position to make plays on defense and we didn't make them," safety
Ronald Martin
admitted.
Then it comes down to the mental part of playing defense that Louis described. Spread offenses work in part because they force defensive players to diagnose what is happening in front of them, rather than relying on brute force to overpower an opponent. The Tigers have been caught out of position a lot in their first two SEC games, and that can't happen if they are to handle Florida's running game better than they did Auburn's and State's.
"We've got to adjust to all these spread teams that we have now. I think that's what's transitioning from maybe the mid-2000 LSU teams until now," Louis said. "Long ago, if you could just play hard-nosed football and plug the holes, you're a great defense. But now you've got to account for the run and worry about the pass at the same time and all these teams being spread offenses, it's a little bit more tricky.
"I think that's what is [happening when] people are like, 'The dominant defenses are changing.' No, you still have the same players with the same capability. You just have a lot more mental aspect of the game is getting installed."
March, 4, 2014
Mar 4
9:05
AM ET
Setting up the spring in the SEC West:

ALABAMA
Spring start:
March 15
Spring game:
April 19
What to watch:
Succeeding McCarron: The Crimson Tide must find the person who will step into AJ McCarron's shoes. There are several quarterbacks on campus: Blake Sims, Alec Morris, Parker McLeod and Cooper Bateman. The person most have pegged as the favorite, however, won't be on campus until the summer: Jacob Coker. A transfer from Florida State, Coker is finishing his degree before enrolling at Alabama. But new offensive coordinator Lane Kiffin will get a chance for a long look at the others this spring.
What's next for Henry?: Running back Derrick Henry has the fans excited after his Allstate Sugar Bowl performance (eight carries, 100 yards), and he brings great size to the position (6-foot-3, 238 pounds). T.J. Yeldon is a returning starter who is more experienced and battle-tested, and there are still other talented backs on the roster, such as Kenyan Drake. But plenty of eyes will be on the sophomore-to-be Henry.
Replacing Mosley: Linebacker C.J. Mosley was a decorated star and leader, so his presence will be missed. Alabama has plenty of talent in the pipeline; it's just not tremendously experienced. Watch for Reuben Foster and Reggie Ragland.

ARKANSAS
Spring start:
March 16
Spring game:
April 26
What to watch:
Keeping it positive: It's been rough around Fayetteville, Ark. The Razorbacks closed their season with nine losses in a row; coach Bret Bielema is a focal point in the unpopular NCAA proposal designed to slow down hurry-up offenses; and leading running back Alex Collins served a weeklong suspension last month for unspecified reasons. The Hogs could use some positivity.
A new DC: The Razorbacks will be working in a new defensive coordinator, Robb Smith. He came over from the NFL's Tampa Bay Buccaneers, where he was the linebackers coach. Smith made a significant impact at his last college stop, Rutgers, where he led the Scarlet Knights' defense to a No. 10 ranking in total defense in 2012.
Year 2 progress: Making a drastic change in scheme isn't easy to do, which is what the Razorbacks tried to accomplish in Bielema's debut season. In the second spring in Fayetteville for Bielema, things should come a little more easily as the Razorbacks continue to institute Bielema's brand of power football.

AUBURN
Spring start:
March 18
Spring game:
April 19
What to watch:
Picking up where they left off: The Tigers put together a memorable, magical 2013, and with eight starters returning on offense, keeping that momentum going is key. Replacing running back Tre Mason and O-lineman Greg Robinson won't be easy, but there is still plenty of talent on offense to aid quarterback Nick Marshall.
Marshall's progress: Marshall's ascent last year was impressive, but can he continue it? He's great with his feet and made some big-time throws last year. As he continues to progress as a passer, it should add another facet to the Tigers' explosive, up-tempo, multifaceted attack.
Improving the defense: The Tigers lost five starters from a group that was suspect at times last season. But defensive coordinator Ellis Johnson has a history of improving defenses from Year 1 to Year 2, and it should be interesting to see if he can do that at Auburn.

LSU
Spring start:
March 7
Spring game:
April 5
What to watch:
Jennings next at QB?: Anthony Jennings engineered a memorable, game-winning drive in the regular-season finale against Arkansas, leading the Tigers 99 yards downfield, capped by a 49-yard touchdown pass. His performance in the Outback Bowl was far from impressive, though, as he went 7-for-19 passing for 82 yards and an interception in the Tigers' win over Iowa. Still, he is considered the favorite to replace Zach Mettenberger. Competing with Jennings is Penn State transfer Rob Bolden and freshmen Hayden Rettig and Brandon Harris.
Starting over at WR: LSU loses two 1,000-yard receivers in Jarvis Landry and Odell Beckham, plus a senior (Kadron Boone). That's a lot of production to replace. Travin Dural, who made the game-winning catch against Arkansas, is back, as is Quantavius Leslie and Armand Williams. The Tigers have a host of redshirt freshmen joining the mix (John Diarse, Avery Peterson and Kevin Spears) and bring in several freshmen (Malachi Dupre, Trey Quinn, D.J. Chark) to compete for playing time. But replacing 72 percent of the 2013 receiving yardage will be challenging.
Finding safeties: Craig Loston has moved on, and the Tigers don't have a returning starter at safety. But they do have Jalen Mills, who slid from his cornerback spot to safety to start in the Outback Bowl. Corey Thompson, Ronald Martin and Rickey Jefferson all return, and ESPN 300 recruit Edward Paris Jr. is already on campus and will participate in spring practice.

MISSISSIPPI STATE
Spring start:
March 18
Spring game:
April 12
What to watch:
All eyes on Prescott: With some strong performances to close out the season in the Egg Bowl and in the AutoZone Liberty Bowl, quarterback Dak Prescott certainly played the part of an elite SEC quarterback. He'll enter the season with more national attention after putting together some gutsy performances while pushing through some personal adversity last season after the death of his mother.
Malone stepping in: Justin Malone was on pace to start at right guard last season, but was lost for the year with a Lisfranc injury in his foot in the season opener against Oklahoma State. With Gabe Jackson gone, the Bulldogs need another solid interior lineman to step up, and a healthy 6-foot-7, 320-pound Malone could be that guy.
Offensive staff shuffle: The Bulldogs added some new blood on the offensive coaching staff, bringing in young quarterbacks coach Brian Johnson, a former Utah quarterback. Billy Gonzales and John Hevesy were promoted to co-offensive coordinators, though head coach Dan Mullen will continue as the playcaller in games.

OLE MISS
Spring start:
March 5
Spring game:
April 5
What to watch:
Wallace's development: Coach Hugh Freeze believes quarterback Bo Wallace will be helped by having more practice this time around; last year, January shoulder surgery had Wallace rehabilitating most of the offseason, and Freeze believes it affected Wallace's arm strength later in the season. A fresh Wallace going into the spring can only help, and as he's heading into his senior season, the coaching staff will look for more consistency.
Status of Nkemdiche and Bryant: Linebackers Denzel Nkemdiche and Serderius Bryant were arrested last month and suspended. Ole Miss is investigating the situation, but their status remains undecided.
A healthy Aaron Morris: During the season opener against Vanderbilt, Morris tore his ACL and missed the rest of the season. The offensive guard was recently granted a medical hardship waiver to restore that season of eligibility. Getting Morris back healthy for 2014 is important for the Rebels as he is a key piece to their offensive line.

TEXAS A&M
Spring start:
Feb. 28
Spring game:
None (final practice is April 5)
What to watch:
Life after Johnny Manziel: Texas A&M says goodbye to one of the best quarterbacks in college football history and must find his successor. Spring (and fall) practice will be the stage for a three-way battle between senior Matt Joeckel, sophomore Kenny Hill and freshman Kyle Allen. Only one of those three has started a college game (Joeckel), and he played in just one half last August. Whoever wins the competition will be green, but all three have the ability to run the Aggies' offense.
Retooling the defense: The Aggies were pretty awful on defense last season, ranking among the bottom 25 nationally in most defensive statistical categories. They have to get much better on that side of the football if they want to be a real factor in the SEC West race, and that starts in the spring by developing the young front seven and trying to find some answers in the secondary, particularly at the safety positions.
New left tackle: This spring, the Aggies will have their third different left tackle in as many seasons. Luke Joeckel rode a stellar 2012 season to the No. 2 overall pick in the NFL draft. Senior Jake Matthews made himself a projected top-10 pick for this year's draft while protecting Manziel last season. This season, Cedric Ogbuehi gets his turn. Ogbuehi has excelled throughout his Texas A&M career on the right side of the offensive line (first at right guard, then at right tackle last season) and is looking to follow in the footsteps of Joeckel and Matthews.
October, 20, 2012
10/20/12
4:29
PM ET
COLLEGE STATION, Texas -- Maybe
Johnny Manziel
and his Texas A&M Aggies aren't quite ready for their SEC coming out.
Even in a game they dominated.
Two second-quarter turnovers led to two touchdowns and helped No. 6 LSU erase a 12-point second-quarter deficit for a
24-19 SEC win
at Kyle Field Saturday. Despite a 410-316 yardage edge for the Aggies, No. 18 Texas A&M had five turnovers, including three interceptions for Manziel, who completed 29 of 56 passes for 276 yards.


It was over when:
LSU running back
Jeremy Hill
took a power run 47 yards for a touchdown with 3:12 left. The play was eerily similar to his 50-yard touchdown that gave the Tigers a 23-21 win over South Carolina last week. Manziel was intercepted by LSU's
Tharold Simon
on the play before -- Manziel's third of the game -- doubling his season total.
Game ball goes to:
Hill, the LSU true freshman running back who rambled for 127 yards on 18 carries, again breaking out the big run when the game was on the line.
Key stat: 5-0.
The turnover margin. After LSU gave up a first-quarter touchdown drive and a field goal drive, the Tigers figured out A&M's spread offense, harassed the slippery Manziel and forced turnovers. Texas A&M jumped to a 9-0 first-quarter lead that increased to 12-0 in the second quarter, but did not score another touchdown until the game's final two minutes.
Key play:
Zach Mettenberger
's 29-yard touchdown pass to
Kadron Boone
with 11 seconds left in the first half. After the Aggies had dominated the half, Boone made a nice double move, then a diving catch to give LSU a shocking 14-12 halftime lead.
The touchdown was set up by a
Ben Malena
fumble, forced by Ronald Martin and recovered by
Lamin Barrow
.
What it means:
Ready or not, LSU (7-1, 3-1) has its showdown with No. 1 Alabama in two weeks and the Tigers will have a lot to work on during its off week. The Tigers had triple-digit penalty yards and, as has often been the case, could not consistently move the chains.
Texas A&M (4-2, 2-2) is now 0-2 against the SEC powers, both close losses at home. The Aggies have shown they belong, but maybe aren't quite ready for prime time.
September, 16, 2012
9/16/12
12:07
AM ET
BATON ROUGE, La. -- LSU's mid-game hiccup against the mid-major happened again.
Again, LSU was able to right the ship, this time to an impressive result.
Two pick-sixes by the Tigers' defense and
Zach Mettenberger
's
first 200-yard passing game of his short career allowed LSU to pull away to score the most points by a Tigers team in the Les Miles era in a
63-14 shellacking of Idaho
Saturday.


A red zone interception thrown by Mettenberger into the arms of Idaho safety
Gary Walker
, who returned it 94 yards to set up a touchdown, allowed the winless Vandals to stay within a touchdown of the third-ranked Tigers for most of the first half. But a late Mettenberger TD pass to
Jarvis Landry
just before halftime began a stretch of 42 straight LSU points.
Like LSU's 41-14 win over North Texas in the season opener, the Tigers (3-0) allowed a team from a smaller conference to hang around. Idaho (0-3) trailed just 21-14 late in the second quarter and 28-14 at halftime, but LSU completely dominated the second half and finished with 472 yards of offense to 213 for the Vandals.
It was over when:
LSU defensive end
Lavar Edwards
tipped a
Dominique Blackman
pass into the air, intercepted it and returned it 23 yards for a touchdown on Idaho's first possession of the second half, giving the Tigers a 35-14 lead.
It was the second pick-6 of the game, following a 45-yard pick-6 by
Ronald Martin
in the first half.
Game ball goes to:
Martin and cornerback
Jalen Collins
. On two interceptions, Collins made a nice play to break up the pass, then Martin caught the deflection. On the second one, Martin exploded down the left sideline for a touchdown, giving the Tigers a 21-7 second quarter lead. The first one set up a touchcown.
LSU intercepted Blackman four times, making his 23-for-36, 176-yard passing day that included a pair of touchdowns somewhat benign.
Key stat:
222, the yards Mettenberger threw for in his most prolific night yet. After completing four of his first eight, he completed 13 of his final 15 to go 17-for-23 with two touchdowns and the one bad interception at the Idaho 1.
Wide receiver
Odell Beckham
, Jr.
, caught four passes for 73 yards, making up for an off-week in last week's 41-3 win over Washington when he had three dropped passes and a fumble.
Deuces wild:
LSU had two pick-6s, two TD passes by Mettenberger and two rushing touchdowns from two different players--
Kenny Hilliard
, who rushed for 116 yards on 11 carries, and true freshman
Jeremy Hill
.
What it means:
That Mettenberger played into the fourth quarter and kept throwing passes on the Tigers' final drive showed that LSU is serious about developing the passing game. It had some issues -- not just the interception, but three sacks by the Vandals -- but it appears the Tigers are committed to getting the passing game ready for prime time with SEC play looming.