June, 4, 2010
6/04/10
10:07
AM ET
ESPN's "College Football Live" is running down its list of the most irreplaceable players for the 2010 season. So we thought we'd take a stab at it for every Pac-10 team, including a
different take
for USC.
Arizona
: C Colin Baxter. Centers are the quarterbacks of the offensive line, and Baxter is a good O-line QB. He earned second-team All-Pac-10 honors in 2009 and his backup, sophomore Kyle Quinn, has little experience. With Baxter, the Wildcats should be strong up front. Without him, the line would be a question.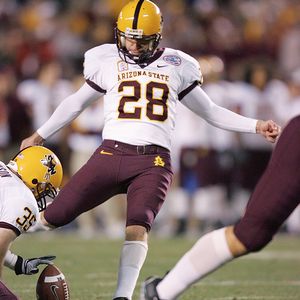 Icon SMIThomas Weber is 11-for-15 on field goals of 40 or more yards during his career.
Arizona State
: K Thomas Weber. Weber, the 2007 Lou Groza Award winner, is a weapon when healthy. While his backup, sophomore Bobby Wenzig, didn't do a terrible job filling in for a hurt Weber last year -- he made 3 of 4 field goals and 10 of 12 PATs -- he's no Weber, who's 11-for-15 from 40 or more yards during his career. The Sun Devils may struggle again on offense next fall, which means that Weber's range will be critical for getting points on the board.
California
: LB Mike Mohamed. Mohamed earned first-team All-Pac-10 honors in 2009 after leading the conference with 112 tackles, 16 more than any other defender. The Bears are replacing two of their four starting linebackers and, oh by the way, they didn't play the position terribly well last fall. It would be a big hit to lose both Mohamed's skill as well as his experience and leadership.
Oregon
: WR
Jeff Maehl
. With the demise of quarterback
Jeremiah Masoli
, the Ducks likely will be a little more pass-happy next fall. That makes Maehl, the Ducks' best receiver, critical. He caught 53 passes for 696 yards and six touchdowns in 2009 and steadily improved throughout the season. The Ducks' next two returning receivers,
D.J. Davis
and
Lavasier Tuinei
, combined to catch 47 passes for 450 yards and two TDs.
Oregon State
: RB
Jacquizz Rodgers
. It's not just that Rodgers is the conference's leading Heisman Trophy candidate. It's also about the Beavers' uncertain depth at the position.
Jovan Stevenson
and
Ryan McCants
combined for 164 yards rushing in 2009. Rodgers had 1,440. McCants turned in his best work yet this spring and the running game had its moments even without Rodgers, but let's just say the ground production likely would suffer -- big -- if Rodgers went down.
Stanford
: QB
Andrew Luck
. Pretty obvious, eh? The Cardinal's offense is already replacing Toby Gerhart. It can't afford to lose Luck also and expect to compete in the top half of the Pac-10. Backups
Josh Nunes
and
Robbie Picazo
are both redshirt freshmen, though if Luck went down, it's possible senior
Alex Loukas
could move from safety back to QB, where he started one game in 2008.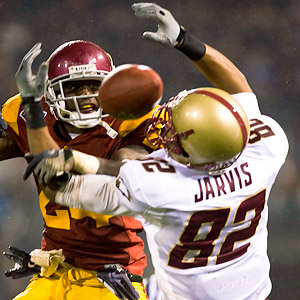 Jason O. Watson/US PresswireThe Trojans are already replacing four starters in the secondary and can't afford to lose their best corner, Shareece Wright.
UCLA
: LB Akeem Ayers. Ayers is an All-America candidate who has a knack for making big plays. If the Bruins' already-rebuilding defense lost him, it would then be replacing all three starting linebackers from 2009. His backup, Isaiah Bowens, is a redshirt freshman.
USC
: CB Shareece Wright. Michael Lev of The Orange County Register already beat me to this one in his
list of indispensable Trojans
. Wright's career has been riddled by injuries and he was academically ineligible last year, but he's long been considered the Trojans' best cover corner. USC is replacing all four starters in its secondary. Wright has four career starts and was a standout this spring. If he went down, the Trojans would have one career start returning in the secondary. That is not a good thing.
Washington
: QB
Jake Locker
. Locker is the Huskies' best player and their unquestioned leader. He's likely going to be a high first-round NFL draft pick next spring. But it's not just how important Locker is. Because last year's backup,
Ronnie Fouch
, opted to transfer, Locker's backup in 2010 will be either redshirt freshman
Keith Price
or true freshman Nick Montana. Neither, obviously, has any playing experience.
Washington State
: DE Travis Long. Long, though just a sophomore, is the Cougars' best pass-rusher and best overall defensive lineman. After a year of getting bigger and stronger, he's expected to be much better in 2010. The Cougars' defensive line already lost tackles Toby Turpin, who was kicked out of school for an academic incident, and Josh Luapo (academic ineligibility) and is waiting to find out the academic status of tackle Bernard Wolfgramm. They are not deep enough up front to recover from the loss of Long. His backup, sophomore Adam Coerper, has no experience.
October, 2, 2009
10/02/09
9:00
AM ET

Posted by ESPN.com's Ted Miller
The backup quarterback is just a bruised shoulder or broken jaw away from taking over the most critical position on the field -- just ask USC or UCLA.
There's already been plenty of quarterback movement in the conference -- injuries, depth chart changes, etc. -- so it seemed like a good time to see where the Pac-10 QB depth stands.
Ready to roll
Lyle Moevao, Oregon State
: Heck, it's hard to even call Moevao a backup to
Sean Canfield
, who was Moevao's backup last year. Moevao owns an 11-4 record as a starter and is only on the bench because he's still recovering from off-season shoulder surgery.
Tavita Pritchard, Stanford
: Pritchard is not going to play in the NFL, but he's a smart and experienced quarterback who started 19 games before being beaten out by talented redshirt freshman
Andrew Luck
. By the way, his first start was a win over USC.
Matt Scott
,
Arizona
: He started the first three games this season but lost his job to
Nick Foles
after a poor performance at Iowa. Still, the sophomore has enough experience that if Foles went down the Wildcats wouldn't go into panic mode.
Marshall Lobbestael, Washington State
: He started three games last year before a knee injury ended his season and two games this year before coach Paul Wulff opted to go with true freshman
Jeff Tuel
. He's battle tested, so if he's called upon again, it won't be like he's being fed to the wolves.
Nate Costa, Oregon
: Before the 2008 season, Costa was the touted heir-apparent to Dennis Dixon. Then he blew out his knee -- for a second time. A healthy Costa is a nice backup plan for
Jeremiah Masoli
. And No. 3
Darron Thomas
is no slouch -- he nearly led a comeback against Boise State in 2008.
Has the hype
Brock Osweiler, Arizona State
: Folks around the Sun Devils program were so excited about the mature, 6-foot-8 Montana native that many thought he'd beat out senior
Danny Sullivan
for the starting job. The true freshman still might be a factor this season.
Mitch Mustain/Aaron Corp
: Corp was the starter coming out of spring. Mustain practically disappeared until reemerging this week as
Matt Barkley
's potential backup. Both were prep All-Americans. Mustain was good enough to go 8-0 in the SEC at Arkansas, but offenses are more complex in the Pac-10.
Richard Brehaut, UCLA
: The true freshman competed -- briefly -- for the starting job during spring practices and was listed as the backup until starter
Kevin Prince
went down with a broken jaw and coaches opted to go with the more experienced senior
Kevin Craft
. Brehaut was a top-100 prospect in 2008 and offensive coordinator Norm Chow was supposedly quite taken by his potential. When Prince returns, UCLA would change categories to "Ready to Roll," unless of course Craft implodes at Stanford on Saturday and falls back to No. 3.
Who knows?
Beau Sweeney, California:
Sweeney, a redshirt freshman, recently eclipsed sophomore
Brock Mansion
on the depth chart. He's got great bloodlines. His father, Kevin, was a record-setting QB at Fresno State who had a cup of coffee in the NFL. His grandfather, Jim, was a highly respected college head coach, with tenures at Washington State and Fresno State. But Beau Sweeney hasn't seen any significant game action.
Ronnie Fouch, Washington
: New Washington coach Steve Sarkisian went out of his way all through the preseason to praise Fouch, who struggled mightily when he came off the bench to replace an injured
Jake Locker
for the final eight games last year. He threw 13 picks with just four TDs and was sacked 123 times, plus or minus. But circumstances were awful last season, and Fouch got little support. It's hard to say what kind of player he would be if called upon this season.
May, 27, 2009
5/27/09
10:05
AM ET
Posted by ESPN.com's Ted Miller
They are just a twisted knee or rung bell away from running your team's offense, so backup quarterback is not a position to just shrug about.
Ask Oregon fans. Before Saturday, they had a backup quarterback with significant experience who'd led a 2007 Sun Bowl victory and looked great in the spring game. Now Justin Roper is headed elsewhere, opting to transfer instead of backing up Jeremiah Masoli, and suddenly Masoli's physical running style feels a lot riskier.
Of course, ranking backups is tough. Does experience matter most? Because a few backups have lots of experience -- the bad kind.
Obviously from our list, we decided that experience is critical. My guess is some of you will howl about that.
So who will be holding their breath every time their quarterback dashes from the pocket? Here's a look.
1. Oregon State: Sean Canfield or Lyle Moevao? Lyle Moevao or Sean Canfield? It doesn't matter because the Beavers not only have two quarterbacks with significant starting experience, they have two quarterbacks who are good.
2. Stanford: It appears that the Cardinal will go with redshirt freshman Andrew Luck as the starter, which means 19-game starter Tavita Pritchard is a quality backup.
3. Oregon: Despite Roper's defection, the Ducks aren't in too much trouble here, particularly if Nate Costa -- the projected 2008 starter -- comes back healthy in the fall. Sophomore Darron Thomas is the quarterback of the future and looked good in the limited action he saw last year, including an inspired effort against Boise State.
4. USC: True freshman Matt Barkley is officially the backup, but I'm not so sure that Mitch Mustain wouldn't be the guy if Aaron Corp went down with an injury at Ohio State. Mustain saw a lot of action as a true freshman at Arkansas. And if it is Barkley, he's a big-time talent with a lot of poise.
5. California: We're not supposed to know who the backup is as the competition between Kevin Riley and Brock Mansion is officially ongoing. The fact Jeff Tedford won't say that Riley is his starter probably speaks to Tedford's belief that Brock Mansion is a pretty good talent.
6. UCLA: Much like USC, UCLA is listing a true freshman (Richard Brehaut) as Kevin Prince's backup. And, much like I wrote about USC, my guess is that Kevin Craft would be the guy if Prince went down. Craft set a school record with 20 interceptions last year, but he also led the Bruins to comeback wins over Tennessee and Stanford. That counts for something.
7. Washington State: Assuming that Marshall Lobbestael comes back healthy and wins the starting job, as expected, that makes senior Kevin Lopina, who started eight games in 2008, the backup. The experience is nice, but Lopina threw 11 interceptions and zero touchdown passes, which is not so nice. He did have one shining moment: His 48-yard pass to Jared Karstetter in final minute of the Apple Cup led to game-tying field goal, and the Cougars went on to win in overtime.
8. Washington: Sophomore Ronnie Fouch looked overmatched when he was forced into action last year when Jake Locker went down. He completed only 45 percent of his passes with 13 interceptions and four touchdowns, and ended up the Pac-10's lowest-rated quarterback. He, however, looked better this spring.
9. Arizona: Matt Scott owns a slight lead over Nick Foles heading into the summer. While neither has started a game, both have at least seen the field. Scott accounted for three touchdowns in 2008, while Foles threw eight passes for Michigan State in 2007. Not sure Arizona coaches would trade either for the more experienced backups we've listed ahead of the Wildcats here.
10. Arizona State: Sophomore Samson Szakacsy is a good athlete, and Sun Devils insiders are excited about true freshman Brock Osweiler, but neither has played a down of college football. Szakacsy was No. 2 coming out of spring. Osweiler could challenge him in the fall, but the guess here is he'll redshirt. Of course, one or the other also could push senior Danny Sullivan for the starting job, too.
October, 17, 2008
10/17/08
10:59
AM ET
Posted by ESPN.com's Ted Miller
Ten things to consider, underline or anticipate heading into the weekend.
1. Dear Arizona -- Get the ball to Rob Gronkowski and Mike Thomas: What does a dominating running game do for a team? Well, it wasn't just that Stanford had 286 yards rushing last weekend in its win over Arizona, it was that it ran 72 total plays vs. 57 for the Wildcats. What could a team do with 15 more plays? A lot. But if you only have 57, more than six of them should involve tight end Rob Gronkowski and receiver Mike Thomas.
2. Nate Longshore needs to grab hold of Cal's quarterback spot: California would love to run right at Arizona like Stanford did, but the Bears are down two starting offensive linemen and struggled just two weeks ago to get the running game going at home against Arizona State (79 yards on the ground). While it will help to get speedy Jahvid Best back, he's not going to give Cal 25 carries coming back from a dislocated elbow. That means Nate Longshore, making his second consecutive start, will need to make plays in the passing game. It doesn't help that receiver Michael Calvin was lost for the year this week to a knee injury. But Longshore should be plenty motivated to erase the three-interception performance he had in Tucson in 2006, an upset defeat that cost the Bears their first Rose Bowl berth since 1958.
3. How much does Washington still care?: The Huskies' players don't live in caves. They know that their fan base is hollering for coach Tyrone Willingham's coaching noggin'. They also can look at the guy under center and know he's no longer their leader, Jake Locker, who's done for the year with a thumb injury. While last season's bitter defeat at Oregon State should serve as motivation to play hard in front of the home fans, it will be interesting to see if the Huskies fight all four quarters if things start to get out of hand. And what if the Beavers jump on them early? Will a white flag come out?
4. Beavers stop the pass, own the field: Washington senior guard Casey Bulyca, who rivals center Juan Garcia as the Huskies most physical player, underwent knee surgery Tuesday and is done for the year. The line has been mostly mediocre this year, in any event. The Huskies don't really have a starting tailback, with Willie Griffin, Brandon Johnson and Terrance Dailey shuffling in and out. Locker, the best run threat, is, again, out. The Huskies average 2.9 yards per rush, and Oregon State's run defense has improved dramatically since yielding 239 yards at Penn State. This means it's up to UW quarterback Ronnie Fouch and his young receivers to make plays. But the Beavers likely will welcome the pass because safety Al Afalava and cornerbacks Brandon Hughes and Keenan Lewis are back to full speed after nursing injuries previous weeks.
5. USC will not be at full speed at Washington State: USC is banged up and it might make sense for coach Pete Carroll to lean toward caution with players who are borderline-ready to play at Washington State. Running back Joe McKnight (toe) won't make the trip. Neither will defensive end Everson Griffen and offensive lineman Butch Lewis (both are sick). Offensive guards Jeff Byers (knee) and Zack Heberer (toe), linebackers Brian Cushing (shoulder) and Kaluka Maiava (foot) and tight end Blake Ayles (groin) also missed significant practice time this week.
6. Don't hold the ball, Kevin Lopina: A team (hopefully) never expects to lose, but Washington State's prime directive is to get quarterback Kevin Lopina safely through USC's visit. Lopina is making his first start since going down with a back injury on Sept. 20 against Portland State, and the Cougars have a bye next week for him to further get his health, rhythm and timing back. The Trojans put a lot of pressure on opposing quarterbacks, often with just a four-man rush. Lopina needs to get the ball away in a hurry. That means three-step drops, roll outs, a two count and throw -- heave the ball into the stands if necessary. Just don't give up the sack, the INT or get hurt. The Cougars Nos. 2 and 3 quarterbacks are done for the season, and the guys next in line are a walk-on and a true freshman, so they really need Lopina to keep taking snaps.
7. Can Stanford run up the middle on UCLA?: Stanford has become the Pac-10's most physical running team. Running back Toby Gerhart is a 230-pound guy who's not afraid of contact, and the Cardinal line, led by center Alex Fletcher, has been the conference's best unit to this point of the season. But UCLA has perhaps the conference's best defensive tackle tandem in Brian Price and Brigham Harwell. Can Fletcher and his guards move these guys out of the way? The going should be far tougher up the middle, though the Bruins haven't been dominant against the run this year by any means, ranking eighth in the Pac-10 with 171 yards given up per game.
8. UCLA quarterback Kevin Craft needs to put four quarters together: Stanford is going to gang up on the run and try to force Craft to win the game. For much of the season, the Cardinal secondary looked vulnerable, but last weekend it did a masterful job containing Arizona's top targets, Rob Gronkowski and Mike Thomas, and didn't allow quarterback Willie Tuitama to throw a touchdown pass. Stanford also brings a lot of blitzes (see 19 sacks on the season). Craft has had fits and starts of success, and he seems to go in and out of rhythm throughout a game. He was sacked six times by Oregon and he threw a lot of ill-advised passes that were dropped by Ducks defenders. If the Bruins are going to defend their home turf, Craft needs to make plays consistently.
9. The solution for Arizona -- Stop the run: Arizona has lost twice this season. In both games, a power back ran all over the Wildcats undersized defense. But Cal doesn't have a Rodney Ferguson (New Mexico, 158 yards) or a Toby Gerhart (116 yards), who both tip the scales at 230 pounds. If the Wildcats force the Bears to throw into a secondary that is the defense's strength that will help in multiple ways. Not only will it ease the pressure on the defensive front, it also will stop the clock more often and allow the potent Arizona offen
se to get more plays.
10. Can any Pac-10 teams win on the road?: Pac-10 teams are 6-20 on the road this year -- 2-8 in nonconference play and 4-12 in conference. While Washington and Washington State have proved hospitable for obvious reasons -- stinking -- the rest of the Pac-10 has treated guests with disdain. Stanford and California are both looking to move up in the conference pecking order, but in order to do that they will have to prove they can win on the road someplace other than Washington or Washington State.
Posted by ESPN.com's Ted Miller
Sorting out the Pac-10 pecking order after six weeks:
1. USC: The Trojans reasserted their dominance with a blowout win over Oregon. The question remaining is can they play to their potential every week? And, if so, will that get them back to the national title game? Up next: Arizona State
2. California: The quarterback switch worked in that Nate Longshore led the Bears to a key conference victory over Arizona State. But the Bears' offense is still looking to find its rhythm. Fortunately for them, the defense is catching on. Up next: A bye week.
3. Oregon: For a quarter and a half, the Ducks looked like every bit the Trojans' match. Then the deluge. The defensive scheme puts a lot of pressure on the secondary, and the Ducks' defensive backs couldn't match up with the USC receivers. Up next: UCLA.
4. Oregon State: The Beavers beat Utah. And then they didn't. For all the good things they've shown this season, including the red-letter win over USC, they presently sit at 2-3. Up next: Washington State.
5. Arizona: Every game is important for a team scrambling to earn its bona fides, but the Wildcats' biggest game of the year may be Saturday at Stanford. A fifth win with six games remaining would virtually guarantee bowl eligibility -- Washington State is still on the slate -- but a loss means the Wildcats head into the toughest part of their schedule with a lot of work left.
6. Arizona State: The Sun Devils, at 2-3, are starting to look like a team that belongs in the bottom half of the conference pecking order, and they will be if Rudy Carpenter's sprained ankle sidelines him.
7. Stanford: Stanford, now 3-3, enters a critical run for its bowl hopes with three winnable games ahead: Arizona, at UCLA and Washington State. Those three games will either separate the Cardinal from the bottom third of the conference or again relegate them to it.
8. UCLA: Can the Bruins win on the road? If they want to move up they must, because four of the next six are on the road, starting at Oregon on Saturday.
9. Washington: Washington finally gets some good news: It's not playing this weekend. Any hopes that new quarterback Ronnie Fouch would create a Cinderella story for the Huskies and embattled coach Tyrone Willingham evaporated quickly in the desert last weekend.
10. Washington State: If there was something positive to take from the 28-3 loss to UCLA, it's that the Cougars looked competitive through the first quarter. They figure to run into a fairly grumpy bunch of Beavers at Oregon State on Saturday.
October, 3, 2008
10/03/08
11:23
AM ET
Posted by ESPN.com's Ted Miller
Ten things to consider, underline or anticipate heading into the weekend.
1. We should know fairly quickly if USC solved its run defense problems: What stood out more than anything in the Trojans loss to Oregon State was their poor run defense, with true freshman Jacquizz Rodgers rushing for 186 yards and USC's defensive linemen and linebackers struggling to get off blocks. Oregon is the nation's No. 4 rushing team and its passing game is still trying to find its rhythm with juco-transfer quarterback Jeremiah Masoli running the show. Ergo: The Ducks will immediately challenge the Trojans up front.
2. Who will start at quarterback for California and what will it mean?: Coming off a 42-7 victory in which your quarterback doesn't throw an interception is a curious time to renew a quarterback competition, but that's just what Bears coach Jeff Tedford did. And based on news reports this week, both sophomore starter Kevin Riley and senior challenger Nate Longshore -- who started 26 games before losing out to Riley -- practiced well, with neither surging ahead or falling behind. So Tedford said he'd wait until pregame warmups to announce who will start against Arizona State. How much of this is gamesmanship, and how much of an advantage does this garner Cal, if any? Here's a guess that the tag goes to the incumbent, and Riley remains the starter, with Longshore seeing spot action, which was the plan entering the season.
3. As usual, Rudy, not the run game, will be the key for Arizona State: Dennis Erickson said the Sun Devils need to run the ball more, period. The return of running back Keegan Herring from a nagging hamstring injury should help the Sun Devils sagging (110th in the nation) ground attack. But that won't change the basic fact that quarterback Rudy Carpenter is Arizona State's centerpiece, its singular star who will determine this team's fate almost every week. The speedy Herring might break a run or two for a big gain, but the Sun Devils will live or die by the pass in this game and the rest of the season.
4. Washington's new quarterback Ronnie Fouch won't wilt at Arizona: Don't be shocked if the Huskies offense puts up some points against the Wildcats with Fouch, a redshirt freshman, making his first start on the road after Jake Locker was lost to a broken thumb. Fouch has looked solid in limited action and seems confident in his abilities. More than a few folks have noted that he's already a more accurate passer than Locker. He might inject energy into a sagging team that may, in fact, be grateful to be away from its unhappy home fans.
5. Notre Dame will attack Stanford's secondary: Notre Dame quarterback Jimmy Clausen is rapidly improving and is developing timing with his young, talented receiving corps. Stanford's secondary is mediocre at best -- it allows opponents to complete 65 percent of their passes -- so the Cardinal will rely on pressure to keep Clausen in check. Stanford is second in the Pac-10 with three sacks a game, and the Fighting Irish offensive line is still figuring things out. But if Clausen gets time on his home field, he'll pick the Cardinal apart.
6. Rick Neuheisel's UCLA honeymoon will end if the Bruins lose: Neuheisel talked about noticeable improvement in the Bruins loss to Fresno State, but moral victories don't inspire a fanbase. And losing at home to the Cougars, a bad team even before it became a M.A.S.H unit, could cause some early grumbling in our win-now-or-else culture. UCLA should win going away. They should run right at the Cougars sagging defense and pressure redshirt freshman quarterback Marshall Lobbestael into making mistakes as he makes his first start on the road. Most of the schedule will be an uphill slog for the Bruins, so they shouldn't treat a rare weekend as a favorite as a time to relax.
7. Arizona should score 50: Arizona had a bye week to prepare for Jake Locker, and now they don't even have to deal with the annoyance of a running quarterback who can play keep-away from the Wildcats potent offense. And that offense will be rested and reloaded as it faces one of the nation's worst defenses. Tight end Rob Gronkowski figures to be completely back to form after missing the first three games with mono. Also, receiver Terrell Reese returns from a suspension, giving quarterback Willie Tuitama another option in the Wildcats potent spread attack.
8. Who will lead USC's tailback-by-committee this week?: Joe McKnight had emerged as first among equals in USC's crowded running back depth chart, but then he fumbled and was mostly ineffective in the loss to Oregon State. This past week, Allen Bradford, who had fallen off the radar, expressed frustration to coach Pete Carroll about his lack of carries. More than a few observers piped in that Stafon Johnson is being underused. And C.J. Gable remains the most complete back the Trojans have. The chatter won't matter if USC runs for 200-plus yards and rolls to victory -- success has always been Pete Carroll's justification for trying to distribute the ball among so many talented backs without establishing a consistent pecking order. But another meandering performance by the offense, particularly the rushing attack, might force a philosophy change.
9. Cal's offense won't be worse without Best: Well, of course, there will be some dropoff without the playmaking of speedy Jahvid Best, who's expected to return from a dislocated elbow on Oct. 18 at Arizona. But Shane Vereen is pretty fancy, too. Sure, Best has two 80-yard touchdown runs, but Vereen has an 81-yarder to his credit and he went 39 yards for another score for good measure. Vereen is averaging 69.8 yards rushing per game and a stout eight yards per carry. He also has 10 catches for 44 yards, so, like Best, he's also a good receiver. If Arizona State's defense exhales
because it doesn't see Best in the backfield, that could be a critical mistake.
10. This is Washington State's best chance for a Pac-10 win, at least until the Apple Cup: UCLA should beat the Cougars. The Bruins also should have beaten the Cougars last year, but Washington State won 27-7, a game that became a significant nail in then-Bruins coach Karl Dorrell's coffin. UCLA is prone to distraction. It may look at the schedule and yawn. Moreover, the Rose Bowl is hardly a hostile environment these days, so redshirt freshman quarterback Marshall Lobbestael might not be overwhelmed in his first road start. The Cougars may, in fact, benefit from being on the road, considering they lost by an average of 56 points in their first two conference home games. This might not qualify as an upset alert, but it won't be written very often this season that Washington State actually has a shot to win.
October, 2, 2008
10/02/08
11:25
AM ET
Posted by ESPN.com's Ted Miller
Went 4-1 last week. See if you can guess which game I got wrong.
Season record now stands at 26-8.
Utah 30, Oregon State 24: My guess is that Oregon State shows up with a bit of a "We whipped No. 1!" hangover, digs itself a hole on the road and then fights back. And falls short. But if the Beavers beat a second consecutive ranked team, they deserve a national ranking themselves.
USC 35, Oregon 20: USC is clearly mortal. It appears it will play without All-American linebacker Rey Maualuga. Oregon beat the Trojans last year. But I'm still not at the point where I can imagine USC losing two games in a row. Expect a highly motivated team to play with fire in front of the home fans and beat a Ducks squad that is one of the top 15 teams in the nation, no matter what the rankings say.
California 28, Arizona State 27: Obviously by the score here I see a toss-up. This is a critical matchup for two teams that imagine themselves finishing in the top-third of the conference -- sort of feels like a Holiday Bowl showdown, eh? I'd pick the Bears at home without a second glance if not for the recent shoddy play at quarterback and the absence of running back Jahvid Best. Dennis Erickson said the Sun Devils are going to run the ball. My guess is Rudy Carpenter passes for 300-plus yards and keeps this one close.
Notre Dame 38, Stanford 28: This could be a marquee win for the Jim Harbaugh Era at Stanford, and if the Cardinal were at home... maybe. But this is a cross-country trip to a rapidly improving team. Irish quarterback Jimmy Clausen will feast on a mediocre Stanford secondary, and the Cardinal still doesn't have the passing game to win a shootout.
Arizona 48, Washington 23: The long slog for Washington coach Tyrone Willingham continues without quarterback Jake Locker. The only hope for the Huskies is if a Wildcats program that has been prone to distraction gets distracted by overconfidence, and the Huskies' new quarterback, Ronnie Fouch, has a magical first start. But little seems magical around the Huskies these days.
UCLA 30, Washington State 17: Both teams have looked terrible this year, but UCLA has been improving while the Cougars have been getting even worse. The Bruins' new found running game will make life easy for quarterback Kevin Craft, who will build his confidence against a terrible defense. Also, the Bruins' beleaguered secondary will get a lift from playing a redshirt freshman quarterback, Marshall Lobbestael, on the road.
September, 30, 2008
9/30/08
5:22
PM ET
Posted by ESPN.com's Ted Miller
A few sentences looking at this week's matchups.
Oregon State (2-2) at No. 15 Utah (5-0) (Thursday): Any other Pac-10 fans feel like this is a big game, not only to validate the Beavers win over USC but to at least momentarily hush all the crowing coming out of the Mountain West Conference? Beavers bullied the Utes 24-7 last year, but they've got to prove they can win on the road.
No. 23 Oregon (4-1, 2-0) at No. 9 USC (2-1, 0-1): The Ducks are the nation's fourth best rushing team (309 yards per game), and surely eyebrows were raised at how poorly the Trojans defended the run against Oregon State. Oregon won a battle of top-10 teams a year ago, 24-17.
Arizona State (2-2, 1-0) at California (3-1, 1-0): California emerged with more questions than any team in history has following a 42-7 victory. The Bears lost star RB Jahvid Best to an elbow injury, the quarterback competition between Kevin Riley and Nate Longshore has begun anew and the injury bug hit starting defensive end Rulon Davis and offensive guard Chris Guarnero. The Bears also probably remember seeing a 13-0 lead disappear in a 31-20 loss to the Sun Devils last year.
Stanford (3-2) at Notre Dame (3-1): If Stanford has designs on making a statement that will resonate with college football fans, here's an opportunity. The Cardinal has lost six straight in the series -- including a sloppy 21-14 defeat last year -- and haven't won in South Bend since 1992.
Washington (0-4, 0-2) at Arizona (3-1, 1-0): Will the Huskies make any effort to save Tyrone Willingham's job? Or will the Wildcats take Washington too lightly and ruin a nice start to their season? Washington begins life after Jake Locker with redshirt freshman quarterback Ronnie Fouch running what figures to be a more conventional offense. Last year, Arizona scored the final 22 points to overcome a 41-26 fourth-quarter deficit and win 48-41.
Washington State (1-4, 0-2) at UCLA (1-4, 0-1): UCLA's reinvigorated running game meets its perfect match: The nation's 118th-ranked run defense. The Bruins spoke of improvement after losing a tight game to Fresno State, but losing at home to the woeful Cougars and their redshirt freshman quarterback, Marshall Lobbestael, who is making his first start on the road, would be crushing, perhaps as crushing as the 59-zip loss at BYU. It's notable that the Cougs beat the Bruins 27-7 last year.
September, 29, 2008
9/29/08
11:29
AM ET
Posted by ESPN.com's Ted Miller
Seems to me that only five Pac-10 schools are presently blessed with stability at quarterback, and one of those five was No. 3 on the depth chart during spring practices.
Pause for a moment and knock on wood for the lucky 50 percent.
Come on Duck fans. Be a good sport about it.
Rudy Carpenter is The Man at Arizona State without question. Same goes for Willie Tuitama at Arizona. Oregon State's Lyle Moevao has improved more than any QB in the conference. Mark Sanchez remains firmly atop the USC offense. And UCLA has little choice other than Kevin Craft.
But injuries and performance issues are riddling the other five teams.
The Bay Area QB "controversies" are fairly mellow right now, with the heat drifting this week from Palo Alto to Berkeley.
Stanford's Tavita Pritchard took another step forward at Washington, and his biggest rival in terms of pure talent, freshman Andrew Luck, is almost assuredly not going to burn his redshirt at this point.
Still, if Pritchard struggles at Notre Dame, things could open up again, even without Luck in the picture.
Meanwhile, a few unproductive weeks has Cal QB Kevin Riley facing a challenge from former starter Nate Longshore.
Coach Jeff Tedford said after the Bears blistered Colorado State 42-7 with minimal help from the passing game that he was unsure who'd start against Arizona State on Saturday.
The Longshore-Riley debate also has renewed among fans, most of whom were strongly pro-Riley because of Longshore's tendency to throw interceptions at inopportune times.
As for the injury plague... Oregon got through a weekend without adding a QB to its injury list, and may even get Justin Roper back for the visit to USC on Saturday.
But woeful Washington filled the injury void, with star QB Jake Locker going down with a broken thumb on his right, throwing hand, which he suffered while delivering a successful, but ill-fated block on a reverse. That means the desperate, 0-4 Huskies will turn to redshirt freshman Ronnie Fouch at Arizona this weekend.
So, for those keeping track at home:
Washington has lost its lone star and is now starting a redshirt freshman at QB.
Oregon, after having reached as far down as No. 5 on it depth chart and being forced to use two true freshmen and a first-year JC transfer, may get its No. 2 QB back this weekend.
Washington State, facing a potential winless season against FBS competition, has turned to No. 3 QB Marshall Lobbestael, a redshirt freshman, because of serious injuries to Nos. 1 & 2.
Craft has given UCLA stability at QB, but let's not forget he was the No. 3 guy during spring practices before Pat Cowan and Ben Olson went down.
This can't possibly get any worse. Or can it?
August, 12, 2008
8/12/08
11:10
AM ET
Posted by ESPN.com's Ted Miller
Much like many of the players, these links are day-to-day.