NCF Nation:

Ronnie Harmon
November, 26, 2011
11/26/11
9:53
PM ET
MADISON, Wis. -- The game ended one debate and added intrigue to another.
Wisconsin's
45-7
dissection of Penn State left no doubt as to which is the best team in the Leaders division. After falling behind early, the Badgers outclassed the Nittany Lions, as they're prone to do in a building where they've now won 16 consecutive games. They earned the right to face Michigan State next week in the inaugural Big Ten championship game.
But the decisive victory only brought more uncertainty to a question Badgers players and coaches love to get asked even though few have an answer.
Who is the Big Ten's Offensive Player of the Year: quarterback
Russell Wilson
or running back
Montee Ball
?
[+] Enlarge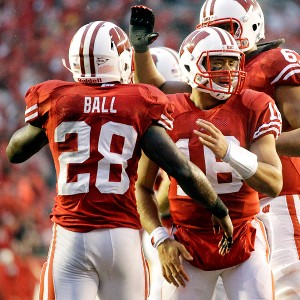 AP Photo/Morry GashWill Russell Wilson and Montee Ball end up sharing the Big Ten's top offensive player of the year honors?
"I'd split it," Wisconsin coach Bret Bielema said. "I don't know if there's ever been co-offensive MVPs off the same team. I don't know if that's ever been done, but I don't know how you can give it to one without the other."
It has happened once: Big Ten coaches voted Iowa quarterback Matt Rodgers and running back Nick Bell as co-Offensive Players of the Year in 1990. Will it happen again next week?
Wisconsin wouldn't be where it is without the contributions of Wilson and Ball, who are putting together the best combined quarterback-running back performance in a season in Big Ten history (more on that later). The senior quarterback and junior running back both sparkled again Saturday, having a hand in all six Wisconsin touchdowns against the nation's No. 8 defense. Wilson finished the game 19-of-29 passing for 186 yards and two touchdowns, while Ball recorded 156 yards and a touchdown on 25 carries.
It's rare when one NCAA record is set in a game, much less two. How about two records by two players in the same half? Wilson and Ball delivered Saturday.
Ball's second rushing score late in the second quarter gave him 12 consecutive games with multiple touchdowns, breaking Barry Sanders' NCAA record of 11 straight games. Wilson's 21-yard touchdown strike to
Jared Abbrederis
in the first quarter gave him 36 consecutive games with at least one touchdown pass, tying the NCAA record held by former Texas Tech star Graham Harrell.
Wilson's team single-season touchdown passes record stands at 28. Ball, meanwhile, has his sights set on a loftier mark, one thought to be unreachable. His four touchdowns Saturday give him 34 for the season, the second-most in NCAA history behind only Sanders' 39 scores in 1988.
"It's extremely rare," Wilson said of his and Ball's performances this season. "It's a once-in-a-lifetime type thing. You don't see it very often, but I think with Montee's ability to do a lot of different things, and then with my ability to throw the ball extremely well and to improvise when I have to, it's pretty dangerous."
You think?
Big Ten awards voting wraps up Sunday, and all-conference teams will be announced Monday night. The league's Offensive and Defensive Player of the Year awards are announced Wednesday afternoon, so the debate about Wilson vs. Ball will continue until then.
Don't expect much help from the Badgers.
"I'm very happy I don't have to make that decision," offensive lineman Travis Fredrick said.
"I couldn't say," added fellow offensive lineman Ryan Groy. "I'd be split between both of them."
Ball appeared to provide a definitive answer the first time I asked him.
"I'd pick myself," he said. "Of course, I'd pick myself."
But when asked during a
video interview
, Ball flip-flopped, saying he'd vote for "the pretty boy, Russell. Because what he brought to this team was a lot." When called out, Ball tried to backtrack, the first time all afternoon he had to.
Wilson was a bit more decisive.
"I'd definitely vote for Montee," he said.
While the debate carries on about which individual performance is superior, the combined effort from Ball and Wilson is more notable.
There's never been anything quite like it in Big Ten history. Wilson's passer rating of 192.9 this season keeps him on pace to break Colt Brennan's single-season NCAA record of 186. He should have no trouble breaking the Big Ten season record of 175.3 set by Michigan's Bob Chappuis in 1947.
Ball already has shattered the Big Ten season touchdowns mark of 26 and should finish among the league's top 10 in single-season rushing (he currently has 1,622).
While the Big Ten has witnessed better individual rushing and passing performances, the combined effort from Ball and Wilson stands alone in league annals. It's the best since Penn State's Kerry Collins and Ki-Jana Carter 1994: Collins passed for 2,679 yards and had a quarterback rating of 172.8, which ranks second in Big Ten history; Carter rushed for 1,539 yards and 23 touchdowns.
Former Wisconsin coach and current athletic director Barry Alvarez brought up Iowa's Chuck Long and Ronnie Harmon in 1985. They had impressive numbers -- Long racked up 3,297 pass yards, 27 touchdowns and a rating of 153.1; Harmon had 1,166 rush yards and nine touchdowns -- but not as impressive as the Wilson-Ball tandem.
"They're both really special," Alvarez told ESPN.com. "You only have one ball, so it's hard to have two guys with numbers like that."
It wasn't hard for Ball and Wilson to mesh. They play different positions and have different responsibilities, but they're driven in the same way.
"It goes back to how hard I worked in the offseason and how hard he worked when he got here," Ball said.
When Wilson arrived July 1, he told Ball he would compete to become one of the best quarterbacks in the country.
"He gravitated to that," Wilson said. "Every day in practice, we work together and communicate extremely well. Our desire to be great and to never be afraid to excel is something we definitely have in common."
For those arguing that Wisconsin and its stars feast on inferior competition, consider this: Ball racked up 495 rush yards and seven touchdowns and added two receiving scores against three top-10 defenses (Michigan State, Penn State and Illinois). While Wilson wasn't at his best in the Michigan State game, he still rallied his team brilliantly in the fourth quarter and stepped up against an excellent Penn State defense on Saturday, completing 15 of 21 passes for 149 yards in the first half.
"Two of the most complete players at their respective positions that I've ever seen play the game," Bielema said.
Wilson and Ball could share Big Ten Offensive Player of the Year. One or both could earn an invitation to New York for the Heisman Trophy presentation.
But the two are more focused on sharing a podium in two other places -- Indianapolis and Pasadena.
August, 5, 2010
8/05/10
11:00
AM ET
The house of pain is in effect y'all
I say the house of pain is in effect
You know the house of pain is in effect y'all
And anyone that steps up is gettin' wrecked
And, with those poetic lines from Everlast, we enter the Big Ten's House of Pain. All week at ESPN.com, we're exploring the most-painful losses in a team's history. What constitutes pain? First, the game has to be significant. A rough loss in a going-nowhere year doesn't sting as much as one that prevented a team from reaching its ultimate goals.
Painful losses often happen against rivals. Painful losses often have especially painful endings. Painful losses often take place at the worst possible times. Although blowout defeats certainly can qualify as painful, losses that culminate with crunch-time turnovers, field goal makes or misses or generally bizarre plays usually stick out more.
The most important criteria: painful losses linger for you, the fans.
Trust me, this wasn't easy, and I know many of you will disagree with the choices. But I only got to pick one game for each Big Ten team. A special thanks to the Big Ten sports information staffs for helping me with the project.
Here goes ...

ILLINOIS
Date:
Nov. 3, 1990
Opponent:
Iowa
Site:
Memorial Stadium (Champaign, Ill.)
Final score:
Iowa 54, Illinois 28
After winning a Citrus Bowl championship the previous January, Illinois entered the 1990 season with raised expectations. The Illini lost the opener but won their next six, rising to No. 5 in the national rankings. They had big dreams, but rival Iowa changed everything by crushing them in front of their own fans at Memorial Stadium. John Mackovic's team had no answer for Iowa's Nick Bell, who rushed for 168 yards. After allowing one touchdown in its opponents' previous 49 possessions, Illinois watched Iowa reach the end zone on its first five drives. Illinois' 2000 loss to Michigan deserves honorable mention.

INDIANA
Date:
Nov. 7, 1988
Opponent:
Illinois
Site:
Memorial Stadium (Champaign, Ill.)
Final score:
Illinois 21, Indiana 20
Indiana went to Champaign ranked No. 20 nationally and boasting a 4-1 mark in Big Ten play after a win against Iowa. The Hoosiers seemingly had the game in hand, up 20-9 with less than four minutes remaining. But Illinois quarterback Jeff George, an Indianapolis native who attended Indiana's archrival Purdue before transferring, led the comeback and fired a touchdown pass with 21 seconds left. Illinois' drive came after Indiana quarterback Dave Schnell fumbled on a bootleg. The loss took Indiana out of the race for the Big Ten championship. Indiana's most painful moment came against Anthony Carter and Michigan in 1979.

IOWA
Date:
Jan. 1, 1986
Opponent:
UCLA
Site:
Rose Bowl (Pasadena, Calif.)
Final Score:
UCLA 45, Iowa 28
Iowa felt the pain both for what happened during the game and what happened soon afterward. Maxwell Award winner Chuck Long led the fourth-ranked Hawkeyes into Pasadena, but he was sacked four times by the Bruins. Tailback Ronnie Harmon had a miserable day, fumbling four times after doing so just once all season and dropping a wide-open touchdown pass. Some believed Harmon threw the game. An Iowa win could have led to a national championship after No. 1 Penn State and No. 2 Miami both lost in their bowl games.

MICHIGAN
Date:
Nov. 24, 1973
Opponent:
Ohio State
Site:
Michigan Stadium (Ann Arbor, Mich.)
Final score:
Ohio State 10, Michigan 10
Michigan has had its share of painful losses -- Appalachian State, Ohio State in 2006, Colorado in 1994 -- but this tie with the hated Buckeyes really stung the Maize and Blue. The game featured its share of pain, as Michigan rallied from a 10-0 deficit to tie things up, but missed two field goals in the closing moments. The controversy really started afterward, as Big Ten athletic directors voted that Ohio State should play in the Rose Bowl ahead of Michigan. The Big Ten's no-repeat rule had been scrapped just two years earlier. Michigan coach Bo Schembechler called the decision "an embarrassment to the Big Ten Conference" and stewed about it until his death in 2006.

MICHIGAN STATE
Date:
Jan. 1, 1966
Opponent:
UCLA
Site:
Rose Bowl (Pasadena, Calif.)
Final score:
UCLA 14, Michigan State 12
The Spartans came to Pasadena undefeated and ranked No. 1 in the country. UCLA jumped ahead as the Spartans coughed up the ball four times in the first half. Still, Michigan State had a chance and outgained UCLA 314-212 in the game. The Spartans rallied and scored with less than a minute left, setting up a potential tying two-point conversion attempt. But fullback Bob Apisa was stopped short of the goal line by UCLA's Bob Stiles, who knocked himself out making the tackle. Alabama was awarded the AP national title. Michigan State's 2006 loss to Notre Dame and 1966 tie against the Irish deserve honorable mention.

MINNESOTA
Date:
Oct. 10, 2003
Opponent:
Michigan
Site:
Metrodome (Minneapolis)
Final score:
Michigan 38, Minnesota 35
Minnesota was 6-0 and entered the Little Brown Jug rivalry ranked No. 17 nationally. Led by tailbacks Marion Barber and Laurence Maroney, Minnesota led 28-7 after three quarters and 35-21 with 11:11 left. But Michigan couldn't be stopped in the fourth quarter and scored 31 points in the final 15 minutes, capped by Garrett Rivas' field goal with 47 seconds left. Minnesota rushed for 424 yards but still felt short. The Gophers arguably have never been the same. No Big Ten team has more painful losses than Minny.

NORTHWESTERN
Date:
Nov. 11, 2000
Opponent:
Iowa
Site:
Kinnick Stadium
Final score:
Iowa 27, Northwestern 17
Northwestern has seen huge leads evaporate (Michigan State in 2006), suffered shocking early losses (Miami University in 1995) and come very close to ending its bowl drought the past two seasons. But Rose Bowl opportunities don't come around too often for the Wildcats, and they squandered one by falling to Iowa. A week after an unforgettable win against Michigan and ranked No. 12 nationally, Northwestern was totally outplayed by a Hawkeyes team that went 3-9. On a day when Purdue opened a path to Pasadena with a loss to Michigan State, the Wildcats stumbled on the doorstep.

OHIO STATE
Date:
Nov. 22, 1969
Opponent:
Michigan
Site:
Michigan Stadium (Ann Arbor, Mich.)
Final score:
Michigan 24, Ohio State 12
The Buckeyes brought one of their greatest teams ever to "that state up North" to face a Michigan team regaining respectability under first-year coach Bo Schembechler. Although Michigan played at home and carried a four-game win streak into The Game, Ohio State was a 17-point favorite. The Buckeyes scored a quick touchdown but never really recovered, as a Michigan team inspired by Schembechler and a 50-14 loss the year before shut down Rex Kern and Co. Ohio State committed seven turnovers and suffered one of the biggest upsets in college football history. It also spawned the Ten-Year War between Schembechler and Woody Hayes. Ohio State's 1998 loss to Michigan State merits honorable mention.

PENN STATE
Date:
Nov. 6, 1999
Opponent:
Minnesota
Site:
Beaver Stadium (State College, Pa.)
Final score:
Minnesota 24, Penn State 23
Undefeated Penn State looked every bit like a national championship team, rising to No. 2 in the polls behind freakish defenders like LaVar Arrington and Courtney Brown. The Nittany Lions held a two-point advantage when Joe Paterno decided to punt rather than attempt a long field goal try in the closing minutes, trusting his dominant defense. Minnesota began the game's decisive drive with a Hail Mary pass from Billy Cockerham to Ron Johnson. Moments later, the Gophers converted a fourth-and-16 to set up the game-winning field goal by freshman kicker Dan Nystrom. Penn State lost its final two regular-season games. The Lions' 1979 Sugar Bowl loss to Alabama and their 2005 loss to Michigan gain honorable mention.

PURDUE
Date:
Oct. 16, 2004
Opponent:
Wisconsin
Site:
Ross-Ade Stadium (West Lafayette, Ind.)
Final score:
Wisconsin 20, Purdue 17
Purdue's program hasn't been the same since The Fumble. The Boilers came in 5-0 and ranked fifth nationally, while quarterback Kyle Orton had established himself as the Heisman Trophy front-runner. Purdue led 17-7 with eight minutes left and had a three-point advantage and the ball with 2:49 remaining. On third-and-3, Orton scrambled and made a lunge for the first down, only to have the ball knocked loose. Wisconsin's Scott Starks scooped it up and raced 40 yards for the game-winning touchdown with 2:36 left. Purdue lost its next three games and backslid to the Sun Bowl, where it fell to Arizona State.

WISCONSIN
Date:
Oct. 23, 1993
Opponent:
Minnesota
Site:
Metrodome (Minneapolis)
Final score:
Minnesota 28, Wisconsin 21
Wisconsin might have celebrated a national championship had it found a way to beat the rival Golden Gophers. The Badgers were 6-0 heading to the Metrodome but fell behind 21-0 to a Minnesota team that went 4-7 that fall. Wisconsin closed to within 21-14 and reached the Minnesota 8-yard line before Brent Moss was stuffed on fourth-and-1. The Badgers went on to share a Big Ten championship and reach the Rose Bowl for the first time since 1963, but they were so close to winning it all. Honorable mentions include 1999 against Cincinnati, 1998 against Michigan and 2005 against Iowa in Barry Alvarez's final game.