September, 15, 2011
9/15/11
9:09
PM ET
Maryland senior receivers
Quintin McCree
and
Ronnie Tyler
have been suspended indefinitely for a violation of team rules, the school announced on Thursday. Both started against Miami in the season opener, and together they combined for 13 catches, 82 yards and a touchdown in the Labor Day win.
"The expectation of our program is for our student-athletes to conduct themselves in the proper manner academically, athletically and socially," coach Randy Edsall said in a prepared statement. "Unfortunately, Quintin and Ronnie fell short of these expectations."
There is no timetable for their reinstatement.
McCree caught seven passes for 39 yards against Miami and Tyler had six catches for 43 yards and a touchdown.
June, 23, 2011
6/23/11
10:30
AM ET
You asked, I answered. Readers (particularly @AsylumGodfather) were calling for more position rankings, so the receivers are up next. This could be the strongest position group in the conference, and one of the more difficult to rank, so I looked back on a few stats to help me separate them, including how some of these guys did against their best competition (i.e.
Danny Coale
versus FSU, wow). Here's the final verdict of which teams in the ACC have the best combination of depth and talent:
1. Virginia Tech:
With
Jarrett Boykin
and Coale returning, the Hokies' passing game has a chance to flourish this fall. Boykin, Coale and
Dyrell Roberts
were the team's top three receivers last year for the second straight season, combining for 113 catches, 1,882 yards and 11 touchdowns. Add to that
Marcus Davis
,
D.J. Coles
,
E.L. Smiling
-- it's a bottomless cup of depth and talent.
2. Duke:
Conner Vernon
has 128 catches in his first two collegiate seasons and
Donovan Varner
ranked fourth in the ACC in pass receptions (60) and seventh in yardage (736). Their combined 274 receptions are the most of any active duo in the ACC. They are the top two returning leaders in catches per game, and Vernon is the ACC's returning leader in receiving yards per game. The Blue Devils also have sophomore
Brandon Braxton
(14 catches), who could make a name for himself as the third option this year.
3. Florida State:
Every Seminole who caught a pass last season returns.
Bert Reed
,
Taiwan Easterling
and
Rodney Smith
return with a combined 50 career starts. Reed ranks second among all returning ACC receivers with 141 career receptions.
Willie Haulstead
had 38 catches last season, Smith had 31, and there's plenty of rising talent like
Christian Green
.
4. North Carolina:
Like Florida State, North Carolina returns all of its receivers, including two who redshirted last season.
Dwight Jones
, who had 946 yards and 62 receptions, leads the group, but
Erik Highsmith
(25 catches, 348 yards and three touchdowns) must be accounted for as well. Defenses also can't forget about
Jheranie Boyd
, who is a deep threat.
5. Miami:
The Canes will miss the production of Leonard Hankerson, but they don't have to if one or two of the other players show more consistency.
Travis Benjamin
has big-play capabilities and averaged 17.3 yards on his 43 catches last season. There is no shortage of other options with
LaRon Byrd
,
Aldarius Johnson
,
Tommy Streeter
,
Allen Hurns
and
Kendal Thompkins
. Which one will rise to the occasion?
6. Clemson:
It was the
DeAndre Hopkins
show last season, and he should again highlight the Tigers' passing game. As a true freshman, Hopkins had 52 catches, the most by a first-year player in school history.
Jaron Brown
returns with 10 career starts, and the Tigers also have
Marquan Jones
(21 catches) and
Bryce McNeal
(19).
7. Maryland:
The Terps have to replace their top two receivers from a year ago in Torrey Smith and
Adrian Cannon
, and no clear frontrunners emerged this spring.
Quintin McCree
leads all returners with 16 catches, followed by
Kevin Dorsey
(15),
Ronnie Tyler
(13),
Kerry Boykins
(10), and
Tony Logan
.
8. Boston College:
True freshman
Bobby Swigert
led the Eagles last year with 39 catches and four touchdowns in five starts. The Eagles are hoping to get a significant boost from the return of
Colin Larmond Jr.
, who missed all of last season with a knee injury, but the young group should be better regardless because of the experience gained last season.
9. Virginia:
The Cavaliers will miss
Dontrelle Inman
, who averaged 16 yards per catch on 51 receptions, but returning starter
Kris Burd
finished fifth in the ACC last season in pass receptions (58). The group will also get a boost from the return of
Tim Smith
, who missed almost all of last season with an injury, and
Matt Snyder
(30 catches) and
Ray Keys
(three catches).
10. NC State:
NC State has to replace its top two receivers from a year ago, and
T.J. Graham
is the team's leading returning receiver with 25 catches.
Steven Howard
,
Jay Smith
and
Quintin Payton
all have experience, and redshirt freshman
Bryan Underwood
,
Tobias Palmer
and Everett Proctor have also been competing for playing time.
11. Wake Forest:
Chris Givens
(35 catches, 13.7 average),
Michael Campanaro
(10 catches) and
Danny Dembry
are the lead candidates to start, but the Deacs are missing a spark like Kenny Moore (2007) and D.J. Boldin (2008) provided. There were too many dropped passes in the spring game, so this group has some work to do in summer camp.
12. Georgia Tech:
Yes, Georgia Tech throws the ball, just not often enough or efficiently enough to be anywhere but last place on this list.
Stephen Hill
led the Jackets last year with 15 catches for 291 yards and three touchdowns. He should show progress this fall now that there's no pressure on him to be the next Demaryius Thomas. If he doesn't show more consistency, the Jackets could turn to
Daniel McKayhan
,
Tyler Melton
or
Jeremy Moore
.
April, 25, 2011
4/25/11
2:00
PM ET
Maryland quarterback
Danny O'Brien
had his best scrimmage to date on Saturday, coach Randy Edsall said earlier today on his weekly spring teleconference.
With two practices and a spring game remaining this week, Maryland is getting closer to developing its offensive identity under Edsall, and much of that can be attributed to O'Brien's progress under first-year coordinator Gary Crowton. Edsall said Maryland has made significant progress installing the schemes this spring, and the staff has been able to analyze the strengths and weaknesses of the personnel.
[+] Enlarge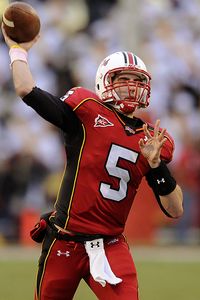 AP Photo/Nick WassDanny O'Brien's efficiency rating of 134.5 last season is the best in the ACC among returning quarterbacks.
So far, O'Brien has been one of the Terps' biggest strengths.
"I just see him getting more comfortable with what we're doing," Edsall said. "I'm very comfortable with Danny from the standpoint that when you're putting something new in, it's not going to come overnight, but what I like to see and those very good players are the guys who get better with each practice, with each week, and you can see that progression taking shape with him. I think that's going to continue."
Edsall said O'Brien and the receivers are "more on the same page" now, and
Kevin Dorsey
,
Ronnie Tyler
and
Kerry Boykins
have been the top three targets. Tyler and Boykins shared time at slot receiver last season and combined for 23 receptions.The competition still remains within the group, though, heading into Saturday's spring game.
The one position that is undisputed is O'Brien's. He had a 7-3 record as a first-year starter in 2010, and despite not starting the first three games, his 22 touchdown passes were third in the country among freshmen and second in school history.
With so many new faces at quarterback throughout the ACC this year, it's been overshadowed that O'Brien's efficiency rating of 134.5 last year is the best in the conference among returning quarterbacks.
While this spring has been a transition for O'Brien in the new offense, he has been watching film on his own and asking the staff countless questions to learn the playbook. He has also acted as a second coach on the field, pointing out corrections to his teammates and leading by example.
"You explain it once to him and he gets it," Edsall said. "... He grasps it, he understands it, and then when he gets into that situation the next time, there is no hesitation. He gets it done."
Odds 'n' ends:
Freshman receiver Nigel King has made some progress with the NCAA clearinghouse and is able to practice while his appeal works its way through the system, Edsall said.

Offensive tackle R.J. Dill is the only player expected to miss Saturday's spring game, but Edsall said tailback Gary Douglas tweaked his hamstring and didn't practice all week. Tailback Jeremiah Wilson "took a shot on the leg" and might not practice tomorrow, Edsall said. Dorsey has a hip/groin strain that might hinder him this week.

Fullback Taylor Watson told Edsall he's going to graduate this summer and won't be on the team.
December, 30, 2008
12/30/08
9:18
PM ET
Posted by ESPN.com's Heather Dinich
This was exactly what Maryland needed.
| | |
| --- | --- |
| | |
| | Brian Losness/US Presswire |
| | Maryland Terrapins coach Ralph Friedgen and the Terrapins salvaged their season with a 42-35 win over Nevada. |
The Terps salvaged an otherwise disappointing season with their 42-35 win over Nevada, and they did it by winning the field position battle, controlling the line of scrimmage and wearing down the undersized Wolf Pack. In the process, they helped the ACC even its bowl record to 3-3 with four games remaining, and a few of the fans in the announced crowd of 26,781 began to chant "A-C-C!"
If there has been one thing the conference has excelled at this season, it's been keeping things interesting, and the Roady's Humanitarian Bowl was no exception.
Much like Maryland's entire season, the Terps' performance in the Humanitarian Bowl was filled with inconsistencies, wild momentum swings and unpredictable moments. (Who could have foreseen the wind blowing the ball off the tee?) An interception and two lost fumbles in the third quarter kept Nevada in the game.
Although Maryland's defense allowed its fair share of big plays, it was a respectable debut for interim defensive coordinator Al Seamonson, who was forced to audition for the job against one of the nation's most prolific offenses. Nevada was No. 2 in the nation in rushing offense at 291.42 yards per game, and the Terps held them to just 114 yards and 3.5 yards per carry.
Unfortunately, college football fans didn't get to see Nevada quarterback Colin Kaepernick at his best, as he was hampered by an ankle injury for much of the game. And the Terps were helped by Nevada's six drops, as Kaepernick was healthy enough to hit his receivers in stride and give them catchable balls.
Even without the seven players who were suspended from the start of the game, Maryland looked prepared and played with a purpose for four quarters.
The only problem with this win for Maryland was that it was the final game for 31 seniors, and the Terps will head into spring football sorely missing their leadership. But the first half showed flashes of promise from young players like Adrian Cannon, Torrey Smith, Ronnie Tyler and Morgan Green.
While it might have been a consolation prize for a team very much in the hunt for the ACC championship in November, it was still the senior sendoff the team was looking for and a lesson learned for next year.
November, 29, 2008
11/29/08
2:04
PM ET
Posted by ESPN.com's Heather Dinich
CHESTNUT HILL, Mass. -- Hello from Alumni Stadium, where everything but the press box clam chowda is cold, and the most excitement right now is on four different TVs in here. All of the ACC games are on and I'm keeping an eye on all of them. (WOW, Clemson ...)
The Atlantic Division winner will be determined here today. It's also senior day for 14 seniors, and there will be a reunion to honor the 50th anniversary of the 1958 football team, which finished 7-3. Maryland is looking to continue its streak of beating ranked teams. The Terps have knocked off a school-record six straight ranked teams (AP poll), including a nation's best four this season.
Aside from the most obvious (Dominique Davis), here are a few things to keep an eye on today:
1. BC's scoring defense. The Eagles have scored a nonoffensive touchdown in six straight games and have seven total this season. The defense has scored five times on four interception returns and a fumble recovery. Historically, the defense has a tendency to do it against Maryland. The last time the Terps were here, Jolonn Dunbar put them behind 14-0 with fumble returns of 14 and 38 yards. BC scored a third touchdown on an interception return by DeJuan Tribble.
2. Maryland's secondary receivers. With Darrius Heyward-Bey possibly out with an undisclosed leg injury, the roles of redshirt freshmen Torrey Smith and Ronnie Tyler will be even more important. The Terps have been at their best when other receivers like Danny Oquendo have given quarterback Chris Turner more options. They'll be particularly important considering Maryland is likely to struggle running the ball against this front seven.
3. Maryland's defensive line vs. BC's O-line. So much attention has been paid to the BC defense that these guys have been overlooked. The Eagles average 6-foot-5, the tallest in the ACC, and weigh an average of 307 pounds. They should give Davis plenty of time. Should. They have allowed 15 sacks and paved the way for true freshman running back Montel Harris to have four 100-yard games. Maryland has had 24 sacks this season.
TOP 25 SCOREBOARD
Thursday, 12/5
Friday, 12/6
Saturday, 12/7
TOP PERFORMERS