August, 20, 2010
8/20/10
9:01
AM ET
Who will be Ohio State's No. 3 wide receiver this season?
The question has been asked for months, even before Duron Carter's departure from the school in mid June. Ohio State boasts two proven receivers in
DeVier Posey
and
Dane Sanzenbacher
, but the team has no other returning wideouts who caught a pass in 2009.
Interested parties wondered if senior
Taurian Washington
would take charge. Others watched redshirt freshman
Chris Fields
, who drew strong reviews from the coaching staff after spring ball. And don't forget about guys like
Grant Schwartz
,
James Jackson
or even true freshmen like James Louis or Verlon Reed.
[+] Enlarge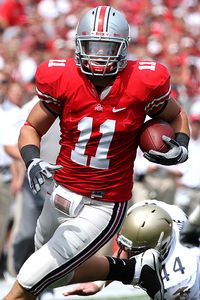 Matthew Emmons/US PresswireOhio State tight end Jake Stoneburner only had two catches last sesaon, but figures to play a bigger part in the offense in 2010.
My take: forget all those names for a second. Quarterback
Terrelle Pryor
's third option in the passing game this fall doesn't even play wide receiver but ... wait for it ... tight end.
"Oh, yeah,"
Jake Stoneburner
said when asked about filling the No. 3 role. "During camp, they've had some instances where they'll split me out and they'll have a two-back set with three receivers, and I'm the third receiver out there with Dane and DeVier."
Some people out there must be thinking I can't be serious. An Ohio State tight end being an integral part of the passing game? Jim Tressel would go for fourth-and-8 in his own red zone before featuring a tight end as a pass catcher.
Stoneburner had a grand total of two receptions in 2009, while starting tight end Jake Ballard had only 13. In 2008, Ballard and Rory Nicol combined for 11 receptions all year.
Nicol used to joke about how rarely the ball came his way. Ohio State tight ends used their hands for blocking and not much else.
It's why Stoneburner initially wasn't thrilled about switching from receiver to tight end before last season.
"I knew they didn't get the ball," he said.
What might change in 2010? For starters, Stoneburner is admittedly a pass-first tight end who has made blocking his top offseason priority.
He's a big target at 6-foot-5 and 245 pounds, and he boasts good speed in the middle of the field. Perhaps most important, Pryor likes to throw him the ball.
"The spring is when I really saw it," Stoneburner said. "We would have plays we normally hadn't run with the tight end running routes, and he's looking at me, like, 'Hey, get open on this. I'll try and get you the ball.' With Terrelle knowing the offense more and being more comfortable out there, he's looking for more targets. With me being able to run good routes and get open, he's looking at me to be one of his primary targets."
A year ago, we heard similar talk about Stoneburner being a bigger part of the passing game, and it never happened. But Pryor spread the ball around a bit better in the Rose Bowl and has continued to do so in practice.
Plus, Stoneburner has developed his game.
"I want to be an every-down tight end, and you've got to be able to block and catch the ball," he said. "I felt like with my speed and athleticism, I'll always be able to get open and catch the ball, but I really had to work on my strength, knowing the defense, knowing who to block when and footwork and that kind of stuff."
Stoneburner agrees that Ohio State needs more than two reliable receivers this fall. But Pryor should have more options, regardless of the position they play.
"We've got a lot more weapons," Stoneburner said. "The running backs can catch the ball just as good as the receivers and tight ends, so having all that come together at once, it's going to lead us to being able to do more things with our offense."
April, 1, 2010
4/01/10
9:00
AM ET
The Rose Bowl shed new light on
Terrelle Pryor
and the Ohio State offense -- a glow that Buckeyes fans hope doesn't go anywhere.
[+] Enlarge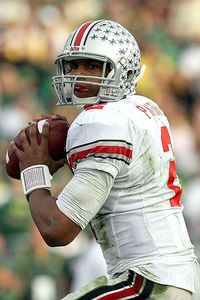 Stephen Dunn/Getty Images Pryor completed 23 of 37 passes for 266 yards with two touchdowns in Ohio State's win over Oregon.
Ohio State's offense was mediocre at best during the regular season, and Pryor hadn't shown enough consistency in the passing game to complement his unique athletic talent. But in Pasadena, Pryor and his teammates put forth the
balanced, efficient and effective product
everyone had been waiting for.
The game marked a potential turning point for Pryor and the offense, a place where the Buckeyes could build. Ohio State offensive coordinator Jim Bollman certainly hopes so.
But Bollman also knows it's not that easy.
"You're not going to walk on the field [Thursday] and all of a sudden, be at that point," Bollman said. "How hard we all have to work, how focused we have to be to get back to that point, that's what's in front of us. That's the challenge, that's how you try to improve.
"You're not working toward an unseen performance level. We've been to that point. But everybody's got to understand what it takes."
Getting back to that point -- and beyond it -- is the challenge for Ohio State's offense, which begins spring practice Thursday afternoon. Bollman said Pryor won't be limited after offseason knee surgery, and the hope is that the third-year quarterback takes another step after his giant leap between the 2009 regular-season finale and the Rose Bowl.
So can Ohio State open up the playbook, particularly with the pass, for Pryor?
"If we show [progress] along those lines, certainly that would be a logical way for us to head in," Bollman said. "Plus, having the weapon of him being able to run, should we choose to do those kinds of things. But for him in the realm of the passing game, that's got to be a full team deal. Our protection has got to improve. His own performance has to be more consistent. We've got to get more of those outs going to the tight ends and the running backs.
"All of that has got to come together, and that's going to be a fun part of this spring."
Ohio State returns nine starters on offense, including four of five linemen and two capable receivers in
DeVier Posey
and
Dane Sanzenbacher
. But to truly spark the passing attack, the Buckeyes must identify more options this spring.
They need a No. 3 wideout, as
Ray Small
departs and no returning players besides Posey and Sanzenbacher recorded more than 20 receptions last fall. Running back
Brandon Saine
, who had 17 catches for 224 yards last year, should help a bit, but Ohio State wants more depth at receiver.
Bollman said
Taurian Washington
has the best chance to step in, but the senior had no catches last year and boasts only three in his college career.
Duron Carter
also returns, and Bollman thinks
Chris Fields
and
James Jackson
, as well as some incoming recruits, could factor into the mix.
"Washington's probably the leading candidate," Bollman said. "He really finished up the year strong, did a good job coming through in the bowl game. He'd be a guy that we're counting on to give us a hand in there."
A bigger boost could come from the tight end position, which Ohio State typically uses for run blocking. Former Buckeyes tight end Rory Nicol used to joke about how little the tight ends were used in the passing attack, and while
Jake Ballard
made a memorable catch in the Rose Bowl, he finished the season with only 14 receptions.
Things could change with
Jake Stoneburner
stepping into a featured role. The 6-5, 245-pound Stoneburner had only two receptions as a freshman last year, but his production should increase.
"His speed certainly can have more of an effect on the game than some other guys we've had in the past," Bollman said. "That's going to cause openings for someone, if not him. That can have a different effect on things, for sure."
January, 6, 2009
1/06/09
2:18
AM ET
Posted by ESPN.com's Adam Rittenberg
| | |
| --- | --- |
| | |
| | Mark J. Rebilas/US Presswire |
| | Ohio State nearly pulled off the upset behind Todd Boeckman, above, and Terrelle Pryor. |
GLENDALE, Ariz. -- Perhaps more than any other player, Todd Boeckman has served as a symbol for Ohio State's senior class.
He celebrated Big Ten titles and struggled in big games. He earned local and national recognition and endured the pain of subpar performances. He handled both the highs and the lows with class.
Despite losing the starting quarterback job to true freshman Terrelle Pryor in Week 4, Boeckman still joined fellow captains James Laurinaitis, Malcolm Jenkins and Brian Robiskie to meet the media after every game. He remained a leader in the locker room, on the practice field and on the sideline, even if he could no longer be one on Saturdays.
For those reasons, no player on the field at University of Phoenix Stadium had more support than Boeckman as he reclaimed a critical role in the Tostitos Fiesta Bowl against Texas. The senior helped Ohio State rally in the fourth quarter and was seconds away from a perfect end to his career when Texas scored the game-winning touchdown to win 24-21.
"To see him go in there, it proves the old adage that good things happen to good people," Ohio State tight end Rory Nicol said. "He stayed the course all year. Yeah, he was pissed off in his mind all year long. Who wouldn't be? He did the right thing, he did what was best for the team. He forgot himself."
But Ohio State didn't forget about Boeckman, even though Pryor made strides as the starter. The Buckeyes shook things up in bowl practice, pairing Boeckman and Pryor on the field together.
The combination worked Monday as Boeckman completed five passes for 110 yards, including a 5-yard scoring fade to Pryor, who recorded his first touchdown reception. Boeckman helped set up Ohio State's go-ahead score with 2:05 left with a 21-yard strike to tight end Jake Ballard on second-and-17.
"I had no idea how much I was going to play," Boeckman said. "They just told me to be ready at all times. I'm always looking forward to getting out there and playing with these guys. I had some fun out there today, but unfortunately, we couldn't get the job done.
"It felt pretty good to get out there and throw the ball around a little bit. I haven't done that in quite a while."
Ohio State's coaches downplayed the two-quarterback scheme leading up to the game, suggesting it would only be used sparingly. But Boeckman took the game's first snap and found Robiskie for a 14-yard gain.
He seemed to spark the offense in the first half, and after the unit went silent in the third quarter, his 48-yard completion to Robiskie on third-and-13 changed the game's complexion.
"Todd is a special guy," head coach Jim Tressel said. "Every one of us wanted to do all we could to make him a part of the plan. He stepped in and did a good job."
The game signaled the start of a major personnel transition for Ohio State, as the 28-member senior class departs following four Big Ten titles but a 1-3 record in bowl games. Running back Chris "Beanie" Wells and wideout Brian Hartline, both juniors, also could also be departing. Both said they had not reached a decision about the NFL draft.
"The seniors have 43 wins throughout their career here," Boeckman said. "That's one of the best records in Ohio State's history. The hard part about that is the last three bowl victories, we didn't get a win. That's probably what people are going to remember the most. That's tough to take."
The near miss resonated with Pryor, who performed admirably under pressure and will face an even greater burden in 2009.
"We made a statement, but losing to a team, it's not good enough," Pryor said. "You've got to win. We hung onto 'em, but it doesn't sound great. It's not right.
"We had an OK season. We needed to finish that game off."

January, 2, 2009
1/02/09
3:46
PM ET
Posted by ESPN.com's Adam Rittenberg
SCOTTSDALE, Ariz. -- More than once after a game this season, Terrelle Pryor noted how college football isn't all that different from the Pennsylvania high school scene he dominated as the nation's No. 1 recruit.
| | |
| --- | --- |
| | |
| | AP Photo/Seth Perlman |
| | Terrelle Pryor has successfully made the transition from high school to the college game. |
After helping Ohio State stomp Michigan State, 45-7, on Oct. 18, Pryor told reporters, "It's just like high school." The line became Pryor's trademark this fall as he won Big Ten Freshman of the Year honors and led Ohio State to another BCS bowl appearance as the starting quarterback.
"Liar," Buckeyes senior tight end Rory Nicol said. "But Terrelle's from PA [Pennsylvania], I'm from PA, too, so I'm allowed to say that. He's a good athlete, man."
Such a good athlete that Pryor's transition from high school to college has been smoother than many had expected, even for a freshman who came to Ohio State with unparalleled hype. Pryor has had his growing pains, but he led the Big Ten in pass efficiency (152.1) and posted an 8-1 mark as the starter.
With small-forward size and a smooth, seemingly effortless running style, Pryor at times looked like the best player on the field, just like he was at Jeannette Senior High School.
Could it really be that easy?
"You can't really argue with him," senior cornerback Malcolm Jenkins said. "He was just in high school last year, so he comes in, he's doing amazing things as a freshman. It kind of is just like high school."
October, 18, 2008
10/18/08
6:37
PM ET
Posted by ESPN.com's Adam Rittenberg
Terrelle Pryor just manhandled Michigan State cornerback Ross Weaver with a stiff arm on a first-down run, and the first person to congratulate him was tight end Rory Nicol. I'd say all is right in Ohio State's world today.
Nicol was among the players who spoke out this week about Ohio State's struggles on offense, asking for some sort of change to jump-start the passing game. None of the players directly criticized Pryor, but they didn't give him a ringing endorsement, either. It seems like what they said worked, though, as Pryor stepped up in a big way today.
Ohio State fans have complained the last few weeks that the Buckeyes aren't getting the necessary boost in the polls with win after win. Until today, the argument seemed hollow. Ohio State hadn't looked like Ohio State, and other teams looked better.
But the Buckeyes' convincing performance at Spartan Stadium should get them a sizable boost in the Week 9 rankings.
Michigan State likely will fall out of the Top 25 after today's clunker.
Mark Dantonio tried to give the offense a spark with Kirk Cousins at quarterback, but after one scoring drive the Spartans went nowhere. I doubt Brian Hoyer will be replaced next week, but Ohio State definitely erased the notion that Michigan State is an elite program. The Spartans have to bounce back in a rivalry game at Michigan to avoid their annual nosedive.
If Ohio State's defense performs like this next week, Penn State will have a tough time.
October, 17, 2008
10/17/08
12:41
PM ET
Posted by ESPN.com's Adam Rittenberg
Read these links and magically get smarter.
Bielema described the quarterback situation this way:

"We made a directional move today and told our kids why we had to do it."
"He said, 'I didn't get to play [the past two weeks because of an ankle sprain], but I'm still [mad]. You guys, you look like a bunch of girls out there, and that's the truth,' " senior left tackle Alex Boone recalled.
Tailgaters, listen up. Northwestern defensive end Kevin Mims and his father started a company that can turn your vehicle into a tailgating paradise on Saturdays without losing its primary function the rest of the week, Jim O'Donnell writes in the Chicago Sun-Times.

Penn State has plenty of reasons to pile it on Saturday against Michigan, Bernard Fernandez writes in the Philadelphia Daily News.