August, 21, 2013
8/21/13
10:30
AM ET
Today we're looking at Brigham Young, which is ready to put its elite defense to the test against tough FBS Independent schedule.
Brigham Young Cougars
Coach:
Bronco Mendenhall (74-29, 8 seasons; 74-29, 8 seasons at BYU)
[+] Enlarge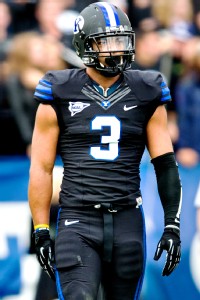 Douglas C. Pizac/USA TODAY SportsKyle Van Noy had 13 sacks, 22 tackles for loss, six forced fumbles and two interceptions last season.
2012 record:
8-5
Key losses:
DE Ezekiel Ansah, QB Riley Nelson, LB Brandon Ogletree, OL Braden Hansen, DT Romney Fuga, LB Uona Kaveinga
Key returnees:
LB
Kyle Van Noy
, WR
Cody Hoffman
, S
Daniel Sorensen
, RB
Jamaal Williams
, LB
Spencer Hadley
, TE
Kaneakua Friel
, OT
Ryker Mathews
, WR
Ross Apo
Newcomer to watch:
Junior college transfer cornerback
Robertson Daniel
appears to be the favorite to replace
Jordan Johnson
in the starting lineup. He hasn't played in quite a while after sitting out the entire 2012 season to work on academics, but he'll need to contribute.
Biggest games in 2013:
Even with some powerhouses on the schedule this season, the Sept. 21 matchup with Utah still has to be priority No. 1, especially after BYU lost a heartbreaker last year with two missed last-second field goals.
Biggest question mark heading into 2013:
The Cougars have questions marks at a few positions, including nose guard, corner and on the offense line. The big-picture question is this: BYU has one of the best defenses in the country, but just how good can its offense be in 2013 after finishing 65th nationally in scoring last year?
Forecast:
Make no mistake: Van Noy is as good as advertised and makes this BYU defense a formidable problem for an opponent.
The preseason All-America candidate racked up 13 sacks, 22 tackles for loss, six forced fumbles and two interceptions. BYU is replacing its starting defensive line, two linebackers and now both corners after Jordan Johnson (torn ACL) was lost for the season in fall camp. And yet, with Van Noy leading the way, this unit can still go down as one of the nation's best.
It's the Cougars offense that has to take the next step. New offensive coordinator Robert Anae is pushing a "go fast, go hard" mantra with faster tempo, and he inherits one of the better receivers in the country in Hoffman, who put up 1,248 receiving yards last season.
Taysom Hill
will be trusted to run the faster scheme and has recovered from a knee injury that cost him the final seven games of 2012.
BYU is in for another challenging schedule in its third year as an FBS Independent, with trips to Virginia, Wisconsin and Notre Dame and home games against Texas, Georgia Tech and Boise State on the slate. That could prove brutal if Hill and the Cougar offense don't rise to the occasion, but a defense this good can go a long way.
September, 8, 2011
9/08/11
9:30
AM ET
BYU linebacker Kyle Van Noy had one word to describe how he felt in the wake of an important season-opening win over Ole Miss.
"I'm sore," he said in a telephone interview.
No rest for the newly independent Cougars, as they hit the road once gain for another huge test, this time in Austin against Texas. BYU played an incredibly physical game against Ole Miss, rallying for the 14-13 win when Van Noy forced a fumble, scooped it up and scored in the fourth quarter. Soreness, bumps and bruises are all part of college football, but BYU is playing on a different level now with an incredibly challenging schedule to start the season.
[+] Enlarge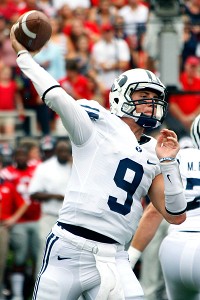 AP Photo/Rogelio V. SolisBYU will need a more consistent effort from Jake Heaps if it hopes to knock off Texas on Saturday.
There is no easing into the slate. After the Texas game, BYU has Utah, UCF and Utah State at home. But BYU coach Bronco Mendenhall said starting out with such a tough grind at Ole Miss is good for his team.
"It was a long trip in terms of distance," he said. "It was a formidable environment to play in against a team from a very good conference, and yet it also left our team realizing this is exactly what type of schedule we're going to play. These are the types of teams we're going to play and it's going to take some improvement for the results we're hopeful for."
Indeed, BYU did not play its best game. The new offense, with Brandon Doman as offensive coordinator, had some struggles.
Jake Heaps
was inconsistent, going 24-of-38 for 225 yards with a touchdown and an interception. The running game never really got established. BYU averaged 2.9 yards a carry. But perhaps the biggest problem was an inability to convert drives into points, something the Cougars emphasized this week during practice.
"I think we moved the ball pretty well; we just couldn't finish at the end of our drives," said receiver
Ross Apo
, who had four catches for 46 yards and a touchdown. "We can move the ball pretty good. We just need to work on finishing and putting seven on the board. It was little things here and there. Sometimes we just missed blocks. We just couldn't get our pass game going, got a couple here and there. We just have to execute better."
This game is particularly meaningful for Apo, who is from Texas and was a Texas commit before signing with BYU. He said Heaps was a big reason he changed his mind because the two attended several high school camps together. "When I weighed things out, I realized BYU was a better place for me," Apo said.
He will have family and friends at the game, but fully expects to be booed. He understands the emotions, but also wants to have a big game in his home state.
Everybody at BYU wants to have a big game with a national television audience watching once again. Following up a road win against an SEC team with a win against Texas would do wonders for national perception.
"We're looking at the same thing as last week," Van Noy said. "They're the Big 12. They don't want to lose to a bunch of kids in Utah, a bunch of Mormon boys that everyone calls us. We're going to try to take that challenge on. Going to Texas, they make football a religion, and we're excited to go down there."
One of the huge positives coming out of the game is the way the BYU defense held up against a much bigger Ole Miss offensive line. Granted, Ole Miss starting running back
Brandon Bolden
got hurt early in the game, but the Cougars still held the Rebels to 64 yards rushing and just 208 yards of total offense. That gives the defense a huge lift heading into another big game.
"The goal is to ground and pound you until you can't take the heat," Van Noy said. "We took that challenge on. Our front seven is one of the best in the country. The secondary is progressing and getting better and better and going to become one of the best in the country. We take a lot of defensive pride in stopping the run."
Now they have to do it all again on a stage that is just as big.
August, 17, 2011
8/17/11
10:45
AM ET
I've taken a look into my crystal ball, and here are three predictions for BYU in 2011:

1. BYU will beat Ole Miss to open the season. This is one of the biggest games the school has played because of its magnitude. The Cougars cannot afford to start Year 1 as an independent with a loss on national television to a team that is predicted to finish last in the SEC West. Not only do I think BYU will be extra-motivated and extra-prepared, I also think the Cougars have an advantage at quarterback with
Jake Heaps
. There is depth at running back, too, which should help open up a play-action game. Although there is a concern about playing in the heat and humidity, plenty of teams have traveled East and handled that. I just think BYU is a better overall team, and that will show Sept. 3.
2. Heaps will pass for 3,000 yards. Last season was a blip at BYU, where quarterbacks are almost expected to throw for 3,000 yards. In fact, 2010 was the first time since 2004 that BYU did not have a 3,000-yard passer. The new offense under coordinator Brandon Doman should open up the passing game for Heaps. What also will help is a stable of receivers who have plenty of talent. Watch for
Ross Apo
, a 6-foot-3, 202-pound receiver who redshirted last season. He,
Cody Hoffman
and
McKay Jacobson
should have productive seasons.
3. Linebacker Uona Kaveinga will turn heads. Given how many national television appearances the Cougars will make this season, Kaveinga will show everybody why BYU has raved about him during the spring and fall. Kaveinga initially committed to BYU out of high school but changed his mind and signed with USC. Two years later, he decided to transfer to BYU. Kaveinga sat out last season because of NCAA transfer rules but is now ready to start at middle linebacker. At 5-11 and 255 pounds, Kaveinga has a knack for being all over the place on defense. In football speak, he has a nose for the ball. His presence should be a huge upgrade to the BYU linebackers.
August, 5, 2011
8/05/11
9:00
AM ET
BYU opens camp Saturday. Let us take a look at three burning questions:
1. Can the Cougars be a national player?
BYU ended the season on a hot streak and brings back nearly everybody on offense. There has been a shift in philosophy with new offensive coordinator Brandon Doman. Everybody expects
Jake Heaps
to be infinitely better this season than he was last. Now BYU has the perfect opportunity to prove all that on a national stage in Year 1 as an independent. The season starts with games at Ole Miss and Texas, then home games against Utah and UCF. Plenty of opportunity to grab some headlines early.
2. Who gets the ball?
I mentioned Heaps above -- now who does he get the ball to? BYU has a wealth of riches at the skill positions. JJ DiLuigi,
Bryan Kariya
and Josh Quezada all return in the backfield;
Cody Hoffman
and
McKay Jacobson
return at receiver. Add in highly touted receiver
Ross Apo
and tight end
Devin Mahina
, and you have got plenty of options to get this offense back to what is expected with the Cougars.
3. Leaders on defense.
BYU loses six starters from its defense, but there are plenty of talented players ready to fill in. Linebacker Jordan Pendleton is back and healthy after sitting out a chunk of last season with a knee injury and has stepped into a leadership role. Tackle Romey Fuga returns from an injury as well, and safety Travis Uale is back. There are big losses, though. The top three tacklers from last season are gone. Coach Bronco Mendenhall hopes to replace Andrew Rich with Daniel Sorensen and Shane Hunter with Uona Kaveinga. Both had impressive springs and could make this unit even better.
May, 17, 2011
5/17/11
9:00
AM ET
On paper, BYU opens the season with quite a tough stretch with games at Ole Miss and at Texas. But are they tough in reality? Let us check in with the Rebels as we begin to size up some of the matchups.
The Rebels are coming off a disappointing 2010, in which they went 4-8. Oxford is a wonderful place to tailgate, but did not exactly strike fear into the opposition last season. Ole Miss dropped four home games, including the stunning loss to FCS Jacksonville State in the opener, followed by a loss to Vanderbilt in its next home game.


The offseason has already produced its share of drama. Their best defensive player, linebacker D.T. Shackelford is out for the game after injuring his knee at the end of spring practice. His projected replacement, Clarence Jackson, was just dismissed from the team, along with reserve defensive end Delvin Jones. Ole Miss still has no starting quarterback, with competition between redshirt junior
Randall Mackey
, West Virginia transfer
Barry Brunetti
and junior college transfer Zack Stoudt ongoing. Mackey has a slight edge but has no playing experience.
BYU should be the favorite going in, but it is never easy to play on the road at an SEC opponent. Just ask Fresno State, which got whipped 55-38 in Oxford last season. Here are two matchups that should go in the Cougars' favor:
Passing game.
Ole Miss is inexperienced and small in the secondary. This was a unit that was a problem last season, ranking No. 103 in the nation in pass defense. Of the four starters on its post-spring depth chart, only one is taller than 6 feet -- strong safety Damien Jackson, who also happens to be one of their top returning players. BYU has the size advantage with big receivers
Cody Hoffman
(6-foot-4) and
Ross Apo
(6-3), and this could be the perfect opportunity to show off the big arm of
Jake Heaps
and get the once high-flying BYU offense back in gear. With the linebacker issues for Ole Miss, the Cougars could also get their tight ends more involved, something that should be a priority this season. Plenty of depth there with
Devin Mahina
,
Marcus Mathews
and
Austin Holt
.
Matt Reynolds vs. Kentrell Lockett.
We shall see where Lockett lines up this season, but he did start 13 games in 2009 at right defensive end, where he had 13 pressures and five sacks. A preseason All-SEC pick in 2010, Lockett was granted a sixth year of eligibility after missing nearly all of 2010 with a knee injury. He sat out spring practice while he continued his rehab but is expected back in the fall. Reynolds is projected to be a first-round pick after deciding to return to BYU for his senior season, and has done a first-rate job of protecting his quarterbacks.
Here is the most intriguing matchup of the game:
Ole Miss offensive line vs. BYU defensive front.
The Rebels' offensive line is one of the strengths of the team. Seven players have started at least two games, which should no doubt help as Ole Miss starts a new quarterback. Because of the inexperience at quarterback, you can expect BYU to try to increase the pressure, which means the offensive line has to be exceptionally strong. BYU has depth here, and tackle Romney Fuga is expected back so this is no doubt a key matchup to watch.
For more on the Rebels, here is the
Ole Miss spring wrap
from our friends at the SEC blog.
April, 19, 2011
4/19/11
9:00
AM ET
We saw a different BYU offense in the second half of the season, one that actually scored points, moved the ball and had one quarterback. The way the Cougars struggled early in 2010 was painful to watch at times, but here are three reasons they will be better from the start of 2011.
[+] Enlarge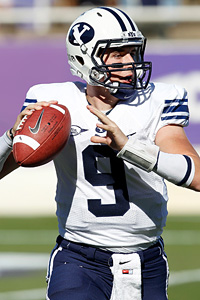 Tom Pennington/Getty ImagesBYU hopes consistent play at quarterback from Jake Heaps will pay off in 2011.
1. Jake Heaps is the starter.
No question waffling between Heaps and
Riley Nelson
severely hampered the way BYU played. The Cougars started 1-4 for the first time since 1973 and ranked No. 96 in the nation in total offense. They turned it around in the second half of the season and ended on a tear. Now, Heaps is firmly entrenched as the starter and has one year under his belt. He will be more comfortable in the offense, and BYU will have one true leader.
"The volume he received in spring ball was helpful for him with his reads," new BYU offensive coordinator Brandon Doman said. "Quarterbacks are the last line of defense, and we gave him the ability to audible and change plays. By the time we're done with 29 practices in fall camp, he will be a wise and veteran guy."
2. Doman is in.
BYU fans became increasingly disenchanted with offensive coordinator Robert Anae last season because of his questionable play calling and predictability on offense. Coach Bronco Mendenhall felt it was time for a fresh start for his offense, so he promoted Doman from quarterbacks coach. You can expect a return to a more BYU-traditional offense this season.
"As we launch forward, teams will consider us to be a West Coast offense," Doman said. "We will be under center more often, run play-action stuff that we'll build into our passing game. That's a skeleton of who we are. I think people will look at it and say this looks like BYU of the early '90s and '80s."
Heaps is your prototypical dropback passer, so expect to see three-, five- and seven-step drops in a progression-type offense. But BYU also has the ability to do no-huddle from the shotgun. Variability is the key, and so is being less predictable. With Doman in charge, you can expect something old-but-new from this offense.
3. Depth.
The Cougars are loaded everywhere. At receiver, they have
McKay Jacobson
and
Cody Hoffman
back, and have high hopes for
Ross Apo
, whom Doman calls "as talented a receiver our school has ever had." The 6-foot-3, 202-pound Apo redshirted last season after injuring his finger and is expected to be a big-time contributor. At running back,
JJ Di Luigi
,
Josh Quezada
and
Bryan Kariya
all return. Di Luigi was the most consistent player on offense last season. Quezada really turned heads this spring with his ability to run and catch out of the backfield. "He showed he's going to be a bona fide running back in this program." The offensive line returns four starters, including All-America candidate Matt Reynolds at tackle. There also are potential young contributors in Houston Reynolds, Matt's younger brother, and highly touted freshman Ryker Matthews.
April, 14, 2011
4/14/11
2:00
PM ET
BYU coach Bronco Mendenhall generally shies away from using the word "best" to describe anything. But he couldn't help himself when asked about how his team fared this spring.
"If we're looking for adjectives to describe who they are, this team loves to compete, they love to have fun they're very talented and we have more depth in the six years that I've been the coach here," Mendenhall said in a phone interview Thursday.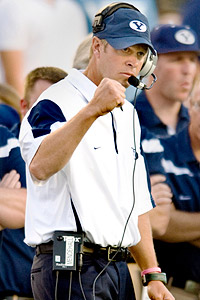 Douglas C. Pizac/US PresswireBronco Mendenhall said the Cougars have had "the best spring" of his tenure as coach.
"I would say it's been the best spring not only from the standpoint of what we got accomplished but possibly where our team is coming out of spring. I'm very optimistic."
There is plenty of reason for optimism as BYU begins its first season as an independent. The Cougars return 19 starters and have a much more solid foundation today than at this time last season. They also have an identity, something that was missing going into 2010. Part of the reason is because Mendenhall was undecided on his starting quarterback, and played both
Jake Heaps
and
Riley Nelson
.
The team struggled to a 2-5 start before closing on a big-time tear and dominating UTEP in the New Mexico Bowl. Mendenhall revamped his coaching staff in the offseason, promoting Brandon Doman to offensive coordinator while deciding to stay on as defensive coordinator after assuming that role midway through last season.
Just as important, Heaps is the definitive starter at quarterback. He and his young teammates are simply more mature.
"We were all disappointed the season was over after our bowl game because we were making progress," Mendenhall said. "I was hopeful to see that same thing happen in spring practice and that happened. We didn't lose ground. We picked up where we left off. I was really happy they were so anxious to compete with each other and the fun they were having -- sometimes spring isn't a time to bring out a heightened sense of competition but that's the way it went."
Indeed, the spring game last week went into overtime. After Nelson ran for a score and hit
Bryan Sampson
for the 2-point conversion, the winning White team carried its coach for the game, Paul Tidwell, off the field.
That speaks to the competitiveness, and BYU is going to need that as it faces a tough opening stretch with games against Ole Miss, Texas and Utah. The biggest holes to fill are on defense, where safety Andrew Rich is gone. Rich led the team in tackles, interceptions, pass breakups and forced fumbles last season and was named AllMWC first team.
But the Cougars feel they have somebody to step right in and make an impact. Daniel Sorensen has returned from his mission and had a nice spring. USC transfer Uona Kaveinga is penciled in to start at middle linebacker and also flashed during the spring.
The front seven is the unquestioned strength of the defense, with talent and depth. Defensive tackle Romney Fuga missed the spring as he rehabbed from a knee injury but is expected to return along with Eathyn Manumaleuna, Matt Putnam and Jordan Richardson.
Offensively, BYU got a boost when tackle Matt Reynolds decided to return to school instead of leaving for the NFL. The running back group is deep with
Bryan Kariya
, JJ DiLuigi and Josh Quezada, and so are the receivers with
Cody Hoffman
,
McKay Jacobson
and
Ross Apo
.
"As we finished last year's season, that identity has formed the basis for what they see going forward," Mendenhall said. "It took a lot of seasoning to get to that point. That's why we'll play with a clearer sense of resolve and identity than we had."
January, 11, 2011
1/11/11
9:00
AM ET
Here is the second part of my Q&A with new BYU offensive coordinator Brandon Doman. You can read
Part I here.
What are the challenges not only as a new coordinator, but playing an independent schedule against teams unfamiliar to BYU?
BD:
I am so excited for our football program to go independent and the prospects of the future are exciting for me. It's quite a daunting task when you don't know your opponents as well as you did for the last few years. It poses a unique challenge and every year, we have to be smart about who we're scheduling to have a strong strength of schedule, but also able to put together a schedule that allows us to be very successful and have a great football season. With that said, we're going to have to be better than we've ever been with the schedule we have.
Our coaching is going to have to be at its peak. We're going to have to play physical. Our offensive line is going to have to be the best it's ever been. We're going to have to have depth at that position -- be able to run block, be able to pass protect. The D-ends an defensive linemen are more athletic and faster week to week than what we've faced. If we're able to do that on the offensive line, our quarterbacks are already very talented and will be very good. We'll be able to run the ball effectively and efficiently enough that we'll be a very difficult offense to defend for anybody. But if you have a tough time keeping your offensive line healthy and a tough time in the trenches, then BYU will struggle. Right now we've done a fantastic job over the last five years. We're poised and ready up front to be able to take on this schedule that we have and be very successful with it.
With that said, it must be a relief that Matt Reynolds is coming back for his senior season.
BD:
We have a left tackle that's as good as any offensive lineman in the country. He'll be a senior and a leader. That will create all sorts of opportunities for us in our first season as an independent. We're not going to have to figure out who's going to be our left tackle. We also have four returning starters on the offensive line along with Matt. It's the perfect year. We have experienced quarterbacks coming back, an experienced offensive line, a running back corps that's experienced with one of most physically talented receiver corps in years. It's on us to coach these guys well because we have plenty of talent.
How much can we expect with highly touted receiver Ross Apo returning for 2011?
BD:
He was out there practicing for our last three games and getting back into things. We haven't had receivers that run around and look like him very often in our program. To have a guy run around like him is very fun and quite exciting for the future. He's raw and he has a lot to learn in regard to running routes and creating separation, but I'm confident our coaching staff will put him in positions to succeed. He has the potential to be good as any receiver in college football by the time he's done. That's how talented he is physically. But potential doesn't mean anything until you get it done. We also have
Cody Hoffman
. Their bodies look the same. To have 6 foot 3, long lanky strong receivers at Brigham Young University – we're used to having shorter and not quite as fast wide receivers. But this is the first time we've had that here, and we'd be crazy not to be excited.
December, 20, 2010
12/20/10
10:30
AM ET
My, oh, my what an end to the season for the Cougars. Back in October, many left them for dead after a 2-5 start, featuring an anemic offense and a shaky defense. But BYU (7-6, 5-3 MWC) played one of the most difficult stretches to open the season, and had to do it with a true freshman in
Jake Heaps
first rotating snaps and then taking over as the starter.

After losing to TCU on Oct. 16, the schedule lightened considerably and BYU responded. The Cougars closed out the season with wins in five of their final six games -- and probably should have beaten Utah to end the regular season. Heaps showed growth, coach Bronco Mendenhall proved to be a terrific defensive coordinator and BYU moves on to the land of independence with serious momentum after an all-around terrific performance against UTEP in the New Mexico Bowl.
This was not the best season in BYU history, but it was one that showed the true heart, soul and grit of a team clawing its way back to respectability. Mendenhall reiterated throughout the season that this was his most gratifying in six years as a coach. It is easy to see why after watching his team rise from the doldrums to become a bowl champion.
Offensive MVP: RB JJ Di Luigi.
For a big stretch of the season, he was the only playmaker to step up for the Cougars. Because of him, Mendenhall decided to change his offensive identity to be more of a power run team. Di Luigi ended up leading the team with 917 yards rushing and eight touchdowns, and added 45 catches for 443 yards and another score.
Defensive MVP: S Andrew Rich.
BYU could not ask for a better defensive leader than Rich, who ended up leading the team with 111 tackles and five interceptions.
Turning point:
Losing 31-16 at Utah State. The loss dropped BYU to 1-4 and was an embarrassment. So much so that Mendenhall fired defensive coordinator Jamie Hill and took over duties himself. BYU won its next game against San Diego State -- a critical victory that made the difference in the Cougars becoming bowl-eligible.
What's next:
Independence. Anybody who watched the New Mexico Bowl saw some serious talent returning for next season as BYU leaves the Mountain West. Heaps played the best game of his career, throwing for 264 yards and four touchdowns.
Cody Hoffman
caught a career-high eight passes for 137 yards and three touchdowns in the New Mexico Bowl.
Joshua Quezada
, ran for 101 yards on 15 carries and one touchdown. The running back trio of Di Luigi,
Bryan Kariya
and Quezada all return next season. So does
Ross Apo
, a highly touted receiver who was limited this season after injuring his thumb. There will be some tough losses -- kicker Mitch Payne, Rich and linebacker Shane Hunter. Offensive tackle Matt Reynolds must also decide whether he wants to leave school for the NFL draft or return for his senior season. But BYU showed promise. Now the big question is how it will handle a difficult schedule that includes games at Ole Miss, Texas, Oregon State and Hawaii.
September, 9, 2010
9/09/10
4:08
PM ET
News and notes from the non-AQ schools:
"BYU freshman wide receiver
Ross Apo
dislocated his left index finger during practice Wednesday and had surgery. He is expected to be out about six weeks. Apo did not have a catch in the opener against Washington last week.
"ULM will start
Jyruss Edwards
at running back when the Warhawks open their season Saturday night against No. 14 Arkansas. Edwards had been listed as the No. 2 running back behind
Frank Goodin
throughout the fall. But Goodin's snaps have been limited in practice because of an undisclosed injury, so he will come into the game off the bench. Goodin is 874 yards away from setting the school's all-time rushing record.
"Hawaii will start
Bryant Moniz
at quarterback on Saturday against Army. Moniz took a hard hit against USC in the third quarter last week and missed the rest of the game. He sat out several practices earlier in the week, but has been cleared to play.
"UTEP welcomes back receiver
Evan Davis
, punt/kickoff returner
Marlon McClure
and cornerback Travaun Nixon for the game against Houston on Friday. Nixon and McClure missed the season opener, serving a suspension for violating team rules. Davis sat out following his arrest in a domestic situation with his girlfriend.
"Louisiana Tech will start Colby Cameron at quarterback against Texas A&M, marking his first career start. Cameron replaces Ross Jenkins, who struggled in the opener against Grambling State. Cameron also played in the 20-6 win.
In other Bulldogs news, receiver
Tim Molton
was reinstated to the football team, but
R.P. Stuart
, Kiamni Washington and
Cruz Williams
have been dismissed from the team. All four had been serving suspensions for violating team rules. In addition, defensive lineman Jared Barron has quit the team.
"Navy receiver
Mike Schupp
tore the ACL in his right knee, and right tackle Matt Molloy suffered a concussion in the game against Maryland. Coach Ken Niumatalolo said it was possible Schupp could return in time for the Dec. 11 game against Army, and in the bowl game if Navy is eligible. Molloy has suffered concussions in the past, and must decide whether he wants to continue playing football.
February, 4, 2010
2/04/10
12:45
PM ET
The mystery of the 2010 BYU signing class was really over before the 2009 season started.
That's when quarterback
Jake Heaps
, receiver
Ross Apo
and linebacker
Zac Stout
committed to the program and the rest of the class fell in place behind them. Those three early commitments from highly touted players gave the Cougars an anchor to be one of the best classes among the nonautomatic qualifying schools. With the addition of defensive end
Bronson Kaufusi
in late August, the Cougars exceeded their expectations and spent most of signing day as the No. 24 class in the country, according to ESPN's Scouts Inc.
"We had the class in place very early with very few surprises," coach Bronco Mendenhall said. "I can't say that signing day was completely anticlimactic, but it's more like taking the lights down after Christmas. Not really opening the presents. The commitments when they happen in June is like Christmas and now it's like closure to it."
While the 26-member class is the highest rated of Mendenhall's six seasons, many of these players might not see the field this year. That's because the Cougars have 16 players returning from missions. Because most of those guys will be participating in spring football, it's going to be tough to keep the more mature players off the field.
"They're all guys that we recruited," Mendenhall said. "They're all very good players. They're all guys that played before their missions here one season as freshmen. So, there isn't a guy coming back that most likely won't be in our two-deep. When you add that to the class as well, it makes it even more impactful."
Already 20 of the new signees have said that they plan on attending church missions and an unspecified five will leave before they enroll in school. Players are eligible for their mission when they turn 19.
Mendenhall said there weren't many needs to fill in this class because of all the returning missionaries, but that the 2010 class was still one of the most athletic he has recruited.
"Our depth is about where it's been the past four years, but I think maybe our talent continues to move a inch or two here collectively," Mendenhall said.
February, 1, 2010
2/01/10
4:06
PM ET
The buzz about BYU's recruiting class began well before the 2009 season started.
That's when Jake Heaps, the seventh-ranked quarterback in the country according to ESPN.com's Scouts Inc., pledged to the Cougars and receiver Ross Apo and linebacker Zac Stout decided to come with him.
At the time of his commitment in June, Heaps was considered the No. 1 quarterback prospect in the country. While his status might have dipped a little, it hasn't diminished his effect on the BYU signing class. Heaps and defensive end Bronson Kafusi, the 20th-best end in the country, have the Cougars sitting as the No. 24 class heading into the finals stretch before national signing day on Feb. 3.
"BYU has perhaps more college ready talent in this class than ever before," Tom Luginbill, national recruiting director for ESPN's Scouts Inc., said. "The overall class with the likes of QB Jake Heaps and DE Bronson Kaufusi headlining is impressive and should ensure future success for the Cougars program."
BYU's is the highest-ranked non-AQ class this season. Its overall top 25 recruiting class ranking has even allowed it to be more selective. On Friday,
the Deseret News reported
the Cougars rescinded a scholarship offer to defensive lineman Kona Schwenke, who had been committed to the Cougars since the summer. Reportedly, BYU was not happy that he decided to visit Notre Dame this past weekend.
Overall, six of the Cougars 28 commitments are ranked in the top 30 of their respective positions and four are in the top 20.
The strength of this year's class is pivotal for the Cougars considering all the talent it lost to graduation, including star quarterback
Max Hall
, tight end
Dennis Pitta
and defensive end Jan Jorgensen. The Cougars also will lose a couple players to two-year Mormon missions.
But if this class lives up to its current billing, it shouldn't take long for the Cougars to reload and continue its streak of double-digit wins and competing for Mountain West championships.