NCF Nation:

Ross Cockrell
May, 12, 2014
May 12
2:00
PM ET
The dust has settled after the
NFL draft
, and it was another solid showing by the ACC. Overall, the league had 42 players selected, the second most in ACC history and the second most by any conference this year (trailing only the SEC's 48).
[+] Enlarge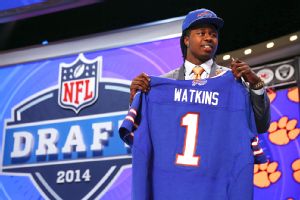 Elsa/Getty ImagesFormer Clemson wide receiver Sammy Watkins was the first ACC player selected (No. 4 overall) in the NFL draft.
Four of the first 14 players selected in this year's draft came from the ACC, led by Clemson wide receiver
Sammy Watkins
(No. 4 overall to the
Buffalo Bills
) and UNC tight end
Eric Ebron
(No. 10 to the
Detroit Lions
). Five ACC players were taken in the first round and 10 more were selected in the second and third rounds.
For the second straight year, Florida State led all ACC schools in players drafted. Seven Seminoles were selected throughout the weekend, starting with wide receiver
Kelvin Benjamin
in round 1 by the
Carolina Panthers
and ending with linebacker
Telvin Smith
in round 5 by the
Jacksonville Jaguars
. In the past two years, Florida State has had 18 players drafted by NFL teams.
Of course, it wasn't just strength at the top for the ACC. All 14 programs had at least one player selected this year, including five apiece from Clemson and North Carolina and four from Boston College.
New addition Louisville, which officially enters the ACC next month, had four players selected this year, including three (
Calvin Pryor
,
Marcus Smith
and
Teddy Bridgewater
) in the first round.
Three ACC quarterbacks were selected, led by Virginia Tech's
Logan Thomas
(No. 120). Pitt's
Tom Savage
(No. 135) and Clemson's
Tajh Boyd
(No. 213) were also taken.
Duke corner
Ross Cockrell
was taken with pick No. 109 by the Bills, becoming just the third Blue Devils player drafted since 2001. He was also the highest-selected Duke defensive player since Mike Junkin was taken fifth overall in 1987.
Miami had three players selected over the weekend (
Brandon Linder
,
Pat O'Donnell
and
Seantrel Henderson
), extending its streak of consecutive years with at least one player drafted to 41. Florida State and Virginia extended streaks of their own to 32 years.
Of the ACC underclassmen who declared for this year's draft, four went undrafted. FSU running back
James Wilder Jr.
inked a free-agent deal with the
Cincinnati Bengals
, Syracuse running back
Jerome Smith
signed with the
Atlanta Falcons
and NC State defensive lineman
Carlos Gray
signed with the
Green Bay Packers
.
Among other notable undrafted free agents in the league, former Miami quarterback
Stephen Morris
signed with Jacksonville, UNC quarterback
Bryn Renner
inked a deal with Denver, FSU receiver
Kenny Shaw
signed with Cleveland, Tar Heels offensive lineman
James Hurst
signed with the Ravens and former BC quarterback Chase Rettig signed with Green Bay.
December, 7, 2013
12/07/13
7:00
AM ET
It's certainly not the matchup most fans expected way back in August, but Florida State and Duke will face off Saturday night in the ACC championship game. At stake for Duke is history, its first trip to a BCS bowl game and its first conference title since 1961. For Florida State, however, there's even more on the line. With a win, the Seminoles are all but guaranteed a shot to play for a national championship. The pundits heavily favor Florida State, but there's still plenty to watch for when the Seminoles and Blue Devils kick off in Charlotte.


1. Big game or business as usual?
For Florida State, ACC championship game weekend is old hat. The Seminoles were here just last year, after all, and this marks their third trip in Jimbo Fisher's four years as coach. Fisher even began tweaking the team's travel schedule earlier this season to prep for the distractions this weekend would bring. For Duke, however, its division title comes as a mammoth surprise, and none of these players had played in a game of this magnitude. Experience is clearly on Florida State's side, but Duke has managed to live up to big moments all season, and while players might be new to a conference championship game, David Cutcliffe is not. He'll have the Blue Devils prepared.
2. History as a guide:
The numbers are ugly for the Blue Devils: In 18 previous meetings with Florida State, they've gone 0-18, lost by an average of 34 points, and never finished a game within two scores of a win. Yes, Duke already has had a history-making season, so perhaps a little more history is in the works. But if that's the case, Florida State will need to buy into the conventional wisdom and come out slow, while Duke will need to forget everything that has come before.
3. Winston vs. Duke's DBs:
Jameis Winston
looks poised to win a Heisman Trophy, and he has been spectacular all season. He'll be a focus for Duke, but the Blue Devils' secondary has shown a propensity for big plays. After allowing 10 pass touchdowns in its first two ACC games of the year, Duke's secondary has allowed only six more in its next six games, while racking up 12 interceptions.
Ross Cockrell
and
DeVon Edwards
have led the charge, but they've not faced a challenge as immense as Winston. Florida State has four receivers ranked in the ACC's top 11 in yards per catch, and Winston loves going for the big play.
4. Crowder vs. FSU pass defense:
Asked earlier this week about the danger presented by Duke's
Jamison Crowder
, the ACC's leading receiver, FSU safety
Terrence Brooks
smiled. The Seminoles' secondary isn't afraid of anyone, he said, and it will take more than one weapon to beat them. It might sound a bit overconfident, but Brooks has the numbers to back up his boasts. Florida State ranks No. 1 in the nation in pass defense, and its 23 interceptions are tops in the country.
5. Ground gains:
Florida State's backfield rotation is running wild, averaging 9 yards per rush with nine touchdowns in its last three games.
Devonta Freeman
is now just 148 yards shy of rushing for 1,000 yards, and he has been stellar in two previous games against Duke. Meanwhile, the Blue Devils will want to establish the run, too, but might face a tough obstacle in doing so. Florida State's first-team defense hasn't allowed a rushing touchdown all season, and on first down, the Seminoles are allowing just 3.2 yards per carry -- the sixth-best rate in the country.
December, 5, 2013
12/05/13
11:00
AM ET
When Duke went on the road in late October and shocked then- No. 14 Virginia Tech, the Blue Devils did so without converting a single third down. Quarterback
Anthony Boone
threw zero touchdown passes -- and four interceptions. And yet Duke rolled out of Blacksburg having snapped a 42-year losing streak against ranked teams on the road.
The difference? Duke was finally able to win a game with defense and special teams.
[+] Enlarge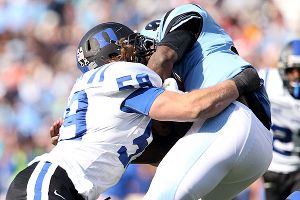 Andy Mead/YCJ/Icon SMIKelby Brown and Duke's defense will face their biggest challenge on Saturday against Florida State.
"To win a defensive game 13-10 is just such a boost of confidence on defense," said linebacker
Kelby Brown
. "It was really encouraging. That's when we showed people this defense is for real. This team is for real."
If Duke is going to have a shot at upending No. 1 Florida State on Saturday in the ACC championship game in Charlotte, it will need to be sharp in every phase of the game. It will have to rely most heavily upon what has become an opportunistic defense, and a special teams unit that has the ability to score and create good field position.
Duke has scored four times on kick returns (two punt return touchdowns and two kickoff return touchdowns), and freshman safety
DeVon Edwards
leads the nation in kickoff return average (32.7).The defense has caused turnovers in 11 of 12 games (including three in the red zone), and enters the ACC title game with 16 interceptions, nine forced fumbles and seven fumble recoveries. Duke is tied for fifth in the ACC with 21 takeaways and the 16 interceptions are the most in the David Cutcliffe era.
"A lot of guys have stepped up into new roles, and our D-line is really experienced now," Brown said. "They're doing a great job up front of allowing the linebackers to fly around and make tackles. That's something, just old-school, 4-3 style defense, the way Boston College has always run it, a great D-line that holds up the line and that's been huge for us. And I think we're the most athletic we've ever been in the secondary. Even though we have some young guys back there, they have speed and they can tackle. It's all kind of clicked from the front line all the way to the back."
Duke, a heavy underdog, knows it has no margin for error. The Blue Devils have never beaten Florida State in 18 tries, and the Noles have won every game this season by at least 14 points. In 2012, Duke's defense was steamrolled by FSU in a 48-7 loss, and many are predicting a similar result. Of all the times these two programs have faced each other, though, only one other time has Duke been ranked -- in 1994, when it was No. 16.
The numbers prove, though, that Duke's defense is the best it's been in over a decade.
Duke is allowing just 23.0 points per game, which would rank as the program's best mark since the 1994 season (22.45 points per game). Duke has 22 sacks this season, and linebackers
David Helton
and Kelby Brown and safety
Jeremy Cash
are the top three tacklers in the ACC.
"





We have a very good offense who can put up points on anybody. We've just got to make sure that we limit people, and the best way to limit people is by making them drive the length of the field on you and not giving up the 50 and 60 yard passes.


"


-- Ross Cockrell, on how Duke's defense can find success against Florida State
Duke's fourth-quarter defense has also been outstanding. It's allowing an average of just 9.1 points in the second half compared to 13.9 in the first half. Duke has surrendered only 3.1 points and outscored opponents 113-37 in the fourth quarter.
"Well, we run better on defense," Cutcliffe said. "First thing you've got to be able to do is get to them to get them on the ground. You can't get them on the ground if you can't run. We run better. We'd better run better in this one because these guys have I think more weapons than anybody in the country."
Starting with Florida State wide receiver
Kelvin Benjamin
.
"We don't have anybody that can line up and match up physically with Benjamin," Cutcliffe said. "He's just a monster and with great skills."
Against Florida's stingy defense last week, Benjamin single-handedly outgained the Gators' offensive output (212 yards to 193). He scored three touchdowns, and had nine receptions. Last season against Duke, Benjamin had three catches for 77 yards.
"Yeah, we've done a great job, I think, defensively," said
Ross Cockrell
, one of the top defenders in the ACC. "But one of the things that we took away from last year was that you can't give up a lot of big plays, especially in the passing game, the deep passes that we gave up. We can't give up those kinds of plays and expect to win ballgames. We know we have a very good team. We have a very good offense who can put up points on anybody. We've just got to make sure that we limit people, and the best way to limit people is by making them drive the length of the field on you and not giving up the 50 and 60 yard passes."
Duke's defense and special teams have been good enough to win the Coastal Division, but they will have to be great to win it all on Saturday.
December, 4, 2013
12/04/13
9:00
AM ET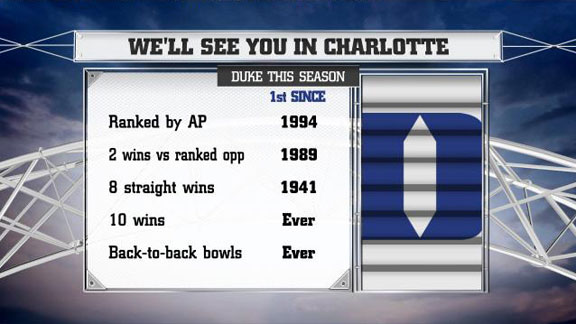 ESPN Stats & InfoIt seems almost everything Duke has done this season has been the first in forever -- or ever.
After the improbable happened, they retreated to the visitors' locker room with one familiar possession and one completely new.
A celebration was in order.
So they jumped up and down. All of them, even coach David Cutcliffe. They sang. They danced. They screamed.
Then their new ACC Coastal Division Trophy started getting passed around like a second helping of pumpkin pie, each guy more eager than the next for a taste. Cornerback
Ross Cockrell
feared it would break because so many hands reached for it all at once.
[+] Enlarge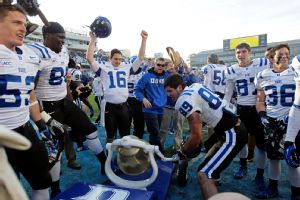 AP Photo/Gerry BroomeDuke retained the Victory Bell by beating North Carolina and earned the right to celebrate.
Players started taking out cameras, snapping pictures. Others sat on the Victory Bell, back for another stint on the Duke campus after a second consecutive victory over nemesis North Carolina.
"We had those two big trophies that mean so much to us," defensive end
Kenny Anunike
recalled in a phone interview. "We didn't want to leave. We would have slept in that locker room if we had to."
In a locker room. In enemy territory in Chapel Hill, N.C. If that does not capture the unique moment in time Duke football occupies right now, not much else does. The Blue Devils own their state, own their bitter rivals and own the headlines over their more famous basketball counterparts.
Enthusiasm on campus is so high, strangers walk up to Anunike on campus and shout, "Great job, Kenny! You guys are doing awesome, we appreciate what you're doing!" Enthusiasm among football alums is so high, Anunike has been flooded with texts from former players, all wearing Duke football gear. Players from the "Dark Ages," as Anunike says, all too eager to claim their piece of the history only this 2013 group can claim.
So much had to go right for No. 20 Duke to get to this moment, three days away from facing No. 1 Florida State in the ACC championship game. Two critical turning points paved the way. Rewind to September, after Duke dropped to 0-2 in ACC play following back-to-back losses to Georgia Tech and Pitt.
A players' only meeting was called. The seniors spoke up.
"We all stood up and talked to the younger players and let them know these two losses did not define our season," Anunike said. "That there's a lot of football left to be played. We had to play harder and faster than any team we were going to face in the near future."
They each reiterated the mantra that had become commonplace around the practice field, the weight room and the meeting rooms: Finish. Two nonconference wins followed. Then more adversity hit on the road at Virginia. Duke trailed 22-0 to the worst team in the ACC.
Finish.
The Blue Devils rallied to win, then beat Virginia Tech in Blacksburg, Va., the following weekend to end a 12-game losing streak in the series. That was when Anunike realized this team may be in the middle of a history-making season. More wins followed, pressure building as the stakes grew larger each week.
Yet Duke – a team that had not been in contention for an ACC title in 24 years – never flustered and never faltered.
Finish.
"I didn't know how we were going to handle the success, either," offensive guard
Dave Harding
said. "But this team has shown a maturity and a workmanlike attitude in our success, and what really has given us that edge is the fact that we have great leadership at every position on the field. We have guys who know what got us to this point and that's a whole lot of hard work.
"Coach Cutcliffe is so adamant about doing things the right way, even though it's not the cool thing to do nor the easy thing to do. This team has learned how to do that. Since we know how to do it when it's tough, we know how to do it when things are going well, too."
The next challenge requires quite the balancing act – savoring all the success while maintaining their focus to prepare for the best team they have faced all season. Duke is well aware it is a prohibitive underdog. But that is not unusual.
Duke is in this game to win it. And if the Blue Devils do not win it, they plan on making a return trip to try again. Cutcliffe has reminded reporters several times this season his program is not a flash in the pan. When football supersedes basketball in December, you know the culture has changed.
"I know we're definitely here to stay and we're going to continue this dream season and next year they're going to repeat it," Anunike said.
Anunike said something similar one year ago, after Duke made its first bowl game since 1994. He promised Duke would go bowling again this year.
Nobody believed him. Duke was selected to finish last in the Coastal in the ACC preseason poll in July. Maybe it is about time everybody started listening.
December, 3, 2013
12/03/13
2:00
PM ET
TALLAHASSEE, Fla. -- It's sort of a running joke among the Florida State defensive backs. It's a confident group -- ranked No. 1 in the nation two years running -- so no one admits when they're overmatched, but they know covering
Kelvin Benjamin
is a tough job, and so they can't help but laugh when someone else tries to do it.
Lamarcus Joyner
, all 5-foot-8 of him, has battled Benjamin for jump balls in practice, but how many corners can combat a 6-foot-5 frame?
[+] Enlarge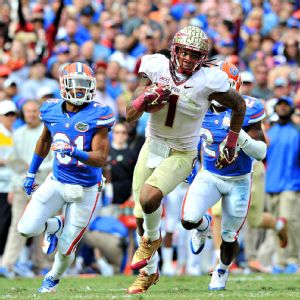 Steve Mitchell/USA TODAY SportsKelvin Benjamin's 12 touchdowns leads Florida State's receiving corps.
P.J. Williams
is tall enough to at least pose a threat on those plays, but then, he has to account for Benjamin's surprising burst of speed, too. How may 6-5 receivers get used on end-arounds, after all?
Terrence Brooks
plays with a unique blend of speed and physicality, but mixing it up with Benjamin isn't exactly fun. A receiver with size and quickness that still likes to hit, to block downfield -- how many players in the country do that?
"It's like it's easy for him," Brooks said. "I don't think they make him anymore in the factories."
This is how it's been since Benjamin arrived at Florida State in 2011, a physical freak of nature who performed such astonishing feats of athleticism and strength on the practice field that the accounts from teammates were often met with skepticism from those who hadn't seen it firsthand. But making it look easy was actually what made life hard for Benjamin.
His first year was a waste. He was overweight, unprepared and redshirted.
The 2012 season represented a big step forward, but still a disappointment. His focus wandered, and his production waned. He caught 30 balls, but he had just 52 receiving yards in the final five games of the season.
This season, however, Benjamin is blossoming into the player his teammates always knew he could be -- a monster few defensive backs are capable of taming.
"Anybody can make mistakes and have a season like [2012] and throw excuses out there," Benjamin said. "I felt like the season just improved me as a player."
Benjamin's improvements began in the weight room. He shed some excess pounds and got into the best shape of his life. He hit the film room, studying the playbook with renewed vigor, knowing a new quarterback was taking the reins of the offense, and he'd have a fresh start and a bigger role. He talked with
Rashad Greene
and
Kenny Shaw
, the veterans of the receiving corps, about finally showing the rest of the world what had so often been confined to the practice field.
"He's a lot more focused mentally than anything," Greene said. "He's always had the ability, the skill, the talent. But the way he's been locked in and just been all in for the team -- he can tell you, he's really focused compared to what he was last year. And it's showing all around."
It's helped, too, that Benjamin's role has increased dramatically.
A year ago, the receiving corps was deep -- a solid mix of veterans and younger players all eager for their share of throws. For Benjamin, however, there simply weren't enough footballs to go around. He'd be on the sideline for long stretches, then his head wasn't in the game when he took the field.
But this offseason, Florida State lost three seniors for the season before fall camp concluded, and that's meant a tight rotation on game days and plenty of throws for Greene, Shaw and Benjamin, who are now all within reach of 1,000 yards.
"A receiver wants to touch the ball as many times as you touch it in practice, and my first season, I wasn't doing that," Benjamin said. "I let that get to me, wanting the ball more and the rotation. This year, we stay on the field until we finish the game. It's just staying in there and having that feeling that consistently you're in the game and you're warm and can go out there and do it."
In last week's win over Florida, Benjamin was constantly in quarterback Jameis Winston's sights. He had a career-high nine catches for 212 yards and three touchdowns. It was the first time a Florida State receiver topped the 200-yard mark in 11 years. It was the eighth-best single-game total in school history, and Winston had predicted it earlier in the week.
"I said, 'KB, you are an unstoppable force. If you go out there and do what you're supposed to do, no one can cover you,'" Winston recalled after the win.
None of it comes as a surprise, of course. Just look at Benjamin, and it's always been obvious he would become a star. There simply aren't other receivers who do what he can do.
Duke corner
Ross Cockrell
said the key is to challenge Benjamin at the line of scrimmage, play physical with him. But really, Cockrell is grasping at straws. Benjamin has five inches and 50 pounds on the Duke corner.
"We'll be working all week on that answer," Duke coach David Cutcliffe said of defending Benjamin. "We don't have anybody that can line up and match up physically with him. He's just a monster and with great skills."
Benjamin has always been a monster, but after three years, Jimbo Fisher has finally convinced him to prepare as if he were a mere mortal. Now those skills are well refined, and Benjamin presents a matchup as perplexing for defenders as any in college football.
And that's when Florida State's own defensive backs can break character and admit, covering the monster can't be done. They know. They've tried.
"Seeing him go against other guys," Brooks said, "we sit there and laugh about it."
December, 18, 2012
12/18/12
3:30
PM ET
This is not the norm at scholarly Duke -- no class, just football.
Welcome to the postseason, Blue Devils.

"It's something none of the players have experienced," said cornerback
Ross Cockrell
. "We're all trying to get adjusted to being on campus when nobody else is here. But it's nice. We don't have class, we can just focus on football. It relieves a lot of stress when you don't have anything else to do but football."
Cockrell is a political science major who is also chasing a certificate in markets and management studies, whatever that might be. He also happens to be one of the ACC's top cornerbacks, and he'll be going home to Charlotte, N,C., for the program's first bowl appearance since 1994. Not a bad way to end the season.
There are all kinds of perks that come with a bowl bid -- lucrative bowl gifts, events hosted by the bowl and extended practice time. But for the Blue Devils, playing in the Belk Bowl in nearby Charlotte has been the biggest reward.
"Right now, the most fun thing has just been being around the team and enjoying our time together," Cockrell said. "We usually all go our separate ways by now."
Not this year.
This year has been a special one in Durham. Say what you want about Duke's lackluster finish -- the Blue Devils ended the season with a thud and four straight losses, but the players and coaches still have a rare opportunity in front of them against Cincinnati, the Big East co-champs. Duke hasn't won a bowl game since 1961, and those within the program would obviously like to change that.
"It would be another chance for us to do something that hasn't been done in a long time," Cockrell said. "That's the reason why we all came to Duke, was to be part of something that was truly special, to change a program and be part of that change. This would be another step towards doing that."
Coach David Cutcliffe agreed and said a win over the Bearcats would help validate what Duke accomplished during the regular season.
"It's something that you've got to do," said Cutcliffe, who is 4-1 in bowls as a head coach. "You've got to beat teams like that. You need to win in postseason bowls. These are all steps we're taking and to me [Cincinnati] presents a huge challenge, but at the same time, what a big opportunity this is for our program on national television. I think our guys are excited about the challenge."
December, 10, 2012
12/10/12
11:26
AM ET
Despite the abundance of hype surrounding the quarterback position heading into this season, there was one player who quickly distanced himself from the rest. Clemson's
Tajh Boyd
had a record-setting season and he was surrounded by several all-conference-caliber teammates. With five Tigers on the first-team offense, it's no wonder Clemson was No. 6 in the country in scoring offense at 42.33 points per game. There was no running back in the ACC more electrifying than UNC's
Giovani Bernard
, though, and to leave off his lead blockers in
James Hurst
and
Jonathan Cooper
would be unjust. Surprisingly, not one player from Florida State's two-deep made the cut for first-team offense. There's no question, though, the ACC champs dominated the defensive lineup with four first-team selections. Imagine a dream team made up of Clemson's offense and Florida State's defense.
Actually, the ACC's dream team would look more like this, your 2012 ESPN.com ACC All-Conference team:
Offense First Team
QB --
Tajh Boyd, Clemson
RB --
Giovani Bernard, North Carolina
RB --
Andre Ellington
, Clemson
WR --
DeAndre Hopkins
, Clemson
WR --
Conner Vernon
, Duke
TE --
Brandon Ford
, Clemson
T --
James Hurst, North Carolina
T --
Oday Aboushi
, Virginia
G --
Jonathan Cooper, North Carolina
G --
Omoregie Uzzi
, Georgia Tech
C --
Dalton Freeman
, Clemson
Defense first team
DE--
Cornellius Carradine
, Florida State
DE--
Bjoern Werner
, Florida State
DT--
Joe Vellano
, Maryland
DT--
Sylvester Williams
, North Carolina
LB--
Nick Clancy
, Boston College
LB--
Steve Greer
, Virginia
LB--
Kevin Reddick
, North Carolina
CB--
Ross Cockrell
, Duke
CB--
Xavier Rhodes
, Florida State
S--
Lamarcus Joyner
, Florida State
S--
Earl Wolff
, NC State
Specialists
PK
--
Dustin Hopkins
, Florida State
P--
Will Monday
, Duke
SP--
Giovani Bernard, North Carolina
November, 28, 2012
11/28/12
1:42
PM ET
Clemson quarterback
Tajh Boyd
edged out North Carolina running back
Giovani Bernard
for ACC Player of the Year and Offensive Player of the Year honors, winning both awards by one vote.
Meanwhile, Florida State defensive end
Bjoern Werner
was the overwhelming choice for ACC Defensive Player of the Year on Wednesday. The players were selected in voting done by the 46 members of the Atlantic Coast Sports Media Association.
[+] Enlarge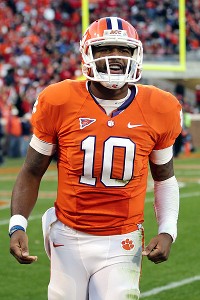 Streeter Lecka/Getty ImagesClemson QB Tajh Boyd edged out Giovani Bernard in the voting for ACC Player of the Year and Offensive Player of the Year.
Boyd and Bernard had truly outstanding seasons this year, so it's no surprise the vote was close. Bernard led the ACC in rushing with 1,228 yards and 12 touchdowns, despite playing in only 10 games. He also led the league in scoring, punt return average and all-purpose yards and was one of the most dynamic players in the league.
But voters felt Boyd was slightly better. Boyd really has had a remarkable Wednesday. Earlier in the day, he was voted first-team All-America by the American Football Coaches Association. On the season, Boyd leads the ACC and ranks fourth in the nation in passing efficiency with a 168.5 rating, on pace for a Clemson record. He has gone 251-of-377 for 3,550 yards and 34 touchdowns, and added nine scores on the ground. His 43 overall touchdowns are tied for first in the nation.
Boyd also leads the ACC and ranks eighth in the nation with 336.8 yards per game.
"I can't tell you how proud I am of Tajh Boyd. He has had a terrific year in leading us to a second straight 10-win season. It has been 25 years since a starting quarterback has done that," Clemson coach Dabo Swinney said in a statement.
"He has broken just about every record out there to the point where he is breaking his own records. I really believe he is the best quarterback in the nation and I am glad to see the American Football Coaches agreed with that today. This award means a lot to him because he has great respect for the players and teams in this league. He has also been a great leader all season. He is very deserving."
Werner is tied with South Carolina's
Jadeveon Clowney
for the most sacks in the nation this season with 13. He also has 18 tackles for loss. Werner also was named to the AFCA All-America team Wednesday, and is one of five finalists for the Bronko Nagurski Trophy.
"There is not a more well-deserving award than this one for Bjoern, who's had an unbelievable year for us and his statistics prove it ... but his worth goes well beyond his statistics," Florida State coach Jimbo Fisher said in a statement.
"The value he has to his team … the effect he has on his teammates, off the field and in the classroom and as a team leader is tremendous, and the things he's sacrificed to give up for other guys to make plays on our defense. He's a tremendous team player, he's a tremendous leader and he's a tremendous winner and I think he'll go down as one of the great football players in Florida State football history. He has had a tremendous year this year and I can't be happier for him."
Here is how the voting went down:
ACC PLAYER OF THE YEAR
Tajh Boyd, QB, Clemson (20)

Giovani Bernard, RB, North Carolina (19)

DeAndre Hopkins, WR, Clemson (2)

Cornellius Carradine, DE, Florida State (2)

Bjoern Werner, DE, Florida State (1)
ACC OFFENSIVE PLAYER OF THE YEAR
Tajh Boyd, QB, Clemson (22)

Giovani Bernard, RB, North Carolina (21)

EJ Manuel, QB, Florida State (2)

DeAndre Hopkins, WR, Clemson (1)
ACC DEFENSIVE PLAYER OF THE YEAR
Bjoern Werner, DE, Florida State (27)

Cornellius Carradine, DE, Florida State (9)

Joe Vellano , DT, Maryland (3)

Nick Clancy, LB, Boston College (3)

Xavier Rhodes , CB, Florida State (2)

Lamarcus Joyner, S, Florida State (1)

Ross Cockrell, CB, Duke (1)
November, 26, 2012
11/26/12
3:30
PM ET
Clemson had the best offense in the ACC this season, so it comes as no surprise that the Tigers dominated the All-ACC first team released Monday.
Quarterback
Tajh Boyd
and five teammates won first-team honors on offense, the first time Clemson has ever place six players on the All-ACC first-team offense and the first time any team has done it since Florida State in 1995.
Florida State and North Carolina each placed five players on the all-conference team, determined by a vote of 46 members of the Atlantic Coast Sports Media Association.
Boyd is joined on the first team by running back
Andre Ellington
, receiver
DeAndre Hopkins
, tackle
Brandon Thomas
, center
Dalton Freeman
and tight end
Brandon Ford
. Boyd led the ACC with 34 touchdown passes while Hopkins had league-bests of 16 total touchdown catches and an average of 104 yards receiving.
Nine teams had at least one first-team selection. There were no unanimous picks to the first team, but North Carolina running back
Giovani Bernard
was chosen as a first-teamer on 45 ballots. Bernard, who had an ACC-leading 1,228 yards rushing and 12 rushing touchdowns, joins Boyd as repeat first-team selections.
Bernard, a punt returner who also was picked as the first-team specialist, was joined by guard
Jonathan Cooper
, linebacker
Kevin Reddick
and defensive tackle
Sylvester Williams
.
Four Florida State defensive players -- ends
Bjoern Werner
and
Tank Carradine
, cornerback
Xavier Rhodes
and safety
Lamarcus Joyner
-- join kicker
Dustin Hopkins
on the first team.
Boston College (receiver
Alex Amidon
and linebacker
Nick Clancy
), Virginia (offensive tackle
Oday Aboushi
and linebacker
Steve Greer
) and Duke (cornerback
Ross Cockrell
and punter
Will Monday
) were the only other schools with multiple first-team picks.
You also should note that Virginia Tech and Miami did not have a first-team selection for the first time since they joined the ACC in 2004. Defensive end
James Gayle
, linebacker
Jack Tyler
and cornerback
Antone Exum
made the second team for Virginia Tech; Miami's
Duke Johnson
made the second team as a running back and specialist.
The league coaches will announce their all-conference team next week.
FIRST-TEAM OFFENSE
QB-Tajh Boyd, Clemson
RB-Giovani Bernard, North Carolina
RB-Andre Ellington, Clemson
WR-DeAndre Hopkins, Clemson
WR-Alex Amidon, Boston College
OT-Oday Aboushi, Virginia
OT-Brandon Thomas, Clemson
OG-Jonathan Cooper, North Carolina
OG-Omoregie Uzzi, Georgia Tech
C-Dalton Freeman, Clemson
TE-Brandon Ford, Clemson
K-Dustin Hopkins, Florida State
Specialist- Giovani Bernard, North Carolina
FIRST-TEAM DEFENSE
DE-Bjoern Werner, Florida State
DE-Cornellius Carradine, Florida State
DT-Joe Vellano, Maryland
DT-Sylvester Williams, North Carolina
LB-Nick Clancy, Boston College
LB-Kevin Reddick, North Carolina
LB-Steve Greer, Virginia
CB-Xavier Rhodes, Florida State
CB-Ross Cockrell, Duke
S-Lamarcus Joyner, Florida State
S-Earl Wolff, NC State
P-Will Monday, Duke
For the second-team and honorable mention selections, you can
click here
.
October, 3, 2012
10/03/12
9:00
AM ET
Duke is ahead of Virginia Tech in the Coastal Division standings this week.
Let that sink in for a minute.
At 4-1, the program is off to its best start since 1994. Duke has won three straight heading into Saturday's game against Virginia, and it's only two wins away from being bowl eligible for the first time in almost two decades.
Nobody in Durham, though, is doing backflips just yet. Those within Duke's program know better than to celebrate in October.
"Last year we were 3-2 and proceeded to lose seven games in a row," said redshirt junior cornerback
Ross Cockrell
. "We understand how quickly the tide can change during the course of a season. We have to keep working hard and stay level-headed because we haven't reached our goals yet."
[+] Enlarge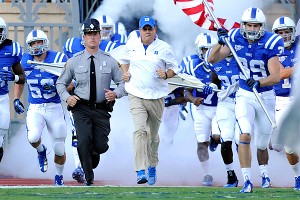 Liz Condo/US PresswireDavid Cutcliffe has led Duke to a 4-1 start.
This season, though, is already a special one by Duke's standards. Consider that it's only the third start of 4-1 or better for the program in
the past 30 years
. Duke has also opened the season with three straight home wins for the first time since 1994. Duke is -- gasp! -- favored this weekend against a Virginia team that has lost three straight.
"I will say this about this team: Regardless of the results of the rest of the games that we play, this is a very special team with tremendous character, leadership and they have just been amazing in keeping their eye on the bull's-eye," coach David Cutcliffe said. "Since all of the incidents of the summer, obviously the biggest with Blair [Holliday], the way that happened, and then so many injuries occurring -- our team looks nothing like it did at the end of spring, and I have not heard anybody here complain. I'm very proud of that. They have focused on what we have and not what we don't have. I admire the perseverance of the staff and the squad."
One of the most noticeable differences for Duke this year has been the evolution of the program's depth. At least eight starters or projected starters heading into this season have missed time with injuries, but unlike in years' past, there hasn't been as much of a drop-off in talent between the first and second string. That's a credit to the recruiting, and proof that it is improving.
The defense has also made significant strides in the second season under coordinator Jim Knowles. The players look much more comfortable in the 4-2-5 scheme, and the Blue Devils are better up front. Duke is averaging 2.8 sacks per game -- second in the ACC only to Florida State. Duke averaged 1.58 sacks a year ago. There was a three-week span (Weeks 2-4) in which Duke's run defense held three straight opponents to fewer than 100 rushing yards. That hadn't happened since 1965.
"The biggest difference is the experience we have on the team," said Cockrell, who is tied for second nationally with 11 passes defended. "We have a lot of guys who played a lot of snaps for us, especially on the D-line, and the linebackers and defensive backs. So I think we've learned to roll with the punches and the ebbs and flows of the game and we continue to fight hard throughout those."
There's also something to be said for having a fifth-year senior starting at quarterback. Quarterback
Sean Renfree
has completed at least 70 percent of his passes in all five games this season. The move of
Desmond Scott
from running back to receiver has also helped the passing game without taking anything away from the running game. Scott is averaging 6.6 receptions and 65.6 yards. Duke is averaging 114.8 rushing yards per game -- its highest average since 2005.
All of those factors have added up through the month of September.
When Duke beat Wake Forest last weekend, it snapped a 12-game losing streak to the Demon Deacons. It was a sign that the program has turned the corner under Cutcliffe in his fifth season, and Duke now knows how to come out on the winning end of close games.
"We've got a lot of guys who have been on the wrong side of those tight games for so long and we know which plays need to be made," Cockrell said. "We've seen it the last few years, a play here, a play there can turn the whole game around. This year we've been making those plays."
The key now is to make them through November.
June, 30, 2011
6/30/11
2:00
PM ET
As advertised ...
1. Florida State:
The Noles have one of the best cornerback duos in the country in Greg Reid and Xavier Rhodes. They combined for 33 passes defended last season, the most of any pair of cornerbacks in the nation. Mike Harris had 41 tackles and four picks as a reserve.
[+] Enlarge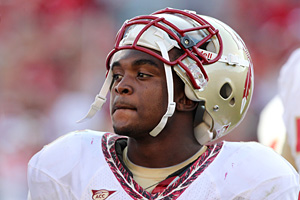 Matthew Emmons/US PresswireFlorida State cornerback Greg Reid is also one of the ACC's top return men.
2. Virginia Tech:
Jayron Hosley is one of the top boundary corners in the country, and the Hokies also have Kyle Fuller, who had six deflections last season, and Cris Hill (two deflections) at field corner.
3. Maryland:
The Terps return both starters in Cameron Chism and Trenton Hughes, who combined for 36 career starts. Chism is a strong cover corner who had 70 tackles and eight deflections last season. Hughes had nine pass deflections.
4. NC State:
Both starters return in C.J. Wilson and David Amerson. Wilson had 46 tackles, two interceptions and six pass breakups, and Amerson had 57 tackles. Justin Byers and Gary Grant also have experience.
5. North Carolina:
The Tar Heels lost some remarkable talent in their secondary, including cornerback Kendric Burney, but there is a lot of depth at the position. Jabari Price started four games last season, Charles Brown has 22 career starts but sat out last season, and Mywan Jackson and Tre Boston both have at least four starts each.
6. Boston College:
The Eagles will miss DeLeon Gause, but Donnie Fletcher has 17 career starts, 56 tackles last season, and led the team with five picks. C.J. Jones played in 12 games as a backup last season with 16 tackles. Dominique Williams also saw some time and had four tackles, and true freshman Al Louis-Jean, who was the No. 9 cornerback in the nation as ranked by ESPN Recruiting, enrolled early.
7. Clemson:
It's a young group, as the Tigers had to replace Marcus Gilchrist and Byron Maxwell. Xavier Brewer had 10 starts with 50 tackles and two interceptions last season, Coty Sensabaugh had 31 tackles in three starts, and senior Mansa Joseph will also be competing for playing time with sophomore Martin Jenkins.
8. Virginia:
The Cavaliers return both starters in Chase Minnifield and Devin Wallace, but Wallace was suspended and missed spring ball and is still suspended. Wallace had 38 tackles and six breakups last season. Chris Broadnax, Rijo Walker, Drequan Hoskey and Pablo Alvarez will all compete for playing time.
9. Miami:
The Hurricanes have to replace both starters in Brandon Harris and Ryan Hill. Jo-Jo Nicholas moved to corner and Brandon McGee, who was the nickel back last season, will compete along with
Lee Chambers
, Keion Payne, Nathan Gholston and true freshman Thomas Finnie, who had a great spring.
10. Georgia Tech:
The Jackets had to replace their entire secondary, including cornerbacks Mario Butler and Dominique Reese. They've still got several cornerbacks with experience in Rashaad Reid, who started 14 games in 2008 and 2009, Rod Sweeting (38 tackles, seven pass breakups, one interception), Louis Young (10 tackles), and Michael Peterson (six tackles, one pass breakup).
11. Wake Forest
: The Deacs have a deep enough secondary that they can live without the experience of cornerback Kevin Johnson, who started five games last season but will sit out this season while academically ineligible. Josh Bush had 33 tackles and four pass breakups last season, Kenny Okoro is a rising star, A.J. Marshall has three starts and Dominique Tate returns after missing last season while on academic suspension.
12. Duke:
Ross Cockrell is a returning starter and finished last season with 60 tackles and 10 passes defended. He was only a freshman but he tied for eighth in the ACC with passes defended with 10 in 12 games. Johnny Williams had four pass breakups last season.