May, 31, 2013
5/31/13
11:44
AM ET
DESTIN, Fla. -- Former SEC commissioner Roy Kramer still gets a kick out of reminding coaches, and even media members, of all of the gloom and doom they were spreading when the league made the bold move in 1992 of going to a conference championship game, and expanding and splitting into two divisions.
The fear was that having to play an extra game after making it through the eight-game grind of the league schedule would put the SEC at a huge disadvantage in terms of winning national championships.
A few coaches even suggested that the SEC could forget about having much of a say in the national championship equation going forward.
Well, Alabama went 13-0 that first year of the conference championship game and won its first national title in 13 years.
In fact, 11 of the past 21 national champions have come from the SEC, including the past seven.
[+] Enlarge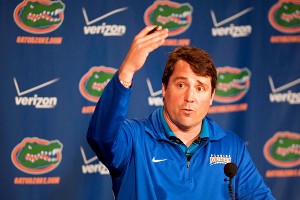 AP Photo/Phil SandlinWill Muschamp knows just how high the expectations are for the Gators and Florida officials say that despite this year's record he has things heading in the right direction.
Suffice it to say that the changing landscape of the SEC two decades ago didn't send the league into football oblivion, and something says it will continue to prosper in this current climate of change.
Even so, the unknown is always a little scary.
"There are a lot of question marks out there that are really hard to answer right now, kind of like the nine-game [conference] schedule," Florida coach Will Muschamp said. "Is that best for our league? We really don't know right now.
"At the end of the day, it's going to be great for the fans. It's going to be great for TV. But is that what's best for the Southeastern Conference? I don't know right now."
Even though the coaches voted 13-1 to keep it at eight conference games, which will be the way the league goes in 2014 and probably in 2015, the overriding feeling this week at the spring meetings was that nine conference games are coming.
Alabama's Nick Saban has been the one coach pushing for nine games. Everybody wants to know his rationale.
For starters, he understands as well as anybody that when the College Football Playoff gets here in 2014 that strength of schedule (and who you beat and where you beat them) will be the most important component in making it into the "final four," as Steve Spurrier calls it.
"If we're going to get more than one team from the SEC [in the playoff], we're going to have to play more than eight games," Saban said. "So we're going to have to play nine. Some of us already do, and even 10 of what I'm going to say are BCS-quality opponents.
"It's hard to schedule those people, and it's difficult to do home-and-homes and make it work. So why not play nine conference games and make it work and then play one other [marquee nonconference] game?"
But at some point, the SEC's national championship streak is going to end.
And Muschamp is right. Nobody knows for sure what the landscape will look like once the selection committee is picked and a four-team playoff becomes a reality.
It could be a few years into the playoff before we have a true read.
One of the other hot debates this week in Destin was permanent opponents. LSU has been leading the charge to do away with permanent cross-divisional opponents. Les Miles would like to see a format (in an eight-game schedule) where teams play their six divisional foes and then two rotating foes from the other division.
Of course, Auburn and Georgia, as well as Alabama and Tennessee, are dead set on keeping their annual rivalries.
For the time being, it's going to stay at eight conference games, and a 6-1-1 rotation already has been approved through 2026. Obviously, the presidents will have the final say, and nothing says that can't become a 6-1-2 format in a couple of years if (when) the league goes to nine conference games.
Alabama, which has avoided the best teams from the East Division each of the past two regular seasons, would get Georgia in 2014 as its cross-divisional foe and Florida in 2015. Again, this is assuming the rotation approved through 2026 sticks.
There are sure to be a few twists and turns, and it's only natural that adding a ninth SEC game would be unnerving for coaches and athletic directors.
Keep in mind that in the past six years, Alabama, Florida and Georgia all have gone to bowl games with six regular-season wins.
One thing we know about this league is that it changes fast. But it's also a league that has proved it can handle change with the best of them.
Does anybody really expect
that
to change?
March, 12, 2013
3/12/13
1:00
PM ET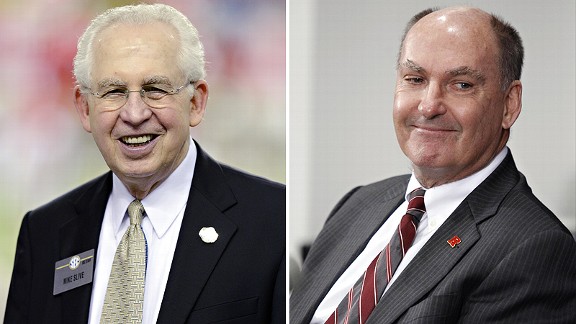 USA TODAY SportsSEC commissioner Mike Slive, left, and Big Ten commissioner Jim Delany are among the most powerful men in sports.
Sports Illustrated recently came out with its list of the
50 most powerful people in sports
. Two college conference commissioners made the rundown: the SEC's Mike Slive at
No. 17
, and the Big Ten's Jim Delany at
No. 26
. The men who lead the nation's richest and most popular conferences have been
rivals throughout the years
, and they've both made moves to strengthen their leagues and shape college football.
Bloggers Chris Low (SEC) and Adam Rittenberg (Big Ten) weigh in on Slive, Delany and which commissioner -- in the immortal words of Snap! -- has got the power.
Chris Low on Slive
The easy part would be starting with the rings, although Mike Slive himself doesn't have a jewelry box overflowing with national championship bling. He's content to let the SEC schools display their own hardware. And for those not keeping count, it's up to seven straight national championships now for the SEC.
There's such a thing as power, and then there's the kind of power you command when you're on top.
The SEC is looking down at everybody else in the college football world and has been for a while, and Slive's a big reason why. The administrators and coaches in the league have supreme confidence in him to make the right moves in the ever-changing landscape of college athletics.
They don't necessarily fear Slive, but they also know better than to cross him. Lane Kiffin and Tennessee got a dose of his wrath.
One of the most obvious examples of Slive's power is the four-team college football playoff, which will begin in 2014. Remember that he was the one who proposed a playoff back in 2008, and not enough other people were on board at the time.

Well, everybody's on board now, and it's a reality. Not only that, but the format is basically what Slive wanted. There aren't any restrictions about having to win your conference championship, and the games will be played at bowl sites ... and not on college campuses.
Slive didn't want the playoff party to be limited to conference champions. The rest of the country moaned and groaned over the all-SEC BCS National Championship Game in 2011 between Alabama and LSU. Slive wanted to make sure the door was open for multiple SEC teams to get into the four-team playoff, because more times than not, at least two SEC teams will be deserving.
Most people would agree that conference expansion is far from over. But with all of the jockeying to this point, did any conference benefit more than the SEC with its addition of Texas A&M, which secured a foothold in the state of Texas?
The value of that move will be front and center when the SEC negotiates its next television contract with CBS and ESPN. You better have a good calculator to tabulate those figures.
And, oh yeah, Slive knows a thing or two about steering clear of serious NCAA trouble.
The SEC is always going to be the SEC. After all, the league's unofficial slogan is, "If you ain't cheating, you ain't trying."
Slive's not real fond of that slogan, by the way. But the NCAA has done its share of poking around several different SEC programs over the past several years, and the last school to be hit with a postseason ban in football was Mississippi State in 2004.
Nobody's suggesting that Slive has a direct line to the NCAA enforcement staff.
But he also has clout, and probably more importantly, a keen understanding of how the NCAA process works. He can be a huge asset when SEC schools are trying to navigate choppy waters.
Just ask Auburn and Cam Newton.
Slive, a former district court judge in New Hampshire, jokingly refers to himself as a recovering attorney.
Now a proud grandfather, he looks the part with the white hair, warm smile and stooped-shoulder walk.
He's quick to deflect any talk about his role in making the SEC the juggernaut that it's become.
Of course, the most powerful people don't have to talk about what they've done. Everybody already knows.
Adam Rittenberg on Delany
This discussion essentially comes down to how much a commissioner's power stems from the number of football national championships that are won in his conference. If crystal footballs are the sole basis for determining which commissioner carries more clout, Slive wins in a landslide. After all, the SEC has won the past seven national titles, the league's total during Slive's tenure as commissioner (2002 to present). Delany has been Big Ten commissioner more than twice as long (1989 to present), but the league has claimed only two football national titles (1997, 2002) during that span, and none in the past decade.
But let me remind everyone that neither of these men plays football or coaches football. They have no direct control over whether their teams hoist the crystal football. They can put their leagues in the best possible positions to compete for championships by increasing revenue and TV exposure, and by shaping the BCS/playoff format, but their work is done outside the lines, not between them.

Although Slive has done some great things as SEC commissioner, his timing also has been impeccable. Was Slive's predecessor, Roy Kramer, a bad commissioner because SEC teams won only three national titles during the 12 football seasons in which he served? Such a notion seems absurd. The Big Ten's lack of championships in the major sports is part of Delany's legacy as commissioner, but can anyone reasonably argue that Delany has put the league in a weaker position to win titles? Also absurd.
If anything, Delany has strengthened the Big Ten's chances to win championships and continued to build the league even when it wasn't winning championships. His teams simply have let him down over and over -- not just in football, but in men's basketball -- while Slive's teams have come through time and again.
If we're basing this on how much a commissioner has done in his role, Delany has built more power than Slive. He fundamentally changed the television landscape by spearheading the Big Ten Network, an idea many thought would crash and burn but instead has flourished. The Big Ten pioneered the use of instant replay, which is a staple around college football these days. Delany expanded the Big Ten with home-run additions, first from the East (Penn State) and then the West (Nebraska). Some blame the Big Ten for launching realignment fever in December 2009, but you can also argue Delany was ahead of the curve in sensing what would come around in college sports. Although Delany's latest expansion moves -- Maryland and Rutgers -- and possible future moves (Georgia Tech, Virginia, North Carolina) aren't overly popular among Big Ten fans, his goal to expand the Big Ten footprint into new markets and create new revenue streams for the league is understandable.
Although Slive is older, Delany has been around longer and has accomplished more. His name resonates throughout the sports world more than Slive's. And while Slive and other conference commissioners have brokered historic television deals, Delany and the Big Ten are the last in line -- the current deal expires in 2016 -- and are poised to cash in really, really big.
The past few years have been tough for the Big Ten, both on and off the field. The scandals at Penn State and, to a much lesser extent, Ohio State, damaged a reputation Delany helped to build. Delany's strong support of the BCS system also didn't help his cause as public opinion shifted sharply toward a playoff. But the notion that Delany "lost" the playoff debate is a farce driven by media members who didn't actually listen to what he said throughout the process (Delany has smartest-guy-in-the-room syndrome and sometimes talks over people rather than to them). He was
first to mention using a selection committee
, which will be adopted. And while the playoff participants won't all be conference champions, league champions will get preference over non-champions at the 4-5 margin, as Delany wanted.
SI.com's Andy Staples recently wrote
the gap between Delany and Slive is thin
and gives Slive the edge based on the SEC's championships. That's fair. But if you want to base power on what each commissioner actually has done, Delany gets my vote.
December, 19, 2011
12/19/11
9:00
AM ET
The Pac-10 and Big 12 nearly got married last year, but only Colorado ended up eloping with the now-Pac-12.
You know: The conference that can count!
But the Pac-12, which has, yes, 12 teams, and the Big 12, which has 10 teams (though it's often hard to keep up with which ones), play each other in three bowl games this holiday season.
Joy to the world.


So it seemed like a good time for the Pac-12 and Big 12 bloggers -- Ted Miller and David Ubben -- to say howdy and discuss all the coming fun.
Ted Miller
: Ah, David, the bowl season. Pure bliss. Unless you're the Pac-12, which is expected to get a whipping from your conference over the holidays. We have three Pac-12-Big 12 bowl games with the Tostitos Fiesta Bowl between Stanford and Oklahoma State, the Valero Alamo with Baylor and Washington and the Bridgepoint Education Holiday Bowl matching California and Texas. And the Big 12 is favored in all three!
Poor ole West Coast teams. What are we to do? It's almost like the Big 12 is the SEC or something. Speaking of which, how are things with your Cowboys? Are they over not getting a shot at LSU for the national title? Are they excited about getting a shot at
Andrew Luck
and Stanford? We might as well start with that outstanding matchup in Glendale, Ariz.
David Ubben
: You know, I was actually a little surprised. I stuck around Stillwater for the BCS bowl selection show announcement, and the players took the news pretty well. They found out an hour before, but there wasn't a ton of down-in-the-dumpiness from the Pokes. When you've never been to this point before, it's a bit difficult to develop a sense of entitlement. If Oklahoma had OSU's record and was passed over by Alabama and sent to the Fiesta Bowl for the 17th time in the past six years, you might have had a different reaction.
But Oklahoma State's first trip to the BCS and first Big 12 title aren't being overlooked. These players are looking forward to this game. There's no doubt about that.
I know the Big 12 seems like the SEC, but I have a confession, Ted. I wasn't supposed to tell anybody, but I can't hold it in anymore. When the Big 12 began back in 1996 ... wow, I'm really going to do this ... then-SEC commissioner Roy Kramer graciously allowed the league to keep two of his teams. The league made a similar arrangement with the Big Eight a century ago, and the Southwest Conference around the same time. Missouri and Texas A&M are really wolves in sheep's clothing: SEC teams just pretending to be in other leagues. So that might explain the Big 12's recent dominance.
These should all be fun games, though. I ranked two of the matchups among the top three in my bowl rankings.
As for the big one, they say you learn more by losing than by winning. Stanford got its first BCS win after last season. How do you think that experience plays into this postseason's game? I hate to ruin the surprise, but Oklahoma State's a bit better than the Virginia Tech team Stanford beat last postseason. OSU's loss to Iowa State this season is bad, but it's nothing like the Hokies' loss to James Madison last season.
[+] Enlarge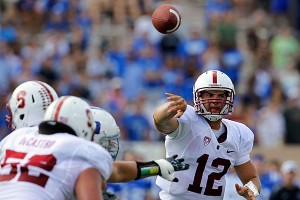 AP Photo/Gerry BroomeQuarterback Andrew Luck leads Stanford into its second consecutive BCS bowl, this season against Oklahoma State in the Fiesta Bowl.
Ted Miller
: Not only is Oklahoma State better than Virginia Tech, it's still questionable whether this Stanford team is better than last season's. Since we're going all crazy and whispering about the SEC, there was a feeling out West that by the end of the 2010 season the Cardinal might not only be the best team in the Pac-12 but also in the nation. They were big and physical, and quarterback Luck actually had a solid receiving corps with which to work. After a loss to Oregon in the fifth game of the season, they didn't lose again until playing, er, Oregon in this season's 10th game. If we could go back in time and have the Cardinal play Auburn, I think Stanford would have won the national title.
But that's 2010. The differences this season are the season-ending knee injury to middle linebacker Shayne Skov, who was an All-American candidate, and a slight step back on the offensive line and a lack of top-flight receivers. But if Oklahoma State fans are looking for something to worry about it is this: Stanford's running game.
The Pokes are bad against the run, and they haven't faced a team that is as physical and creative in the running game as Stanford. As much as folks talk about Luck's passing, it's his run checks that often ruin a defense's evening.
The Fiesta Bowl matchup looks like a great one, perhaps the best of the bowl season. But I'm excited to see Mr. Excitement,
Robert Griffin III
, in the Alamo Bowl against Washington. Of course, I'm not sure that the Huskies, their fans and embattled Huskies defensive coordinator
Nick Holt
are as thrilled. First, tell us about what Washington should be most worried about with Griffin. Then tell us about Baylor in general. Such as: Can the Bears stop anyone?
David Ubben
: Nope. Not really.
Oklahoma State's defense unfairly gets a bad rap. Baylor's bad rap is earned. This is the same team that won five consecutive games late in the season -- but became the first team ever to win four consecutive in a single season while giving up 30 points in each.
[+] Enlarge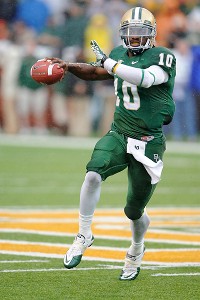 Jerome Miron/US PresswireBaylor's Robert Griffin III will try to make it three straight bowl victories by Heisman Trophy winners.
That, if you ask me, says plenty about both the defense and the power of RG3. The Bears have a lot of athletes on the defense, but when four of your top five tacklers are defensive backs, well, you need a guy like RG3 to go 9-3.
The man is a nightmare. Top to bottom, he's the most accurate passer in a quarterback-driven league. Then you add in his athleticism, which he doesn't even really need to be extremely productive. It sets him apart, though, and forces defenses to account for it, and it buys him time in the pocket. How many guys break a 20-plus-yard run then hit a receiver for a game-winning 39-yard score to beat a team like Oklahoma for the first time?
How do you think Washington will try to slow him down? What has to happen for it to have some success?
Ted Miller
: This game matches the 99th (Washington) and 109th (Baylor) scoring defenses. It has a 78-point over-under, the biggest of any bowl game. The offenses are going to score plenty, at least that's the conventional wisdom.
How does Washington stop RG3? His name is
Chris Polk
. He's a running back. Baylor gives up 199 yards rushing per game. Polk right, left and up the middle is a good way to contain Griffin. The Huskies' best hope is to reduce Griffin's touches with ball control. They also need to convert touchdowns, not field goals, in the red zone. The Huskies are pretty good at that, scoring 36 TDs in 45 visits to the red zone.
The Huskies also have a pretty good quarterback in
Keith Price
, who set a school record with 29 touchdown passes this season. He and a solid crew of receivers have prevented teams from ganging up against Polk. But Polk is the guy who burns the clock.
Should be a fun game. As should, by the way, the Holiday Bowl. David, Cal fans are
still
mad at Texas coach Mack Brown and his politicking the Longhorns into the Rose Bowl in 2004. Every team wants to win its bowl game, but the Old Blues really want to beat Brown.
Of course, neither team is what it was in 2004. Cal has an excuse. It's not a college football superpower. Sure you've been asked this before, but give me the CliffsNotes version of why the Longhorns have fallen so hard since playing for the national title in 2009.
David Ubben
: Cal fans are still mad? Really? I'd suggest they get over themselves. What's anybody on that Cal team ever done, anyway? It's not like the best player in the NFL missed out on a chance to play in the Rose Bowl. Now if that were the case, we might have a problem. But honestly, I don't think Tim Tebow cares all that much about the Rose Bowl.
As for Texas' struggles …
The easy answer is quarterback play. Texas relied on Colt McCoy and Jordan Shipley more than anyone realized. When they were gone, Texas couldn't run the ball, and quarterback Garrett Gilbert never made it happen. Two seasons later, the Longhorns still don't have a quarterback.
The other big answer last season was turnover margin. Gilbert threw 17 interceptions, and the Longhorns were minus-12 in turnovers, which ranked 115th nationally.
They were still only 90th this season, and without solid quarterback play in a Big 12 dominated by passers, they scored five, 13 and 17 points in three of their five losses. Texas keeps people from moving the ball and runs the ball better this season, but without a solid passing game and a defense that changes games, it's tough to rack up wins in the Big 12.
It's been awhile since Cal was in the mix for the BCS, even as USC has fallen. Oregon answered the call and rose, but what has prevented Cal from winning the Pac-10 and Super Pac-10 since the Trojans' swoon?
Ted Miller
: You mention quarterback play. Cal fans ... any thoughts? You mention Aaron Rodgers. Cal fans? Oh well, that's not very nice during this festive time of the year.
Cal has become a solid defensive team, but it has lost its offensive mojo, and that can be traced to a drop in quarterback play since Rodgers departed. The latest Bears quarterback,
Zach Maynard
, started fairly well then stumbled, but then seemed to catch on late in the season. It's reasonable to believe the team that gets better quarterback play -- mistake-free quarterback play -- is going to win this game.
Nice to cover a conference in which quarterback play matters, eh David?
Speaking of quarterback play and winning, let's wind it up. Our specific predictions aren't coming on these games until after Christmas. But we can handicap the Big 12-Pac-12 side of things. We have a three-game series this bowl season.
I say the Pac-12, underdogs in all three games, goes 1-2. What say you?
David Ubben
: And to think, before the season all I heard was the Pac-12 had surpassed the Big 12 in quarterback play. Did somebody petition the NCAA for another year of eligibility for Jake Locker and/or clone
Matt Barkley
? You West Coast folk are geniuses; I figured you'd find a way. We can't all be Stanford alum ...
Clearing out all the tumbleweeds here in middle America, I'll go out on a limb for the Big 12 in this one. Every matchup is a good one, and I don't think Cal has seen a defense like Texas', and Washington hasn't seen an offense like Baylor's. People forget that, yeah, RG3 is outstanding, but the Bears also have the league's leading receiver and leading rusher.
Stanford-OSU is a toss-up, but I'll go with a perfect sweep for the Big 12. The Cowboys haven't played poorly on the big stage yet, so I'll give them the benefit of the doubt in this one, and they clean up for the Big 12 against what was almost their new conference this fall.
Oh, what could have been. Ubben and Miller on the same blog? Divided ultimately by a little thing we call the Rockies.
June, 10, 2010
6/10/10
3:44
PM ET
Big Ten commissioner Jim Delany clearly dropped a clue about the league's expansion plans Sunday, when he told a group of reporters, "We could not act; we could act; we could act and act again."
Act and act again.
I admit I didn't think much of the comment at the time. And I still think that if the Big 12/Pac-10 hadn't forced the Big Ten to accelerate its timetable for expansion, the league likely would have acted just once in expansion.
And that could still happen. Nebraska,
expected to become a Big Ten member
as early as Friday, could be the beginning and the end of the league's expansion push. A source with knowledge of the Big Ten's plans tells me no other additions are imminent besides Nebraska. The Big Ten isn't waiting on Notre Dame or anyone else at this point, the source said.
Still, none of us should be shocked if Delany decides to act again.
"The process, as designed, contemplated a single action or phases," said Michigan State president Lou Anna Simon, the chair of the Big Ten's Council of Presidents/Chancellors. "The process was designed to keep open those options."
Roy Kramer agrees.
The former SEC commissioner tells colleague Gene Wojciechowski that
Nebraska likely would be just the first step
for the Big Ten in expansion.
"If Nebraska goes it would be my understanding that Missouri would be not far behind," Kramer said. "Then they would have to look to the East Coast. Rutgers. Maybe Syracuse."
Although the Big Ten has reiterated its desire to study expansion thoroughly and limit damage (i.e. Armageddon) on the back end, Kramer doesn't think it will stop Delany and his league from reaching 16 teams.
"If the Nebraska domino falls, the Armageddon is out there," he said. "Now forget about your conscience and do what's right for your conference. … You got to look at it from 10 years from now, eight years from now, six years from now. ... My best guess is that the Big Ten will eventually get to 16 in phases."
Phases. There's that word again. Nebraska looks like Phase 1. But another phase could include the Big Ten's longtime target: Notre Dame.
"If I were [Notre Dame] I think a move to the Big Ten would be very fortuitous for us in the long range," Kramer said. "If the Big East were to fall apart, then Notre Dame would be in a tough position with the other sports. Nobody is going to take them as a part-time member."
I'm not so sure the Big East will fall apart -- in some scenarios, the league could end up stronger in football -- but these are some interesting thoughts from a guy who spent time on the front lines of expansion in college sports.