April, 4, 2014
Apr 4
9:00
AM ET
ANN ARBOR, Mich. -- On Friday, Michigan plans to unveil a new museum area inside Schembechler Hall. The centerpiece display is a glass case reaching from floor to ceiling that contains 910 footballs, or one for every Wolverines victory.
There is room in the case for at least a couple hundred more balls. It's also safe to presume that the all-time winningest program in college football history expects to add more than seven of those per year.
But that's how many Team 134 contributed in 2013 in a disappointing 7-6 campaign that ended with a thud in the Buffalo Wild Wings Bowl.
[+] Enlarge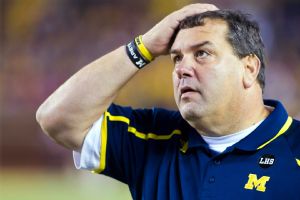 AP Photo/Tony DingThe 2013 season was a frustrating one for all involved in the Michigan program, as Brady Hoke and the Wolverines stumbled to a 7-6 record.
"That wasn't a Michigan record," senior linebacker
Jake Ryan
said.
It seemed almost quaint two years ago when Brady Hoke labeled the 2011 season -- one that included 11 wins and a Sugar Bowl title -- as "a failure" because the team didn't capture a Big Ten championship. Since then, Hoke has flirted with actual failure, going just 15-11 in his second and third seasons as head coach.
As a result, Hoke made the first major staff shakeup of his tenure this offseason. He fired offensive coordinator Al Borges -- a move he called difficult because of their personal friendship -- and hired Doug Nussmeier from Alabama. He also switched around several defensive roles and took himself out of the defensive line coaching mix. Those moves signaled what had become obvious: Change was necessary to get Michigan back to being Michigan.
"Our first message to the players this offseason was to learn from going 7-6 on every front you can," Hoke said. "That's from how you prepared to how you came in the building every day.
"It's the same thing with us as coaches. We talked a lot about us doing a better job with the fundamentals of playing the game and holding everybody to those expectations. And I think you always have to check yourself before you go anywhere else with it."
Hoke hopes Nussmeier can help establish the true pro-style, physical offense that Borges could never quite take from vision to reality. Defensive coordinator Greg Mattison will coach the linebackers this season while Roy Manning and Curt Mallory will both work with the secondary, an idea Hoke said he got from talking to NFL coaches. Mattison wants to bring more pressure on defense this season, something the Wolverines didn't do well in 2013. But with experience now in the front seven and incoming star recruit
Jabrill Peppers
potentially adding a lockdown cornerback, Michigan expects to go on the attack.
"In 2011, I think we had a much more aggressive style of defense," Hoke said. "We probably got away from that a little bit."
Perhaps the changes can finally answer last season's unsolved mystery: Who exactly are these Wolverines?
They were a wildly inconsistent crew that could set offensive records one week and fail to find the end zone the next. They nearly upset Ohio State in a thriller and lost four Big Ten games by just 11 points. But they also nearly lost to Akron, UConn and Northwestern and surrendered more than 40 points three times.
"Last year, we lacked an identity," senior defensive end
Frank Clark
said. "This year, the main talk around here has been to develop an identity, as a defense especially. You look at every other top team across the country, and everybody either has a tough running game or a crazy pass game or a crazy defense. We want to go into a game and have our opponent say 'Oh, man, it's going to be a long day.'"
One of the main differences between his first team and the past two, Hoke said, was that the 2011 Sugar Bowl squad had "some fourth- and fifth-year guys who really understood what Michigan meant." Leadership is a concern for this year's team, which has only 12 seniors, though guys such as Ryan, Clark and quarterback
Devin Gardner
provide a great starting point. Hoke has taken his seniors to California for Navy SEALs training in the past and says he has some new ideas in store for this summer which he's not yet ready to reveal.
The players and coaches are also trying to develop more of a competitive edge this spring.
"There's definitely a different focus," linebacker
James Ross III
said. "A lot of guys getting on each other, but it's positive. Last year, I don't think we had that as much. We're holding each other accountable now, and I think we let a lot of things slide last year."
Michigan's success or failure in 2014 will ultimately depend on how quickly its young players, many of whom were decorated recruits, can develop. It says something about the state of the program that two guys who just enrolled in January -- receiver
Freddy Canteen
and offensive lineman
Mason Cole
-- have been among the standouts of the spring. The Maize and Blue are extremely green on offense, particularly up front on a line that has been a sore spot for the past two seasons. With tackles
Taylor Lewan
and
Michael Schofield
graduated, that group is now
mostly comprised of freshmen and sophomores
.
Hoke said the youth on the O-line is a remaining byproduct of the transition from Rich Rodriguez. You might recall that Rodriguez was fired in 2010 after going 7-6 in his third year. Athletic director Dave Brandon remains in Hoke's corner, and Hoke says the only pressure he feels is the internal pressure to do right by all of his players.
Still, the message should be loud and clear when Hoke walks into Schembechler Hall every day. They don't dedicate museum displays to teams that go 7-6.
"The atmosphere around this building now is that we've got to win," defensive lineman
Taco Charlton
said. "That's period, point blank, whatever we've got to do."
March, 21, 2014
Mar 21
9:00
AM ET
Seven cornerbacks were voted first- or second-team All-Big Ten from the coaches and the media in 2013. Only one of them returns this season.
[+] Enlarge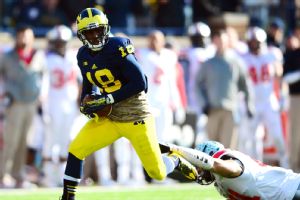 Andrew Weber/USA TODAY SportsMichigan's Blake Countess, who had six interceptions in 2013, wants to be the Big Ten's best cornerback this fall.
That's Michigan junior
Blake Countess
who, by process of elimination, could inherit the title of league's best corner. Don't think that hasn't crossed his mind.
"If I'm not in that role next year, then I'll feel like I have taken a step backwards, which just cannot happen," he told ESPN.com. "So that's definitely a goal in the back of my mind. Last year is over and done with, but moving forward means taking the next step."
While Countess had a solid 2013, finishing tied for the Big Ten lead with six interceptions, he knows he still has room to improve. And the Wolverines could be asking more of him as they try to tighten up their defense this fall.
Defensive coordinator Greg Mattison has made becoming a better blitzing team one of this spring's priorities. Michigan gave up far too many big plays in 2013, in part because it didn't do a great job bringing pressure and in part because the secondary struggled to contain wide receivers. Mattison hopes his front seven can do a better job getting to the quarterback this fall when he dials up a blitz. That means the corners have to be ready, too.
"That's where we're at now in our defense," he told reporters last month. "As you become more experienced, as our philosophy may change a little more as we feel like we can get more pressure, we've got to play more aggressive on receivers, tighten the coverage up."
Countess said he's spent a lot of time this offseason working on press and man-to-man coverage. It's a more aggressive approach than some of the zone coverages he's played in the past, and he relishes it.
"All DBs love to play press," he said. "I've never met a DB who says, 'Nah, I don't like to get up there and press.' It puts you close to the receiver, and if we give the receiver space, that's what [he wants]. So it puts you in a better position to make plays.
"A lot of guys played press all throughout high school, and then they get here and are forced to play a little bit more zone than they may have in high school. So it's kind of like getting back to what we've done in the past."
The Michigan cornerbacks have a new position coach this spring, as Roy Manning is now overseeing that group after coaching outside linebackers last season. Manning, a former Wolverines linebacker, has brought some new ideas on technique, Countess said. But his biggest contribution so far might be his attitude.
"He played here, so he knows what it means to play here," Countess said. "He's pushing us. He's done a great job of staying on top of us."
Countess is also trying to take charge of the secondary as he enters his fourth year in the program. He and senior cornerback
Raymon Taylor
are now the veterans of the group, and they'll need to lead guys like sophomores
Jourdan Lewis
,
Channing Stribling
and
Dymonte Thomas
. Heavily hyped recruit
Jabrill Peppers
arrives this summer and could play anywhere in the defensive backfield.
"I'm helping out a lot more with the younger guys this spring than I have in the past," Countess said. "I'm here to get the younger guys settled, because that's the future. The cornerback position has a lot of guys who have had significant snaps and game-time decisions so that's going to create a lot of competition."
Countess and others had strong moments last season, but the secondary as a whole didn't deliver as much as hoped for Michigan, which finished seventh in the Big Ten in pass defense. There's no sugarcoating the performance in Ann Arbor.
"You have to look at it as a team, and as a team we were 7-6," Countess said. "That's not good enough at all. We definitely didn't play well enough as a team and looking at our position, we didn't play well enough. I don't think anybody on the team, as far as their positions, are happy with the outcome."
The improvement, they hope, begins this spring. And a great place to start is with arguably the top returning cornerback in the Big Ten.
April, 17, 2013
4/17/13
9:00
AM ET
ANN ARBOR, Mich. -- All players who walk through the door to Schembechler Hall understand what Michigan once was. They merely have to keep their eyes and ears open.
Many college coaches, even those at traditional power programs, concern themselves only with the present and the future. Michigan's Brady Hoke puts the past on a pedestal.
Hoke's players know what the numbers 134 and 42 mean -- Michigan enters its 134th year of football and boasts 42 Big Ten championships. They know about the program's national titles and award winners. They see the Bo Schembechler quotes, the
Big Ten banners
and the
legends lockers
dedicated to program greats.
Many of the current Wolverines hadn't put on a helmet and pads in their lives the last time Michigan won a national title in 1997, but they know what the program was like because coaches like Hoke and defensive coordinator Greg Mattison, both Michigan assistants during the mid-1990s, tell them about it all the time. Offensive line coach Darrell Funk, who had no ties to Michigan before arriving with Hoke in 2011, often shows his players tape of former Wolverines stars Steve Hutchinson, Jake Long and Jon Jansen.
[+] Enlarge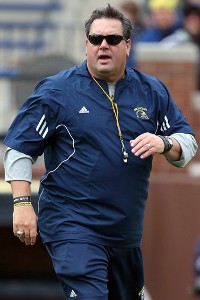 Leon Halip/Getty ImagesBrady Hoke and the Wolverines are working to get the program back to where it once was.
"There's a tremendous sense of pride that Brady instills," Mattison told ESPN.com, "and our entire football organization feels that 'Let's get Michigan back to the way we remember it,' where when Michigan gets on that field, everybody goes, 'Whoa, here they come.' That's what I envision. I want to do anything that I can do to help us get there, to get Michigan back to the football level it was when I remember it."
Senior linebacker
Cam Gordon
was 6 years old when Michigan won the national championship and 13 when the Wolverines claimed their last Big Ten title (2004, co-championship). But he hears about the glory days from coaches like Mattison and new outside linebackers coach Roy Manning, who played for Big Ten championship teams in 2003 and 2004.
"I do remember the stories about Michigan," Gordon said. "Before they even stepped on the field, the game was won."
The constant history lessons taught inside Schembechler Hall don't stem from an unhealthy state of nostalgia. Hoke wants his players to understand the standard at Michigan. He's also extremely blunt about the fact that the Wolverines have yet to meet it.
Hoke guided Michigan to 11 wins in his first season and ended the seven-year losing streak against archrival Ohio State. He has yet to lose a game at Michigan Stadium. He has pulled Michigan out of the fog of the Rich Rodriguez era. Recruiting is undoubtedly on the upswing, and Michigan looks more like its old self on both sides of the ball.
But Hoke's tenure to this point, by his own barometer, has been a failure.
"We didn't get it done," he said of the 2012 season, when Michigan went 8-5. "We were still in a second year of changing a culture and changing a philosophy to some degree, offensively and defensively and the whole scope of what we try and do as a team. But still, at the end of the day, this is about winning Big Ten championships. We have 42 of them, and we need to start on our 43rd."
Hoke's message is heard loud and clear from the team's best player on down.
"The standard at Michigan is a Big Ten championship every single year," All-American left tackle
Taylor Lewan
said. "That's the minimum. Everything else is a failure. The Sugar Bowl, the BCS game, that was awesome. It was such a great experience, Bourbon Street was cool, New Orleans was cool -- failure. Outback Bowl, close game, lost in the last 20 seconds -- failure.
"Those are all games that are failures. The only way this team would be happy, would be satisfied with one season, is if we win a Big Ten championship."
Things weren't that way when Lewan arrived in 2009.
"The main goal was to make it to a bowl game," he said. "I don't know if that's how it's supposed to be at Michigan. I don't know how much my opinion counts, but I think it should be a Big Ten championship every single year. These coaches have done a great job of preaching that.
"We're not going to settle."
It has been nearly a decade since the Wolverines could call themselves league champions, their longest drought since a lull between 1950 and 1964. Every year that passes without a title means Michigan moves a little further away from the great times, a little further away from regaining the mystique Mattison and others preach about.
Talking about a winning culture in the past only goes so far without establishing a winning culture in the present. It's why much of Michigan's offseason work has been from the neck up.
"There were times where we were down in games and we came back and won the game based off our mental toughness," wide receiver
Jeremy Gallon
said. "And there were times in games where we didn't come back, and it was our lack of mental toughness."
Defensive tackle
Quinton Washington
said Michigan worked on breaking "mental barriers" this spring, one of which is playing better away from the Big House. The Wolverines dropped three road games (Notre Dame, Nebraska and Ohio State) and two neutral-site contests (Alabama, South Carolina) last fall.
[+] Enlarge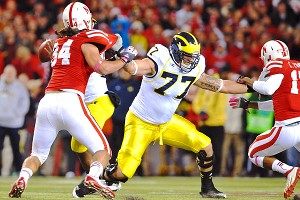 AP Photo/Dave WeaverTaylor Lewan (77) knows expectations are high for every player who wears a Michigan uniform.
Michigan is just 5-7 in road or neutral-site games under Hoke.
"We didn't play well on the road," Hoke said. "We didn't play with the toughness that it takes. We learned a lot in the bowl game about us as people, especially the guys coming back, good and bad."
Hoke has a
Sun Tzu quote
displayed in the weight room that reads:
Victorious warriors win first and then go to war, while defeated warriors go to war first and then seek to win.
The goal is for the Wolverines to enter games with the same mindset as their predecessors.
Many think the Michigan mystique is dead, but Hoke's players are driven to revive it.
"If they don't fear Michigan," Gordon said, "then obviously that's something that we're going to have to change."
Beginning this fall.
"Anywhere you go in the world, everyone knows Michigan," defensive end
Frank Clark
said. "Anywhere in the nation, as far as college football, everyone knows Michigan. For the last couple years, we haven't lived up to those expectations. This next season, we have to.
"It's time. There aren't anymore excuses."
August, 13, 2012
8/13/12
9:00
AM ET
Jameel Poteat
is a product of "Tailback High," having broken Bishop McDevitt records just a few years after Philadelphia Eagles running back LeSean McCoy did the same at the Harrisburg, Pa., high school. So when the Cincinnati sophomore is asked about the big shoes to fill this season in the Bearcats' backfield, he is not running from the challenge.
[+] Enlarge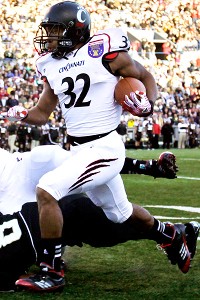 AP Photo/Mark HumphreyGeorge Winn (32) is one running back looking to fill Isaiah Pead's shoes in the Bearcats' backfield.
Poteat -- who was mentored by McCoy, who himself had been mentored by McDevitt alum and Pro Bowler Ricky Watters -- already got a head start during his first college fall, rooming with eventual Big East offensive player of the year Isaiah Pead on road trips last season. The then-true freshman picked the senior's brain on everything from pass protection to managing a body over the course of a season.
"I love it," Poteat said of the expectations Pead left behind. "I'm just trying to live up to what he did here, and the challenge of that is just making me better."
Poteat,
George Winn
and
Ralph David Abernathy IV
are the men in the backfield tasked with matching the production of Pead, a second-round draft pick of the St. Louis Rams who ran for Big East bests of 1,259 yards and 12 rushing scores in 2011.
"I don't know if it's realistic to ask one individual to replace the production of an Isaiah Pead, but I'm really encouraged by what I see by the running back group as a whole," coach Butch Jones said. "The great thing about these individuals is all their skill sets complement each other, and they're extremely unselfish individuals."
Winn, a fifth-year senior, leads Cincinnati's returning running backs, having rushed for 219 yards and a pair of touchdowns last season. Winn's coming-out party came in the Bearcats' Liberty Bowl win over Vanderbilt, as his 69-yard touchdown run in the second quarter got Cincinnati on the board.
Winn said he is looking to build off that performance, and Jones has praised his blue-collar approach so far in camp, saying the senior's quiet, confident demeanor has left an impression on the underclassmen.
"It's a big difference between going into this camp and [last year's] camp," said Winn, who is no longer in the shadow of Pead and has added a few pounds in bracing for the heavier workload.
Winn rushed the ball 40 times last season, with the Poteat and Abernathy combining for 37 carries in their debut campaigns. The players have described healthy relationships on and off the field, correcting each other's mistakes and understanding that each will see carries.
Each has described new position coach Roy Manning as a "player's coach," and Cincinnati is hoping that backfield chemistry can help the ground game make up for the loss of the school's No. 3 career rusher.
"I think each has a skill set, from George Winn -- I thought George Winn gained valuable experience in his performance in the Liberty Bowl victory over Vanderbilt," Jones said. "And then obviously Ralph David Abernathy, and the experience Jameel Poteat was able to gain as a true freshman. So I think all three of those individuals complement each other, and right now they're also feeding off each other."