NCF Nation:

Russell Bellomy
January, 29, 2015
Jan 29
1:00
PM ET
This week, we're examining a problematic position for each Big Ten team during the 2014 season and how it can potentially be repaired in 2015.
Up next: Michigan
Problem position:
Quarterback
Why quarterback was a problem in 2014:
Offensive line, running back and wide receiver were no great shakes in 2014 for the Wolverines, either. But Michigan's repeated inability to develop a quarterback remains the most pressing concern, especially for new coach Jim Harbaugh and his staff.
Devin Gardner
regressed as a senior, throwing 15 interceptions and just 10 touchdowns, yet Michigan didn't have anyone who could beat him out. And now he's gone.
How it can be fixed (solutions on the roster):
Shane Morris
is the most experienced quarterback on the roster, though his main claim to fame is being left in a game after suffering a concussion. The junior has made two career starts, both of them blowout losses.
Russell Bellomy
looked overmatched in his previous exposure during the 2012 Nebraska game, but that was a long time ago.
Wilton Speight
redshirted last year.
How it can be fixed (potential help from 2015 recruiting class):
Two new quarterbacks will be thrown into what should be a wide-open competition.
Alex Malzone
committed to Brady Hoke's staff and enrolled in January, so he'll be ready for spring practice. New coach Jim Harbaugh recently flipped former Texas commit
Zach Gentry
to Michigan. Both are four-star prospects, according to ESPN Recruiting.
Early 2015 outlook:
Well, one thing's for sure. The era of the running quarterback is officially over, as all of Michigan's contenders for the job are suited for the pro-style system Hoke always talked about and that Harbaugh will run. Are any of them ready to step in and play well in 2015? That remains a huge question mark. The spring competition will be crowded, and the incumbents will have to learn a new set of plays and terminology. Don't be surprised if Harbaugh decided to go with one of the youngsters he recruited. There's hope for the future here, but it may take more than one more season for Michigan to finally solve its quarterback problem
February, 25, 2014
2/25/14
9:00
AM ET
Spring football kicks off earlier than normal in the Big Ten, as Michigan takes the field Tuesday, Northwestern follows Wednesday and eight other squads begin their sessions by March 8.
The accelerated schedules seem appropriate in a league filled with players, coaches and teams itching for fresh starts.
New assistants get their first chance to repair struggling units, whether it's Doug Nussmeier with Michigan's offense, Brian Knorr with Indiana's defense or Chris Ash and Larry Johnson with a once-feared Ohio State defense. Quarterback competitions begin or resume at nine places, as new faces such as Illinois'
Wes Lunt
, Nebraska's
Johnny Stanton
and Minnesota's
Chris Streveler
enter the mix, while veterans like Wisconsin's
Joel Stave
and Michigan's
Devin Gardner
try to retain their starting jobs.
Happy Valley continues to buzz about new Penn State coach James Franklin, who seems to galvanize everyone whom he encounters. But Franklin barely has been around his new players and finally begins the real work with a team facing very real challenges.
[+] Enlarge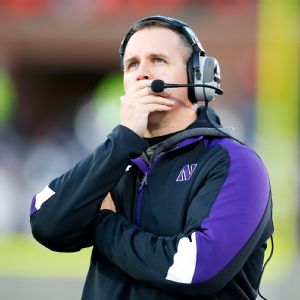 AP Photo/Jeff HaynesNorthwestern coach Pat Fitzgerald hopes his team can start a rebound from a disappointing, injury-riddled 2013 season.
Spring also allows teams such as Northwestern, Michigan, Purdue and Indiana to look forward after disappointing seasons. Michigan State, meanwhile, continues to bask in the Rose Bowl glow but looks toward its next goal -- a national championship -- as spring ball kicks off March 25.
"It's big-picture stuff, building relationships with the players and everyone associated with the program," Franklin told ESPN.com. "The other thing is laying a really good foundation with the philosophies and schemes of how we're going to do things. That's going to happen naturally over time, but I'm not the most patient person. I wish it would have happened yesterday."
Franklin doesn't water down his goals for Penn State, especially in recruiting, but he's also realistic about the challenges of a reduced roster. The Nittany Lions return strong pieces such as quarterback
Christian Hackenberg
and defensive back
Adrian Amos
,
but the two-deep has some holes that Franklin and his assistants must address, while installing new schemes.
"It's one thing when you get put in this situation in the first place with limited scholarships," Franklin said, "but the longer you're in it, the more effect it has. We've got some depth issues, there's no doubt about it, across the board. We're going to have to get creative."
Northwestern also is focused on depth after being hit hard by key injuries in 2013. Pat Fitzgerald blames himself and his staff for failing to get enough second-stringers ready, which proved costly in close Big Ten losses.
After their first bowl-less winter in six years, the Wildcats responded well in the weight room, as more than 50 players recorded personal bests. Although 11 players will miss spring practice, including standout running back/returner Venric Mark, the depth should be better in areas like the secondary.
"We're really emphasizing taking ownership of the finish," Fitzgerald said. "Finishing your technique, finishing the call, finishing the route. There's a lot of disappointment in the way the program didn't take the next step forward."
Michigan coach Brady Hoke
restructured the roles of his defensive assistants
for 2014, but the Wolverines' offense will be in the spotlight this spring after a wildly inconsistent season. Gardner, who continues to recover from a foot injury and likely won't be 100 percent until midway through the spring, will compete with
Shane Morris
,
Russell Bellomy
and midyear enrollee
Wilton Speight
.
But other positions, such as offensive line, figure to be just as important as Michigan tries to achieve Hoke and Nussmeier's vision.
"We had good intentions as far as what we wanted our identity to be, but obviously I don't think it came out the way we'd like it to," Hoke said. "The quarterback position is as important as any, and we have a guy [Gardner] who is very talented and had some really good games and games where we had to protect him better, have a better run game and take pressure off of him, and I don't think we did."
While Michigan turns the page on offense, Ohio State focuses on a defense that allowed 115 points in its last three games and finished 110th nationally in pass yards allowed (268 YPG). The Buckeyes lost top defenders
Ryan Shazier
and
Bradley Roby
, but they also added two accomplished assistants.
Johnson, who churned out NFL linemen during 18 years at Penn State, chose Ohio State instead of remaining in State College. Ash leaves a sole coordinator role at Arkansas for a co-coordinator role at Ohio State, where he'll work with the embattled Luke Fickell and others to mend the defense through a simplified scheme.
"Back in the day when Ohio State played great defense, you knew what you were going to get," Ash said. "They
played with swagger, played with confidence, played with toughness. We have to get back to that. The simplicity of the things we're going to do will lead to faster players, more plays made and a more aggressive defense.
"I wasn't here [in 2013], but I can tell you what Coach Meyer has told me, what Luke Fickell has told me and what I watch on film. I can see there's some hesitation, there's some uncertainty. Why that is, I don't know. But it's my job to get it fixed."
Purdue has plenty to fix after a 1-11 season, and players not surprisingly are
wearing T-shirts with the word "FORWARD" on the backs
. Maryland and Rutgers move forward to a new conference after an offseason that saw several staff changes, including new coordinators at Rutgers (Ralph Friedgen, Joe Rossi).
There's a fresh start of sorts at Wisconsin, as a large and decorated senior class departs. Coach Gary Andersen's markings will be more obvious with his second team, which begins practice March 7.
Wisconsin is just one of many places where the top quarterback job is at stake. Lunt, who sat out last season after transferring from Oklahoma State, competes with
Reilly O'Toole
and
Aaron Bailey
at Illinois.
"Competition's competition, no matter where it's at," said Lunt, who has added about 15 pounds since his arrival and checks in at 225. "It's different because it's different people, different coaches, but I'm excited for it."
He's not alone in the Big Ten. Spring ball can't start soon enough.
October, 29, 2013
10/29/13
11:00
AM ET
Following Michigan's 63-point output against Indiana a week and a half ago, quarterback
Devin Gardner
and wide receiver
Jeremy Gallon
took questions from the media, laughing and smiling about the show they'd just put on.
Gardner had thrown for 503 yards. Gallon had accounted for 369 of those receiving yards, a new Big Ten record.
[+] Enlarge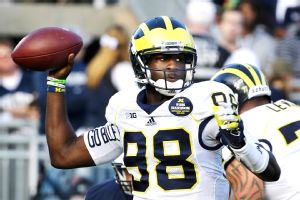 AP Photo/Gene J. PuskarDevin Gardner worked long hours in Glick Field House by himself so when the time came he'd be ready.
When the two exited the room Gardner looked at Gallon.
"You dropped one," Gardner said, referring to Gallon's single miscue. "You could've had an NCAA record."
"Bad pass," Gallon said with a laugh.
He knew it was a lie. Passes from Gardner to Gallon are rarely bad. In fact, Gardner claims he can throw to Gallon with his eyes closed if need be.
Gallon likes to think there isn't a pass coming his way from Gardner he couldn't catch. And after the work the two have put in over the past four years, it's the least he will accept.
"You work together long enough, you know what the other guy's going to do," offensive coordinator Al Borges said. "Just building a trust where both of them understand he's going to be here at this time, and I know when I release the ball I can count on that to happen -- that takes time. That doesn't happen overnight with anybody."
And it didn't happen overnight for these two.
When Gardner came to Ann Arbor in early 2010, he was the backup to Denard Robinson and Tate Forcier. The Wolverines' morale was at a low, having come off a second consecutive bowl-less season.
Gardner had enrolled early to get a head start and compete, but when he arrived, Glick Field House was empty most days, and he found himself competing against only himself.
So he would set up tractor tires, propping them up against one another for target practice. Then he'd put bags near his feet to make sure his footwork was progressing. Then he'd add nets in front of the tires to work on dropping balls in to the receivers (read: tires), perfecting his trajectory.
Saturday after Saturday that winter, when Gardner should've been a senior at Inkster High School, he was working on his game by throwing to tires. Occasionally he'd see Gallon, then a freshman who had redshirted the previous season, in the halls or weight room of Schembechler Hall, but Gardner never asked Gallon to be his target and Gallon never asked Gardner to be his gunslinger.
"I really didn't have anybody to throw to," Gardner said. "Nobody wants to go and throw with the backup."
The next season -- what would be Rich Rodriguez's last at Michigan -- Gallon and Gardner started becoming close, both on and off the field.
Gardner was a true freshman in 2010, behind Robinson and Forcier, while Gallon was behind Roy Roundtree and Martavious Odoms.
But in practice, Gardner and Gallon connected. The backup defense had no answers for the two. They'd work extra when they had time and even though Gallon was 5-foot-8, he seemed to be one of the more reliable targets Gardner had found.
"He's a much better target than a tire," Gardner said with a smile. "He's much easier to throw to than a tire, but the tire kind of set me up to be able to throw to anybody."
"We just used to stay after and work with each other," Gallon added. "When we weren't playing, we'd work with each other to do everything we could to get out on the field."
But they did get on the field that season.
Gardner made reserve appearances against Connecticut and Notre Dame. Then, in a close win over Massachusetts, Gallon was put in at slot receiver, while Robinson took every QB snap, leaving Gardner on the side.
But against Bowling Green, the two started their foundation. Gardner threw his first touchdown pass, which was Gallon's first touchdown catch -- an 11-yard bubble screen.
"We didn't plan it that way," Gardner said. "It just happened."
That'd be the last game Gardner would play in 2010 as he sat out the rest of the season with a back injury.
Michigan went to the Gator Bowl that year -- the only bowl appearance under Rodriguez. When the Wolverines returned to Ann Arbor, embarrassed after a 52-14 loss to Mississippi State, there were even fewer players at Glick than the year before.
But Gallon and Gardner were there. Even when the coaches weren't, even when the coaching staffs changed, even when the questions surrounding Michigan were louder than anything happening inside the building, Gardner and Gallon were there.
From the gray days of February to the hot mornings in the Michigan summer, the two could be found in Glick Field House.
"The Saturdays were long, hot days in Glick -- just us two or a couple guys working on what we needed to work on until one of us called quits," Gallon said. "But we'd start talking, one of us would take a knee and we'd be sitting there talking for hours. Then we'd call it after that."
The next season, both saw more playing time and their chemistry grew. Gardner appeared in nine games, finishing the season 11-of-26 with one touchdown and one interception. Gallon played in all 13 games, finishing with 453 yards and three touchdowns.
It was an impressive year for Gallon, but Gardner knew he had more in him.
[+] Enlarge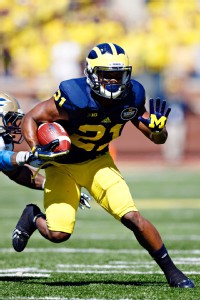 Rick Osentoski/USA TODAY SportsJeremy Gallon has developed a strong bond with Devin Gardner on and off the field.
But they wouldn't be able to show that for some time as the Michigan coaching staff decided to move Gardner to wide receiver in 2012. Through the first eight games, Gardner hadn't taken a single game snap at QB.
Gallon still led the Wolverine receivers with 318 yards on 18 catches, for an average of 40 yards per game.
But then Robinson got hurt. And so did
Russell Bellomy
.
And against Minnesota, Gardner returned and wasn't fazed because he knew he had Gallon.
"I had a safety blanket that I knew for sure was going to be where he was going to be, and I could throw it to him at any time," Gardner said. "He made it so much easier for me because it was 'If all else fails, Gallon is going to be open.' … I feel like I wouldn't be at the point I'm at now without Gallon because I had that failsafe that I trusted absolutely no matter what."
Through the final five games last season, Gallon caught 31 balls for 511 yards -- an average of 102 yards per game (increasing 62 yards per game from Robinson/Bellomy to Gardner).
This season, their successes on the field have been well documented. Gardner has promised Gallon that he'll get him a 1,000-yard season for his final campaign and by the looks of it, Gardner is making good on his word. Gallon has promised to make Gardner look as good on the field as he is in Glick.
But without Glick, these two wouldn't be where they are.
On the field, they've come to almost share a brain. And off the field, they've become brothers, though Gallon already has five and Gardner has two. But this will be their last season together, a fitting end to their start on long Saturdays by themselves.
But they've secured themselves in Michigan lore to an extent, and they appreciate that their names and numbers will always be tied to one another because they always knew that the success of one relied upon the success of the other. And the Wolverines have relied upon both.
Because for Michigan this season, Gardner wouldn't be Gardner without Gallon. And Gallon wouldn't be Gallon without Gardner.
April, 1, 2013
4/01/13
3:12
PM ET
Michigan has suffered its second major injury of the spring, as the team announced today that backup quarterback
Russell Bellomy
tore his ACL during Friday's practice.

Bellomy joins star linebacker
Jake Ryan
on the sidelines. Ryan also tore his ACL late last month.
Losing Bellomy isn't quite as catastrophic for the Wolverines as Ryan, since the offense is still in very good hands with
Devin Gardner
at quarterback. But the injury does hurt Michigan's depth at the position and will likely have a large impact on the immediate future of stud recruit
Shane Morris
.
Bellomy was the team's only other scholarship quarterback this spring behind Gardner. He infamously replaced an injured
Denard Robinson
last year at Nebraska and struggled badly, completing just 4-of-21 passes for 46 yards with four interceptions in a 23-9 loss that helped seal the Legends Division title for the Cornhuskers. Gardner became Michigan's full-time quarterback the following week.
But Brady Hoke said in a statement released by the school that Bellomy was having a good spring. If nothing else, he offered some experience as a backup behind Gardner. Michigan will now finish the spring with only walk-ons on the depth chart behind their starter, and this may well rule out a redshirt season for Morris.
In a best-case scenario for the Wolverines, Gardner stays healthy and plays every meaningful snap, while Morris gets valuable reps in practice as the No. 2 guy yet keeps his redshirt option open. But it's hard to go through a whole season with just one quarterback, especially one who can run like Gardner can.
Any significant missed time for Gardner this season likely means Michigan will turn to a true freshman under center, which is never a great recipe for a team with championship aspirations. The Wolverines must hope their recent bad luck with injuries is about to change.
March, 5, 2013
3/05/13
5:16
PM ET
Michigan fans loved what they saw from quarterback
Devin Gardner
late in the 2012 season.
They'll get to see more of it for the next two years.
Michigan announced Tuesday that
Gardner has been granted a medical hardship
for the 2010 season, which gives him two more years of eligibility with the Wolverines. Gardner appeared in three games as a true freshman in 2010 before being sidelined by a back injury. He'll be a fourth-year junior this coming season.
While Michigan fans had to wait patiently for a decision on Gardner's status, the outcome is not surprising at all. Although
Gardner's status has been written about
for some time, once Michigan submitted the necessary paperwork to the Big Ten, there were no problems or abnormalities. Gardner had a clear-cut case for a hardship and received it.
The decision solidifies Michigan's quarterback situation for the next two seasons. Quarterback isn't Michigan's deepest position, so this really helps for the 2014 campaign.
After starting the 2012 season as a wide receiver, Gardner surprised many with his play down the stretch, completing 75-of-126 pass attempts for 1,219 yards and 11 touchdowns with five interceptions. He accounted for multiple touchdowns in all five of his starts at quarterback and twice earned Big Ten Offensive Player of the Week honors.
Michigan last month signed quarterback
Shane Morris
, an ESPN 150 prospect rated as the nation's No. 8 signal caller by ESPN Recruiting. Morris could redshirt the 2013 season and play behind Gardner in 2014 before moving into a lead role.
Russell Bellomy
, who struggled in relief of
Denard Robinson
against Nebraska, also is in the mix, but Gardner's extra year gives Michigan a much bigger cushion. Even if Gardner plateaus or Morris makes an early push for the top job, it's nice to have multiple options.
Great news for the Wolverines, who kick off spring practice March 16.
November, 3, 2012
11/03/12
3:28
PM ET
MINNEAPOLIS -- Michigan quarterback
Denard Robinson
was
held out because of injury
, but the Michigan football team was able to return to Ann Arbor on Saturday with the Little Brown Jug in tow, putting Minnesota away
35-13
. Junior
Devin Gardner
started at quarterback for Michigan and led the Wolverines to their second road victory of the season.


It was over when
: Michigan produced big stops in the red zone early in the fourth quarter, holding Minnesota to a field goal. At 21-10, the Michigan defense's stop kept the game as a two-possession Wolverine lead and pushed the game out of reach for a Minnesota offense that appeared spotty at best.
Game ball goes to
: Gardner. The quarterback-turned-wide receiver managed to turn back into a quarterback fast enough on Saturday to lead Michigan to victory. Despite the fact that he hadn't taken a single snap at quarterback this season, Gardner threw for two touchdowns and completed 12 of 18 passes. He also ran for one touchdown and had a few good rushes, though the stats won't reflect that because the offensive line allowed three sacks.
Stat of the game
: 74.9 percent. Through eight games this season (including missed times in both the Nebraska and Illinois game), Robinson has accounted for 74.9 percent of the Wolverines' offense and 15 of the team's 25 touchdowns. By sitting Robinson for the game, Michigan had to turn elsewhere for that kind of production. And behind Gardner, as well as hard-nosed runs from
Thomas Rawls
and a few big catches from
Jeremy Gallon
and
Drew Dileo
, Michigan was able to do that.
What it means
: Not all is lost when Robinson isn't on the field. After last weekend's performance against Nebraska -- in which the Wolverines failed to score after Robinson exited the game and backup quarterback
Russell Bellomy
threw as many completions as interceptions -- Michigan's quarterback situation behind No. 16 looked pretty bleak (and that might be putting it kindly). But with the exception of the first few drives, Gardner looked solid. Michigan has options behind Robinson, and dare anyone say it, competition for the starting spot.
Also, it means that Michigan (6-3, 4-1 Big Ten) stays in the hunt for the Legends Division title, though the Wolverines will need some help from Michigan State later today when the Spartans take on Nebraska (6-2, 3-1). The Cornhuskers lead the Legends Division.
November, 2, 2012
11/02/12
4:30
PM ET
Hoping you enjoy Week 10 ...
Jason from Kansas City, Mo., writes:
Adam, I keep reading people all week saying that Michigan would have beat Nebraska if
Denard Robinson
didn't get hurt. It seems people aren't giving the Huskers their due. I don't remember Michigan lighting it up while he was in there. Furthermore, who's to say Robinson doesn't throw 3 interceptions (which he has been prone to do, see Notre Dame game this year) if he plays the whole game. And while we're playing the what-if game, what if
Rex Burkhead
had played in that game? Those field goals Nebraska scored could have well been touchdowns with Burkhead in there. So, can't we just give the Huskers their due for beating Michigan?
Adam Rittenberg:
Jason, Nebraska won the game and deserves credit. Injuries happen in football, and both teams deal with them. It's part of the game, and Nebraska prevailed. That's all that matters. There are obviously a lot of ifs here, and no one really knows how it would have played out. My take is that the game would have been more of a toss-up had Robinson remained in there.
Russell Bellomy
was totally overwhelmed at quarterback and gave Michigan no chance to challenge Nebraska in the second half. Nebraska's defense was doing a nice job against Robinson before his injury, and you're absolutely right that he could have hopped on the turnover train in the second half. It's also worth noting that he got hurt following a first-down run near the goal line. If Michigan scores a touchdown there, it's probably a different game. Again, it would have been a toss-up, but injuries happen and Nebraska capitalized. That's what good teams do.
---
Vinnie from Atlanta writes:
Adam, Your Big 10 haunted house piece was hilarious and a little sad but true. Regarding a question you received about Nebraska and Oklahoma playing in the Rose Bowl, you still have to be ranked in the top 14 to get an at large bid to a BCS game, correct? Let's say Oregon goes undefeated and makes the National Championship game. Oregon would have beat USC, Stanford, and Oregon St. which would be the Rose Bowl's preference instead of Oregon if they make the NCG. Those three teams probably won't be ranked in the top 14 of the BCS. The Rose would then have to pick an at large outside of the PAC-12 which puts Nebraska vs. Oklahoma in play. Correct?
Adam Rittenberg:
Let's give Brian all the credit for the
Halloween post
. It was outstanding. And I'm glad you brought up the point about the top 14 because I should have explained that better. Yes, a Pac-12 team would need to finish in the top 14 to be an at-large selection for the Rose Bowl. There's a chance Oregon is the only Pac-12 squad in the top 14 if the Ducks run the table and go to the national championship game. I still think between Oregon State, Stanford and USC, one of them will make it as well. But it's possible that none do, which would free up the Rose Bowl to take a team like Oklahoma. Wouldn't feel like a traditional Rose Bowl, but it'd be a fun matchup.
---
A.J. from Ames, Iowa, writes:
Adam, quick scenario for you: Iowa finishes the season a dismal 6-6 or 5-7 judging on how they play Indiana vs. Nebraska finishing the season 8-4 and missing out on the Big 10 championship after being in the drivers seat. More on the hot seat, Bo or Kirk?
Adam Rittenberg:
Interesting question, A.J. As poorly as Iowa has looked at times this season, Kirk Ferentz is in zero danger of being fired, even if the team loses out. Iowa has committed too much money to a long-tenured coach and isn't in a position to eat all of that salary, especially with a major project like the facilities upgrade going on right now. Pelini also seems safe despite the new athletic director in place (Shawn Eichorst). Nebraska would really have to fall apart for his seat to get hotter this season. I think next season is a big one for Pelini unless this one ends in a Rose Bowl win. Eichorst will have a full year to evaluate Bo, and Bo will have quite possibly his best team since the 2009 squad. A lot of key Huskers players return, especially on the offensive side. If Nebraska struggles down the stretch, the heat will rise a bit for Pelini, but I don't think either of these coaches are truly in danger.
---
The Drake from East Lansing, Mich., writes:
Big fan of the blog and your twitter handle as well. My question has to do with recruiting. I know LSU, Florida and Alabama are big recruiters and their success positive correlates with recruiting rankings. However you have very good programs like Wisconsin, Arkansas (under Petrino), Oklahoma State, West Virginia, and best of all K-State, not consistently cracking the top 25 in the terms of recruiting classes. Then you have Auburn, Tennessee, Texas and Oklahoma underachieving with highly ranked classes. As an MSU or Big Ten fan other than Michigan or Ohio State or Nebraska who don't have that brand name, doesn't this give us hope.
Adam Rittenberg:
Love The Drake! Wisconsin has done a tremendous job of developing talent, identifying it does well as a program and maximizing players' ability. Will the Badgers ever consistently rank among the nation's best recruiting teams? Probably not, although a new football facility will help some. But this absolutely does give some Big Ten programs hope. The Big Ten is still a good league for player development, and you see it at places like Wisconsin, Iowa, MSU and Northwestern. It's certainly better than being a program that consistently wastes top-level talent. That said, the way Ohio State and Michigan are recruiting, there's the potential for those two programs to separate themselves. It's not a guarantee by any means, but it's possible. You don't just have good recruiting at OSU and Michigan, but good coaching, too. The Buckeyes and Wolverines will be tough to beat in the coming years.
---
Mike from Chicago writes:
Just read your first response to the mailbag, I will just assume it was an unintentional oversight to leave Michigan State off the list of teams you think will get to bowl eligibility...
Adam Rittenberg:
Absolutely, Mike, and thanks for catching it. Sometimes with the speed of the chat, you leave things out. Michigan State obviously took a huge step toward bowl eligibility with the Wisconsin win. Had the Spartans lost to both Wisconsin and this week against Nebraska, you might have taken them out of the bowl mix. I think they'll get there now with six or seven wins. I picked Nebraska to win this week, but I think Michigan State will get to the threshold against Northwestern or Minnesota.
---
Go Buckeyes Go from Cincinnati writes:
Hypothetical question for you Adam. Say Ohio State goes undefeated, Nebraska wins out and wins the B1G title game, how would (you) rank those two in (your) power rankings? On one hand, OSU is undefeated and beat NU during the season, on the other Nebraska won the B1G. In that case, who would u rank #1?
Adam Rittenberg:
Easy one -- Ohio State. The Buckeyes convincingly beat Nebraska in Columbus on Oct. 6. That victory resonates as long as Ohio State keeps winning. So if there's no reason to drop the Buckeyes -- like a loss or two -- they'll remain No. 1 in the power rankings, no matter what happens. Brian and I might consider a change if Nebraska were to knock off Oregon in the Rose Bowl, but even then, it's a tough argument against a 12-0 Buckeyes team.
---
David from Chicago writes:
Adam - I saw your comments on not celebrating Wisconsin or Indiana if they get to the B1G Championship game without earning it outright. I can get that, but I think you are missing the point of the original question. Instead of lamenting how crappy Wisconsin and Indiana are and casting them in poor light for not being the best representative of the Leaders in that game, why aren't you directing your criticism to OSU or PSU for creating the mess? They are the schools running programs outside the rules that resulted in this debacle. What do you want UW or IU to do, not go to the game? Thanks.
Adam Rittenberg:
David, while I appreciate your note, were you reading the blog the past three years? Did you see how many times we criticized Ohio State and Penn State during their respective scandals? Even now, we note that Ohio State has only itself to blame for its situation -- and for not self-imposing a bowl ban when it could have in 2011. How many times do we have to restate that? Ohio State is undefeated, Penn State has been better than expected. It's the middle of the season. We're not going to spend a ton of time pointing out what we did for the past two years. Wisconsin or Indiana absolutely should go to the game and play for a Rose Bowl berth. They shouldn't apologize one bit for being there. But we're not going to celebrate that like it's a great thing, nor are we going to revisit all the criticism for OSU and PSU time and again.
---
Scott from Tampa writes:
Adam, You're wrong about the tiebreakers if 3 or more teams tie for first place. The first tiebreaker is each of the teams' records against the other teams tied for first place.If MSU, UM, NU and NW are all tied at 5-3 (for that to happen assume NW beats UM, MSU would have to win out and beat both NU and NW, UM loses to OSU and NW, and NU loses to MSU and PSU), then NW and MSU would be 2-1 against the top teams and UM and NU would be 1-2. MSU and NW then use the head-to-head tiebreaker. MSU then goes to Indy.That's also the scenario MSU fans are hoping for, but that's how the tiebreakers work.
Adam Rittenberg:
Yes, Scott, I failed to look into what the tied 5-3 records would mean. It would take Michigan State going 2-1 against the others, and then the Spartans would win the head-to-head tiebreak. The key for Michigan State is avoiding a head-to-head tie with Michigan, as the Wolverines hold the tiebreaker there. The advantage the Spartans have is getting both Nebraska and Northwestern at home, but if they lose to either team, especially Nebraska, they're essentially out of the race. So Michigan State is still alive, but the margin for error is slim.
October, 29, 2012
10/29/12
1:20
PM ET
Good news for Michigan (and potentially bad for Minnesota): Denard Robinson is
expected to play
this week.

Wolverines head coach Brady Hoke said Monday that Robinson "should be fine, should be ready to go" for Saturday's road game against the Gophers. Robinson left the first half of last week's 23-9 loss at Nebraska after re-aggravating a nerve issue in his throwing arm.
Hoke said he expects Robinson to practice all week. Just in case, though, he said Devin Gardner -- Robinson's former backup who has played receiver this year -- would take more snaps in practice at quarterback. He and Russell Bellomy will compete for the spot behind Robinson in practice.
Bellomy completed just three passes and threw three interceptions at Nebraska as Michigan's offense screeched to a halt. But Hoke said that "the experience he gained going into that environment is a major help."
As for Gardner, Hoke said it was "hard to calculate" how much he has been throwing in practice this season but that he thought Gardner had thrown enough to be prepared. If all goes as expected with Robinson, Hoke said, Gardner will remain at receiver this week.
Hoke also said the Michigan training staff is looking into ways to add extra protection to Robinson's arms, including the possibility of wearing a sleeve. But, he said, "he's got to get used to it, too."
The Wolverines need their best offensive weapon back and at full strength for the stretch drive. Michigan has failed to score a touchdown in each of its past two games. Hoke said the offensive line also bears some of the blame for the showing at Nebraska, as it failed to pick up the Huskers' pressure on what should have been routine blocking assignments.
October, 29, 2012
10/29/12
10:00
AM ET
Backbackbackbackback ....
Team of the week:
Nebraska, Ohio State and Michigan State all notched big wins on Saturday. But a team that rarely sniffs this space gets the honor this week: Indiana. The Hoosiers deserve a nod after winning their first Big Ten game since 2010 with a two-touchdown triumph at Illinois. Sure, the Illini are pretty awful. But Indiana has been close all year long and finally got over the hump with a road win where its defense played well. And with Wisconsin losing, the Hoosiers are still very much alive for the Leaders Division title, as crazy as that might sound. The best news for head coach
Kevin Wilson
might be that his team wasn't overly exuberant about beating Illinois. "I think they expected it," he said. "They weren't just jumping up and down. We talked about how you want to get used to that feeling. We've been doing a lot of things right and it's nice to get a Saturday scoreboard to go our way, and we want a lot more of those."
Game of the week:
A much anticipated Saturday featuring many closely-matched teams did not actually produce any truly great games. The best of the bunch was Michigan State's 16-13 overtime win at Wisconsin, though the two offenses made that one hard to watch for long stretches. But at least there was a good finish, finally, by the Spartans, who drove the field for a tying touchdown with 1:08 left and then won in the first overtime. "We've been close, and we just kept coming," Michigan State coach Mark Dantonio said. "What I'd like to say is basically, 'Hey, we're not going to quit.'"
Biggest play:
We go back to East Lansing for
Andrew Maxwell
's game-winning touchdown pass in overtime to
Bennie Fowler
on third-and-8. It was a great back-shoulder throw by Maxwell and an even better grab by Fowler, who had to adjust to the ball while falling backward. Both players had drawn heavy criticism this season for their play, so it was nice to see them both succeed in a key moment. "This could be the spark that we need to kind of carry us over and propel us the rest of the way," Maxwell said.
[+] Enlarge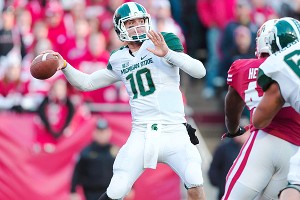 Jeff Hanisch/US PresswireMichigan State quarterback Andrew Maxwell came up big for the Spartans against Wisconsin.
Best play:
The stat sheet just says it was a 1-yard touchdown run by Ohio State's
Braxton Miller
. But anyone who saw the play knows it was a piece of performance art. Miller
stunned Penn State and his own teammates
with his contortions after he and
Carlos Hyde
looked absolutely stuffed on a goal line option-read play. Miller's twisting, mid-air juke job even had his own coaches going "Oh, my god" on their headsets. We need some "The Matrix" style slow-motion camera work to truly appreciate the most outstanding 1-yard run of the season. Whoa, indeed.
Best call:
The Nebraska defenders turned down an offer to have their blackshirts handed out after last week's win at Northwestern. They wanted to show consistency first, and they did so with a signature performance against Michigan. The Wolverines mustered only 188 yards and failed to score a touchdown (for the second straight week) in Nebraska's key 23-9. Yes, the injury to
Denard Robinson
was a huge factor, but it wasn't like Michigan was moving the ball at will before that, and the Huskers knocked him out of the game. Nebraska tortured Wolverines backup
Russell Bellomy
, who completed only 3-of-16 throws and had three interceptions. The blackshirts were well earned with this one.
Big Man on Campus (Offense):
Northwestern QB
Kain Colter
. When you call out your own offense for lacking an identity, as Colter did last week to ESPN.com, you'd better back it up. Colter sure did, running the ball 26 times for 166 yards and three touchdowns and throwing for 80 yards and a score in the Wildcats' 28-17 win over Iowa.
Big Man on Campus (Defense):
Michigan State DE
William Gholston
. The highly-talented junior hasn't always lived up to sky high expectations, but he was all over the place against Wisconsin. Gholston had 4.5 tackles for loss and a sack and put the hit on quarterback
Joel Stave
that changed the game (and possibly both teams' season).
Big Man on Campus (Special teams):
Ohio State's
Adam Griffin
has been a special teams ace, and he made one huge play at Penn State. The Nittany Lions called for a fake punt on the Buckeyes' 43, and punter
Alex Butterworth
threw to
Derek Day
, who was open for the first-down reception. But Griffin hustled back to break up the pass, and Ohio State would then march in for a touchdown that made it 21-10. "I thought that was the turning point of the game," Urban Meyer said afterward. Griffin's dad, two-time Heisman winner Archie Griffin, had to be proud.
Big (Fresh)man on Campus:
Get ready to see a lot of
Philip Nelson
highlights over the next three or four years. Minnesota's precocious true freshman was tremendous in just his second college game, completing 11 of his first 12 passes and going 15-for-22 for 246 yards with three touchdowns, all in the first half, in a 44-28 win over Purdue. Nelson was so good that Gophers fans are
asking what took so long
for him to play.
Worst hangover:
Wisconsin. Just when it seemed like the Badgers had bounced back and were ready to shoot up the Top 25, their offense got completely shut down against Michigan State. Worse, reports say Stave is out for the year with a broken collarbone, and backup
Danny O'Brien
was once again wildly ineffective at quarterback. Wisconsin probably will still go to the Big Ten championship game, but that beeping you hear is the sound of the Badgers backing their way into Indy.
Strangest moment:
Midway through the second quarter in the Michigan State-Wisconsin game, we saw one of the ugliest series you'll ever (hopefully) witness.
First, the Spartans blocked a punt after
Drew Meyer
took his eye off the snap and a Keystone Cops reenactment ensued. Michigan State ook over on the Badgers' 11-yard line, in great position to score. Except that the Spartans possession went like this: holding penalty, incomplete pass, false start, sack, incomplete pass, delay of game penalty. When it was all said and done, Michigan State had lost 23 yards and somehow winded up punting on fourth-and-33. That "drive" appeared to encapsulate all of the Spartans' problems this season in one horrific sequence, but at least they solved them late for the win.
October, 29, 2012
10/29/12
9:00
AM ET
There's no more debate. Quarterback
Braxton Miller
and the
Ohio State Buckeyes
made sure everyone knows they're the best team in the Big Ten.
The so-called Ineligi-bowl on Saturday night in State College paired the top two teams in the most recent power rankings. Penn State came in brimming with confidence following five straight wins, but it missed several big opportunities early in the game. Ohio State took over behind Miller and a surprisingly good defense, showing that it remains the class of the Big Ten.
Nebraska moves up to the No. 2 spot after keeping Michigan out of the end zone, while Michigan, Wisconsin, Penn State and Iowa all drop. Wisconsin looks very shaky without top quarterback
Joel Stave
, and Iowa is a mess after being outclassed for the second straight week. Aside from Wisconsin's and Iowa's drops, and Minnesota's and Indiana's rises, there's not a ton of movement. Purdue and Illinois remain at the bottom of the barrel.
As a reminder, the power rankings are a snapshot of a team's current state -- how it is performing in real time. Injuries are considered.
Here's the rundown ...
1. Ohio State (9-0, 5-0 Big Ten, last week: 1):
The Buckeyes have the Big Ten's best player in Miller and the league's best team, period. They racked up 234 rush yards and three touchdowns against a stout Penn State defense and controlled the line of scrimmage on both sides of the ball. Ohio State's defense had one of its best efforts, keeping Penn State out of the end zone for more than three quarters. Urban Meyer's squad had looked shaky the previous two weeks, but it cranked things up in the second and third quarters and never looked back. A perfect season seems much more realistic with three games to play.
2. Nebraska (6-2, 3-1, last week: 5):
Three weeks after being crushed by Ohio State in Columbus, Nebraska has new life and control of the Legends Division. The Huskers have regained their swagger on defense and capitalized on a
Denard Robinson
-less Michigan team in the second half Saturday night, allowing just 52 yards. Nebraska has survived almost two full Big Ten games without top running back
Rex Burkhead
, who should be back this week at Michigan State. Bo Pelini challenged his team to win out after Ohio State, and the players have responded. Another test awaits this week against the Spartans.
3. Penn State (5-3, 3-1, last week: 2):
Bill O'Brien's team had been efficient and opportunistic in its first three Big Ten games. The Lions were neither against Ohio State, failing to build a bigger first-half lead and making too many mistakes in the middle part of the game. Penn State had too many penalties, not enough third-down conversions, not enough in the run game and not enough third-down stops against Ohio State. The Lions took a big step up in class but couldn't match the Buckeyes despite an electric atmosphere in State College. They aim to get back in the win column this week at Purdue.
4. Michigan (5-3, 3-1, last week: 3):
No Robinson equaled big, big problems for Michigan against Nebraska. Backup quarterback
Russell Bellomy
struggled mightily, and Michigan could have a tough time in the coming weeks if No. 16 doesn't return to the field. The defense still performed well against Nebraska, at least until the fourth quarter, but Michigan is too invested in Robinson on offense and has very few answers without him. The Jug Game becomes a lot more interesting as Michigan visits a Minnesota team coming off of its best performance in Big Ten play.
5. Northwestern (7-2, 3-2, last week: 6):
After three very shaky weeks on offense, Northwestern finally established its identity behind junior quarterback
Kain Colter
and the option game. Iowa had no answers for Colter and the Wildcats' ground attack, as Northwestern piled up 349 rush yards, averaging 7.1 yards per attempt. Northwestern's defense once again allowed some yards but limited points and big plays, making Iowa work for every point it scored. Pat Fitzgerald's team got through October, a month when it typically struggles, at 2-2, and enters November with some momentum.
6. Michigan State (5-4, 2-3, last week: 7):
There's new life in Sparta as Michigan State's beleaguered offense showed up just in time and helped the Spartans rally past Wisconsin in Madison. Pat Narduzzi's defense has been elite for most of the season but cranked things up a notch at Camp Randall Stadium, limiting Wisconsin to 10 first downs and 19 net rushing yards, and racking up five sacks and 12 tackles for loss. Defensive end
William Gholston
finally had a breakout game, and linebacker
Max Bullough
and others were fabulous. The Spartans now return home to play the spoiler role as they host Legends Division front-runner Nebraska.
7. Wisconsin (6-3, 3-2, last week: 4):
The Badgers lost their first home game since 2009 and also their top quarterback, Stave, to injury. All the mojo generated from three consecutive impressive wins is gone, as Wisconsin's offense reverted to its early September form under backup
Danny O'Brien
. Wisconsin still has the inside track to represent the Leaders Division in Indianapolis, but Indiana is now in the running, too, and the Badgers must get things together offensively during a much-needed open week before heading to Bloomington.
8. Minnesota (5-3, 1-3, last week: 10):
The future is now, and his name is
Philip Nelson
. Minnesota's freshman quarterback dazzled before the home faithful Saturday against Purdue, firing three first-half touchdown passes and finishing with 246 pass yards, 37 rush yards and no interceptions. With Nelson at the controls, Minnesota scored more points (44) against Purdue than it had in its first three Big Ten contests (39). An improved defense shut down Purdue until garbage time and received a nice lift from cornerback
Michael Carter
. Minnesota looks to make a major statement and regain the Little Brown Jug this week against Michigan.
9. Indiana (3-5, 1-3, last week: 11):
Kevin Wilson and his team finally celebrated a Big Ten win Saturday, and several more could be coming in the next few weeks. Indiana -- yes, Indiana -- controls its own fate in the Leaders Division and has two huge home games coming up against Iowa and then Wisconsin, the only other team that can represent the Leaders in Indianapolis. The Hoosiers made fewer mistakes than Illinois, received a nice lift from their defense at times and seemed to identify their top quarterback in freshman
Nate Sudfeld
. IU has been in every game this season and could be tough to beat down the stretch.
10. Iowa (4-4, 2-2, last week: 8):
The frustration is mounting in Hawkeye Country as Iowa received a thorough beating for the second straight week. The Hawkeyes lost by only 11 at Northwestern, but they never stopped the Wildcats' rushing attack and couldn't attack a shorthanded secondary down the field. The offense piled up 336 yards but couldn't translate them into nearly enough points. A bigger concern is a defense that has surrendered 937 yards the past two weeks. If Iowa can't rebound this week against Indiana, it could be staring at a bowl-less season.
11. Purdue (3-5, 0-4, last week: 11):
The Boilers' season is on life support, and
Danny Hope's tenure as head coach could be, too
. Billed by Hope as his best team, Purdue hasn't shown up for three of its first four Big Ten contests. The Boilers' defense, featuring several future NFL players, let Minnesota's Nelson have his way with them Saturday at TCF Bank Stadium.
Caleb TerBush
clearly isn't the answer at quarterback, but it has taken too long for Hope to figure that out. Purdue has replaced Michigan State as the Big Ten's biggest disappointment, and it'll be tough for the Boilers to get bowl-eligible with four games to play.
12. Illinois (2-6, 0-4, last week: 12):
Illinois had more first downs (23-14) and total yards (372-292) than Indiana, and held the ball for more than 33 minutes Saturday. But a flurry of mistakes -- penalties, turnovers, sacks, you name it -- allowed Indiana to score 24 of the game's final 27 points.
Nathan Scheelhaase
did some good things and
Donovonn Young
(124 rush yards) provided a boost in the ground game, but Illinois makes far too many errors to win games right now. It only gets tougher for Tim Beckman's crew as it heads to Columbus.
October, 27, 2012
10/27/12
11:23
PM ET
LINCOLN, Neb. -- Three weeks after getting blown out at Ohio State, Nebraska has rallied to take control of the Legends division. The Huskers beat a Michigan team playing without star quarterback
Denard Robinson
in the second half, receiving big performances from their defense and enough offense from
Taylor Martinez
and Co.


Let's take a quick look at
Nebraska's 23-9 win
at Memorial Stadium.
It was over when:
We didn't know it at the time, but Michigan had very little chance to win after Robinson aggravated a right elbow injury late in the second quarter. He did not return and backup
Russell Bellomy
misfired on his first 11 pass attempts and threw three interceptions. Nebraska officially put it away when
Ameer Abdullah
scored from 12 yards out on a nice cutback run to put the Huskers up two touchdowns with 10:19 to play.
Gameball goes to:
Nebraska running back Abdullah. While several defenders stepped up for the Huskers, Abdullah provided the boost Nebraska needed on offense as it played without star senior
Rex Burkhead
(knee). Abdullah showed tremendous quickness and vision, racking up 101 rush yards and a touchdown on 24 carries.
Stat of the game:
Michigan failed to score a touchdown for the second consecutive game. The Wolverines last reached the end zone on a
Thomas Rawls
run with 6:01 left in their 45-0 win against Illinois on Oct. 13.
What Michigan learned:
As good as the Wolverines are on defense, they can't win without Robinson, at least not now. Robinson accounts for too much of the offense and too much of the game plan. Bellomy was put in a tough spot but looked completely overmatched against an aggressive Nebraska defense. If Robinson is out for an extended period, Michigan will have a tough time remaining in the division race.
What Nebraska learned:
The Blackshirts are starting to show up against spread offenses. After keeping Northwestern at bay, Nebraska's defense held Michigan in check, even before Robinson's injury. The Huskers still make too many mistakes, but they seemed to have turned a corner since the Ohio State debacle, and Martinez has played well the past two games. The Big Ten is up for grabs, and Nebraska might be right there to take it.
What it means:
Nebraska and Michigan are tied atop the Legends division at 3-1, but the Huskers hold the all-important head-to-head tiebreaker. Bo Pelini's team can take a huge step toward locking up the division next week as it visits Michigan State, which has dropped three games at home this season. Michigan, meanwhile, must hope Nebraska falters at least once in order to get to Indianapolis.
October, 27, 2012
10/27/12
10:19
PM ET
LINCOLN, Neb. -- The details are sketchy at this point, but it looks like
Denard Robinson
's night is done against Nebraska.
The Michigan quarterback suffered an apparent elbow injury late in the second quarter. He injured his throwing elbow Oct. 13 against Illinois, and it flared up following a run inside the Nebraska 10-yard line. Robinson is standing on the sideline in a jacket with his uniform and helmet still on.
Freshman
Russell Bellomy
relieved Robinson but has struggled so far, misfiring on his first seven pass attempts with an interception. He did save a touchdown on the interception but has done little else.
Nebraska leads 13-6 midway through the third quarter.