November, 11, 2014
Nov 11
12:00
PM ET
Tyler Murphy
is seeking a master's degree in administrative studies at Boston College. He wants to be a coach or an athletic director one day. The quarterback's role this past year with the Eagles has been, in some ways, on-the-job training.
Since enrolling in classes at BC this past January, Murphy has proven to be a quick study, as adept at winning over a group as he is at running past defenders. The Florida transfer has the upstart Eagles bowl-bound for a second straight season under coach Steve Addazio.
[+] Enlarge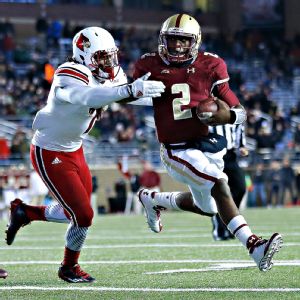 Jim Rogash/Getty ImagesTyler Murphy has made the most of his opportunity as the Eagles' QB, including rushing and throwing for more than 1,000 yards each in just 10 games.
Two weeks ago, Murphy broke Doug Flutie's program record for career rushing yards by a quarterback (939), needing all of nine games. Against
Louisville on Saturday
, he became the ACC's first 1,000-yard rusher at quarterback in five years, since Georgia Tech's Josh Nesbitt rushed for 1,037 yards for the 2009 league champs. A career-worst four-pick night in the loss took some of the luster off the milestone, but as BC enters its final bye week with two regular-season games remaining, it has become increasingly clear that no program landed a bigger coup on the transfer wire this offseason.
"It's been everything I expected and more," Murphy said of BC. "It's a decision I'm very happy with. I'm having a blast, and it's just fun to just go out with these guys that just care, that really just want to not let the team down.
"It's fun, but it also stinks because it goes so fast."
Murphy has always thought of himself as a people's person. He has little desire to sit behind a desk for a living. Recruited to Florida by Addazio, then the Gators' offensive coordinator, Murphy found he had an affinity for the coaching profession during his four years in Gainesville. He loved football, he loved breaking down schemes with others and he loved to game plan.
His short time in Chestnut Hill, Massachusetts, has stoked that passion even further, and he regularly chats about the nuances of the job with Addazio and offensive coordinator Ryan Day, who have told him they will write him recommendations whenever he starts job hunting.
"Certainly if he wants to become a coach, he would have a great opportunity with us because I just like people that have that kind of mindset, that kind of attitude, love of the game," Addazio said, later adding, "Probably having been around so many coordinators, in a different kind of a way, has probably helped him how to learn offenses and adjust. Might not be easy to play in that situation, but certainly can help you in terms of your exposure. I think his age, his maturity, his intelligence really helps him in his preparation."
Murphy has played his part in commanding a locker room, looking and acting nothing like the one-year rental so many graduate transfers often are.
Upon his arrival 11 months ago, the redshirt senior baked cookies for his offensive linemen. He helped organize throwing sessions with receivers. He opened up more than he ever had, studied film more than he ever had, all in the hope of gaining the trust of a group he would have to lead, one that had already spent years together without him.
"As soon as he came here, he hit the ground running," center and captain
Andy Gallik
said.
"He really did it pretty quickly," athletic director Brad Bates said. "It's really symbolic of the depth of his character, to be able to come in here and be able to do that, (at) the key position on the offense, doing it in a very quick period of time. I think it's also a testament to his respect of Steve Addazio."
Bates was floored by Murphy's attitude toward the opportunity, saying that most players in his situation do the bare minimum academically as they ready for one last playing shot at the college level. Murphy, who earned a telecommunications degree from Florida, said he is currently taking three classes and will complete his degree requirements by year's end, before coming back for commencement in May. (BC has only one graduation ceremony each year.)
In the meantime, Murphy is hoping to make the most of his limited time left at BC. A date at defending national champion Florida State awaits next week, followed by senior day against rival Syracuse, before the Eagles' bowl. He has tallied four 100-yard rushing games so far, which are four more than any BC signal-caller before him. His 1,006 rushing yards are far and away the most nationally by a quarterback so far this season, and he is 56 yards away from breaking the ACC record for rushing yards by a quarterback in a season, set by Clemson's Woodrow Dantzler in 2001.
It has all flown by so quickly, yes, but Murphy has made a habit of doing more with less, and he is not planning on slowing down just yet.
"I want to be around football, but just being at BC has really allowed me to understand what it's like to build a good community and just how to build a culture as a program and do things the right way," Murphy said. "That's something I'm really observing and just learning from Coach Addazio and Brad Bates. They're both outstanding people. They've done a great job with the athletic programs here. Hopefully I can be in their shoes one day and be able to help a program move forward like they are."
March, 6, 2014
Mar 6
9:00
AM ET
Virginia Tech quarterback
Mark Leal
looked around his position meeting room this winter and realized just how empty it was. True freshman
Andrew Ford
, who enrolled early, and redshirt freshman
Brenden Motley
were his only company.
None of them has ever started a game.
"This is probably the most slim it's been since I've been here," said Leal, a fifth-year senior. "We've always had at least five or six guys, but right now it's only three."
[+] Enlarge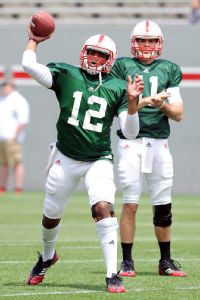 Lance King/Getty ImagesJacoby Brissett (12) is one of several transfers who could move into starting roles in the ACC in 2014.
Sounds like the entire ACC, where six schools have absolutely zero quarterbacks returning with any starting experience, and four schools brought in transfers to help.
As spring practices begin throughout the conference, the ACC kicks off its 2014 season with a complete overhaul at the quarterback position. It was only a year ago that Florida State's
Jameis Winston
was an unproven rookie who had yet to start a game. Now, the 20-year-old reigning Heisman Trophy winner is the veteran of the league, as nine of the 14 schools will have a first-year starting quarterback, and the competition is open at 11 programs. Florida State, Duke and NC State are the only programs that have definitively named starters, and even NC State doesn't know what to expect out of first-year starter and Florida transfer
Jacoby Brissett
.
Brissett, though, knows what's expected.
"Go make sure it was earned," he said, "not given."
Count on that to be a trend in the conference this spring.
Clemson, Georgia Tech, Louisville, Pittsburgh, Virginia Tech and Wake Forest are all starting from scratch, without any starting experience at the quarterback position. Some of the league's most recognizable names have to be replaced, including
Tajh Boyd
,
Logan Thomas
and
Teddy Bridgewater
. Coaches at North Carolina, Syracuse and Virginia have deemed their competitions open, in spite of experienced starters returning.
"I looked at that and was kind of surprised," said Georgia Tech quarterback
Justin Thomas
, the frontrunner to take over the job after
Vad Lee
's decision to transfer. "It should even the playing field out a little bit, but at the same time, we all have to go through our parts."
Not to mention spring and summer auditions.
Clemson coach Dabo Swinney said it's likely the competition between
Chad Kelly
,
Cole Stoudt
and
Deshaun Watson
will extend beyond this spring -- and possibly into the season.
"Going in, Cole starts out as No. 1 simply because of where we finished the season -- basically by default, if you will," Swinney said. "He's the senior. It's basically his to lose going in, but it's incredibly close. You're talking about -- in my opinion -- three guys who are going to play in the NFL. I believe with all my heart that Cole Stoudt is going to play in the NFL. And the same thing with Chad Kelly, and the same thing with Deshaun Watson, if they stay healthy. So you've got three NFL players competing to be the guy, and there's nothing wrong with that. Some people say, well, if you don't have one quarterback then you have none. But that's not the case here."
It could be the case elsewhere, though.
Virginia Tech (Michael Brewer), Boston College (
Tyler Murphy
), Miami (
Ryan Williams
) and NC State (Brissett) are all hoping that transfers can give the position an immediate boost, but former Texas Tech quarterback Brewer won't join the Hokies until this summer. While none of them has started a game at their current schools, all but Brewer have started at least three games at their previous programs.
Williams started 10 games while he was at Memphis, and he's the leading candidate to replace
Stephen Morris
, but "it is wide open," according to offensive coordinator James Coley. And Williams knows it.
"You have to earn it, you have to earn everything," Williams told the South Florida Sun-Sentinel. "I don't want anything given to me. If it's given to me, I didn't work hard enough."
Brissett started three games at Florida, and Murphy started six games for the Gators after starter
Jeff Driskel
was lost for the season. Murphy went 2-4 with 1,216 yards, six touchdowns and five interceptions before missing the final three games of the season with a shoulder injury.
Nothing is guaranteed in Chestnut Hill this spring, either, as the Eagles also have
Darius Wade
, a true freshman who enrolled early, and
James Walsh
, who will be a redshirt freshman.
[+] Enlarge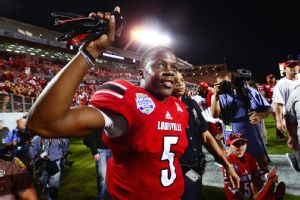 David Manning/USA TODAY SportsThe Cardinals are about to embark on life without Teddy Bridgewater.
"They're all real green," offensive coordinator Ryan Day said of the Eagles' quarterbacks. "It's obviously an open competition. I'm looking forward to getting out there and seeing them throw and run the offense. We'll see. All three of these guys are mobile, they can run. They're dual threats. We're going to use that as a weapon for us. We're not going to totally change what we do, but we'll add that component to it."
All eyes will be on Louisville's quarterback competition, as the Cardinals enter their first season in the ACC without Bridgewater, who left early to enter the NFL draft.
Will Gardner
and
Kyle Bolin
will be the top two candidates this spring, and they'll be joined by incoming freshman
Reggie Bonnafon
this summer.
"It's wide open," first-year coach Bobby Petrino said. "We'll go through spring and see who comes out 1-2-3 and then obviously we'll give Reggie an opportunity in the fall to compete with those guys."
With the addition of Louisville, the ACC enters this season perceived by many to be the strongest it has ever been.
Now it just needs to find a few quarterbacks to help prove it.
April, 17, 2013
4/17/13
2:00
PM ET
On Tuesday we checked in with BC receiver
Alex Amidon
to get his take on how the Eagles have been progressing this spring under first-year coach Steve Addazio and coordinator Ryan Day. Here is the second part of our conversation:
Are you guys having more fun this year?
[+] Enlarge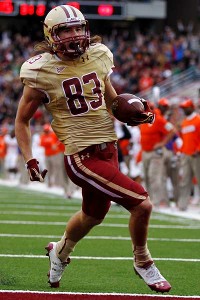 Greg M. Cooper/USA TODAY SportsBoston College wide receiver Alex Amidon says the team has adjusted well to a new head coach and new offensive coordinator.
Alex Amidon:
Definitely. It's a mix between that and everyone is trying to adapt to the new culture. Practices have been a lot tougher, but they're also a lot more rewarding and a lot more fun. It's only going to get better, the more you get used to it and the more people buy in, but it's definitely already noticeable.
What's the biggest change Addazio has made?
AA:
I'd say the competitive spirit on the team is amped up a lot. It's just in practices and stuff, that's noticeable. Everyone is accountable individually for how they compete during practice. That's something that's new. He's changed a lot of things, but I think that's one thing that's pretty important.
You had a terrific season last year, obviously, what are you looking to do specifically to get better and what are your individual goals for this season?
AA:
Honestly I'm just trying to learn this offense as quickly as I can. I guess the one thing I can work on specifically is running with the ball after the catch. I wasn't really that great at it last year, and that's something that can help in this offense, a little more screen game and stuff like that. And then how I fit into the offense, I don't really care, I just want to be on the field. If Andre is running 30 times a game, I'm going to try to help him get the extra yard and block a safety or something. Whatever the team needs, that's what I'm trying to do for the season, get us some wins. At this point, I just want to win games.
Just how different is the playbook and how difficult has it been to learn this spring?
AA:
For me there's a couple of things I've never done before, but coach Day, the offensive coordinator, he was my receivers coach the first two years I was here.
Right, that's why I thought it might be a little easier.
AA:
It's not that tough for me right now because all of the terminology is the same, and all of the concepts he's talking about are the same. I'm just trying to make sure I know everything without having to think about it so I can play faster.
What did you think when you heard that Ryan Day was the guy who was hired as the OC?
AA:
I was excited because the stuff he's interested in in offense is what I'd like to be in, high-tempo. He comes from UNH and Chip Kelly, those are his background, so he has great offensive ideas. I was excited.
How do you feel like you guys are progressing, as far as learning the offense?
AA:
It's going day by day. He's slowly infusing stuff into the offense. We're installing stuff a little at a time. I guess after the first week people started getting it. The past two weeks it's been good. Everyone knows what they're doing.
April, 16, 2013
4/16/13
2:00
PM ET
Boston College receiver
Alex Amidon
was a bright spot in an otherwise dismal season for the Eagles last year. This fall, he is hoping to be part of a turnaround under first-year coach Steve Addazio and offensive coordinator Ryan Day. Last year, Amidon's 1,210 yards receiving ranked second in the ACC, behind Clemson's
DeAndre Hopkins
. Amidon and Hopkins led all ACC receivers in 2012 with six 100-yard reception games each. I caught up with Amidon recently to get his take on the new offense and staff changes. Here are the highlights of our conversation:
Tell me how the new offense changes your role.
[+] Enlarge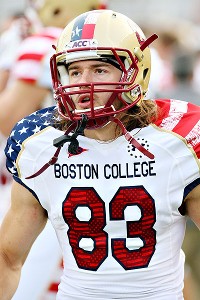 Anthony Nesmith/Cal Sport Media Boston College receiver Alex Amidon says he welcomes an emphasis on the running game.
Alex Amidon:
Well, I wouldn't say it changes my role that much. The one thing I noticed about the offense is we're really focusing on establishing the run game before the pass game, which is going to help the offense out a lot. Last year we couldn't really run the ball that well, and that closed the play-action game, but I'd say I'm just out there trying to help move the chains on third downs. I think that would be my most significant role right now.
Does that concern you at all, that it's going to be more geared towards the run game?
AA:
No, not at all. It's not like we're not going to pass, it's just, I would say if anything, us having the run game is going to help the pass game. I would definitely love to run the ball more than 20 times. Last year we were averaging around 20 carries a game, and if we could get to like 30 or something, that would help the pass game out a lot, in my opinion.
What do you think needs to improve offensively? We talked about the run game, but what have been some of the other priorities for you this spring?
AA:
There were a lot of young guys coming out, and they've all been focusing on improving every day, getting down the completely new offense, trying to learn that. One thing around the whole team is mental and physical toughness. That's something, along with tempo, but we're not really working on that right now. Mental and physical toughness is something you don't really need talent for -- I'm not saying we don't have talent -- but anyone can have them, and if you have those two things, you can outmatch a team. Those two things have really been a focus for us.
How would you say the culture has changed under the new coaching staff?
AA:
It is a lot different. There's a new amount of energy in the program. That's the one noticeable thing, a huge energy. Practices are high-energy practices, lots of competition, lots of competitive drills. The energy and competition are the two most noticeable differences.
How tough have the past two seasons been?
AA:
They've been real bad. They've been tough. It's just tough because we're working year-round to win games, and when you don't, it's so disillusioning, all of the work you put in. It was tough last season, for sure.
Do you feel like things are going in the right direction now?
AA:
I do. You can tell. The optimism people have, the energy we have. Coach Addazio is clearly addressing some of the problems we had in the past years, which has mainly been a lack of leadership, from the older class, which is now my class. That's something you will see different, is people being held more accountable for what is going on.
What are some of the things you guys have done as some of the older players to try and establish that sense of leadership?
AA:
Whether it comes from a quarterback calling out a receiver for dropping a ball in practice, or somebody missing their assignment, just a lot more accountability in that. And also off the field, we've been trying to establish more of a community-sense, which is something we haven't really had in the past here. Both of those things, together, those are a great base for what we're trying to accomplish.
How are you trying to do that off the field?
AA:
Just sitting down with the receiver group, we'll go out to dinner, Applebee's, we'll go there, or eat on campus together, or the offense will gather as a group. Just do something off the field that just gets us together in kind of a fun setting, a family-type setting.
Check back tomorrow for Part II of this conversation.
February, 28, 2013
2/28/13
9:00
AM ET
When Boston College quarterback
Chase Rettig
takes the field to open spring practice today, he will be learning from his fourth offensive coordinator in as many seasons.
At least there will be some familiarity with Ryan Day, who was Boston College receivers coach from 2007-11, before leaving to join Steve Addazio at Temple in 2012. Day returned to BC when Addazio was hired, and both are now charged with trying to jump start the offense while easing their players into a new system.
Again.
[+] Enlarge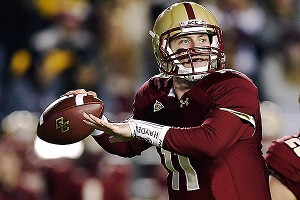 AP Photo/Winslow TownsonBoston College QB Chase Rettig has proven that he can put up big numbers. Now he must show that he can be a leader.
Addazio said the staff plans on keeping as many alike principles and alike terms as they can. But even still, Rettig and his teammates have to learn an offense that will be different from the pro-style set the Eagles ran last season.
"The fact of the matter is I've talked to Chase and other guys about it, all these guys have ambitions to play at the next level, and that's part of that, too. There's a lot of turnover, there's a lot of change," Addazio said in a recent phone interview. "A zone play is a zone play, and a quick game is pretty universal, protections are universal, six-man, five-man, seven-man protections are pretty universal.
"So it's not too crazy. Sometimes it's more formation, calls, that's what it is more than anything else. How you're reading coverages and progressions in the throw game. One thing here is our guys are very bright guys. And I think one thing we do very well here is pick things up pretty quickly."
Though Addazio has a history of running a spread-type offense, he insists he will not try to fit a round peg in a square hole -- and he wants to be able to establish the run first and foremost.
Whether the Eagles have the personnel to get that done right away remains to be seen, as they were not very good in that department last year. But they do have the luxury of returning an experienced quarterback who threw for over 3,000 yards last season with 17 touchdown passes.
So what does Addazio want to see out of Rettig this spring? Rather than discussing Xs and Os improvement, Addazio wants to see Rettig work on his leadership.
"Chase is a guy who throws the ball well, and that's a positive," Addazio said. "That's a piece, but the biggest piece is winning. At quarterback -- whether he's a thrower, whether he's a runner -- it's kind of irrelevant. What's relevant is he's got it, and he's got the ability to lead and find a way to win. What we're working on right now is getting our seniors and getting our players at a position like quarterback, like Chase, to understand how important his leadership, his demeanor, his ability to drive a football team, how important that is.
"To me, the quarterback on offense, that's huge. The linebacker on defense, those are the apexes of your team on both sides of the ball and those guys have got to have 'it.' Sometimes today, everybody gets tied into talking about this guy runs really well or this guy spins it really well. All those things are important but what's really important is the ability to lead, the ability to win. Buying into that mindset is really critically important because we're coming off two years that aren't representative of what Boston College has been. We've got to make sure that we develop that kind of leadership."
January, 17, 2013
1/17/13
2:00
PM ET
The ACC's crop of 2013 quarterbacks will be an interesting blend of old and new. Veterans
Logan Thomas
and
Tajh Boyd
both decided to return for their senior seasons instead of leaving early for the NFL draft, but several big names -- like
EJ Manuel
and
Mike Glennon
-- will be missing. Here's a quick rundown of the position heading into the 2013 season:

IN GREAT SHAPE
CLEMSON:
Boyd returns. The record-setter should be a Heisman candidate, considering he led the ACC in passing efficiency, was second in passing average/game, and threw for 36 touchdowns with just 13 interceptions.
MIAMI:
Stephen Morris
returns. Morris should be one of the best quarterbacks in the ACC, and he might have the best offensive line in the conference to work with. Last season, Morris started all 12 games and threw for a career-best 3,345 yards and 21 touchdowns, completing 58.2 percent of passes. He set the school single-season total offense record with 3,415 yards.
NORTH CAROLINA:
Bryn Renner
returns. He was No. 3 in the ACC last season in passing average per game (279.7), and he was No. 3 in passing efficiency. He finished with 3,356 yards, 28 touchdowns and seven interceptions.
VIRGINIA TECH:
Thomas returns. This was a huge boost to the Hokies' offense. Thomas has started the past 27 games for the Hokies, passing for 6,096 yards and 37 touchdowns, and running for 1,015 yards and 20 scores.
WAKE FOREST:
Tanner Price
returns. He threw for 12 touchdowns and seven interceptions last season, and he'll be helped by the fact that standout receiver
Michael Campanaro
returns. Price completed 55.6 percent of his passes for 2,300 yards.
IN GOOD SHAPE
VIRGINIA:
Phillip Sims
returns, but
Michael Rocco
transferred. Sims is the most likely starter, but how much playing time will
David Watford
see? While sharing time with Rocco last season, Sims finished with nine touchdowns and four interceptions. He completed 56.2 percent of his passes for 1,263 yards.
MARYLAND:
C.J. Brown
, who tore his ACL before the start of the 2012 season, is the most likely starter. This position can only get better for Maryland in 2013, as the Terps were down to their fifth-string quarterback last season. He started five games in 2011, but this would be his first full season as starter.
BOSTON COLLEGE:
Senior
Chase Rettig
returns. He started all 12 games last season, completed 54.2 percent of his passes, threw for 3,065 yards, 17 touchdowns and 13 interceptions. The reason BC isn't in the "great shape" category is because Rettig will have his 103rd offensive coordinator. The good news is that Ryan Day is a former BC offensive assistant, so it's not like they just met.
DUKE:
Veteran
Sean Renfree
has to be replaced.
Anthony Boone
isn't a rookie, but this will be his first season as a full-time starter. Boone has had the strongest arm of any of the quarterbacks on the roster, including Renfree. Boone played in 11 games in 2012, completed 51.6 percent of his passes (49 of 95) for 531 yards, five touchdowns and two interceptions. He also ran for 82 yards and two touchdowns.
COMPETITION IS ON
FLORIDA STATE:
Manuel must be replaced.
Clint Trickett
is the leading candidate heading into the spring, and he has the edge in experience, but he will compete with
Jacob Coker
and
Jameis Winston
. Trickett started two games in 2011, filling in for the injured Manuel, but this past season he only threw the ball 34 times. Coker played in four games and threw it five times.
GEORGIA TECH:
Tevin Washington
must be replaced.
Vad Lee
is the front-runner heading into the spring, but
Justin Thomas
will give him plenty of competition. Lee didn't start any games in 2012, but he got plenty of meaningful snaps and ran for 544 yards and nine touchdowns, and threw for 596 yards, four touchdowns and three interceptions.
NC STATE:
Glennon must be replaced. This position is a huge question mark for the Pack, especially considering the program has gone through a staff change, with Dave Doeren taking over.
Manny Stocker
and
Pete Thomas
are the front-runners heading into spring ball. Stocker threw the ball just twice in 2012 as a true freshman, and Thomas has two years of eligibility remaining after sitting out the 2012 season per NCAA rules because he transferred from Colorado State.
PITT:
Panthers fans rejoined when the final seconds ticked off the clock in the BBVA Compass Bowl because they won't have to watch
Tino Sunseri
play another down. Sunseri did start for three seasons, but this program is looking for a major upgrade at the position. Competition in the spring should focus on transfer
Tom Savage
, a former Freshman All-American, and redshirt freshman
Chad Voytik
, a four-star recruit from the class of 2012.
SYRACUSE:
The Orange have to replace record-setting quarterback
Ryan Nassib
, who just had the best single-season passing year in school history. They
thought they had
an incoming stud in Zach Allen, but the Texas recruit de-committed after coach Doug Marrone left for Buffalo, and Allen pledged to TCU. That leaves the job wide open in the spring between backup
Charley Loeb
, junior
John Kinder
, and dual-threat
Terrel Hunt
.
Ashton Broyld
, who moved to running back in 2012, could be in the mix as well.
January, 8, 2013
1/08/13
9:00
AM ET
The entire 2012 season is officially in the books, and there was some movement in the final ACC power rankings for ESPN.com based on the bowl performances. Before we turn the page and look ahead to how the ACC will stack up in 2013, take one look back on the 2012 pecking order:
FINAL
1. Florida State (12-2, 7-1 ACC; Previous ranking: No. 1) --
Clemson has the more impressive bowl win, but there's no denying Florida State's accomplishments this season. The Noles won the program's first BCS bowl since 2000, defeating Northern Illinois 31-10 in the Discover Orange Bowl. An ACC title and Orange Bowl win make FSU the ACC's undisputed No. 1 in 2012.
2. Clemson (11-2, 7-1; PR: No. 2) --
The Tigers hung on to beat No. 8 LSU 25-24 thanks to a 37-yard field goal by
Chandler Catanzaro
as time expired in the Chick-fil-A Bowl. Quarterback
Tajh Boyd
has yet to announce if he will return for his senior season. Regardless, it was a monumental win for the program and the ACC.
3. Georgia Tech (7-7, 5-3; PR: No. 4) --
The Jackets' 21-7 win over USC was a huge boost for their program, and it also was significant for the ACC. Georgia Tech's defense was the highlight against the Trojans. It also was Paul Johnson's first bowl win as coach at Georgia Tech.
4. North Carolina (8-4, 5-3; PR: No. 5) --
There's no question the Tar Heels were one of the best teams in the Coastal Division in Larry Fedora's first season, but they were ineligible for a bowl because of NCAA sanctions. Fedora will be challenged to replace standout running back
Giovani Bernard
, who left early for the NFL draft, and his lead blocker,
Jonathan Cooper
.
5. Miami (7-5, 5-3; PR: No. 3) --
The Canes weren't a great team in 2012, but they overachieved enough to earn respect and could have played for the ACC title had they not self-imposed a bowl ban. The program is still waiting for closure from the NCAA.
6. Virginia Tech (7-6, 4-4; PR: No. 8) --
In what was one of the most painful-to-watch bowl games of the season, the Hokies beat Rutgers 13-10 in overtime of the Russell Athletic Bowl. The program avoided its first losing season since 1992, but didn't earn any style points in the process. Many questions still face Frank Beamer.
7. NC State (7-6, 4-4; PR: No. 7) --
Under the direction of interim coach Dana Bible, the Pack ended the season the same way it began 2012 -- with an embarrassing performance in a loss to an SEC team. NC State turned it over five times in a 38-24 loss to Vanderbilt in the Franklin American Mortgage Music City Bowl.
8. Duke (6-7, 3-5; PR: No. 6) --
This season will always be remembered as the year Duke got back to a bowl game for the first time since 1994. The Blue Devils, however, lost a 48-34 heartbreaker to Cincinnati in the Belk Bowl. With the score tied at 34 and Duke driving to score the game winner,
Josh Snead
fumbled at the Cincy 5-yard line with 1:20 left.
9. Wake Forest (5-7, 3-5; PR: No. 9) --
The Deacs ended their season losing three straight and four of their last five to miss bowl eligibility. Recruiting has been the biggest priority for the Deacs since their season ended with a home loss to Vanderbilt.
10. Virginia (4-8, 2-6; PR: No. 10) --
The Hoos had to win their last two games to become bowl eligible and couldn't do it, but Mike London wasted no time in making offseason changes. He fired defensive coordinator Jim Reid and has since hired former NC State coach Tom O'Brien and former NC State linebackers coach Jon Tenuta.
11. Maryland (4-8, 2-6; PR: No. 11) --
The Terps put on a respectable performance this past season despite the unbelievable amount of injuries to starting quarterbacks. The biggest news, of course, was that Maryland will play one more season in the ACC before joining the Big Ten.
12. Boston College (2-10, 1-7; PR: No. 12) --
The Eagles hired Steve Addazio to turn things around, and he has hired several of his former assistants from Temple, including former BC assistant Ryan Day as offensive coordinator.
August, 21, 2012
8/21/12
4:00
PM ET
Upon arriving to Temple through an unconventional path,
Montel Harris
immediately sought out
Matt Brown
.
Striking the balance of fighting for carries as the new guy on campus, Harris wanted to make sure that both he and the Owls' incumbent running back were on the same page.
[+] Enlarge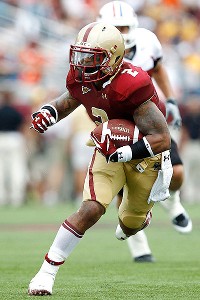 Mark L. Baer/US PresswireMontel Harris, a former RB at Boston College, looks forward to his future at Temple this season.
"We said what our goals were, and we both wanna be playmakers for the team, and that's what we're gonna do: Make plays to help our team win," Harris said. "If we can do that, we both should be successful. So we wouldn't be stepping on each other's toes or anything."
The fifth-year senior and active FBS career rushing leader is hoping that he and Brown can form the type of 1-2 punch that led the Owls' backfield last year, when eventual third-round draft pick Bernard Pierce teamed with Brown to carry the school to a nine-win season that ended with its first bowl win in 32 years.
After Pierce left for the NFL draft following a nearly 1,500-yard junior campaign, questions loomed about Temple's backfield depth. But Brown managed 947 yards of his own last season and, with a healthy Harris, figures to create a more than capable backfield duo.
Coming off arthroscopic left-knee surgery, Harris entered 2011 as the ACC's preseason player of the year. But he was only able to play in two games as a senior, and he was granted a medical hardship waiver in December before re-injuring his knee this spring.
Later dismissed by Boston College coach Frank Spaziani for "repeated violation of team rules," Harris joined former Eagles assistants Ryan Day and Kevin Rogers at Temple.
He brings along 3,735 career rushing yards, having broken Boston College's record last season.
"Well I'll just say I had a great experience at Boston College, and some decisions were made that didn't have me in the plans," Harris said of his dismissal. "So I had to do what was best for me, the school had to do what was best for them and I ended up at Temple coming with a couple of my coaches that were at Boston College."
Harris said his knee feels 100 percent through camp so far, and he thinks getting another year of eligibility — at what is now another BCS-conference school, no less — is a blessing.
Temple was picked to finish last in the conference at preseason media days. Harris wouldn't set any preseason goals short of a conference title, but he is intrigued by the idea of playing for a program that figures to have its best days ahead of it.
"I'm very happy to be part of a program that's on the rise," Harris said. "Through my whole college career, I've kind of been the underdog. Coming into this school not much is expected, but looking at the team and how we work, I feel that we're gonna do some big things in the Big East. And looking down, later on down the road, I feel that Temple can be a top contender in the Big East, and I'll be very proud to say that I was one of the first players to start being in the Big East in Temple."
July, 13, 2012
7/13/12
9:00
AM ET
When it comes to listing the top up-and-coming coaches in the Big East, it is hard to overlook two at the top -- Charlie Strong at Louisville and Butch Jones at Cincinnati.
Strong has the
Cardinals on the rise
, while Jones has
delivered for Cincinnati
with a relatively modest salary.

But there are some young assistants in the league with potential. Here is who I am keeping an eye on in 2012:
Brooks Bollinger, Pitt:
Bollinger is going into his first season with the Panthers, coming to the team from the high school coaching ranks. While there is much that is yet to be known about him, this is a huge year for Bollinger. He gets to work with
Tino Sunseri
, the most maligned quarterback in the Big East. If Bollinger can get Sunseri to improve, he deserves major credit in Year 1.
Ryan Day, Temple:
Day has his first opportunity as an offensive coordinator after spending the past five seasons coaching receivers at Boston College. At the age of 33, Day is the second-youngest offensive coordinator in the Big East, beat out by Syracuse coordinator Nathaniel Hackett by nine months. This season is a great chance for Day to show what he can do with the move into the Big East.
Nathaniel Hackett, Syracuse:
Speaking of Hackett, this also is a huge year for the Syracuse offense and Hackett in particular. One of the biggest knocks against the Orange offense has been its inability to make big, explosive plays. Coach Doug Marrone has promised that is going to change this season. And that falls squarely on Hackett's shoulders.
Clint Hurtt, Louisville:
I am curious about Hurtt, defensive line coach and recruiting coordinator for the Cardinals. He continues to be one of the top recruiters in the Big East, but there is a big asterisk next to his name because we have no idea about his role in the scandal at Miami during his tenure there. The NCAA has yet to finish its investigation, but
Hurtt was implicated
by rogue Miami booster Nevin Shapiro in a Yahoo! Sports report. If the allegations are proven to be false, Hurtt's star will continue to rise. If the report is corroborated, he is in big trouble.
Jerome Pathon, USF:
He begins Year 1 with the Bulls after spending the past three seasons working with the receivers at the University of San Diego. Pathon played in the NFL and got coaching experience with internships in the NFL, so he should be ready to take the step up. USF has an immense wealth of talent and potential at the receiver position but has fallen short of capitalizing on what it has, so this is a critical season.
April, 26, 2012
4/26/12
3:30
PM ET
PHILADELPHIA -- Temple coach Steve Addazio has always had a vision for his offense: a perfect blend of the power-run game and the spread, a way to keep defenses totally guessing.
He never quite got there during his time as offensive coordinator at Florida. But he thinks he is there now with Temple, thanks to a dual-threat/power-run quarterback in
Chris Coyer
, and some hybrid players at the tailback, receiver, fullback and tight end.
[+] Enlarge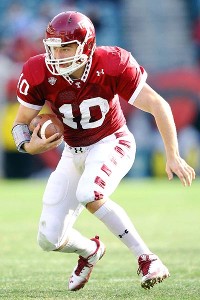 Danny Wild/US PresswireTemple coach Steve Addazio said quarterback Chris Coyer reminds him of another QB that he once coached -- Tim Tebow.
"I always thought cutting edge was the ability to not only be in a spread component, but then to have the ability to line up under center and come right at you," Addazio said. "We never quite got that done at Florida. We stayed in the shotgun with Tim (Tebow) and we had a lot of success with Tim doing that. ... But in my heart, I always knew, when I get a chance I'm going to run this thing. I want a defense to feel the power aspect, defend the run-power game, and then have the ability in that same grouping to spread the field and put in a spread-option component. That's where we are now."
It has taken time. Addazio's first order of business when he arrived at Temple was to mold a physical football team. That meant focusing heavily on the power-run game, something he could do with two established runners in
Bernard Pierce
and
Matt Brown
and a veteran offensive line.
When he turned to Coyer as his starter deep into the season, he was able to evolve the spread aspect of the offense. Coyer has the ability to line up under center or in the shotgun, something Temple did plenty of in its bowl win against Wyoming.
"I think we've got that blend now I've wanted the last couple of years," Addazio said. "When you play us, you're going to get a power attack in the running game, a two-back, two-tight end, fullback, downhill-run game at you. And then you're going to get a shotgun spread-option game coming right at you as well. That's a way that's going to be unique as we move forward. That's my vision. It was a great feeling being able to get that done up here because I wanted to get that done for a long time."
Keeping defenses off guard is a huge goal in Year 1 in the Big East. Addazio and offensive coordinator Ryan Day hopes this gives the Owls an advantage in a new conference environment, because they may be at a disadvantage in other areas, like depth and size up front.
"A defense only has so much time on a week to week basis to prepare for what you are doing," Day said. "Lining up under center, having a power run game creates its own issues for a defense. Attacking a defense with that, then having the spread offense component to it, now it creates a lot of stress to say: 'Now this is what we have to stop but wait a minute, we also have to stop this and we also have to stop this.'"
So who are the key players to watch in 2012 at some of these hybrid positions? Addazio breaks a few down:
QB: Coyer.
"He gives us a chance to be more multi-dimensional." On the comparisons between Coyer and Tebow, he said, "We are headed that way now. I see some of the similarity there. The difference for us is, we are still going to have a lot of under center offense."
IR/TB: Jalen Fitzpatrick.
"He was a spread-option quarterback in high school. We brought him here, and moved him to inside receiver and then to tailback. Since (former Florida receiver) Percy Harvin, he is a guy to me that is a true hybrid. He really can do that."
TB/FB: Kenny Harper.
"Kenny is a 230-pound back. He is tough so you can put him in as a tailback or fullback. So that gives you another hybrid deal."
TE/FB. Alex Jackson.
"He's a guy that can play on the point and block you, he can stretch the field vertically with his speed but he is now learning how to have power on the attack. He's a hybrid tight end. What's a hybrid tight end? It's a guy who can line up in the backfield and move around, line up and block you, or you can flex him out and he can beat a safety in man coverage."
January, 25, 2009
1/25/09
2:14
PM ET
Posted by ESPN.com's Heather Dinich
Considering the time crunch he was under, Frank Spaziani's first hire as head coach was a respectable one.
Not only did he bring in someone with head coaching experience, Spaziani also brought in a longtime friend in Gary Tranquill. Those two intangibles should help make the coaching transition a smooth one. The two were assistants together on George Welsh's staff at Virginia in 1990, and both coached at Navy during the 1970s.
Tranquill, who had retired after the 2005 season as offensive coordinator at North Carolina, brings a wealth of coaching experience to Chestnut Hill, and has spent plenty of time in the ACC, with stops at Virginia, Virginia Tech and UNC. He also brings NFL experience, and worked with Bernie Kosar and Vinnie Testaverde. The one thing he doesn't bring is a lot of winning records. Tranquill was a part of five winning seasons during his 12 years as an offensive coordinator at the collegiate level.
The biggest question hanging out there is Tranquill's age and the fact that he has already retired -- twice. For a staff desperately seeking stability, it's hard not to wonder if Tranquill, 68, will stick around long enough to see a full recruiting class through. He turns 69 in April, and yes, other coaches will use his age against BC in recruiting. This hire reminds me a lot of Joe Paterno's hire of Galen Hall, and -- surprise -- they're both still there.
As for his work on the field, let's let the numbers tell the story. Here is how UNC fared during Tranquill's time there:
UNC's Numbers During Gary Tranquill's Tenure
Year
Record
Points Per Game
Yards Per Game
2001
8-5
26.8
366.8
2002
3-9
18.6
369.1
2003
2-10
26.4
394.3
2004
6-6
26.6
390.7
2005
5-6
18.0
315.7

Wide receivers coach Ryan Day was reported by The Boston Globe to had been a favorite to take over as offensive coordinator. Will he stick around after being passed up for the job he wanted, like Jack Bicknell Jr. did, or will Spaziani have yet another coach to replace with signing day less than two weeks away? Spaziani still has to fill the defensive coordinator spot and offensive line position.