October, 28, 2011
10/28/11
10:30
AM ET
Purdue no longer has Ryan Kerrigan, a first-round NFL draft pick this spring, but the Boilermakers have another star in the making on the defensive line. Junior tackle Kawann Short was named the Big Ten's co-defensive player of the week for his two-sack, 3.5 tackle-for-loss performance last week against Illinois. The 6-foot-3, 310-pounder has emerged alongside Devon Still, Jerel Worthy, John Simon and others as a standout interior lineman in this league. I recently caught up with Short on the eve of Purdue's game at Michigan for this week's Friday Q&A:
What has been the key to your success so far this season?
Kawann Short:
Just watching film, doing what the coaches tell me to do. I'm trying to be consistent, to not let up in practice and go hard all the time. And it's showing up in the games on Saturday.
Danny Hope said your improved conditioning has been a big key. How has that helped you this season?
[+] Enlarge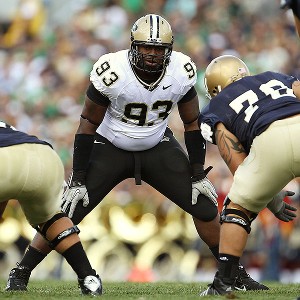 Jonathan Daniel/Getty ImagesKawann Short, Purdue's junior defensive tackle, says the Boilers "must" get to a bowl game this season.
KS:
It's been a dramatic change from my freshman year to now. My weight has fluctuated, but it's also about being muscular and just pushing myself, really. As a young guy, you're really not always pushing yourself as hard as you could. As an older guy, I want to set an example for the younger guys.
How many more snaps can you play now with your better conditioning?
KS:
I can play a whole game. At Penn State, I played the whole game, and at the end of the day, it wasn't bad. Last year, I could probably play no more than like 50 or 60 snaps. On Saturday [against Illinois], I played like 70 or 80, and I felt pretty good about it.
Are you seeing a lot more double teams now?
KS:
Yeah. People told me it was going to happen. Teams see you getting better, and they start focusing on you more. I don't even acknowledge it, just because I've been in that position before. Now it's time for the younger guys to step up and beat the one-on-ones.
What did you learn in playing next to Ryan Kerrigan?
KS:
Just as far as his intensity and energy and his drive. I've never seen that man take a play off or even mess up in a game. I'm trying to be like him now, where in meetings you never hear my name except when they say, "Good job here" or "Good job there." Playing next to Ryan gave me that energy, knowing that you've got to go every time you put your hand down in the grass and don't even think about tiredness. That's the biggest thing I learned from him.
Did you feel responsibility to become more of a leader after he left?
KS:
Well, Gerald Gooden is the leader and a captain. But we're the two older guys on the line, so we have to set an example. He's doing it for the defensive ends, and I'm doing it for the tackles.
What was it like Saturday when you guys beat a ranked team for the first time since 2009?
KS:
It felt great after the win. Holding them scoreless until the fourth quarter was a blessing, and it was great to see the whole team coming together like that. Now we know we're capable of doing it. Every Saturday, any team can be beat and you just have to be ready to play and bring it. We're going to try to do that the rest of these Saturdays in the conference.
You need two more wins, but do you feel like you guys can get to a bowl game for the first time since 2007?
KS:
Most definitely. It's a must. We've got to. We've been out too long, and everybody is just hungry. We've been going home for Christmas and watching other teams and players and knowing we could be playing. We're trying not to go home this year.
Would not making a bowl be a disappointment now?
KS:
Yeah, just because now we're a whole lot better team. Everybody's mindset is definitely different and we're working hard. That would hurt us. It would be a sharp pain in our stomachs just to know we could have been bowl eligible but we didn't do it.
What are the challenges for a defensive lineman when facing Denard Robinson this weekend?
KS:
Just his quickness. You have to stay true to your assignments, because if you have any little mess-up, he can take off. He's a very good quarterback and runner. As far as the D-line, we've got to stay in our gaps. We've got to keep control and keep contain. If we do that, we should be in good shape.
You have four blocked kicks in your career. What's the secret to that?
KS:
To be honest, I'm not doing it by myself. The guy next me helps me to get the push. All I'm doing is throwing my arms up and jumping a little bit. Ryan Kerrigan helped me do it a couple times. Bruce Gaston, Ryan Isaac and
Brandon Taylor
, all those guys helped me get one. I can't take all the credit, knowing those guys were with me all the time. All you need is that good push and to throw your hands up.
Is it true you didn't play football until eighth grade?
KS:
Yeah. A lot of people were in my head telling me to go play. When I went to high school I wasn't even going to play, but one of the coaches told me to try out. I just stuck with it because it was something I was good at. I was more of a basketball player, but when I learned I could do both, I stuck with it.
And you won an Indiana state title in basketball with former Purdue star E'Twaun Moore as your high school teammate?
KS:
It was in 2007, his senior year and my junior year. That was a great year, because it was also the year I committed to Purdue.
What position did you play?
KS:
I played center. We had a 6-11 guy, but he played the 4 and the 3. I was going up against guys who were like 6-6, 6-7, but I was handling it pretty well. My big body kept me going.
You must have been a pretty good rebounder.
KS:
Yeah, that was where all my points came off of. I was a double-double guy.
When did you know football was your future?
KS:
Probably my sophomore year. I was just playing basketball because I really enjoyed myself and I couldn't see myself not playing. It helped me stay in condition and helped me get my footwork and coordination right. So it was definitely a plus.
September, 27, 2011
9/27/11
4:00
PM ET
Purdue linebacker Joe Holland has some personal motivation to beat Notre Dame this week. Both of Holland's parents and his grandfather graduated from the school in South Bend, and though the Irish recruited Holland out of high school, "they didn't recruit me like Purdue did," he says.
Holland doesn't want to finish his Boilermakers career without beating Notre Dame, so stopping the three-game losing streak in this rivalry is a high priority. But while Holland might be the happiest guy in Ross-Ade Stadium on Saturday night if Purdue wins, he realizes this game is more than just personal. It's an important opportunity for the entire program.
"The stage is definitely set," he told ESPN.com. "It's a huge game because of the opponent, it's a huge game because of the stage we're on. It would mean a lot for our team to get this one and to get some momentum going into the rest of the season."
[+] Enlarge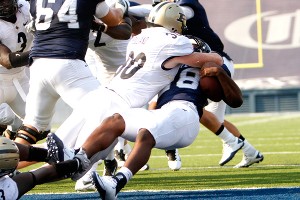 Thomas Campbell/US PresswireJoe Holland (30) knows what a win over Notre Dame would mean for the Purdue program.
Forward momentum has been hard to come by lately for the Boilers. They haven't had a winning season since 2007 and failed to make a bowl game in each of coach Danny Hope's first two years. Hope's first season included an upset of then-No. 7 Ohio State at home and a road triumph over Michigan. The team beat Northwestern on the road last year with a true freshman quarterback starting.
But Purdue (2-1) comes into this week with a six-game losing streak against BCS AQ teams. The program has been beset by injuries and hasn't registered on the national radar for a while now. Simply put, Hope and the players need something positive to happen. While Notre Dame is unranked and already owns two losses, beating the Irish would provide a good start.
"A win against Notre Dame would be a signature win," Hope said. "It would create great confidence for our football team. It certainly would receive a lot of national attention, and I think it would be a great sign for the direction the program is going in. It could also impact recruiting in some ways."
It's hard to say just how good this Boilermakers team is. It beat Middle Tennessee in the opener by blocking a field goal attempt on the last play, then lost the following week at Rice when its own late field goal try was rebuffed. A 59-0 win over Southeast Missouri State was good for confidence building and saw the return of quarterback
Robert Marve
to the lineup, but Southeast Missouri State has about as much in common with Notre Dame as West Lafayette does with Rio de Janeiro.
"We're still developing," Hope said. "This football team has great potential. I think it's one of those teams that will get better and better."
Purdue hangs its hat on its running game, which ranks 11th nationally with 258 yards per game on the ground. The return of
Ralph Bolden
from a knee injury and the addition of junior college transfer
Akeem Shavers
has given the backfield two fast, powerful ball carriers. Junior quarterback
Caleb TerBush
was pressed into starting duty when
Rob Henry
went down with a knee injury in preseason camp. TerBush has played well enough to retain the starting job over the veteran Marve, though Hope plans to play both quarterbacks.
The defense has solid experience on the back end and is led by its interior playmakers up front. Kawann Short and sophomores Bruce Gaston and Ryan Isaac have been disruptive from their defensive tackle positions.
"The games where we've been able to completely shut down the run have been our defensive tackles' best games," Holland said. "Kawann is a monster up front, and he's stringing together a couple of really good seasons. Bruce and Ryan are younger guys who are very, very developed and very strong. Both have the potential to be great players inside."
Purdue will need to play its best game to stop a Notre Dame team that could be undefeated if not for all its turnover problems. The Boilers have had an extra week to prepare thanks to a bye last week. It came at a good time, because they got to focus their attention on what looks like a key game in the program's trajectory.
"If things don't work out right, it's not the end of the world," Hope said. "But a win on Saturday could change our world in some ways."