August, 13, 2014
Aug 13
11:00
AM ET
STATE COLLEGE, Pa. -- The season hasn't yet started for Penn State, but
Christian Hackenberg
is already making program history.
The second-year quarterback was announced as a team captain Wednesday morning, making him the first sophomore to earn the honor in the team's 128-year history. Injured senior guard
Miles Dieffenbach
joins him as the other offensive captain.
"Christian's got a lot of tools, there's no doubt about it," James Franklin said during Big Ten media days. "The thing that I'm most impressed with is how humble and how hungry and how open he is to coaching."
The captaincy isn't a huge surprise since Hackenberg is widely regarded as the team's top player. It's more surprising he's the first sophomore ever in program history to achieve the feat.
Then again, he became just the third quarterback to ever start a season opener as a true freshman, so the opportunity hasn't often been there in the past. Eugene "Shorty" Miller became the first to start in 1910 and Rob Bolden the second exactly a century later.
Hackenberg is actually only the second-youngest player to earn the honor, though. Tailback Johnny Chuckran became the first and only freshman team captain in 1944, during World War II. According to Penn State historian Lou Prato, Chuckran was named captain in Week 4 after all the Marines -- which included six starters -- left.
Penn State also named the defensive co-captains as linebacker
Mike Hull
and defensive end
C.J. Olaniyan
. Three players – kicker
Sam Ficken
and safeties
Jesse Della Valle
and
Ryan Keiser
– were the special teams co-captains.
March, 12, 2014
Mar 12
9:00
AM ET
If you live in State College and haven't shaken James Franklin's hand, high-fived the Penn State coach or snapped a picture with the new leading Lion, you're probably a recluse.
Since his
Jan. 11 introduction
, Franklin has been a man about town, at least when he's not feverishly recruiting or
attending the State of the Union address
as a congressman's guest. From speaking to crowds
at THON
and
other Penn State
athletic
events
, to
wearing a wig so he could get his (already bald) head shaved
at a fundraiser, Franklin is everywhere.
But there's a group of Penn Staters with whom he has yet to connect, at least not nearly as much as he'd like to.
"We've had very little time to interact with the players," Franklin told ESPN.com. "The 20-hour rule and all those things are good rules, but when you're a new staff, it makes it challenging. We've got to build relationships, we've got to build trust, and we've got to get our system installed. That's why we've been successful in the past.
[+] Enlarge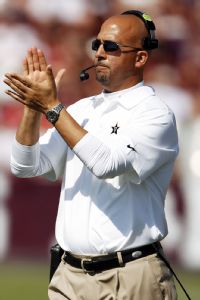 AP Photo/Eric Christian SmithJames Franklin says offensively his system will be similar to that of former coach Bill O'Brien.
"That's what our focus is right now. We've been running since Day 1."
There will be running when Penn State opens spring practice Monday. Blocking and tackling, too. There will be installation in all three phases and position competitions -- all the standard signs of spring ball.
But the most important work will take place away from the field and might have nothing to do with football.
"It starts in the locker room and selling your vision, selling the culture you want to create," offensive line coach Herb Hand said. "You don't know the kids and they don't know you. That's the first challenge coming in, the development of relationships. You're doing that after you've been on the road recruiting for two or three weeks. And then you're in the middle of winter workouts and you're barking and screaming and getting after them and you hardly know them.
"Relationships take time."
The process is under way at Penn State after an intense winter program.
"I haven't had a coaching staff push us this hard as far as conditioning goes, and also as far as competition," senior linebacker
Mike Hull
said. "You can tell Coach Franklin's real passionate about what he does, and he fires us up.
"[The coaches] talk about building relationships, and that's exactly what they've done."
After the recruiting whirlwind concluded, Hand
took the offensive linemen to dinner, wisely selecting a Chinese buffet ("When you walk in with 13 or 14 300-pound people, that'll garner some attention"). Defensive coordinator Bob Shoop, meanwhile, gleaned insight into his new team by spending last weekend reading John Bacon's book, "Fourth and Long: The Fight for the Soul of College Football," which chronicled Penn State's transition and tumult in 2012.
"These guys have been through a lot," Shoop said. "They've have had four [defensive] coordinators in four years. They've seen the good and bad of the profession. I'm just amazed with their approach and their maturity."
The second challenge for Franklin and his staff isn't a new one during the sanctions era. Scholarship reductions had a larger impact on the Lions' depth in Year 2 than Year 1, and as Franklin recently noted, "The longer you're in it, the more effect it has."
There are some potential trouble spots such as the offensive line, which enters the spring with only three scholarship tackles (
Donovan Smith
,
Andrew Nelson
and mid-year enrollee Chasz Wright). Franklin admits PSU has "major depth issues" up front.
Hand's response? Bring it.
"I could sit there and say this is going to be an obstacle for us and we'e going to struggle," he said. "You know what's going to happen? We're probably going to struggle because of our depth. But you go back to Core Value No. 1: have a positive attitude. Let's dwell on the opportunity."
When Shoop watched tape of PSU's defense last year, he saw the same linemen remaining on the field and few personnel combinations. Shoop's Vanderbilt defense used 20-22 players, while Penn State rarely played more than 15.
The hope is this year's defense will have more bodies, although Penn State is thin at tackle and cornerback. Shoop likes the foundation at defensive end with
C.J. Olaniyan
and
Deion Barnes
, and at safety, the position he directly coaches, as
Adrian Amos
returns alongside
Ryan Keiser
.
Linebacker depth surfaced in 2013, but Shoop is willing to get creative. One possibility: a 4-2-5 alignment with a hybrid safety/linebacker.
Amos, who has played both cornerback and safety but will start off at strong safety, provides a building block.
"So big, so strong, so fast," Shoop said. "He can contend for first-team All-Big Ten and be a guy who receivers national recognition if he pushes himself to the next level."
PSU returns an excellent centerpiece on offense in quarterback
Christian Hackenberg
, who will operate a system that, according to Franklin, won't differ dramatically from Bill O'Brien's. Franklin lived on the same street as O'Brien when the two worked at Maryland and is philosophically aligned with his predecessor.
Shoop will pressure more than the Lions did in the past, but the structure of the defense shouldn't change much, either.
"Very, very similar concepts," Franklin said. "The terminology is just a little bit different."
According to Shoop, the players are taking a businesslike approach to their latest transition. Hull came to a program that had been the model for stability in college football. It has been anything but in his time there.
"The first time was real hard," Hull said. "We didn't really know what to expect at all. This time, it's been a lot easier. Whenever a new staff comes in, they want to get in all their policies and values. Some people it frustrates, but it's good to have myself,
Miles Dieffenbach
, some of the older guys tell them it will get better, it just takes time."
Penn State must maximize its time this spring. Installation, development and evaluation are the staff's top three goals, according to Hand.
But there's an even bigger objective.
"How do you prove trust?" Hand said. "Studying them, finding out where's their hometown, what's their family situation like, what's their major.
"Once you win the locker room, everything else will take care of itself."
October, 24, 2013
10/24/13
8:00
AM ET
Injuries are an unfortunate part of the game. Every team must deal with them, but some teams get hurt harder than others. Today, we're taking a look at the teams that have been impacted the most this season. Here's our ranking of the top three:

1. Northwestern:
Injuries have played a major role in the Wildcats' 0-3 start in Big Ten play. All-American kick returner and star tailback
Venric Mark
has been healthy enough to play exactly one full game -- against Ohio State. Quarterback
Kain Colter
has been banged up just about all season as well. Both were reinjured at Wisconsin and missed all of last week's loss to Minnesota. In addition, top defensive tackle
Sean McEvilly
has played in only three games, while starting cornerback
Daniel Jones
suffered a season-ending knee injury in the opener at Cal.

2. Penn State:
The Nittany Lions had major depth issues to begin with because of NCAA sanctions. It hasn't helped that they have also dealt with a series of injuries. Tight ends
Matt Lehman
and
Brent Wilkerson
and defensive end
Brad Bars
were lost for the season. Linebacker
Mike Hull
was hurt for most of the first two months, as was tight end
Kyle Carter
. Wide receiver
Brandon Felder
missed the Indiana loss with an ankle problem. Linebacker
Ben Kline
has been limited after offseason shoulder surgery. Safety
Ryan Keiser
has been dealing with a hand injury since the Kent State game. This team can't afford many more injuries as it approaches the homestretch of the season.

3. Nebraska:
The Huskers' injury problems haven't adversely affected them -- at least not yet. Still, it's never easy when you lose your four-year starting quarterback, and
Taylor Martinez
hasn't played since Week 3 versus UCLA because of turf toe. He could be back this week, but All-American guard
Spencer Long
was lost for the season in the last game against Purdue with a knee injury. He'll be tough to replace.
September, 23, 2013
9/23/13
9:00
AM ET
Remember two weeks ago when
we were debating Ohio State versus Michigan
as the Big Ten's top team? Well, the Buckeyes have created some separation from Michigan and the rest of the league with two dominant offensive performances. Michigan, meanwhile, either has a massive hangover from beating Notre Dame or a lot of issues to sort out.

We gave the Wolverines the benefit of the doubt after the Akron game and kept them at No. 2. After Saturday night's slopfest at Connecticut, we can no longer keep Michigan in the second slot. Northwestern looked lackluster for the second straight week but avoided the major scare Michigan has endured. Wisconsin, meanwhile, might be the league's second-best squad. We'll find out a lot about the Badgers this week in Columbus.
Minnesota and Iowa make nice moves this week, while Indiana takes a tumble.
As a reminder, we keep these rankings consistent with how we vote in the ESPN.com Top 25. Here's one final look at
last week's power poll
.
Let's get to the rundown ...
1. Ohio State (4-0, last week: 1):
We'll finally get a gauge on these Buckeyes as they open Big Ten play Saturday night against Wisconsin, but the recent results have been encouraging.
Braxton Miller
's absence once again didn't faze Ohio State, which scored 34 points in the first quarter and received a nice boost from running back
Carlos Hyde
in his season debut. Backup signal-caller
Kenny Guiton
continued his surge with a school-record six touchdown passes. Miller likely returns this week, but the Buckeyes' offense clearly is more than just one man this season.
2. Northwestern (4-0, last week: 3):
For whatever reason, Northwestern looks worse against weaker nonleague foes than seemingly stronger ones. The Wildcats had more positives against Cal and Syracuse than Western Michigan and Maine, although they were never in serious danger of losing in the past two weeks. Linebacker
Damien Proby
sparked a takeaway-driven defense Saturday. Quarterbacks
Kain Colter
and
Trevor Siemian
struggled but have two weeks to prepare for Ohio State, when running back
Venric Mark
is expected back.
3. Wisconsin (3-1, 1-0 Big Ten; last week: 4):
Credit Gary Andersen's players for not letting last week's unfortunate ending linger as they opened Big Ten play against Purdue. Wisconsin went back to what it does best, overpowering opponents with the run game, as
Melvin Gordon
and
James White
combined for 292 rush yards and four touchdowns. The Badgers' defense bottled up Purdue, surrendering only 12 first downs, 45 rush yards and 180 total yards. You have to like how Wisconsin is performing before this week's showdown in Columbus.
4. Michigan (4-0, last week: 2):
The Akron game could be forgivingly dismissed as a letdown. But when many of the same issues surface for the second straight week against a poor opponent, it's reason to be concerned. Michigan won't stay perfect much longer if quarterback
Devin Gardner
keeps turning over the ball (he leads the nation with 10 turnovers) and the offensive line endures periods of inconsistent play. Coach Brady Hoke and his staff have plenty of items to address this week before the Jug game against potentially undefeated Minnesota.
5. Nebraska (3-1, last week: 6):
After a turbulent eight days, Bo Pelini wanted his players to have some fun in their final nonleague tuneup. The offense had plenty despite playing without top quarterback
Taylor Martinez
, eclipsing 300 pass yards and 300 rush yards. Reserve quarterbacks
Tommy Armstrong
and
Ron Kellogg III
both performed well. The defense had a lot less fun, however, surrendering 465 yards in a performance that Pelini labeled its worst of the season. Nebraska has to get a handle on its defense this week before opening Big Ten play against Illinois.
6. Minnesota (4-0, last week: 7):
Knock San Jose State if you must, but the Spartans provided the biggest test for Minnesota to date, and the Gophers passed it with flying colors. Minnesota showed the physical dominance coach Jerry Kill has been waiting for, piling up 353 rush yards and six touchdowns behind quarterback
Mitch Leidner
and running back
David Cobb
. Although San Jose State's
David Fales
showed why he's an NFL prospect, the Gophers continued to force turnovers. Minnesota hosts Iowa this week in a game that has more than bacon on the line.
7. Michigan State (3-1, last week: 5):
The Spartans looked like the better team for much of Saturday's game at Notre Dame. But many of the same issues that surfaced in close losses last season -- stalled drives, dropped passes, not enough takeaways and missed field goals -- surfaced in a
17-13 setback
. Coach Mark Dantonio and his players say this feels different, and that they can overcome their errors to make some noise in a
wide-open Legends Division
. The defense remains championship-level, but there are other issues to sort out, namely quarterback.
8. Penn State (3-1, last week: 8):
Kent State's woeful offense turned out to be the perfect cure for a Nittany Lions defense that struggled mightily in a Week 3 loss to Central Florida. Safety
Ryan Keiser
and cornerback
Jordan Lucas
helped
trigger Penn State's first shutout since 2010
, as the Lions allowed only nine first downs and 190 total yards. The run game once again surged behind
Akeel Lynch
(123 rush yards) and others. Penn State's defense will face much greater tests when Big Ten play begins in two weeks.
9. Iowa (3-1, last week: 11):
Kirk Ferentz's crew is clearly on the rise after its most complete performance in recent memory. Iowa received numerous contributions on offense, two punt return touchdowns from
Kevonte Martin-Manley
and a pick-six from
B.J. Lowery
-- all during a 38-point first half against Western Michigan. Lowery added another pick-six in the second half and stomped the Broncos. After a rough start to the season, Iowa has the momentum it needs heading into a pivotal Big Ten opener against Minnesota.
10. Illinois (2-1, last week: 10):
The Illini sat back and watched the rest of the Big Ten in Week 4, enjoying the first of two open weeks. They'll have an excellent chance to improve to 3-1 this week against an 0-3 Miami (Ohio) squad that was shut out Saturday against Cincinnati and has scored just 21 points in its first three games. This is the perfect opportunity for Illinois' defense to rebound after getting gashed by Washington in Week 3. Illini quarterback
Nathan Scheelhaase
tries to bounce back after completing just 9 of 25 pass attempts.
11. Indiana (2-2, last week: 9):
Just when Indiana appears ready to turn a corner, it becomes Indiana again. For the second time in three games, Indiana limped out of the gate and fell behind, never finding a good offensive rhythm and struggling to stop Missouri's balanced attack. Missouri piled up 623 yards, a Memorial Stadium record for an Indiana opponent. The Hoosiers' defense remains far too vulnerable, and quarterback
Nate Sudfeld
struggled, throwing three interceptions. There's a lot to fix in the open week before Penn State comes to town.
12. Purdue (1-3, 0-1 Big Ten; last week: 12):
Trips to Madison haven't been kind to the Boilers, and Saturday's proved to be no exception as Darrell Hazell's team took a step back after an encouraging performance against Notre Dame. When you can't run the ball or stop the run, you have no chance, and Purdue struggled mightily in both areas. Hazell admits
Purdue must do some "soul searching"
following a rough start, and things don't get any easier this week against
Jordan Lynch
and Northern Illinois.