August, 20, 2014
Aug 20
2:00
PM ET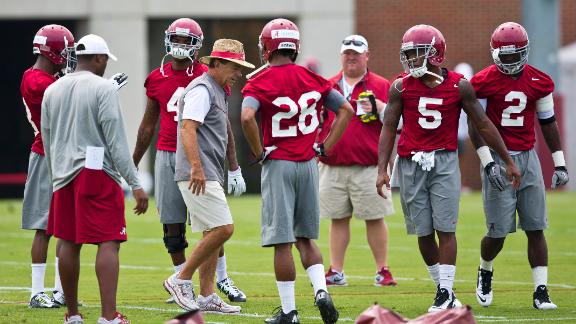 There's a certain pride that comes with playing along the
Alabama Crimson Tide
offensive line. If you sign up to be one of Tuscaloosa's big uglies, you better be prepared for the pressure of living up to the past.
While this year's line, which is replacing two starters from last season, is still slightly covered by the shadows of players such as
Barrett Jones
,
Chance Warmack
,
D.J. Fluker
,
Cyrus Kouandjio
, and William Vlachos, the pressure of living up to what they did is absent.
The pressure for this line is to live up to its own potential.
"We want to be better than those lines," senior right tackle
Austin Shepherd
said. "We try not to live in the past so we'd like to have a million rushing yards if we could. We want to be the most dominant offense in the NCAA."
[+] Enlarge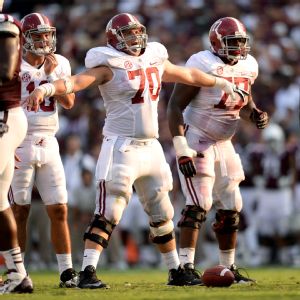 Thomas Campbell/USA TODAY SportsRyan Kelly and Alabama's offensive line are working together to build unity; plans include more speed in practice and more gatherings during the week.
To do that, Alabama's offensive line tried to move faster this spring. Under new offensive coordinator Lane Kiffin, speed has increased for lineman before snaps. Instead of lumbering to the line to make checks and adjust to the defense, redshirt junior center
Ryan Kelly
said offensive linemen have been running to get set and make calls earlier before the snap.
"That way we can at least be set before we want send motions or figure out what the defense is doing," Kelly said. "It's kind of speeding up the offense, but it's also helping us have more time and put us in better situations."
So far, the offensive line, which has the responsibility of protecting a new starting quarterback and arguably the nation's best running back stable, is coming together. There have been some natural hiccups, and coach Nick Saban even called out the line's physicality recently, but this doesn't appear to be a problem area for the Crimson Tide.
The three returning starters -- Kelly, Shepherd and fifth-year senior left guard
Arie Kouandjio
-- have cemented their places up front, while welcoming a few new pieces to the bunch. Most notably, left tackle
Cam Robinson
, the true freshman pegged to replace former All-American Cyrus Kouandjio.
The nation's No. 1 offensive tackle in the 2014 recruiting class, Robinson stepped into the first-team spot at left tackle toward the end of spring, and hasn't moved.
With senior
Leon Brown
and junior college transfer
Dominick Jackson
dealing with injuries during camp, there has been a little shuffling up front, but third-year sophomore
Alphonse Taylor
has impressed at right guard.
The biggest thing the players want to take care of along the line is communication. Kelly said communication broke down at times last year, leading to some glaring errors up front.
One way to enhance that? Develop better chemistry, and to do that, Alabama's linemen are hoping to bring back the Thursday night dinner tradition started by former quarterback
AJ McCarron
.
A chance to unwind and leave Alabama football talk at the facilities, the Thursday night dinners have done wonders for bringing the big boys together, Kelly said.
"It was good," Kelly said of past dinners. "You spend so much time up here [at the football facilities] talking about football and stuff that you can get away. ...It clears your mind going into Friday and getting ready for the game [on Saturday].
"When you get away, your bonds become more than just a football relationship. You have real friends you can do stuff with and that carries over to the football field and makes us a better team."
McCarron played host before, but Shepherd is hoping to take over the reins this season.
"It's time to get away from all the coaches and just be guys around everyone else," Shepherd said. "The only other time we're all together at the same time is when we're in the offensive line meeting room with a coach in there. We can't really talk because he's teaching us. It's time to mingle and do what you want and hang out."
From watching Thursday night football games and playing a variety of sports video games on the house Xbox to dining on the finest red meats and starches, Thursday nights for Alabama's offensive line are special.
Meals have usually involved a combination of steaks, burgers, brats and tight end
Corey McCarron
's famous mac & cheese. Every once in a while, the group gets a surprise, like when former guard
Anthony Steen
's parents brought over venison to make tenderloin.
Just looking for a succulent steak? Talk to Shepherd.
"I cook a mean filet. I like it fresh off the cow," he said.
Need a tidy house to eat in? Well, Shepherd doesn't think he needs to go
that
far.
"It doesn't matter when you have all these nasty guys in there."
August, 6, 2014
Aug 6
1:00
PM ET
There are always debates this time of year as we anticipate the start of another college football season.
Who's the favorite to win the national championship?
Which is the strongest conference?
Who's the Heisman Trophy front-runner?
[+] Enlarge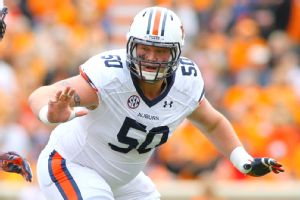 Greg McWilliams/Icon SMIReese Dismukes was a finalist for the Rimington Award last season and is joined by 10 other SEC centers in this year's Rimington watch list.
What's not up for debate, at least with regard to the SEC, is that the league has never been this talented or this deep at the center position entering a season.
Eleven of the 14 starting centers in the SEC were among the 66 players on the preseason watch list for the Rimington Trophy, which is presented annually to the top center in the country.
Talk about being the center of attention.
And while it's true that we all get caught up in the skill players -- the quarterbacks, running backs and receivers -- it all starts right there in the middle of the offensive line.
If you're good at center, everything else usually has a way of falling into place up front offensively.
"The thing I like best about it is that you're in control of five guys, and really, the success of those five guys is sort of on your shoulders," said Auburn senior center
Reese Dismukes
, who was a finalist for the Rimington Trophy a year ago.
"You hear a lot of people say the center is the quarterback of the offensive line. That appeals to me. I like being in control, making the calls and making sure everybody's on the same page. If you're not making the right calls, somebody's going to be on the wrong page, and it only takes one person being on the wrong page for it all to go bad. I like having that pressure on me."
Dismukes' SEC cohorts on the Rimington Trophy watch list include Georgia's
David Andrews
, Missouri's
Evan Boehm
, Mississippi State's
Dillon Day
, Florida's
Max Garcia
, Alabama's
Ryan Kelly
, Texas A&M's
Mike Matthews
, LSU's
Elliott Porter
, Kentucky's
Jon Toth
, Vanderbilt's
Joe Townsend
and South Carolina's
Cody Waldrop
.
They're all a little different, some more experienced than others, and some bigger than others. But they've all perfected the rarest of crafts, which is being able to successfully snap a football (usually a shotgun snap in this day and age) with a 300-pound plus defensive tackle itching to step on their throat as soon as the ball is snapped.
"You're doing a lot of different things at once and processing a lot of information very quickly," said Boehm, who started all 14 games last season at center after starting all 12 at left guard as a true freshman. "It's a big responsibility as an offensive lineman to touch the ball every play. Everything starts with you, and you have to be vocal up there."
Dismukes, a preseason All-American, is part of an Auburn offensive line that should again be one of the best in the SEC. The 6-3, 295-pound senior has been a fixture up front for the Tigers from the day he walked onto campus and has started in 37 of his 39 games.
Ask him how much he's grown up during that time, and he offers a hearty chuckle.
"Light years," he said. "This game makes you grow up fast, or it will shove you right out of it."
Whereas Dismukes has been a center ever since he can remember, Boehm didn't start playing the position until last season. He actually went to Missouri coach Gary Pinkel and requested the move after playing left guard as a freshman.
"I felt like it was the best thing for the team and best thing for me, and I appreciate Coach Pinkel for having enough trust in me to make the move," said Boehm, who was actually a fullback when he first started playing football in the seventh grade.
Boehm isn't the only SEC center who's relatively new to the position. Garcia is making the transition as a fifth-year senior at Florida after splitting his time last season between guard and tackle. He began his career at Maryland and started all 12 games at left tackle in 2011 before transferring to Florida.
But regardless of the path a player takes to the center position, there's a fraternity of sorts, a pride thing that transcends size, speed, and even looks.
Boehm and Dismukes know each other from the recruiting process, as Dismukes was Boehm's host when Boehm visited Auburn.
Dismukes and Georgia's Andrews also stay in touch and will occasionally share tips on upcoming opponents. Between them, they have 64 career starts. Mississippi State's Day has 34 career starts. So if you throw Day into the mix, that's a combined 98 starts among the SEC's three most grizzled center veterans.
"We're not the strongest or most athletic or any of that stuff," Dismukes said of his center brethren. "Maybe we're a little weird, but we just love the game."
They love their hair, too.
Boehm and Day are running a tight race for the "locks" award. Both are known for their trademark hair as much as they are for locking down opposing defensive linemen. Boehm has the bushy look going -- beard and all -- while Day is sporting the long, blond-rocker look.
Of course, it's not like either is overly concerned with style. Technique, maybe, but certainly not style, not with some of the monsters they have to block in the SEC.
"With the defensive line culture in the SEC, you better also create that same culture in the offensive line, and that starts in the middle," Boehm said. "The great thing about this league is you've got guys like Reese and David and all the other guys, and you can study their moves and why they've been so successful and try to incorporate it into your game.
"It's an honor to be among them."
And even better to be front and center.
November, 25, 2013
11/25/13
10:15
AM ET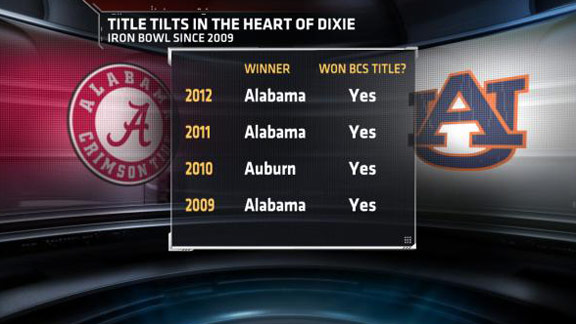 Credit: ESPN Stats & InfoThe Iron Bowl winner has also gone on to win the BCS national title in each of the past four seasons.
AUBURN, Ala. -- Saturday's epic Iron Bowl on the Plains is what all rivalry games should look like.
When No. 1 Alabama (11-0, 7-0 SEC) travels to see fourth-ranked Auburn (10-1, 6-1), it will be the first time these two get together with the SEC Western Division title and a shot at the BCS title game on the line. A year removed from these programs going in opposite directions -- Auburn was 3-8 at this point last season -- the Iron Bowl has real life and really high stakes.
"This is why you play the game -- to play in a game like we're going to play at the end of the year where all of the marbles are on the line, and here we go," Auburn athletic director Jay Jacobs said. "That's why you play; that's why you're a competitor.
[+] Enlarge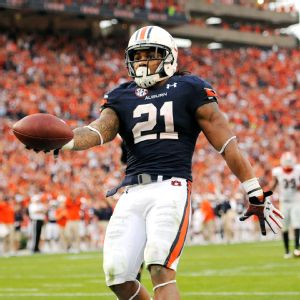 Shanna Lockwood/USA TODAY SportsTre Mason and Auburn are looking forward to the team's biggest home game in years.
"This is what makes your blood boil. This is what makes you tick. This is what makes you get up early."
And became of the stakes, the Iron Bowl is the king of the rivalries this season. Michigan and Ohio State should always be playing for the Big Ten title and a shot in the bigger game in January. Florida-Florida State, Oklahoma-Texas and Notre Dame-USC should have the same big-time, high-stakes feel year in and year out. In a sport that always seems to battle its own cyclical nature, the best of the best among rivalries should always look and feel this big.
It's what the college football gods intended. Sure, we like surprises. When underdogs succeed, we're all pretty stoked. But these historic rivalries should consistently be front and center.
What Alabama-LSU has had in the last few years is what traditional, historical rivalries like this one should never lack.
Remember when No. 1 Ohio State's thrilling 42-39 victory over No. 2 Michigan to end the 2006 regular season served as a de facto semifinal for the BCS title game? Everyone was watching that one because it meant so much and had two storied programs essentially playing for it all.
Remember the "Bush Push" that featured No. 1 USC and No. 9 Notre Dame? It ended in thrilling fashion in front of the entire country when Reggie Bush nudged Matt Leinart over the goal line with three seconds left for a 34-31 win.
Who can forget the end-of-the-year bouts between Florida and Florida State during the 1990s?
Saturday marks the first time both Alabama and Auburn have been ranked in the BCS standings heading into the Iron Bowl since 2010. Auburn's 28-27 victory helped send the Tigers to the national championship that season. Before that, both teams hadn't been ranked in the game since 2005, and the game wasn't nearly as important in the national scheme of things the way this one is.
"It should always be like that," Auburn defensive end
Dee Ford
said.
"We said that also. We wanted to give our fans what they deserve, and they deserve to be a part of an Iron Bowl that hasn't been like this for years. It's a great feeling."
It's great for the game. The Iron Bowl is the biggest event in the state of Alabama each year, but it's also a major deal nationally. Do I even need to bring up Harvey Updyke?
"I think the roots, they run a little bit deeper down here," Alabama center
Ryan Kelly
told reporters after Saturday's 49-0 victory over Chattanooga. "It's always a big game, especially this year. We're two top-10 teams and on the road at Auburn. It's going to be a big game. It's really critical this week that we have a good week at practice in preparation for it."
For both teams, Atlanta and Pasadena are on the line. Alabama is in the driver's seat for the latter destination, while Auburn still needs some help. But imagine how much the Tigers would help themselves with a win over the nation's top-ranked team.
The Tigers own the SEC's best running game (320.3 yards per game), and Alabama has the league's best rush defense (91.3). Just call it an unstoppable force vs an immovable object.
Nick Saban worked from the ground up to get Alabama here. Gus Malzahn has needed just a season.
Alabama grinds on offense and smothers on defense. Auburn spreads you out and is allowing 406 yards a game and has given up 23 points or more five times.
Something will have to give in this historic matchup.
"To be in this situation in probably the biggest rivalry in college football, it's unreal," Auburn running back
Tre Mason
said. "It's pretty much like the national championship before the national championship to me.
"A lot of people around the country are going to be tuned in, so we have to put on a show."
October, 8, 2013
10/08/13
10:30
AM ET
Sometimes you can see the matchups coming. In college football, every so often you know when the big games, the ones that will determine conference and national championships, will be. In the SEC, we're only halfway through the season and already we can look ahead to two key games that should determine who travels to Atlanta to compete for the conference championship:
Games:
Florida
-
Georgia
and
LSU
-
Alabama
.


What's at stake:
In a word, "everything," seeing as the winner of these two games will likely represent their divisions in the SEC title game. Whether it's Florida or Georgia from the East or LSU or Alabama out of the West, the two teams that make it to Atlanta will be playing for not just a conference title come December, but likely a shot at the BCS National Championship Game in Pasadena, Calif., as well. All four teams are currently ranked in the Top 25, with only top-ranked Alabama remaining undefeated. But one loss (so long as it doesn't come in the Georgia Dome) won't keep an SEC team out of the national title picture, as seven consecutive seasons with an SEC team hoisting the crystal football can attest.
Roadblocks/derailment opportunities:
Alabama needs only to avoid the proverbial banana peel in the road with three more games against unranked opponents (Kentucky, Arkansas, Tennessee) and a bye week before it hosts LSU. Star safety
Ha Ha Clinton-Dix
and starting center
Ryan Kelly
should be back with the Tide by then, and an extra week to rest and prepare always helps. But for LSU, the road to Tuscaloosa, Ala., is not so simple, as it must first deal with No. 6 Florida at home on Saturday and then a trip to Ole Miss the following week. The way LSU's defense has played of late, neither game seems like a cinch victory.
Obviously, Florida's biggest obstacle is this weekend as well. The Gators are still breaking in a young, inexperienced quarterback in
Tyler Murphy
, and while the defense has played well, it has not faced an offense like LSU's yet. Past LSU, Florida will go on the road to face a surprisingly unbeaten Missouri team that has momentum squarely on its side. Georgia, though, will get Missouri first this weekend. And after the litany of injuries the Bulldogs have experienced in recent weeks, it will be a wonder if Mark Richt's team can hobble its way to Jacksonville without another loss.


How it unfolds:
There's no easy way to determine how the Georgia-Florida game will go, as both teams have serious concerns to address in the short term before they make it to Week 9. The Bulldogs aren't getting many of their injured stars back until next season, and the Gators are stuck with Murphy and an inconsistent offense for the foreseeable future. On the one hand, Florida seems like a precarious contender after losing to Miami, but at the same time those Gators beat Tennessee by two touchdowns. Georgia, meanwhile, needed overtime to edge out the Vols by 3 points.
Like their counterparts in the East, neither Alabama nor LSU are without their fair share of flaws. The Tide has been inconsistent thus far, failing to put together a truly complete game until this past weekend against lowly Georgia State. The passing game has shown flashes, but the rebuilt offensive line has been disappointing at times. And LSU, which struggled to score points in recent years, is suddenly an offensive powerhouse. But an up-and-down defense, one that allowed nearly 500 total yards to Mississippi State this past weekend, needs work. With the game at home in Tuscaloosa, Alabama likely will be favored, but the way this series has unfolded in recent years we're likely looking at a toss-up.
September, 30, 2013
9/30/13
8:00
AM ET
TUSCALOOSA, Ala. -- There was no dipping a toe in the water for preseason No. 1 Alabama. The Crimson Tide instead had to jump right in, battling sharks every week in the first month of the season.
The early stretch was brutal at times. Sure, Alabama looked like the best team in the country and got through the first four games undefeated, but there were certainly some blemishes revealed along the way. Each week and each win was a struggle.
Virginia Tech opened the season by stifling Alabama's offense in Atlanta, getting into the face of quarterback
AJ McCarron
by applying constant pressure on the backfield. The offensive line, a group that featured three new starters, looked nothing if not inexperienced.
[+] Enlarge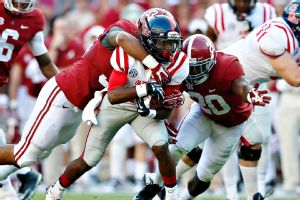 Kevin C. Cox/Getty ImagesThe Crimson Tide defense had its most complete effort of the season on Saturday.
Ninth-ranked Texas A&M then lit up Alabama two weeks later.
Johnny Manziel
and
Mike Evans
tore apart the secondary, abusing the Tide with the deep pass. UA set a kind of record you don't want to see, allowing the most yards in school history.
Even Colorado State, the $1.5 million cupcake courtesy of the Mountain West Conference, gave Alabama trouble. The Tide defense made too many mistakes and the offense was terribly inconsistent, failing to convert on a single third-down attempt in the first three quarters.
Then came No. 24 Ole Miss, an undefeated team playing with house money against Alabama. But this time, mercifully, the Tide put together a complete game and won, ending a four-game streak that tested the mettle of the championship contenders.
Now it's time to exhale. Alabama survived the early onslaught and can now take a breath to regroup with Georgia State, Kentucky, Arkansas and Tennessee up next. None of the four is ranked, and only the Razorbacks and the Vols are above .500, albeit at just one game over each. The four teams' combined record (7-11) is noticeably worse than the combined record of the first four teams Alabama faced (13-6) and the last four teams Alabama will face to end the season (11-6).
To make matters even more favorable for the Tide, Alabama will get a bye to start the month of November before hosting LSU on Nov. 9.
No team in the SEC has an easier next five weeks than Alabama. South Carolina is a close second and the only other school in the conference that won't face a ranked team over that time, but at least the Gamecocks don't have a cupcake like Georgia State to snack on. Instead, Steve Spurier's team will be tested somewhat by Kentucky, Arkansas, Tennessee, Mississippi State and undefeated Missouri. In fact, if one-loss South Carolina plays like it did against unranked UCF this past weekend, it might not be much of a championship contender come November.
The rest of the league's title contenders don't have it so easy. Georgia has rival Florida to contend with, LSU has Florida and Ole Miss in back-to-back weeks, and Texas A&M has to deal with the same explosive Rebels on Oct. 12.
Ole Miss is one of seven SEC schools to play two ranked opponents over the next five weeks. Only Tennessee and Missouri have it worse with three ranked opponents each in the month of October.
While Nick Saban might not be fond of focusing on records, it's hard to ignore the obvious -- if Alabama doesn't make it to November undefeated, it would be a shock. The Crimson Tide's coach isn't one to admit those things and he won't ever say an opponent is overmatched, but he and his staff do have the luxury of not stressing over serious competition the next few weeks.
Instead, they can budget their time wisely, resting banged up starters such as
Ryan Kelly
and
T.J. Yeldon
while working out the kinks with some younger guys for the stretch run, especially those on defense such as rookie cornerbacks
Eddie Jackson
and
Maurice Smith
.
"I'm looking more at the standard, not the record," Saban said following his team's shutout of No. 24 Ole Miss on Saturday night. "And I think it's important that our players do the same so we can continue to improve."
Improvement, though, might be the best Saban can hope for. Making another statement like his team did by thumping Ole Miss doesn't appear to be possible against the forthcoming carousel of unranked, overmatched opponents. Rather, building up some level of consistency over the next few weeks will be the challenge as the scoreboard certainly doesn't figure to be.
"We have high expectations for the standard of how we play," Saban said. "And I think more than what the record is, I think and our team thinks, what do we need to do so we can continue to improve so we can play the the standard on a more consistent basis.
"I would say if there's any criticism of myself, our staff and our team, it would be the fact that we have not been as consistent as we'd like to be."
Saban got through a rough, inconsistent start to the season intact and in the driver's seat for another run to the national championship. For the next month, he'll be in the enviable position of fine-tuning his team's mistakes against lesser competition.
While the rest of the SEC slogs through the ghoulish month of October, Alabama will be playing trick or treat each Saturday. All that remains now is reaching LSU on Nov. 9 without slipping on the proverbial banana peel.
September, 9, 2013
9/09/13
10:13
AM ET
TUSCALOOSA, Ala. -- This week, as No. 1 Alabama prepares to face No. 6 Texas A&M, much will be written about the two quarterbacks. And rightfully so.
AJ McCarron
was the country's most efficient passer a season ago and
Johnny Manziel
was the most electrifying player in the game, dazzling on his way to the Heisman Trophy.
But it won't be all about what happens when the ball is put in the air Saturday in College Station, Texas. The running backs and the offensive linemen who clear the way will have their say as well.
In fact, Alabama's success depends on their performance. If the running game looks like it did against Virginia Tech, it could spell disaster for the Tide's chances.
At first glance, Alabama's 119 yards on 34 designed rushes in Week 1 don't appear disappointing. But further inspection shows otherwise: The Tide averaged 224.9 yards per game on designed rushes last season. The offensive line helped the running game average 4.1 yards before contact in 2012, compared to the 2.0 yards before contact
T.J. Yeldon
and the rest of Alabama's ball carriers got against the Hokies. There were only three runs of 10 or more yards in that game; the Tide averaged 7.1 of such runs per game last season.
Simply put, the holes weren't there -- 3.5 yards per rush isn't going to cut it.
Center
Ryan Kelly
put it best when he told reporters that the offensive line needs to be punishing again.
"This week is very important because we get back to what the Alabama offensive line is about and that's being physical and making the defensive line quit," he said. "I think that's what we're going to bring to Texas A&M.
"I don't care what anybody else tries to tell you, it's your first game starting and you're going to be nervous. But I think we started to open up a little bit at times. From the first game to the second game, it's going to be a bigger transition."
The talent in the backfield is there, but the push from the offensive line hasn't been.
Alabama ran for 3,171 yards in 2012, better than any team in the SEC. Yeldon was one of the best freshmen tailbacks in the country as a backup, carrying the ball 10 or more yards on 36 occasions. He wound up third in the country and first in the SEC with 55.9 percent of his runs resulting in 5 or more yards (minimum 150 carries).
Even the Tide's third-string running back,
Kenyan Drake
, put up good numbers. As a freshman, he averaged 6.7 yards per carry, placing him in the top 30 nationally among players with at least 40 attempts.
The Tide averaged 5.56 yards per carry and had the fourth-lowest percentage of rushes for zero or negative yards. This season, they are last in that same category -- 123rd out of 123 FBS schools.
Against Texas A&M, that will have to change, and players expect it will. With three new starters on the offensive line, chemistry has been slow to develop. Coach Nick Saban said a lack of communication and trust up front was to blame for the Week 1 troubles.
"There's a lot of things a lot of people have the opportunity to learn and grow from," Saban said.
If the offensive line improves, so will the running game. And in turn, so will the production of the offense as a whole.
As Alabama fans saw last season, the passing game is at its most effective working off play-action. McCarron completed 79 of 113 passes for 1,329 yards, 13 touchdowns and no interceptions on run fakes in 2012. Against Virginia Tech, McCarron was 2-of-5 for 9 yards on play-action.
So while McCarron and the passing game are put under the microscope in the lead-up to Saturday, remember that they're only half of the story on offense. For Alabama to be successful, it will need help on the ground.
September, 2, 2013
9/02/13
7:00
AM ET
ATLANTA --
Anthony Steen
,
Ryan Kelly
and a few of their fellow offensive linemen huddled near the makeshift stage at the 50-yard line, outside a yellow rope that separated players from the media on the field of the Georgia Dome in Atlanta. Alabama was being presented a leather helmet for beating Virginia Tech 35-10 in the Chick-fil-A Kickoff Game, but this group of disgruntled players weren't interested in watching the celebration.
AJ McCarron
,
Christion Jones
and the rest of the stars of the game smiled for the cameras while Kelly and Steen had their backs to the action. Turning toward one another, they did their best to figure out what just went wrong. A year after having the best offensive line in college football, the Crimson Tide's front five looked underwhelming. It was a foreign site for the mass of Alabama fans that packed the domed stadium hoping to see what three new starters could do against a Virginia Tech defense decimated by injuries and attrition. In an unusual sight, the line of scrimmage wasn't awkwardly disjointed.
Steen, a third-year starter at right guard, wasn't expecting the amount of movement Hokies defensive coordinator Bud Foster threw at them. The defensive line went east and west where the Tide expected it to go north and south. Alabama wants to go straight at you on offense, and against Virginia Tech it couldn't get the correct angles to do that. The result: 12 tackles for loss, four sacks and a running game that could never really get going. Even AJ McCarron struggled to set his feet and deliver the ball downfield. Alabama's 96 rushing yards and 110 passing yards would have both been the worst production of any game last season.
"We celebrated a little bit, but it was just a little quiet," he said. "We expected to go out there and win by 50."
NFL scouts on hand for the game put it in more striking terms.
"The O-line got their a-- kicked," one scout said.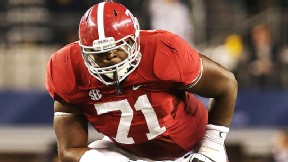 Kevin Jairaj/USA TODAY SportsLeft tackle Cyrus Kouandjio said "all the little things" stacked up against the Alabama offensive line against Virginia Tech.
The general consensus among professional evaluators was that if Alabama doesn't get better up front and runs the ball effectively, it won't be able to win a third national championship.
It wasn't the newcomers on the line that stood out the most, though. Left tackle
Cyrus Kouandjio
, the anchor of the group and a presumptive early first-round pick in the coming draft, was a turnstile at times, slow of foot as Virginia Tech's defensive ends cut around him to reach the quarterback. Alabama tried running behind Steen to start the game, having
T.J. Yeldon
carry the ball in his direction for the first three carries, but the results were gains of 2, 4 and 4 yards.
"We had good plays and we had bad plays," Kouandjio said. "It's a good thing this is the first game and we have a bye week to iron out the kinks and go back at it.
"They moved around a lot. It's all the little things that kind of got to us tonight."
Alabama coach Nick Saban put it more succinctly: "They outplayed us up front, if you want to know the truth."
"We were soft," he added. "Didn't have a solid pocket. Quarterback didn't feel comfortable. Timing in the passing game wasn't what it needed to be in terms of how much time we had to throw it, how much time we had to get open. Those are the kind of things I think we really need to improve on."
Saban replaced left guard
Arie Kouandjio
, a first-time starter after back-to-back knee injuries early in his career, for backup
Kellen Williams
, who performed ably but not spectacularly in the second half. The other new addition to the line, right tackle
Austin Shepherd
, couldn't do much to get the running game going on his side.
The result was obvious: This is not the Alabama offensive line that dominated offenses with the likes of Barrett Jones, Chance Warmack and D.J. Fluker. This line had trouble with an unranked Virginia Tech team that, while enthusiastic, doesn't have the depth of many SEC defenses Alabama will face this season.
The good news is Alabama gets the benefit of the bye week and will have a full two weeks to prepare for No. 7 Texas A&M, which had nine tackles for loss in a season-opening win over Rice. The matchup in College Station, Texas, is arguably the biggest game of the season for the Tide, who lost to
Johnny Manziel
and the Aggies last season.
"We had a lot of guys out there that were ready to get out there and play," Steen said. "Some of us were nervous. Heck, I was nervous a little bit in the beginning -- first game of the season, who's not? As the season goes on, we'll be able to tell how good we'll be."
August, 31, 2013
8/31/13
11:38
PM ET
ATLANTA -- The scoreboard read the way everyone pretty much expected it to. It showed an SEC team trouncing another almost helpless victim from the ACC.
[+] Enlarge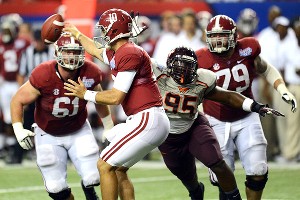 Dale Zanine/USA TODAY SportsAJ McCarron threw for just 110 yards in Alabama's win over Virginia Tech.
But Alabama's 35-10 win didn't feel like the blow out that the scoreboards inside the Georgia Dome indicated. For a team picked by the masses to win its third straight national championship -- and fourth in five years -- Alabama wasn't the well-oiled machine we're accustomed to seeing, but the Crimson Tide still won by 25 points.
The offensive line looked shaky and overmatched at times, and Alabama rushed for just 96 yards (averaging 2.5 yards in the process), but the game never seemed in doubt for the defending champs.
The offense had less than 120 total yards with six minutes remaining in the third quarter, but Alabama's victory appeared sealed before the teams took off for halftime.
Amari Cooper
dropped a couple of passes and
AJ McCarron
's timing was far from great. Yet, Alabama will still be ranked No. 1 in the polls on Monday.
Alabama could still be the nation's best team, but even the Tide showed that it has issues that have to be corrected before this team can make history by being the first team to win three straight national championships since Minnesota from 1934-36.
"I don't know how good we need to be, I just know we need to get better," said McCarron, whose 110 passing yard marked his lowest amount as a starter.
"We just have to get better all the way around."
The first place people will look is the rebuilt offensive line. With three NFL draft picks gone from last year's unit, Alabama started three new players in
Ryan Kelly
,
Arie Kouandjio
and
Austin Shepherd
.
Communication issues, first-game jitters, blown assignments and an aggressive Virginia Tech front seven caused Alabama's line to look dazed for most of the night. McCarron was only sacked once, but he spent a lot of his time running around to avoid pressure. He only completed 10 of his 23 pass attempts and found himself late on a few easy throws.
To McCarron, he was the reason for an ugly passing game.
"To me, unbelievable job (by the offensive line) tonight," the senior QB said. "You can put the blame on me and say that I gotta get rid of the ball a lot faster. I thought they played excellent. I'm proud of those guys. Unbelievable jobs in the first game, especially against a tough Virginia Tech defense. I thought they played their butts off. I'm proud of them."
But when it came to blocking the run, McCarron wasn't to blame. The line just didn't get enough push, as Alabama failed to cross the century mark on the ground for the first time since gaining just 96 yards in its 9-6 overtime loss to LSU in 2011.
Left tackle
Cyrus Kouandjio
said the communication issues from Saturday night weren't problems in practice, but guys didn't seem ready for the actually game speed and the Hokies' defense ran plays the line wasn't prepared to see.
With two weeks until Alabama's next game, Kouandjio isn't worried about a repeat performance.
"It's great that it's the first game and it kind of tests us to see where we're at," Kouandjio said. "It's perfect because we have the bye week to iron out the kinks and get back at it."
Look, it's way too early to start jumping on the "Alabama is overrated" train, or thinking about a new BCS title favorite. Alabama was sloppy, but it was still the much more talented team. Alabama showed that even though it currently has some glaring issues along its offensive line, its problems are some that teams around the country would love to have.
When the offense shrank and was mauled by a very impressive Virginia Tech defense and was held to just 206 yards of offense -- the lowest by Alabama since it gained just 172 against Tulane in September of 2008 -- special teams stepped up with two touchdown returns by
Christion Jones
.
Then there was the defense that dazzled for most of the night and limited the Hokies to just 212 yards, including 59 passing yards from future NFL draft pick
Logan Thomas
.
Take away Trey Edmunds' 77-yard touchdown run, and the Hokies might not have even sniffed the end zone.
It wasn't a pretty victory, but Alabama looked like the better team all night and is 1-0. It now gets two weeks to prepare for
Johnny Manziel
and his
Texas A&M Aggies
.
There's no question that this team has to get better soon, but with Nick Saban's obsession with detail and preparedness, it's hard to imagine another sloppy performance.
"We got a week off to prepare for Texas A&M and we're going to work on our fundamentals, get back right and we'll see them in Texas," defensive lineman
Jeoffrey Pagan
said.
August, 13, 2013
8/13/13
8:00
AM ET
Ask LSU defensive tackle
Anthony Johnson
what he thinks about the SEC and he delivers his answer almost before you can finish your question.
"Powerhouse," Johnson says without a hint of hesitation.
His answer is delivered with the same speed and aggression usually seen on the very playing fields he and his SEC counterparts share every Saturday in the fall. He even stops after one word. It isn't really a pause because he just assumes that no more words are needed.

Ask him to expand, and he hits you with the same bravado that is more matter-of-fact than arrogance.
"It's the best conference and the most physical conference in college football," said Johnson, adding a little more excitement to his answer. "When you look at it, the SEC has won a national championship every year since I've been looking at college football. You think powerhouse when you think about the SEC."
It's simple for Johnson, because he lives it. His perception of the SEC is similar to that of most people. When he thinks of the SEC, all he knows is power.
Since 2006, the SEC has owned all the power, winning seven straight BCS titles by four teams and having four Heisman Trophy winners. During that span, the league has gone 10-4 (.714) in BCS games, with one of those losses coming when Alabama defeated LSU in the 2011 BCS title game. Those 10 wins equal that of the next two highest conferences.
The SEC is 42-22 overall in the postseason since 2006, and 9-1 all time in BCS title games.
"The SEC has proven that if you come out of this thing and win an SEC championship, you have a great chance of winning the whole thing," Auburn coach Gus Malzahn said.
Last season, things got so out of hand during Alabama's 42-14 romp against Notre Dame team in the Discover BCS National Championship, that some people inside the conference considered the Crimson Tide's nail-biting 32-28 win against Georgia in the SEC championship the
real
national title game.
"Everybody obviously watched the SEC championship -- that was the national championship," Georgia running back
Keith Marshall
said. "[The BCS title game] wasn't even competition."
You'll have to excuse SEC inhabitants if they poke their chest out a little more these days, because they've earned it. They've dominated the field of play and racked up the crystal.
To do that, players think a major advantage has been the legwork.
"I think it's the speed, honestly," Alabama center
Ryan Kelly
said about what makes the SEC so different from opposing conferences. "Obviously I haven't been in any other conference, but the speed down here [separates the SEC from other leagues]."
From skill position players bolting across fields with legit track star speed to mammoth defensive end
Jadeveon Clowney
sporting a 4.5 40-yard dash time, this league has loads of speed to spread out among its freak athletes.
Speed is the overwhelming response from players when you talk about league comparisons, but for coaches it's a little more detailed. When you combine that speed and athleticism with your big uglies up front, you have a real recipe for success.
"When you're going into the SEC, without question it starts up front on both sides of the football," said Missouri coach Gary Pinkel, whose Tigers missed a bowl game for the first time since 2004 after the offensive line was decimated by injuries in its first season in the SEC.
To Johnson, linemen in this league "play faster," are "working harder" and are "a lot meaner" than those in other leagues.
"When you look at the other conferences, you see a lot more bigger guys who can't really move that well," Johnson said.
So there are fast guys all over and nasty guys up front. And it seems like players are getting faster and nastier, especially with football being a year-round sport for homegrown prospects in the South.
The play on the field has also helped the SEC flex its muscles outside of stadiums, as teams are now getting the benefit of the doubt in the polls and, more important, the BCS standings. SEC champions are basically escorted down the national championship red carpet before all the confetti has fallen inside the Georgia Dome in early December.
And thanks to commissioner Mike Slive, that power could be here to stay. He was instrumental in bringing a very SEC-friendly four-team college football playoff to life, and has helped make the league an absolute cash cow. Just look at the record-breaking $289.4 million that will be distributed among the 14 teams at the end of August, and the arrival of the SEC Network in 2014.
Johnson was right about the SEC being all about power, but what makes it that much more intimidating is how far that power reaches. Its tentacles have continuously strengthened and stretched over the past decade, and that growth doesn't appear to be stopping any time soon.
December, 19, 2012
12/19/12
10:00
AM ET
Alabama center
Barrett Jones
will
miss the next week of practice
, as he continues to recover from a sprained foot that he suffered against Georgia in the SEC championship game on Dec. 1.
Coach Nick Saban said Jones, who wore a cast on his left foot and rode a stationary bike during Tuesday's practice, is "day to day" and that everything he's doing right now is "precautionary."

With Jones sidelined, freshman
Ryan Kelly
took snaps with the first-team offense.
Jones, who won the Rimington Award for the nation's top center, essentially played the final three quarters of the SEC title game on one foot. He needed crutches to get around after the game. Jones will be re-evaluated by doctors when he returns from Christmas break on Dec. 27, but he's already made up his mind that he'll be playing against Notre Dame in the Discover BCS National Championship on Jan. 7.
"I'll be playing in the game," Jones said. "I'll be fine."
Jones' attitude toward his availability shouldn't come as much of a surprise. He could barely walk after the SEC title game, yet he was out on the field for most of game even after his first-quarter injury. Jones is one of the hardest workers around and if he could play on one foot against the Bulldogs, he'll do it again against Notre Dame if he has to.
While Jones is confident that he'll be ready to go for the BCS title game, Saban still doesn't know if wide receiver
Kenny Bell
will be able to play against the Fighting Irish. Bell broke his leg in the Crimson Tide's 49-0 win over Western Carolina on Nov. 17, but wore a black non-contact jersey during Tuesday's practice.
"I can't make a call as to whether he'll play or not," Saban said of Bell.
Having Bell back would give the Tide even more firepower on offense. He was quarterback
AJ McCarron
's top deep threat for most of the season, averaging 25.4 yards per catch this season.
Starting nose guard
Jesse Williams
also went through Alabama's first bowl practice with a black non-contact jersey on.