June, 18, 2012
6/18/12
12:00
PM ET
Daniel Jeremiah of NFL.com presented an interesting opinion last week regarding ex-Stanford quarterback
Andrew Luck
.
Jeremiah's take was that former Baylor quarterback
Robert Griffin III
, who bested Luck in the Heisman vote but was No. 2 in the draft to Luck's No. 1,
has more pressure on him than Luck does in 2012
.
He bases his opinion on the following reasons:
Griffin will be expected to lead his team to more victories.

The NFC East is far tougher than the AFC South.

RG3 is in a bigger media market.
[+] Enlarge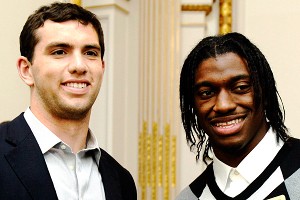 AP Photo/Richard DrewBoth top draft pick Andrew Luck, left, and No. 2 pick Robert Griffin III are under tremendous pressure.
Jeremiah adds a few final thoughts to his argument -- including the fact that RG3's presence actually takes the pressure off of Luck.
In my opinion, Robert Griffin III is the best thing that ever happened to Andrew Luck. Just nine months ago, it was widely thought that Luck would enter the NFL with more hype than any player in the last decade. Now, it's likely that he won't even receive the same attention in his rookie season as another quarterback in his own draft class. Sharing the spotlight with another player will help ease the pressure on Luck and allow him to focus on simply improving day by day.
To each his own, but the expectations for Luck are so ridiculously astronomical (not unlike last season) that it's going to be almost impossible for him to live up to them -- at least in the immediate future.
No one has labeled Griffin "the best quarterback to enter the draft since
Peyton Manning
" or "the best prospect since
John Elway
." Griffin is drawing comparisons to
Michael Vick
,
Luck to Elway
. All due respect to Vick -- but he doesn't belong in the same breath as Elway.
Luck has been handling the pressure for the past two years -- from Heisman expectations to his decision to return for another season. And maybe it's the aw-shucks way Luck handles the media that you never realize exactly how much pressure is truly on him.
And the fact that he has to follow Manning -- who will go down as one of the greatest to ever play the game -- adds an entirely different element of pressure that Griffin won't have to experience. Heavy lies the head of he who replaces
Rex Grossman
. Puh-lease.
Sometimes, guys are able to overcome that. See: Young, Steve. Others, not so much. See: Griese, Brian.
Jeremiah's points are all well-taken, specifically the NFC East being a tougher conference. No disputes there. But while Griffin might be expected to lead his team to more victories in 2012, Luck is expected to lead his team to more Super Bowl victories over the span of his career. And that pressure starts in Year 1.
Since 1993, four quarterbacks have been taken with the No. 2 overall pick: Griffin,
Donovan McNabb
(1999), Ryan Leaf (1998) and Rick Mirer (1993). In that same span, 13 quarterbacks have gone No. 1 overall. By default, being the No. 1 pick carries more pressure and loftier assumptions.
Both will face a heavy dose of scrutiny, and their careers will forever be linked because they were Nos. 1 and 2 in the draft. But Luck's top-pick status, the guy he's following in Indianapolis and the weighty expectations for a Hall of Fame career place a heavier burden on Luck's shoulders in 2012 and beyond.
February, 6, 2012
2/06/12
7:45
PM ET
We all love redemption stories, yes? It's satisfying when a jerk redeems himself by: 1. Admitting he was crossing the line; 2. Ceasing his questionable behavior.
Unfortunately, former Washington State quarterback Ryan Leaf's redemption from being a questionable player, for which he is seeking attention, is incomplete.
We know this because Leaf called Oregon State coach Mike Riley "an idiot" this past week as he tried to
drum up publicity for his new book
.
Said Leaf: "I know the Chargers made mistakes, but I made a bunch of mistakes myself, and I've got to take responsibility for that. I mean, Mike Riley is an idiot, but I can't do anything to change that. He wasn't supposed to be a head coach in the NFL. Why was he there?"
No. 1: I do not think Riley is an idiot. I've never heard Riley's intelligence called into question by anyone. And, by the way, I was there when he was
about to get fired by San Diego
.
No. 2: Leaf's intelligence — intellectual as well as emotional — has been called into question by just about everyone who has known him throughout his life, even by those who defended him, such as former Washington State coach Mike Price.
Leaf is not qualified to call someone an idiot. The life he has led, from an NFL bust, to blaming everyone but himself for being a bust, to pleading guilty to felony drug charges, to calling a truly nice guy an idiot, shows that his bulb continues to burn dimly. Saying such a thing so publicly only makes Leaf look crass and petty and juvenile.
Leaf told Kevin Acee of the San Diego Union-Tribune that he wants to pursue a career as a motivational speaker, particularly working with young people.
"I don't want anyone to ever feel how I felt," Leaf said. "I was just miserable. I wasn't happy with who I was."
So, Ryan, if Riley cared about your opinion, how do you think he'd feel about being called "an idiot"?
The problem with redemption is the person seeking it actually needs to be redeemed, and not just trying to get some attention so he can sell some books and maybe pick up an easy paycheck for a speaking engagement.