April, 4, 2012
4/04/12
1:30
PM ET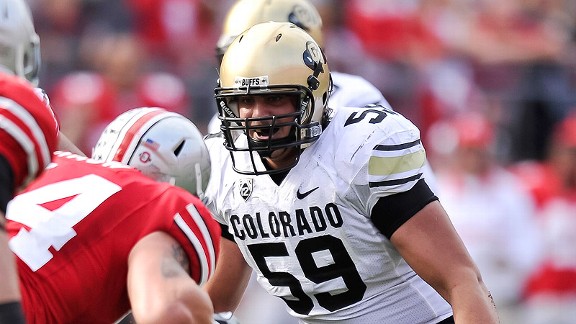 Jamie Sabau/Getty ImagesOffensive tackle David Bakhtiari has high expectations for the Buffaloes this season.
Receiver
Paul Richardson
is Colorado's best player. He's got Pac-12 speed, which the Buffaloes were sorely lacking in 2011. Coach Jon Embree's chief task in recruiting is to get more Paul Richardsons -- speedy guys for both sides of the ball.
But the rebuilding project in Boulder is going to require just as much
David Bakhtiari
as Paul Richardson. Bakhtiari, the Buffs' left offensive tackle, earned second-team All-Pac-12 honors in 2011 as a sophomore, the only Colorado player to get an All-Conference nod.
He's a want-to guy. A guy who talks about chemistry and a sense of urgency. A guy willing to lead. A guy who seems slightly bothered -- politely so, of course -- when a reporter notes the Buffs' significant holes heading into 2012.
Why should folks believe Colorado can improve on a 3-10 finish despite losing its top passer, top rusher and top-two receivers (Richardson missed four games due to injury)?
"There is definitely a sense of urgency that I can see from last year's team to this year's team," Bakhtiari said. "People are moving around with a purpose. They are buying into our common goal, which is a bowl game. We've decided we are tired of going home in December and watching all these games."
Bakhtiari has been impressed with QB
Connor Wood
, the Texas transfer who has the inside track to replace
Tyler Hansen
. He raves about RB
Tony Jones
, who will step in for
Rodney Stewart
. Stewart only led the Buffs in rushing four consecutive years and now ranks second on the school's all-time rushing list. And a healthy Richardson is the obvious choice to replace the receptions that departed with Stewart (45) and
Toney Clemons
(43).

But if the Buffs are going to improve, they are going to need to score more than 19.8 points per game, a total that ranked last in the Pac-12 in 2011. That starts with Bakhtiari and the O-line, which is replacing guards
Ethan Adkins
and
Ryan Miller
.
Offensive line coach Steve Marshall,
speaking to B.G. Brooks
, called Bakhtiari "probably was our most productive player (in 2011) game in and game out." He'll be protecting Wood's blindside as well as leading the charge for a rushing offense that needs to do better than 3.5 yards per carry and 109 yards per game.
Like most Colorado players, Bakhtiari was recruited by Dan Hawkins, a far softer touch than the demanding, straight-talking Embree. (Said Bakhtiari, "Embree is a little more, 'I want production and I'm going to get it.'"). Unquestionably, there was an adjustment to the change in styles in 2011. There was a lot less nurturing and a lot more barking at practices. And Embree isn't afraid to publicly question his players commitment to winning.
But there were hints of accord late last season between coaching staff and locker room. After a 1-9 start, the Buffs won two of their final three games, including a shocking and impressive 17-14 win at Utah, which knocked the Utes out of the Pac-12 title game.
"Guys are now understanding what these coaches want and how they want it to be," Bakhtiari said. "Last year, we were kind of chickens with our heads cut off."
That's a start. It's probably going to take a few more Richardsons and Bakhtiaris to get the Buffs into Pac-12 South Division contention. But that's a start.
August, 12, 2011
8/12/11
11:00
AM ET
It's time for our preseason All-Pac-12 team.
Feel free to disagree.

Offense

QB
Andrew Luck
, Stanford
RB
LaMichael James
, Oregon
RB
Chris Polk
, Washington
TE
David Paulson
, Oregon
WR
Juron Criner
, Arizona
WR
Jermaine Kearse
, Washington
OL Jonathan Martin, Stanford
OL Matt Kalil, USC
OL David DeCastro, Stanford
OL Ryan Miller, Colorado
OL Tony Bergstrom, Utah
K Erik Folk, Washingon
Defense

DE Nick Perry, USC
DT Alameda Ta'amu, Washington
DE Junior Onyeali, Arizona State
LB Vontaze Burfict, Arizona State
LB Shayne Skov, Stanford
LB Mychal Kendricks, California
LB Chase Thomas, Stanford
CB Cliff Harris, Oregon
CB Nickell Robey, USC
S T.J. McDonald, USC
S Delano Howell, Stanford
P Bryan Anger, California
PR Cliff Harris, Oregon
KR
Robert Woods
, USC
March, 11, 2011
3/11/11
4:24
PM ET
While Colorado's pre-spring "depth chart" -- players listed alphabetically in position groups -- isn't terribly informative, it does send a clear message: Nothing will be given; all starting jobs must be earned.
Oh, you have a pretty good idea that guys such as running back
Rodney Stewart
, offensive guard Ryan Miller, receiver
Paul Richardson
, defensive end Josh Hartigan and nose tackle Will Pericak -- among others -- are good bets to earn starting jobs.
But new coach Jon Embree is hoping to challenge returning starters and reserves alike with what figures to be a tough, physical spring that might weed out a few pretenders, starting Friday and running through the spring game on April 9.
And, really, considering that no first- or second-team All-Big 12 player is back, it's not like anyone should feel comfortable as the Buffaloes prepare for Pac-12 play.
What did Embree see when he watched the Buffaloes on film? Well, consider this rather stark pre-spring quote from the
Boulder Daily Camera
.
"What shows up to me on tape was we didn`t play hard," Embree said. "That`s really what showed up on tape. We let the scoreboard affect how we played way too much. Instead of focusing on the next play. You can`t look at the scoreboard. Your job is to beat the guy across from you that play no matter what happened good or bad before it."
Is there anything worse a football player can do than not play hard? The answer is no.
Some guys won't be able to play hard due to injury. Here's the list Embree
provided reporters
, per the Denver Post: offensive linemen Blake Behrens (shoulder), Mike Iltis (knee) and Maxwell Tuioti-Mariner (knee); defensive back Anthony Perkins (knee); fullback-tight end Matt Bahr (shoulder); and defensive end Chidera Uzo-Diribe (toe). Tailback
Brian Lockridge
(ankle) and DB Parker Orms (knee) will be limited. Iltis started at center and Bahr was the No. 1 utility back in 2010.
It doesn't appear that spring will be much about X's and O's. Scheme can wait. Embree wants to figure out who can play.
Here are some thoughts before things get started.
Quarterback
:
Tyler Hansen
, who is coming back from a ruptured spleen that ended his 2010 season, is the front-runner because he's got experience and has been productive at times. His competition, JC transfer Brent Burnette and redshirt freshman
Nick Hirschman
, have no experience.
Running back
: The big question is what's the pecking order behind Stewart, who rushed for 1,318 yards in 2010. At 5-foot-6, 175 pounds, it probably wouldn't be good for Stewart to get 25 carries per game over a 12-game season. A power-back complement would be a good thing. One possibility, redshirt freshman
Trea' Jones
, quit the team.
Receiver/tight end
: The Buffaloes are in pretty good shape here, with four of their top-five receivers back. UCLA
fans might remember
Paul Richardson. As a true freshman, he caught 34 passes and was second on the team with six TD receptions (both numbers would have led UCLA). Tight end
Ryan Deehan
earned honorable mention All-Big 12 honors after catching 25 passes, and there are some young guys who bring athleticism to the position.
Offensive line
: Tackle Nate Solder is gone but four starters are back from a group that was fairly mediocre in 2010. The Buffaloes gave up 21 sacks, which would have ranked fourth in the Pac-10, and rushed for 137 yards per game, which would have ranked eighth. The 3.65 yards per carry is pretty uninspiring.
Defensive line
: The Buffaloes will be using a base 4-3 after using a 3-3-5 in 2010, so there's a need to add bodies up front. Eight of nine players listed on the final depth chart are back, including Pericak, who earned honorable mention All-Big 12 honors, and Hartigan, who led the defense with seven sacks.
Linebacker
: Leading tackler Michael Sipili is gone as is B.J. Beatty, but Liloa Nobriga's work filling in for middle linebacker Jon Major, whose season ended after seven games with a knee injury, boosts experience at the position. The spring "depth chart" lists only eight lienbackers.
Defensive back
: This will be an area of hot competition, though injuries -- Perkins, Orms -- will be an issue this spring just like they were in 2010. Two cornerbacks spots are open due to the graduation of standouts Jimmy Smith and Jalil Brown, and the play at safety wasn't exactly stout last fall. You'd expect new coordinator and secondary coach Greg Brown -- formerly of Arizona -- to do some mixing and matching this spring.
February, 11, 2011
2/11/11
9:00
AM ET
Colorado is new to the Pac-12 but old to the Big 12, so it makes sense to check in with Big 12 blogger David Ubben to get his take on the state of the Buffaloes as they welcome new coach Jon Embree.
Just who are these Buffaloes? What are their strengths and weaknesses and how will they fit into the Pac-12, specifically the Pac-12 South?
We went looking for insights and Ubben obliged.
Ted Miller
: Well, David you -- and the Big 12 -- have to say goodbye to Colorado, with the Buffaloes looking to their future out West in the Pac-12. First of all, give Pac-12 fans a CliffsNotes description of the state of the program. Things haven't gone so well in Boulder lately. Why?
David Ubben
: Colorado is certainly in rebuilding mode as they kick off a new start under coach Jon Embree after firing Dan Hawkins in the middle of the 2010 season. They bring back two stars in quarterback
Tyler Hansen
and running back
Rodney Stewart
. But fitting those guys into Embree's new system and greatly improving from their 5-7 record seems like asking a lot.
Hawkins came to Boulder promising big things but never delivered. As for why it didn't go well? Any number of reasons. One that angered fans is Hawkins' tendency to play less talented players who knew the system well over more talented players that maybe didn't have as solid of a grasp of what they wanted to do on the field. Embree has said he'll do essentially the opposite, so I guess that's a start in the eyes of fans.
TM
: OK, let's look forward then. Tell Pac-12 folks about Embree, his new staff and the talent the Buffaloes have returning. What are strengths and what are question marks heading into the 2011 season?
DU
: He's stocked his coaching staff with quite a few Buffaloes, but most of the names would be more recognizable as players. The biggest name is his offensive coordinator, former Buffs great
Eric Bieniemy
, who spent the past few years coaching
Adrian Peterson
as the running backs coach at the
Minnesota Vikings
. They also swiped Bobby Kennedy, a Boulder native, from Texas to coach receivers.
Last year, they ran the ball pretty well, and Stewart is back. He's a small, shifty back that seems way, way underrated. He rushed for more than 1,300 yards last year, and the only Big 12 backs who had more were
Daniel Thomas
and
Kendall Hunter
, who should be drafted this year. They lose tackle Nate Solder, another first-round pick, but Ryan Miller is back, and he's an all-conference level guard.
The big question for them next season will be if their defense can stop the pass -- which my sources tell me, is pretty important in the Pac-12. Maybe not as important as in the Big 12, but still necessary for big success. Both corners from last year, Jalil Brown and Jimmy Smith, should be drafted. They weren't great at stopping the pass last year (9th in the Big 12) so it's hard to see them being better at it next year.
TM
: OK. Good stuff. Let's wind it up. How would you have projected them in the Big 12 next fall? And do you have any feeling for how they might do in the new Pac-12 South?
DU
: They definitely looked like a team in the bottom third of the Big 12 next year, and it seems like it'll be tough for them to finish in the top half of the Pac-12 South in 2011.
Right now, it's just about being competitive and maybe stealing a game or two that people didn't think they'd win. If that happens enough, a bowl game isn't out of the question. We don't have any idea what to expect out of an Embree-coached team, and that could be a good or a bad thing. We won't know for sure until next year, but if Embree can bottle up whatever Colorado had inside of them the way they played down the stretch last season after Hawkins was fired, it could be a real surprise 2011 for the Buffs.
January, 18, 2011
1/18/11
11:00
AM ET
After the season, we took a look back at the
players who had decisions to make about the NFL.
The deadline to make those decisions arrived on Saturday, and the results made one thing clear: We're in for a very strong Big 12 in 2011. Let's add it up:
Headed to the NFL:
Blaine Gabbert, QB, Missouri
Aldon Smith, DE, Missouri (sophomore)
Aaron Williams, CB, Texas
Staying in school:
Ryan Miller, OG, Colorado
Jared Crick, DT, Nebraska
Alfonzo Dennard, CB, Nebraska
Lavonte David, LB, Nebraska
Ryan Broyles, WR, Oklahoma
Travis Lewis, LB, Oklahoma
Justin Blackmon, WR, Oklahoma State
Brandon Weeden, QB, Oklahoma State
Jeff Fuller, WR, Texas A&M
Yes, Miller, Crick, Dennard and David are done playing in the Big 12, but Oklahoma, Oklahoma State and Texas A&M got huge announcements from stars ready to return in 2011. As a result, all three teams should be inside the top 15 at worst to kick off next season.
Had Smith and Gabbert joined them, Missouri could have been in the same group. The Tigers should be solid about everywhere else in 2011, but
finding a new quarterback could prove difficult.
Don't expect the Big 12 to exert the same kind of dominance in the first round of the NFL Draft this year as it did last year, but it should still have four first-round selections. Gabbert is the only underclassman from that group that also includes Nebraska cornerback Prince Amukamara, Texas A&M LB/DE Von Miller and Colorado tackle Nate Solder.
The Big 12 had six early entrants last season.
More interesting is the Big 12's number of early entrants in 2011 compared to the rest of the country:
SEC - 14
ACC - 10
Pac-10 - 8
Big Ten - 7
Big East - 5
Big 12 - 3
Will that mean a big 2011 for the league in a year that it needs some balance at the top from teams not named Oklahoma or Texas?
Could be.
December, 16, 2010
12/16/10
12:00
PM ET
Third-year players -- juniors and redshirt sophomores -- have until Jan.17 to declare their intentions to enter the 2011 NFL draft, and a number of Pac-12 players are likely to do so.
USC
already has lost two
: Defensive tackle Jurrell Casey and offensive tackle Tyron Smith.
Many of the upcoming decisions -- both to stay or to go -- are going to be surprises. Some certain early draft picks opt to return for whatever reason, including the fact that they will never -- ever -- have as much fun as they did in college. And a handful of obscure players annually decide to enter the draft for whatever reason, including getting bad advice from a know-it-all "acquaintance" who doesn't know a darn thing.
This will not turn out to be a complete list. And our speculation is intentionally vague because it can be nothing else: We don't know what's going on inside these young men's heads.
Note: Though some players have indicated they plan to return, they are included here because, well, you never know -- they might change their minds.
You can review
Mel Kiper's "junior" rankings here
.
Arizona
QB Nick Foles, Jr.:
Foles would benefit from returning for his senior year and could improve his stock considerably. But his knee injury this year and questions about the Wildcats' offensive line might give him pause.
WR Juron Criner, Jr.:
Criner is the best receiver in the country few folks have heard of, but he might want to look at this year's receiver class, which is loaded.
CB Trevin Wade, Jr
.: Wade needs to return for his senior season after taking a step back as a junior.
Arizona State
CB Omar Bolden, Jr
.: Bolden rejuvenated his career this fall, earning first-team All-Pac-10 honors. He also knows what it's like to get hurt and miss a season. The Sun Devils could break through in 2011, and that could greatly benefit his status.
DT Lawrence Guy, Jr
.: The general thinking is Guy wants to return for his senior season. He faces a tough choice.
California
RB Shane Vereen, Jr.:
Mel Kiper ranks Vereen No. 5 among junior running backs. The Bears' questionable supporting cast on offense next year might sway him to the pros.
OLB Mychal Kendricks, Jr
.: Lots of potential, but he's not ready.
Colorado
OG Ryan Miller, Jr
.: Miller has already said he plans to return next fall, though Kiper ranks him No. 2 among junior guards.
Oregon
RB LaMichael James, RSo
.: Kiper ranks James as the No. 3 "junior" running back. The Ducks' first unanimous All-American must choose between college glory -- Heisman Trophy, (another) national championship -- or getting paid now. Probably won't get picked until the second round because of size and middling skills as a receiver, but his top-end speed is enticing.
TE David Paulson, Jr.:
Kiper ranks him No. 4 among junior tight ends. Good bet to return.
Oregon State
RB Jacquizz Rodgers, Jr
.: Rodgers has indicated he plans to return because his brother, James, is likely to get a fifth year via medical hardship because of a knee injury this past season. But Beavers fans are rooting for it to be Jan. 18.
WR James Rodgers, Sr.:
It's likely the Rodgers are a package deal: Both stay or both go.
Stanford
QB Andrew Luck, RSo.:
If he enters the draft, he's almost certain to be the No. 1 overall pick. More than a few folks, however, believe he's seriously considering a return for his junior year, particularly if coach Jim Harbaugh remains at Stanford. We'll see.
UCLA
LB Akeem Ayers, Jr
.: Odds are that Ayers will enter the draft. A likely first-round pick.
FS Rahim Moore, Jr.:
Odds are that Moore will enter the draft. A likely first-round pick.
USC
DL Armond Armstead, Jr
: Armstead has said he plans to return. He should. A healthy season could send his stock skyrocketing.
Utah
CB Brandon Burton, Jr
.: Burton, second-team All Mountain West, is No. 5 on Kiper's list of junior corners. He's definitely on the NFL radar.
OT Tony Bergstrom, Jr.:
It would make sense for the second-team All Mountain West player to return for his senior year.
Washington
WR Jermaine Kearse, Jr
.: Kearse is highly productive but dropped a few too many balls this year. While he'd benefit from another year, he might be worried about the Huskies breaking in a new quarterback.
RB Chris Polk, RSo
: Polk eclipsed the 1,000-yard mark for a second consecutive season. He's admitted that entering the draft is a possibility.
Washington State
DT Brandon Rankin, Jr.:
It would be wise for Rankin to return for his senior season.
August, 10, 2010
8/10/10
10:00
AM ET
1. Texas:
Texas' big-time freshmen receiving recruits Darius White and Mike Davis are on campus to compete with the remainder of the Longhorns receivers after the departures of Jordan Shipley and
Dan Buckner
. Whoever develops solid chemistry with quarterback
Garrett Gilbert
first should have a nice advantage heading into the season. Very few questions surround the Longhorns on defense, who also have exciting freshman Jordan Hicks competing for playing time at linebacker.
2. Oklahoma:
Honestly, my gut tells me to slide the Sooners above the Longhorns based on
coach Bob Stoops comments at media days
, but I'll give the champs their due entering the preseason. Oklahoma loses its top three blockers from a season ago, and any growth from Oklahoma's eight-win team last season will have to start on the offensive line. Stoops believes it will. If it does, look for the Sooners and Longhorns to switch positions if Oklahoma earns wins against Florida State and Cincinnati while Texas beats up on Rice and Wyoming. A convincing win at Texas Tech might keep the Longhorns on top.
3. Nebraska:
The Huskers quarterback issues can't end soon enough. The Big 12 blog's pick:
Zac Lee
. With its offensive line and quality running backs, Nebraska will be able to run the ball. If Lee can establish himself as the best passer of the group, his skills will better serve the offense than the more athletic
Cody Green
and
Taylor Martinez
. We won't know very much about how good the defense will be again this year until the Huskers' date with
Jake Locker
and the
Washington Huskies
on Sept. 18 in Seattle.
4. Missouri:
A solid contender in the North, Missouri's key to hopping over the Huskers lies in the secondary. That group returns all four starters and has another experienced player in junior Kenji Jackson entering camp as a new starter at safety. If it solidifies, Missouri will be a force that spends most of the season in the top 25.
Jerrell Jackson
and
Wes Kemp
should share the spotlight catching balls from
Blaine Gabbert
along with slot man
T.J. Moe
and tight end
Michael Egnew
.
5. Texas A&M:
The Aggies have
the conference's best player
, but its worst defense. Both will need to improve for the Aggies to earn a South title. On defense, new defensive coordinator Tim DeRuyter will have to build around tackle Lucas Patterson, linebacker Von Miller and safety Trent Hunter. Three freed-up offensive line spots -- which might all be filled by freshman -- will have to be solid and consistent for the offense to remain one of the Big 12's best, despite the Aggies' talent at the skill positions.
6. Kansas State:
Running back
Daniel Thomas
led the Big 12 in rushing with almost no help from the quarterback spot last season, so the competition between
Carson Coffman
,
Collin Klein
and
Sammuel Lamur
isn't immensely important to Kansas State's success. No doubt, they'll be a lot better with great play from one of those three, but they won't be a bad team without it. Two of the Wildcats' top four tacklers will be junior defensive backs in 2010, Emmanuel Lamur and Tysyn Hartman.
And yes, I am very proud that I'm still batting 1.000 in not mixing up Sammuel and Emmanuel Lamur. Stay tuned, though.
7. Texas Tech:
The Red Raiders have a great chance to move up this poll after hosting Texas on Sept. 18. Whoever wins the quarterback competition between
Taylor Potts
and
Steven Sheffield
should excel, which not every team in the Big 12 with a quarterback battle can say. Tech's aggressive new defense will have to limit big plays to see success in the first year under coach Tommy Tuberville and defensive coordinator James Willis. A convincing opening-week win against SMU will look better in December than some Tech fans might think after the team's Sunday, Sept. 5 debut.
8. Oklahoma State:
One of the conference's wildcards, the Cowboys bring back just eight starters from last season, and will showcase a radical new offense in Dana Holgorsen's version of the Air Raid. Oklahoma State's receiving corps, led by
Hubert Anyiam
and
Tracy Moore
, is extremely underrated and could surprise plenty of folks in 2010. Their first real test comes Sept. 30, when they'll get a chance to knock off media darling Texas A&M in Stillwater.
9. Iowa State:
The Cyclones nonconference schedule has made plenty of headlines this offseason, and Iowa State isn't shying away from its dates with Northern Illinois, Iowa and Utah. The legal issues surrounding defensive star
David Sims
appear to be resolved with an opening-game suspension, and running back
Alexander Robinson
looks ready for another big season after rushing for over 1,000 yards in his 2009 breakout season. Iowa State will need to steal a few games like last season to qualify for a second consecutive bowl game.
10. Baylor:
Freshman safety Ahmad Dixon is impressing early in camp with a few big hits, and is making good on his status as one of the best recruits in Baylor history. Another -- Robert Griffin -- is already dealing with the pressures of delivering a bowl game to Waco. Coach Art Briles will need more players like Dixon and Griffin to move the Bears goals past just making a bowl game.
11. Colorado:
The only team to move up from its position in
the post-spring power rankings,
Colorado simply brings back more talent than Kansas, and added two new receivers in UCLA non-qualifier Paul Richardson and
Travon Patterson
, whose transfer from USC was finalized on Monday. The offensive line has a lot of talent in Nate Solder and Ryan Miller, but the other three members will have to improve if the Buffs are going to rush for more than 1,055 yards like in 2009 (11th in the Big 12) and give up fewer than 43 sacks, 11 more than any other team in the Big 12.
12. Kansas:
Losing your three best players from a team that finished last in the Big 12 North a season ago -- plus implementing a new coaching philosophy -- is a recipe for a rebuilding year. That's where the Jayhawks sit to begin 2010. They've got good young talent in linebacker Huldon Tharp and receiver
Johnathan Wilson
, who are both sophomores, but they face major questions at quarterback with inexperienced candidates
Jordan Webb
and
Kale Pick
battling for the No. 1 spot. Last season's leading rusher,
Toben Opurum
, is also nowhere to be found on the depth chart after battling injuries throughout the spring. The Jayhawks were the only team in the conference to return all five starters on the offensive line, but
a season-ending injury to tackle Jeff Spikes
eliminated that status. Brad Thorson, who played both guard and tackle last season, is also recovering from a broken foot. A win against Southern Miss and a competitive loss to Georgia Tech would earn the Jayhawks some more respect.
July, 22, 2010
7/22/10
11:44
AM ET
The Big 12 announced its preseason award winners and All-Big 12 team Thursday. Here's who's on the list:
Offensive Player of the Year:
Jerrod Johnson
, QB, Texas A&M
Co-Defensive Players of the Year:
Jared Crick, DT, Nebraska; and Von Miller, LB, Texas A&M
Newcomer of the Year:
Toney Clemons
, WR, Colorado
Offense
QB: Jerrod Johnson, Texas A&M
RB:
DeMarco Murray
, Oklahoma
RB:
Daniel Thomas
, Kansas State
WR:
Ryan Broyles
, Oklahoma
WR:
Jeff Fuller
, Texas A&M
TE:
Mike McNeill
, Nebraska
OL: Ryan Miller, Colorado
OL: Nate Solder, Colorado
OL: Tim Barnes, Missouri
OL: Tanner Hawkinson, Kansas
OL: Stephen Good, Oklahoma
OL: Kyle Hix, Texas
PK: Alex Henery, Nebraska
KR:
Cyrus Gray
, Texas A&M
DEFENSE
DL: Aldon Smith, Missouri
DL: Jared Crick, Nebraska
DL: Jeremy Beal, Oklahoma
DL: Sam Acho, Texas
LB: Travis Lewis, Oklahoma
LB: Von Miller, Texas A&M
LB: Keenan Robinson, Texas
LB: Brian Duncan, Texas Tech
DB: Prince Amukamara, Nebraska
DB: Aaron Williams, Texas
DB: Quinton Carter, Oklahoma
DB: Blake Gideon, Texas
DB: Curtis Brown, Texas
P: Derek Epperson, Baylor
PR: Ryan Broyles, Oklahoma
A few notes/thoughts from the team:
Only three players were unanimous selections: Jared Crick, Travis Lewis and Jeremy Beal. Other guys I'm surprised didn't earn that distinction: Ryan Broyles at receiver, Aaron Williams and Nate Solder.
Ties at linebacker, defensive back and offensive line forced the conference to make room for an extra spot.
The media's opinion of DeMarco Murray is somewhat divided, so I was a little unsure who would nab the second spot on the ballot. I'd be interested to see how close it was between him, Roy Helu, Kendall Hunter and Alexander Robinson.
Home run selection of Toney Clemons as Newcomer of the Year. If I'm guessing, the fact that he was the No. 1 pick in Colorado's spring game helped him earn this honor. An action like that by players speaks pretty loudly.
I definitely prefer football over basketball in these situations, which doesn't have to deal with freshmen on the preseason all-conference team.
I'm interested in how close the vote was between Missouri's Grant Ressel and Nebraska's Alex Henery. Henery's punting skills make him the clearly more valuable player, but talking strictly place-kicking, it's pretty close, and Ressel's additional accuracy is quantifiable.
Here's the list breakdown by team:
1. Oklahoma - 7
2. Texas - 6
3. Nebraska - 4
3. Texas A&M - 4
5. Missouri - 2
5. Colorado - 2
7. Baylor - 1
7. Kansas - 1
7. Kansas State - 1
7. Texas Tech - 1
11. Oklahoma State - 0
11. Iowa State - 0
March, 17, 2009
3/17/09
12:05
PM ET
Posted by ESPN.com's Tim Griffin

Luck is part of football success, sometimes as important a part of winning as corned beef, cabbage and green beer are to St. Patrick's Day.
Here are several Big 12 coaches and players who could stand to benefit from an extra four-leaf clover or two to improve their good fortune this season.
Dan Hawkins, Colorado: No Big 12 squad faced more injuries last season than Hawkins' Buffaloes. Losses in the offensive line to Ryan Miller and Maxwell Tuioti-Maxwell and Rodney Stewart's broken fibula helped cripple the Buffaloes' title hopes. Another similar run of injuries could put Hawkins' job in jeopardy.
Sam Bradford, Oklahoma: A veteran offensive line helped power Bradford to the Heisman Trophy last season. How much different will it be in 2009 with four new starters along the offensive line? Bradford hopes he won't have too much green in the form of grass stains on his jersey from opposing team's hits, as his young protectors must grow quickly into their new roles.
Art Briles, Baylor: The only coach in the conference who makes green part of his game-day garb could use some good fortune to hope nothing happens to Robert Griffin. If Griffin can stay healthy and productive, the Bears can contend for a bowl berth. If not, it will be another long season in Waco.
Jordan Shipley, Texas: Injuries have cost him two seasons of eligibility. When healthy, he plays like one of the most explosive wide receivers in the nation. He will be particularly important this season as Colt McCoy's veteran receiving threat and a potential kick-return menace every time he touches the ball. Just ask Oklahoma.
Barry Turner, Nebraska: The Cornhuskers' top pass-rushing weapon sustained a broken leg in the second game last season and missed the rest of the season. His return and good health could provide a much-needed outside pass-rushing threat for the Cornhuskers and take some of the double-team pressure away from massive defensive tackle Ndamukong Suh.

October, 2, 2008
10/02/08
3:39
PM ET
Posted by ESPN.com's Tim Griffin
| | |
| --- | --- |
| | |
| | Brian Bahr/Getty Images |
| | Texas' Brian Orakpo is second in the nation with 5.5 sacks. |
Continued work with jabs, uppercuts and roundhouse punches this summer have helped spark Texas defensive end Brian Orakpo's monster senior season so far.
Orakpo and Texas defensive tackle Lamarr Houston pulled out the speed bags and labored in a boxing regimen that helped both build explosiveness and endurance.
The work has paid off handsomely so far as Texas leads the nation with 16 sacks and Orakpo is second nationally with 5.5 sacks.
"When I first started, I didn't know how hard it was," Orakpo told reporters earlier this week. "Street fighting and boxing are two different things."
And although they never had a full sparring session, Houston was impressed with Orakpo's talent in the ring.
"Rak is a big, strong guy," he said.
That he is. The 6-foot-4, 260-pounder has made a successful comeback from knee surgery that caused him to miss much of last season to emerge as one of the nation's most dominant pass-rushing threats.
"I really feel like I'm at the top of my game and where I've always wanted to be," Orakpo said. "The setback put me back for a long time. I worked really hard to push myself to get back into condition in a lot of different ways. I think I'm even more stronger and flexible than I was before."
September, 17, 2008
9/17/08
10:09
AM ET
Posted by ESPN.com's Tim Griffin
Kansas quarterback Todd Reesing probably would have liked to have gone unnoticed after his team's loss to South Florida last week.
He just didn't realize it would really happen when he got back home to Lawrence after the game.
Lawrence Journal-World columnist Tom Keegan recounts an interesting tale that took place earlier this week in preparation for his newspaper's "On the Street" column. The newspaper poses a question at random to five Lawrence residents whom they meet on the streets.
Journal-World reporter Robert Riley was walking down Massachusetts Avenue Monday afternoon asking respondents their opinion about the Jayhawks' loss at South Florida three days prior. Riley originally planned to pose a question about the stock market collapse, but that produced little passion among respondents.
So the football question was asked, first to a normal-looking college student who was waiting for a couple of his friends to leave a store.
Here's the way Riley relayed the conversation to Keegan.
Riley: "Has the KU football team's recent loss shaken your faith in the team?"
Student: "I sure hope not."
Riley: "Why's that?"
Student: "I'm on the team."
Riley: "What position do you play?"
Student: "I'm the quarterback."
It turns out that Riley was asking the questions of Reesing, who ended up as the first answer in Riley's column on Tuesday morning.
"I thought it was more funny than anything," Reesing told Keegan, laughing at the memory. "I don't even know what to say. It was a funny thing, though. I was trying not to laugh too hard. He was pretty cool about it."
Here are some other links from across the conference this morning.
August, 26, 2008
8/26/08
11:24
AM ET
Posted by ESPN.com's Tim Griffin
The Big 12 featured its top collection of talent last season with eight conference players selected to consensus All-America teams. It might be even more pronounced this season with another strong cast back.
Here's my list for all-conference players before the season:
OFFENSE
QB: Chase Daniel, Missouri
RB: Marlon Lucky, Nebraska
RB: DeMarco Murray, Oklahoma
WR: Michael Crabtree, Texas Tech
WR: Jeremy Maclin, Missouri
TE: Chase Coffman, Missouri
T: Phil Loadholt, Oklahoma
T: Ryan Miller, Colorado
G: Duke Robinson, Oklahoma
G: Louis Vasquez, Texas Tech
C: Jon Cooper, Oklahoma
K: Jeff Wolfert, Missouri
KR: DeMarco Murray, Oklahoma
DEFENSE
DE: Auston English, Oklahoma
DT: George Hypolite, Colorado
DT: Gerald McCoy, Oklahoma
DE: Ian Campbell, Kansas State
LB: Mike Rivera, Kansas
LB: Joe Mortensen, Kansas
LB: Sean Weatherspoon, Missouri
CB: Chris Harris, Kansas
CB: Jamar Wall, Texas Tech
S: William Moore, Missouri
S: Nic Harris, Oklahoma
P: Justin Brantly, Texas A&M
PR: Jeremy Maclin, Missouri
August, 19, 2008
8/19/08
3:55
PM ET
Posted by ESPN.com's Tim Griffin
| | |
| --- | --- |
| | |
| | Ronald Martinez/Getty Images |
| | Oklahoma's Duke Robinson is the Big 12's best offensive lineman. |
They were famously called "the big uglies" by veteran ABC-TV play-by-play announcer Keith Jackson over the years. But there's nothing unbecoming about the group of Big 12 offensive linemen who dominate in the trenches.
Here's my group of the conference's 10 best offensive linemen heading into the upcoming season.
1. Oklahoma G Duke Robinson: Could have made a lot of money by turning pro last season after grading out at 85 percent in 2007. But is poised to be a No. 1 NFL draft pick with a big senior season.
2. Oklahoma T Phil Loadholt: Dogged at times by inconsistency, but still the biggest, baddest offensive tackle in the league.
3. Texas Tech G Louis Vasquez: Started 24 games in his career. Has emerged as anchor of the Red Raiders' line that allowed only 18 sacks last season.
4. Colorado T Ryan Miller: Had bang-up season as a freshman last year and should be poised for even more after earning most-improved honors from his coaches over the spring.
5. Texas Tech T Rylan Reed: Might be ranked a tad low, although he's coming off major ankle surgery after his injury in the Gator Bowl. Former pitcher in the Chicago White Sox organization who has beaten cancer and broken the school's bench-press record.
6. Missouri T Colin Brown: Former walk-on who emerged as Tigers' most consistent blocker last season on a line with two four-year starters.
7. Texas G Derrick Dockery: Struggled at times since 2006 season, but could be poised for a monster senior season.
8. Oklahoma C Jon Cooper: Started 29 games in his career, leading Sooners with 798 plays and 136 knockdowns last season.
9. Nebraska G Matt Slauson: Most experienced Cornhusker offensive lineman started at right guard and both tackle spots last season.

10. Texas G-T-G Chris Hall: The conference's most versatile offensive lineman after starting at least one game at every interior line spot last season, including four at left guard. He's likely slated for center this season, but in a pinch could fill in almost anywhere.