August, 21, 2013
8/21/13
11:00
AM ET
Changing the perception of a league is no easy task. And for the Pac-12, bucking its offense-first image may never happen.
As long as Oregon keeps gobbling up points by the minute and yards by the mile; as long as Rich Rodriguez does what RichRod does and there are Air Raids and Bear Raids about, offense will always be associated with the Pac-12. As long as De'Anthony Thomas and Marion Grice can score from anywhere; as long as Marqise Lee keeps turning a 4-yard slant into an 80-yard touchdown; as long as Ka'Deem Carey is running wild and Marcus Mariota and Brett Hundley are burning up stat sheets, Pac-12 defenses will continue to be overshadowed.
And yet …
[+] Enlarge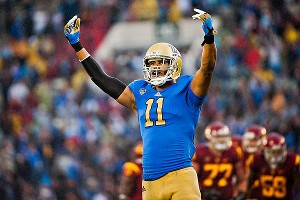 Jonathan Moore/Getty ImagesUCLA linebacker Anthony Barr leads an impressive group of defenders in the Pac-12.
"I would love to see an all-star game with our conference's defensive players on the same team," said Stanford coach David Shaw. "I think it would be phenomenal, and scary. Anthony Barr is borderline unblockable. Will Sutton gets in the backfield seemingly every play, single block, double block, whatever. Morgan Breslin, Sutton and Ben Gardner on the line and Shayne Skov sideline to sideline with Barr coming off the edge.
"Maybe we're getting to a golden era for defensive players in this conference because you've got good defensive units and some really elite standout players."
Last season, five Pac-12 teams ranked in the top 15 nationally in sacks per game including Stanford (first), Arizona State (second), USC (fourth), UCLA (eighth) and Washington State (14th). That's up from three teams in the top 20 in 2011, two teams in the top 20 in 2010 and zero teams in the top 10 in 2009.
ASU and Stanford were first and second, respectively, in tackles for a loss per game, and WSU and USC ranked in the top 11. It's a given that a lot of points will be scored in the Pac-12. But defenses are making it tougher.
"It's been an interesting evolution," said Oregon State coach Mike Riley, the dean of the Pac-12 who is entering his 13th season. "What you're seeing is a premium on speed and guys with a lot of flexibility. There are still big people that need to play on the interior. But your edges -- if you're going to lead the league in sacks -- then having a great edge rusher is always at a premium."
Guys like the aforementioned Barr, Sutton and Breslin, Stanford's Trent Murphy, Oregon State's Scott Crichton, Cal's Deandre Coleman and ASU's Carl Bradford are in that conversation. All of them are expected to rank among the nation's best in sacks and TFLs. That should make for a heated debate when picking the league's defensive player of the year.
And who says it will be someone from the front seven? Four Pac-12 teams were among the top 20 in interceptions last year, and Oregon led the country. The Ducks have the nation's best cornerback duo with Ifo Ekpre-Olomu and Terrance Mitchell, while Stanford boasts the outstanding safety tandem of Ed Reynolds and Jordan Richards. Oregon State's Ryan Murphy, USC's Dion Bailey and WSU's Deone Bucannon are also elite safeties.
Washington might have the best young defensive player in the league in Shaq Thompson.
"You can have a high-powered offense that puts up big points, but if you can't stop anybody, it's anyone's game," said Sutton. "With a great defense, you can accomplish anything."
Those who follow the league know there have been great defenses in the past. Washington in the early '90s and Arizona's Bear Down defense come to mind. Behind all of USC's Heisman quarterbacks a decade ago were outstanding defenses.
"I think what we're starting to see is the individual players and coordinators starting to get some notoriety," said Shaw, whose team ranked fifth nationally against the run last year -- an amazing statistic considering the running backs they faced in 2012. "When Oregon started being really good and scoring a ton of points, people didn't realize they were keeping people from scoring too and playing great defense. To this day I still think they have the most underrated defensive coordinator [Nick Aliotti] in the country."
One of the major challenges of being a defensive coach in the Pac-12 is the diversity of offenses. Oregon's spread is considered run-based, yet the Ducks had the most efficient passing attack in the league. Arizona's spread is considered pass-based, yet its running back led the nation in rushing. Stanford is considered "conventional" with its pro-style, but it'll use personnel groups with seven offensive linemen.
"I don't even know what pro-style means anymore," said UCLA coach Jim Mora. "The perceptions are distorted. You can break down a spread offense or a pro-style and they'll have the same route concepts. There are only so many. But the formations are different. The personnel is different. The motion before the snap is different. The league has so many speed athletes so one of the reasons we play a 3-4 is to get more speed athletes on the field."
It's time, says Bucannon, to let rest of the country know the Pac-12 can play a little defense, too.
"We have fast, up-tempo teams and marquee offensive players. At the same time, there are some great defensive players on that side of the ball," he said. "And we refuse to be overshadowed."
June, 14, 2013
6/14/13
1:00
PM ET
If the Dictionary of Phrases needs a demonstration of what "cautiously optimistic" sounds like, they might want to chat with Mark Banker about his Oregon State defense.
He makes a good case for optimism. And he's got reasons to be cautious.
It must be first said that Banker probably feels a lot better than he did a year ago when Beavers fans were doubting him, despite a distinguished track record of consistent success, both on the field and in terms of transforming under-the-radar recruits into NFL draft choices.
[+] Enlarge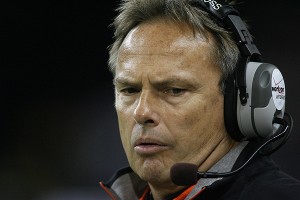 Jesse Beals/ Icon SMIDefensive coordinator Mark Banker is optimistic the Beavers can continue the growth they showed last season, when they ranked second in the Pac-12 and 22nd in the nation, giving up 20.6 points per game.
Yet after consecutive losing seasons in Corvallis, Banker and head coach Mike Riley were on the spot. The 2011 Beavers ranked seventh in the Pac-12 in scoring defense, surrendering 30.8 points per game, and they often were pushed around, yielding a conference-worst 196.8 yards rushing per game.
Few units in the Pac-12 improved as much as the Beavers' defense from 2011 to 2012. Last fall, the Beavers ranked second in the Pac-12 and 22nd in the nation, giving up just 20.6 points per game, a 10.2-point per game improvement. They also ranked third in run defense, holding foes to 129.5 yards per game in a conference with a lot of good running backs.
The difference? Better players, experience, staying healthy and a rejiggered defensive staff, says Banker.
As to what he sees for 2013, he said, "This group is more than capable."
He likes his defensive ends,
Dylan Wynn
and All-American candidate
Scott Crichton
. He's got two speedy, experienced outside linebackers in
Michael Doctor
and
D.J. Alexander
. Three of four starters are back from a secondary that yielded just 14 touchdown passes last fall.
And yet.
He's replacing his middle linebacker
Feti Taumoepeau
, as well as do-everything backup
Rueben Robinson
. All-American cornerback Jordan Poyer is now playing for Chip Kelly in Philly. And he's got 644 pounds missing in the middle of his defensive line with the departure of tackles
Castro Masaniai
and
Andrew Seumalo
.
Let's start with the optimism. Banker loves underrated free safety
Ryan Murphy
.
"He can really play -- he's got the greatest chance of being drafted in a high position," Banker said. "He'll be one of the, if not the best, safety we've ever had here as this thing plays out. I hope I don't jinx him."
Further, he feels like he's got a pretty good competition for replacing Poyer, with experienced senior
Sean Martin
and talented junior college transfer Steve Nelson in a tight battle for the starting job, with the No. 2 guy likely filling a nickel role.
Banker likes true sophomore
Joel Skotte
stepping into the middle linebacker spot. While Skotte, who saw significant special teams action last season, isn't yet there physically, he's a smart player, the kind of guy who won't make mental mistakes in the middle of the Beavers' defense.
Further, the position isn't as critical to the Beavers' defense as it was in the past, because eight conference teams run no-huddle spread offenses.
"The basis of what we have to have at that position, [Skotte] has," Banker said. "But at the same time, with so many different spread types of offenses, we're in our sub packages quite a bit."
Which means Doctor, who made great strides in 2012, moves into the middle.
Banker admits some frustration trying to get Alexander in the right place to maximize his athletic potential. There were plenty of feast or famine moments with the speedy rising junior in 2012. Great plays followed by mental errors.
"There were quite a few times last year we'd take him out to let him know, No. 1, it's not acceptable and, No. 2, so we could get him squared away in the mental aspect of the game," Banker said.
Then there are the voids at defensive tackle. You can almost feel Banker rubbing a rabbits foot through the phone line.
"We're not so much uncertain, but we're not satisfied with our defensive tackle play," Banker said.
The Beavers welcome back reserves
Mana Rosa
and
John Braun
, but four junior college signees are expected to compete for the starting spots.
Edwin Delva and Siale Hautau both participated in spring practices. Hautau, however, broke his hand and missed most of the action, and Delva has a ways to go.
Kyle Peko
,
Charlie Tuaau
and
Lyndon Tulimasealii
are scheduled to arrive for fall camp, but Banker sounded a cautionary note about all three being squared away academically.
"All three have significant work that they are doing in the classroom that they need to become eligible," he said.
The hope is that, of the tackles who do make it to camp, at least two will be Pac-12 ready. And maybe one or two others can adequately take up space.
"That's the biggest thing that I'm curious about: Where do they start? Where's the bottom? I hope they don't start down too low," Banker said.
Banker likes what he knows about his defense. And has his fingers crossed hopefully over what he's yet to find out.
May, 10, 2013
5/10/13
12:00
PM ET
While so much of the attention on Oregon State this spring has been on the quarterback competition -- one of the most intriguing in the nation between
Sean Mannion
and
Cody Vaz
-- there are other critical position battles.
And the one at cornerback might even be of greater importance.
Post spring,
Sean Martin
sits atop the depth chart at left corner, opposite returning starter
Rashaad Reynolds
on the right side. This position is of great interest because it was formerly held by the departed Jordan Poyer -- one of the school's top secondary players of all-time who sits fourth on the school's career interceptions list with 13.
[+] Enlarge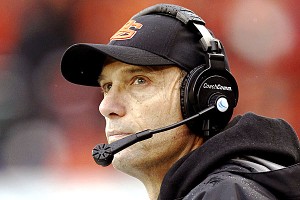 AP Photo/Don Ryan"I'm not ready to say which one of them is going to come out of the fold as 'the starter,'" Oregon State's Mike Riley said of cornerbacks Sean Martin and Steven Nelson.
Pushing Martin is junior college transfer Steven Nelson -- who was rated by one service as the No. 2 JC cornerback in the country.
But head coach Mike Riley isn't approaching it with the thought that one will be a starter and one will be a backup. If all goes according to plan -- it's likely we'll see them on the field at the same time.
"That competition is good for the Beavers because my goal out of this thing is that both of these guys become bona fide starters," Riley said. "They both won't necessarily start on first down, but if they proceed to grow as we've seen them through their competition in the spring, then you'll see them both playing together a lot. Third-down defenses, nickel or dime. We actually need both of them to be considered as starters."
He says that with the caveat that he's not ready to say which one has pulled ahead in their competition. Spring depth charts offer a little insight, but not nearly enough to pass judgment.
Once a commit to Georgia, Nelson comes to Oregon State from the College of Sequoias in California, and has spent the spring playing catch up. Martin, however, started three games last year -- twice as a nickel and one at corner against Arizona State when Poyer was out with an injury. After missing the majority of 2011 with a broken foot, Martin bounced back in 2012 to register 43 tackles, two interceptions and three pass breakups.
Martin's experience might be what keeps him atop the depth chart -- at least for now.
"I think Sean Martin has improved dramatically in the course of two years here and I think Steven has all the athletic tools to be a corner in our league and be a good player," Riley said. "He needs to learn more and more about what we do and how he fits into that, but I think he's very conscientious and I think he'll make that move. I think this has all been very good."
After a rough 2011, where the Beavers ranked 104th in pass-efficiency defense, they bounced back and were 20th nationally last year. After giving up 28 passing touchdowns in 2011, they cut that number in half to 14 in 2012. Poyer was a huge part of that, hauling in seven of OSU's 20 interceptions last season.
With Reynolds (25 career starts) on the other side and returning safeties
Tyrequek Zimmerman
(13 starts) and
Ryan Murphy
(15 starts), the secondary should again be solid with just the one hole to fill.
But Riley isn't as concerned with finding one guy who can step in for Poyer as he is developing them to work together in unison.
"I'm not ready to say which one of them is going to come out of the fold as 'the starter,'" Riley said. "But my goal is for both of them to be ready to play and be good, solid players in the fall."