NCF Nation:

Ryan Perrilloux
November, 1, 2011
11/01/11
8:00
AM ET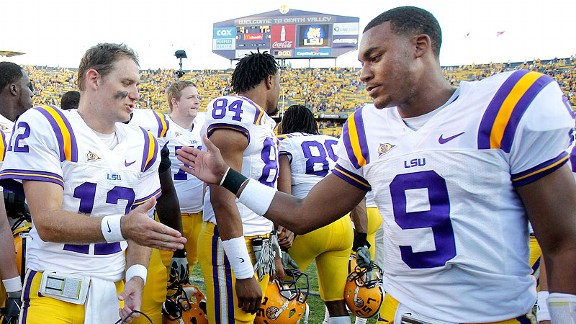 AP Photo/Bill HaberLSU's QB combination of Jarrett Lee (12) and Jordan Jefferson (9) has been efficient and effective.
BATON ROUGE, La. -- Les Miles has been down this two-quarterback road before.
It's not always ideal, but if run correctly, it can cause headaches for defenses and bring jubilation to an offense.
In 2007, Miles used it to near-perfection at times and won a national championship. Matt Flynn was the prototypical drop-back quarterback and grabbed the majority of the snaps, playing in 12 games, while the more athletic and agile Ryan Perrilloux played the part of the change-of-pace QB. He also played in 12 games.
When Flynn dealt with injuries, Perrilloux filled right in. His most notable play came in the SEC title game against Tennessee, when he replaced the injured Flynn and passed for 243 yards and a touchdown in a 21-14 win that sent the Tigers to the national championship.
So with title hopes on the minds of everyone in Baton Rouge, Miles finds himself running another successful two-quarterback system.
Entering the Alabama game, starter
Jarrett Lee
's passing efficiency is an SEC-high 157.4 and he has 13 touchdowns to just one interception. Lee has also thrown at least one touchdown pass in every game this year, making him the first LSU quarterback to throw at least one in the first eight games since 1998 (Herb Tyler did it in the first 10).
Yes, the same
Jarrett Lee
who had a knack for throwing more touchdowns to the defense early in his career.
[+] Enlarge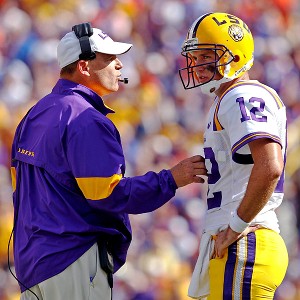 Derick E. Hingle/US PRESSWIRE"Whoever is on the field roots for who's taking the snaps and whoever is off the field is involved as that guy that's taking the snaps," Les Miles said of his two quarterback system.
Jordan Jefferson
has been used mostly in running situations, getting 111 yards and two touchdowns, but he has also passed for 123 yards and two more scores. Jefferson's stats aren't flashy, but his presence forces defensive adjustments across the board.
Together, the two have been extremely efficient, but don't ask Miles if he takes the credit.
"I don't know that it's my management skill in any way," Miles said. "I think it has to do with guys that recognize that they are part of a whole and that their contribution is significant. Whoever is on the field roots for who's taking the snaps and whoever is off the field is involved as that guy that's taking the snaps."
It would have been so easy for this strategy to backfire. Entering the season, Jefferson was the man until his involvement in a fight at on off-campus bar got him suspended for the first four games.
Lee took over and helped put the Tigers on top of college football. Bringing Jefferson back could have destroyed all that mojo the Tigers had after defeating three ranked teams in their first four games, but it actually made them better.
LSU has averaged 39.8 points and 394.3 yards in its past four games. Players feel it has brought them closer and think the offense is that much more potent with two under center rather than one.
"It's key when you have two quarterbacks that can step in and lead your offense down the field," wide receiver
Rueben Randle
said. "Coach Miles does an excellent job of switching his quarterbacks throughout the game.
"Whoever is back there, we're going to make plays on them."
It's also beneficial to have a healthy body waiting. Miles needed Perrilloux when Flynn went down in 2007, and while he hasn't had to deal with injuries at the quarterback position this time, Miles knows that nothing is guaranteed in this sport and especially not in this league.
(Just look at the significant offensive injuries we've seen in the SEC this season.)
"I can tell you that you need two quarterbacks," Miles said. "The idea that you go through a season without sustaining an injury at some point and time to one guy, you're going to in return need for the second quarterback to lead your team, function the offense and be capable. We're fortunate to have two very quality quarterbacks that way."
And the players around those quarterbacks obviously don't mind seeing either. This team has been through too much and has been bombarded by too many distractions, to let a quarterback shuffle bother them.
Players are ready to ride both to another championship run.
"It gives us a whole new dynamic back there having two guys that could probably start anywhere in the country," offensive lineman T-Bob Hebert said.
"The more the merrier to me. They can both play, and we as an offense support both guys and believe in both fully."
March, 26, 2010
3/26/10
11:44
AM ET
BATON ROUGE, La. -- For a guy who's won a national championship, four bowl games and 51 games total in his first five seasons at LSU, Les Miles can be a bit of a polarizing figure depending on who you talk to these days on the Bayou.
It's not that he's not a nice guy, because he is.
It's not because he hasn't won a lot of football games, because he has. In fact, his 51 wins are the most during a five-year stretch of any LSU coach in history.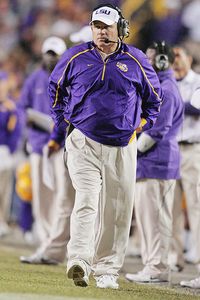 Derick E. Hingle-US PRESSWIRECoach Les Miles knows that winning is everything at LSU.
It's not because he hasn't committed himself to LSU, because he has. He and his family are entrenched in the Baton Rouge community, and there's nowhere else he would rather be coaching football.
What's happened to Miles these last couple of years is that he simply hasn't won
enough
.
And in the realm of SEC football, those cycles are as sure to come as death and taxes.
"It doesn't take much (to fall off in the SEC)," Miles said. "You have to hit on all cylinders and continue to hit on all cylinders in this league."
The Tigers won 34 games in Miles' first three seasons, including the national championship in 2007. With the head job at his alma mater, Michigan, hovering out there, Miles received a huge raise that took him to $3.751 million annually, making him one of the three highest-paid coaches in college football at the time.
But in the last two seasons, the Tigers have taken a dip in the West, which has coincided with Alabama's ascent to the top of the division.
And, yes, it makes it even worse in these parts that Nick Saban is running the show at Alabama.
The fact that the Tigers have lost nine games over the last two seasons is one thing. But even more damaging is the fact that they've lost most of the games that "count."
LSU is just 1-8 the last two years against teams that finished the season nationally ranked in the final polls. That includes an 0-6 drought against Alabama, Florida and Ole Miss.
The meltdown on the sideline at the end of the Ole Miss game last season only intensified the fans' disenchantment, many of them worrying this downward blip in the program was fast becoming a trend with no end in sight.
Miles' message to the LSU fans is simple: He's not happy, either, with what's transpired the last two seasons and he's committed to righting the ship.
It's the reason he's overhauled both his offensive and defensive staff the last two years. It's the reason he's tweaked some things about this spring practice, in particular how competitive it's been at every position. The Tigers close the spring Saturday with their annual spring game (ESPN2/ESPN 360, 4 p.m. ET).
At the same time, Miles doesn't believe the Tigers are that far away from winning another SEC title.
"I think we're in step," Miles said. "There's a want to re-focus and be excellent. I think it's in the coaching staff and the players, certainly. I think we should compete for the title, but I always think we should compete for the title."
He understands the restlessness of the fans. It's the nature of the job. But he also chooses not to immerse himself in it.
"I stay pretty insulated from it, to be honest with you," Miles said. "I'm not a guy who gets on the Internet, nor am I a guy who entertains Internet chatter. I judge what's going on in this program by what's going on inside this building. Understanding that makes me have more of a comfort about the direction we're headed.
"I think the perimeter in every program – the Floridas, the Oklahomas, the Alabamas, wherever the perimeter is -- doesn't really have accountability. I promise you this: There's nobody more critical of this program than myself.
"I like where we're going."
Mike Serio is one of those fans who is genuinely concerned, but he's also not one of those fans who's ready to push Miles out the door and start over.
Serio, who owns a popular po-boy and deli restaurant in New Orleans, is about as loyal as it gets. He's been to 320 straight LSU football games (home and away) and hasn't missed one since the 1983 season.
"I'm not one of those fans who's going to knock down the team and get on the radio and run them down," Serio said. "I don't believe in that. I supported Les when he came in here, when he won the national championship, and I still support him. But deep down, I'm disappointed in what's happened to the program the last couple of years. It hurts me to say it, but we just haven't looked like a very well coached team at times."
Serio said there are some fans who will never give Miles the credit he deserves for winning the national championship and are hung up on the fact that he won primarily with players recruited by Saban.
"I think he did a good job coaching those teams, especially all he had to deal with his first year with the hurricanes," Serio said. "He also did some things Nick never did here, like having two good seasons in a row. It was a little more up and down when Nick was here."
While Miles might be hesitant to classify this as a crossroads season for the program, many of the fans aren't.
"I can tell you one thing that won't happen with LSU football is that it will be allowed to hit rock bottom before a change is made. Those days are over," Serio said. "Les just needs to regain his focus. The program needs to regain its focus. In a lot of ways, I think they got fat and happy after that championship.
"I'm still behind them, but this is an important year."
The LSU players insist they feel more excitement than pressure, many of them pointing out that they were two or three plays away last season from being an 11-win team.
"A lot of people are sleeping on Coach Miles. A lot of people are sleeping on us," LSU running back
Stevan Ridley
said. "We've had the athletes here the last couple of years. We just haven't been able to put it together. We lost a quarterback [
Ryan Perrilloux
] we thought we were going to have and a freshman had to come in and play for us. That set us back a little bit.
"But we have the players here. There's no doubt about that. The games we lost last year were close games. We're right there. I know we lost a lot of players, but I honestly think we're going to be a better team. Nobody's spot is guaranteed, and we're hungry to get back to where LSU is supposed to be."
Senior middle linebacker Kelvin Sheppard was around to taste the national title in 2007. He's determined to taste it again.
"We're very close, as in tomorrow close," Sheppard said. "It's just a matter of us putting all the pieces together, because we've got them. I can't wait for this upcoming season."
August, 24, 2009
8/24/09
5:00
AM ET
Posted by ESPN.com's Ivan Maisel
1. After Michigan coach Rich Rodriguez announced Sunday that he expects to use all three quarterbacks -- junior Nick Sheridan and true freshmen Tate Forcier and Denard Robinson -- against Western Michigan, he reminded Wolverine fans to take the long view. "I have an extreme lack of patience, too," Rodriguez said. How much the freshmen play, he said, will be determined in "really the first half of the season." In other words, those expecting a quick fix will be disappointed.
2. Ryan Perrilloux is consistent, give him that. The quarterback who behaved his way out of the starting job at LSU and off the team in 2008 has been suspended at FCS Jacksonville State for the opener in 2009. Coach Jack Crowe said Perrilloux broke a team rule to which everyone is subject and not to read too much into the suspension. Perrilloux has a load of talent and he gets along with teammates. But he has trouble coloring within the lines. Don't worry: some NFL team will give him the chance to get suspended there, too.
3. Observations from the new AP poll. Florida gets a record vote for No. 1, which means the Gators won't finish there. The Big Ten has three teams in the Top 25, same as the Pac-10 and the Mountain West. However, that's three more teams than the Big East. Nearly half of the FBS population (54 of 120) received at least one 25th-place vote. The biggest surprise? Colorado, a legit Big 12 North dark horse, got no votes, as in one fewer than Troy.
February, 3, 2009
2/03/09
9:36
AM ET
Posted by ESPN.com's Tim Griffin
The Big 12 has been dotted by several intriguing recruiting stories during its brief history. Here are some of my personal favorites.
1. Oklahoma's Jamar Mozee spurns Kansas State: Mozee, a bruising running back from Blue Springs, Mo., was an apparently solid commitment for Kansas State until late in the 1999 recruiting period. But as signing day approached, Mozee followed several of the Kansas State assistants who had been recruiting him as they joined Bob Stoops' fledgling program at Oklahoma. The late switch earned the wrath of Wildcat fans everywhere, but also provided Stoops one of his top early recruits. Mozee never materialized for the Sooners like expected, but his recruitment fueled an intense early rivalry between the two schools.
2. Kansas' underrated class of 2004: Unheralded prospects like Aqib Talib and Anthony Collins were barely recruited by most powers, but developed into All-Americans while working with coach Mark Mangino's staff by the time they left college. Defensive starters Joe Mortensen, Mike Rivera and Charlton Keith also didn't catch much recruiting attention, but also became key starters for the Jayhawks' team that made history by claiming the 2008 Orange Bowl and making back-to-back bowl trips for the first time in school history. It also made some recruiting analysts blush, considering they missed so badly with this group.
3. Ryan Perrilloux heads for home: Perrilloux committed to Texas before his senior season and was presumed to be the natural successor for Vince Young after recording a slew of records in his senior season at East St. John's High School in Reserve, La. Throughout the recruiting process, Perrilloux remained committed to Texas. But he made a late switch, signing with the first recruiting class of LSU coach Les Miles. Perrilloux's career never materialized and he was kicked off the LSU team for violating team rules after several earlier legal skirmishes. And his departure opened a place on Texas' roster for Colt McCoy, who developed into a Heisman Trophy runner-up with the opportunity.
4. Darrell Scott picks family and the Buffaloes: The nation's top running back recruit waited until the last minute before choosing Colorado and Texas, following his uncle Josh Smith, a wide receiver/kick returner who already was on the Buffaloes' roster. Scott apparently had given the Longhorns a private commitment which changed when running backs coach Ken Rucker became the team's director of high school relations and player development and was replaced by Major Applewhite. His announcement was carried live on ESPNU, where he became Colorado's highest-ranking recruit since Marcus Houston in the 2000 recruiting class.
5. Travis Lewis chooses Oklahoma: Not all of the most heated battles take place over five-star recruits. Lewis had played little linebacker in Lee High School in San Antonio and had barely even played defense. But several schools saw promise in his unique combination of speed and size, leading to a spirited recruiting battle that intensified as the 2007 signing day approached. Lewis eventually decided on Oklahoma from a fervent group of suitors that also included Oklahoma State and fast-closing Nebraska. After a redshirt season, Lewis developed into an All-Big 12 linebacker and the conference's freshman defensive player of the year in 2008.
Posted by ESPN.com's Heather Dinich
Well, here it is. Warning: I have a tendency to be either dead-on for these things or waaay off. Let's rock.
Miami 34, Charleston Southern 10: Despite the suspensions and a freshman starting at quarterback, Miami will have the upper hand against this small school that went 5-6 in the Big South Conference last year. The Buccaneers do have more experience at quarterback, though, as former Clemson backup Tribble Reese attempted 11 passes with the Tigers.
Georgia Tech 41, Jacksonville State 17: JSU might be favored to win the Ohio Valley Conference, but not this game. With three sophomores on the offensive line, the Yellow Jackets' defensive line will be too much even for Ryan Perrilloux to overcome.
Wake Forest 31, Baylor 14: Who will start at quarterback for Baylor is a mystery, and it could be Miami transfer Kirby Freeman. Regardless, the Demon Deacons have the edge at quarterback. Four starters return to Baylor's offensive line, but that's not necessarily a good thing considering the Bears ranked 113th in the nation in rushing last year with 77 yards per game.
Clemson 24, Alabama 21: In a game of experience versus youth, the Tigers have the edge. Alabama has only five starters returning on defense and its receiving corps took a hit. Third-year starter John Parker Wilson was a record-setter last year, and they've got the more experienced offensive line, but Tommy Bowden has the veteran team.
Duke 26, James Madison 17: JMU has 15 starters back from its 8-4 playoff season, and is 37-13 over the past four seasons under coach Mickey Matthews. There are no guaranteed wins for a team that won one game last year, but Duke has a new energy this season and home field advantage, not to mention one of the best quarterbacks in the ACC. I say Duke will beat the Dukes.
Maryland 23, Delaware 10: This is not Joe Flacco's Delaware team. Still, Maryland has a tendency to underperform in these types of games and keep things interesting. The Terps have a better offensive line and are stacked at linebacker. Jordan Steffy should have a successful comeback.
UNC 38, McNeese State 10: Brandon Take, Hakeem Nicks and T.J. Yates (not to mention Greg Little and Deunta Williams) are reason alone to pick the Tar Heels. With expectations soaring in Chapel Hill this year and a sold-out home crowd for this game, there's no question UNC will take care of business.
South Carolina 20, NCSU 10: These teams have enough in common it should be close. Both teams have an inexperienced quarterback, a starting running back out, and both were terrible against the run last year. I'm going with the home team. The program has a .775 winning percentage in home season openers.
USC 42, Virginia 21: There's a reason the Trojans are the favorite in the Pac-10. Starting at quarterback, the Trojans win this game, even if Pete Carroll goes with backup Aaron Corp. USC's defense is loaded, and should be just as good as it was last year, when it ranked second in the country.
Virginia Tech 21, East Carolina 17: This shouldn't be much different from last year. If there was an upset watch this week, this would be it. Both teams have named their starting quarterbacks but Sean Glennon is the more experienced of the two, and East Carolina lost its top running back, Dominique Lindsay.
Boston College 24, Kent State 17: The Eagles are eager to prove the naysayers wrong, and BC's defense will carry will this team through the first few games. There is no doubt, though, that Kent State running back Eugene Jarvis will get his yards on these guys.
FSU is off.
August, 28, 2008
8/28/08
9:28
AM ET
Posted by ESPN.com's Heather Dinich
ATLANTA -- A belated good morning, ACC fans. Sorry for the late start, but there's one thing you need to know before this season officially gets started: If I know I'm going to be in a press box until at least midnight (as is the case tonight), there ain't no way, no how I'm starting my work day at 5:30 a.m.
Speaking of being a-Wake, let's check in on those Demon Deacons ...
Jim Grobe put them through one of the two toughest training camps since he's been there, and it should pay off tonight in Waco, Texas. They can be confident in their quarterback, but the preseason expectation and hype surrounding this program has the players a little uneasy.

At least they don't have to worry about a redshirt freshman making his debut at quarterback. We'll know much more about Russell Wilson and NC State tonight, too. Is there an upset brewing?

We already know plenty about the quarterback I'll be watching. I'm excited to be here for the start of the Paul Johnson era, which begins tonight against former LSU quarterback Ryan Perrilloux and Jacksonville State.
I'll be keeping an eye on every ACC game, even though I'm in Atlanta. (Good times last night at a place called Six Feet Under, by the way. Nice view of the Dome from the roof).
Miami also opens its season tonight, and it's time for a fresh start, in a new stadium with a brand new quarterback. Don't get too excited, though, Greg Cote says. Better days in Coral Gables aren't here quite yet. The players at Charleston Southern aren't thinking any less of the Canes, though.

Unfortunate news out of Tallahassee last night, as projected starting defensive lineman Emmanuel Dunbar was taken to the hospital with a back injury. I'll check in with FSU for an update on that today.
Elsewhere in the ACC, keep an eye on this "son of a gun" at Maryland. Defensive tackle Jeremy Navarre has been such a force this summer coach Ralph Friedgen was worried he'd hurt the confidence of the offensive lineman. How's that for a compliment?
Maryland quarterback Jordan Steffy has endured more criticism than praise during his career in College Park. Can he change that this season?
Virginia is looking to silence some doubters this season, too.
Meanwhile, Duke coach David Cutcliffe is working to change attitudes inside and out of his program. The seniors on the roster are still hoping to be part of the turnaround in Durham.
Way up north, Boston College right guard Thomas Claiborne had to shed some major weight in order to get on the field. His efforts have paid off.
On a more serious note, Victor Harris was a little shaken up about his recent testimony in court.