January, 27, 2011
1/27/11
12:50
PM ET
UNC running back
Shaun Draughn
and tight end
Ryan Taylor
have been selected to play in the NFL Players Association Texas vs. The Nation game at 2 p.m. ET on Feb. 5 at the Alamodome in San Antonio. The NFLPA game matches some of the best college players from Texas against some of the best players from the rest of the country in a postseason all-star game. Draughn and Taylor join Carolina's
T.J. Yates
on the Nation squad.
A native of Tarboro, N.C., Draughn began his UNC career as a safety. He converted to tailback in his sophomore season and led the team in rushing that year. He was the starting tailback in 2009 until he fractured his shoulder blade in the eighth game of the year against Duke. Last season, he started two games, including the Music City Bowl victory against Tennessee, and rushed for 637 yards and six touchdowns. Draughn was named MVP of the bowl game after gaining 160 yards and scoring a touchdown.
A native of Winston-Salem, N.C., Taylor played a variety of positions at North Carolina, including wide receiver, linebacker and tight end. He had his most productive season as a senior in 2010 with 36 receptions for 330 yards and two scores. The 36 receptions were a single-season school record for catches by a tight end. Taylor was also Carolina's special teams captain in 2008 and 2010.
October, 6, 2010
10/06/10
6:12
PM ET
As far as low points go, a 35-0 defeat at home is a pretty bad one, particularly when it comes after getting pushed around by a team you'd pushed around the previous season.
UCLA was 0-2 in a bad way four weeks ago after having lost to Kansas State and then being humiliated by Stanford in front of a stunned crowd at the Rose Bowl. The general feeling in the media and among much of the fanbase? The Bruins were doomed. There were a scattering of grumbles about the pace of the development under third-year coach Rick Neuheisel.
Ah, but inside the locker room it appears Neuheisel's oft-cited -- and sometimes mocked -- mantra of "relentless optimism" still echoed.
"Those two losses were a blessing in disguise because they brought us together," UCLA running back
Johnathan Franklin
said. "Through adversity, you build strength. I told everybody we have to play as a family. We weren't playing together."
At his moment, it seems appropriate to note that Franklin has aspirations to become a motivational speaker.
[+] Enlarge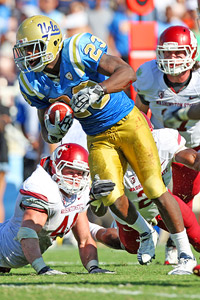 Charles Baus/Icon Sports MediaJonathan Franklin has rushed for 492 yards and five touchdowns in the past three games -- all wins.
Here comes an oversimplification: In the first two games, Franklin got the ball 24 times combined. Over the next three games, he got the ball 26, 19 and 30 times. In those games, he rushed for 492 yards and five TDs. And in those games, UCLA went 3-0 -- whipping a pair of ranked teams in the process -- and turned all those Bruins frowns upside down. He now ranks 10th in the nation with 125 yards rushing per game.
Franklin, however, admitted the transformation wasn't all rainbows, roses and red velvet valentines. There was some speaking truth to power. Franklin was careful about providing details, but he did say blue-collar players like center Ryan Taylor and tight end
Cory Harkey
provided some unflinching assessments to certain teammates (as well as of themselves).
"Sometimes you have to call people out and we did that. As a man, sometimes you have to call somebody out when they make mistakes," Franklin said. "We had people who took responsibility, who had made mistakes, who weren't playing to their potential. We all put our egos to the side."
Franklin and the Bruins figure to face a tough test Saturday at California, a team with plenty of talent that is reeling from consecutive defeats to Nevada and Arizona. UCLA hasn't won in Berkeley since 1998.
Moreover, the Bears have their own bit of adversity that could become a positive this weekend: They got sliced and diced by Nevada's pistol offense, 52-31, therefore they know exactly what not to do against UCLA's version. Further, the Bears faced the Wolf Pack on a short week; it was a Friday night road game. They face the Bruins after a bye.
In other words, Franklin and the Bruins pistol won't provide a shock to the Bears system.
"I think those are huge advantages," Neuheisel said. "Getting ready for a different kind of offense is difficult... It's not the way I would have drawn it up."
Neuheisel said he believes the pistol scheme has helped optimize Franklin's skills. The 5-foot-10, 198-pound redshirt sophomore has great vision and quickness and stresses a defender forced to make a one-on-one, open-field tackle. Further, Franklin's bigger backfield mates,
Derrick Coleman
and
Malcolm Jones
, tip the scales at 231 and 223 pounds. They add a power elements that softens things up for Franklin.
The only thing holding Franklin back? Ball security. It was an issue last year, and he's had one fumble in each of the past two games.
Franklin isn't claiming that he or his team has arrived. He noted it's been a long time since UCLA won four in a row (2005). They won three in a row to start the 2009 season and everyone was talking transformation. Then the Bruins opened Pac-10 play with five consecutive defeats.
The Bruins have admirably emerged from a low point. But they haven't climbed very high just yet.
"We won't turn this program around until we have a Pac-10 championship," Franklin said. "Right now, we're just an average team. We're nobodies. We haven't done anything yet."
September, 1, 2010
9/01/10
2:12
PM ET
UCLA coach Rick Neuheisel understands the media and more than most coaches he's willing to help.
For example: Say you wanted an update Tuesday on the status of his quarterback
Kevin Prince
, who's missed nearly all of preseason camp with a small but bothersome tear in his back muscle. Neuheisel provided a eyewitness, play-by-play to reporters during the weekly Pac-10 coaches teleconference.
[+] Enlarge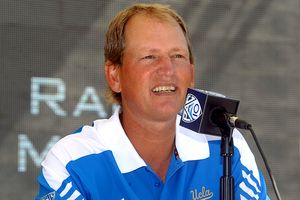 Kirby Lee/Image of Sport/US PresswireRick Neuheisel thinks his unproven offensive line will be able to handle Kansas State.
"I'm standing right here watching him practice," said Neuheisel, with the typical practice chatter clearly audible through the phone line.
"He's going to throw this ball. I'll tell you after this throw... Oh, it's perfectly thrown. It's outstanding! I think he's going to be fine."
The verdict: Prince is "rusty but healthy." He will start at Kansas State on Saturday. Probably.
Neuheisel is all about optimism. His catch-phrase upon getting hired to rebuild the Bruins in 2008 was "relentless optimism." That optimism has been tested, however, by an 11-14 record his first two years and a fairly
stunning array of injuries
.
The current challenge to Neuheisel's power of positive thinking isn't just about getting Prince to the opener in one piece. His offensive line is in pieces.
All five starters from last year were projected to return this season, including 13 of 14 players on the 2009 depth chart. Yet guard Eddie Williams is the only returning starter who will be in the lineup at Kansas State, and even he missed half of the 2009 season with a fractured ankle.
Talented left tackle Xavier Su'a-Filo, who won a starting job as a true freshman, opted to go on a two-year Mormon mission. Then the chief candidate to replace him, Nik Abele, was forced to retire because of neck problems. Center Kai Maiava fractured his ankle during preseason camp. Guard Jeff Baca is academically ineligible. Right tackle Mike Harris is suspended for the Kansas State game. Toss in guard Stanley Hasiak's academic ineligibility, and Jake Dean ending his career a year early, and you have a lot of attrition from what might have been a greatly improved line.
This probably won't surprise you a bit, but Neuheisel is undaunted: "They're terrific," he said of his new lineup.
He even spots for reporters a potential feel-good angle with his makeshift line.
"It's kind of a neat story -- hopefully it will be one that's told for years and years after because of the success they have," Neuheisel said. "We have five seniors who've gotten here in kind of a round-about sort of way. Each has their own unique road they traveled to get here."
Those five are: right guard Williams, a junior college transfer; left tackle Sean Sheller, a fifth-year senior who spent much of his injury-riddled career on the defensive line; left guard Darius Savage, who started seven games in 2008 but fell out of favor last year; center Ryan Taylor, a JC transfer who started two games at guard and one at center in 2009; and right tackle Micah Kia, who started seven games in 2008 but missed last fall with a knee injury.
Despite the questions on offense, the Bruins visit to Kansas State probably comes down to something else: How a rebuilt front seven on defense handles Wildcats running back
Daniel Thomas
, who rushed for 1,290 yards last year. Thomas will be running behind a veteran line. Combine that with a new and unproven quarterback, and you can expect the Wildcats to try to challenge the Bruins with a physical, run-first attack.
In last year's game, the Bruins dispatched K-State fairly easily, 23-9. But this will be Year Two of coach Bill Snyder's return to where he produced perhaps the greatest rebuilding jobs in college football history, which explains why his name is on the stadium: "Bill Snyder Family Stadium." The Wildcats should be a much more finely tuned team, despite just 11 returning starters.
"He's a team builder, no question about it," Neuheisel said.
By the way, the Wildcats have won 20 home openers in a row.
Of course, Neuheisel is optimistic that his quarterback will be healthy and sharp, his offensive line and defensive front-seven will be stout and that winning streak is about to end.
August, 23, 2010
8/23/10
11:02
AM ET
If you look at UCLA's offensive line depth chart from 2009, your first though is this: 13 of 14 guys, including all five starters, will be back for 2010.
Sounds great, eh? Sure, the Bruins' line has struggled in recent years, but those struggling young guys now will become salty veterans. And there will be depth.
Insert sigh from UCLA fans, players and coaches here. Things have certainly changed since the Bruins won the EagleBank Bowl.
The Bruins lost another lineman -- perhaps their best one -- early in Saturday's scrimmage when center Kia Maiava
went down with a fractured left ankle
. The junior almost certainly is done for the season.
The hit list on the line in addition to Maiava goes like this:
Talented tackle Xavier Su'a-filo opted to go on a two-year Mormon mission after starting as a true freshman.
The leading candidate to replace Su'a-filo, Nik Abele, was forced to retire because of neck problems.
Right tackle Mike Harris is suspended for the opener at Kansas State because of a violation of team rules.
Left guard Jeff Baca has been ruled academically ineligible, pending an appeal with the NCAA, and even if he wins his appeal he's nursing a stress fracture in his right leg.
Right guard Eddie Williams has missed practices due to a concussion, though he should be ready to play by the season opener.
Barring any more issues, the starting line probably will look like this at Kansas State on Sept. 4: Sean Sheller and Micah Kia at the tackles, Williams and Darius Savage at the guards and Ryan Taylor at center.
Understand: That's not a woeful lineup. Sheller, who's battled injuries and position changes, is the only one with no starting experience. Taylor replaced Maiava in the EagleBank Bowl last year, and Kia started 15 games before missing 2009 with a knee injury. And Harris will return after the opener.
Still, there isn't too much remaining margin for error if anyone else -- knock on wood -- pulls up lame.
March, 11, 2009
3/11/09
10:00
AM ET
Posted by ESPN.com's Ted Miller
Things are always interesting with Rick Neuheisel, and his first season coaching UCLA was no exception.
The Bruins opened with an overtime win over Tennessee. Then went splat, 59-zip, at BYU. And so started a decidedly inconsistent season.
With poor play at quarterback, no running game and a porous offensive line -- and that's sugarcoating things for the woeful offense -- UCLA finished 4-8 and in eighth place in the Pac-10.
| | |
| --- | --- |
| | |
| | Joe Nicholson/US Presswire |
| | Rick Neuheisel was 4-8 in his first season at UCLA. |
But Bruins fans felt a lot better after Neuheisel fetched a highly rated recruiting class, which reignited whispers that -- just maybe -- USC should start looking over its shoulder and worrying about its football, er, monopoly in Los Angeles.
Spring practices don't crank up until April 2, but it seems like a good time to check in.
Let's look back on 2008: What were you happy with and unhappy with?
Rick Neuheisel: I thought our team played hard, but we lacked the proficiency to be a good team. We never got any consistency as an offense. Defensively, we hung in there most games, but we weren't stout enough to be a three-and-out type team. Our kickoff situation put us in a field position deficit because we weren't able to kick the ball off very far. We'd end up having to go long distances with respect to field position. We've got a lot of things to get better at if we're going to be a better football team. But the influx of new, young talent, the great effort in weight room and so forth, I think is going to lead to that.
How exited are you that the whole 'Neuheisel is back' won't be the big story this year?
RN: I'm excited the focus will be on our football team. Obviously, this was a program that needed a kick start with respect to the recruiting and excitement and that stuff. We were fortunate to have a big win at the start of the season that reminded folks how fun football can be. Now it's up to us to deliver that on a more regular basis. Obviously, if we could get to a bowl game this year, that would be a step in the right direction. I think a year from now, we're going to be a team that can compete for the top prizes.
You guys got a lot of publicity about your recruiting success on signing day.
RN: Recruiting went well. Recruiting went really well. It was kind of a validation of what I thought all along: That you can recruit at UCLA. That if you do it the right way and go after the right guys you can deliver. I was pleased to see that was possible.
March, 4, 2009
3/04/09
9:53
AM ET
Posted by ESPN.com's Heather Dinich
The Tar Heels begin spring practice today and coach Butch Davis and his staff have a lot of work to do in order to improve upon last year's impressive eight-win season. At the top of the list is finding a few players who can catch the ball.
Here are the highlights of our conversation, with the warning that Davis turns around programs faster than he tends to answer questions (not that there's anything wrong with that):
| | |
| --- | --- |
| | |
| | Bob Donnan/US Presswire |
| | Greg Little will be someone the Tar Heels look to this season. |
Everyone knows you have a lot to replace at wide receiver. What can you tell me about the guys who have the potential to step in there this spring?
BD: That will probably be our No. 1 main objective going into the spring, at least from a position standpoint, is replacing those three unbelievably talented wide receivers. And Cooter Arnold was a really significant player when we got into four wide receiver packages, but having said all that, I think that we've got five guys on campus right now that we're excited to find out about. They've had an opportunity to watch for this last year or so. They watched those three guys practice, how hard they practiced, how much film they studied, how much trust and confidence they developed with the quarterback, and certainly Greg Little is probably the most experienced player that we have. He's played wide receiver, and he's started games at wideout, he's played as a running back. He's got pretty significant game experience.
After that, then most of the guys, they're kind of somewhat young, but we think they've got some talent. Dwight Jones was one of the most highly recruited receivers in the country a couple of years ago. We think he is poised to step in and be able to contribute and do some things. We're also very excited about Todd Harrelson, a receiver we recruited last year that redshirted this past season. We think that he's got some things he can certainly bring to the table. One of the most highly recruited kids in last year's class was Josh Adams, that enrolled in midterm. So he's been going through our offseason program and that was part of the recruiting program, knowing a year ago we were going to lose some guys to graduation. We didn't know Hakeem (Nicks) was going to go out early in the draft, but that was one of the things in trying to get Josh. We knew he'd be able to come in at midterm. We've got another kid that's going to be a junior, Rashad Mason.
A lot of these guys have been waiting in the wings, flying under the radar, so to speak, because we had those three guys that did probably 85 percent of the playing over the last two years. So now will be a time for us to really work with some consistency, some continuity in the springtime, and it will be an ongoing process all summer long and certainly into training camp. We think by the start of the season we've got some other kids we signed -- we signed three other receivers to come in in this class that we think they'll have an opportunity to add a little bit to the position.
TOP 25 SCOREBOARD
Saturday, 12/7
Thursday, 12/5
Friday, 12/6
TOP PERFORMERS