November, 7, 2013
11/07/13
11:00
AM ET
Last year's Stanford-Oregon game didn't just break the mold of the rivalry's previous three matchups. It detonated it with an ordnance of smothering defense and glacial tempo.
Stanford's 17-14 overtime win was a stark contrast to how the previous meetings had played out since 2009 -- the first game that featured both David Shaw and Mark Helfrich on their respective sidelines.
[+] Enlarge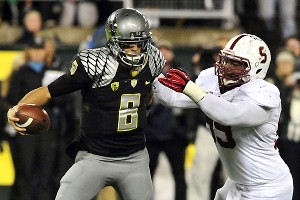 Steve Dykes/Getty ImagesThe trend of high-scoring Stanford-Oregon games was halted last season, as Marcus Mariota and the Ducks couldn't get on track.
No. 3 Oregon takes its nation-leading 18-game road winning streak to No. 5 Stanford Thursday night in a true clash of schematic styles. And there are lessons to be learned from some of the recent matchups -- trends and themes that paint a picture of what could transpire Thursday night.
The teams have split their past four meetings, with Stanford winning at home in 2009 and on the road in 2012. Oregon won back-to-back games in 2010 in Eugene, Ore., and 2011 in Palo Alto, Calif.
In the three games prior to last season, the winning team had scored at least 51 points and the loser had scored at least 30. The margin of victory was at least nine points. It was an annual offensive feast worthy of a league known for putting up points.
But last year's game flipped the script as the offenses took a backseat to trench warfare, making every point a premium.
"Each game is its own entity," said Oregon coach Mark Helfrich, who was offensive coordinator for the previous four matchups. "One big thing is our programs are a lot more similar than they are different from a number of perspectives. Their offense is different from our offense. But we're similar in the fact of playing with heart -- playing fundamentally sound. We recruit a lot of the same people.
"But at some point it's going to come down to our best person and their best person in space or in tight."
Clichés become clichés for a reason. Some coach somewhere once said "big-time players make big-time plays" and everyone thought it was a profound statement at the time. Then more and more coaches started saying it and the meaning dulled. And in the case of Stanford-Oregon, it's cliché, but true.
The past four meetings have all been defined by outstanding individual performances. Some were statistically sensational: Toby Gerhart's 223 rushing yards and three touchdowns in 2009; LaMichael James' 257 yards and three touchdowns a year later; James again in 2011; and Zach Ertz in 2012.
Others were more understated. But regardless of the total points scored, it still comes down to players making plays.
"The biggest one is, and I hate to put it on one side of the ball because it is a complete game, but when we make the open-field tackles and don't miss them, we have a chance," Shaw said. "And then the two wins, the common denominator is making big plays. Toby Gerhart ripping off some big runs. Chris Owusu had a huge touchdown pass. Ryan Whalen had a huge catch to get us in the end zone. Zach Ertz last year was huge. Then
Kevin Hogan
's mobility. He ran for a touchdown and could escape and slide and find Zach off schedule. Defensively, we have to make those open-field tackles and line up and not be out of position."
Thursday's showdown is a true struggle of strength versus strength when you consider the following:
Oregon hasn't scored fewer than 35 points in its past 10 games -- the last time coming in the 17-14 loss to Stanford last season.

Stanford hasn't allowed more than 30 points in its past 17 games, the nation's second-longest active streak.

The Ducks have won 18 straight on the road -- their last loss coming to Stanford in 2009.

Stanford has won 13 straight at home, its last loss in Palo Alto coming to Oregon in 2011.
There are dozens of notable sidebars to this matchup. Obviously, Stanford's defense versus Oregon's offense is the storyline that garners the most attention. But this is also a Heisman showcase game for Oregon quarterback
Marcus Mariota
, just as it was for Andrew Luck in the 2011 loss to the Ducks. There are the recent struggles of Stanford's offense and the inconsistencies of Hogan, who made his first career road start last year at Autzen and was lauded as one of the game's heroes for his poise on the grand stage. There is Oregon's defense -- so smothering and so in the shadow of the offense.
Stanford's top priority is and always will be to stop the run. But the Ducks have also developed a dangerous downfield passing attack that wasn't as developed last season. No Oregon wide receiver had more than 500 receiving yards last season. This season
Josh Huff
(703) and
Bralon Addison
(609) give the Ducks' offense an added dimension that Stanford will have to account for. And then there is the always-accurate Mariota, who hasn't thrown an interception since the first half of last season's Stanford game.
Defensively, the Cardinal are very good at getting to the quarterback without having to send extra blitzers. No team in the country has more sacks over the past two years when sending four or fewer rushers at the quarterback.
"They have some guys up front that really try to control the line of scrimmage," Mariota said. "They have done an awesome job all year of being physical. But I think our offensive line is up to the challenge. They are going to go out and play their best and we'll do our best at executing."
The recent past between these teams might not be entirely prologue. But history tells us that big-time players will make big-time plays -- if you'll pardon the cliché.
May, 1, 2011
5/01/11
12:26
PM ET
The Pac-12 provided 37 players to the NFL draft over the weekend, one fewer than the SEC, which led all conferences.
If the six combined picks from Colorado and Utah are taken away from the conference, the old Pac-10 provided NFL teams 3.1 draft picks per team, also just behind the SEC at 3.17.
Here's where the Pac-12 players went:
First round
No. 8
Jake Locker
, QB, Washington: Tennessee
No. 9
Tyron Smith
., OT, USC: Dallas
No. 17
Nate Solder
, OT, Colorado: New England
No. 24
Cameron Jordan
, DE, California: New Orleans
No. 27
Jimmy Smith
, CB, Colorado: Baltimore
Second round

7.
Akeem Ayers
, LB, UCLA: Tennessee
10.
Brooks Reed
, DE, Arizona: Houston
13.
Rahim Moore
, FS, UCLA: Denver
21.
Stephen Paea
, DT, Oregon State: Chicago
24.
Shane Vereen
, RB, California: New England
Third round

13.
Jurrell Casey
, DT, USC: Tennessee
20.
Mason Foster
, LB, Washington: Tampa Bay
25.
Shareece Wright
, CB, USC: San Diego
29.
Christopher Conte
, S, California: Chicago
33.
Sione Fua
, DT, Stanford: Carolina
Fourth round

5.
Jordan Cameron
, TE, USC: Cleveland
19.
Casey Matthews
, LB, Oregon: Philadelphia
21.
Jalil Brown
, CB, Colorado: Kansas City
27.
Owen Marecic
, FB, Stanford: Cleveland
Fifth round

8.
Brandon Burton
, CB, Utah: Minnesota
9.
Gabe Miller
, DE, Oregon State: Kansas City
14.
Jacquizz Rodgers
, RB, Oregon State: Atlanta
23.
Richard Sherman
, CB, Stanford: Seattle
Sixth round

2.
Ryan Whalen
, WR, Stanford: Cincinnati
14.
Caleb Schlauderaff
, OG, Utah: Green Bay
17.
Ronald Johnson
, WR, USC: San Francisco
19.
David Carter
, DT, UCLA: Arizona
22.
Allen Bradford
, RB, USC: Tampa Bay
24.
Mike Mohamed
, LB, California: Denver
32. Ricky Elmore, DE, Arizona: Green Bay
38. Zach Williams, C, Washington State: Carolina
Seventh round

12.
D'Aundre Reed
, DE, Arizona: Minnesota
24.
Scotty McKnight
, WR, Colorado:
New York Jets
30.
Lawrence Guy
, DT, Arizona State: Green Bay
37.
Stanley Havili
, FB, USC: Philadelphia
38.
David Ausberry
, WR, USC: Oakland
39.
Malcolm Smith
, LB, USC: Seattle
By Pac-12 school:

Arizona (3)
Arizona State (1)
California (4)
Colorado (4)
Oregon (1)
Oregon State (3)
Stanford (4)
UCLA (3)
USC (9)
Utah (2)
Washington (2)
Washington State (1)
The final tally by automatic qualifying conferences
:
SEC... 38
Pac-12... 37
Big Ten... 36
ACC... 35
Big East 22
Big 12...19
Nebraska was a big swing to the Big Ten from the Big 12 with seven picks. With Colorado and Nebraska, the Big 12 provided 30 selections.
This was the tally through three rounds
:
SEC: 20
ACC: 19
Pac-12: 15
Big Ten: 13
Big 12: 9
Big East: 4
March, 1, 2011
3/01/11
5:40
PM ET
Stanford has a secret: 2010 wasn't only about
Andrew Luck
. And, if things go according to plan, 2011 won't be either.
[+] Enlarge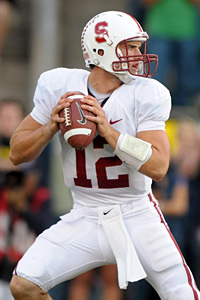 Kirby Lee/Image of Sport/US PresswireAndrew Luck is just part of the reason Stanford has high expectations this season.
It's not that Stanford doesn't recognize the benefit of having the best quarterback in the nation. It does. But the program's transformation from also-ran to BCS bowl winner was more about attitude than Luck.
That attitude -- play with "
character and cruelty
" --started up front under former coach Jim Harbaugh, and that attitude will remain in place under new coach David Shaw, at least according to offensive coordinator Pep Hamilton, whom Shaw promoted from receivers coach.
"We are a power running team," Hamilton said. "We are going to get off the bus running power. We're going to establish and control the line of scrimmage. We want to out-physical our opponent."
Of course, when you're beating a defense up at the line of scrimmage, it makes it a lot easier for any quarterback. And when your quarterback likely would have been the top pick in this spring's NFL draft, well, you're in pretty good shape when the goal is to keep a defense guessing and off-balance.
Just consider the numbers from the
40-12 beatdown
of Virginia Tech in the Orange Bowl. Sure, Luck got lots of attention for throwing four pretty touchdown passes. But the Cardinal rushed for 247 yards and two scores, and averaged eight yards a carry.
There, however, is work to be done this spring. The Cardinal needs to replace three starters from its 2010 line, including All-American center Chase Beeler. So it's not unreasonable to wonder if the offensive line will continue to be -- to use Hamilton's phrase -- "big, tough guys who enjoy imposing their will on their opponent."
Hamilton thinks so, in large part because of the two coming back: left tackle Jonathan Martin and right guard David DeCastro, who both earned first-team All-Pac-10 honors.
"Their personalities, their physical mentalities will permeate amongst the rest of the offensive line group," he said.
Khalil Wilkes and Sam Schwartzstein are battling to replace Beeler. Kevin Danser has been running with the first unit at left guard, while Tyler Mabry is the right tackle. Cameron Flemming and David Yankey also could play their way into the mix.
Still, the Cardinal might take a step back at the line of scrimmage, at least early in the season. Last year's unit welcomed back four starters, and it was widely hailed in the preseason as perhaps the best unit in the Pac-10 after it had paved the way for Toby Gerhart's runner-up finish in the 2009 Heisman Trophy race. As good as Martin and DeCastro are, and as intriguing as the new talent is, it often takes lines time to mesh.
That's where Luck comes in. As a third-year starter, he should be able to carry the load at times in the passing game. An outstanding athlete, he's fully capable of making plays outside of the pocket or with his feet if protection breaks down. But he's also adapting to change with the departure of his two leading receivers,
Doug Baldwin
and
Ryan Whalen
.
"He has some new wide receivers, so he has to work to develop some continuity with those guys," Hamilton said.
With
Chris Owusu
sitting out, those "new" receivers include
Griff Whalen
,
Jamal-Rashad Patterson
and
Drew Terrell
(each is at least a third-year player).
Hamilton doesn't envision Luck's role changing this year, even with his national celebrity as the leading Heisman Trophy candidate. He certainly doesn't want Luck to feel like he needs to transform into an alpha dog in the locker room. That would mean Luck isn't being himself.
"His personality is something that teammates gravitate towards. They all want to reach his level of success. He has field credibility in our locker room," Hamilton said. "He says the right thing at the right times. I don't see that changing."
The offense will try to retain the identity from the "Harbaugh Transformation," but there will be some tweaks to schemes, without question. Said Hamilton, "It's premature to say we've established our offensive identity."
As for life post-Harbaugh, Hamilton said he doesn't expect things to be any less emotional or edgy in the locker room. Sure, Shaw is smoother and less eccentric than Harbaugh. But that doesn't mean he lacks intensity.
"Coach Shaw brings a lot of emotion as well," said Hamilton, who also coached with Shaw when both were with the Baltimore Ravens. "When he's in front of the cameras, he gives a perception that he's laid back. But he's a fiery guy. He's as competitive as any other coach in college football, or in the NFL for that matter."
And if he is successful in 2011, it won't all be about Luck.
January, 2, 2011
1/02/11
2:00
PM ET
FT. LAUDERDALE, Fla. -- Stanford coach Jim Harbaugh had a chance on Sunday to reflect on his
first recruiting class
and the integral role it has played in the program's turnaround. There were 19 players in that class, and many of them have contributed to Stanford's ascension from 1-11 to 11-1.
"There really wasn't much time to work on it," Harbaugh said. "I was hired December 19th, and then all of a sudden right out there on the road recruiting guys. And then some of our best players are in that class:
Owen Marecic
, T.K. Amajoyi,
Jeremy Stewart
. I know I'm missing guys, but it was really, really kind of a core class that --
Ryan Whalen
,
Doug Baldwin
, guys that -- kind of the core of the football team right now that have been through this all four years. We've been together the whole time, so they're kind of a special class there."
October, 7, 2010
10/07/10
10:21
AM ET
Ten issues to consider heading into the sixth week of games.
1.
Oregon State's pass rush reborn?
The Beavers had six sacks in their win over Arizona State. They had two in their previous three games. The biggest push came inside from tackles Stephen Paea and Brennan Olander. Will they be able to get the same heat on Arizona QB
Nick Foles
? The Wildcats have a much better offensive line than the Sun Devils and Foles gets rid of the ball quickly, so consistent pressure won't be easy.
2.
What's USC's deal
? It's now clear that USC of 2010 is closer to the 2009 version than a rebirth of 2002-2008. Or is it? A win at Stanford would certainly change minds about the Trojans. USC should be able to move the ball versus the Cardinal, but perhaps the bigger issue is can the defense, ranked 99th in the nation, stop
Andrew Luck
and company?
3.
Pistol, Take II
: Cal did a terrible job its first time against a pistol offense, see the 52 points rolled up by Nevada. But two things were stacked against the Bears: 1. New defensive coordinator Clancy Pendergast is an NFL guy who'd never schemed against a pistol; 2. It was a short week of preparation (Friday night game). With UCLA coming to town on Saturday, the Bears have two things stacked in their favor: 1. Pendergast now knows exactly what a pistol is and what can go wrong defending it; 2. Cal had a bye last week so it had an extra week to prepare for the Bruins.
4.
Bowl on the line
? You'd guess when Huskies and Sun Devils fans went through the 2010 schedule looking for bowl eligibility, they each put a "W" by Saturday's game. For the Sun Devils, it's now a must-win. No way they could win five of their final six games to get the seven victories they need (because they played two FCS teams). The Huskies situation isn't as dire but it's still critical for them to hold serve at home, particularly for a team that typically -- until last week at USC -- struggles on the road. Losing inside Husky Stadium to the Sun Devils, who were predicted to finish ninth in the conference in the preseason, wouldn't be a good thing.
5.
LaMichael goes for 200 in the first half
? If Oregon running back
LaMichael James
can gain 257 yards against Stanford, what can he gain against Washington State, which has the worst run defense in a BCS conference? The guess is Ducks coach Chip Kelly would like to have him on the bench in the second half. But if LaHeisman gets 20 carries, he could get his third 200-yard-plus game of the year.
6. Ka
tz vs. the Pac-10's best defense
: Despite replacing seven starters, Arizona is ranked No. 2 in the nation in total defense and No. 3 in scoring defense. Beavers QB
Ryan Katz
seemed to break through last weekend against Arizona State, but part of that was little pressure from the Sun Devils. Katz was sacked eight times in the first three games, but he has yet to throw an interception. The Wildcats get good pressure -- 2.75 sacks per game -- and have a good secondary. Will the Wildcats be able to pressure Katz and either get him down or force a critical mistake (or two)?
7.
Andrew Luck vs. a struggling USC secondary
: The first question for Luck is will his best two receivers --
Ryan Whalen
and
Chris Owusu
-- play. Both are injured, but coach Jim Harbaugh doesn't reveal injury information. The second: How will the Trojans young secondary, which has struggled with coverage as well as tackling, handle Lucks' downfield accuracy? They certainly didn't do well versus Washington's
Jake Locker
. The Trojans have given up 10 TD passes, second most in the conference.
8.
Will the real UCLA defense stand up
? At first, the Bruins couldn't defend the run (Kansas State, Stanford). Then Washington State QB
Jeff Tuel
passed for 311 yards last weekend. California will bring a good running game with
Shane Vereen
and a solid passing game with QB
Kevin Riley
. In fact, other than Stanford, this is likely the best offense the Bruins have faced, though it didn't get in the end zone at Arizona. The Bruins put the clamps on Houston and Texas. Can they do the same to the Bears?
9.
Deantre Lewis vs. the Huskies run defense
: Arizona State QB
Steven Threet
has thrown a lot of interceptions (9) and the Sun Devils have struggled in the red zone (last in the Pac-10). Those two stats are not unrelated. Perhaps it's time to give the ball to running back Deantre Lewis in the red zone, particularly when you look at the Huskies run defense, which is yielding an average of 234.8 yards per game. In fact, it might make sense to run to set up the pass.
10.
Will Cougars fans stick around until the fourth quarter
? It will be a significant victory for Washington State if it is within two touchdowns of Oregon entering the fourth quarter. Heck, even three would be notable. What won't be good is if the Cougs are down by 40 or 50 points entering the fourth quarter, with no fans remaining in the stands. Paul Wulff needs fans to feel hope. Hope means he can still hear support as the clock ticks down in the waning moments.
October, 2, 2010
10/02/10
7:55
PM ET
EUGENE, Ore. -- Stanford was without leading receiver
Ryan Whalen
last weekend at Notre Dame due to an elbow injury. Perhaps that was a factor in why the Cardinal's passing wasn't sharp.
Whalen is warming up with his teammates, sporting a bulky black sleeve on his left arm. Word is that he will play, which will give QB
Andrew Luck
one of his favorite weapons back.
That said: The sleeve could be a distraction. It certainly won't help him catch the ball. And you'd think he might be a little shy leading with his left arm while blocking.
Having Whalen is better than no Whalen. But it remains to be seen if he will play a big role or operate as more of a decoy.
October, 2, 2010
10/02/10
6:48
PM ET
EUGENE, Ore. -- It's a beautiful day here for a top-10 matchup.
The last time that happened with Stanford-Oregon? Never. In 74 previous meetings, both teams have never been ranked at game time.
How big is the No. 9 Cardinal's visit to No. 4 Oregon? The winner not only becomes the Pac-10 front-runner, it also enters the national title discussion.
Last year, Oregon went to Stanford as the nation's hottest team but left a 51-42 loser. That ended a seven-game Ducks winning streak against Stanford. In fact, the Ducks, winners of 12 in a row at home, have won four consecutive meetings in Autzen Stadium by a combined count of 159-52.
But this is a much different Stanford team.
The Cardinal are physical on both sides of the ball. The question is are they physical enough overcome the Ducks' speed advantage?
Stanford, which hasn't posted a 5-0 start since 1951, is healthy. Both safety Michael Thomas (ankle) and receiver
Ryan Whalen
(elbow) are expected to play. Early in the week, it didn't seem that would be the case.
Not only are there national stakes for the teams, there also are for individual players.
If Stanford quarterback
Andrew Luck
puts up big numbers in a marquee road game, it's likely he immediately becomes a leading Heisman Trophy candidate. On the other sideline, Ducks running back
LaMichael James
, the nation's second-leading rusher, also could put his name in the mix. He's the nation's best home run threat: Will he be a slugger tonight?
The Ducks have been in this position before. In fact, the previous three top-10 Pac-10 matchups involved the Ducks, who triumphed each time: Oct. 27, 2007 -- No. 5 Oregon defeated No. 9 USC, 24-17; Nov. 3, 2007 -- No. 4 Oregon defeated No. 6 Arizona State, 35-23; Oct. 31, 2009 -- No. 10 Oregon defeated No. 4 USC, 47-20.
All were in Autzen Stadium, which is the best home-field advantage in the Pac-10.
July, 27, 2010
7/27/10
1:30
PM ET
Receiver is a difficult position to evaluate this year. Just about every team has a solid (or better) lead receiver back and some intriguing, but inexperienced, talent around him. But, other than Washington, no team should feel completely secure.
There is, however, a lot of potential at the position. Many of the names below who appear as secondary options could end up competing for All-Pac-10 spots.
Note: Tight ends and running backs don't count here.
Great shape
Washington: The Huskies entire two-deep is back, topped by second-team All-Pac-10 pick Jermaine Kearse and Devin Aguilar, who ranked seventh in the conference in receiving yards per game in 2009. James Johnson was probably the best freshman receiver in the conference last year.
Good shape
[+] Enlarge

AP Photo/Ben MargotOregon State's James Rodgers caught 91 passes for 1,034 yards and nine TDs last year.
We'll see
California: The Bears only lose No. 2 WR Verran Tucker and the underwhelming Nyan Boateng, but, other than Marvin Jones, they didn't get much production here in 2009.

Arizona State: The Sun Devils lost their top-two WRs, but the cupboard isn't empty, with Oregon transfer Aaron Pflugrad, who would have started for the Ducks in 2009, and JC transfer George Bell, Gerell Robinson, Jamal Miles and Kerry Taylor. Still, it's not a proven group.

Washington State: The Cougars went through spring with just four scholarship receivers, a crew topped by Jared Karstetter and Gino Simone. The incoming recruiting class features five receivers, and at least a couple will get on the field. The Cougars are OK here but they did rank last in the conference in passing in 2009.
July, 8, 2010
7/08/10
11:51
AM ET
A month ago Rivals looked at the nation's
top offensive triplets
-- elite combinations of quarterback, running back and receiver.
Two Pac-10 teams -- Arizona and Washington -- made the list.
Hey, we're never afraid to copy a good idea. So let's rate the top five offensive troikas in the conference (tomorrow morning we'll look at the top-five on defense).
The challenge here is priority and value. What if a team is outstanding at running back and receiver but inexperienced at quarterback? How does that measure up with a team that is merely good but also experienced at all three positions?
Tough distinctions but "Tough Distinctions" is our middle name. Er, names.
5.
Stanford
: QB
Andrew Luck
, RB
Tyler Gaffney
, WR
Ryan Whalen
The skinny
: Stanford nips Oregon for the final spot mostly because of experience and elite talent at quarterback and better numbers at receiver. Luck led the conference in passing efficiency as a redshirt freshman. Gaffney seems like he'll be first among the candidates to replace Toby Gerhart. Whalen ranked fifth in the conference in receiving yards per game. (And, yes, the presence of speedy
Chris Owusu
on the opposite side flashed through our minds.)
4.
USC
: QB
Matt Barkley
, RB
Allen Bradford
, WR
Ronald Johnson
The skinny
: Barkley is a major talent who ranked third in the conference in passing efficiency in 2009 as a true freshman. The bruising Bradford rushed for 668 yards and eight touchdowns with a 5.8 yards per carry average. Johnson was hurt much of last year but he's caught 12 career TD passes and is one of the conference's most dangerous deep threats.
3.
Oregon State
: QB
Ryan Katz
, RB
Jacquizz Rodgers
, WR
James Rodgers
The skinny
: Sure, Katz has yet to throw a meaningful college pass, but he's an impressive talent with a great arm and running ability. Still, the Beavers rank third here for one reason: The Rodgers brothers are the best players at their positions in the conference. Both are proven All-America candidates.
2.
Arizona
: QB
Nick Foles
, RB
Nic Grigsby
, WR
Juron Criner
The skinny
: After becoming the starter following the third game of 2009, Foles passed for 2,486 yards and 19 TDs. Grigsby was in and out of the lineup with injuries, but he averaged 7.2 yards per carry when he got the ball (and it doesn't hurt that his backup,
Keola Antolin
, has been productive over the past two seasons). The 6-foot-4 Criner tied for the conference lead with nine TD receptions.
1.
Washington
: QB
Jake Locker
, RB
Chris Polk
, WR
Jermaine Kearse
The skinny
: Rivals tapped this threesome No. 1 in the nation. Locker ranked No. 2 on our list of the
conference's top 25 players
and he may go No. 1 in the 2011 NFL draft. Polk ranked fourth in the conference with 1,113 yards rushing in 2009. Kearse earned second-team All-Pac-10 honors after hauling in eight TD passes and leading the conference with a 17.3 yards per reception average.
June, 25, 2010
6/25/10
11:05
AM ET
Ryan Whalen
is one of those
Stanford guys
. You know the type. Sure, he plays football, but he also has a 3.78 GPA while majoring in science, technology and society and does things like intern at Golden Gate Capital in San Francisco -- "a leading private equity firm with $9 billion in capital under management."
[+] Enlarge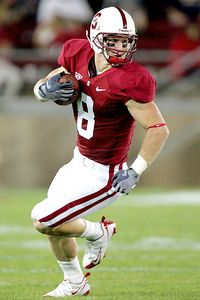 Ezra Shaw/Getty ImagesStanford wide receiver Ryan Whalen is a workout warrior.
Nana, nana, na.
But what being a
Stanford guy
means has changed over the past couple of seasons. Under coach Jim Harbaugh, the Cardinal have become a gritty, physical contender, one that spanked USC and beat eventual Pac-10 champion Oregon last fall.
So while Whalen is clean-cut and smart and probably will one day be a Master of the Universe with a postcard view of San Francisco Bay from the windows of his 800 square-foot office, he also can whip some butt.
Bruce Feldman named North Carolina linebacker Bruce Carter his
No. 1 strength and conditioning "freak
." And Carter is a freak, no doubt. The 238 pounder told Feldman he was most proud of his 374 pound power clean, which is tied for tops on the Tar Heels.
Whalen can only power clean 350 pounds. Of course, he weighs 205 pounds. And plays receiver.
"It's one of my best exercises," Whalen explained.
Whalen also runs a 4.5 40-yard dash, bench presses 340 pounds and squats 455.
Not bad for a former walk-on.
Whalen does have one big advantage in the weight room. He started training hard in high school, and it just so happens at Monte Vista High School in Danville, Calif., that means you get to cross paths with a coach named Alex Krychev, who in 1972 was known as Aleksandr Kraichev,
Bulgarian Olympic silver medalist in weight lifting
.
Still, despite catching 80 passes for over 1,200 yards and scoring 14 touchdowns as a senior and earning All-State honors in football and basketball, Whalen didn't get any Pac-10 scholarship offers. He opted to walk on at Stanford and made such an immediate positive impression he was put on scholarship before his freshman season started.
Just FYI: That scholarship saved his parents about $50,000 a year in tuition and room and board. Merry Christmas, mom and dad.
Whalen played in all 12 games his freshman year, started seven as a sophomore and then led the Cardinal with 57 receptions for 926 yards last year. He's become one of the best receivers in the Pac-10 as Stanford also has risen in the pecking order.
"When I came in, people weren't really sure what to expect," he said. "Now, as the years have gone on, when we talk about things in the offseason -- winning the Pac-10 championship and the national championship -- those are goals that we feel are realistic. You can feel it within the team."
Whalen could put up big numbers this year. For one, the Cardinal, after losing running back Toby Gerhart, the Heisman Trophy runnerup, figures to be more of a passing team. And the guy throwing those balls, sophomore quarterback
Andrew Luck
, could be the No. 1 overall pick in the NFL draft whenever he opts to make himself available.
"He's got great touch and every day in practice he makes a couple of throws where it's like, 'Wow. Not many people can make that throw.' You start to appreciate it as you work out with him more and more," Whalen said.
Luck and Whalen -- among others -- are new sorts of Stanford guys. Sure, they are smart and gifted and are willing to work hard to accomplish their goals. But, first and foremost, they want to beat your brains out on the football field.
"Talent and natural ability are not enough," Whalen said. "What sets players apart is how hard they work and how hard they train themselves to maximize their ability."
April, 22, 2010
4/22/10
4:22
PM ET
High expectations, meet Stanford quarterback
Andrew Luck
.
[+] Enlarge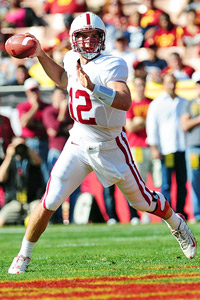 Gary A. Vasquez/US PresswireAndrew Luck tries to block out speculation over his future in the NFL.
Luck, by the end of the 2010 season, could become an All-America candidate. The sophomore, in fact, is already generating NFL draft hype --
and questions
.
There are a couple of reasons for this: 1. He's a major talent; 2. He led the Pac-10 in passing efficiency as a redshirt freshman. In other words, potential and production.
He's 6-foot-4, 234 pounds and he moves well. He's got an outstanding arm. He's smart. He's grounded. His father, Oliver, is a former NFL quarterback.
Red flags? None, other than the Stanford banners being waved by folks who are starting to imagine that Luck can lead the Cardinal back to the Rose Bowl.
The obvious challenge for him going forward into 2010 -- other than managing his growing stardom -- will be leading an offense that is only replacing college football's best running back:
Toby Gerhart
, who produced 28 touchdowns last fall.
That's a lot of production walking out the door into the NFL.
Stanford finished spring practices last weekend, so it seemed like a good time to check in with Luck as he heads into his offseason.
Last year you were a green-around-the-gills redshirt freshman: Do you feel like a veteran quarterback now?
Andrew Luck
: A little bit. One year does make a whole lot of difference.
How tough was it to sit out the Sun Bowl last year due to a broken finger?
AL
: It was tough. If you asked any athlete who goes through the entire regular season and doesn't get to partake in the postseason or the bowl game, it's not going to be fun. It was tough. But that being said, I was happy for Tavita [Pritchard] to get a chance to play because he had done so many great things for me during the season and helped me out so much. I was excited for him.
Tell me how you feel spring practice went: What went well and what do you guys still need to work on?
AL
: Overall, I thought spring was extremely competitive. There were a lot of physical practices. A lot of guys flying around, getting better. Personally, I felt like I improved on my grasp of the offense and sort of evolving into being a leader on the team. As far as the fall, we've just got to keep working on getting ourselves in good position to run a good play and take care of our assignments.
Toby Gerhart was a workhorse. He scored 28 touchdowns. How does the offense evolve without him? How will you look different?
AL
: Toby was special. He did a lot of great things. I think we'll probably have to throw the ball more. The running backs will be a little bit more by committee as opposed to one workhorse shouldering the load. People are going to have to step up at different positions. It will be exciting though.
When you have a Heisman Trophy candidate in your backfield, it takes the attention off you, the pressure off you. Do you feel like now your role has changed and you are now the center of attention, the guy with the pressure on him to carry the load, not to mention all the chatter about your being a future No. 1 NFL draft pick?
AL
: It's definitely different. Toby was definitely the man for the whole team last year. I try not to pay much attention to all that [draft talk]. I can easily get myself in trouble if I start getting into all that. I tried to put more pressure on myself this spring to step up and shoulder the load of the team more.
Everybody has a different style of leading: How do you plan to become more of a leader that fits in with your personality?
AL
: I think I need to work on being more vocal. I tend to be quiet sometimes, even when I do have something to say. I've been working on that a little more. Honestly, we have a bunch of great leaders on the offense, like [receiver]
Ryan Whalen
and the older guys on the offensive line, Andy Phillips and Chase Beeler. It's not like one guy has to motivate everyone else to come out and do extra work. People want to do it any way. In that regard, it's almost easy being a quarterback on this team. But I do need to work on being a little more vocal.
Are you able to block out the NFL speculation, or are you at least curious about the draft gurus already talking about you?
AL
: I honestly try to block it out as much as possible. I don't think about it. It's a long way off for me. If I do start thinking about it, I know I'll get myself in trouble.
You know people mention that you, as a third-year player, could conceivably leave for the draft after this season?
AL
: I honestly haven't thought about it. My only priority right now is next season and hopefully winning the national championship.
Speaking of the offense: Who else stepped up this spring, other than the guys like Whalen and receiver Chris Owusu, who everybody knows about?
AL
: A couple of young receivers did a heck of a job this spring.
Jamal-Rashad Patterson
and
Drew Terrell
really stepped their game up a lot. And the running backs,
Jeremy Stewart
, who played two years ago but hurt his foot last year, did a heck of a job this offseason, as well as
Stepfan Taylor
and
Tyler Gaffney
.
You get to play against them every day in practice: It sounds like the defense showed some spark this spring with new coordinator Vic Fangio.
AL
: Definitely. They are a little saltier than they were last year. [Sophomore inside linebacker] Shayne Skov is doing a heck of a job. It's really fun to see him grow after going up against him last year. You could tell during training camp last year that he was a great athlete and a great football player but maybe he didn't have his whole head wrapped around the scheme they were trying to run. You could tell he was running around not knowing what he was doing. Now he's flying around making plays all over the field. The secondary is doing a heck of a job, making a lot of plays and really putting pressure on our receivers to step their game up and putting pressure on me to step my game up. It's been very competitive.
September, 12, 2009
9/12/09
1:11
PM ET

Posted by ESPN.com's Ted Miller
Andrew Luck
bounces back from his first career pick deep in Wake Forest territory to throw his second beautiful touchdown pass, this one 17 yards to
Ryan Whalen
.
Stanford up 14-3. Luck is 11-for-15 for 134 yards. At this point, it's fair to say that he's meeting high expectations.
The Cardinal O-line, with a pair of redshirt freshmen starters, is owning the line of scrimmage.
The defense has been bending but not breaking. Nice third and short stop near midfield -- play by LB Clinton Snyder -- to get the ball back in Luck's hands.