NCF Nation:

Ryan Winterswyk
January, 6, 2011
1/06/11
2:54
PM ET
Earlier this week, I gave you an update on
non-AQ players in the various all-star games
set to be played later this month. We have a few more names to add to the East-West Shrine Game roster. The game is set for Jan. 22 in Orlando at the Citrus Bowl.
Virgil Green
, TE, Nevada
Bruce Miller, DE, UCF
Jah Reid, OT, UCF
Vai Taua
, RB, Nevada
Brandyn Thompson, CB, Boise State
Winston Venable, S, Boise State
Ryan Winterswyk, DE, Boise State
December, 7, 2010
12/07/10
11:30
AM ET
The season started with such high expectations -- BCS bowl or bust. After all, Boise State returned nearly every starter off a team that went undefeated in 2009 and won the Fiesta Bowl over TCU. The Broncos began the season with the highest ranking in school history at No. 3 in the AP poll, setting the stage to potentially become the first non-AQ team to make it into the BCS National Championship Game.

The first hurdle was the season opener against No. 10 Virginia Tech at FedEx Field, a virtual home game for the Hokies.
Kellen Moore
engineered a dramatic comeback after Boise State blew an early 17-0 lead, and Boise State won 33-30, validating its high ranking. The Broncos beat Oregon State a few weeks later, and remained in the top 5, jockeying for position with TCU as the top non-AQ. TCU moved ahead after a win over Utah, but it appeared the momentum began to swing back toward Boise State after the Horned Frogs had a close win over San Diego State. Most projected Boise State would be the top non-AQ if it won out.
But alas, it was not meant to be. The Broncos lost a heartbreaking stunner to Nevada 34-31 in overtime on Nov. 26, dashing their hopes at getting a BCS bid. Kyle Brotzman missed a 26-yard field goal that would have won it in regulation, then another 29-yarder in overtime. He became the subject of harassment and ugly taunts, but Chris Petersen maintained it was a team loss. Indeed, the Broncos blew a 17-point halftime lead. Still, Boise State was able to win a share of the WAC title, finished No. 10 in the BCS standings and ended their WAC membership with a 40-0 record at home in league games. The senior class has gone 47-5 with two undefeated regular seasons and a BCS win.
Offensive MVP: QB Kellen Moore.
A Heisman Trophy finalist and WAC Co-Offensive Player of the Year, Moore threw for 3,506 yards, 33 touchdowns and five interceptions -- and he's only a junior.
Titus Young
,
Austin Pettis
and
Doug Martin
deserve recognition as well. All three made the WAC first team: Young had 1,151 yards receiving and 9 touchdowns, Pettis had 804 yards and 9 touchdowns, and Martin had 1,113 yards rushing and 11 touchdowns.
Defensive MVP: Billy Winn, Shea McClellin, Ryan Winterswyk, Chase Baker.
This was simply too close to call, but the nod goes to the entire front four for being the engine that made the defense go. The four combined for 19.5 sacks and helped set the tone for everyone else to follow.
Turning point:
The loss at Nevada killed its chances at a BCS game.
What's next:
Boise State plays Utah in the MAACO Bowl in Las Vegas on Dec. 22, then prepares for life as a member of the Mountain West missing several key players including Young, Pettis, Winterswyk, Winston Venable, Brandyn Thompson and Jeron Johnson.
November, 18, 2010
11/18/10
1:30
PM ET
Boise State has another chance to make a lasting impression on voters when it hosts Fresno State on Friday night.
The Broncos are already under a microscope every time they play, with critics parsing their final scores, their final stats, their strength of schedule. They are the only undefeated team playing this weekend, so they have a chance to really set themselves apart from TCU in the race to become the top non-AQ school in the BCS standings.
Or they have a chance to slip back down behind the Horned Frogs in the human polls, which directly impacts the BCS standings. Such is the dynamic when you are a team outside a power conference. You either win impressively or you win not so impressively and are judged accordingly.
So any old win is just not going to be good enough the rest of the way, no matter the level of competition. If No. 4 Boise State (9-0) wants to pass No. 3 TCU (11-0) in the BCS standings, the Broncos are going to have to impress the voters. And nothing impresses the voters more than big, gaudy scores.
[+] Enlarge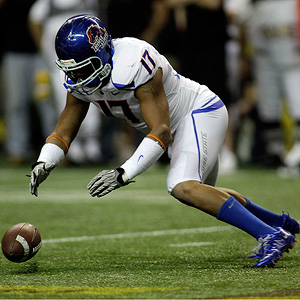 AP Photo/Ted S. WarrenWinston Venable says Boise State is only concerned with wins, not style points.
Look at TCU. The Horned Frogs jumped ahead of Boise State two weeks ago in the human polls with a 47-7 win over Utah. But after beating San Diego State last week 40-35, the voters dropped them back down from No. 3 to No. 4. (Utah losing to Notre Dame also had an impact).
Look at Boise State. After a 49-20 win over Louisiana Tech on Oct. 26, critics lashed out at the Broncos for giving up so many points. Boise State dropped from No. 2 to No. 3 in the coaches' and Harris polls as well.
Boise State coach Chris Petersen is adamant he will not run up the score to make the final look more impressive, though he refrains from commenting on the jockeying for position between Boise State and TCU as the weeks wind down.
But to say the players are unaware of what is going on is to say they have their heads buried in their famous blue turf.
"It's unfortunate if people are just looking at the final score," safety Winston Venable said. "If you're really watching the game and you see who's playing and all that … we could leave
Kellen Moore
in the game until the last play in the fourth quarter and the scores would be different. I don't think we're too into style points. If you want style points, you get Kellen Moore and
Titus Young
throwing fade balls in the fourth quarter.
"That's not what we're about. We want to get execution down, the win and develop players for the future. We're not concerned about the style."
Those style points do not even enter their minds when they take the field.
"You can't think about whether we have to go out there and win by this many points for the voters," Boise State defensive end Ryan Winterswyk said. "If we're playing great and things are clicking, people are going to be impressed. If we have a letdown, people aren't going to be impressed."
As for being judged on the final score alone, Winterswyk said: "I'm sure people do that all the time; that's the way it is. I'm sure if we played in a BCS conference, it would be a little different if you win a game by eight or nine points. But everyone wants us to win by 39 points. It's college football so anything can happen every week."
Boise State has an opportunity to move past TCU in the BCS standings because of its upcoming games: Friday night against the Bulldogs (6-3) and next Friday night at No. 18 Nevada (9-1). The Broncos have won two of their last three over Fresno State by less than 20 points, so you have to wonder whether that will be "impressive" enough. And what qualifies as "impressive enough" if they are able to beat a ranked Wolf Pack team with one of the best 1-2 punches in the country in
Colin Kaepernick
and
Vai Taua
?
Every week continues to be a guessing game, and it will continue to be that way until the final BCS standings are released Dec. 5. Only then will Boise State comment on exactly where it stands in the eyes of the nation.
"You've seen all these changes in the rankings, and you don't want to get caught up in what you see because you know it can change the next week," Venable said. "There would be a better time for that question after that final ranking comes out because that's the only one that matters. Until that point, it doesn't bother us. It doesn't matter at all."
September, 23, 2010
9/23/10
11:00
AM ET
Here we go again. Boise State. Another opponent from an automatic qualifying conference. Another nationally televised game. Another chance to prove the Broncos belong in the national championship conversation.
For the second time in three weeks, all eyes will be on No. 3 Boise State (2-0) in prime time. This time, the Broncos host Oregon State in a Saturday night game. They answered a few skeptics with their season-opening win against Virginia Tech, only to turn those skeptics into non-believers again when Virginia Tech lost to James Madison the following week.
Nonetheless, Boise State is only interested in what it can control. And it can control the way it plays against the Beavers.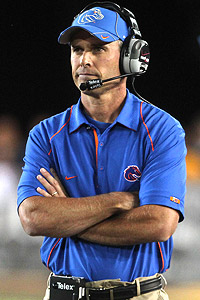 AP Photo/AAron OntiverozCoach Chris Petersen and Boise State are braced for another nationally televised game.
The only problem is this – to many, the matchup represents the final game of the season for Boise State. There are not many people who take its remaining schedule seriously, even though Nevada and Fresno State have looked much improved this season. Hawaii and Utah State, too.
Those scheduling questions are fair to be sure. But this game against Oregon State is not the final game on the schedule. It is just the third. And Boise State knows it must continue to win, and go undefeated, if it has any shot at all at playing in the national championship game.
"I'm sure we're going to have many more
challenges down the road," Boise State coach Chris Petersen said. "The thing we think about is what we've got going this week."
That would be Oregon State (1-1), a team that already has lost to the other top non-AQ school in the country, TCU. The Beavers had a tough time getting
Jacquizz Rodgers
going in that game, gaining 75 yards, and the Horned Frogs got good pressure on quarterback
Ryan Katz
in the 30-21 win.
The vastly underrated Boise State defensive line has been outstanding in two games this season, though the Broncos could be without Shea McClellin, who suffered a concussion last week and is listed as day to day.
That would be a huge blow, considering he leads the team with 2.5 sacks. The other defensive end, Ryan Winterswyk, who led the team with nine sacks last season, has yet to get one as he has been double-teamed often.
Boise State ranks No. 2 in the country in rushing defense and No. 5 in total defense, and has no problems playing a physical game. If the nation learned anything from the Virginia Tech game, it was that this defense is not about finesse.
Meanwhile,
Kellen Moore
picked up where he left off in the final two minutes of that Virginia Tech game. Moore went 20-of-30 for 370 yards last week in a 51-6 win against Wyoming, with two touchdowns and an interception.
He is even better in the red zone. According to ESPN Stats & Information, Moore has a 209.1 pass efficiency rating inside the 20 since the 2009 season, which ranks him second among active quarterbacks in that time frame. His favorite receiver in the red zone –
Austin Pettis
, who has been targeted 32 times. Remember, Pettis had two red-zone touchdowns against Virginia Tech, including the game-winner.
There is no question this is a big game for both teams. Oregon State has painted its practice field blue in order to prepare for the turf at Bronco Stadium. But it is much bigger for the Broncos. They have won five of their past six games against AQ opponents.
This is the first game of the season at home for the Broncos, and the atmosphere should be raucous. "College GameDay" will be in Boise for the first time, and anticipation has grown throughout the week.
"It's going to be a great environment," Petersen said. "It seems to always be when we play at home. It's such a great place. It's not the biggest stadium, but it has as good an energy as any stadium we've been around. We're real excited to get back here."
December, 30, 2009
12/30/09
7:09
PM ET
SCOTTSDALE, Ariz. -- Boise State's defense knows that stopping the run is the key to stopping TCU in Monday's Fiesta Bowl.
The Horned Frogs rank fifth in the country in rushing with 256.50 yards per game and do so with a balanced attack that features three running backs each with more than 600 yards.
"With TCU, they really don't want to be a balanced attack," Boise State defensive end Ryan Winterswyk said. "They want to run the ball then they'll throw screens and things like that. Gameplan-wise, it's pretty simple. We have to stop the run. And then on the screens and things, we have to get out and cover some ground."
Stopping the run seems simple enough except the Horned Frogs feature three running backs with three distinctive styles. Senior
Joseph Turner
, who leads the team with 732 yards and 11 touchdowns, would be considered the power back. Freshman
Matthew Tucker
, who is second on the team with 667 yards and eight touchdowns, is more of a finesse and speedy back. Redshirt freshman
Ed Wesley
, who has 630 yards and four touchdowns, is the team's best receiving threat out of the backfield.
The trio, in conjunction with quarterback
Andy Dalton
, has rushed for more than 200 yards three times this season and rushed for more than 300 yards in four of the last five games.
"This is not a team where you take away one guy and you can say, 'Now we've got them,' because they've got that guy, they've got this guy, they've got too many of those," Boise State defensive coordinator Justin Wilcox said. "So, you've got to know where you fit within the defense, play your assignment and you've got to tackle well. That's going to be the No. 1 thing, tackling well."
The Broncos know the TCU running game well. During the Poinsettia Bowl last season, the Horned Frogs rushed 51 times for 275 yards against the Broncos and scored two rushing touchdowns.
But the passing game wasn't as prolific as it is now. The Horned Frogs threw for just 197 rushing yards in that bowl game, the seventh time they had thrown for fewer than 200 yards last season, and they basically relied on one receiver to make all the plays. This year, Dalton has become more comfortable in the passing game and several receivers have contributed. While the Frogs don't have a standout receiver like Jimmy Young was a year ago, they have four receivers with 398 or more yards. Dalton has thrown for 2,484 yards this season, a career high, and has 22 touchdown passes, which is more than double his previous career-high.
Wilcox said one of the toughest things about studying TCU's offense is that they run multiple plays out of the same formations and don't tip the plays they're going to run. He said it's also tough to know the extent of the offense because TCU's large margins of victory allowed them to run a basic offense to victory. The Horned Frogs won 10 games by double digits.
Boise State safety Jeron Johnson said it's easy to get caught up in TCU's running game and forget the pass. But that doing so could be a costly mistake.
"They do want to run the ball initially, but they've hurt teams passing the ball as well," Johnson said. "It's kind of difficult trying to play both run and pass because you come up in the run and the receiver is behind you, touchdown. You know, once they get past you, FOX, who's doing the game, is going to have the cameras on you saying you did something wrong. That's really what I don't want, personally."
October, 20, 2009
10/20/09
11:30
AM ET
Posted by ESPN.com's Graham Watson
BOISE STATE BRONCOS (6-0, 1-0 WAC)

Boise State is ranked No. 4 in the
BCS standings
, the highest ranked nonautomatic-qualifying team in the country. The Broncos don't have any ranked teams remaining on their schedule and currently they have just one team with a winning schedule -- Idaho -- remaining, which could help them go undefeated this year. However, the weak schedule might cost the Broncos some points in the computer rankings, but the Broncos can't worry about that. All they need to do to stay in the race for a BCS bowl berth is keep winning.
Offensive MVP
Kellen Moore, QB:
There's been no sophomore slump for Moore, who came into this season with a ton of hype after a stellar freshman campaign. Moore leads the nation in passing efficiency and has been steady in all of the Broncos games so far. He's already thrown for 1,404 yards and 16 touchdowns and has just two interceptions.
Defensive MVP
Ryan Winterswyk, DE:
Winterswyk put up great numbers last year and was off to a slow start this season until last week's game against Tulsa when he broke out with two sacks and three tackles for loss. Winterswyk has been key in the Broncos defense holding opponents to just 277.33 yards per game.
October, 14, 2009
10/14/09
10:08
AM ET

Posted by ESPN.com's Graham Watson
Boise State is consistently in the Top 25, and of late has been a staple in the top 10, but few people outside of its fan base really know anything about the team or many of its players. As the Broncos head into tonight's pivotal game against Tulsa, here are a couple of facts to familiarize yourself with Boise State.
BOISE STATE BRONCOS
Record: 5-0, 1-0 WAC
Coach: Chris Petersen (40-4)
Offensive formation: Multiple
Defensive formation: Multiple
Signature: Blue home FieldTurf
Notable: Boise State has appeared in the AP poll for eight consecutive seasons. Its highest ranking during the regular season was reaching No. 5 this year. It's highest ranking in the final AP poll is No. 5 in 2006.
NOTABLE OFFENSIVE PLAYERS
| | |
| --- | --- |
| | |
| | AP Photo/Matt Cilley |
| | Quarterback Kellen Moore is completing almost 70 percent of his passes this season. |
Kellen Moore, QB, So.
Moore is a cool character in the pocket. He's not easily rattled and usually hangs in to make his throws. He's also mobile, and has a knack for sensing and getting out of trouble. He's completed 92 of 132 passes for 1,217 yards, 13 touchdowns and just two interceptions. Last season, he was named the WAC Freshman of the Year and was a Freshman All-American by the Football Writers Association.
Petersen quotable: "Kellen is doing a nice job in managing our offense. He has been very accurate and doing a very nice job in finding the open receivers."
Austin Pettis, WR, Jr.
Pettis became the go-to receiver after three of the top four receivers from last season graduated. He's stepped into the role nicely and provided leadership both on and off the field. He's become Moore's favorite target with 28 catches for 378 yards and six touchdowns. Pettis has had two 100-yard games and at least one touchdown in every game this season.
Petersen quotable: "Austin is the most sure-handed receiver we have had at Boise State in a long time. He continues to make the tough catches and he has become our go-to guy."
Jeremy Avery, RB, Jr.
Avery is the team's leading rusher and primary back ever since co-starter D.J. Harper was lost for the season with a torn ACL. Avery has 71 carries for 441 yards, but just one touchdown this season. Doug Martin, who is filling in for Harper, has four touchdowns. Avery is a shifty back with great vision and breakaway speed, which makes him difficult to catch in the open field.
Petersen quotable: "Jeremy has done a good job in finding the creases and exploding through the line. We need him to continue to do that throughout the season."
NOTABLE DEFENSIVE PLAYERS
Kyle Wilson, CB, Sr.
Wilson is the team's best player and star defender. He often draws the assignment of the opposing team's best receiver and against Tulsa tonight that will probably be Damaris Johnson. Shockingly, Wilson has no interceptions after having five a year ago and he has no punt returns for touchdowns after having three last season. Much of this is because offenses have learned to throw and kick away from him to minimize his effectiveness.
Petersen quotable: "Kyle is the leader of our defense. He is playing very well and doing a nice job playing cornerback for us. In the kicking game [punt returns], he is making good decisions on his returns."
Ryan Winterswyk, DE, Jr.
Winterswyk was an All-WAC first-teamer last season and led the team with 11.5 tackles for loss and 4.5 sacks. But his numbers haven't been close to that this season. He still leads the team with three sacks and is second on the squad with five tackles for loss. Although the stats aren't there midway through the season, Winterswyk is still one of the top leaders on the team.
Peterson quotable: "Ryan is the quiet leader. He leads by example, giving 100 percent in practice and in the game. While he may not have a lot of sacks, he is always around the quarterback."
June, 16, 2009
6/16/09
12:00
PM ET
Posted by ESPN.com's Graham Watson
Boise State's Kyle Wilson won't say the loss to TCU in the Poinsettia Bowl is the only reason the all-conference cornerback decided to forgo the NFL draft and return for his senior season, but it's definitely right up there.
The 17-16 loss to the Horned Frogs that broke up what would have been the Broncos' second undefeated season in the past three years is something that weighs on the minds of all of Boise State's defenders.
"I like to finish things that I've started and I would like to obviously leave on a good note, not saying that last year wouldn't have been," said Wilson, one of just five seniors on the Boise State roster. "The [TCU] loss did leave a bad taste in my mouth, but that can't take away from a good season. That would have been frosting on the cake, though. That would have made it all the better."
The loss to TCU is something that has fueled the Boise State defense during the spring and into player-led workouts this summer. It even prompted coach Chris Petersen to suggest the Broncos' theme for the 2009 season ought to be "One Point," signifying not only the loss but all the details that went into the loss.
"That was one that definitely put the chip back on our shoulder for the defense," defensive end Ryan Winterswyk said of the loss to TCU. "It makes it easier to work hard this summer and going into fall because that was such a close loss and we gave up a lot of rushing yards that game. If we would have kept them down, we would have won that game. It definitely is kind of a thorn in our side and it's something that we look to improve on."
The Broncos' defense focuses on that TCU game because it's the one blemish in what was one of the best defensive years since the Broncos joined the FBS. The Broncos ranked No. 2 in passing efficiency defense with a 94.43 rating, No. 3 in scoring defense (12.62) and No. 20 in total defense (308.15 yards per game). Only USC was better in passing efficiency defense and it was the highest passing efficiency defense ranking for the Broncos since they were ranked seventh in 2003.
"In the past at Boise State, we've outscored teams and the defense didn't have to worry about giving up too many points because the offense just scores 50 points," Winterswyk said. "We knew we were talented, but I don't think even we knew how good we were going to be going into the season until we got into fall came and things like that. Then the defense got a little bit of swagger and things like that. After we beat Oregon, we really started feeling pretty good about how our defense was looking."
The goal this year? Wilson said it's to be even better than last year. He said his goal is to strive for perfection and encourage his teammates to do the same by setting a positive example on the field.
He's watched hours of film from last season, picking out moments in games where he could have made that extra play to give the Broncos the edge. Although the minimal defensive mistakes accounted for just one loss, Wilson and the rest of his defensive teammates are hoping for no regrets at the end of the 2009 season.
"Since I came back, since last winter when we started working out again, it's been in my head," Wilson said of the TCU loss. "You know, that feeling of coming up short. It's something I haven't forgot and hopefully I won't have that feeling again."