May, 24, 2012
5/24/12
2:00
PM ET
PONTE VEDRA BEACH, Fla. -- I had a chance to catch up with UConn coach Paul Pasqualoni during the Big East spring meetings. We talked about where the quarterback race stands and some of his remaining questions heading into fall practice.
Do you have a front-runner in the race to be your starting quarterback?
PP:
Chandler Whitmer had the best production in the spring game, so I think there are members of the media, and I've been through this before, that like to choose the quarterback. If the members of the media, based on the spring game, were choosing the starting quarterback, Chandler Whitmer would be the front-runner. But I've been in this long enough to know that it's not based on one performance. It's the body of work over an extended period of time. They all did some pretty good things in the spring. Having said that, we're going to come back into preseason camp and we're going to continue the competition but I would like very, very much to make a decision as soon as I can.
[+] Enlarge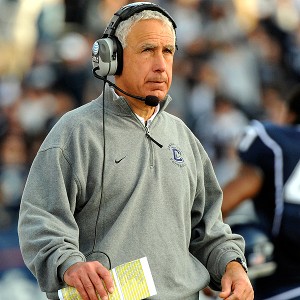 AP Photo/Tomasso DeRosaPaul Pasqualoni still has a decision to make regarding his starting quarterback.
It did drag on into the season opener last year.
PP:
I preferred for that not to happen. Years back when we had Donovan McNabb, Kevin Johnson and Keith Downing all competing, it was the same thing; we were trying to figure it out. We weren't able to do it early in preseason, so we did it in the end to get all the scrimmages in and get all the opportunities to watch and see them play and produce. If we have to, we're going to do that, but if we don't have to, we're not going to do that. I'd like to be able to say tomorrow, 'Here it is, let's go,' but I just can't do that. So we're going to grind it out. It's a big decision, obviously, and we're going to try to make the best, informed decision that we can.
How will you manage the reps with all five still competing?
PP:
We did a great job of managing the reps in the spring, so we'll go back in and we'll manage the reps the same way. They'll each get a significant number of reps. Scotty McCummings will still have the majority of the Wildcat reps, although he works on the entire game plan and we're trying to develop him as a drop-back passer as well. We'll divide them up and we'll do the best we can with it.
If Casey Cochran doesn't emerge as your starter, have you given thought to redshirting him?
PP:
We haven't discussed any of that yet. We really don't talk about redshirting anyone at this point. My policy is I want them coming in with a non-redshirt mentality when they get on campus. My fear has always been if you start to talk that redshirt mentality and they come into camp and they're not ready enough, it affects their conditioning and the way they go through practice. I want them coming in and all competing.
How about the development of your offensive line this spring. Where does that group stand?
PP:
We're anxious to get
Jimmy Bennett
back. He'll be back. He's been cleared, he'll work out full go here in early June. He was really one of our better tackles last year. The biggest issue with Jimmy is to get him ready to go but keep him healthy.
Adam Masters
got nicked up in the spring, we have to get Adam back, and over at right tackle,
Kevin Friend
has been working hard. So if Jimmy's back and Jimmy's playing tackle, it gives us flexibility to put Adam back at guard.
Alex Mateas
and
Tyler Bullock
are competing at center. There are a few freshmen I want to see practice, Tyler Samra, Rennick Bryan. I want to see where they can fit in the top 10. So those are going to be all really big things for us with the offensive line in camp.
How about the defensive line? It seemed Ryan Wirth had a good spring game.
PP:
Ryan Wirth got nicked up but then he came back for the spring game and had a very productive spring game. He's a senior, and we expect to get senior leadership out of him.
Shamar Stephen
,
Angel Pruitt
, I thought
Julian Campenni
had a productive spring until he got hurt. He cut his ear and was unable to play in spring game but he had a productive spring. We're not there yet on the defensive line, and we're not there yet on the offensive line, but we're going in the right direction. We've got the right guys on the bus. It's a matter of getting them in the right seats now.
What are your biggest questions then, aside from quarterback?
PP:
Offensive line, defensive line, and what the depth is going to be at both the tailback position and the wide receiver position.
Losing D.J. Shoemate was obviously tough.
PP:
It was. We know what
Lyle McCombs
can do. But we've got to find out who the next two guys are.
At receiver, Shakim Phillips seemed to have a good spring as well.
PP:
Shakim had a good spring,
Mike Smith
is back and he's played a lot of football for us.
Nick Williams
is back. We've got the two young guys in
Tebucky Jones
and
Geremy Davis
who have done pretty good, and then we moved
Deshon Foxx
out to wide receiver and he showed some promise. I think we know who the older guys are there. Now we have to figure out the younger rookie guys and see what kind of depth we have. I want each of them to have a role. To say that I've got all that figured out right now -- I don't.
May, 17, 2012
5/17/12
9:00
AM ET
Let's put one final bow on the spring with a look at five top breakout players.

JaQuez Jenkins, safety, USF.
With starting strong safety
Jon Lejiste
out for the spring because of injury, Jenkins made his presence immediately felt in the defensive backfield and had one of the best springs of anybody on the Bulls roster. Jenkins was everywhere, making big plays and hard hits. His emergence gives USF a nice problem to have once Lejiste returns in the fall.
Scott Radcliff, receiver, Louisville.
The most talked-about receiver after the Cardinals' spring game the former walk-on, who played with the first team and led all receivers with nine catches for 119 yards. He is listed ahead of
Eli Rogers
at the H-receiver spot on the post-spring depth chart.
Walter Stewart, defensive end, Cincinnati.
Yes, Stewart is a returning starter. But he has never had a spring like the one he just completed, in which he was able to maintain what he started as his position. Stewart had been switched to several positions earlier in his career, but now he has a home at end and is ready to be a force this season.
Ray Vinopal, safety, Pitt.
Safety could actually turn out to be a position of strength across the Big East with some of the talent that has emerged this spring. Vinopal sat out a year after transferring in from Michigan, and despite the coaching change, had an outstanding spring. He made big plays, forced turnovers and now makes safety a bright spot for the Panthers with
Jarred Holley
,
Andrew Taglianetti
and
Jason Hendricks
all returning.
Ryan Wirth, defensive tackle, UConn.
The Huskies lost an NFL player in Kendall Reyes, along with their other starting tackle, so this is a huge question going into the season. But Wirth showed he can make an impact inside, especially after his spring performance, with 4.5 sacks and a safety.
May, 10, 2012
5/10/12
1:00
PM ET
With the season coming into view, let's take a look at what we learned in the Big East this spring.

1. Running backs have to prove themselves.
Isaiah Pead is gone. Antwon Bailey is gone.
Ray Graham
is coming off a serious knee injury. There are some major question marks at virtually every Big East school at this position headed into the fall. Chief among them -- how does Graham do a year removed from ACL surgery? How do Cincinnati, Syracuse and Louisville spread the ball to their various running backs? How does Temple replace the production of Bernard Pierce? Does
Savon Huggins
improve on his injury-shortened freshman season at Rutgers? How is
Lindsey Lamar
used in the backfield at USF? Can
Lyle McCombs
repeat as a 1,000-yard rusher for UConn?
2. Next sack leader?
The Big East generally has some of the top leaders in sacks in the country. Last year, it was
Trevardo Williams
and
Aaron Donald
who emerged to finish in the Top 10. The year before, it was first-year Big East player Bruce Irvin. So who is the next Big East player to lead the charge? USF defensive end
Ryne Giddins
, Cincinnati defensive end
Walter Stewart
and UConn tackle
Ryan Wirth
all had terrific springs so keep those names in mind as the season begins.
3. Earth to offense.
We had an inkling that the Big East defenses would be way ahead of the offenses this spring, and that all came to fruition once the spring games were played. Defenses essentially dominated at nearly every school. Syracuse did not score a point on offense; UConn had two total offensive touchdowns; USF quarterback
B.J. Daniels
went 9-of-26 for 88 yards in the Bulls' spring game;
Chris Coyer
and his receivers struggled in the Temple spring game; and the Pitt passing game was just so-so in its final scrimmage. While it is true defenses are usually ahead of the offenses in the early going of practices, it is obvious most every offensive unit needs to get much better this offseason.
4. Bridgewater: Rising star.
It was apparent that Louisville had a special player in
Teddy Bridgewater
last season. But worries about a potential "sophomore slump" have been temporarily put to rest after the spring he had. Bridgewater was stellar in the spring game, going 19-of-21 for 257 yards and three touchdowns. Afterward, offensive coordinator Shawn Watson said that Bridgewater completed about 70 percent of his passes in the spring. "I know he's been lights out," Watson said. "He's really played very well. I challenged him with the things he needed to get better with and use all the tools he has available to him. As a young player, he didn't quite get it. Now he's getting it. You're seeing a lot more completions now. He's worked hard. He's doing a lot of good things with his eyes and playing well."
5. Athletes (almost) everywhere.
One trend to watch is the conversion of quarterbacks to running backs/receivers. Cincinnati moved
Jordan Luallen
to receiver, and he is expected to see time as a Wildcat quarterback as well. Ashton Broyld has been moved to running back, though he also played receiver in the spring game. Louisville converted quarterback
Dominique Brown
to running back last fall, and he is in contention to win the starting job. Temple running back
Jalen Fitzpatrick
was recruited as a quarterback out of high school. Those four players have the potential to be huge assets to their team. There were a few other notable position switches as well -- Lindsey Lamar is now at running back at USF; and
Jeremy Deering
is now a receiver at Rutgers.