NCF Nation:

Sam Schwartzstein
March, 15, 2013
3/15/13
12:00
PM ET
You might have noticed a theme this week. We kicked off the "
Biggest Shoes
" series and had two polls (
North
and
South
) on replacing departed players. So that means it's now time for your Pac-12 bloggers to weigh in on which two players we believe leave the biggest holes. Given our penchant for quarterbacks, you might find our two choices surprising. Read on.
Ted Miller:
I do not know what size 6-foot-3, 320-pound Utah defensive tackle
Star Lotulelei
's shoes are, but I'd bet they are among the biggest in the Pac-12 -- in more ways than one.
The thing about replacing a dominant interior defensive lineman is that it's difficult to measure what you're losing. An All-America receiver or running back or even cornerback leaves, and you feel fairly comfortable quantifying what is lost and must be replaced. Lotulelei, however, was more than the sum of his stats -- 42 tackles, 10 tackles for a loss, five sacks, four fumble recoveries, three forced fumbles and a very important blocked kick.
Lotulelei changed what an offense could do. He changed blocking schemes. He demanded specific attention from an offensive coordinator and a line coach. He made sure the interior of the opposing offensive line -- even if the offense was winning the overall battle -- wanted to ask for its check.
He was a unique presence. An anomaly. A college center could start 48 games in his career and face a guy like him just once. That's why Lotulelei will be a first-round NFL draft pick, even with a heart condition. He could get picked in the top five if a team deems him healthy.
But his shoes are even bigger because Utah, after a disappointing defensive campaign in 2012, is replacing three of four defensive linemen. Moreover, the Utes were unhappy with their linebacker play last fall, even with all the protection Lotulelei provided. Opposing offensive lines, unencumbered by the need to double-team Lotulelei every play, will get a lot more hats on those linebackers in 2013. Not what coach Kyle Whittingham wants.
[+] Enlarge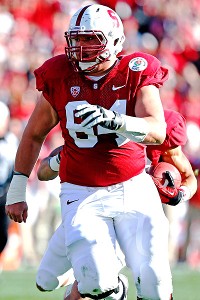 Charles Baus/CSMCenter Sam Schwartzstein was a huge piece of Stanford's recent offensive success.
The cupboard isn't empty. The Utes are high on
Tenny Palepoi
, a 305-pound senior who played well as the backup to defensive tackle
Dave Kruger
last season. And there are other big bodies:
LT Tuipulotu
, Stevie Tu'ikolovatu, a 320-pound redshirt freshman, and
Viliseni Fauonuku
will be in the mix.
Yet the Utes defensive coaches won't even pretend one of those guys will fill Lotulelei's shoes. They are just too big.
Kevin Gemmell:
This is a tough one. I've been going through a bunch of players all week long trying to come to a conclusion on which one I wanted to write about (and Lotulelei was already taken). All of them are important --
Matt Barkley
,
Khaled Holmes
,
Robert Woods
,
Jordan Poyer
,
Travis Long
,
Markus Wheaton
,
Brandon Magee
,
Desmond Trufant
,
Stepfan Taylor
,
Johnathan Franklin
,
Zach Ertz
,
Dion Jordan
and … (insert name I unintentionally omitted and now you feel wildly offended).
There really is no wrong answer here. Each player is a major contributor to his team in his own way. But the one name that kept coming back to me is Stanford center
Sam Schwartzstein
. I know, not as exciting as
Kenjon Barner
or glamorous as
Matt Scott
. But in terms of sheer contributions to the team that will be tough to replace, Schwartzstein has to be in the conversation.
In 2011, he was regarded as having the second-best football mind on the team -- behind only Andrew Luck. And he didn't lose any of that in 2012.
After the quarterback, there is no more important position on Stanford's offense than the center. He makes all of the scheme and protection calls at the line of scrimmage. He even calls plays in the huddle when the Cardinal go into the Wildcat.
Schwartzstein started every game since taking over for All-American Chase Beeler, and twice he blocked for a 1,000-yard rusher in Taylor. The Cardinal played 14 games in 2012 and allowed just 20 sacks. In the 12-game regular season, they had allowed a conference-best 17. The year before that? Just 11 in 13 games. I know for a fact that there were zero quarterback-center exchange fumbles in 2011. And none comes to mind in 2012.
Khalil Wilkes
, who started almost every game last year at left guard (one start at left tackle) moves over to compete with
Conor McFadden
for the gig. Maybe the transition from Schwartzstein to one of those guys will go as smoothly as the handoff from Beeler to Schwartzstein. After all, the new center will have one bona-fide All-American at his side and potentially a couple more on the line.
But they won't be the ones making the calls. That falls on the center -- and Schwartzstein was outstanding at it. He was second-team all-conference and honored with the school's leadership award. Not Taylor, not Ertz. Not
Shayne Skov
nor
Ryan Hewitt
nor the aforementioned All-American
David Yankey
. The center … the most crucial position in Stanford's offense that you never hear about.
Tough shoes to fill, indeed.
December, 30, 2012
12/30/12
10:00
AM ET
LOS ANGELES -- Before a Stanford offensive lineman ever sees the field, he must first negotiate "The Room." And The Room can be tougher than any drill, any conditioning program or even any defensive end or linebacker he will face. Because it's in the The Room where line coach Mike Bloomgren not-so-silently passes judgment on who does or doesn't have the chops.
And it's not just Bloomgren. It's the veterans, too --
Sam Schwartzstein
,
David Yankey
,
Kevin Danser
– who will self-police and critique those who desire more playing time.
"Everything those guys get in that room is earned," said Stanford head coach David Shaw. "And it's a tough room. You walk in that room, you better have thick skin. Cause it's not just Mike that's going to get on you. Sammy's gonna get on you. David Yankey's gonna get on you. If you can handle that room and come out and perform, you deserve to play."
[+] Enlarge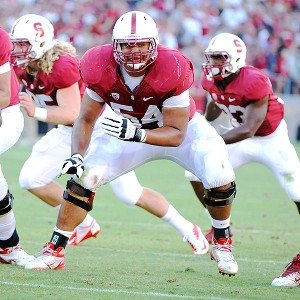 AP Photo/Rob HoltDavid Yankey and Stanford's offensive line have kept grinding down foes despite constant turnover.
For as much credit as Stanford gets for overcoming the losses of Toby Gerhart, Jim Harbaugh and Andrew Luck over the past few seasons, forgotten is that the offensive line has had to re-invent itself several times over with multiple standouts leaving for the NFL. The philosophy remains the same. But the personalities of each line have changed throughout the years.
"It starts in recruiting," said Bloomgren, who began his career as a graduate assistant at Alabama and cut his teeth for four seasons as an offensive assistant with the New York Jets. "We were fortunate to plug in the three new guys last year and have them grow (Schwartzstein, Yankey and
Cameron Fleming
). Then you lose David DeCastro and Jonathan Martin a year early and it's like, wow, now we have to do it again. David Yankey comes around and wins the Morris Trophy (given to the Pac-12's top lineman) and is a consensus All-American. It's a compliment to those guys and how they work and striving to get better. They call themselves the Tunnel Worker's Union. Those guys buy into that stuff."
Along with assistant Ron Crook -- who manages the tight ends and offensive tackles -- Bloomgren also coordinates Stanford's rushing attack, which has produced a three-time 1,000-yard rusher in
Stepfan Taylor
. And like any good running back, Taylor knows where his bread is buttered. He's rushed for 1,000 yards behind three very different offensive line units.
"They are a lot more goofy than last year," Taylor said. "They are great guys. I wouldn't want to be behind any other line. They are physical, tough, smart and athletic. That's the thing. They are really big athletic guys running around. It all starts with them and to win games, they have to do their job. And we are winning games so they are obviously doing their job."
Stanford's downhill, power-running approach is appealing to prospective offensive lineman. And the fact that they have offensive packages that involve as many as eight offensive linemen at a time is also attractive.
"For us, we've played one true freshman on the offensive line, up until this year, during the last five years," Shaw said. "This year we've played three. And those guys have earned that.
Andrus Peat
,
Kyle Murphy
,
Josh Garnett
. Those guys have earned that. And those guys have taken some beatings in that room. Some verbal assaults, if you will.
"… There are a lot of places that play five starters and the rest of the guys watch. They've had success and that's great. But we're going to play eight -- at least eight -- just in the Rose Bowl. And we've been that way all year. If we can play nine, we'll play nine. A young guy comes in and knows he's going to have a chance to play. That he won't sit on the bench for three years. If he does it right. If he can survive in our room, he'll get a chance to play."
Danser -- who became a full-time starter this year after seeing lots of time the last couple of years as a reserve -- has seen some great offensive linemen come and go. And he's witnessed each season how the line has rediscovered a new identity and how each group takes on a life of its own.
"It really comes down to the work we do in the winter, spring and summer," Danser said. "It really forms this unit. It takes leaders like Sam and leaders in the past like Chase Beeler, James McGillicuddy, David DeCastro, Jonathan Martin, Andrew Phillips. It's that leadership that makes this a great unit."
And the trio of freshmen who have made their debuts this year know they are getting their trial by fire on the field -- and in The Room.
"The coaches and the older guys won't let anything slide," Garnett said. "They always find something. Yankey tells me you have to find something. You never do it right. Always be nit-picky and find something you did wrong. That's what we're all about -- getting to that next level, never being content. You are always looking for the perfect block."
April, 3, 2012
4/03/12
8:35
PM ET
Recognition is so important for an offense. Think
Andrew Luck
-- or Peyton Manning -- wildly gesticulating at the line of scrimmage.
Or, for that matter, Oregon quarterback
Darron Thomas
doing the same thing.
That was something that stuck with me after I chatted with Oregon sophomore center
Hroniss Grasu
a couple of weeks ago. We were talking about how he improved at making line calls during the 2011 season, but he went out of his way to note how good Thomas was at helping out, at identifying last-second changes a defense made that perhaps hinted at its ill intentions.
The point: Centers and quarterbacks are the brains of an offense. The center typically makes the calls at the line of scrimmage that make sure everyone is accounted for. And quarterbacks communicate to both the skill players and the line about check and audibles.
The QB and center work in tandem. They need to be in sync. And having smart, experienced signal-callers and centers is a big deal for an offense. It means an offense can go to the line with more options, and it can check into the right option more often than not. That breeds confidence, both among players and with their coaches.
So which Pac-12 teams are experienced at QB and center? Who has both back, one back or neither?
Thanks for asking.

Arizona: Center
Skinny
: While
Nick Foles
was the Wildcats' quarterback last year,
Matt Scott
has started five games, so the offense is not in inexperienced hands. Senior center
Kyle Quinn
did a solid job in 2011, earning honorable mention All-Pac-12 honors. On the downside, the Wildcats are installing a new offense with coach Rich Rodriguez, so past experience isn't as helpful.

Arizona State: Neither
Skinny:
QB
Brock Osweiler
is gone as is center
Garth Gerhart
.
Kody Koebensky
likely takes over at center, while the quarterback competition continues to be wide-open. Of course, the Sun Devils are installing a new offense under new coach Todd Graham, so being green isn't as much of an issue.

California: Both
Skinny
: QB
Zach Maynard
should be much more in control as a second-year starter. While center
Dominic Galas
is back, he's sitting out spring due to a shoulder injury, and it appears he will switch over to guard. Galas, some of you Bears fans might recall, did have some issues with shotgun snaps last year.
Chris Adcock
or
Mark Brazinski
could end up winning the job.

Colorado: Center
Skinny
:
Tyler Hansen
is almost certainly going to be replaced at quarterback by Texas transfer
Connor Wood
, a sophomore with no game experience. It should help Wood, however, to have junior
Gus Handler
back making the line calls.
Daniel Munyer
, who's slated to start at guard, also has starting experience at center.

Oregon: Center
Skinny: Center
Grasu's first start as a redshirt freshman was against LSU's beastly defensive front. That was a baptism by fire, but he consistently improved throughout the season. QB
Bryan Bennett
has some experience, including one start, but he will be challenged this spring by redshirt freshman
Marcus Mariota
.

Oregon State: QB
Skinny
:
Sean Mannion
is back at QB, but center
Grant Johnson
is gone. The frontrunner to win that job is sophomore
Roman Sapolu
. The Beavers have injury issues on the line this spring, and that likely will slow down the unit's -- and Sapolu's -- development.

Stanford: Center
Skinny
: You might have heard that Andrew Luck is gone.
Brett Nottingham
and
Josh Nunes
look like the favorites to replace him, but neither has significant experience. Senior
Sam Schwartzstein
did a fine job stepping into Chase Beeler's shoes in 2011, but life was, naturally, easier with Luck at QB. More will fall on Schwartzstein in 2012.

UCLA: QB
Skinny
: The Bruins have two quarterbacks with significant starting experience back:
Kevin Prince
and
Richard Brehaut
. But redshirt freshman
Brett Hundley
might end up winning the job. All three are learning a new offense this spring under new coach Jim Mora and offensive coordinator Noel Mazzone. Sophomore Jacob Brendel -- or perhaps junior
Greg Capella
, who mostly started at guard last year -- are the frontrunners to replace
Kai Maiava
at center.

USC: Both
Skinny
: You've maybe heard of Trojans QB
Matt Barkley
and his receivers,
Robert Woods
/
Marqise Lee
, being the best pass-catch trio in the nation. Well, Barkley and senior center Khaled Holmes are the perhaps the best QB-center combination in the nation. Holmes was second-team All-Pac-12 in 2011, and he's probably the best center in the conference.

Utah: Both
Skinny
: Junior
Jordan Wynn
, a three-year starter, only needs to stay healthy for the Utes to get at least solid QB play. Center
Tevita Stevens
is solid, but he will be breaking in a pair of new OTs.
Washington: Both


Skinny
: Junior QB
Keith Price
was a revelation last year as a first-year starter, far eclipsing the production of his celebrated predecessor, Jake Locker. Senior center
Drew Schaefer
is a 30-game starter. So this is a strong combo for the Huskies.
Washington State: Both


Skinny
:
Jeff Tuel
feels like a decided frontrunner to retain his starting job at QB, while junior
Matt Goetz
returns at center. A junior-college transfer in 2011, he started the final nine games of 2011. A year of seasoning -- and in the weight room -- should help Goetz in 2012.
November, 21, 2011
11/21/11
1:00
PM ET
Saturday night had all of the ingredients for another historical Big Game. But
Coby Fleener
's recovery of the onside kick in the final minute dashed Cal's hopes of a crazy comeback. Before we start looking ahead to Saturday's regular season finale against Notre Dame, let's take a look back at a few highlights from the 114th Big Game.
[+] Enlarge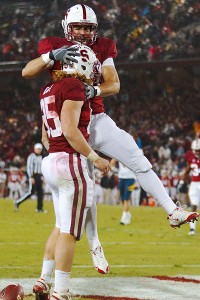 Jason O. Watson/US PresswireCardinal fullback Ryan Hewitt is congratulated by tight end Davis Dudchock (back) after scoring a touchdown against California.
Highlight reel
: Jarek Lancaster's sack on
Zach Maynard
in the third quarter was
instinctual linebacking at its finest
. Lancaster wasn't going in on a designed blitz. He reacted almost immediately to Maynard rolling to his left, he shed a blocker and then turned up field before throwing Maynard to the ground. Those are the kinds of plays that make defensive coaches giddy.
Best play
:
Ty Montgomery
's 34-yard touchdown run
was a text-book end around
. A little motion to get the momentum going, then great blocking by Jonathan Martin and
Griff Whalen
. Loved the hustle by center Sam Schwartzstein to try and get downfield to make a block. But Montgomery was just too darn fast for his own linemen -- and the Cal defense. This guy has some serious speed.
Who's hot
: No one hotter right now than fullback
Ryan Hewitt
. From various receiving positions -- tight end, receiver, slot and fullback, he caught all seven balls thrown his way against Cal for 64 yards and a receiving touchdown. He also got the job done in two short-yardage running situations.
Who's not
: On the whole the offensive line. Still too many leaks and too much penetration. After going four games with just one negative play, running back
Stepfan Taylor
was brought down four times in the backfield -- and that's penetration. Plus, quarterback
Andrew Luck
was sacked twice against Cal, making it five in the last two games.
The good
: A win anytime is good. A win against Cal is better. A win when four teams ranked ahead of you in the BCS standings all lose in the same weekend is absolutely smashing.
The bad
: Still too many missed tackles in the open field. It got better with the return of safety Delano Howell, who had five solo stops. But still way more than you'd like to see 11 games into the season.
November, 13, 2011
11/13/11
2:36
AM ET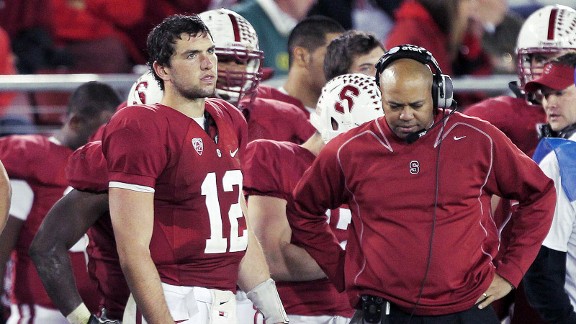 Ezra Shaw/Getty ImagesStanford QB Andrew Luck and coach David Shaw saw their 17-game win streak evaporate.
STANFORD, Calif. -- Babies don't go from crawling to running marathons. They stumble along the way. They awkwardly grope for something to hold on to. And when there is nothing there, they fall.
In terms of playing in significant college football games, Stanford is a program still very much in its infancy. And when it tried to get up and run, it fell. And when it groped Saturday night -- usually for Oregon running back
LaMichael James
-- there was nothing there. And when the Cardinal fell, they took the nation's longest winning streak and a shot at the national championship along with them.
"Now, we're going to see maturity-wise how we handle coming back from a game like this," said David Shaw, who suffered his first loss as Stanford's head coach. "It's hard to say what's going to define a season because the season is not over. We have a lot of football to be played, so we'll see how it all shakes out."
Stanford may very well end up in a BCS game as an at-large team (let's go ahead and assume Oregon doesn't lose its remaining two games, to USC and Oregon State). It could still win out and have one of the strongest seasons in school history. No shame in that.
But this is the one that people are going to remember. The one-sided
53-30
score, for sure. But also the missed tackles and turnovers -- five of them, if you're keeping count at home.
They won't remember a fantastic, two-touchdown game from wide receiver
Griff Whalen
, who at times looked like the only guy in red capable of catching a ball. They'll remember the drops. They'll remember James going for 146 yards and three touchdowns.
They won't remember a pretty good 99-yard rushing game from
Stepfan Taylor
-- who once again wasn't tackled for a loss. They'll remember the three sacks and two interceptions by quarterback
Andrew Luck
, who finished 27-of-41 for 271 yards and three touchdowns.
"They were fast on film and they were fast on the field," said Luck. "It was no surprise. They are a very good defense. They did a lot of good things. That forced us to make some bad decisions. Fast, definitely. Probably the best defense we've faced all year."
And that defense made a high-powered offense look mediocre, holding the Cardinal to 129 yards rushing and knocking Luck around the backfield. For perspective, he'd been sacked only four times in the previous nine games -- including seven games without a sack.
"We're not a team that turns the ball over," said center Sam Schwartzstein. "We're a team that executes extremely well. When you turn the ball over, it doesn't matter how well you execute. They did what we expected them to do. We had a good game plan. But they forced turnovers and got us out of our element."
That might be the most telling thing any player or coach said all night. Stanford fell behind early and was forced to play catch-up all night. They were out of their element. They threw 41 times and rushed 35 times. It was the first time this season a tight end didn't have a touchdown.
"Schematically, I thought we were fine," Shaw said. "This was not going to be one of those games where we run for 300 yards. This was going to be, the way we had it mapped out, a tight game -- which is what it was for a while. But once you turn the ball over and put it back in their hands, that's what they're built for."
And Oregon didn't pussyfoot. It ran right at the teeth of the Stanford defense and the Cardinal failed to make the stops. Oregon ran between the tackles 34 times for 168 yards and three touchdowns.
"The bottom line is they're a great team and great teams execute," said defensive lineman Matt Masifilo. "Great teams find your glitches and they executed more than us. They found our flaws and they exploited us."
And it didn't help that safety Delano Howell -- who had just returned after missing three games with a hand injury -- went out at the 8:13 mark in the second quarter after using his casted hand to force a fumble.
Stanford turned that into a 37-yard Eric Whitaker field goal to cut the deficit to 15-9. But in the third quarter, after James fumbled a punt, the Cardinal weren't able to capitalize. Trailing 29-16, Stanford got the ball at the Oregon 34, but moved the ball only 4 yards before Whitaker missed from 48 yards. It was the first time Stanford failed to score this season after gaining a turnover.
Oregon, meanwhile, had three touchdowns off five Stanford turnovers (though the last two fumbles happened when the game was well out of hand and Oregon wasn't trying to score).
"They took advantage of our turnovers," Shaw said. "We got turnovers and didn't turn them into points. That's the bottom line. You play against a team with that kind of speed, that kind of talent that is as well-coached as they are, you turn the ball over and you can't win."
It was clear Saturday night that -- as a program -- Stanford has some growing up to do.
"We're close," Shaw said. "We're not there yet. We have to keep recruiting. We have to keep coaching and our guys that are here have to keep pushing and fighting.
"I expect them to rebound greatly. We have a lot of guys in our locker room with a lot of character. They love playing the game of football. We've got two regular-season games and next week is Cal. We don't need help with motivation this week."
Saturday night, Stanford stumbled and fell. Next week, we'll see if they can stand back up.
October, 19, 2011
10/19/11
12:00
PM ET
For the
Stanford Cardinal
, the next six weeks will be very different than these first seven.
The critics have been out in full force since the Cardinal stomped San Jose State 57-3 on Sept. 3. And there is certainly some validity to that. Stanford's first six opponents have a combined record of 14-24. None of the teams they faced is better than .500.
But
Andrew Luck
doesn't make the schedule. Chase Thomas didn't have a vote on whether to bring Colorado into the Pac-12. San Jose State is an annual game that will always be on the schedule. The Duke deal was inked before David Shaw was collecting a head coach's paycheck. And I'm pretty sure Sam Schwartzstein doesn't call the plays at UCLA nor
Stepfan Taylor
at Washington State.
In other words, knock them if you want, but don't blame them.
"We've said from the beginning of spring football what people think about us is not important to us," Shaw said. "It's how we play and can we find a way to win on game day."
And that's what the undefeated Cardinal have done -- in a big way. But now things definitely change. The combined record of the teams in the second half: 23-13. Starting with No. 25 Washington (5-1) on Saturday in Palo Alto.
No one needs to tell the Cardinal they are playing a ranked team. They get it. But that isn't changing their approach to the game.
"I think it's understood," said Luck. "It's also understood the deeper you go into the season and conference play, you're going to have to improve game week to be successful. We've won all of our games. You can't complain about that. We've obviously made some mistakes. That's the nature of the game. But I don't think guys are satisfied by any means, which is a good sign."
Satisfaction, or the lack thereof, seems to be a theme throughout The Farm this week.
"We expected to be undefeated, but we're definitely not satisfied," said tight end
Zach Ertz
. "We're excited for the U-Dub game ... but I would say it's the same feeling in the locker room."
The No. 8 Cardinal can make a statement with this game. Though that's not their primary objective. Their goal is to keep winning. If it affects the polls, great. If it doesn't, they aren't going to care.
"We can't control (the BCS standings)," said safety Michael Thomas. "All we can control is who we play and how we play. So we're going to go out and keep taking care of business."
It doesn't get much easier in the coming weeks. Following Saturday, they have back-to-back road games at USC and Oregon State (the only sub-.500 team remaining on the schedule as of this week) before returning home for a season finale stretch of Oregon, Cal and Notre Dame.
Shaw said his team is yet to fire on all cylinders. Which is a good thing, because there is still room to grow. No one wants to play their best football in Week 4.
"Record wise, yes (we're happy), but as for style of play, I would say that we are close, but we're not where we want to be," Shaw said. "We'd love to say that we've played our best football. But we've played in spurts. A quarter here, a half there. We haven't done it for 60 minutes and to a certain degree, that's great for coaches because we can show them on film doing it in the third quarter and not doing it in the first or second quarter ... we're putting urgency on it because we're going to need to do it."
The Cardinal have been notorious this season for slow starts on offense. And even though they are yet to yield any points in the first quarter this season, the offense hasn't performed to its abilities in the first 30 minutes. And while Stanford has been outstanding in the second half, the first half issues have to change in the latter part of the season."
"A lot of it has to do with our team's character and resiliency," Shaw said. "We have not started fast in the majority of our games. But we've finished fast in every one of our games, going all the way back to the Orange bowl. That's just excepted at a higher level. That's been one of our calling cards this year. But we know the games are getting tougher. The opponents are getting tougher and we have to play a full 60 minutes to win."
September, 29, 2011
9/29/11
1:00
PM ET
PALO ALTO, Calif. -- Has there ever been a more appropriate nickname for an offensive lineman than "Moose?" It leaves little to no room for interpretation about size or demeanor.
And except for the fact that Stanford offensive tackle Jonathan Martin is extremely articulate -- and lacks antlers -- the nickname fits him as snugly as his shoulder pads.
[+] Enlarge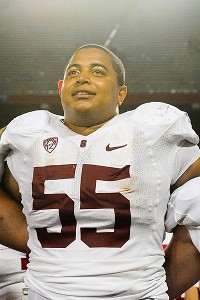 Matt Kartozian/US PresswireStanford offensive tackle Jonathan Martin is expected to be a first-round pick in the NFL draft next spring.
"That's how he introduced himself to me (the first time I met him)," joked quarterback
Andrew Luck
-- whose blindside is protected by the 6-foot-6, 304-pound Martin.
Martin was crowned with the moniker when he was in fifth grade. He was too big to play Pop Warner football in California, so during a flag football game, one of his teammates first called him Moose.
"I guess I was mauling people," Martin said. "It stuck since then."
It's how he still introduces himself -- though not to his professors.
"I'm more comfortable with Jon or Jonathan Martin in an academic setting," he said.
So when his name is called in the first round of the NFL draft -- probably not too long after the guy he's protecting -- chances are it will be Jon or Jonathan.
"He has natural tools," said head coach David Shaw. "An old coach once told me you have to find the guy that can do the things that you can't teach. And you can't teach a guy to be 6-5, 304-pounds and be athletic. And that's what he is.
"He's long. He's got long arms. He's tall, but he's flexible. He can kick and punch, and a lot of the publicity he's gotten is from NFL draft rankings, because he looks like an NFL tackle. Guys like that don't come around very often to be able to do the things he can do."
It's tough to statistically quantify the progress of an offensive line or lineman. But there are a few telltale signs. For example – Stanford has increased its rushing total every week, from 141 yards against San Jose State to 205 against Duke to 242 against Arizona. Luck has only been sacked twice (though one was him running out of bounds). Those are pretty good figures.
"He's a tireless worker," Luck said of Martin. "He takes a lot of pride in being consistent and using the right technique … he sets such a great standard for the younger guys. He's very meticulous, which I appreciate, obviously.
"(The offensive line has) done a great job. They are still hungry … they take pride in the fact that they want to be a physical group."
Martin, who has started in 27 of the past 29 games since redshirting in 2008, checks in as the No. 6 player on ESPN's Mel Kiper's Big Board. He said he still needs some work on his pass protection (Luck would disagree), but he might be the best run blocker in this year's draft class.
"I really like those drives at the end of games when you get to run the ball for 10 straight plays," Martin said. "It's a pretty gratifying feeling."
Shaw has asked Martin to do more than just protect the presumptive top pick in the NFL draft. With three starters from the offensive line graduating last season, Martin and David DeCastro became the veterans of the line. Tackle Cameron Fleming, center Sam Schwartzstein and guard David Yankey had never started a college football gamed prior to the season opener. And if the group was going to meet their coaches' expectations, Martin and DeCastro were going to have to whip them into shape.
"The roles those two guys played were so vital," Shaw said. "It's one thing when the coaches demand it of a young player. It's an entirely different deal when the veteran players, the guys they see in the locker room, in the weight room, and in the training room demand it of them also. There is no soft place to land when you don't do it right. And that's a good thing. David and Jon have been very vocal in their expectations about how the line should play. And each game it's getting better."
The younger players speak highly of Martin, calling him, among other things, an impressive leader. He's made it an emphasis that as a line and a team, he won't accept anything but their best effort. Martin arrived at Stanford in the midst of the culture change and has seen firsthand the strides the program has made. His hope is that he leaves it in better shape than when he first arrived.
"We want to win. We expect to win," Martin said. "That's where the standard has been set. Before, it was just to get to a bowl game. Now we have higher aspirations to win the Pac-12. It's been a fun process to be a part of."
September, 14, 2011
9/14/11
6:00
PM ET
PALO ALTO, Calif. -- It was center Sam Schartzstein who jumped off the film and into Stanford coach David Shaw's good graces following Week 1 against San Jose State.
Last week, against Duke, it was offensive guard David Yankey who made the proverbial big leap between Weeks 1 and 2. And Shaw didn't hesitate to praise the 6-5, 300-pound redshirt freshman.
"David Yankey played a very, very good game," Shaw said. "Pretty much one bad play early in the game and the rest of the game was very, very good. I'm very pleased with him."
The offensive line, with three new starters this season, has been, and will be a point of interest all through the year. The loss of All-American center Chase Beeler, guard Andrew Phillips and tackle Derek Hall, both Pac-10 honorable mention, was perhaps the biggest question marks going into the season.
Against Duke, the new guys got their first taste of delayed blitzes -- something the Blue Devils hadn't shown on film. And it caught the rookies off guard in the first half.
"I believe after this game we'll be prepared for that for the rest of the season," Shaw said. "... We said it in the beginning, we knew we were starting two redshirt freshmen [Yankey and tackle Cameron Fleming]. We know Game 5 they are going to be better than they were Game 1. Every game is going to be taking another step with these two young guys."
Yankey took his coach's praise in stride.
"It's nice, but I still have a long way to go," said Yankey, who was born in Australia and raised in Georgia. "Playing next to Moose (Jonathan) Martin and David DeCastro just shows me how far I have to go. These are just minimal leaps. But it's still nice to hear."
Shaw said he thought the line play, overall, was better than against San Jose State. Fleming didn't make as big a jump as Yankey, Shaw said. But noted, overall, he thought Fleming played better.
Yankey said he and the rest of the line take responsibility for not responding quick enough to Duke's delayed stunts. It's an experience and communication issue that he expects will improve as the new line grows together.
"I'm glad we made the corrections in the second half," he said. "But honestly, you have to be ready for it in the first place. We're coached to respond to everything and be prepared. But we picked it up and got better as the game went on."
While the line was figuring out Duke's scheme, quarterback
Andrew Luck
took more hits than his linemen were comfortable with. That was also a concern for Shaw.
"I would love for him never to get touched," Shaw said. "The bottom line is, that's what I love about him. He doesn't care. But we care a lot. He says 'Coach, I'll stand in there.' At the same time, it's a big reason why we need to be balanced so we don't play against pass rushers all game."
September, 10, 2011
9/10/11
9:38
PM ET
DURHAM, N.C. -- For the second straight week, Stanford's offense tiptoed that ever-so-fine-line between sputtering and spectacular.
At times, they looked unstoppable. Others, leaky.
"Not good enough," said quarterback
Andrew Luck
. "Definitely not in the first half. Not good enough … I made a mistake here. Another guy makes a mistake there. It's hard to get into a rhythm when every other guy is making a mistake. But they had a good defense. They dialed up some stuff and had our number for a while."
[+] Enlarge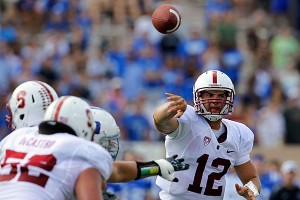 AP Photo/Gerry BroomeStanford quarterback Andrew Luck piled up 290 yards passing and four touchdowns against Duke on Saturday.
And yet the No. 6 team in the nation endured with a victory over Duke at Wallace Wade Stadium -- if you can call a
44-14 victory
and 504 total yards of offense enduring.
But heading into the locker room at halftime with a flimsy 17-7 lead, coach David Shaw recognized that there were some issues.
"We didn't make a lot of changes," Shaw said. "We just charged our guys to play physical and make plays down the field."
The second half was better -- and the Cardinal looked the part of a top-10 team. A closer examination of the stats shows that the Cardinal (2-0) actually had more yards in the first half, 253 to 251 in the second half. But numbers can lie.
The big difference came in the rushing attack. After 68 yards in the first half (including a paltry three yards in the second quarter), Stanford burst open for 137 rushing yards in the second half.
"The first half was a little disappointing," said center Sam Schwartzstein. "But that's the way football is. I'm happy with the way we answered some adversity."
The root of the problem was Duke running delayed blitzes. It tripped up the pass protection and led to Luck taking more hits than his offensive line was comfortable allowing -- including two sacks (one by contact, the second out of bounds).
"Way too many," said offensive tackle Jonathan Martin. "Our communication wasn't all the way down. Guys were coming free who shouldn't have come free. But we're getting there."
Luck finished the game 20-of-28 for 290 yards and four touchdowns. For the second-straight week, he was pulled in the second half.
"Pass protection-wise, it was the stunts [that bothered us]," Shaw said. "But as the game went on, our offensive line got better and better and better."
It looked like Duke (0-2) might grab some momentum before halftime, when Lee Butler intercepted a tipped ball and returned it 76 yards for a touchdown -- cutting Stanford's lead to 10-7 with 2:14 remaining.
Then Jekyll went to sleep and Hyde woke up. Stanford went from lethargic to lethal, needing only 43 seconds and four plays to move 59 yards for a 10-yard Luck-to-
Chris Owusu
touchdown. Stanford took a 17-7 lead at the break and never looked back. Owusu finished with seven catches for 106 yards.
"It's one of the most difficult things in sports, to regain momentum and we couldn't do that," said Duke coach David Cutcliffe. "We didn't make those plays to get that done."
One area that appears to have no consistency issues is the run defense -- which was outstanding for the second week in a row. The Blue Devils were limited to just 30 rushing yards, and if not for a late touchdown with 57 seconds left in the game, the defense would have pitched a touchdown-free performance again.
"It was going to happen eventually," joked linebacker Shayne Skov, who led the Cardinal with 11 tackles.
The front seven were relentless, notching six sacks and 14 tackles for a loss. Linebacker Chase Thomas looked like he was buying real estate in the Duke backfield, tallying 2.5 sacks and 3.5 tackles for a loss. After the Butler interception/touchdown, Duke shocked the Cardinal with an onside kick and recovered -- threatening to take the lead at the half. But the defense sacked Duke quarterback
Sean Renfree
twice in three plays, giving the ball back to the offense, which went on to score on the Owusu touchdown.
The secondary, however, continued to show holes. The Blue Devils threw for 305 yards and, had it not been for three missed field goals, the game might have been even tighter at the break.
In the second half, when the running game was cranking, the passing game opened up. For example, it allowed Stanford to run one of their three-tight-end sets. One goes to the post, one to the corner and the other up the middle.
Coby Fleener
was the guy who went up the middle, and the end result was a bullet from Luck, a mismatch for a shorter defender, and a 60-yard touchdown. The Cardinal went on to score touchdowns on their next four possessions.
"The shortest one (of the tight ends) is 6-5, so it's pick your poison," Shaw said. "When they are one-on-one, we feel like they are all open."
Fleener had a stellar game, catching two balls -- both touchdowns -- for 63 yards. But he too saw the inconsistency on offense.
"I think everybody saw us stall a lot in the first half," he said. "We can't be like that if we expect to win games down the road. We need to play 60 minutes, start fast, and finish similar to the way we did tonight."
Last week, Shaw received the game ball from his players for his first victory as Stanford's head coach. Saturday night, in a game of two halves, it wasn't so clear.
So who gets it this week?
"We'll watch film before we decide," Shaw said.
Probably a good call. Numbers lie.
September, 3, 2011
9/03/11
11:00
PM ET
PALO ALTO, Calif. -- In the first 30 minutes of Saturday's season opener -- despite holding a 27-3 lead -- the
Stanford Cardinal
showed their immaturity.
Seven carries inside the San Jose State red zone produced a mere 5 yards scattered over four possessions. Two of the carries went for a loss. If not for quarterback
Andrew Luck
's 1-yard touchdown run, the running game would have been blanked in the first half at Stanford Stadium.
In the following 30 minutes of Saturday's season opener -- this time with a 29-3 lead -- the Stanford Cardinal showed their maturity.
Running back
Stepfan Taylor
plowed ahead from 3 yards out for a touchdown midway through the third quarter. And the Stanford sideline started to exhale.
[+] Enlarge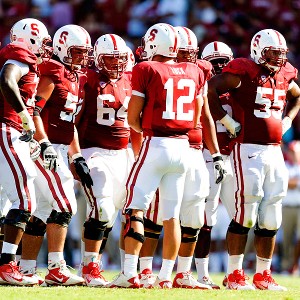 Jason O. Watson/US PRESSWIREA revamped Stanford offensive line kept prized quarterback Andrew Luck from getting sacked against San Jose State.
"I made a statement to the coaches that we were going to run the ball into the end zone," said first-year Stanford coach David Shaw. "We needed that as an offensive line. Our fullback needed that. Stepfan needed that. We need to run the ball physically into the end zone and we did that."
Tough to call a touchdown that puts you ahead 36-3 a "turning point."
But it was.
"Coach came up to me and said, 'What do you want to do?'" said tackle Jonathan Martin, one of two returning starters on the offensive line from last year's 12-1 squad. "I told him we have to run the power. It's a simple guard pull, but that's what we go to when we need to get things going."
That's the veteran leadership Shaw is looking for as his team moves forward with national championship aspirations.
The Cardinal (1-0) cruised to a
57-3 victory
. By halftime, the only real drama was whether San Jose State would take the Interstate 280 or Highway 101 from Palo Alto back to downtown San Jose. It's a push on Googlemaps. About 30 minutes either way depending on traffic.
But today's game was more about Shaw finding out what his team is made of -- particularly running the ball.
"That's where we start," Shaw said. "That's our attitude. That's our scheme. That's the heartbeat of everything we do. This is our first victory. And it didn't come perfectly. But it's a stepping stone and hopefully we'll do better next week."
Left guard David Yankey, center Sam Schwartzstein and right tackle Cameron Fleming are the newcomers to the offensive line -- joining Martin and David DeCastro, all-conference performers last year. And it took some time for the continuity to kick in. It's going to take more time.
"The biggest jump is between Week 1 and Week 2," Martin said.
But they also did a lot of things right. They kept Luck clean and sack-free, allowing the Heisman favorite to throw for 171 yards and two touchdowns on 17-of-26 passing.
"That's important, given who we have at quarterback," Shaw said.
Luck said he expected some first-game jitters from the offense, specifically his re-vamped line.
"I think they started to realize everything in the second half," Luck said. "It's one play at a time. Do my job and everyone around me is going to do their job and we'll get something done. I think that was a big step in terms of building that continuity up."
After rushing for 64 yards in the first half, they came back with 77 yards in the second half -- including a pair of touchdowns from Taylor and another from running back
Tyler Gaffney
.
Continuity is important -- given the transitions this team has endured since last year's 40-12 romp over Virginia Tech in the Orange Bowl. There's a new head coach; rebuilt offensive and defensive lines; new starters at wide receiver.
But there is also Luck. And linebacker Shayne Skov. And linebacker Chase Thomas. And Taylor.
"Our maturity is the biggest thing we have going for us," Shaw said. "We have athletes and we're pretty deep at some positions. We have guys that don't let the game get too big or let the outside influences affect us. Leaders like (safety) Michael Thomas, Skov and Luck. Those guys were here when it wasn't pretty. We weren't ranked and nobody was patting them on the back. They remember that. They'll take the praise, but then they'll turn around and put their heads back on."
That being said, there were certainly first-game mistakes that must be corrected looking forward.
"We had a lot of guys who were unsatisfied with the performance today," Shaw said. "We put our hands on three balls we should have caught. That's not us. We missed a couple of blocks up front. That's not us. Our running back got hit behind the line a couple of times. That never happens to us."
Tough to be unhappy about 8-for-8 on red zone opportunities. Tough to be unhappy with a 54-point victory. But they were.
Mature teams usually aren't happy until the season is over and there's a No. 1 next to their name.
March, 1, 2011
3/01/11
5:40
PM ET
Stanford has a secret: 2010 wasn't only about
Andrew Luck
. And, if things go according to plan, 2011 won't be either.
[+] Enlarge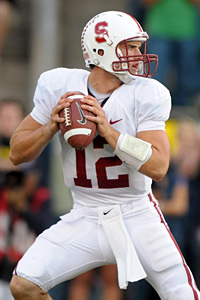 Kirby Lee/Image of Sport/US PresswireAndrew Luck is just part of the reason Stanford has high expectations this season.
It's not that Stanford doesn't recognize the benefit of having the best quarterback in the nation. It does. But the program's transformation from also-ran to BCS bowl winner was more about attitude than Luck.
That attitude -- play with "
character and cruelty
" --started up front under former coach Jim Harbaugh, and that attitude will remain in place under new coach David Shaw, at least according to offensive coordinator Pep Hamilton, whom Shaw promoted from receivers coach.
"We are a power running team," Hamilton said. "We are going to get off the bus running power. We're going to establish and control the line of scrimmage. We want to out-physical our opponent."
Of course, when you're beating a defense up at the line of scrimmage, it makes it a lot easier for any quarterback. And when your quarterback likely would have been the top pick in this spring's NFL draft, well, you're in pretty good shape when the goal is to keep a defense guessing and off-balance.
Just consider the numbers from the
40-12 beatdown
of Virginia Tech in the Orange Bowl. Sure, Luck got lots of attention for throwing four pretty touchdown passes. But the Cardinal rushed for 247 yards and two scores, and averaged eight yards a carry.
There, however, is work to be done this spring. The Cardinal needs to replace three starters from its 2010 line, including All-American center Chase Beeler. So it's not unreasonable to wonder if the offensive line will continue to be -- to use Hamilton's phrase -- "big, tough guys who enjoy imposing their will on their opponent."
Hamilton thinks so, in large part because of the two coming back: left tackle Jonathan Martin and right guard David DeCastro, who both earned first-team All-Pac-10 honors.
"Their personalities, their physical mentalities will permeate amongst the rest of the offensive line group," he said.
Khalil Wilkes and Sam Schwartzstein are battling to replace Beeler. Kevin Danser has been running with the first unit at left guard, while Tyler Mabry is the right tackle. Cameron Flemming and David Yankey also could play their way into the mix.
Still, the Cardinal might take a step back at the line of scrimmage, at least early in the season. Last year's unit welcomed back four starters, and it was widely hailed in the preseason as perhaps the best unit in the Pac-10 after it had paved the way for Toby Gerhart's runner-up finish in the 2009 Heisman Trophy race. As good as Martin and DeCastro are, and as intriguing as the new talent is, it often takes lines time to mesh.
That's where Luck comes in. As a third-year starter, he should be able to carry the load at times in the passing game. An outstanding athlete, he's fully capable of making plays outside of the pocket or with his feet if protection breaks down. But he's also adapting to change with the departure of his two leading receivers,
Doug Baldwin
and
Ryan Whalen
.
"He has some new wide receivers, so he has to work to develop some continuity with those guys," Hamilton said.
With
Chris Owusu
sitting out, those "new" receivers include
Griff Whalen
,
Jamal-Rashad Patterson
and
Drew Terrell
(each is at least a third-year player).
Hamilton doesn't envision Luck's role changing this year, even with his national celebrity as the leading Heisman Trophy candidate. He certainly doesn't want Luck to feel like he needs to transform into an alpha dog in the locker room. That would mean Luck isn't being himself.
"His personality is something that teammates gravitate towards. They all want to reach his level of success. He has field credibility in our locker room," Hamilton said. "He says the right thing at the right times. I don't see that changing."
The offense will try to retain the identity from the "Harbaugh Transformation," but there will be some tweaks to schemes, without question. Said Hamilton, "It's premature to say we've established our offensive identity."
As for life post-Harbaugh, Hamilton said he doesn't expect things to be any less emotional or edgy in the locker room. Sure, Shaw is smoother and less eccentric than Harbaugh. But that doesn't mean he lacks intensity.
"Coach Shaw brings a lot of emotion as well," said Hamilton, who also coached with Shaw when both were with the Baltimore Ravens. "When he's in front of the cameras, he gives a perception that he's laid back. But he's a fiery guy. He's as competitive as any other coach in college football, or in the NFL for that matter."
And if he is successful in 2011, it won't all be about Luck.