NCF Nation:

San Diego Chargers
July, 12, 2012
7/12/12
9:00
AM ET
The longest-tenured coaches in the Pac-12 are on the hottest seats in 2012.
ESPN.com's coaching package continues today with a look at veteran coaches, and that's not necessarily a good -- or popular -- thing in the Pac-12.

While it might be a stretch to say California's Jeff Tedford and Oregon State's Mike Riley are facing "win-or-else" seasons, it wouldn't be ridiculous to say so, either. For one, Bears and Beavers fans saw four coaches get the can this season, and some big names were hired. And big contracts signed. There's a sense of transitioning up in the Pac-12, and with that comes a worry about getting left behind.
Tedford and Riley both took over programs that were mired in losing, and both built winners. But things have stalled of late. Memories aren't too long or terribly forgiving among fan bases these days.
Tedford, who enters his 11th season in Berkeley with a 79-48 record, was one of the hottest coaches in the nation in 2006 after posting his second 10-win season. He could have bolted for the Chicago Bears if he wanted. But Cal is just 21-24 in conference play since 2007. Bears fans quickly got used to winning, and seven or eight victories no longer impress them. A 12-13 record over the past two seasons particularly doesn't.
With a newly remodeled Memorial Stadium and substantially updated facilities, Tedford has finally received upgrades that he was promised when he was first hired in 2002. Some might say that it's impressive that he's won as much as he has with such dilapidated facilities. They could further point out that Tedford filled up Memorial Stadium with paying customers, thereby making facilities upgrades possible.
But others only see the recent struggles and the growing fortunes of Oregon and -- eeek! -- Stanford. Those folks are losing patience.
As for Riley, he enters his 12th season in Corvallis -- a tenure wrapped around an unhappy three years leading the San Diego Chargers -- with a 72-63 record and a .533 winning percentage. Just two seasons ago, he was the toast of the town. USC tried to lure him away before hiring Lane Kiffin. But after two losing seasons, some fans see not only a downturn, they also are no longer that impressed with the previous winning, writing it off as a misplaced satisfaction with only fair-to-middling results. And Riley's folksy charm no longer seems to hold much sway with his critics.
It doesn't help that Oregon has pushed into the nation's elite over the past three seasons. A rivalry that had been trending even is now owned by the Ducks.
It doesn't seem to matter to Riley's critics that the Beavers' all-time winning percentage is .481, which ranks 98th among FBS teams. They see that as the dusty past. And, again, if Oregon can do it, the Beavers believe they can, too.
After Tedford and Riley, only one other coach has been with his team five or more years: Utah's Kyle Whittingham. He's 66-25 in seven seasons, but, of course, six of those were in the Mountain West. He's about as secure and respected as a coach can be.
At least for now. They used to say that about Riley and Tedford.
February, 23, 2012
2/23/12
11:00
AM ET
Oregon coach Chip Kelly was baffled in a phone interview before the Rose Bowl. How the heck could little-old-him be important to a reporter?
"The big story," he said conspiratorially,"is all these new coaches."
Well, it's the big story now as the Pac-12 turns its attention away from the 2011 season and toward 2012 spring practices. And, of course, Kelly is part of a reason there are four new coaches in the conference. Mike Stoops, Dennis Erickson, Rick Neuheisel and Paul Wulff -- fired at Arizona, Arizona State, UCLA and Washington State, respectively -- never beat Kelly and, in fact, came within double digits of his Ducks only once (Arizona, with a 44-41 loss in 2009).
But the story isn't just four new coaches. It's four new coaches whom folks have heard of, each of whom is getting a big-boy salary that would fit in among the SEC or Big Ten. Big salaries are the new normal in the Pac-12 after the conference signed a $3 billion TV deal with ESPN and Fox.
[+] Enlarge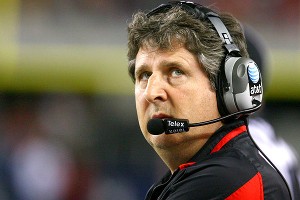 Karl Anderson/Icon SMIWashington State went from paying Paul Wulff a $600,000 salary to paying new coach Mike Leach $2,250,000.
So out goes Stoops and his $1,456,000 salary, and in comes Rich Rodriguez and his $1,910,000 paycheck. Out goes Erickson and his $1,503,000 salary, and in comes Todd Graham and his $2 million tab. Out goes Neuheisel and his $1,285,000 salary, and in comes Jim Mora and his $2.4 million annual take. Out goes Wulff and his $600,000 salary, and in comes Mike Leach and his $2,250,000 price tag.
The chief idea is obvious: Pac-12 schools are paying for an upgrade in coaching talent, and there are high expectations for getting their money's worth. And, by the way, there's an added bonus for each hire: Each new coach has a chip on his shoulder and something to prove.
In 2010, Rodriguez was ingloriously dispatched at Michigan after three tumultuous and unsuccessful years. Athletic director Greg Byrne is betting that Rodriguez is far closer to the highly successful coach he was at West Virginia than the one who got run out of Ann Arbor, and Rodriguez surely wants that impression to be his legacy. It helps that he got his man, Jeff Casteel, to run the Wildcats' defense, which he failed to do at Michigan.

Graham took a lot of heat from a pandering, sanctimonious media and a whiny Pittsburgh fan base for how he left the Panthers. "He didn't even say goodbye," they collectively sobbed. "Waaah." Of course, Graham does have an unfortunate habit of describing every job as his "dream job." All that stuff is mostly hogwash, though. What matters is winning, and if Graham does that, the media will all come down en masse to Tempe pretending they didn't trash Graham's character for taking a better job, in a better conference, in a better place to live while making his family happy in the process.

Mora was fired in 2009 after only one season with the Seattle Seahawks, and he's bided his time looking for another head-coaching job. Seeing that he was two or three names down UCLA athletic director Dan Guerrero's coaching list -- Chris Petersen! Kevin Sumlin! -- some Bruins fans reacted with disappointed smirks to Mora's hiring. Then Mora hired an outstanding staff. Then he reeled in an outstanding recruiting class. Some of those frowns are turning upside down.

Leach was fired at Texas Tech in 2009. He's one of the best offensive minds in the nation, and the almost universal reaction is athletic director Bill Moos hit a home run with this big-name hire. The Pirate Captain looks like the perfect match for Pullman and the Cougs, and he'll be plenty motivated to prove his critics wrong and erase the bad ending in Lubbock.
It's fair to say these four hirings have generated positive momentum for these programs, though, of course, to varying degrees. There's a hope among the fan bases that these four can create quick turnarounds.
And that also leads into another major coaching story entering the spring: The Pac-12's most senior coaches, California's Jeff Tedford and Oregon State's Mike Riley, sit on the hottest seats.
Tedford enters his 11th season in Berkeley having followed up his first losing campaign -- 5-7 in 2010 -- with a middling 7-6 finish in 2011. Riley, the man deserving the most credit for making one of the worst programs in college football respectable, enters his 12th year in Corvallis -- two tenures wrapped around an ill-fated stint with the San Diego Chargers -- burdened by consecutive losing seasons, including a 3-9 finish that felt so 1987.
Spring practices for Tedford and Riley will be about setting up turnaround season that give their frustrated fan bases hope -- and keep their athletic directors from issuing dreaded votes of confidence while checking their coaching Rolodexes.
Meanwhile, Kelly and USC's Lane Kiffin, still relative coaching newbies in the conference, enter spring likely trying to tone down the positive hype. Both will begin the 2012 season ranked in the top 10. USC could be preseason No. 1. Both are overwhelming favorites in the North and South Divisions. And their meeting on Nov. 3 in L.A. could have national title implications.
But that's looking ahead.
The big story this spring in the Pac-12 is newness and rebirth. One-third of the conference's teams hope that newness at the top of their programs will create a rebirth in the Pac-12 standings.
February, 6, 2012
2/06/12
7:45
PM ET
We all love redemption stories, yes? It's satisfying when a jerk redeems himself by: 1. Admitting he was crossing the line; 2. Ceasing his questionable behavior.
Unfortunately, former Washington State quarterback Ryan Leaf's redemption from being a questionable player, for which he is seeking attention, is incomplete.
We know this because Leaf called Oregon State coach Mike Riley "an idiot" this past week as he tried to
drum up publicity for his new book
.
Said Leaf: "I know the Chargers made mistakes, but I made a bunch of mistakes myself, and I've got to take responsibility for that. I mean, Mike Riley is an idiot, but I can't do anything to change that. He wasn't supposed to be a head coach in the NFL. Why was he there?"
No. 1: I do not think Riley is an idiot. I've never heard Riley's intelligence called into question by anyone. And, by the way, I was there when he was
about to get fired by San Diego
.
No. 2: Leaf's intelligence — intellectual as well as emotional — has been called into question by just about everyone who has known him throughout his life, even by those who defended him, such as former Washington State coach Mike Price.
Leaf is not qualified to call someone an idiot. The life he has led, from an NFL bust, to blaming everyone but himself for being a bust, to pleading guilty to felony drug charges, to calling a truly nice guy an idiot, shows that his bulb continues to burn dimly. Saying such a thing so publicly only makes Leaf look crass and petty and juvenile.
Leaf told Kevin Acee of the San Diego Union-Tribune that he wants to pursue a career as a motivational speaker, particularly working with young people.
"I don't want anyone to ever feel how I felt," Leaf said. "I was just miserable. I wasn't happy with who I was."
So, Ryan, if Riley cared about your opinion, how do you think he'd feel about being called "an idiot"?
The problem with redemption is the person seeking it actually needs to be redeemed, and not just trying to get some attention so he can sell some books and maybe pick up an easy paycheck for a speaking engagement.
February, 3, 2012
2/03/12
1:23
PM ET
Stanford's recent success just about
Andrew Luck
? That's just silly talk.
If ESPN NFL draft guru Todd McShay is on target with his mock 2012 NFL draft, plenty of evidence to the contrary
will be produced on draft day
.

McShay projects that Luck will be the No. 1 overall pick, of course, but he also projects that Luck will be joined by three teammates in the first round.
How many other teams will produce that many first-round picks? One: National champion Alabama.
The Pac-12 has seven first-round picks in McShay's mock draft.
Here's how McShay sees things, with some comments included.
1. Andrew Luck, QB Stanford (Indianapolis Colts)
2. Matt Kalil, OT, USC (St. Louis Rams)
13. David DeCastro, OG, Stanford (Arizona Cardinals)
This might seem a bit high for a guard, but DeCastro was the most dominant interior offensive lineman in the nation in 2011 and has a chance to develop into one of the elite NFL players at his position. Offensive tackle is also a need area, but DeCastro is a much better overall player than the top available tackle. Cornerback could also be a consideration, but both
Janoris Jenkins
(North Alabama) and
Dre Kirkpatrick
(Alabama) carry off-field baggage.
18. Jonathan Martin, OT, Stanford (San Diego Chargers)
20. Nick Perry, DE, USC (Tennessee Titans)
The Titans have three defensive ends set to become free agents and need a dynamic pass-rusher to complement Derrick Morgan. While Perry is raw, he has good initial burst and natural pass-rush skills. Cornerback, safety and offensive line are also need areas, but Perry makes the most sense in this situation.
26. Coby Fleener, TE, Stanford (Houston Texans)
The Texans would rather get a wideout here to complement Andre Johnson, but Rutgers'
Mohamed Sanu
and South Carolina's
Alshon Jeffery
would be reaches at this point. A difference-maker at tight end would help, though, and Fleener is a reliable target with toughness, a competitive nature and underrated speed/athleticism. He could draw some attention to the middle away from Johnson, and with a deep wideout class Houston could find a quality receiver in the next couple of rounds.
29. Vontaze Burfict, LB, Arizona State (Baltimore Ravens)
Burfict is a physical freak with tremendous athleticism and explosive power. He's a top-20 talent, but questions about his discipline on and off the field are hurting his stock. However, Burfict could contribute immediately and would benefit greatly from the leadership and guidance of Ravens middle linebacker Ray Lewis. And you have to wonder whether the Ravens would press their luck and take another player with character flags after bringing cornerback Jimmy Smith into the fold last year.
Here's McShay's
player rankings
.

Here's Kiper's
Big Board
.

And here's Kiper's
top-five by position
,

which is chock full of Pac-12 players.
Most interesting: Kiper ranks former Arizona State's Brock Osweiler No. 3 among the quarterbacks, ahead of former Arizona's
Nick Foles
, who is fifth. Luck, of course, is No. 1 and Heisman Trophy winner
Robert Griffin
III is No. 2.
If Osweiler ends up getting picked on the first day -- first two rounds -- it certainly will validate his surprising decision to enter the NFL draft.
May, 1, 2011
5/01/11
12:26
PM ET
The Pac-12 provided 37 players to the NFL draft over the weekend, one fewer than the SEC, which led all conferences.
If the six combined picks from Colorado and Utah are taken away from the conference, the old Pac-10 provided NFL teams 3.1 draft picks per team, also just behind the SEC at 3.17.
Here's where the Pac-12 players went:
First round
No. 8
Jake Locker
, QB, Washington: Tennessee
No. 9
Tyron Smith
., OT, USC: Dallas
No. 17
Nate Solder
, OT, Colorado: New England
No. 24
Cameron Jordan
, DE, California: New Orleans
No. 27
Jimmy Smith
, CB, Colorado: Baltimore
Second round

7.
Akeem Ayers
, LB, UCLA: Tennessee
10.
Brooks Reed
, DE, Arizona: Houston
13.
Rahim Moore
, FS, UCLA: Denver
21.
Stephen Paea
, DT, Oregon State: Chicago
24.
Shane Vereen
, RB, California: New England
Third round

13.
Jurrell Casey
, DT, USC: Tennessee
20.
Mason Foster
, LB, Washington: Tampa Bay
25.
Shareece Wright
, CB, USC: San Diego
29.
Christopher Conte
, S, California: Chicago
33.
Sione Fua
, DT, Stanford: Carolina
Fourth round

5.
Jordan Cameron
, TE, USC: Cleveland
19.
Casey Matthews
, LB, Oregon: Philadelphia
21.
Jalil Brown
, CB, Colorado: Kansas City
27.
Owen Marecic
, FB, Stanford: Cleveland
Fifth round

8.
Brandon Burton
, CB, Utah: Minnesota
9.
Gabe Miller
, DE, Oregon State: Kansas City
14.
Jacquizz Rodgers
, RB, Oregon State: Atlanta
23.
Richard Sherman
, CB, Stanford: Seattle
Sixth round

2.
Ryan Whalen
, WR, Stanford: Cincinnati
14.
Caleb Schlauderaff
, OG, Utah: Green Bay
17.
Ronald Johnson
, WR, USC: San Francisco
19.
David Carter
, DT, UCLA: Arizona
22.
Allen Bradford
, RB, USC: Tampa Bay
24.
Mike Mohamed
, LB, California: Denver
32. Ricky Elmore, DE, Arizona: Green Bay
38. Zach Williams, C, Washington State: Carolina
Seventh round

12.
D'Aundre Reed
, DE, Arizona: Minnesota
24.
Scotty McKnight
, WR, Colorado:
New York Jets
30.
Lawrence Guy
, DT, Arizona State: Green Bay
37.
Stanley Havili
, FB, USC: Philadelphia
38.
David Ausberry
, WR, USC: Oakland
39.
Malcolm Smith
, LB, USC: Seattle
By Pac-12 school:

Arizona (3)
Arizona State (1)
California (4)
Colorado (4)
Oregon (1)
Oregon State (3)
Stanford (4)
UCLA (3)
USC (9)
Utah (2)
Washington (2)
Washington State (1)
The final tally by automatic qualifying conferences
:
SEC... 38
Pac-12... 37
Big Ten... 36
ACC... 35
Big East 22
Big 12...19
Nebraska was a big swing to the Big Ten from the Big 12 with seven picks. With Colorado and Nebraska, the Big 12 provided 30 selections.
This was the tally through three rounds
:
SEC: 20
ACC: 19
Pac-12: 15
Big Ten: 13
Big 12: 9
Big East: 4
April, 16, 2010
4/16/10
11:15
AM ET
CORVALLIS, Ore. -- Ambition and wealth called Mike Riley on a Saturday in January and asked if he wanted to leave Oregon State and take the scepter of the nation's pre-eminent football power, the
USC Trojans
.
[+] Enlarge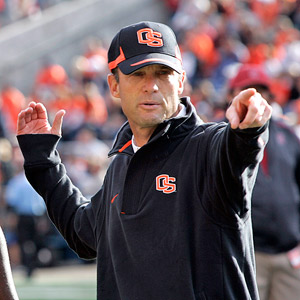 AP Photo/Don RyanMike Riley left Oregon State once before, and he learned that the grass is not always greener in the larger spotlight.
The pitch, one could imagine, included talk of national and Pac-10 championships. There was music ("
Fight on
!" and "
Tribute to Troy
"). And dance (
Song Girls
!). And money (surely more than double the million bucks Riley made annually in Corvallis).
It was a tempting offer. This was an opportunity, perhaps the last, for the 56-year-old to stand on top of the coaching mountain and see what the view looks like.
But he politely said, "No thanks."
"One thing I've learned is that if you are going to teach loyalty, you've got to live it," he said. "I told my wife that I didn't think I could look in the mirror after what I've told our team, how I've recruited here. I don't think I could leave. It wouldn't be a good picture. There was really no way I could leave."
Understand: There's nothing wrong with ambition. This is the United States of America. We like ambition here. The juvenile caterwauling when Lane Kiffin left Tennessee for USC? Yawn. Kiffin got a better job and a raise. End of story.
And yet there's something undeniably charming about a guy like Riley -- perhaps the friendliest, most accommodating guy in big-time football coaching -- saying no to La-La land to stay in the rainy Willamette Valley and continue leading his overachieving program.
Of course, you've read this before. Oregon fans are rolling their eyes. Yes, reporters sometimes get a kick out of a coach who sits down for a 15-minute interview about his football team and a wide-ranging, 45-minute chat about just about anything breaks out.
Riley himself steers the conversation toward the foundation of his loyalty to Oregon State: a hard lesson he had to learn. Ambition and wealth called from Southern California a decade ago and he said yes. Riley jilted the Beavers -- and left the small town where he grew up -- just as he was leading them out of the college football morass and became the San Diego Chargers' head coach in 1999.
He went 14-34 before being fired. I
covered his last game
. He was extremely polite and open with reporters asking him if he was about to be canned.
"I really appreciate Oregon State people who still come up to me and say, 'Thanks for staying.' That means a lot to me because I have left before," Riley said. "I've been around the block. I know who we are and I know the grass is not always greener. I haven't forgotten that Oregon State gave me a renewed opportunity here."
That came in 2003 when Dennis Erickson left Corvallis for an ill-fated "promotion" to the San Francisco 49ers, a decision that Erickson still offers as the worst move of a career that featured many.
Since Riley returned, the Beavers, a program that only broke a streak of 28 seasons without a winning record in 1999, have played in six bowl games and won five. He's become the program's second all-time winningest coach with 64 victories. In 2008, he won Pac-10 Coach of the Year honors after the Beavers handed USC its only loss of the season, an epic 27-21 win in Corvallis that prevented the Trojans from playing for then-coach Pete Carroll's third national title.
After USC called following Carroll's jump to the Seattle Seahawks, Riley signed a three-year contract extension with Oregon State that runs through the 2019 season. It essentially functions as a life-time deal -- "I've always fought for years more than money," he said.
He also fought for raises for his staff, which is widely regarded as one of the best in the Pac-10.
The past two seasons, Riley and his Beavers finished tied for second in the conference. This past year, the Beavers played the annual Civil War against rival Oregon with the Rose Bowl as the winner-takes-all stakes. The Beavers haven't played in a Rose Bowl since 1965.
The Ducks prevailed 37-33.
"I want to show you something," Riley says as he fires up film of that game.
The Beavers, down four, have the ball and are driving. It's a third-and-9 play from Oregon's 21-yard line in the fourth quarter. There's no sound on the video but everyone knows the din at Autzen Stadium. And that din likely is the reason that freshman offensive tackle Michael Philipp is slow out of his stance as the ball is snapped, which results in super-quick Ducks end Kenny Rowe getting a half-second head start that's impossible to overcome. Rowe swallows quarterback
Sean Canfield
for a sack and 6-yard loss.
Riley hits pause. "Look at that!" he says. Beavers receiver
Jordan Bishop
, who lined up in the slot to Canfield's left, is standing alone in the endzone, no Duck anywhere near him.
Riley is smiling, though. It's not easy to get to the Rose Bowl.
USC has been to 33 and won 24, which is 10 more victories than any other Pac-10 team has Rose Bowl appearances.
"We know the vantage point we come from here is never going to be easy," Riley said.
But then Riley starts talking about spring practices and his 2010 team and he gets excited.
He's in his element. He's content. His wealth and ambition just happen to reside in Corvallis.
March, 2, 2010
3/02/10
8:02
PM ET
Lots of goings on at the NFL combine with Pac-10 guys. Here are some updates.
From Scouts Inc.
reports on ESPN.com
:
From other sources:
January, 10, 2010
1/10/10
12:32
PM ET
If you were ranking the wish list pecking order for who USC might want to hire to replace coach Pete Carroll -- and, yes, we
continue to wait
for an official announcement from the Seattle Seahawks -- it likely would go: 1. Oregon State's Mike Riley; 2. Tennessee Titans coach Jeff Fisher; 3. Jacksonville Jaguars coach Jack Del Rio.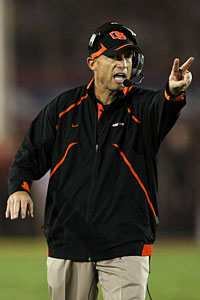 Stephen Dunn/Getty ImagesMike Riley and the Beavers finished 8-5 this season.
From the moment Bruce Feldman first reported it -- and other insiders have since backed it up -- Riley has been
choice No. 1
.
Riley would be an interesting hire. Combine his acumen as a talent evaluator and X's and O's skills with USC's recruiting base and national reach, and the end-result could be outstanding. His sterling reputation of a man of integrity also would go over well with the NCAA, which is investigating the Trojans' football program.
The question is whether Riley wants the job. There's a big difference between Oregon State and USC, Corvallis and LA, from expectations to lifestyle. Heck, start with traffic.
Riley has repeatedly said since he returned for his second tenure at Oregon State that he wants to retire a Beaver and he's never seemed driven by money, which he certainly could make more of with the Trojans. He's repeatedly said that his "grass is always greener" life lesson was when he left Oregon State for an ill-fated stint with the San Diego Chargers.
That doesn't mean he's not going to talk to the Trojans, but for the sake of this blog entry, let's say he doesn't want the job.
Then comes Fisher, who like Riley, USC athletic director Mike Garrett
tried to hire
before. But Fisher, who played at USC, has two years left on a contract that pays him $5.5 million a year, not to mention that he is a career NFL coach.
Let's say he also doesn't want the job.
What about Del Rio?

Del Rio
That could be an interesting choice, starting with the fact that he
might want the job
.
He's a former USC linebacker and has an impressive
coaching resume
, particularly on defense.
On the downside, like Fisher, Del Rio is a career NFL coach. And he has three years left on a contract that will play him more than more than $15 million.
Ah, but there's also an intriguing upside.
Check this out
. That's Del Rio's coaching staff in Jacksonville. See the offensive coordinator and running backs coach?
If Del Rio could bring Dirk Koetter and Kennedy Pola with him to USC, that would be a major coup.
Say what you want about how things went for Koetter at Arizona State -- and things didn't go well toward the end -- but the man knows offense. Just ask current Nebraska coach Bo Pelini. When Pelini was LSU's defensive coordinator -- and a highly respected one at that-- Arizona State rolled up 560 yards in a 35-31 loss.
Koetter and quarterback
Matt Barkley
could make beautiful music together.
Moreover, Koetter knows the Pac-10 and the recruiting landscape of the West Coast. If Del Rio needed help finding his way around a college coaching job, Koetter obviously could offer guidance.
And USC folks surely remember Pola, also a former Trojans player and coach. He was a USC assistant from 2000-2003 and earned a reputation as an outstanding recruiter.
Del Rio also may soon be available, or at least the Jaguars might embrace a way to save themselves some money on his contract. According to Gene Frenette of the Florida Times Union, "Del Rio is expected to meet with Jaguars owner Wayne Weaver on Monday or Tuesday to discuss this past season which ended with a four-game losing streak, a 7-9 record, and many fans calling for Weaver to bring in a new coach."
Hmm.
You know, the last time Garrett was unable to hire his first -- or second -- choice, things seemed to work out OK for the program.
September, 10, 2009
9/10/09
6:44
PM ET

Posted by ESPN.com's Ted Miller
If Oregon State's season had only started the second week of October the previous three years, who knows what might have happened?
The Beavers are 22-3 after Oct. 8 the past three seasons. And are 6-9 before.
After Oct. 8, they have three bowl wins. Before, they have nonconference road losses by 28, 31 and 31 points.
The Beavers probably feel ahead of the game starting 1-0, but they also did that in 2006 and 2007.
| | |
| --- | --- |
| | |
| | Gene Lower/Getty Images |
| | The UNLV offense, led by Omar Clayton, was tied for first last season in red zone efficency. |
Up next is a visit to UNLV on Saturday.
While many Oregon State fans are probably thinking, "Whew! That's not Penn State or even Boise State," the Rebels are not a gimme. They have 15 starters back -- seven on both sides of the ball plus their kicker -- and lots of other returners who saw action during a 5-7 season in 2008, which included a win at Arizona State. And recall that the Mountain West Conference wasn't too shabby last year, either.
Of most particular concern: The Rebels have an experienced quarterback in junior
Omar Clayton
-- who threw 18 touchdown passes a year ago with just four interceptions -- and a pair of receivers who are Pac-10 quality in
Ryan Wolfe
and
Phillip Payne
.
Clayton & Co. were particularly potent in the red zone. Get this: The Rebels tied Ohio State for
No. 1 in red zone offense
. Twenty-nine of 37 red zone opportunities ended in touchdowns, so we're not just talking about a bunch of field goals, either.
And, as mentioned a few times, the Beavers have four new starters in their secondary and just three starters back on defense.
"They are productive receivers and there's some experience there and in the spread offense," Oregon State coach Mike Riley said. "It's a lot of one-on-one coverage as you get going. They either run the ball or run the option or fake all that stuff and get you into one-on-one pass coverage. It's going to be a big challenge that way."
So this is a test of your Beavers Don't Start Slowly Again Network.
There's a second level of intrigue. Riley and UNLV coach Mike Sanford are tight. As in darn near best friends tight.
"I think he's the greatest guy in the world," Riley said.
(Riley was exaggerating. Everyone knows you are the greatest guy in the world. Or woman).
They have a
long history
working together, too. Sanford, a former USC quarterback, coached under Riley at USC and with the San Diego Chargers.
Sanford got his opportunity at UNLV in 2005 after a highly successful run as Urban Meyer's offensive coordinator at Utah. After a slow start, things seem to be trending up in Las Vegas.
"I see that improvement -- I know personally how hard it is to make those jumps," Riley said.
Friendship notwithstanding, the Beavers would like to make a jump to a 2-0 start for the first time since 2005 and see how that might affect the rest of the season.
Of course, that 2-0 start in 2005 was a prelude to a 5-6 finish, one of only two losing seasons that program has posted since 1999.