NCF Nation:

Schiano leaves Rutgers
January, 27, 2012
1/27/12
9:02
PM ET
Outgoing Rutgers coach Greg Schiano
owes the school $800,000
in buyout and loan payments, according to Bloomberg News.
His contract calls for a $500,000 buyout, and there is $300,000 remaining on a home loan that also was arranged through his contract.
Schiano
was officially introduced
as the new coach of the Tampa Bay Bucs on Friday. He reportedly signed a five-year deal
worth around $15 million
.
January, 27, 2012
1/27/12
10:30
AM ET
Rutgers athletic director Tim Pernetti says he already has a short list of candidates to become the next head coach of the Scarlet Knights.
So what exactly is he looking for?

"I think there are a lot of criteria," he said Thursday. "No. 1, we want the right kind of person. Understanding and being able to have your arms around the culture of the tri-state area I think is critical to being successful at Rutgers. So much of it has been built around being able to recruit on a somewhat regional level, that I think not only having a great understanding, but having really deep and strong relationships in the tri-state area. I think those are two very critical factors in this whole thing."
Who fits the description? Here are a few possibilities:
Temple coach Steve Addazio.
In his first season as the head coach at Temple, Addazio went 9-4 and brought the Owls back to a bowl game. He has ties to the tri-state area, having grown up and coached in Connecticut. He also served as an assistant at Syracuse in the 1990s and he clearly has established ties in the past year in the Pennsylvania area. That state has been a huge recruiting area for Rutgers, particularly given what has happened to Penn State.
Florida International coach Mario Cristobal.
One of the brightest up-and-coming coaches in the country, Cristobal has done for FIU what Schiano did for Rutgers. He completely resurrected a program mired in misery, taking it to its first-ever conference title and back-to-back bowl appearances for the first time, too. FIU is obviously a much younger program, but Cristobal has got the coaching and recruiting chops. Plus, he worked under Schiano at Rutgers from 2001-03, so he has a familiar with the recruiting area. Cristobal was also a candidate for the Pitt job before ultimately deciding he wanted to stay in the South Florida area. What could Rutgers say to change his mind?
Notre Dame defensive coordinator Bob Diaco.
A defensive mastermind like Schiano (who also served as defensive coordinator this past season), Diaco is from Cedar Grove, N.J., and has some coaching experience in the Big East. He was an assistant at Cincinnati under then-coach Brian Kelly before leaving to join Kelly with the Irish.
January, 27, 2012
1/27/12
9:00
AM ET
They came to play for Rutgers, but more than that, they came to play for Greg Schiano.
Most every player would tell you that. So imagine the emotions in the team meeting room Thursday afternoon when Schiano had to tell his players he was leaving for the Tampa Bay Bucs.
"I could see how much he cared because he was crying and a lot of guys were crying. It was emotional," cornerback
Brandon Jones
said.
[+] Enlarge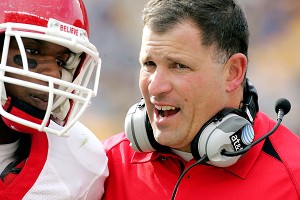 Charles LeClaire/USPRESSWIRE"We know sincerely that coach wanted to be here and his heart is here. He just had a better opportunity," Khaseem Greene, left, said of Greg Schiano.
Linebacker
Khaseem Greene
added: "He had to walk into 100-plus of his sons and tell them the news that we never want to hear. It was hard for coach, but like I said, guys understand. It was really emotional for him and you could tell this is not something where he just ran for the money. We know sincerely that coach wanted to be here and his heart is here. He just had a better opportunity."
How tough was it to hear that Schiano was leaving?
"It's tough for anybody to lose a great guy like Coach Schiano, but the best thing about it is that we don't really lose him," Greene said. "He told us that his number is going to be the same. If we ever need him for anything, don't hesitate to call. Nothing is changing, just coach had an opportunity and he took it. We are all happy for him, as bittersweet as it is, we are happy for him. It is good to have a coach that we have played for in the NFL. For guys who may have a future in the NFL, just networking. Like I said it is a bittersweet thing."
So what did Schiano tell the team?
"He got into how much he loved us and how difficult a decision it was," Jones said. "I know he loves us, you could see it on our faces when he was talking to us. I know it was tough decision for him, but I am sure it was the best decision for his family. Leaving here, he knows what he left is going to last a long time. He did what he needed to do for this program and I love him for that."
Greene said this team will stay together no matter who takes over for Schiano.
"Once a coach is named, we build those relationships through meetings," Greene said. "Talking to him. Getting to know him. Coach Schiano built something special here and he put some characteristics into us that nobody can take away from us and nobody can change about us. We are still going to be the class of college football and we are still going to play hard, play within the lines of the game. We are still going to be the best academically and that is just something that we pride ourselves on doing. We won't lose anything there."
January, 26, 2012
1/26/12
10:18
PM ET
Well who would have thought that Skip Holtz and Greg Schiano would one day share the same sideline?
Coming to Raymond James Stadium in 2012, it will be Holtz guiding USF on Saturdays and Schiano leading the Tampa Bay Buccaneers on Sundays. Schiano's move from Rutgers to Tampa Bay's NFL franchise means that former conference rivals are now chums. It also means that many Bulls fans in the Tampa area have to -- gulp! -- root for a former nemesis.
Holtz put out a statement on the move late Thursday evening, welcoming Schiano to the neighborhood.
"I'm excited for Greg and his family. We've gotten to know each other over the past few seasons. He's a great person and a tremendous coach. We've had some great battles and I respect the effort and discipline his teams have played with. He's a defensive coach with NFL experience, and I think he has a great opportunity to be successful with the Bucs. We are fans of coach Schiano and the Bucs organization and we wish them both great success."
For the record, Holtz and Schiano split their two Big East meetings. Rutgers delivered one of the more heartbreaking losses of USF's 2011 season, storming back from a 17-3 fourth-quarter deficit to win 20-17 in overtime on Nov. 5.
January, 26, 2012
1/26/12
5:49
PM ET
For Rutgers now, the concern is two-fold.
Athletic director Tim Pernetti has to get a head coach in place as quickly as possible to try to save perhaps the best recruiting class in school history. But he is facing a major time squeeze with just six days to go before signing day.
"It's one of those hurry-up-but-don't-rush deals," Pernetti said at a Thursday afternoon press conference at Rutgers. "This is a long-term decision, this is something that's going to affect the long-term program and we want to make sure we get it right."
[+] Enlarge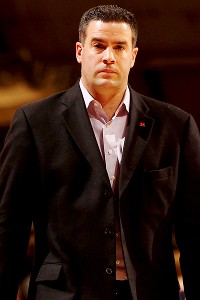 John Munson/US PRESSWIRE"We're going to do everything we can to bring this class in," Rutgers athletic director Tim Pernetti said in regards to recruiting.
As for the class: "We're going to do everything we can to bring this class in."
Give him credit for one thing -- he was prepared for this day. Pernetti already has a short list of candidates to replace outgoing coach Greg Schiano, who is now headed to the Tampa Bay Buccaneers. Pernetti also has been placed on the football coaching staff in order to be able to communicate to student-athletes and their families directly.
Pernetti reiterated that getting a new coach in place by signing day next Wednesday was doable, but he wants to do his due diligence as well. What helps is the state of the program. Under Schiano, Rutgers has undergone a stark transformation. That makes the school much more viable option for any prospective head coach.
"This program is not a rebuild. This is a move forward," he said. "This thing is priced to move in every way. What we'll take out is going to be very attractive. "It's a great job. It's the No. 1 TV market, it's a great institution. It's an institution that supports football and athletics. We have great assets here."
Pernetti said he was in the loop with Schiano all the way through the process, and even tried to talk him out of taking the job.
"Absolutely I did," he said. "I believe in my heart of hearts Greg is the right person to have at Rutgers. We were able to have that conversation. We were able to have some objective conversations about the pros and cons of the college game, the pro game. I spent a good amount of my time explaining to Greg all the reasons why I thought staying at Rutgers was the best possible move. But I can't decide what's best for Coach Schiano. Only he can decide that."
Schiano was able to meet with the team Thursday afternoon to tell them of his decision to leave. What many have wondered about is the timing of the move. Schiano's name has come up for college coaching jobs over the course of his career, but he has turned down every overture. As for why he decided to make this move now, Pernetti gave his best guess.
"I think that whatever profession you're in, you strive to succeed in that profession at the absolute pinacle of the profession. There's 32 guys in the world that are going to have these jobs. The NFL is to some extent the pinnacle of coaching. I'm sure that had to be an appealing thing for Greg. I can't get into all the details of why, but maybe this one felt a little different for him than other ones he's turned down."
Here are a few other notable comments from his 30-minute press conference:
Why it was decided to designate offensive line coach Kyle Flood as the interim head coach: "A lot of the reason that we're moving Kyle into that position is because he has been here a long time. He has great relationships with the players. He has great relationships in recruiting. He's very steady. We've already had a couple impromptu meetings. The first thing out of his mouth was, 'I'm going to get this staff together and we're going to figure out how to bring this class in. It was an obvious choice to me to put him in this role."

On whether or not conference uncertainty played a role in Schiano's decision: "Anybody that stands up here and says conference uncertainty is not a concern anymore is lying to you. It's something I wake up with every day."

Schiano never won a championship so is that considered a failure: "What I look at is all the stuff he's done. This was the worst program in college football 11 years ago. What Coach has done to put it to the point where it's a high-profile job in a BCS conference in the No. 1 media market in the country has a lot to do with all the work that was done. Those championships are down the road. From talking to Khaseem (Greene) and Brandon (Jones) and all the guys on our team, I told them this program is built. The people in the room are going to be the ones that make it happen. It's my job to surround them with the right type of people to make it happen. Putting timelines on championships is dangerous business. ... Those championships are ahead of us. I've never been more certain than that."

On what he will tell recruits: "The program that you committed to or the program you're considering, it's the same program that it was two days ago. The core values are never going to be sacrificed. … The message I'll send is it's my responsibility to make sure we surround the program with the right type of people. This program's my program, too. I'm not going to sacrifice anything."
January, 26, 2012
1/26/12
4:13
PM ET
Now to one of the big questions confronting Rutgers: What happens to its star-studded recruiting class?
Greg Schiano's stunning departure
caught recruits off guard. Dave Hooker of ESPN's Recruiting Nation has more:
With six days before national signing day, Rutgers suddenly finds itself in an incredible time crush to secure its 2012 class.

Who will be Rutgers' next coach, but perhaps almost as importantly, how many assistants will stay at the school? Even with a new head coach, those relationships could still pay dividends in recruiting.

If Rutgers decides to go elsewhere to hire a coach, those assistants may be gone. An in-house hiring could ease the transition a bit, but it will be a challenge no matter what.

Time is definitely not on Rutgers' side with national signing day just six days away.
You can read the rest of the report
here
, in which Hooker talks to Rutgers commitments to get their thoughts on the news.
January, 26, 2012
1/26/12
3:51
PM ET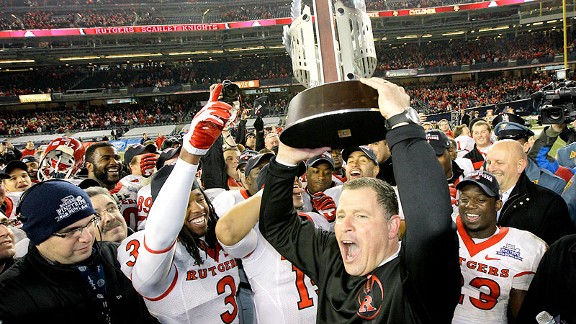 AP Photo/Julio CortezHoisting trophies after bowl wins became a familiar sight during the Greg Schiano era at Rutgers.
You can say all you want about the glaring holes on his résumé:
Greg Schiano never won a Big East title.
Greg Schiano never beat West Virginia.
Greg Schiano never did much more than break even in 11 seasons as head coach at Rutgers.
I say this: Schiano rescued Rutgers football. He turned a longtime doormat into much more than just a respectable program. He turned the Scarlet Knights into winners, all while graduating his players and turning out more than his share of NFL prospects.
For that, he should be forever embraced in New Jersey.
Perspective is hard to have in sports. The demands on coaches and players are exponentially higher today than they were 10 years ago, even at a place that endured as much losing as Rutgers did before Schiano arrived in 2001. Coaches are no longer given time to build, the way Schiano was. They are given time to deliver championships, with a ticking clock set to a handful of years.
Part of what makes what Schiano did all the more impressive is that he lasted so long without delivering a title. That points directly to the state of the program when he took over as a hot-shot defensive coordinator from the University of Miami. Rutgers had not had a winning season since 1992. Rutgers had not played in a bowl game since 1978.
Slowly but surely, Schiano went to work. Ahem. He chopped wood. He started winning games. It took five hard, long seasons for the results to show.
In his last seven seasons with the program, Rutgers went 56-33 with six winning seasons and a 5-1 bowl record. The only losing season was 2010, when the Scarlet Knights had to endure a devastating injury to
Eric LeGrand
that not only rocked every player on the roster, it rocked Schiano to the core.
[+] Enlarge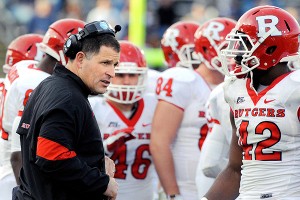 AP Photo/Fred Beckham)Greg Schiano went 56-33 in his last seven seasons at Rutgers, helping the once-lowly program become a power nationally.
That 4-8 campaign led to renewed questions about whether Schiano was the right man to continue to lead Rutgers into the future. Some Scarlet Knights fans were antsy because they had seen progress, but not enough progress. Where were the rings? Where were the championships in the most winnable conference among the six automatic qualifiers?
You see, this is what Schiano did. He won so much, winning seasons were no longer good enough.
Not even this past season. Rutgers came oh-so-close to getting that coveted title in 2011. A turnaround campaign had the Scarlet Knights playing for a share of the conference title on the final week of the regular season. All they needed was a win over UConn, a team Rutgers had an advantage over in nearly every category on paper.
But Rutgers put forth one of the most dispiriting efforts under Schiano, inexplicably losing 40-22. It was the best shot for a league title since 2006, and Rutgers looked as if it
forgot how to actually play football
.
Still, a rebound victory over Iowa State left Rutgers with the longest bowl winning streak in the nation (five) and with expectations to compete for a Big East title in 2012. Several sites have Rutgers in their way-too-early preseason Top 25.
Nearly everybody on a top-notch defense returns. Those who follow Rutgers believe this is the very best team the program has fielded since the Ray Rice days of 2006. Schiano talked at length earlier this month about the possibilities for this upcoming year.
"I'm encouraged by the direction the program's headed, and I'm encouraged by the people in the program," Schiano said. "The coaching staff and players and support personnel. It takes a long time to build that kind of human capital in a place and I'm excited about it."
He had to be excited about the impressive recruiting class coming together as well.
But an opportunity he probably thought might never open up presented itself. Schiano decided to jump at the challenge of coaching in the NFL after pouring 11 seasons of himself into his Rutgers job. The timing of his departure is terrible, no question about it. He is letting down a lot of young men, and a lot of fans.
That is a hazard that comes with coaching.
Now, though, we may get some answers about whether another coach can elevate this program further than Schiano did. The Rutgers athletic department is in dire financial straits, so the options for bringing in a dazzling head coach less than a week before signing day might be limited.
Whoever comes in must not only save what is shaping up to be an excellent recruiting class, he must also win immediately.
Scratch that.
He must win championships immediately.
That is the standard now.
January, 26, 2012
1/26/12
10:36
AM ET
Rutgers could be on the verge of losing coach Greg Schiano, less than a week before national signing day.
Adam Schefter of ESPN reports that the Tampa Bay Bucs are
near an agreement to hire Schiano
to be their new head coach. The two sides met Wednesday and Thursday to put the finishing touches on a deal, Schefter reports.
Nothing is finalized. Remember, the Bucs were on the verge of hiring Oregon coach Chip Kelly several days ago before things fell apart. Stay tuned for more updates.